Massive marketplace from Jean-Georges opens in the restored Tin Building at the Seaport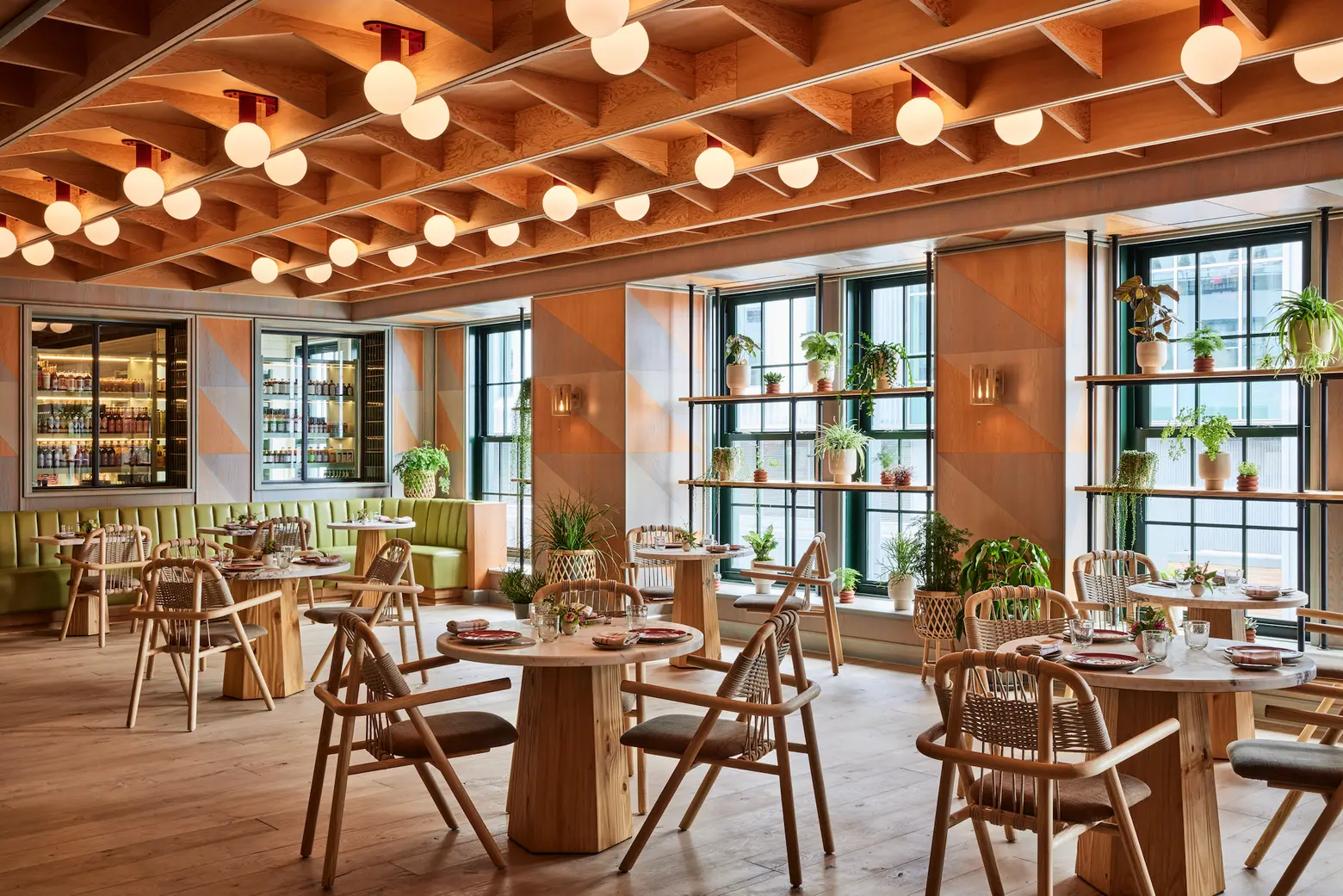 All photos courtesy of Nicole Franzen
Chef Jean-Georges Vongerichten's highly-anticipated culinary hotspot will be giving New Yorkers a taste of its food offerings in preparation for the market's grand opening in the fall. The historic Tin Building has been converted into a 53,000-square-foot marketplace that includes grocery stores, six full-service restaurants, six quick-service counters, four bars, and other retail and private dining offerings. During the month of August, the Tin Building will be open for a limited preview Thursdays through Sundays from 12 p.m. to 5 p.m.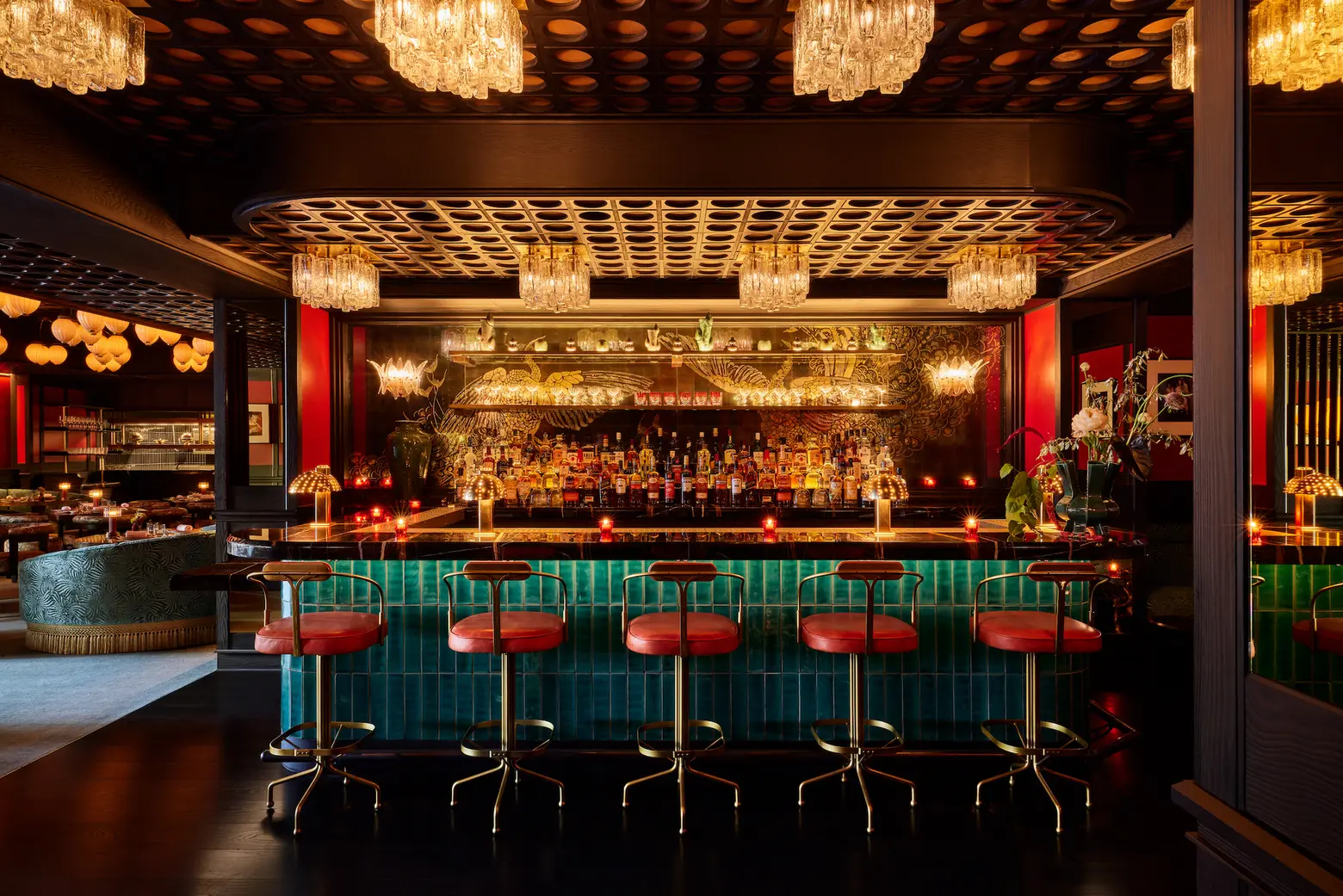 The House of the Red Pearl features velvet banquettes, horseshoe-style armchairs, gold-on-red Chinoiserie wallpaper, and lanterns.
One of the two surviving structures from the historic Fulton Fish Market, the Tin Building closed and moved to Hunts Point over 15 years ago. In 2018, SHoP Architects carefully disassembled, put back together, and raised it six feet in height just 30 feet away from its original location. The monumental task is part of the Howard Hughes Corporation's ongoing revitalization of Pier 17 and the Seaport District.
Designed by Roman and Williams Buildings and Interiors and Cass Calder Smith Architecture, the Tin Building's interiors honor its original design during its prime in the 1920s and 30s while also adding a modern touch.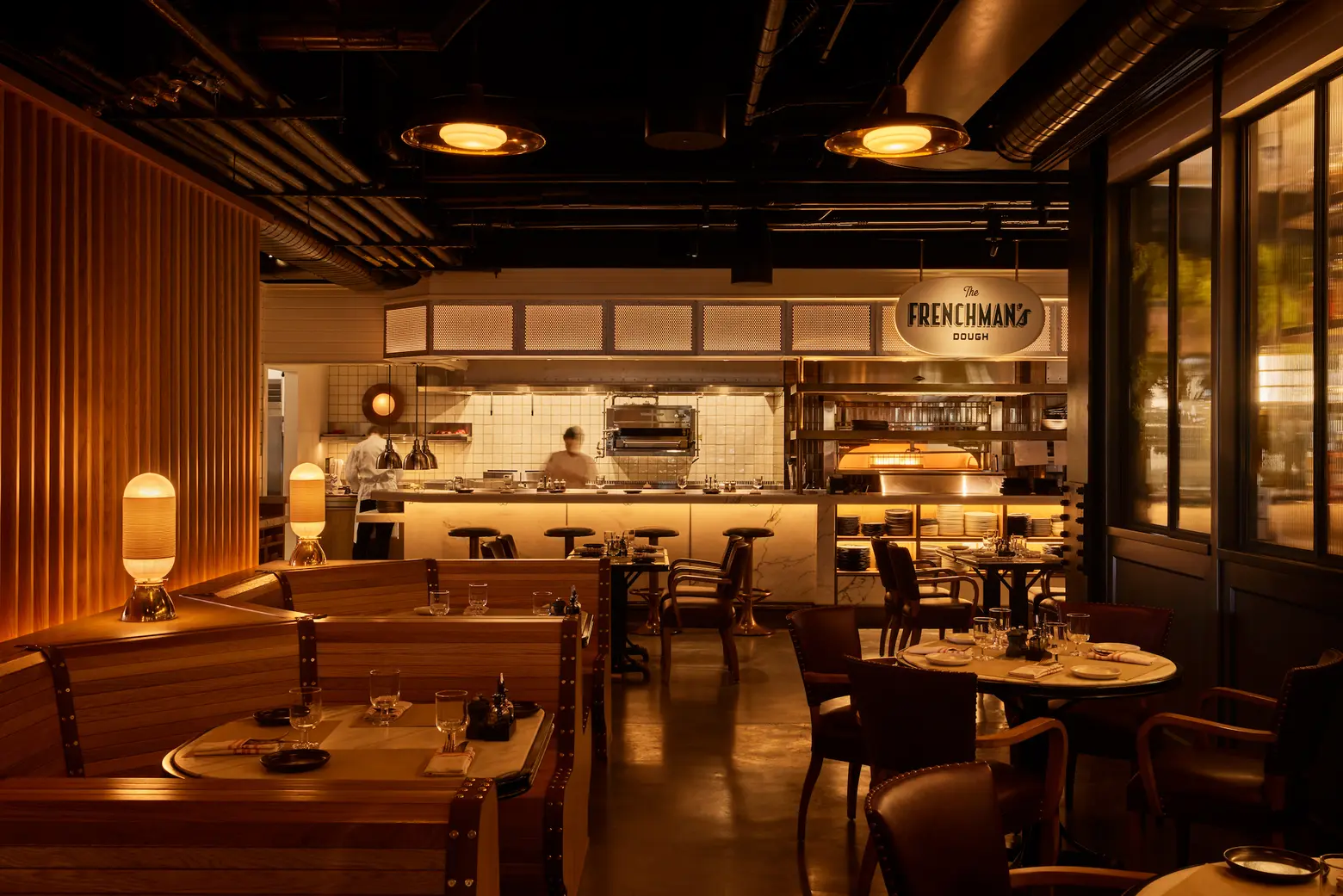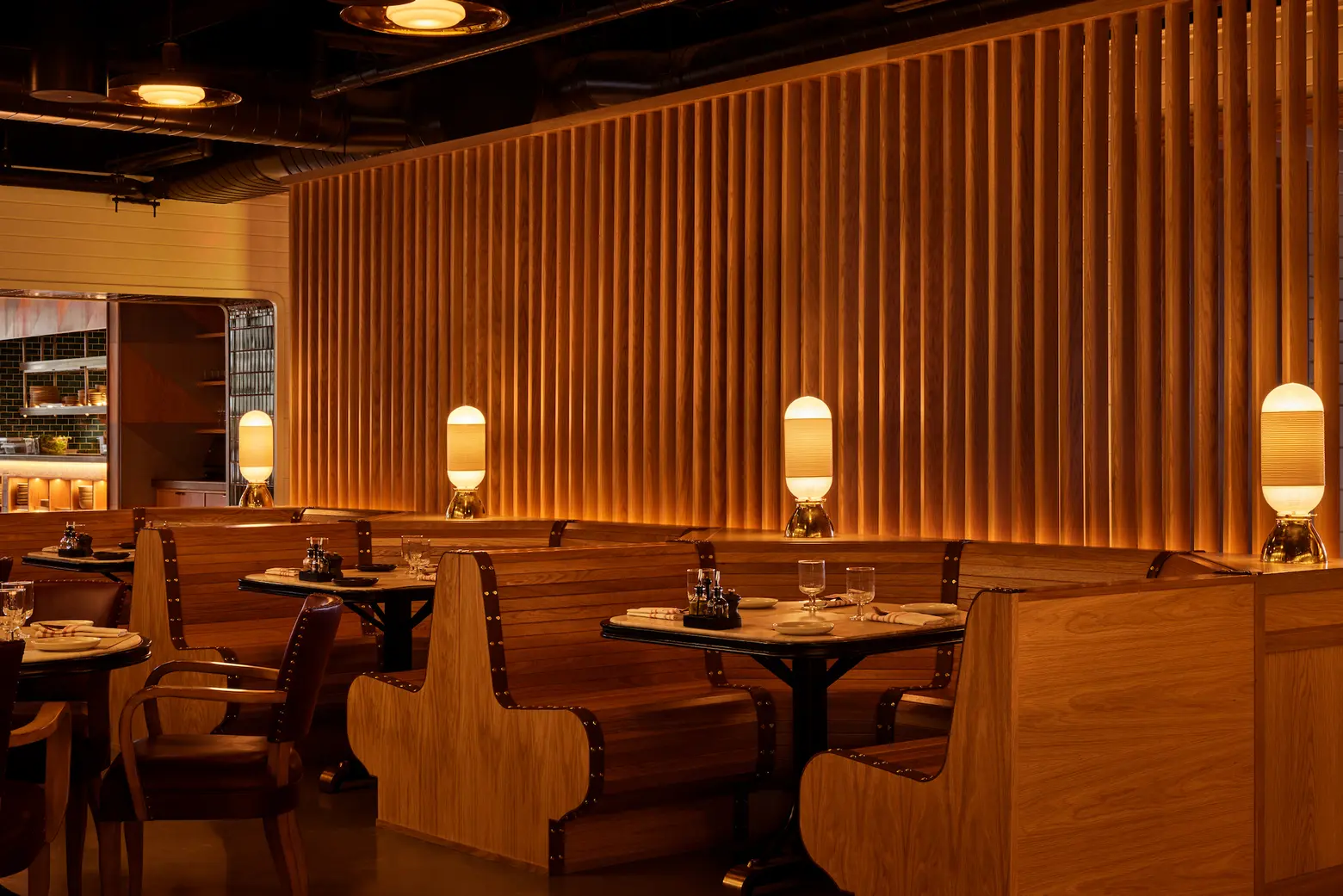 The Frenchman's Dough serves freshly made pizza and pasta
Design elements include archways, handmade tiles, turned wood details, marble surfaces, and ribbons of brass. Each restaurant has its own distinct identity.
The marketplace's full-service dining options include:
The House of the Red Pearl: A fine-dining restaurant serving Chinese cuisine with its own Jean-Georges twist. The restaurant's stunning design is characterized by velvet-upholstered seating, gold-on-red Chinese-inspired wallpaper, and glowing lanterns. Menu offerings include stir-fried cumin lamb with chilis, vegetable peanut tofu skin spring rolls, and glazed Maine lobster efu longevity noodles.
T. Brasserie: A French brasserie with a variety of dishes native to France and an expansive selection of wine. Menu highlights include escargots, steak tartare, rotisserie chicken, and the gruyere cheeseburger.
Fulton Fish Co.: A seafood restaurant with a full raw bar, offering patrons seafood options like sashimi, oysters, fried clams and shrimp, grilled octopus, and much more.
The Frenchman's Dough: Tin Building guests can find freshly-made pizza and pasta here, including limone pizza and fresh ricotta ravioli.
Seeds & Weeds: A sustainability-focused restaurant with plant-based offerings, including olive oil fried artichokes, stir-fried summer beans with yuba and spicy garlic glaze, and more. The restaurant's design features muted geometric tiles, leather seating, natural wood, and plantings.
Shikku: A 19-seat Japanese sushi and sake restaurant set within a sensual black box design. Menu offerings include a chef's six-piece sushi nigiri flight and fresh tofu with sun gold tomatoes and apricot seasoning. They also offer grab-and-go options outside the restaurant.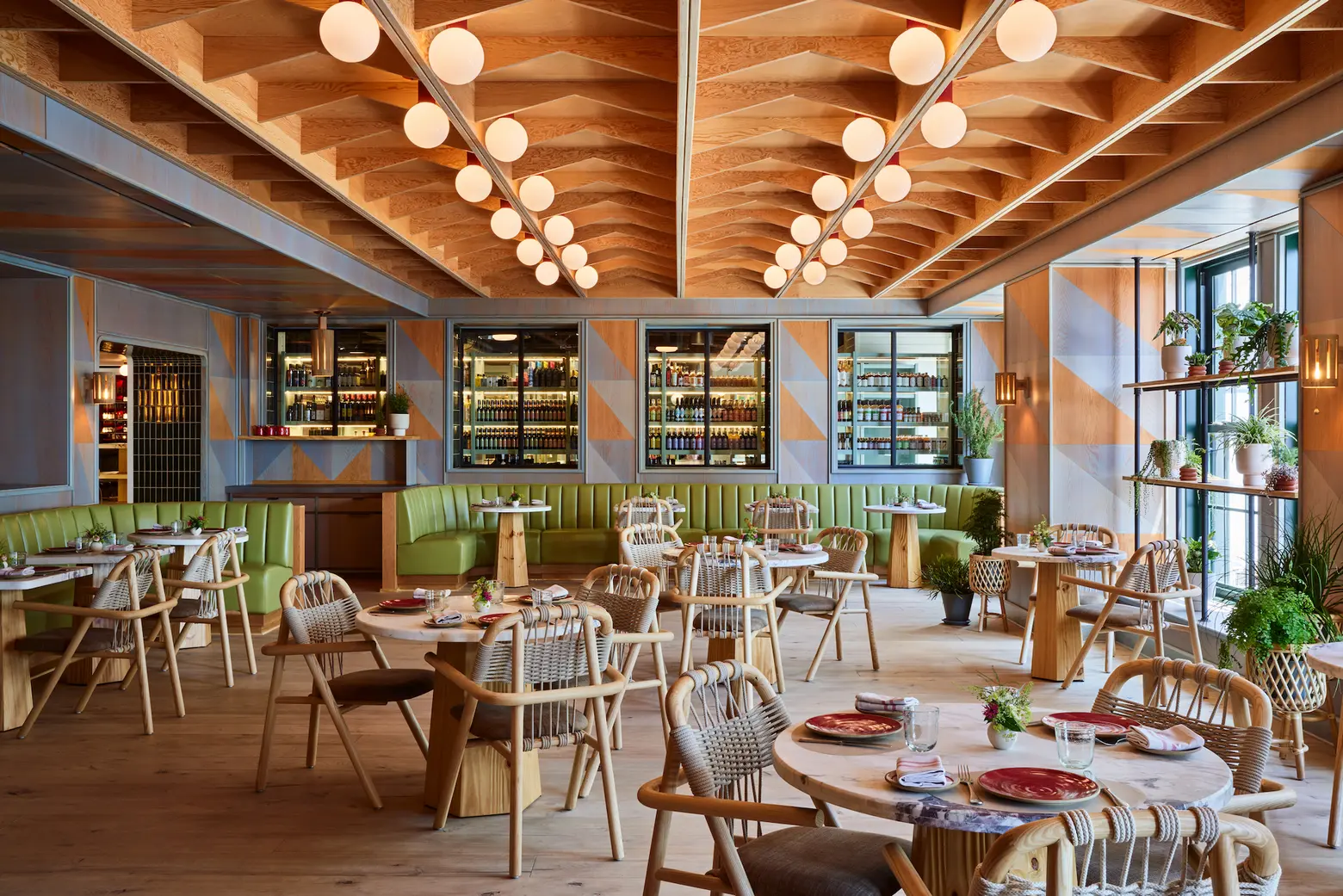 Seeds & Weeds is bright and airy, with lots of natural wood and plants in the windows.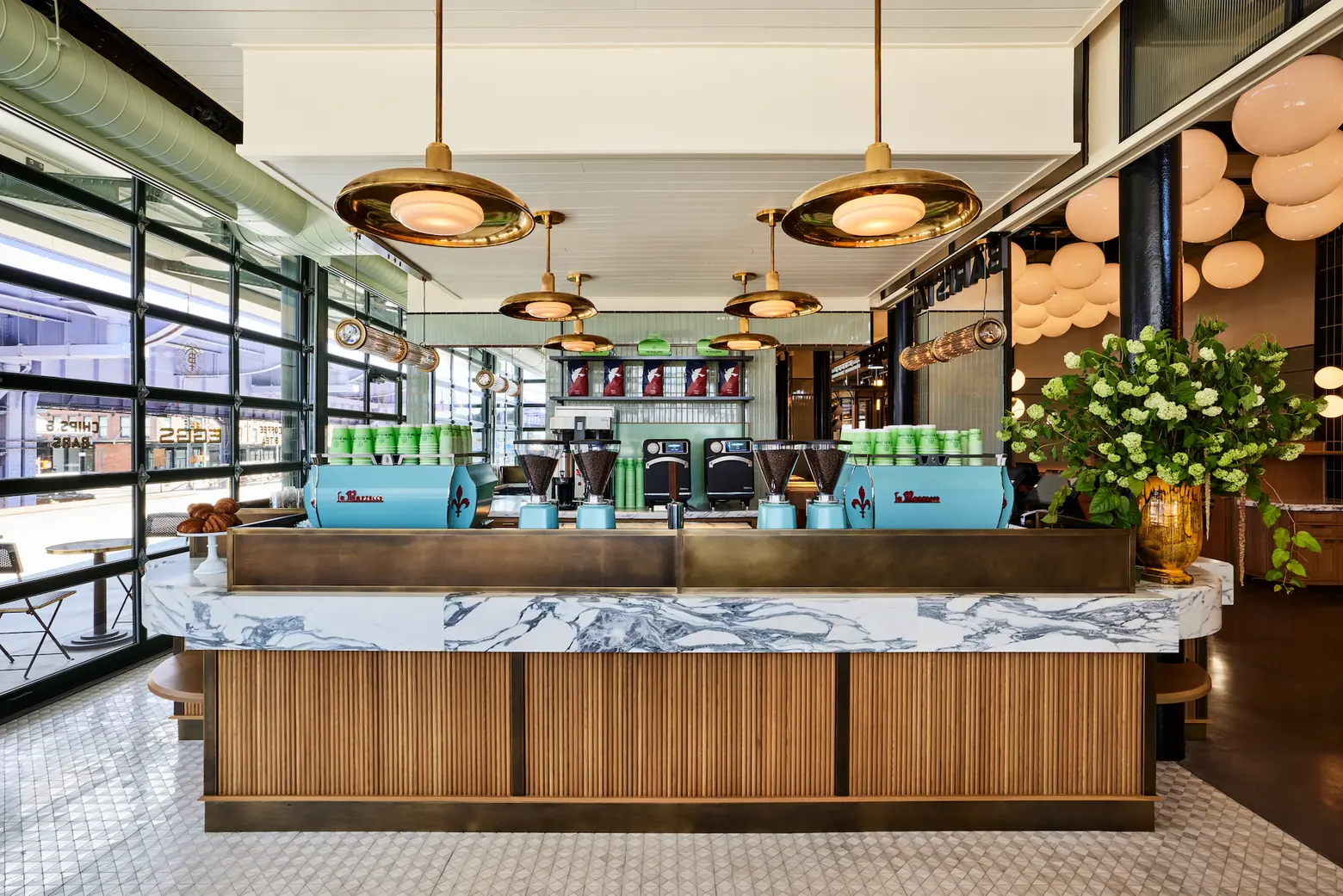 T.cafe offers pastries made in-house and a variety of coffees and teas.
Casual and to-go food options include:
Crepes and Dosas: A quick food option serving customers sweet and savory dishes like country ham, gruyere & organic egg dosas, and a variety of crepes.
Taquito: A Mexican taqueria offering classic dishes and made-to-order tacos.
T. Cafe: A spot for your morning commute, T. Cafe offers hot and cold coffees, teas, lattes, and freshly baked pastries. All pastries are made fresh daily.
Double Yolk: Offering breakfast to-go in the mornings, Double Yolk turns into a caviar bar at night. Customers have three options of house-made bread and nine different combinations of toppings.
Beverage options include:
The Wine Bar: Offering a vast selection of wines and beers from France, the Finger Lakes in Upstate New York, California, and Maryland.
Beer Here!: Offering 24 beers on tap and 30 bottled and canned drink options all personally selected by Jean-Georges.
The Cocktail Bar: Offering creative cocktails with French and Asian influences.
RELATED:
All images courtesy of Nicole Franzen