Is Essex Crossing the 'anti-Hudson Yards'?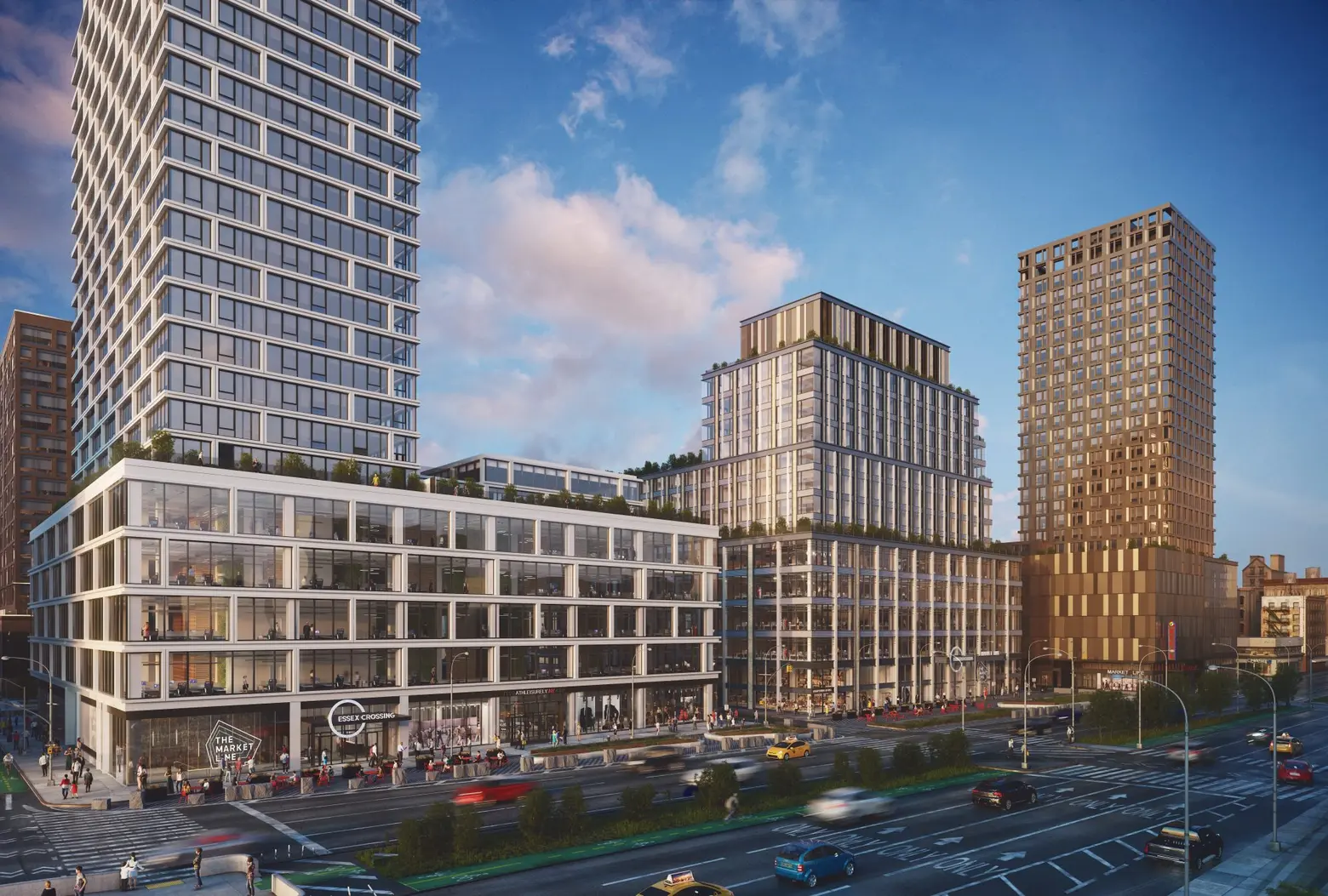 Rendering of Essex Crossing via Moso Studio
The New York Times recently suggested that the boxy, ordinary-looking Essex Crossing, with its Trader Joe's, Target, movieplex, historic Essex Street Market and subsidized affordable housing was the "anti-Hudson Yards," a convincing foil to the buzzy midtown tourist magnet. The obvious contrast between the glittering far-west-side megaproject that in the right light resembles Dubai on the Hudson and the six-acre $1.9 billion development abutting the Williamsburg Bridge speaks to each one's intended audience, of course. But a diversity of options for both locals and visitors and a broad offering of affordable housing could make Essex Crossing more than just Liverpool on the Lower East Side.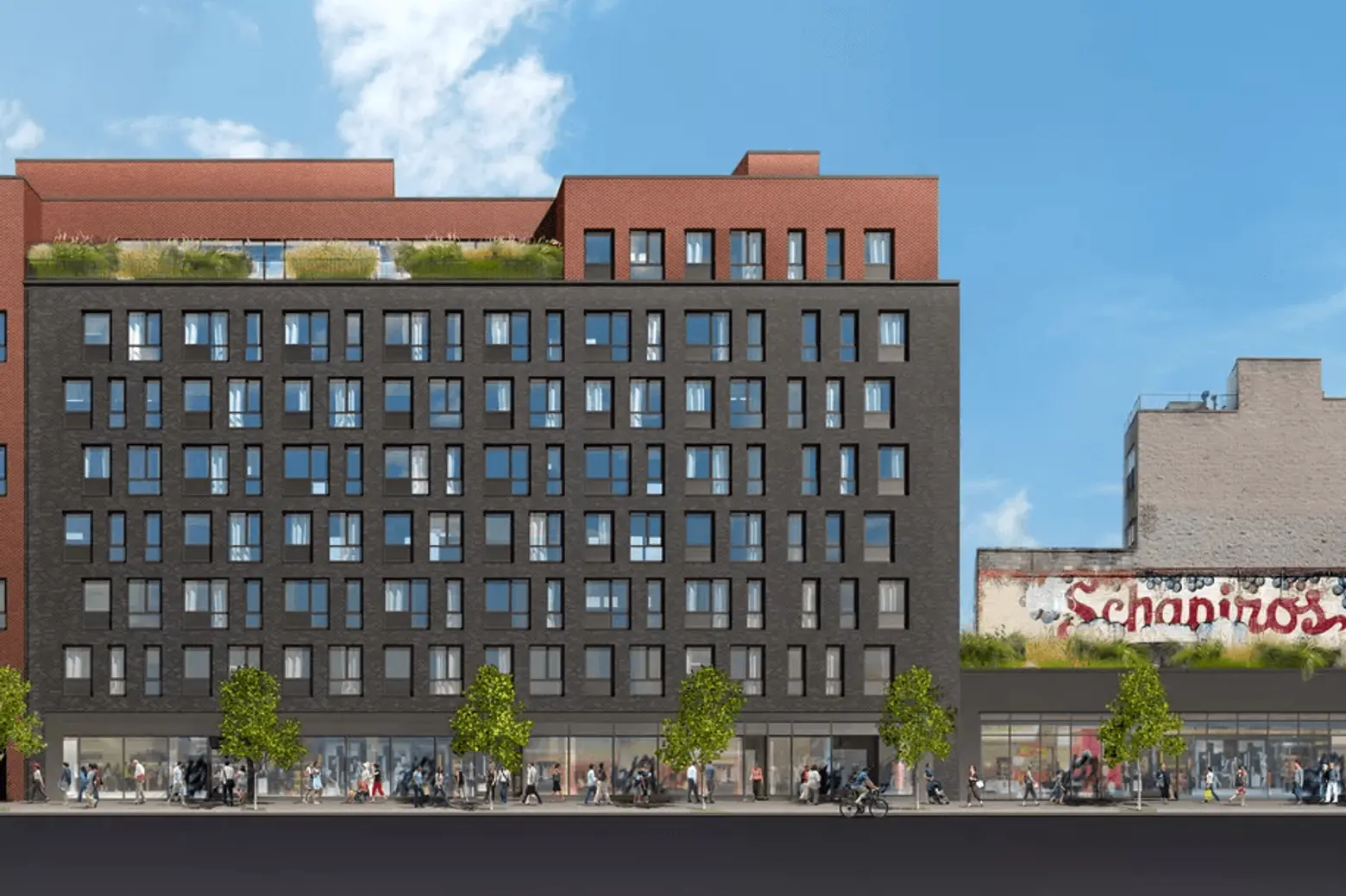 Rendering courtesy of Beyer Blinder Belle.
Citylab recently made the case for Essex Crossing's un-invasive architecture, which despite its newness, does a fair job of blending in with the surrounding blocks, unlike the head-turning midtown starchitect showcase. Essex Street Market has been loved by New Yorkers since it opened in the 1940s, and though the new version is exactly that, food-loving foot traffic would argue that it's better new than not at all. A Target store and a multiplex are hard to hate, and nobody doesn't love a Trader Joe's. But it's the affordable housing–like the 84 studios exclusively for seniors that opened this summer at 140 Essex Street–that makes the downtown mall acceptable at worst and possibly even a model megadevelopment, depending whom you talk to.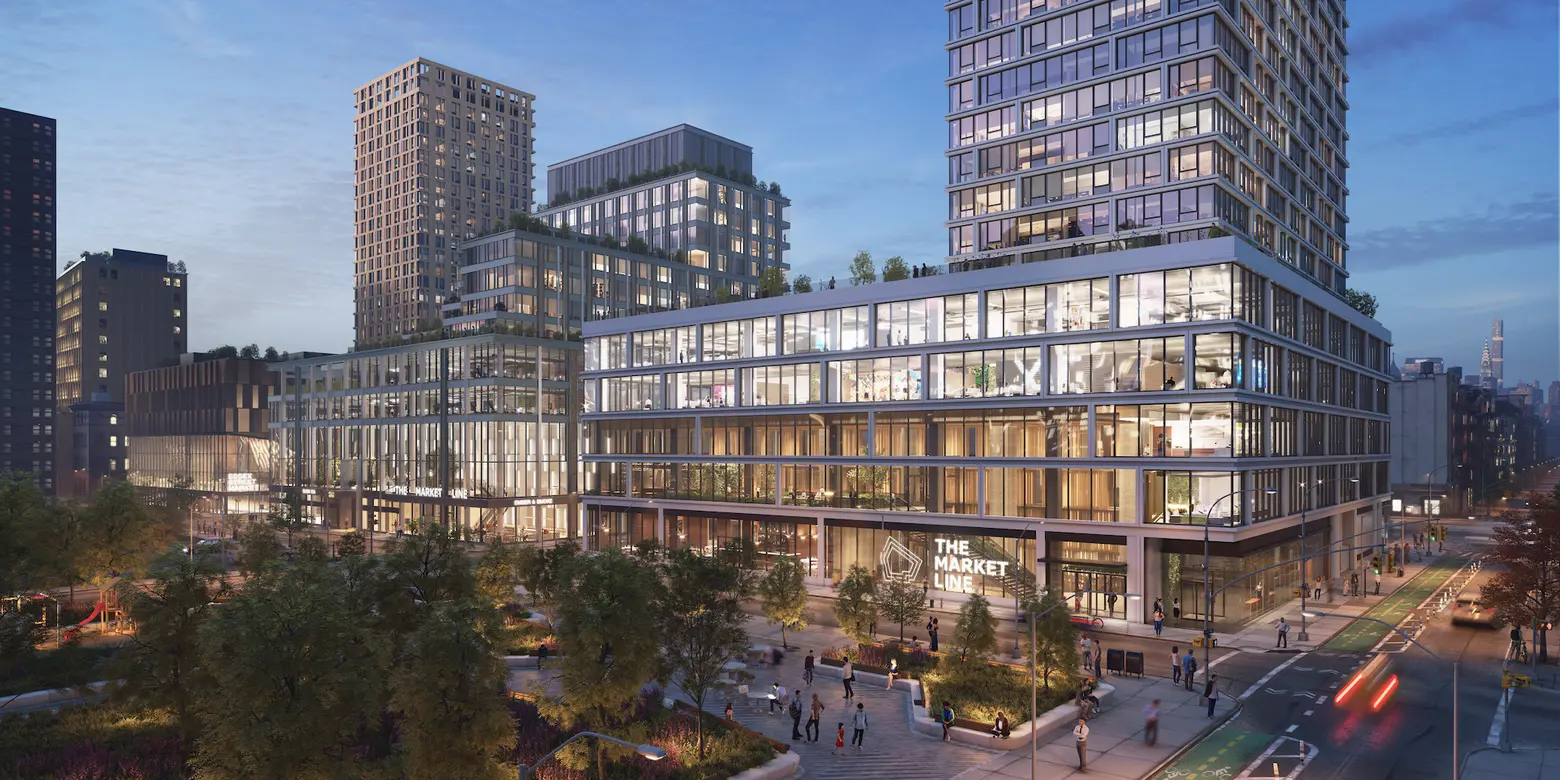 In total, Essex Crossing will bring to the neighborhood 1,079 new residential units. Over half of those will be set aside for low- and middle-income tenants (including some with no income at all)–a percentage that exceeds the city's inclusionary requirements.
Essex Crossing rises on what was known as the Seward Park Urban Renewal Area, Manhattan's largest stretch of undeveloped city-owned land south of 96th Street, mostly vacant since 1967. When completed in 2024, it will include 1,079 residential units starting with 242 Broome, Essex Crossing's first condominium building. 350,000 square feet of Class A office space and 400,000 square feet of retail space.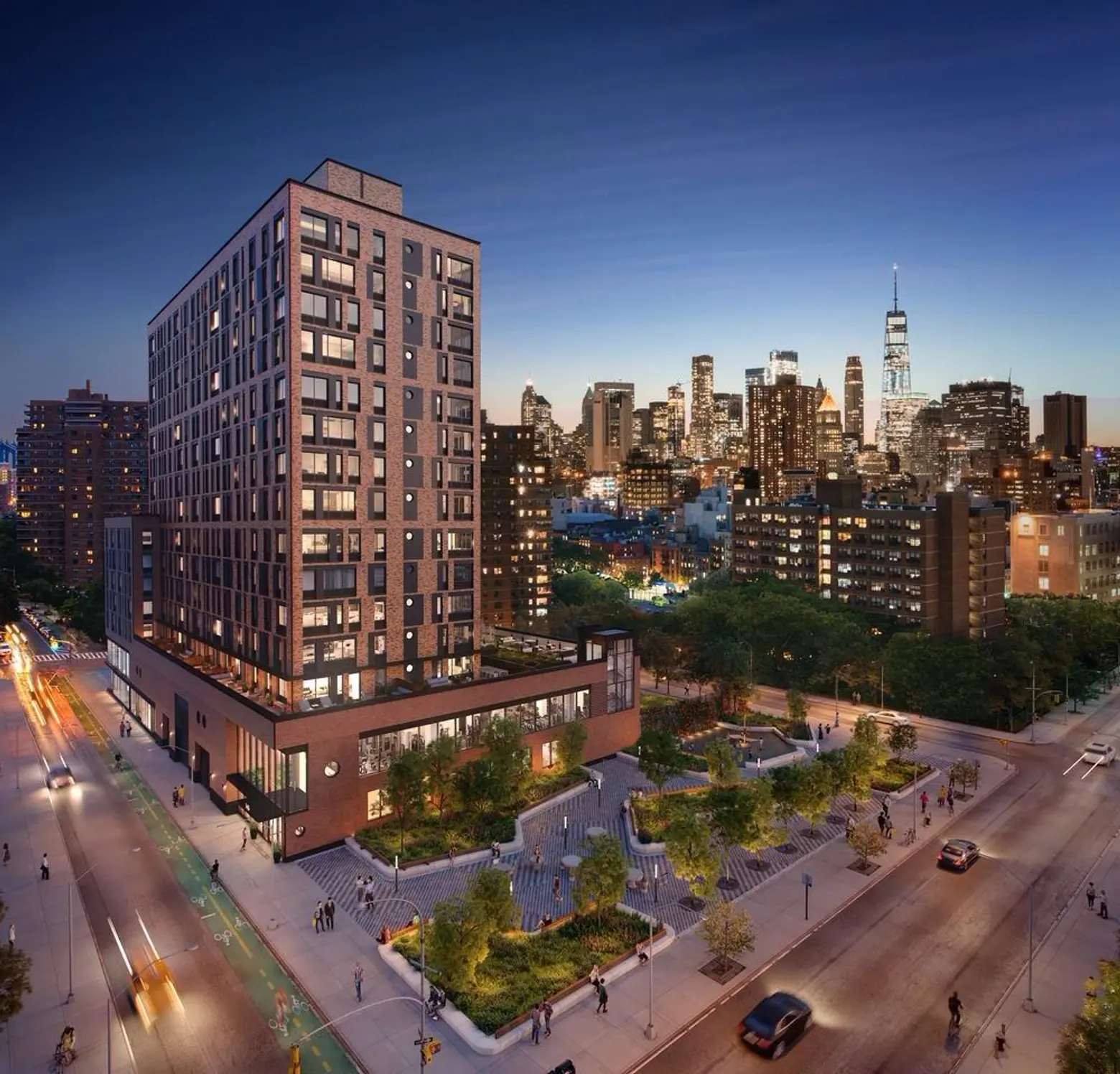 Rendering courtesy of Delancey Street Associates/Beyer Blinder Belle.
In addition the aforementioned senior housing, The Rollins, a 16-story building at 145 Clinton Street, designed by Beyer Blinder Belle, was the first residence at Essex Crossing to launch, offering 107 market-rate residences in a varied mix of studios to three-bedroom residences, as well as 104 low- and middle-income apartments. The 10-tower project's first and only condo, the 55-unit 242 Broome, has a total of 55 residential units. A rarity among the city's affordable housing offerings, 11 of those condos will be available to households earning no more than 125 percent of the area median income and will range from $224,861 one-bedrooms to $331,703 three-bedrooms. The building's five-story base houses the The International Center of Photography Museum and Splitsville Luxury Lanes Bowling Alley.
Conceived during the Bloomberg administration, the city's Economic Development Corporation guided the development through the de Blasio years with an intensive program of neighborhood consultation and planning that made a notable attempt to consider the historic imperatives and ethnic mix of the Chinatown and Lower East Side surroundings. Developers, for their part, offered community perks like a new senior center and new homes for the Chinese-American Planning Council and the Lower East Side's Henry Street Settlement. The GrandLo, a neighborhood cafe run by the 100-year-old Grand Street Settlement, opened its doors last year as a job training site for neighborhood at-risk youth.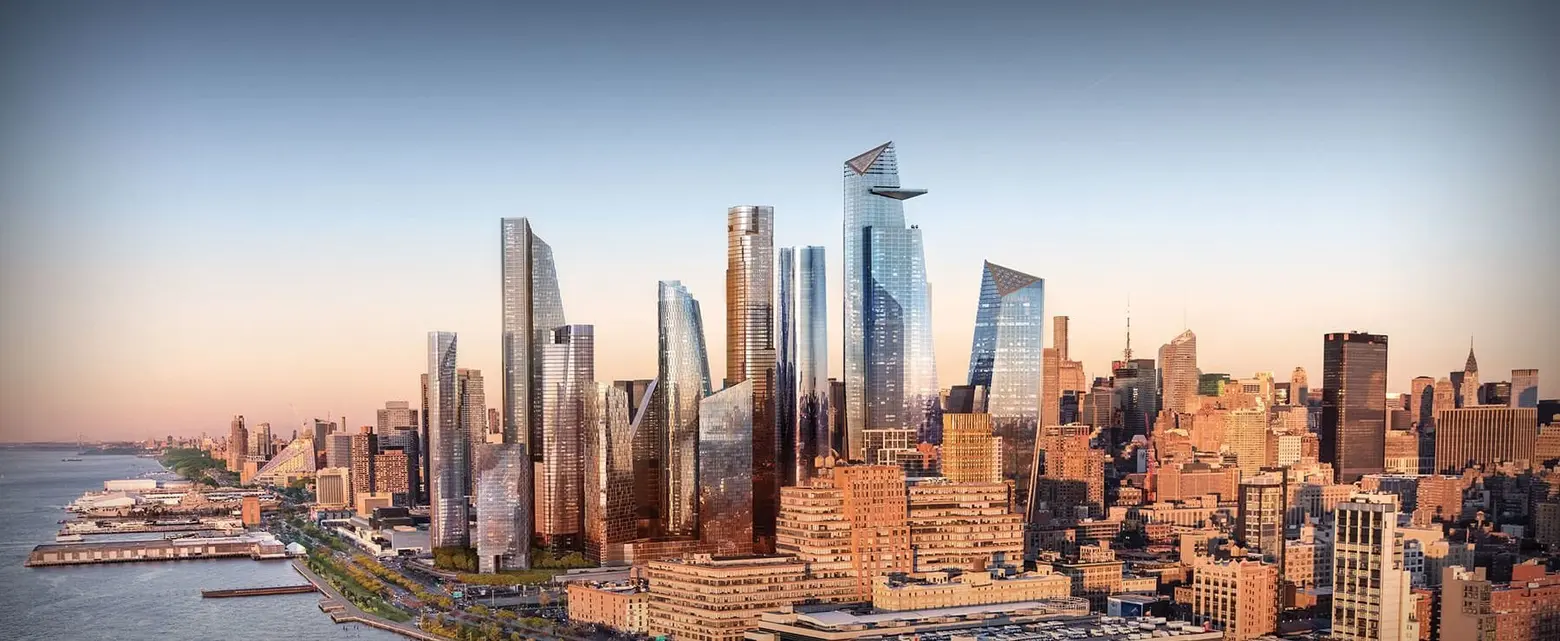 Rendering courtesy of Related-Oxford.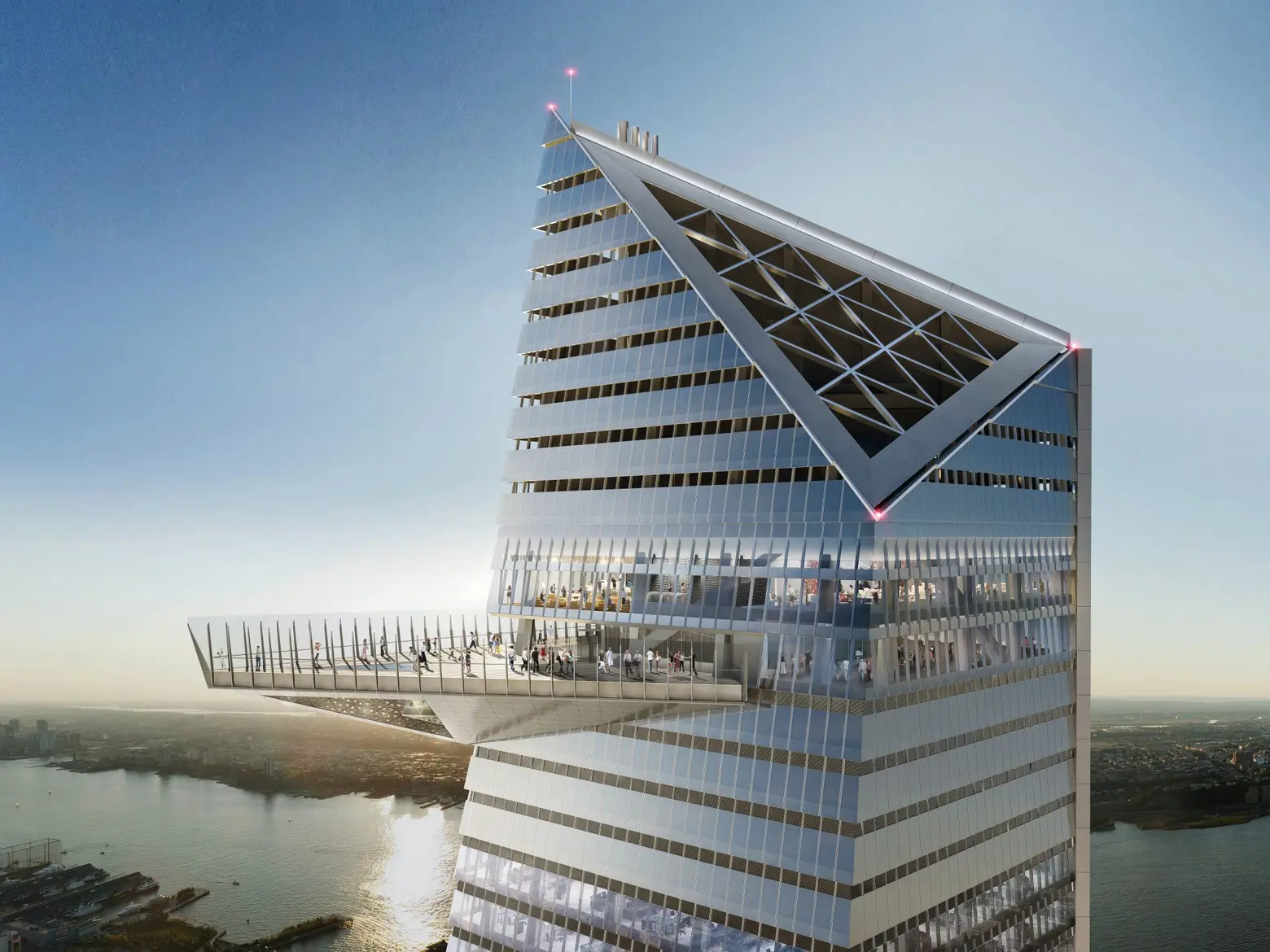 Edge observation deck at Hudson Yards; rendering courtesy of Related-Oxford.
Though there are affordable units, required for the much-needed tax breaks that make tall towers happen, at Hudson Yards, you won't find a bowling alley (other than the private one at luxury condo One Hudson Yards). And there's no Trader Joe's. When Essex Market opened this spring (with a newly-streamlined name), it was seen as both a rebirth and a much-needed positive symbol of what the 21st century version of the iconic New York City neighborhood could be–other than a collection of multi-million-dollar condos and aspiring rental apartments.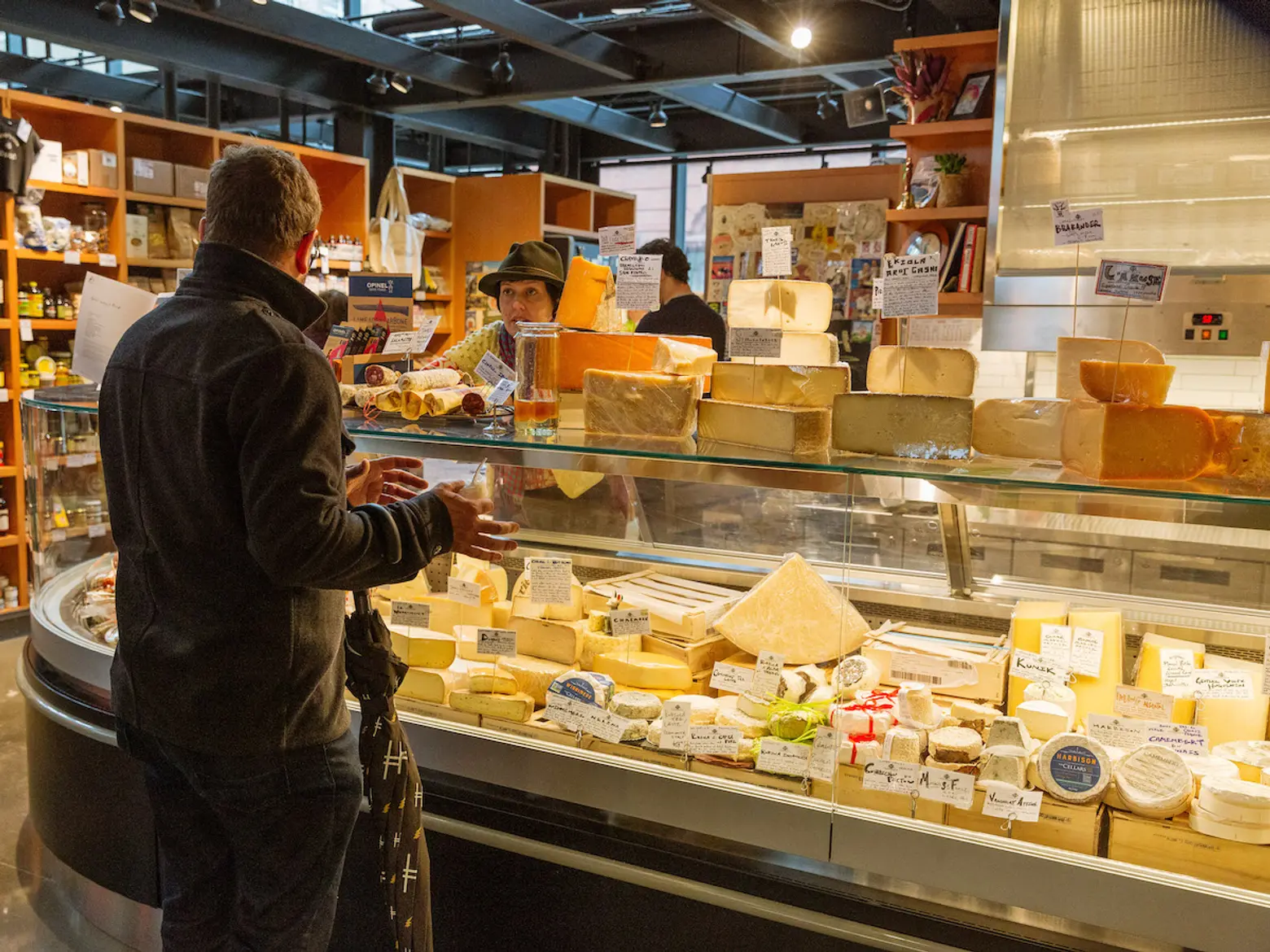 Image courtesy of EDC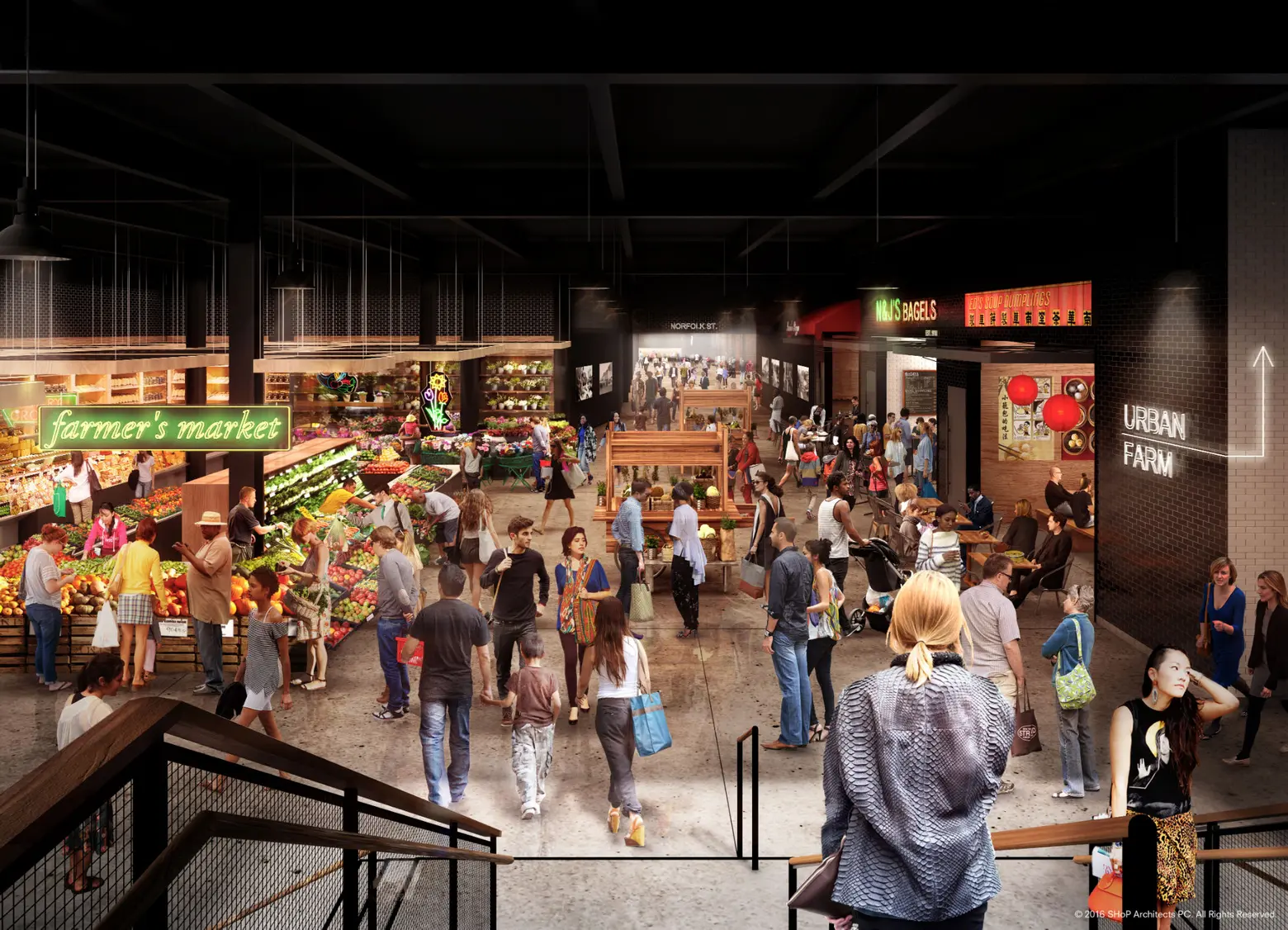 Image via SHoP Architects for Market Line.
Designed by SHoP Architects, the new Essex Market is three times the size of the old version. Legacy vendors get subsidized rents at the market's bespoke kiosks surrounded by tall windows and an angled, white, sculptured ceiling. The mezzanine level offers seating and a sleek teaching kitchen. It's all under the umbrella of the soon-to-open food market known as Market Line–the city's largest food hall. Three-fourths of its vendors are immigrant-, minority- or women-owned businesses; half are from the neighborhood, including favorites like Pickle Guys, Nom Wah, Ends Meat, Veselka and Essex Pearl.
[Via NYT]