INTERVIEW: Co-founder of the Brooklyn Home Company, Bill Caleo
The Brooklyn Home Company (THBCo) is a family-run cooperative of artists and builders that develop unique residential spaces in booming Brooklyn. Best described as white and wood but never cookie cutter, their work is always light and airy, and blend modern style with historic elements. It's this signature style that's made THBCo a favorite amongst both renovators and Pinterest enthusiasts alike.
But what inspires their designs and how do they decide where to develop projects? Ahead, 6sqft speaks to THBCo's co-founder and Head of Operations, Bill Caleo, about the business. Find out how this family-run establishment firmly roots itself in working with local makers, how they've grown their business model to include sustainability, and why they always add a custom piece of art to all their homes.

You describe yourself as a cooperative, what does that mean?
Bill Caleo: We are a cooperative in the sense there are three partners: my sister Lyndsay, the creative director; myself, as head of operations, I oversee architecture, design, construction and sales; and my cousin Zach, our third partner, the finance guy. Zach finds properties, helps with legalese, deals with the lawyers and insurance. So we are a coop in that the three of us are partners, arm in arm, all equal. Lynsday's husband, Fitzhugh Karol, is our artist in residence. He's a sculptor and he is a big piece of the puzzle. We work as a family. We work as a team.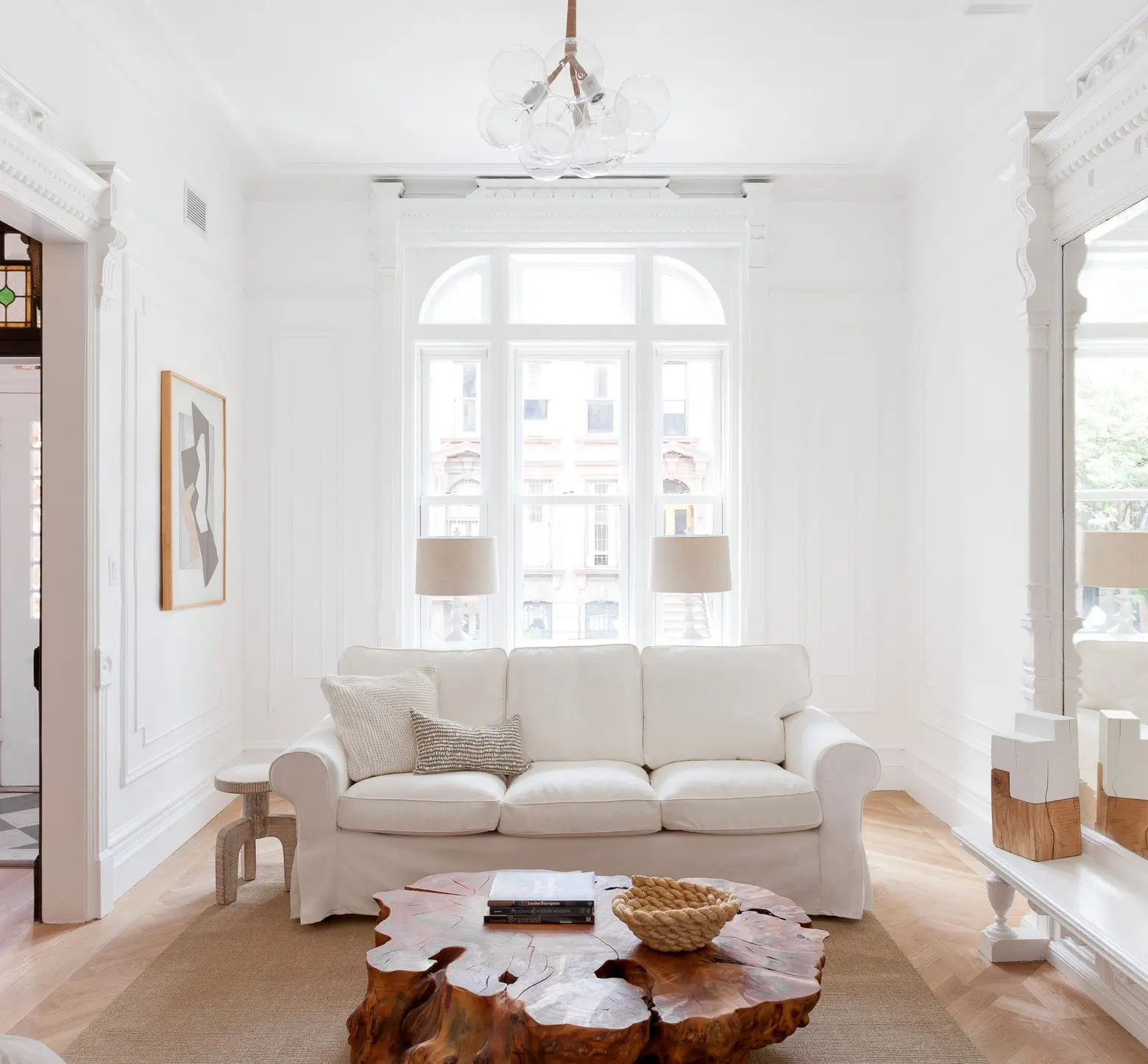 So how exactly does THBCo work?
Bill Caleo: We've been in business for 11 years. We've gotten to know commercial brokers in Brooklyn market and residential end user brokers. We've tried really hard to develop a reputation so if a realtor calls us and says, "I have this property, it's a mess, it needs this and that," we can tell them in a matter of 10 minutes if it is something we can work on and we tell them our offer. And we never rescind our offer. We set that as our baseline so that brokers can rely on us.
We are also constantly looking and constantly trying to find the next deal. We know the market and neighborhood very well because we only buy within a 35 block radius; we work in Park Slope, Fort Greene, Clinton Hill, Bed-Stuy and Crown Heights. We feel we have a pulse on the value of these areas. We find it is hard to do construction further away because our resources get too spread out. But we typically have 8-10 projects at one time, all residential and all low-rise.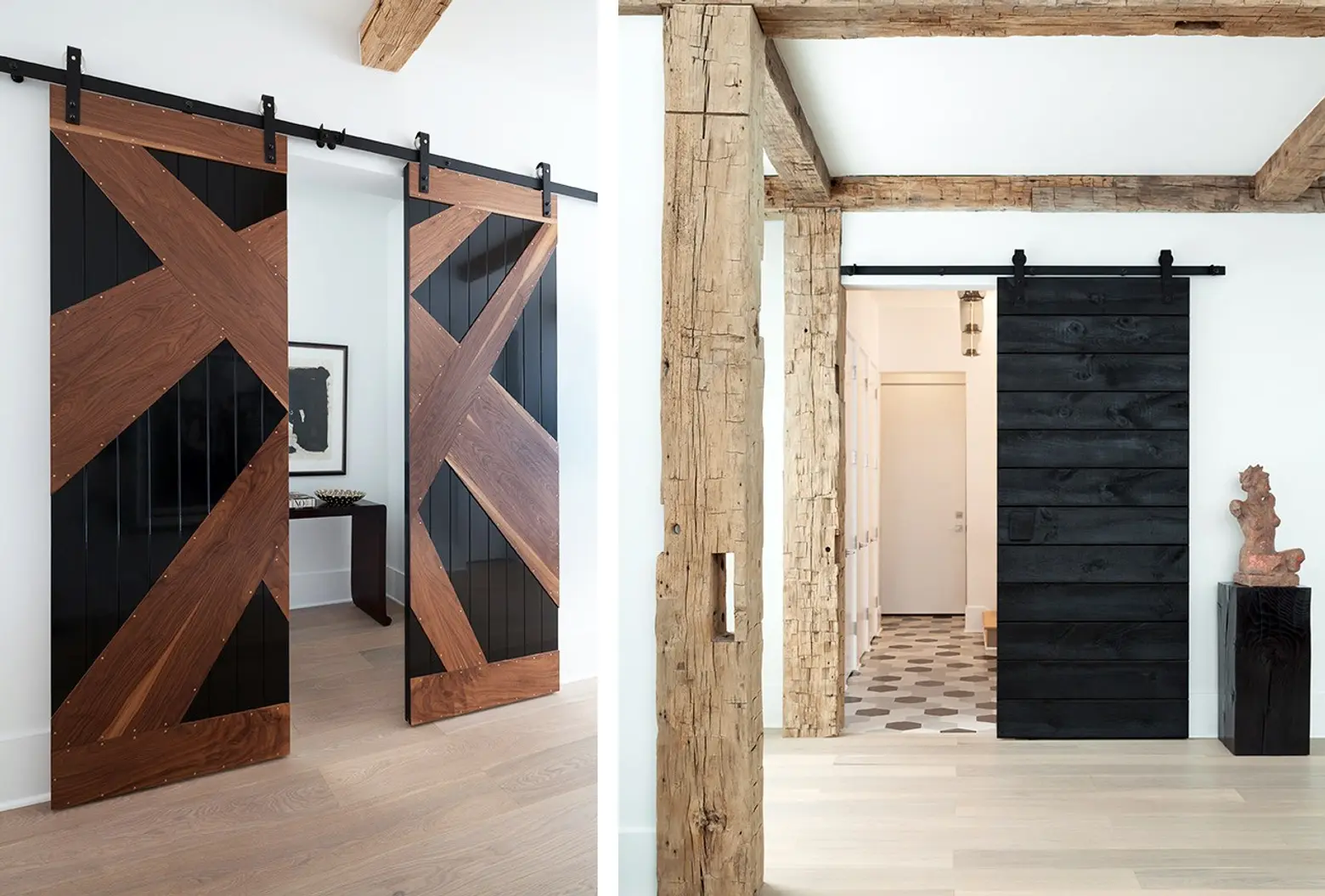 What makes THBCo unique?
Bill Caleo: There are a couple of aspects to what we do. We develop the layout with our in-house architect and design team and figure out the spirit of the space. Fitzhugh, our artist in residence, goes off and determines what he wants to build. He creates a custom art piece for every home. Nothing we do is cookie cutter.
When we were working on our first condo development for 122 Fort Greene Place, I brought Lyndsay and Fitzhugh to consult with me. Fitzhugh was in between his years at RISD and he wanted a bandsaw. He said to me, "Listen, I really want to buy a bandsaw and get into wood. How about I make you something for your new condo building and you buy me a bandsaw?" He gathered wood from old beams and an old staircase and built a barn door on a slider. The ceiling was about 10 feet high and the door he built reached almost all the way to the ceiling and was about 400 pounds. A customer from France saw that door and said, "Holy crap, I have to own this place." And this was right when Lehman went under and the world was collapsing. He made a really good offer and made me realize we really had something here. Having this artist who told the story of this property was something people appreciated so much. Since then, we've tried to incorporate this into each home we work on.
Now, Fitzhugh determines what piece will make the home and what adds a story to the space, then he'll go off and work. It's not uncommon for him to take reclaimed wood from the site, or another site, and make barn doors. That was our calling card when we started.
Our customers appreciate the art. It tells a good story and makes the space more interesting. It's more fun to have art in our life and have something that is different.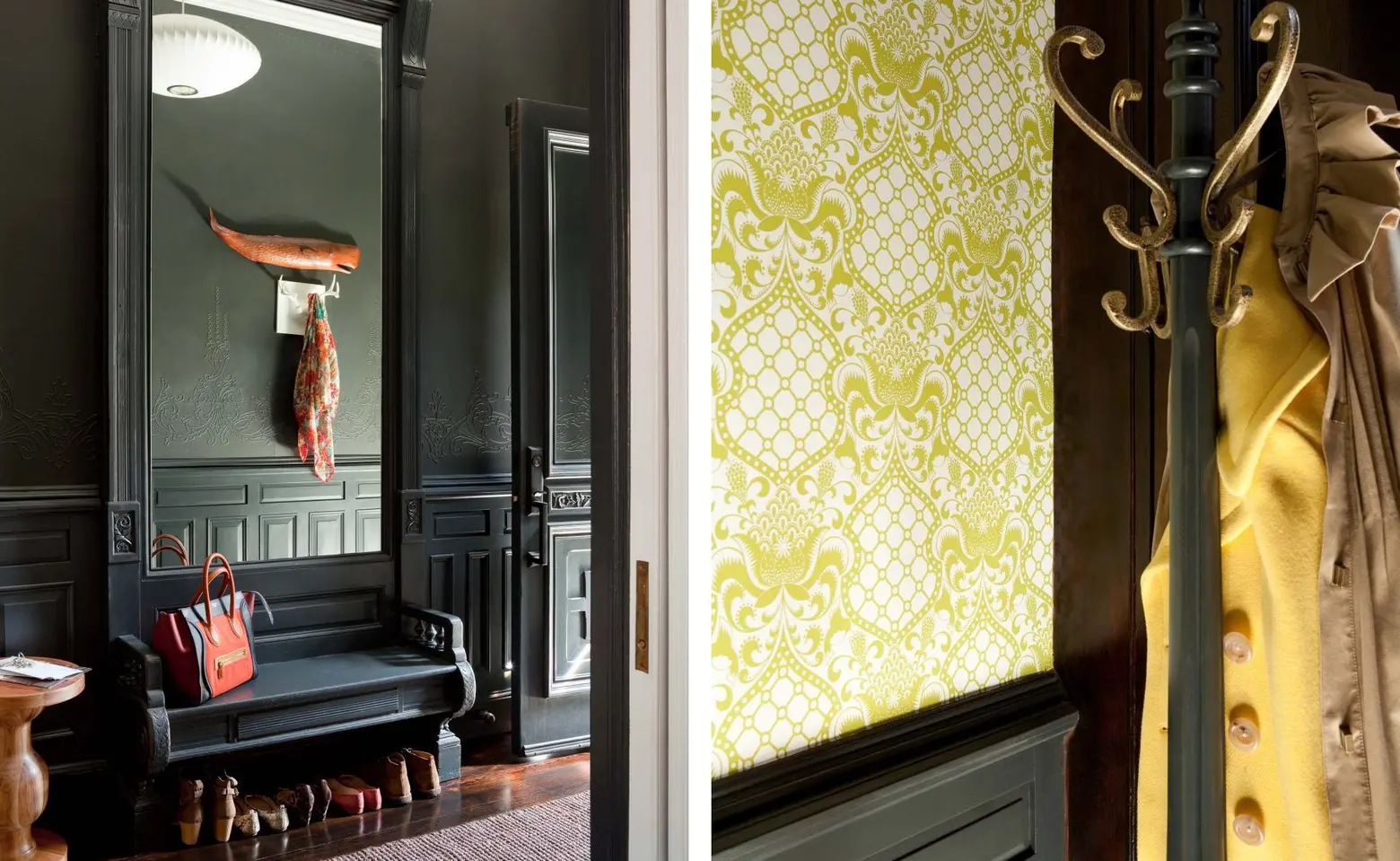 What is the millwork process like?
Bill Caleo: We used to be in Sunset Park. We worked out of a big warehouse office and Fitzhugh had a studio there. Now he works out of a studio in Red Hook and has an assistant, Jose, in Bushwick who does some building for him. We also have some family associated with a woodworking studio in Naples, New York. They buy old barns from around New York state and they rip them down and either repurpose those barns in new locations or take that barn and we use the reclaimed wood in our own work.
Another aspect of what Fitzhugh does is that he'll look at a kitchen and decide, "We're not going to put a kitchen island, we're going to put in a custom dining table and it will come with the apartment."
We've done projects for customers as architects and designers by providing interior design for them.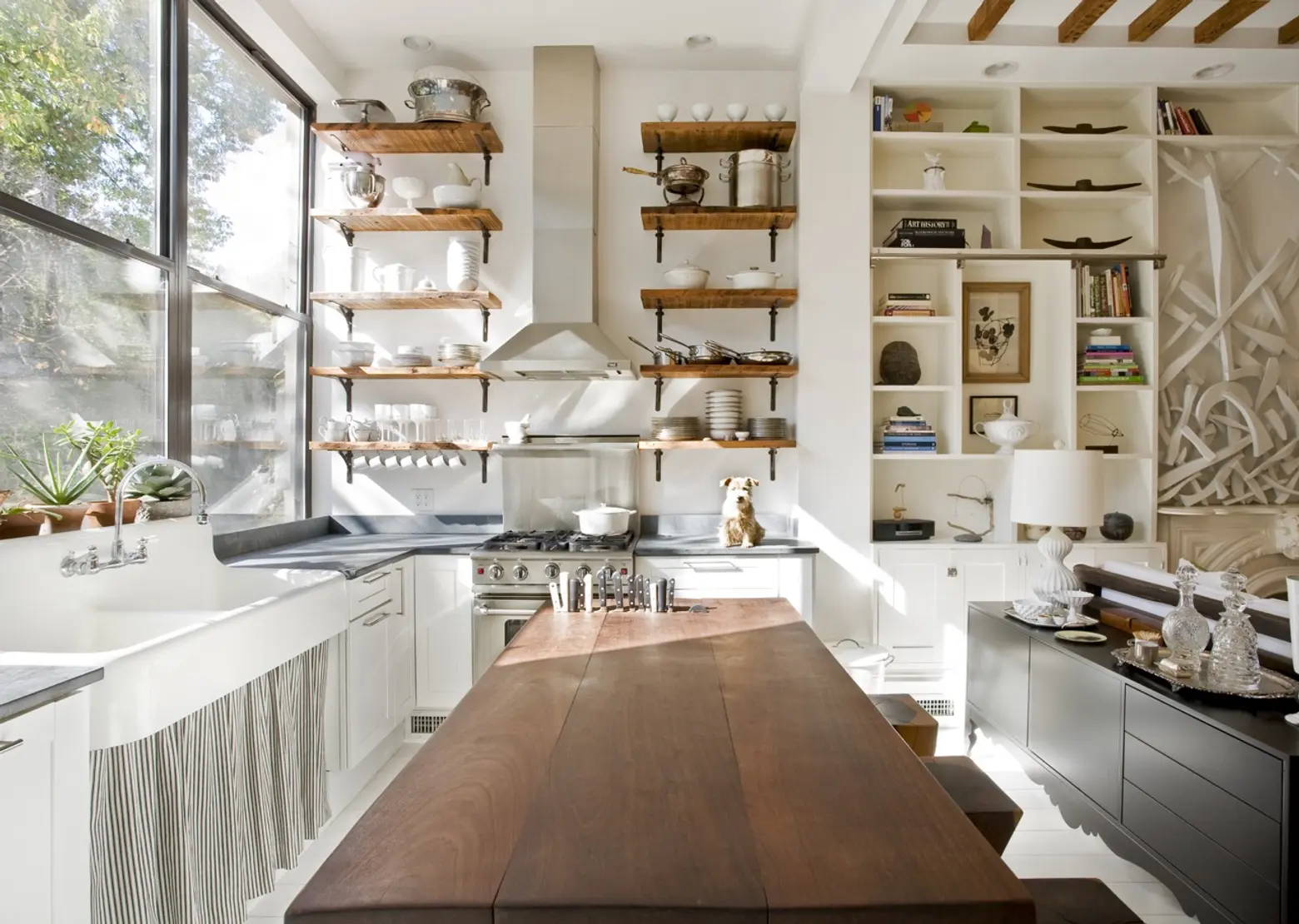 You provide the most responsible environmental options at all points and say you provide the best value. How can you do both?
Bill Caleo: I think about this every single day and am constantly crunching the numbers. The reality is we're always looking for finishes and fixtures that look great but don't cost a lot of money. For example, we're using white oak flooring hardwood in one project and we're going to refinish it ourselves. We do the work ourselves and that helps. We know we want the high-end kitchen faucet, so we'll call the company and say, "We're going to buy 25 faucets, can we get a deal like you've never given before?" Then we get these $500 faucets for $300. It's a constant search for value. But in the end, that $300 faucet looks like a $700 faucet. We do that on every single product that goes inside a home. Everything feels expensive but none of it is. But with that said, we're still going to buy Wolfe range, the high-end HVAC system, and we'll use the right insulation and not have air leaks. We just try to find value where we can.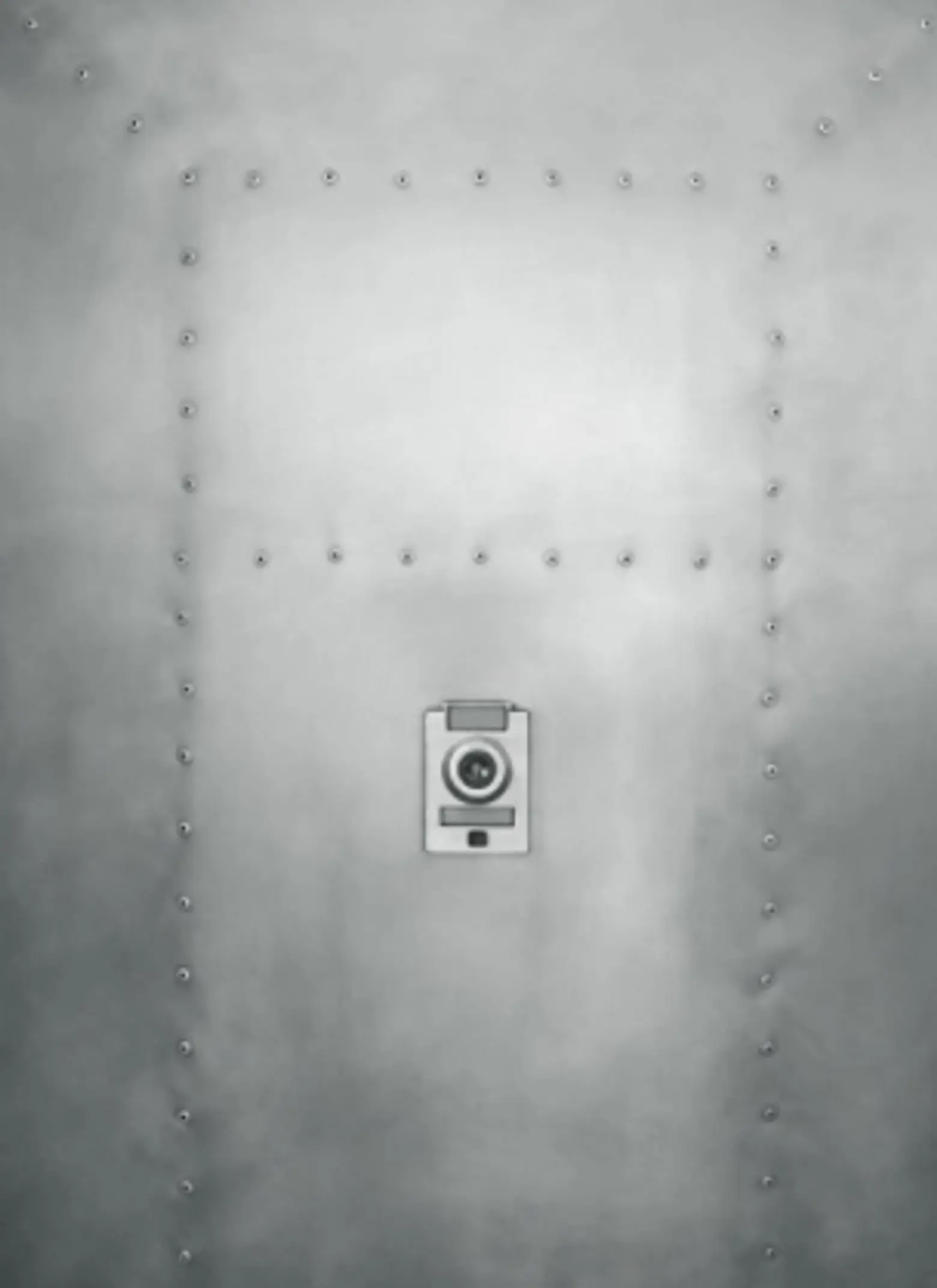 Tell us about the cool entrance door at 15th Street and the fireplace at 5th Street.
Bill Caleo: At 15th Street, Fitzhugh was really into ships and loved ship windows. He created that door working with Southslope Woodworks. He bought a ship's window to put in the door and it turned out really beautiful and interesting. It makes a statement. There are nods throughout that building to the shipping industry, like reclaimed old lights they found in Vermont.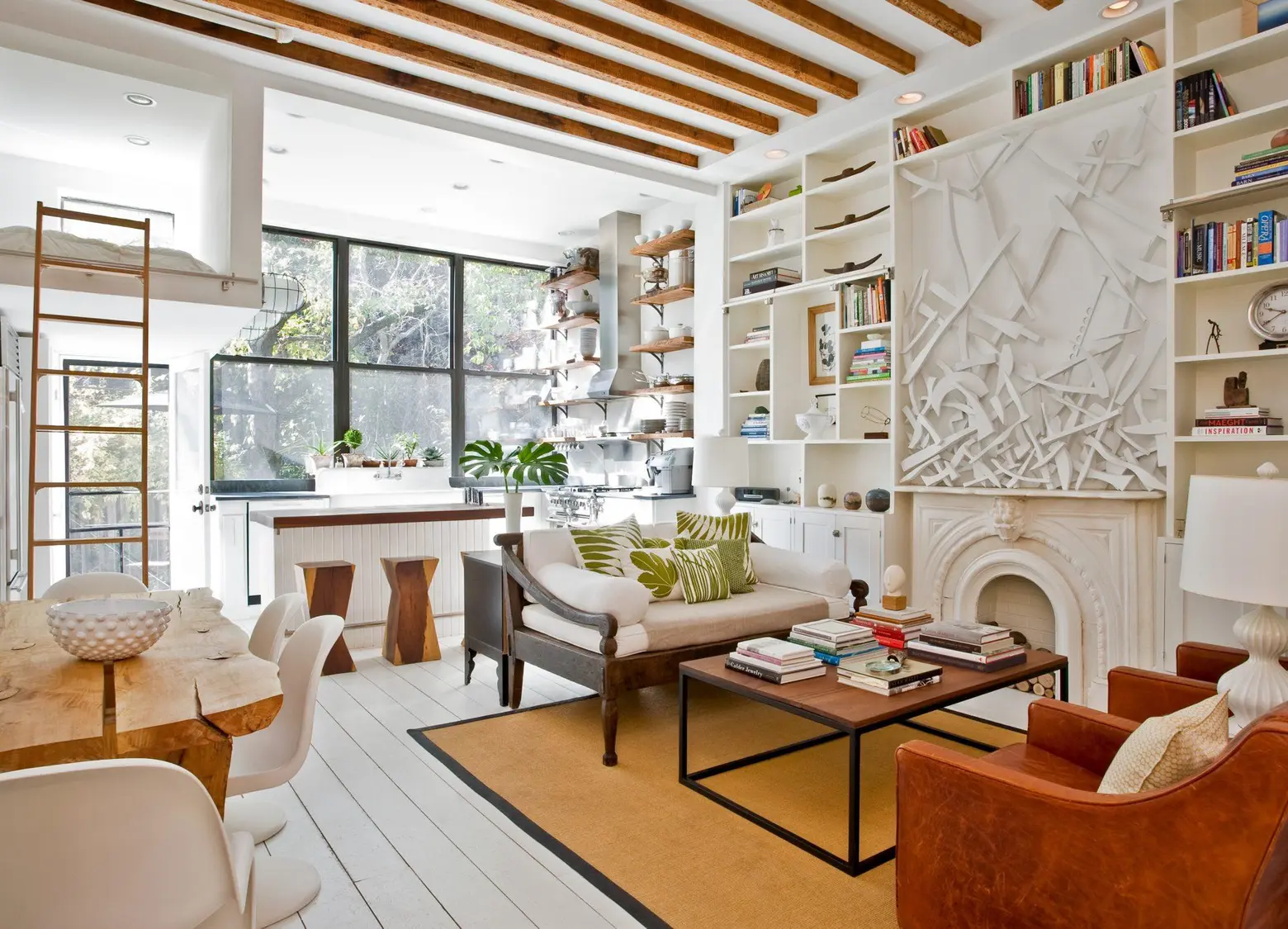 The sculpture above the fireplace on 5th Street is in Fitzhugh and Lyndsay's home. They have a lot of amazing stuff in there.
What makes TBHCo different than other developers?
Bill Caleo: My sister and I were just talking about this yesterday. What we try to do is reminiscent of when the Empire State Building was built. Amazingly, that building was built in only 14 months but the craftsmanship was extraordinary! Everywhere I look in Brooklyn, we look at these old buildings and I am mesmerized by the woodwork and craftsmanship. These people knew what they were doing and they worked really hard. That's what we try to do. We try to instill craftsmanship and hard work and try to build our buildings with the same integrity. For a lot of people, it's about production, getting through it, and hiding stuff behind walls. I like to sleep at night. I don't like to work that way. Our mantra is doing it right with good quality craftsmanship, artistry, and working really hard. We'll all sleep and all be proud.
[This interview has been edited and condensed]
RELATED: