Historic Post Offices: Architectural Masterpieces That Are More than Just Places to Drop Mail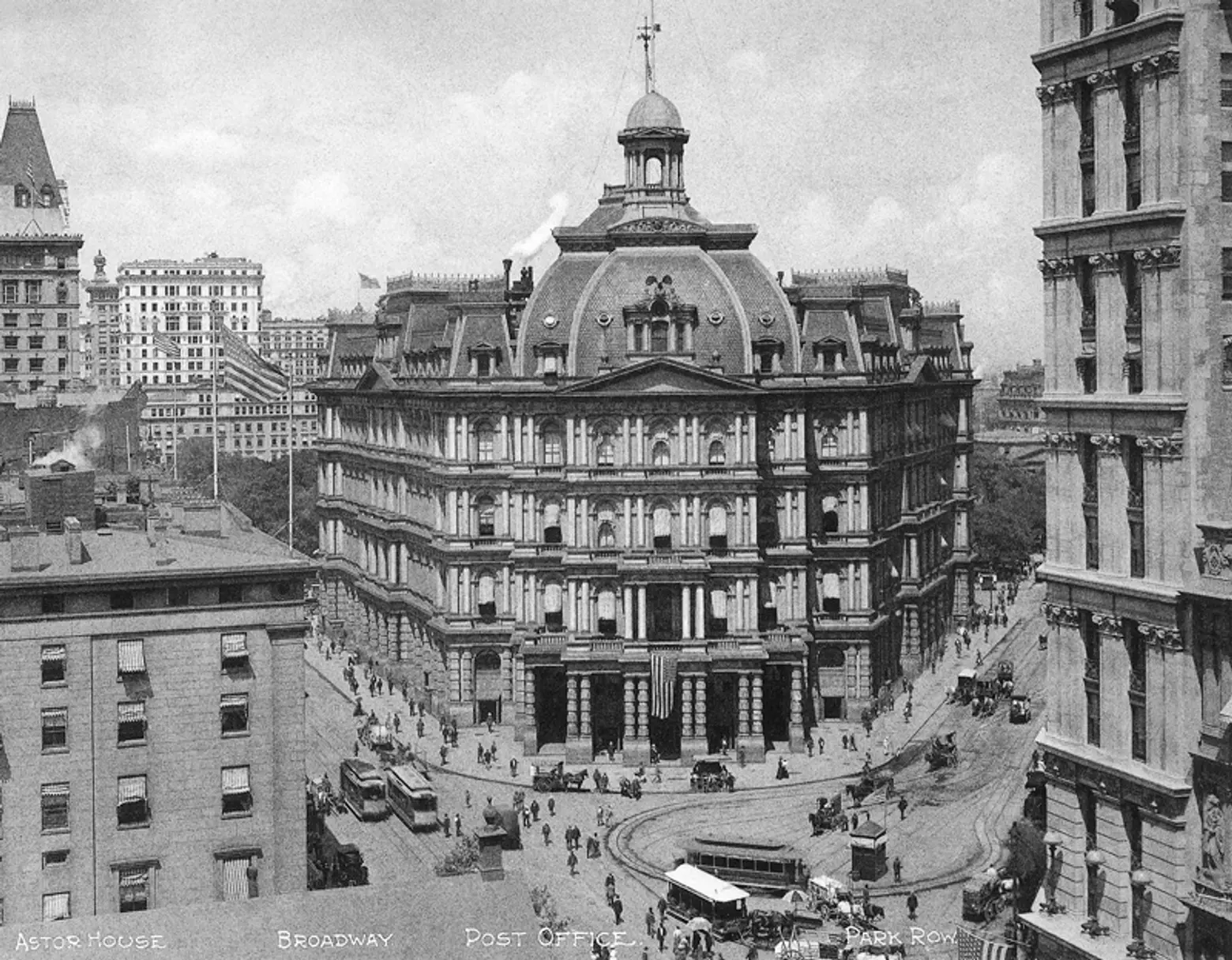 The Federal government has dabbled in several architectural styles over the years when designing New York City post offices. From outdated baroque in the late 1800's to New Deal-era Art Moderne, all of these historic buildings seem to share two characteristics: grandiose and massive. We've rounded up here some of the greatest architectural stunners, which also showcase the evolution of historic post office architecture in the city (and almost make waiting an hour in line to mail one letter bearable).
City Hall Post Office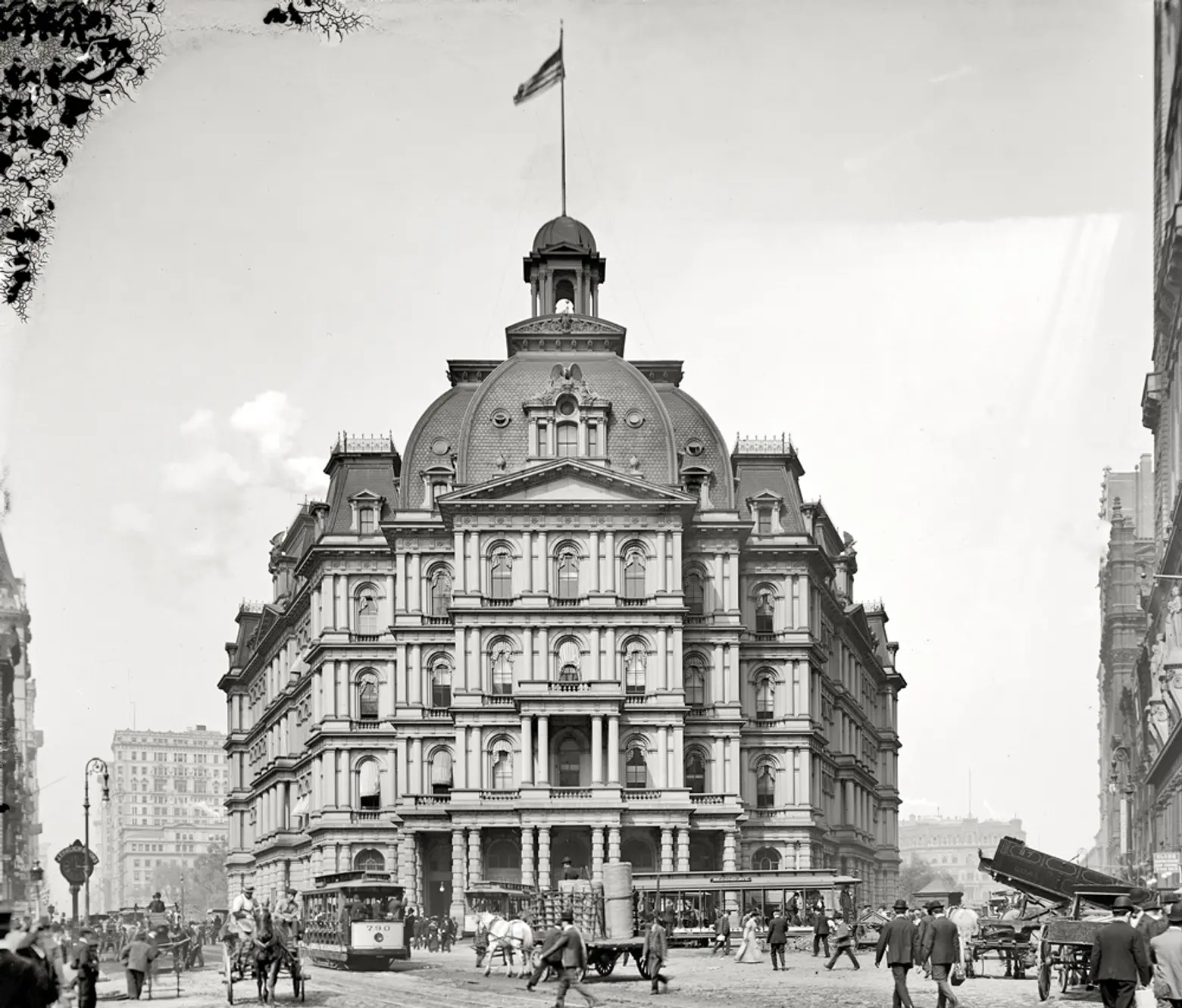 This infamous post office, covering a corner of City Hall Park, opened in 1880 after 11 years of construction and going $5 million over budget. It featured a mansard roof and layered ornamental features. By the time it was finished, the French baroque architecture was out of date and New Yorkers began calling it "Mullet's monstrosity" after the designer, Alfred B. Mullet. Always considered an eyesore, it was demolished right before the 1939 World's Fair. In fact, Mullet created six massive federal government buildings around this time, but only two remain. Though decades too late, the City Hall Post Office is today considered one of Mullet's best works and a perfect of example of Second Empire style.
Federal Building and Post Office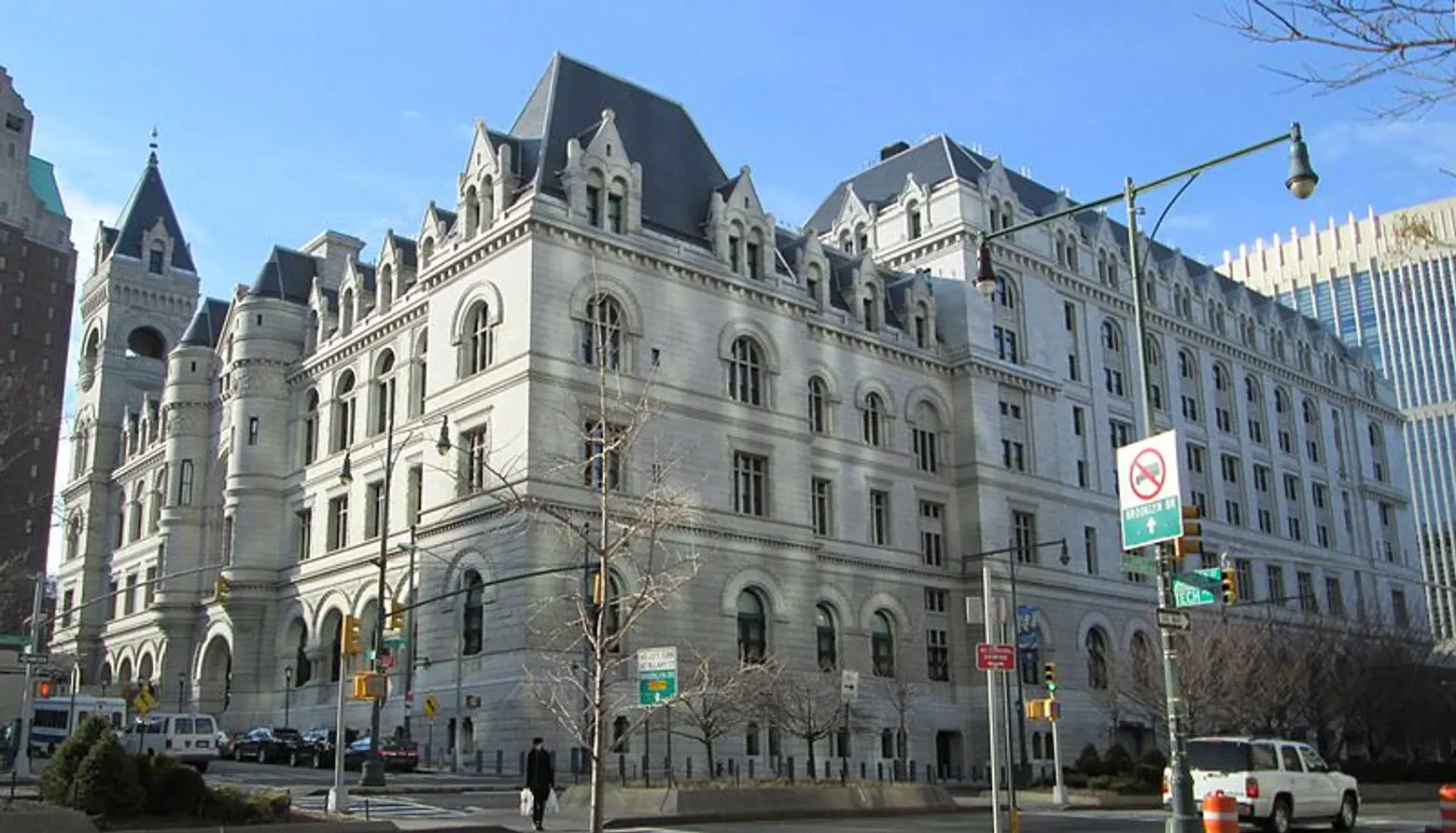 Looking not unlike an elegant castle, this Brooklyn building houses the courthouse, post office, and federal offices in Cadman Plaza. Construction of the Romanesque Revival work lasted from 1885 to 1892, and an addition was added in 1930. Designed by Mifflin E. Bell, the beautiful two-floor atrium inside is one of the building's best features. Romanesque Revival style was popular in the late 19th and early 20th centuries, bringing back the intricate dormers and round arches of 11th and 12th century Roman architecture. The U.S. General Services Administration renovated the building in 1999, and it now includes the U.S. Bankruptcy Court, the U.S. Trustee, and the Offices of the U.S. Attorney, in addition to postal services of course.
Grand Central Station (Post Office)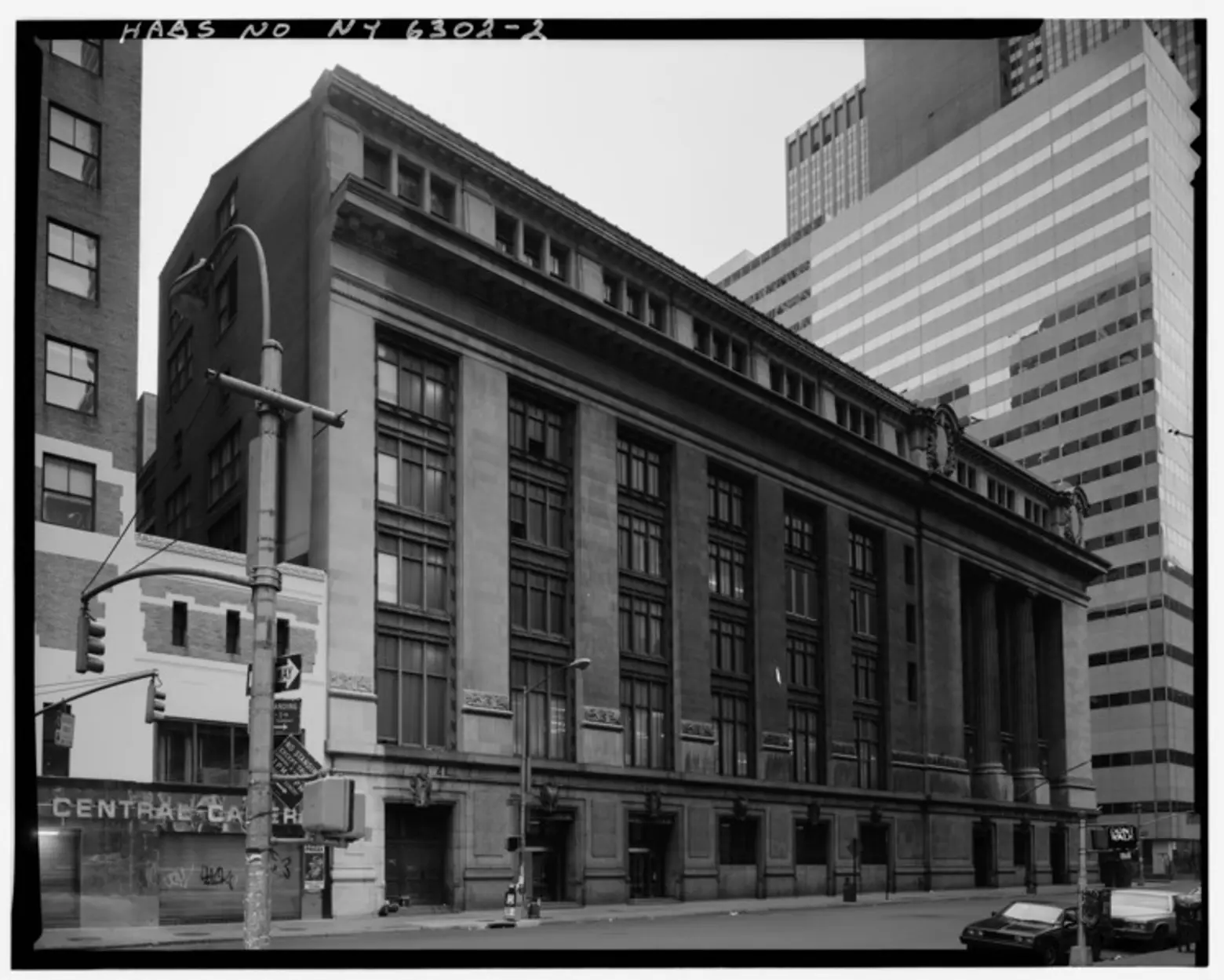 Who knew that this was the real Grand Central Station? That's the official name of this old Midtown post office, but the famous train station adjacent to it–officially called Grand Central Terminal–has adopted the title over the years. Designed in 1906 as part of the original "Terminal City" development, the post office is actually older than the train station itself, which was finished in 1912. While the interior of the building has been remodeled more than once, the outside stands the same, with massive limestone blocks up to five feet thick and Roman Doric columns along Lexington Avenue. Like so many post offices of this time, it is a massive and ornate structure. It's also the sole surviving building of the original Terminal City, which in its heyday included the old Commodore and Biltmore Hotels.
James A. Farley Post Office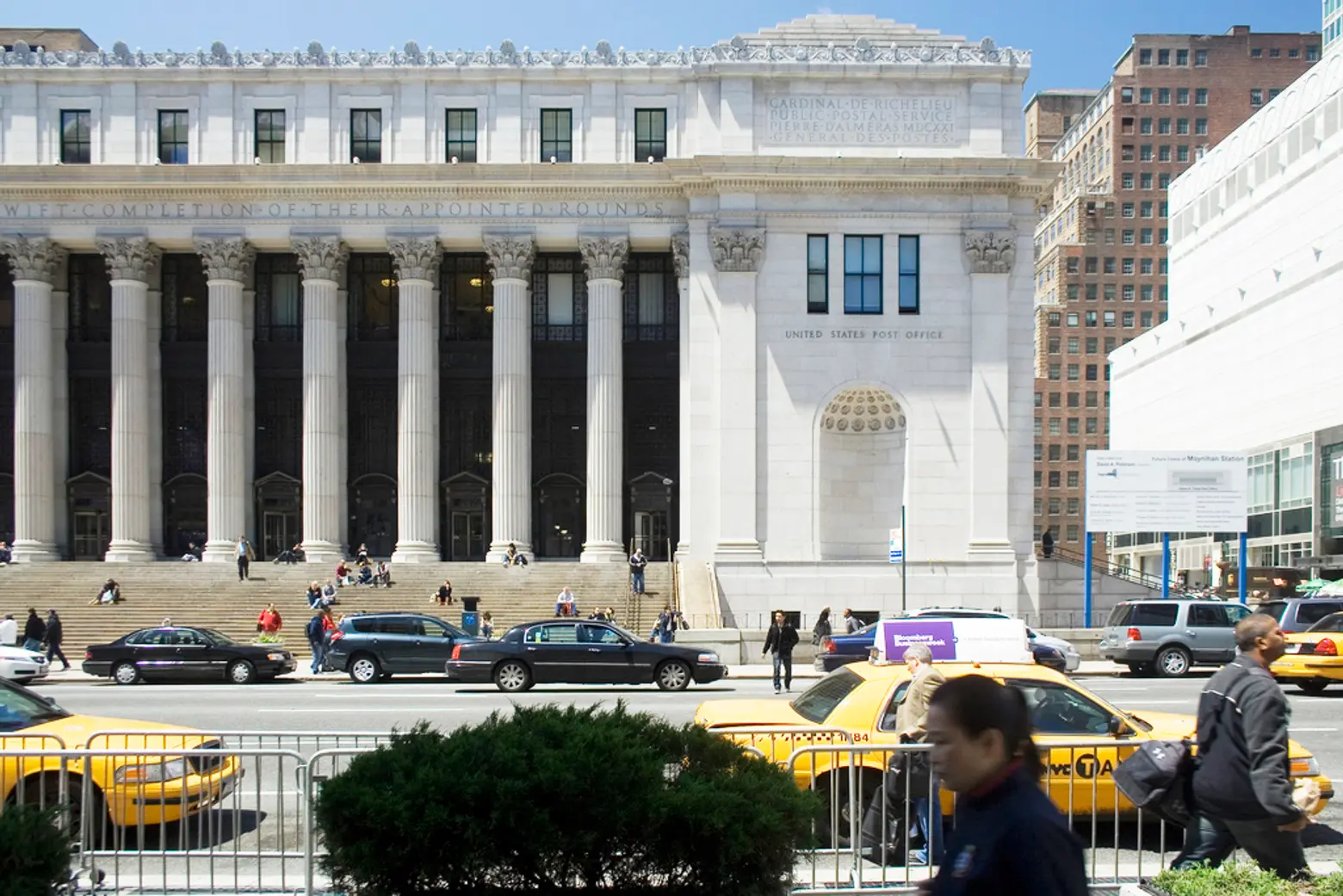 Image © David Cesarino cc
"Neither snow nor rain nor heat nor gloom of night stays these couriers from the swift completion of their appointed rounds," says the inscription on the James A. Farley Post Office building, New York City's main post office. The 1912 Farley building is an iconic, two-city-block-encompassing post office that even non-New Yorker's can recognize, especially since it was designed by famed firm McKim, Mead & White. The Beaux-Arts building features an impressive colonnade atop an unbroken set of stairs that provides ample seating for both tourists and locals alike. While the "gloom of night" portion of the inscription is no longer true–the city's only 24-hour postal service provided here stopped in 2009–the landmark building still has an undeniable presence, and in fact, too much space. Plans to turn part of the site into an annex for Penn Station are moving forward; the project is known as Moynihan Station.
Bronx General Post Office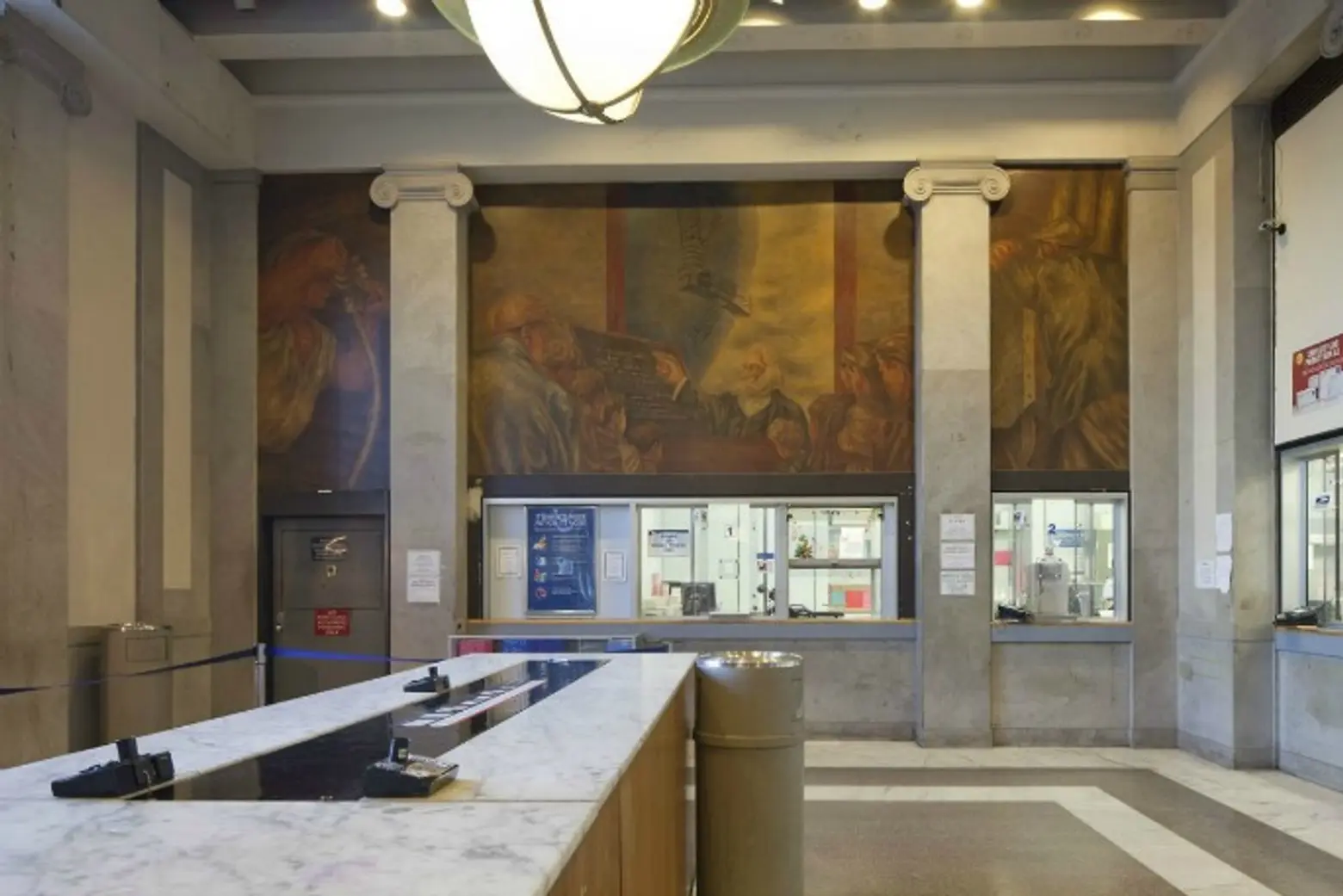 This WPA post office, designed in the Art Moderne style popular in the 1930's, doesn't boast incredible architectural design on the outside. The real gem is what's inside: 13 Depression-era murals painted by Ben Shahn and his wife Bernarda. Built in 1935, the Bronx General Post Office was part of FDR's New Deal building projects, and Shahn, who was contracted to paint in several federal buildings, created murals highlighting the dignity of American labor, based on Walt Whitman's poem "I see America Working." Thanks to these paintings, the building was granted interior landmark status in December 2013.
Cooper Station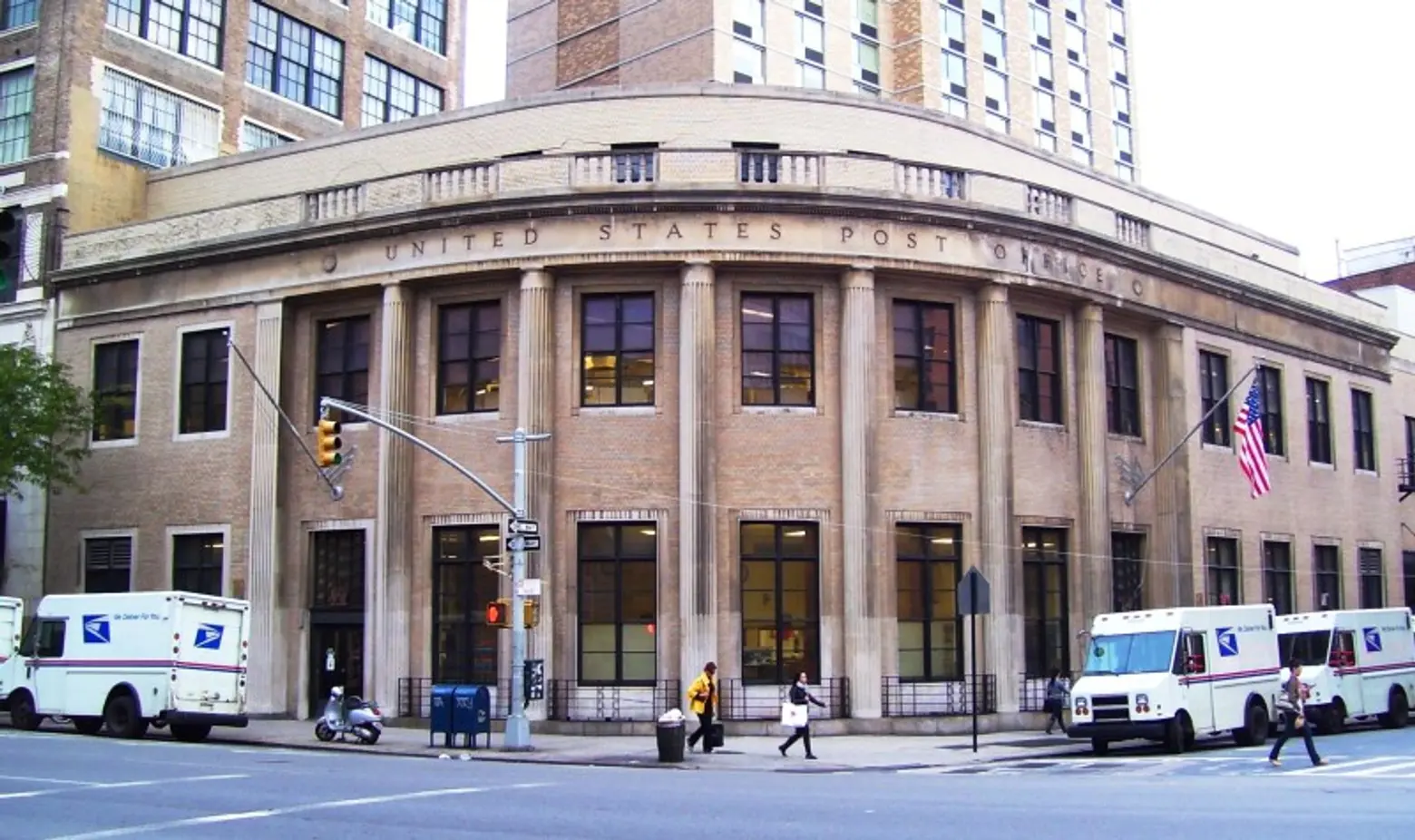 The Cooper Station post office was built in 1937 in today's East Village and designed in the Art Moderne style by William Dewey Foster who did a lot of work with the Office of the Supervising Architect on New Deal projects of this era. It was named for Peter Cooper, founder of the nearby Cooper Union. You might recognize this building if you were a Seinfeld fan; it was often shown as the post office that employed Newman. The building is listed on the State and National Register of Historic Places.
Images via Wiki Commons unless otherwise noted