Delta's $4B Terminal C opens this weekend at an all-new LaGuardia Airport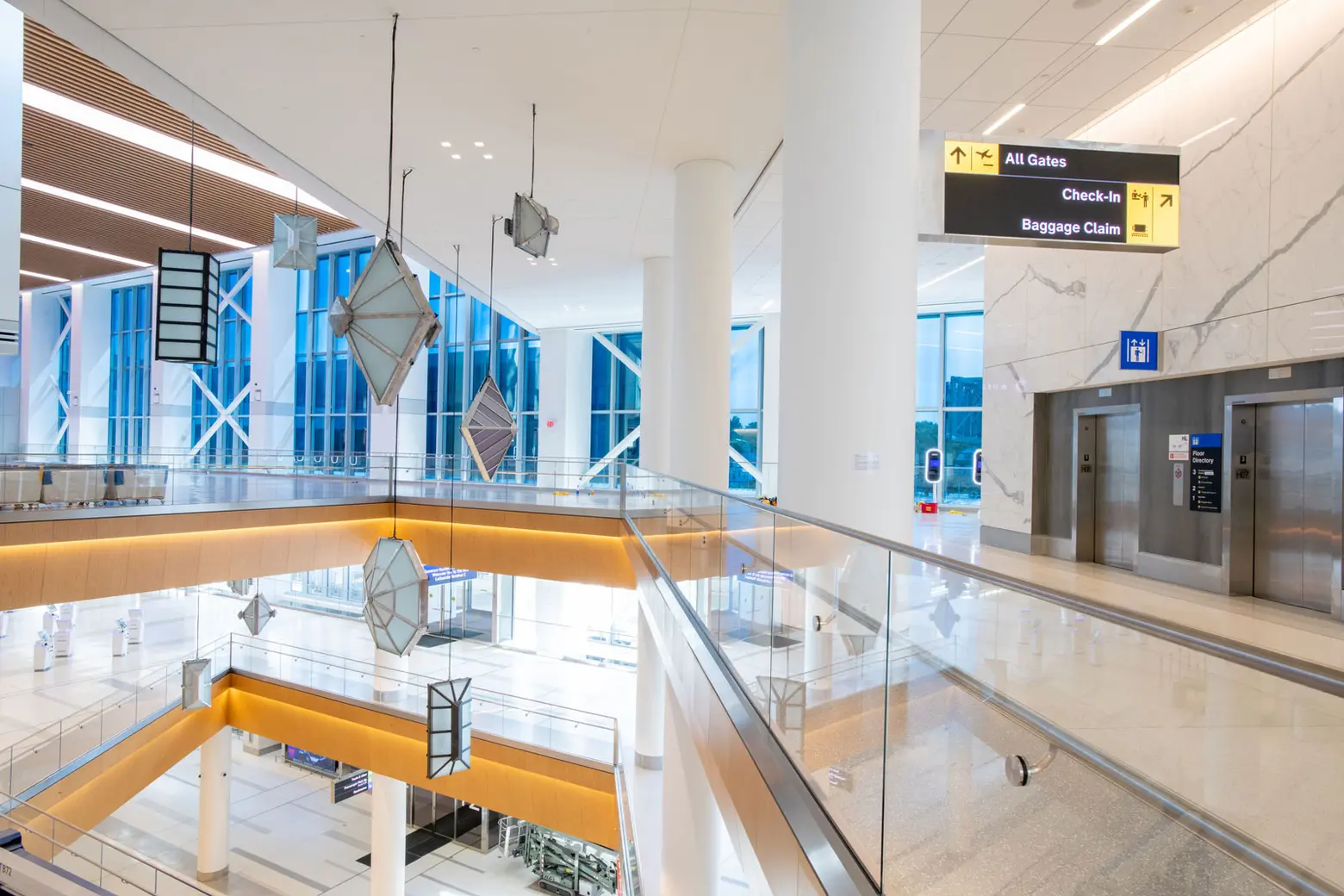 Photo courtesy of Gov. Kathy Hochul's Office
Gov. Kathy Hochul and The Port Authority of New York and New Jersey announced Wednesday that the $4 billion Delta Air Lines Terminal C will open at LaGuardia Airport on June 4. The opening means the all-new $8 billion LaGuardia Airport, the nation's first new major airport in a quarter-century, is nearly complete. At nearly twice the size of the one it replaces, Delta's new terminal boasts up-to-the-minute technology, New York-centric concessions–and an impressive collection of new public artworks by well-known local artists referencing the Queens neighborhood's rich immigrant history and cultural diversity.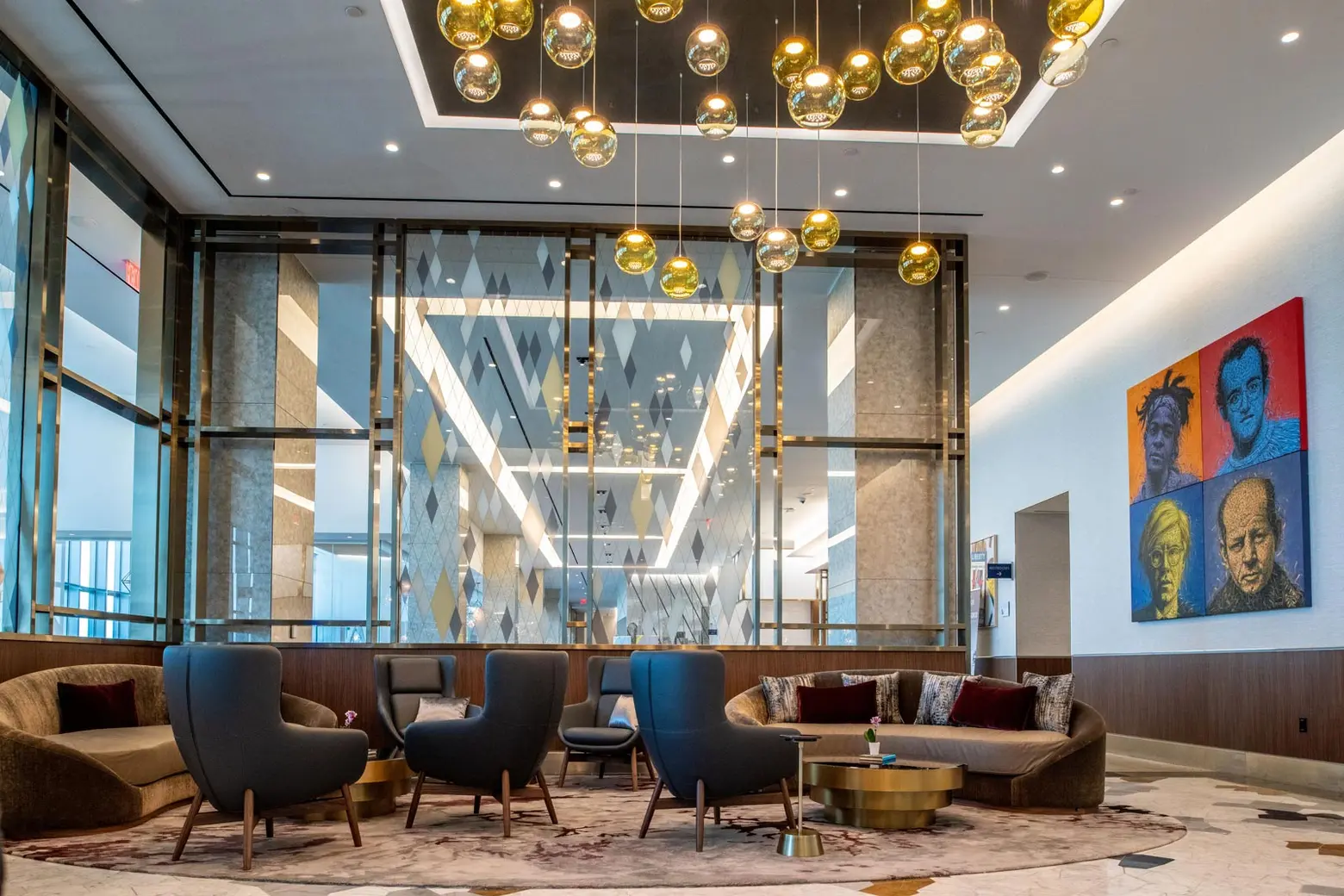 According to the New York Times, Delta is the largest carrier in New York, employing 10,000 local workers before the pandemic (currently back to 9,000 employees). Terminal C represents the airline's heftiest investment to date in airport infrastructure.
"The transformation of a LaGuardia Airport into a world-class destination that is internationally recognized for its beauty is an integral part of our bold vision for a new era in New York," Hochul said in a statement. "The opening of Delta's $4 billion Terminal C will help provide a state-of-the-art passenger experience, easing connections and creating lasting impressions."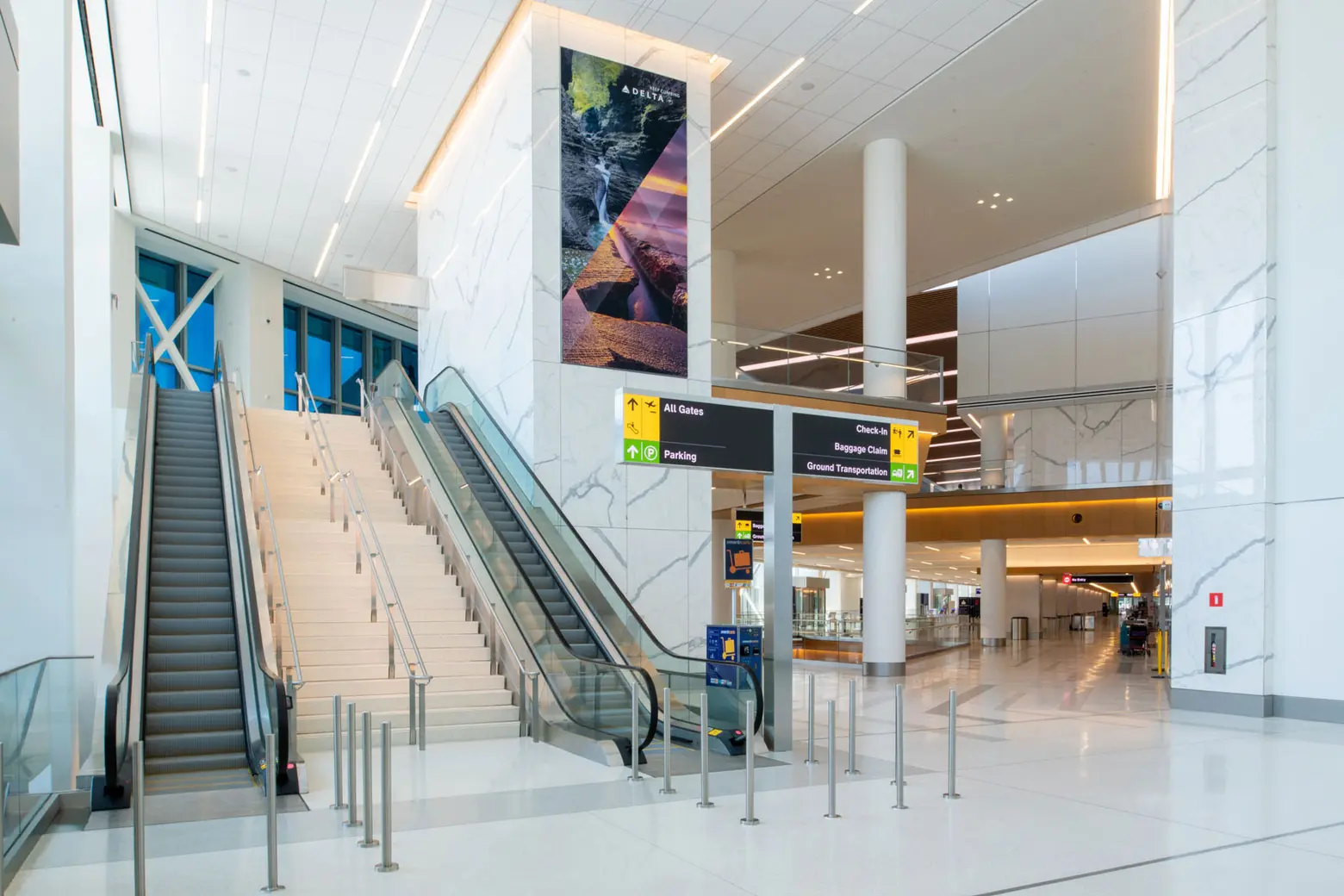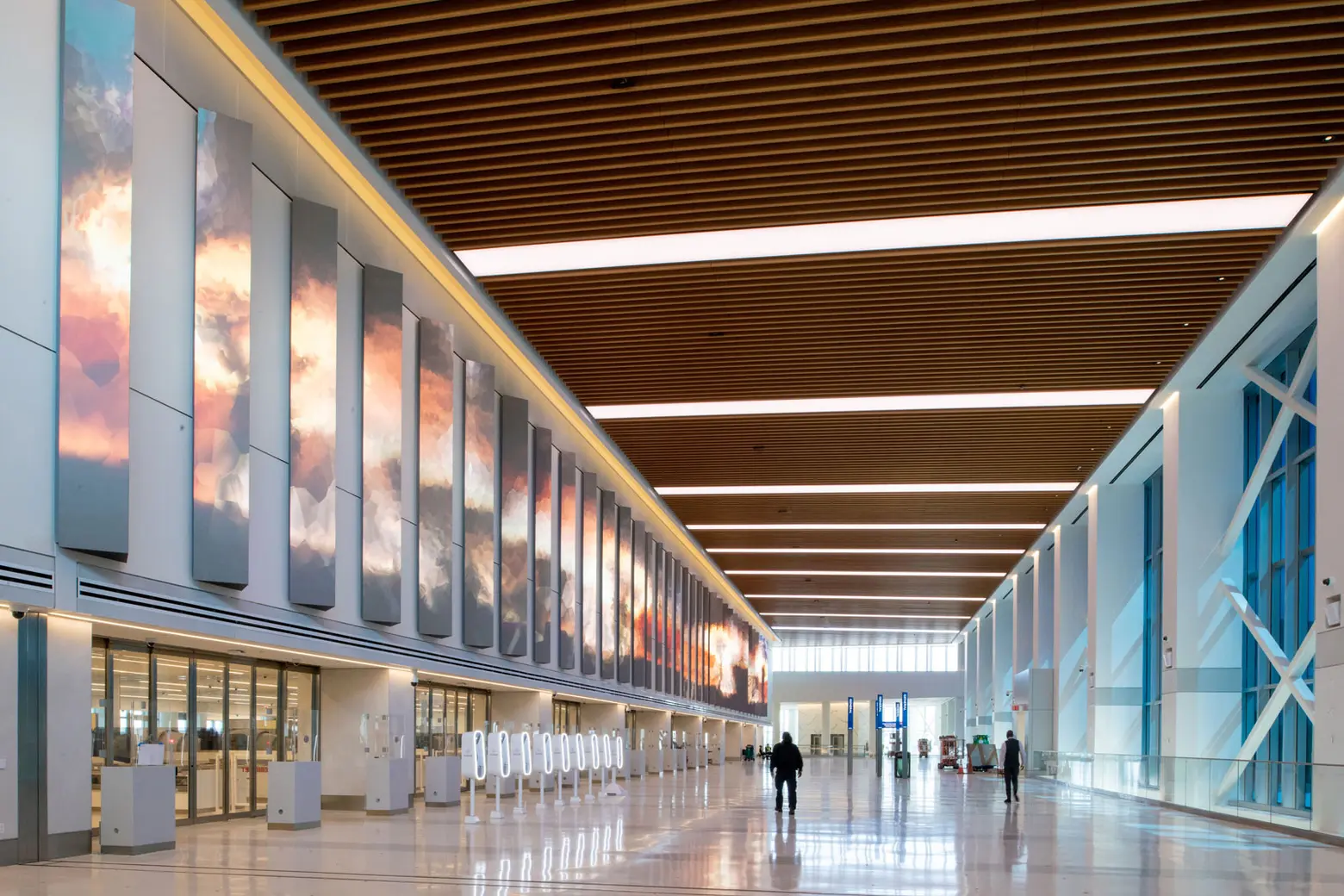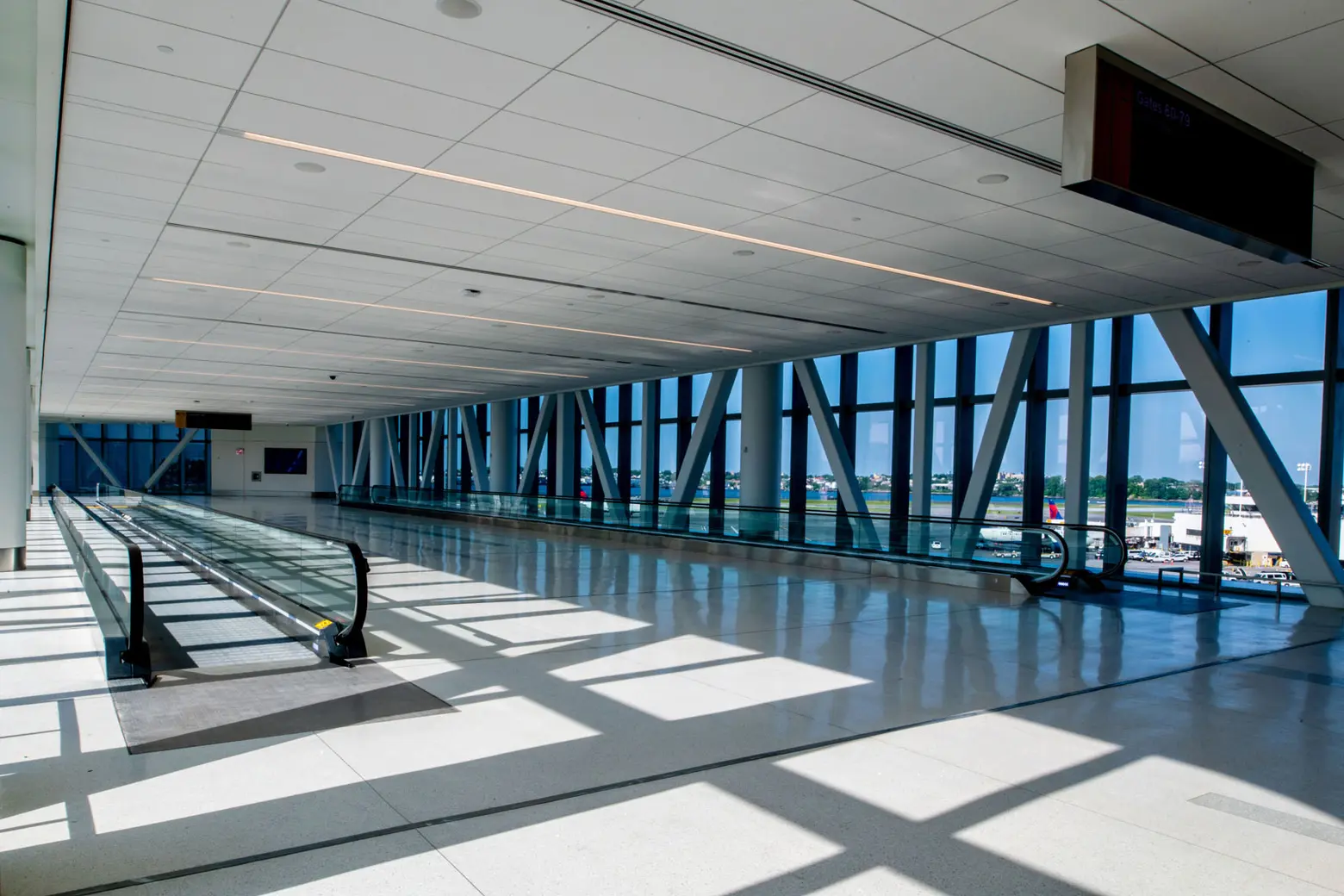 Photos courtesy of Gov. Kathy Hochul's Office
The new 1.3 million-square-foot, state-of-the-art terminal will consolidate access through a single new arrivals and departures hall, replacing 37 gates. Concessions at the new Terminal C will include familiar food favorites like Bubby's, Sunday Supper Trattoria, Chuko Ramen, Poppy's Bagel, and Starbucks as well as specialty retail stores like Buzzfeed News, MAC, Le Labo, Briggs & Riley, Patricia Nash, Beekman and True to New York.
"Today marks a new beginning for Delta customers and employees at our LaGuardia hub with the opening of this remarkable new terminal. It's been more than a decade since Delta committed to growing–and winning–in New York, and we've been unwavering in our efforts to become New York City's No. 1 airline, "Delta CEO Ed Bastian said in a statement.
"It's thanks to the 10,000 New York-based Delta people that we've been able to invest nearly $7 billion in New York airports since 2010, deliver the products and experiences our New York customers deserve, and become part of the fabric of the New York community that means so much to so many of us."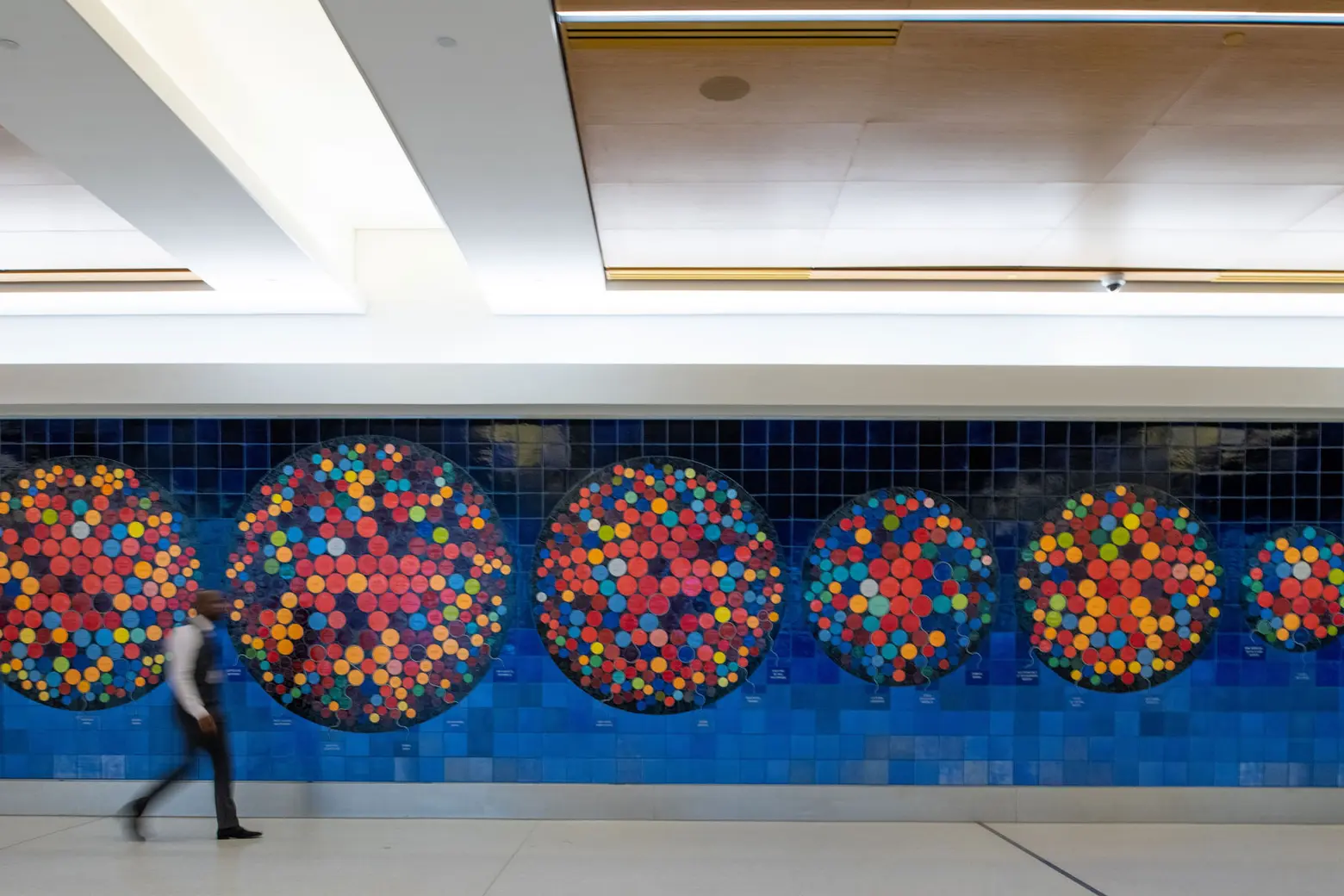 A highlight of the new terminal will be the significant collection of public art that will greet passengers. The six new artworks were commissioned by Delta in partnership with the Queens Museum as part of a $12 million art program. Ryan Marzullo, a Delta managing director overseeing the $4 billion Terminal C project, explained in a statement to the Times that Delta sought artwork for its new terminal that would be "New York-centric and reflect the diversity of our company."
New works by Mariam Ghani, Rashid Johnson, Aliza Nisenbaum, Virginia Overton, Ronny Quevedo, and Fred Wilson include painted ceramic murals and sculptures that can be found throughout the terminal. Each tells of NYC's immigrant history and diversity, particularly found in Queens.
As the Times reports, the newest works join a roster of others at the airport. Terminal B hosts four pieces by Jeppe Hein, Sabine Hornig, Laura Owens, and Sarah Sze, unveiled in 2020. Terminal A is home to a restored 1942 James Brooks mural. And a 40-foot-high Richard Lippold sculpture will be moved this year from its current home at Lincoln Center to a LaGuardia atrium.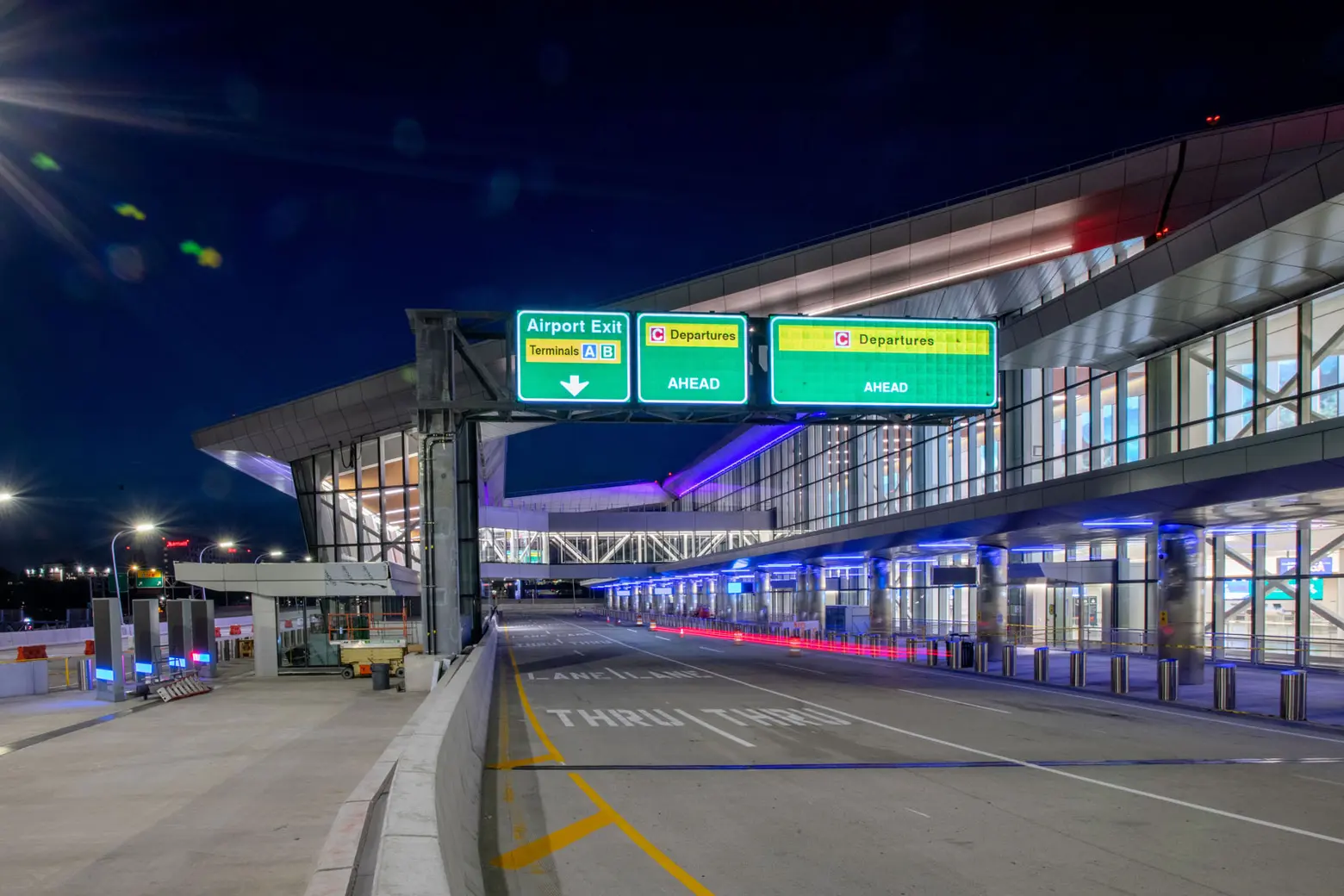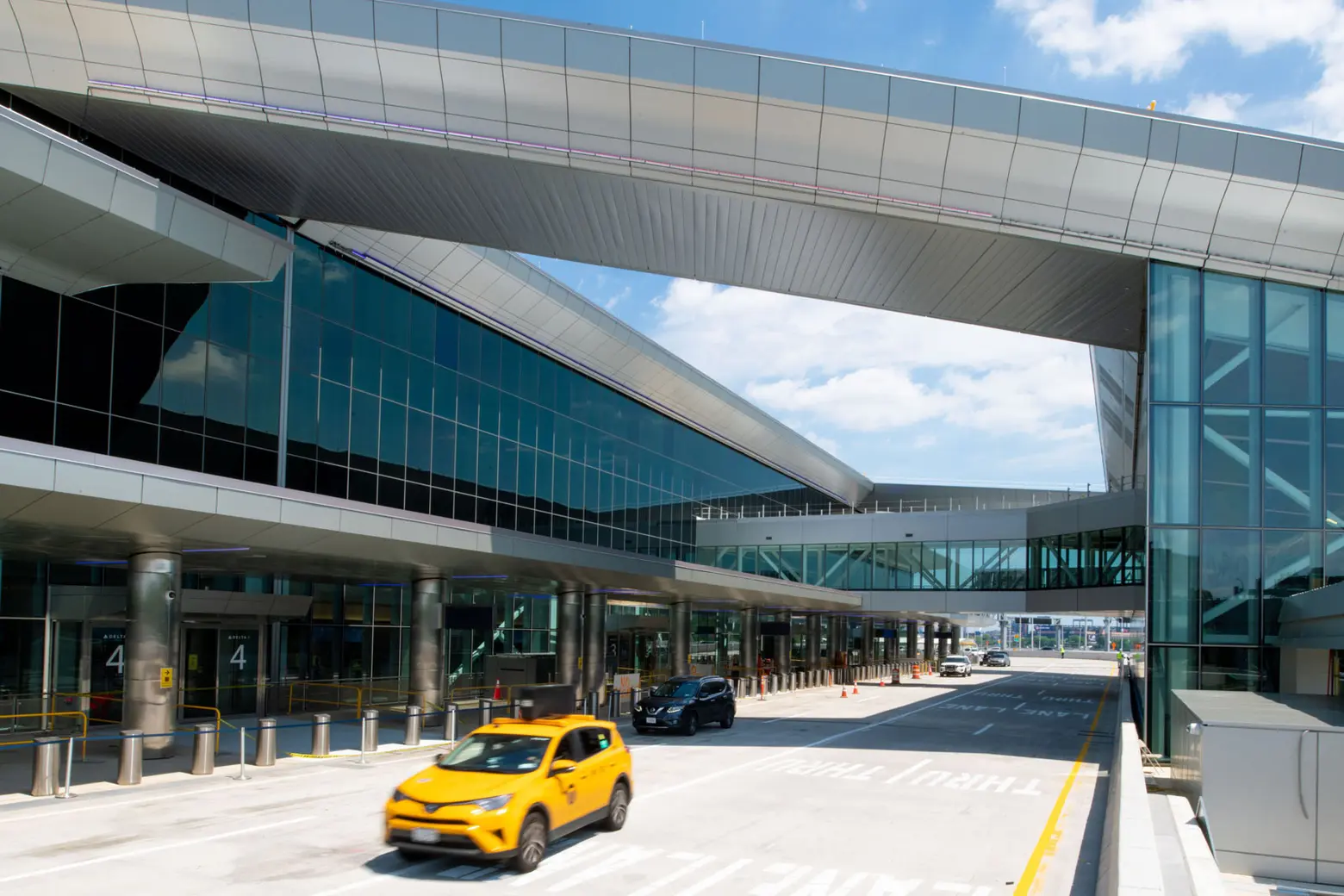 As 6sqft previously reported, the $8 billion LaGuardia Airport project arose from a comprehensive plan, unveiled In 2015, and begun in 2016, to create a new world-class, 21st-century travel experience with new terminals and gates, arrivals and departures halls, state-of-the-art customer amenities and much more. Two-thirds of the project is being funded via private financing and passenger fees. The new airport has been constructed in phases in order to keep it completely operational throughout construction.
RELATED: 
Photos courtesy of Gov. Kathy Hochul's Office