It's U.S. Open time in NYC: What to know before you go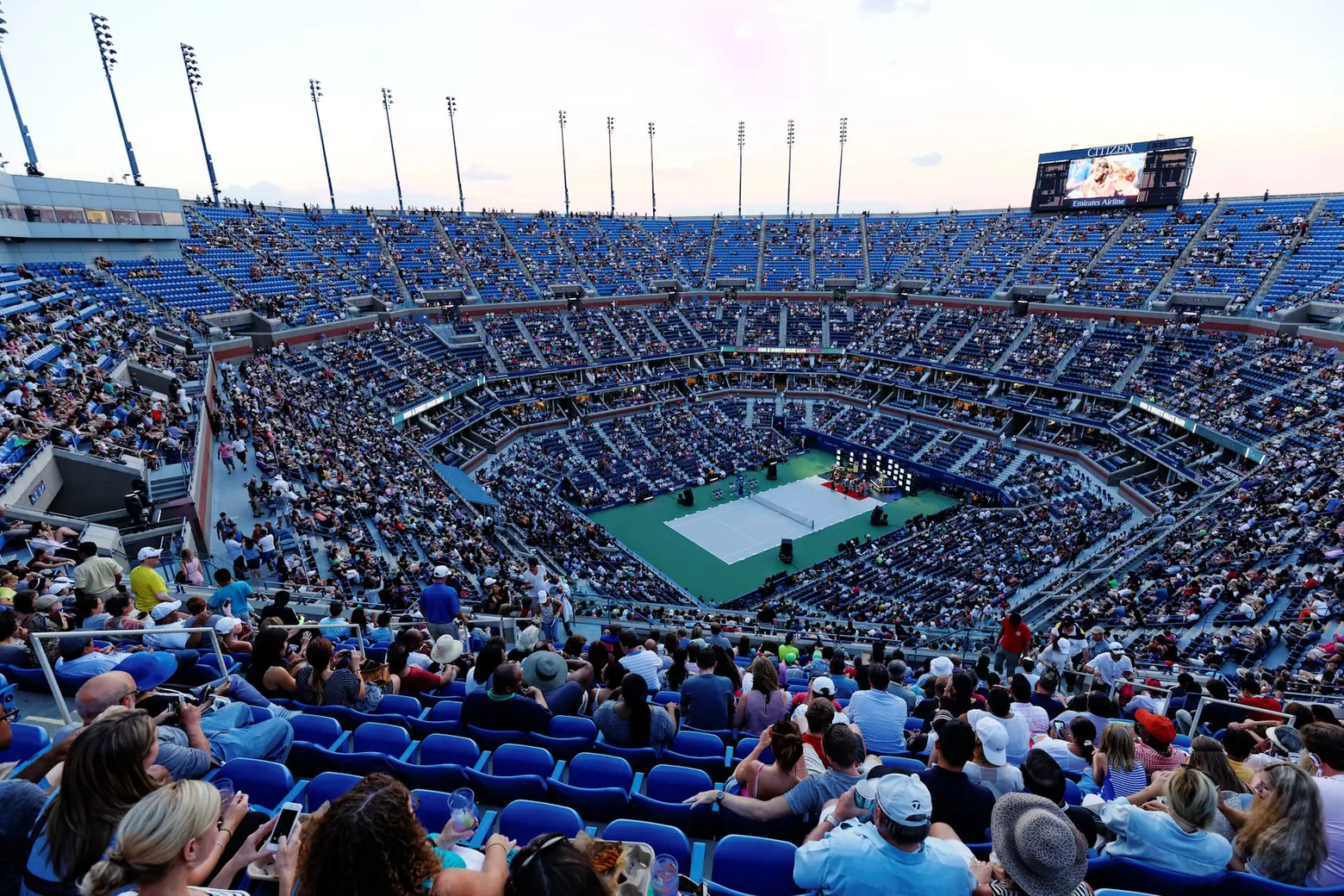 The U.S. Open is upon us. In New York City, it's one of the big social events on the calendar with a guest list that includes everyone from A-listers to the average New Yorker. The U.S. Open is part of the Grand Slam of tennis: the Australian, French, and U.S. Opens and Wimbledon Championships.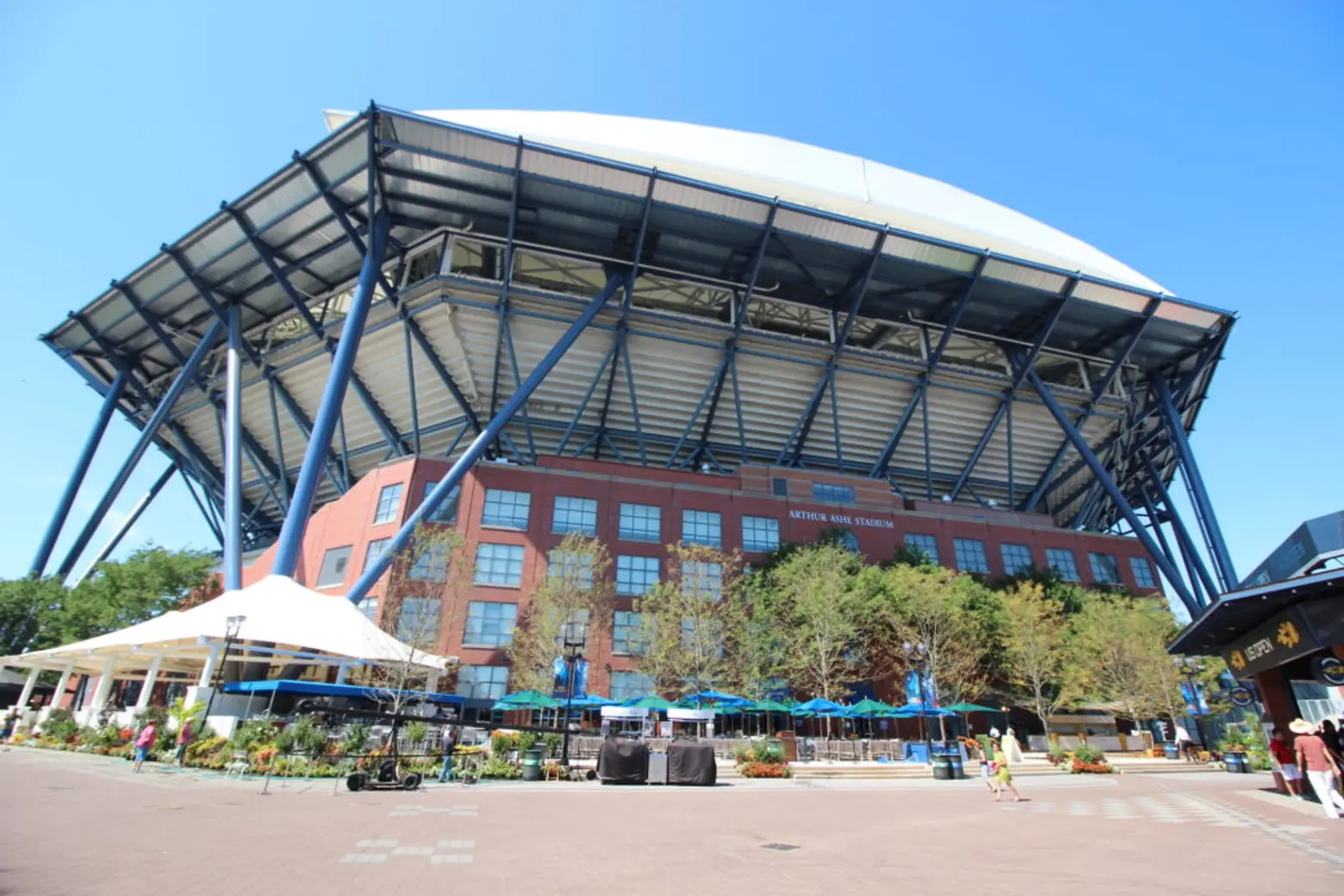 The Open traces its roots back to the U.S. National Championship, established in 1881, but the first iteration of the modern-day U.S. Open took place in 1968 with Arthur Ashe taking the men's singles victory (his name now graces a stadium). In 1978, the tournament moved to its current location at the USTA Billie Jean King National Tennis Center (then called National Tennis Center) in Queens. Past U.S. Open legends include Serena Williams, Roger Federer and Bob Bryan, John McEnroe and Martina Navratilova.
Planning on heading to the Open? Here's what you need to know.
Where does the U.S. Open take place?
Since 1978, the U.S. Open has been held at the USTA Billie Jean King National Tennis Center at Flushing Meadow Corona Park in Queens. The venue was named for the tennis legend in 2006.
When is the U.S. Open 2023?
This year, the U.S. Open takes place Aug. 28 – Sept. 10, and multiple matches are held each day.
Gates open at 9:30 a.m. for day sessions Aug. 28 – Sept. 6, and at 11 a.m. Sept. 7 -10. Gates open at 6 p.m. for night sessions Aug. 28 – Sept. 8. "Arthur Ashe Stadium will open at 6:30 p.m. or 40 minutes after the conclusion of the day sessions."
Who are the players to watch in the U.S. Open?
Spain's Carlos Alcaraz and Serbia's Novak Djokovic are the names on everyone's mind when it comes to men, and Poland's Iga Swiatek is the frontrunner for women.
How much is a ticket to the U.S. Open?
Ticket prices and packages vary. One-day passes are available for both day and evening times, and range in price from about $100 to upwards of $1,000 depending on seats. There are also weekly and series packages for those who don't want to miss any of the action, but those packages are all sold out on the U.S. Open site. Luxury suites are also available and range in price to upwards of close to $3,000.
How to get to the U.S. Open
The USTA Billie Jean King National Tennis Center is reachable by subway, train, or car.
Subway: Take the 7 to Mets-Willets Point Station
Train: Take the LIRR to Mets-Willets Point StationCar: Paid parking is available at Mets Stadium (except on days when a Mets game is happening) or at ​​the Shops at Skyview. Rideshares will drop riders off at the New York State Pavilion, and they should walk or take a complimentary shuttle to the stadium.
Dining at the U.S. Open?
There are tons of food and beverage options at the U.S. Open from NYC eateries, including Eataly, Korilla BBQ, San Matteo NYC and Taqueria Nixtamal, among others.
Aces is a full-service restaurant serving food from Michelin Star Chef Ed Brown, Iron Chef Masaharu Morimoto and Chef Kwame Onwuachi and Champions Bar & Grill serves food from Champions by Benjamin Steakhouse. Both are only available to Courtside Box seat holders and Luxury Suite guests, and reservations are required. Michelin-starred and Iron Chef Alex Guarnaschelli's food is available in the South Plaza. Other sit-down options include Bar Tartine, Emirates Sports Cafe, Mojito Restaurant and Bar, U.S. Open Club, and Fly Fish @ Oyster Bar 7.
For libations, there is a Grey Goose bar, a Heineken bar, and sit-down bars Kimpton Lemon Bar and The Open Bar. Coffee is available at the Lavazza Cafe, and Van Leeuwen Ice Cream is on hand for dessert.
Click here to see a complete list of food and drink options.
Shopping at the U.S. Open
Aside from typical event memorabilia, the U.S. Open has Ralph Lauren, Fila, Wilson, and Tennis-Point stores.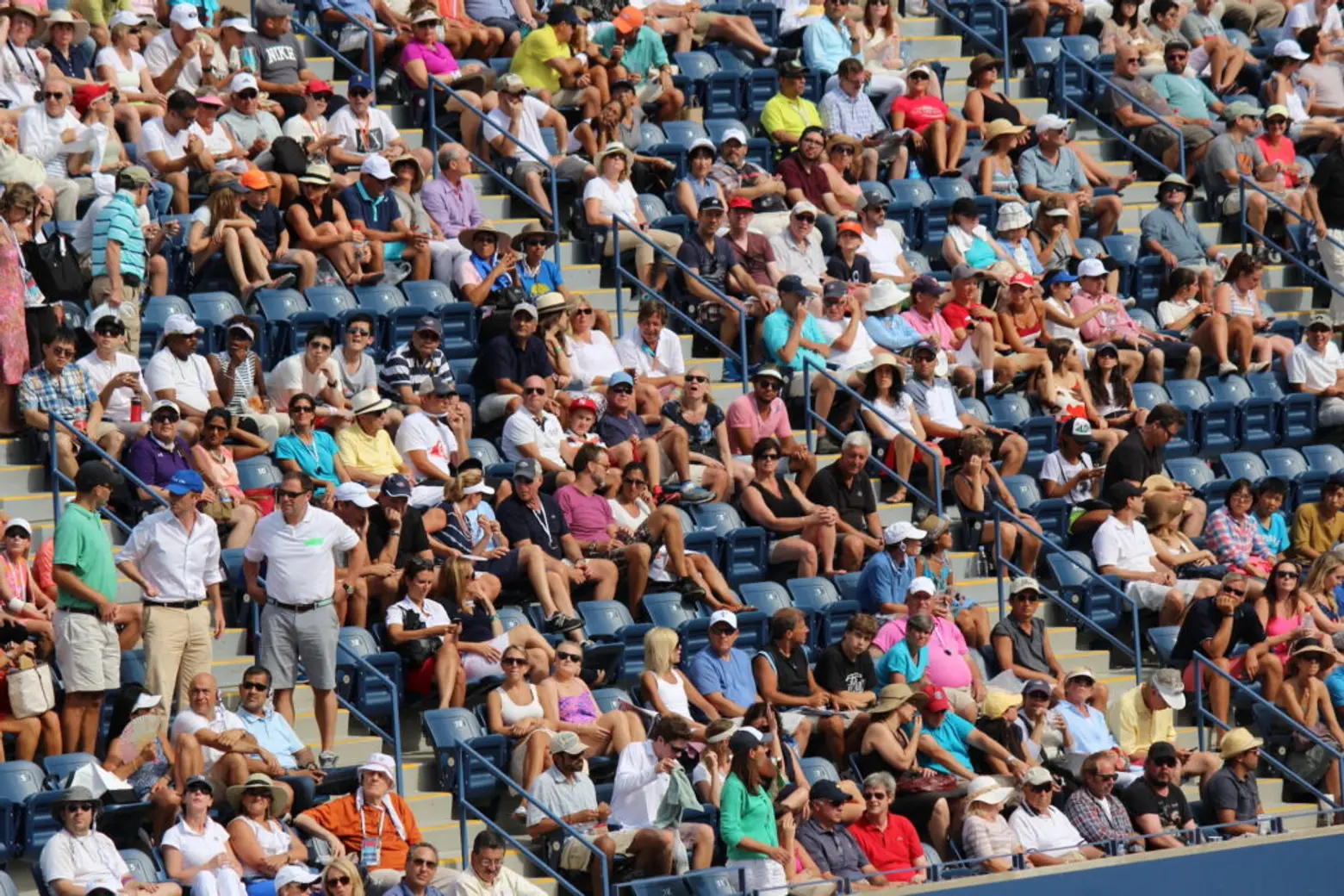 What to wear to the U.S. Open
The U.S. Open is a casual but somewhat posh event, and some people use it as an opportunity to show off their style. There is no official dress code, but in 2022, Vogue recommended women wear all-white, tennis-inspired outfits or preppy summer dresses. In 2023, Town and Country posted inspo with a similar vibe. For footwear, comfortable shoes are a smart choice as you may need to walk around the stadium and to your transportation.
Celebrity sightings at the U.S. Open
Why does it matter what you wear? Well, it doesn't really, but the U.S. Open is famously crawling with celebrities, so you may want to look your best in case you rub shoulders with one!
Among A-listers spotted last year were: Anne Hathaway, Kendall Jenner, Zach Braff, Anna Wintour, Jerry Seinfeld, Jon Bon Jovi, Jason Biggs and Lin-Manuel Miranda, Karlie Kloss, Joe Jonas, and Emily Ratajkowski, just to name a few.
But 2022 was a big year as it was potentially Serena Williams' last Open. The tennis megastar wrote in a Vogue essay that she was "evolving away from tennis, toward other things that are important to me." However, a few months later, she said she was actually not retiring and that she would likely return to the sport. Williams is not playing in this year's U.S. Open, but her sister, Venus was awarded a wild card into the women's singles main draw. This will be her 24th main draw, according to the U.S. Open.
U.S. Open watch parties
Can't make it in person? Find a watch party in your neighborhood. Here are a few to check out:
Hudson Yards
20 Hudson Yards, Manhattan
Watch the Open on a huge outdoor screen at the Public Square & Gardens at Hudson Yards. The 30-foot screen will be airing ESPN coverage of the matches starting Aug. 31. All screenings are free on a first-come, first-serve basis.
BK Backyard
86 North 11th Street, Brooklyn
In Williamsburg, outdoor sports bar BK Backyard is featuring watch parties from Aug. 28 – Sept. 10 featuring Grey Goose Honey Deuce, the official drink of the U.S. Open.
PENN 1
1 Pennsylvania Plaza, Manhattan
The Landing at PENN 1 is screening the U.S. Open on their big screens with cocktails and food being served at the bar/restaurant.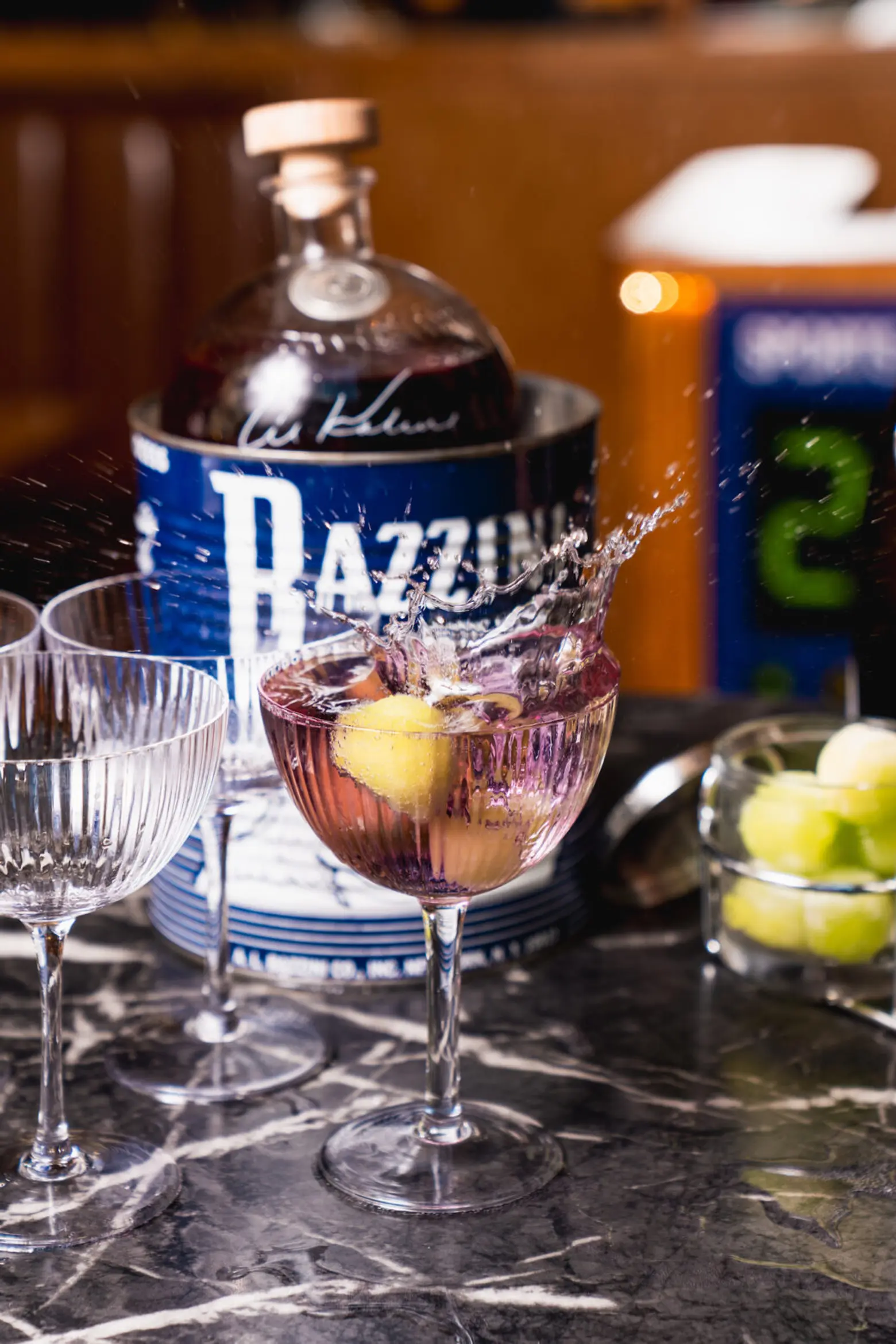 Rocco's Sports & Recreation
1 West 3rd Street, Manhattan
Located in Greenwich Village, Rocco's Sports & Recreation will be streaming all of the tournament's major matches over the next few weeks. Rocco's has launched a tennis-themed menu just in time for the U.S. Open, with highlights including the Big Chilliams, a new version of the bar's best-selling Serena Chilliams, which is made of apple gin, acidified plum liqueur, and served with a bottle of prosecco and honeydew balls.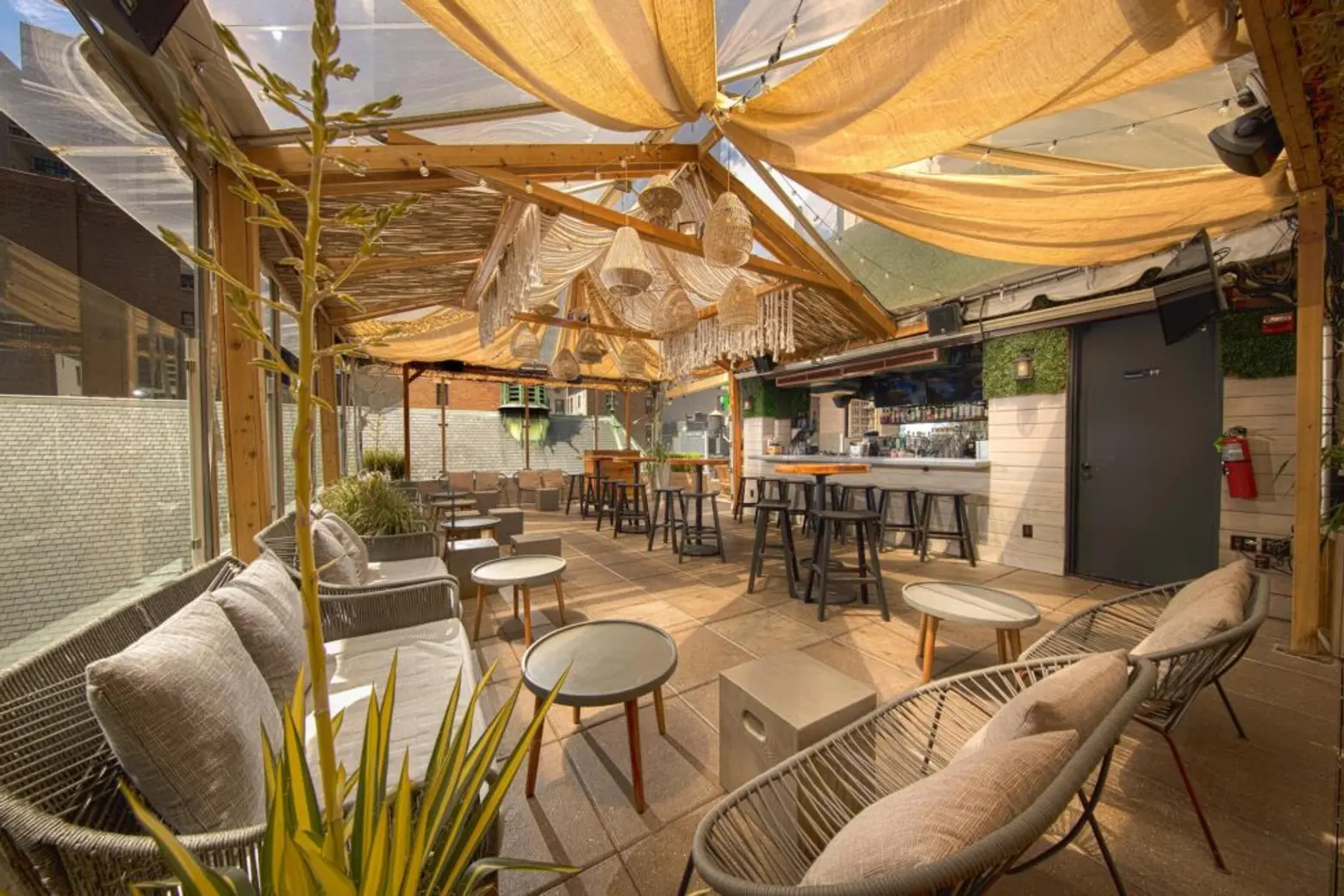 Haven Rooftop
132 West 47th Street, Manhattan
Situated on top of Time Square's Sanctuary Hotel, Haven Rooftop is inviting guests to enjoy the excitement of the U.S. Open on its high-definition screens. Haven is offering its signature U.S. Open cocktail, the Honey Deuce, as well as a delicious menu of American cuisine.
Pando 39
54 West 39th Street, Manhattan
In celebration of the U.S. Open, Pando 39 and Pando Park, located at 450 Park Avenue South, will be broadcasting the tournament across 16 TVs and offering a delicious selection of food and drink, including a specialty cocktail called the Minted Spritz, which is made with St. Germain, Prosecco, soda, and mint.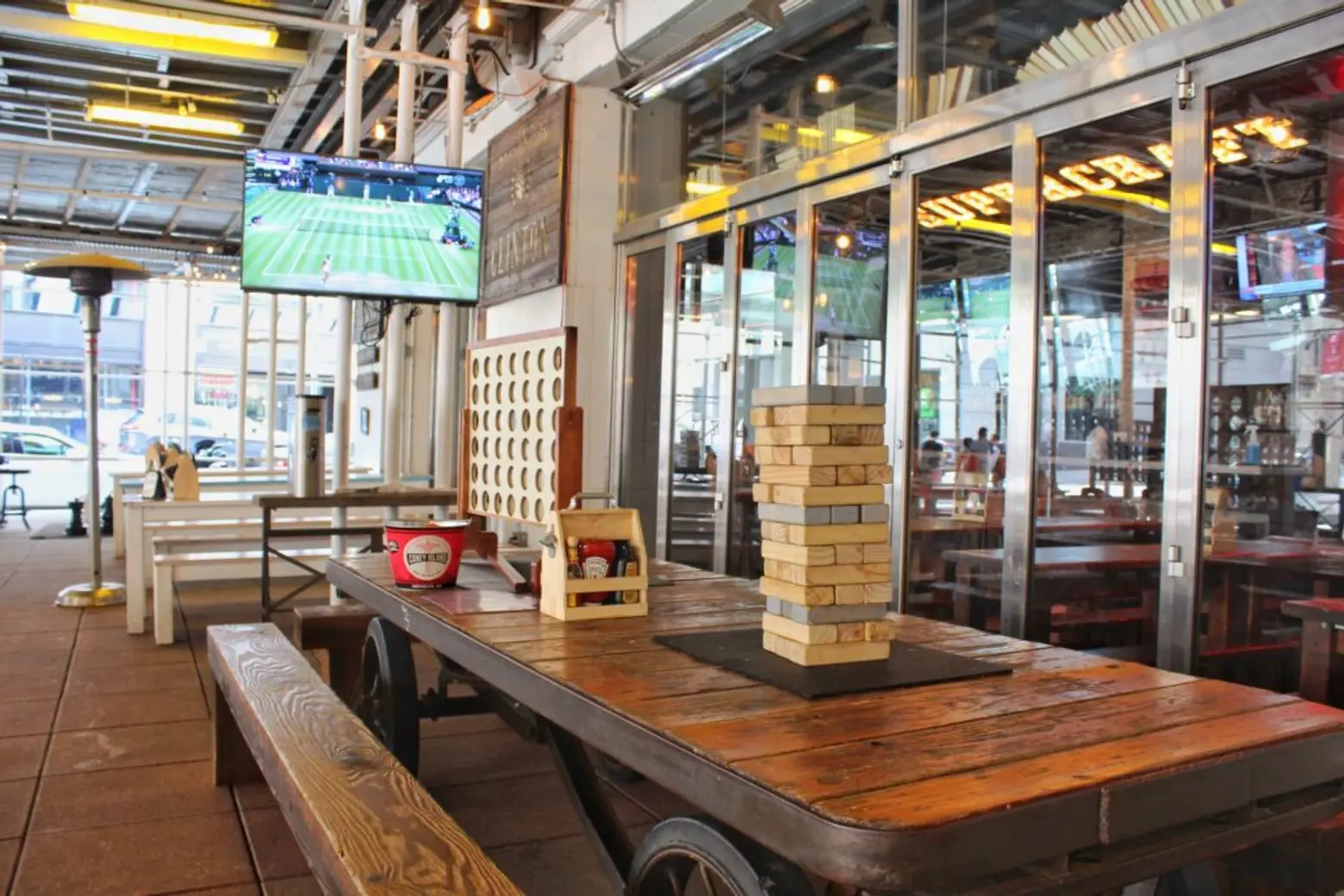 Clinton Hall
Clinton Hill will be showcasing the tournament at their FiDi (90 Washington Street, 36th Street (16 West 36th Street), East 51st Street (230 East 51st Street), Bronx (601 East 189th Street), and Williamsburg (247 Metropolitan Avenue) locations. Guests are invited to enjoy a wide selection of drinks, including hard seltzers, wine, and a full bar menu of mouthwatering bites, including burgers, giant pretzels, chicken wings, and more.
RELATED: