Asian food hall and performance space could come to Flushing's Sky View Parc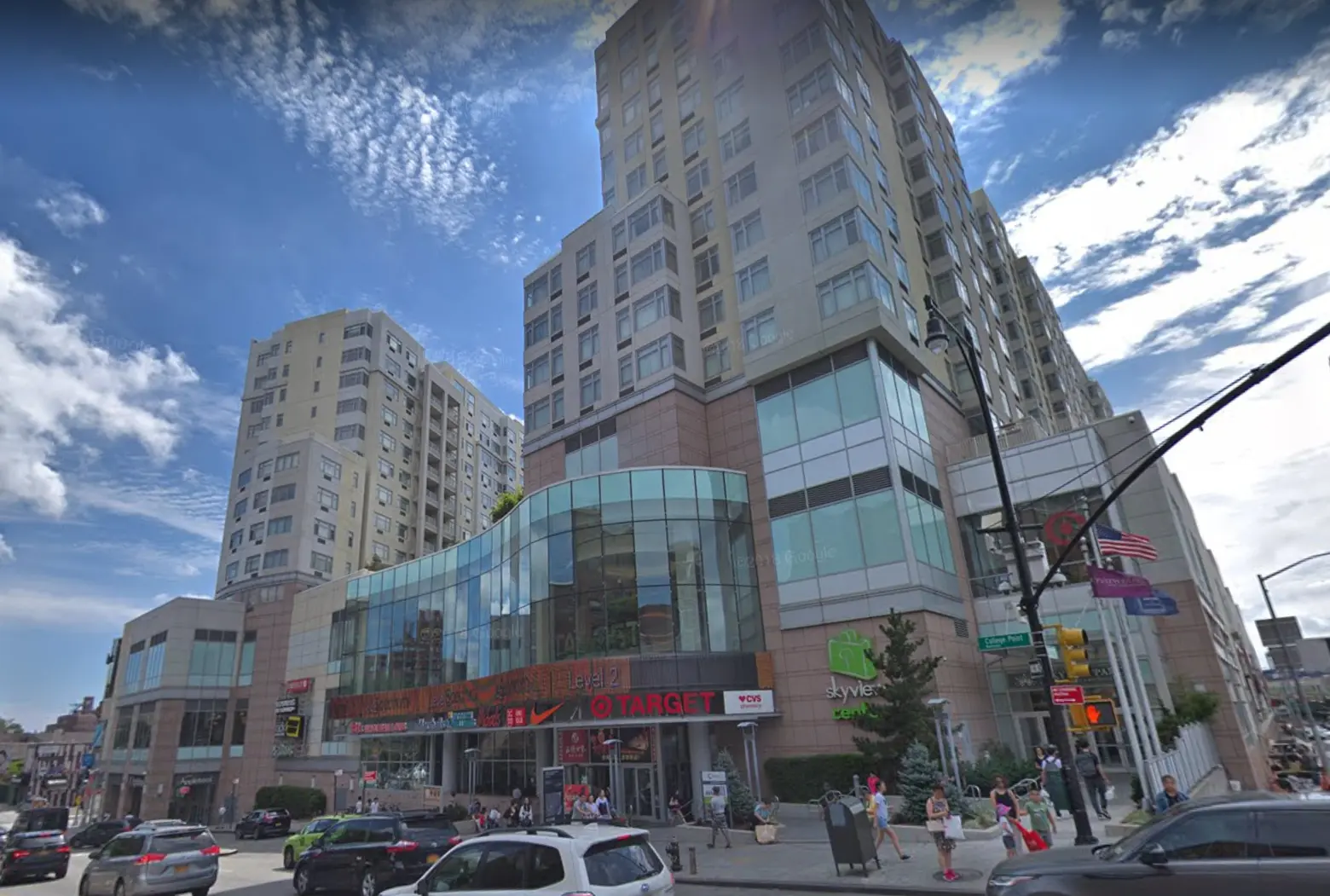 Google Street View of the mall and Sky View Parc
According to The Real Deal, developer Blackstone will be opening an upscale food hall at Flushing's Shops at Skyview, a large shopping mall with big-box stores such as Target, BJ's, and Nordstrom Rack that's part of the larger Sky View Parc luxury condo development. In addition to plans for "chef-driven" and "fast-cash" food offerings, performance spaces and nightlife events are also in the works. And according to the group who will be curating the food hall, it's taking inspiration from San Francisco's popular Chinese marketplace.
In 2015, Blackstone affiliate ShopCore Properties purchased the shopping center and parking garage for $400 million, their first foray into Queens. The property is part of the larger Sky View Parc mixed-use development, which includes the luxury condo project The Grand at Sky View Parc. Three three-towered development rises above and connects to the Shops and has seen sale prices top the $1 million mark.
Perhaps the food hall is the next step on the path to transform this part of Queens into more of a luxury neighborhood. It will be overseen by Colicchio Consulting, who specializes in food hall development and programming. The firm is headed up by Phil Colicchio, an attorney who has represented chefs and hospitality clients (he's also cousins with star chef Tom Colicchio, who is within the firm's chef network); Trip Schneck, who has worked in asset management and strategy within the hospitality sector; and Gabe Witcher, a Grammy-nominated artist and producer. It is therefore not surprising that Colicchio said the upscale eateries will be "chef-driven" and "fast-cash." Nor is it surprising that he said "giving young people something to do at night" is a top priority given Witcher's expertise.
Colicchio confirmed the news during an interview at the International Council of Shopping Centers' recent convention in Las Vegas. However, The Real Deal notes that a source familiar with the project said the size is yet to be determined. There was no talk of any specific vendors, but Colicchio did say the food hall takes inspiration from San Francisco's China Live marketplace, a one-year-old Chinatown food hall that is basically a Chinese version of Eataly. Considering more than 70 percent of Flushing's population is Asian, a similar concept would be an obvious choice. Earlier this year, the first East Coast outpost of Japanese dollar store/snack emporium opened at the Shops at Skyview Center.
[Via TRD]