Mets owner reveals 'Metropolitan Park' proposal for $8B casino complex next to Citi Field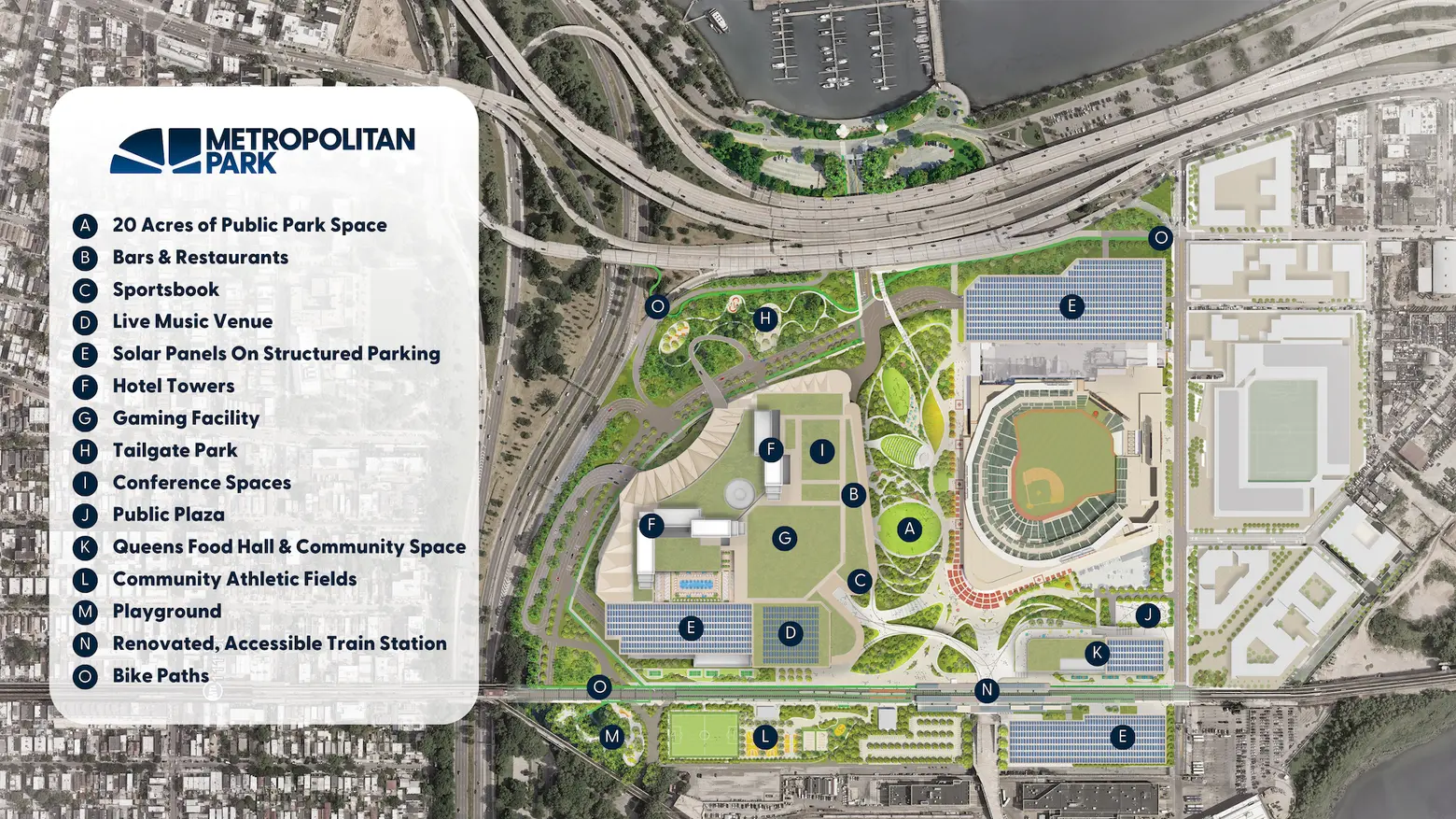 Rendering: Queens Future LLC
New York Mets owner Steve Cohen on Tuesday unveiled new details for his plan to build a casino across the street from Citi Field. The billionaire hedge fund manager has teamed up with Hard Rock International on the proposed "Metropolitan Park," a sports and entertainment development planned for 50 acres of what is currently parking lots next to the Flushing, Queens baseball stadium. The $8 billion proposal includes a Hard Rock-run entertainment complex with a hotel, live music venue, restaurants, and a casino, 20 acres of public space, a Queens-themed food hall, a renovated transit station, and more.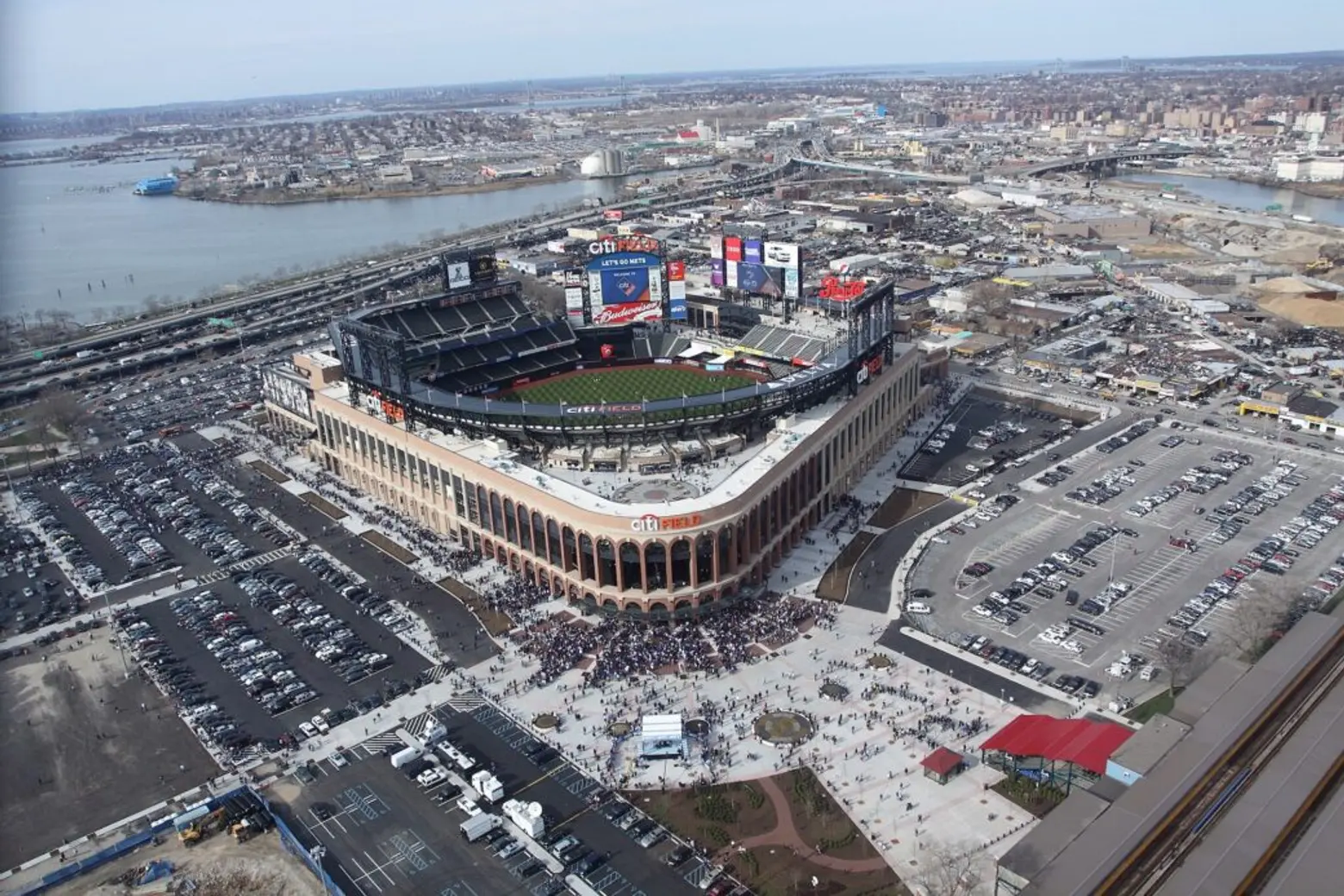 "It's time the world's greatest city got the sports and entertainment park it deserves," Cohen said. "When I bought this team, fans and the community kept saying we needed to do better. Metropolitan Park delivers on the promise of a shared space that people will not only want to come to and enjoy, but can be truly proud of."
As stated in a press release, Cohen and his team have hosted 15 public workshops, "hundreds" of meetings with local leaders, and held 20,000 "door-to-door" conversations with community members over the last three years.
The project includes two powerhouses for the design of Metropolitan Park: SHoP Architects (Barclays Center, The Brooklyn Tower) and Field Operations (The High Line, South Street Seaport).
The proposal maps out public parks, gardens, and athletic space, a hotel with restaurants, bars, and conference space, a casino and sportsbook (subject to Gaming Commission license, the press release notes), a live music venue, a food hall with local Queens vendors and affordable options, and connections to the waterfront and new bike networks.
"Hard Rock at Metropolitan Park will be rooted in the spirit of music while embracing the unique culture and character of Queens," Jim Allen, Chairman of Hard Rock International, said.
"Metropolitan Park captures the energy and vision of bringing people together for memorable shared experiences that exemplify the company's mottos to Love All Serve All, All is One, Save Time to Be Kind and Save the Planet. We're excited to bring our unique brand of world-class entertainment to Queens."
In addition to securing one of the three downstate casino licenses to be issued, Cohen also needs to gain state authorization to build on the Citi Field parking lot, which is city-owned and state-regulated. According to The City, the parking lot is technically parkland as part of the 1939 creation of Flushing Meadows-Corona Park and requires the state to "alienate" the site to allow for construction. A bill introduced in the State Assembly would do this, but no legislation has been introduced in the Senate yet.
The proposed Metropolitan Park sits across from the Willets Point development, which will be home to the city's first professional soccer stadium for the New York City Football Club and has recently entered public review. Notably, The City reports, Cohen has not yet agreed to let NYCFC park at Mets parking lots, attempting to "leverage the land for his casino bid."
Cohen's proposal joins a long list of plans released by other developers seeking one of the three casino licenses to be issued in downstate New York. These include the Bjarke Ingels-designed Freedom Plaza near the U.N., "The Avenir" complex across from the Javits Center, atop Saks Fifth Avenue, and a Jay-Z-backed Caesars Palace casino in Times Square, among others.
RELATED: