All the performances, events, and classes in NYC you can stream online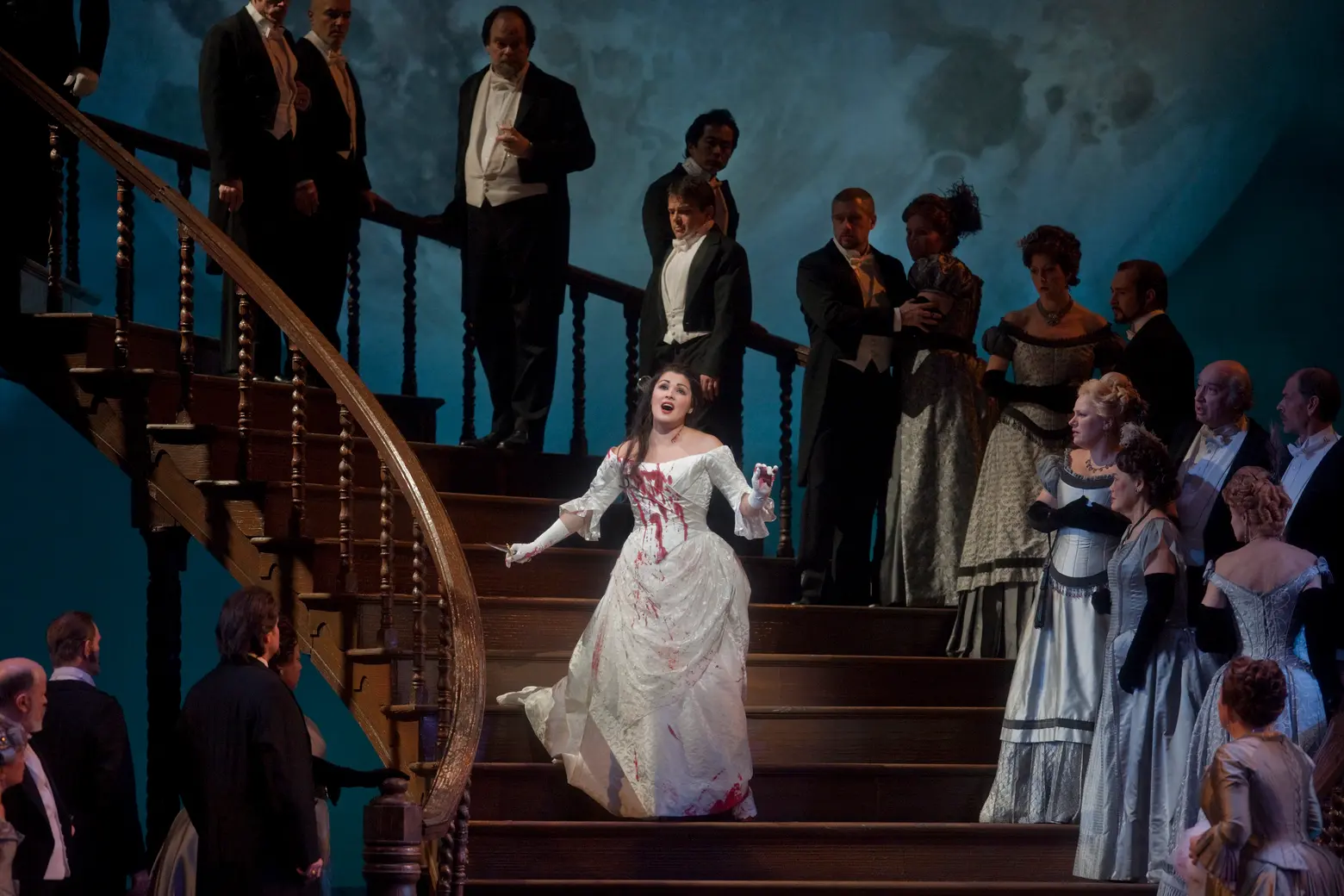 Anna Netrebko in the title role of Donizetti's "Lucia di Lammermoor." Photo: Ken Howard/Metropolitan Opera
Although the coronavirus has shuttered most of the city, many museums, performance venues, theaters, and famous New Yorkers are offering free (or low-cost) online resources to entertain New Yorkers throughout this difficult period. From virtual storytime with Brooklyn Public Library librarians to live-streamed performances by the Metropolitan Opera to baking classes with Milk Bar's Christina Tosi to dance lessons from the Radio City Rockettes, support local organizations safely from your home. This list was lasted updated at 10:00 a.m. on April 3, 2020.
MUSIC
The Metropolitan Opera
The Met Opera is streaming a free series of encore Live in HD presentations on its website for the duration of its closure. A different show from the past 14 years will be streamed nightly at 7:30 p.m. and remain available on its homepage for 20 hours. Find the schedule of streams here.
New York Philharmonic
A new portal, NY Phil Plays On, provides free archival recordings, which are updated weekly.
Chamber Music Society of Lincoln Center
The Chamber Music Society of Lincoln Center has opened a digital concert hall, with classical musicians performing solely for an online audience. In addition to free live-streamed performances, CMS has an impressive archive of concerts, lectures, and classes available online for no charge.
Nowadays
Ridgewood's taproom and music venue Nowadays will be live-streaming a new DJ set every night this week from 8 p.m. to midnight. To gain access to the nightly party, become a member via Patreon, from $5/month to $50/month. Basic membership level provides access to all live-stream performances and early access to tickets for all parties when the bar reopens. See the schedule of sets here.
The Apollo Theater
Although all of its programs have been canceled, the Apollo Theater's classic Amateur Night must go on. The long-running Harlem event (Ella Fitzgerald performed when she was 17 years old) will be held online, with performers asked to submit videos as their audition. Auditions are open to singers, dancers, comedians, rappers, spoken word artists, musicians, and variety acts. According to the New York Times, the show's producer, Marion Caffey, and coordinator Kathy Jordan Sharpton, along with a panel of five performers will evaluate the videos. Those chosen from the audition will have the chance to perform and compete for the grand prize of up to $20,000.
Live virtual concerts on social media
With major shows and festivals canceled around the country, musicians like John Legend and Chris Martin are taking to social media to perform live for fans. Vulture is updating a list of concerts you can live stream.
THEATER
Living Room Concerts
Broadway World has launched a daily Living Room Concerts series, where famous Broadway stars like Lin-Manuel Miranda perform musical numbers from their respective shows.
Stars in the House
Everyday at 2pm and 8pm ET on YouTube, SiriusXM Broadway host Seth Rudetsky and his husband, producer James Wesley, are producing a mini-show "featuring stars of stage and screen singing and performing live (from home!)."
Broadway HD
For $8.99 a month, you can stream tons of Broadway hits.
New York Theater Workshop
The famous Off-Broadway Theater has brought its much-loved "Mondays @ 3" masterclasses online. Learn about the art of playwriting with award-winning playwright Jeremy O. Harris (Slave Play) or the tools of the artist with Tony Award-winning performer Celia Keenan-Bolger (To Kill a Mockingbird). NYTW is also hosting fireside chats on Wednesday evenings and jam sessions on social media. And they just launched Virtually Neighbors, a new program that brings people together through email, phone calls, or video calls (email [email protected] for more info!).
COMEDY
Caveat
Lower East Side watering hole and event venue Caveat will host online editions of their shows each night at 7 p.m. Through its YouTube channel (found here) enjoy educational shows that make you laugh about topics like politics, true crime, the MTA, and more. And you can make a contribution in support of the artists and venue through PayPal.
Magnet Theater
Magnet is bringing its improv and sketch comedy shows online via Twitch. They're just $12 to stream.
Butterboy Comedy
Usually hosted at Gowanus' Littlefield, Butterboy is bringing its comedy shows online starting at just $5.
Upright Citizens Brigade Training Center
Always wanted to get behind the mic? UCB's training center has a slew of online classes, from improv to sketch writing.
DANCE 
Broadway Dance Center
The famous Broadway Dance Center has launched a full live stream schedule with single classes going for just $12.
Radio City Rockettes
Every Thursday at noon on their Instagram page, a different Radio City Rockette will host a live, free dance class.
New York City Ballet's Tiler Peck
Principal NYCB Dancer Tiler Peck is hosting free ballet classes on her Instagram every day at 1pm.
FOOD + DRINK

Scott's Pizza Tours
The pizza gurus at Scott's Pizza Tours may not be able to give their normal tours, but that doesn't mean they've stopped sharing all the cheesy love. Certainly, by now, you've seen the sourdough-starter trend on Instagram, and Scott's has a daily instruction at 11am on their Instagram Stories. They're also hosting private virtual pizza tours, foodie classes for kids, online cooking classes, and so much more.
Milk Bar's Christina Tosi
The creative genius behind Milk Bar's famous desserts is hosting a free baking club every day at 2pm on Instagram live. She posts the ingredients the day prior so participants can get ready, and she also provides substitutions.
Corkbuzz Wine Bar
This popular wine bar has brought some of its wine classes online. The tickets are only $10, and since Corkbuzz is delivering wine, you could ask them in advance for a selection that will complement the class.
Bronx Brewery's "Boogie Down Hour"
Each day, the Bronx Brewery will go live on Instagram at 4:15 p.m. for "Boogie Down Hour." The virtual happy hour event will be led by members of the brewery who will "share skills, take questions, teach lessons, spread joy, and foster community while we're at home."
LEARNING
92nd Street Y
92Y has been serving New Yorkers for nearly 150 years and it has no plans to stop. The community center has tons of programs online, from author talks and lectures to concerts to craft classes for kids. Through its online archives, revisit some of 92Y's previous programs, including book and food talks, dance performances, concerts, and more.
Brooklyn Brainery
Community-driven education center the Brainery has moved many of its classes online, with topics ranging from "how to run a great online meeting" to "fermented nut cheeses."
MUSEUMS + CULTURAL INSTITUTIONS
American Museum of Natural History
Get scientific with online programs from the American Museum of Natural History. In addition to its research collections databases and courses for educators, the museum is offering many remote learning programs for students. These include OLogy, a science website for children, museum quizzes, educator materials, and grade-specific activities based on the latest exhibitions. And each day at 2 p.m., the museum will go live on Facebook previously recorded tours with guides.
The Metropolitan Museum of Art
It's your chance to tour one of the city's most-visited museums without the crowds (and in your pajamas). The Metropolitan Museum of Art has released a series of six videos that use spherical 360-degree technology to allow viewers to see the museum in a totally new way: empty. The museum strung cables and removed protective covers from works of art, providing a totally new perspective. Through its series, tour the Great Hall, the Cloisters, the Temple of Dendur, the Met Breuer, the Charles Engelhard Court, and the Arms and Armor Galleries, all from the comfort of your couch.
The Museum of Modern Art
Each week, MoMA will be sharing part of its collection online with the public. Plus, free educational resources like its magazine, YouTube channel, Coursera courses, and audio archive are available on its website.
The Whitney Museum of American Art
The Whitney From Home lets you virtually explore the museum's collection of more than 25,000 works of American art from the twentieth century to today.
The Frick Collection
On its website, the museum offers virtual tours of its Upper East Side headquarters. Explore the Frick's Fifth Avenue Garden, stunning Garden Court, elaborate Fragonard Room, and more from the comfort and safety of your home.
Solomon R. Guggenheim Museum
During its closure, the Frank Lloyd Wright-designed museum is providing plenty of opportunities to discover its collection digitally. On the Guggenheim Museum's YouTube channel, find interviews with artists whose works have been recently featured there, including Simone Leigh and Sun Xun. Plus, art buffs have access to 200 free books through the museum's archive.
New-York Historical Society
Lovers of New York history can get their fix from home, thanks to digital resources provided by the New-York Historical Society. Online materials range from audio recordings and podcasts to videos exploring interesting topics, like why the Statue of Liberty is green. Virtual access is available to past exhibitions, including Armory Show at 100, Slavery in New York, and The Vietnam War: 1945-1947.
Lincoln Center at Home
Lincoln Center has launched an online portal that includes pop-up classrooms, concerts, and live-stream performances. Each weekday at 10 a.m., families can tune into @LincolnCenterNYC on Facebook for lessons on topics like songwriting, dance, paper weaving and more from the "world's best artists and educators."
Brooklyn Public Library
The Brooklyn Public Library will come to your house…virtually. In addition to its e-book catalog, the library is offering cardholders virtual storytime, language and software courses, test prep for all ages, and more.
New York Public Library
Like the BPL, the New York Public Library, which serves readers in Manhattan, the Bronx, and Staten Island, has a multitude of online resources for cardholders. This includes more than 300,000 e-books and e-audiobooks, databases, 800,000 items in its digital collections, and other online tools.
New York Botanical Garden
NYBG at Home lets you escape into nature without leaving the house. Take virtual tours of the current blooming plants, take an online gardening class, try out a plant-focused recipe with the kids, and so much more.
The New York Landmarks Conservancy
The preservation nonprofit started its "Tourist in your own Town" video series "to encourage people to visit the amazing range of fascinating landmark sites throughout the city." But they've now taken on a new meaning with most of us staying indoors. With 61 total sites, you can take a virtual tour of places like Woodlawn Cemetery in the Bronx, Alexander Hamilton's home in Upper Manhattan, and the iconic Woolworth Building in Lower Manhattan.
9/11 Memorial & Museum
The 9/11 Memorial & Museum's catalog is been digitized, providing the opportunity to learn about its collection, including personal memorabilia and remnants of the World Trade Center. Other resources found on the museum's website include a collection of interviews with survivors, first responders, and family members, as well as past public programing and oral histories.
New Museum
The New Museum and Rhizome have partnered with the Chronus Art Center to commission new works for the web and the Chinese messaging service, WeChat. As part of the exhibit "We=Link" curated by ZHANG Ga of Chronus Art Center, artists like Raphaël Bastide, Tega Brain and Sam Lavigne, JODI, LI Weiyi, Evan Roth, Slime Engine, Helmut Smits, Xu Wenkai (aka aaajiao), Yangachi, and YE Funa have featured artworks. View the exhibit here.
Coney Island History Project
The Coney Island History Project will start recording oral histories from home via phone and Skype. Those who have lived or worked in or near Coney Island can sign up to share their stories with the group, which can conduct interviews in English, Russian, Chinese, Spanish and other languages. Listen to more than 350 interviews already conducted in the group's online archive.
FILM + TELEVISION
Tribeca Film Festival Curated Shorts
Though the festival was canceled this year, Tribeca is sharing handpicked shorts, including online premiers, from their alumni filmmakers.
Film Forum
Indie theater Film Forum is creating a virtual screening room, presenting recent releases that were on screen before it closed. Movies like Sorry We Missed You, The Wild Goose Lake, Corpus Christi, and L'Innocente are now available to stream for $12. Learn more about the films available and buy tickets here.
HBO #StayHomeBoxOffice
To encourage people to #stayhome, HBO is making 500 hours of programming available for free on HBO NOW & HBO GO. It includes famous series like The Sopranos, Veep, and The Wire, as well as a good deal of kids' movies.
RELIGIOUS INSTITUTIONS 
St. Patrick's Cathedral
With the Archdiocese of New York canceling mass at all churches, one of the city's most famous Catholic Churches is turning to technology to support parishioners during this difficult time. St. Patrick's Cathedral will live stream mass at 7 a.m. Monday through Saturday and at 10:15 a.m. on Sunday. All masses will be placed in their online archives for those who wish to access them at any time. More details here.
Riverside Church
The all-inclusive Riverside Church has moved its Sunday worship online until further notice.
+++
RELATED: