15 NYC bookstores offering curbside pickup and delivery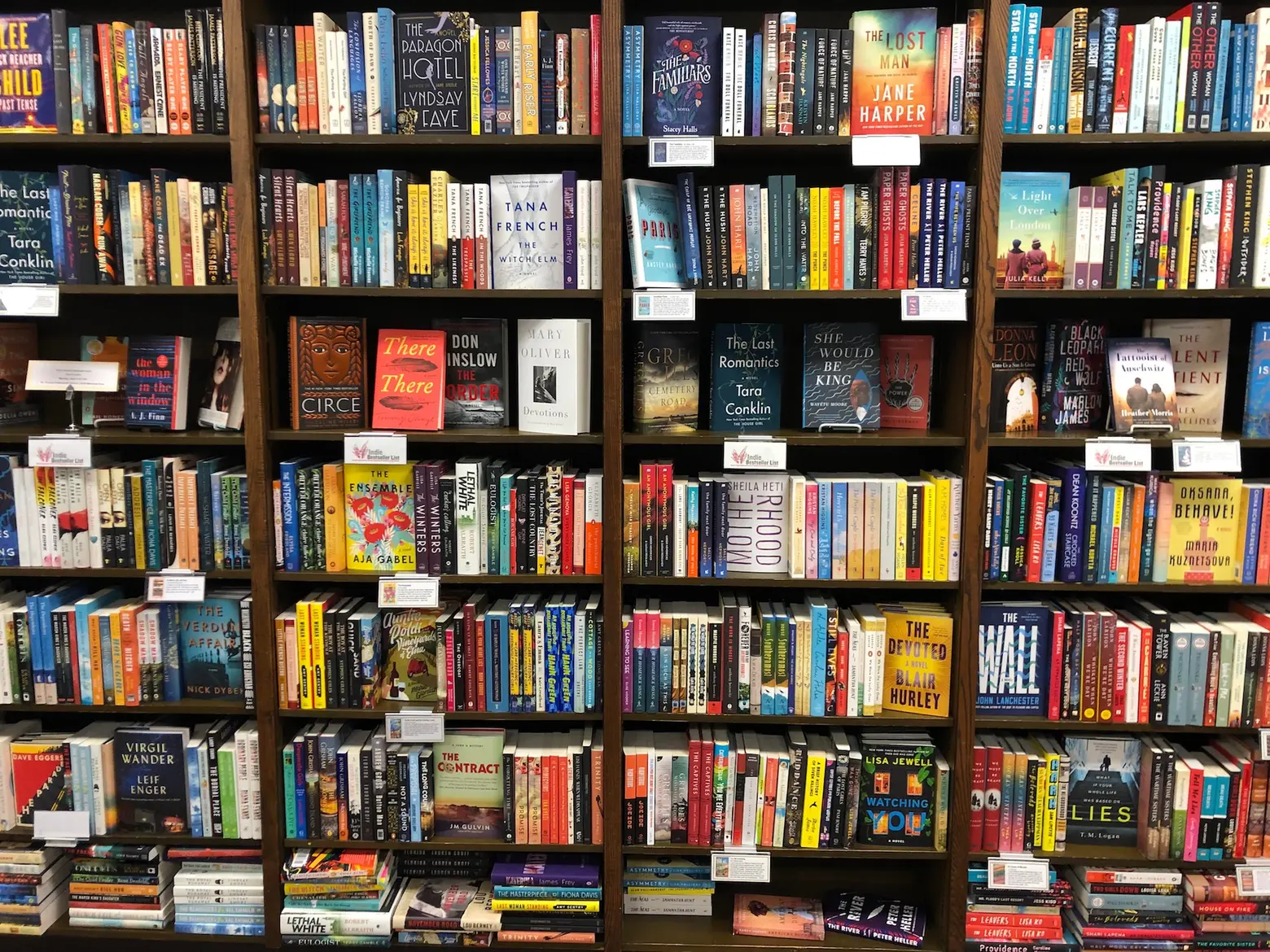 Need a distraction? New York City's local bookstores are here to help. While many are not open for browsing, bookstores across the city are offering curbside pickup and delivery options instead. Get lost in a book (and take a break from reality) by supporting your neighborhood's shop from the comfort and safety of your home. Ahead, find 15 of our favorite stores offering pick-up and delivery, as well as other virtual resources, like live-streamed book clubs and author events.
The bookstore, based in Fort Greene and Prospect Lefferts Gardens, is offering both delivery and curbside pickup of online book orders, which can be made through their website or over the phone. All pick-up orders must be pre-paid. Greenlight's book groups will be hosted via Zoom and live author events will be live-streamed.
Cafe Con Libros, a feminist bookstore and coffee shop in Crown Heights, is open for to-go orders only. Orders can also be delivered. The store also offers a monthly book subscription of feminist literature for adults, children, and babies.
Community Bookstore, Terrace Books
Park Slope's Community Bookstore will be closed until the end of the month, but phone and online orders can be made for both pickups and local deliveries. Its outpost in Windsor Terrace, Terrace Books, is "closed for browsing but ready to help." The store will offer free delivery of books ordered through its website and will have a staff member at the store for in-store pickup.
Order books from WORD Bookstore, with locations in Greenpoint and Jersey City, for curbside pick-up or delivery. "We're processing online orders as quickly as possible and if you haven't heard back from us, hang in there. You will soon," the store said in a tweet on Tuesday.
Books Are Magic, the Cobble Hill store owned by author Emma Straub, is closed for browsing, but available daily 10 a.m. to 7 p.m. for online, phone orders, and pick up. Many of its in-store events that have been canceled for the month of March will be held virtually, including an Instagram Live Q&A with Ashley Woodfolk on March 19, a conversation with Paul Lisicky via Zoom on March 23, and a talk with Joseph Fink and Jeffrey Cranor on YouTube on March 24. The store is also selling t-shirts that read "Stay Safe! Read Books," with 50 percent of proceeds made going to The Binc Foundation to support booksellers.
Order your books to-go at the Center for Fiction, located at 15 Lafayette Avenue. Call the store or email [email protected] to arrange a pick-up time. Delivery is also an option. Find staff recommendations, gift ideas, and award-winning novels on its website.
For all your cookbook and food literature needs, check out Greenpoint's Archestratus Books & Foods. All of the books at Archestratus, equal parts bookstore and Sicilian cafe, are available for delivery. The store will even recommend books over phone or email.
As the first independent bookstore in the Bronx, the Lit Bar is an essential part of the borough's literary community. Curbside pickup is available by appointment at 131 Alexander Avenue and books can be ordered through Bookshop.org. Stay updated on news from the Lit Bar by signing up for its newsletter here.
Book Culture has shuttered two locations, in Long Island City and Morningside Heights, but will keep its location on 112th Street open for online and phone orders. While you cannot browse in the store, the staff will hand off books to customers who call ahead each day between 10 a.m. and 6 p.m. For store pickup purchases, credit and debit cards are preferred methods.
A favorite of New Yorkers, Three Lives & Company is accepting orders for curbside pickup and delivery within the West Village. The bookstore, located on the corner of West 10th Street and Waverly Place, will be open every day between 10 a.m. and 6 p.m. Contact them for more information.
East Village newbie Book Club will be open for to-go coffee and special order book pick-ups only. For local delivery, check out their website; for recommendations, direct message the store on Instagram.
Open for business but not for browsing, McNally Jackson is offering free shipping of orders anywhere in New York City. Readers can also request books for pickup at the store's Soho, Williamsburg, and Seaport locations between 2 p.m. and 7 p.m. each day. "What better time than now to start that series you've been eying, hunker down with a daunting (but immersive!) classic, or curl up with a little book to devour in one sitting?" as a post on their Instagram page reads.
The Queens bookshop is accepting online, phone, and orders for pick up daily between 11 a.m. and 7 p.m. The store has also lowered shipping rates to $2 for the first book and 25 cents for each additional book. On their website, check out new releases, find titles to preorder, and play a "read across the board" reading bingo challenge.
Rizzoli Bookstore has been a favorite of hardcore NYC book nerds since 1964, and though their beautiful Nomad store is currently closed until further notice, they're continuing with their online store. Rizzoli's collection has a little of everything, but they've long specialized in illustrated subjects like architecture, interior design, fashion, fine arts, and cookery.
Since this lovely Washington Heights shop is volunteer-run, they definitely need New Yorkers' help more than ever. Word Up is closed to the public until at least March 31, and events are canceled or postponed through April 13, but online ordering is open 24/7. You can also support the multilingual, general-interest, nonprofit community bookshop and art space by joining their membership program (where you'll receive 10-20 percent off online purchases) or making a tax-deductible donation.
RELATED: