Affordable homeownership project will bring 26 new co-ops to a blighted Chelsea corner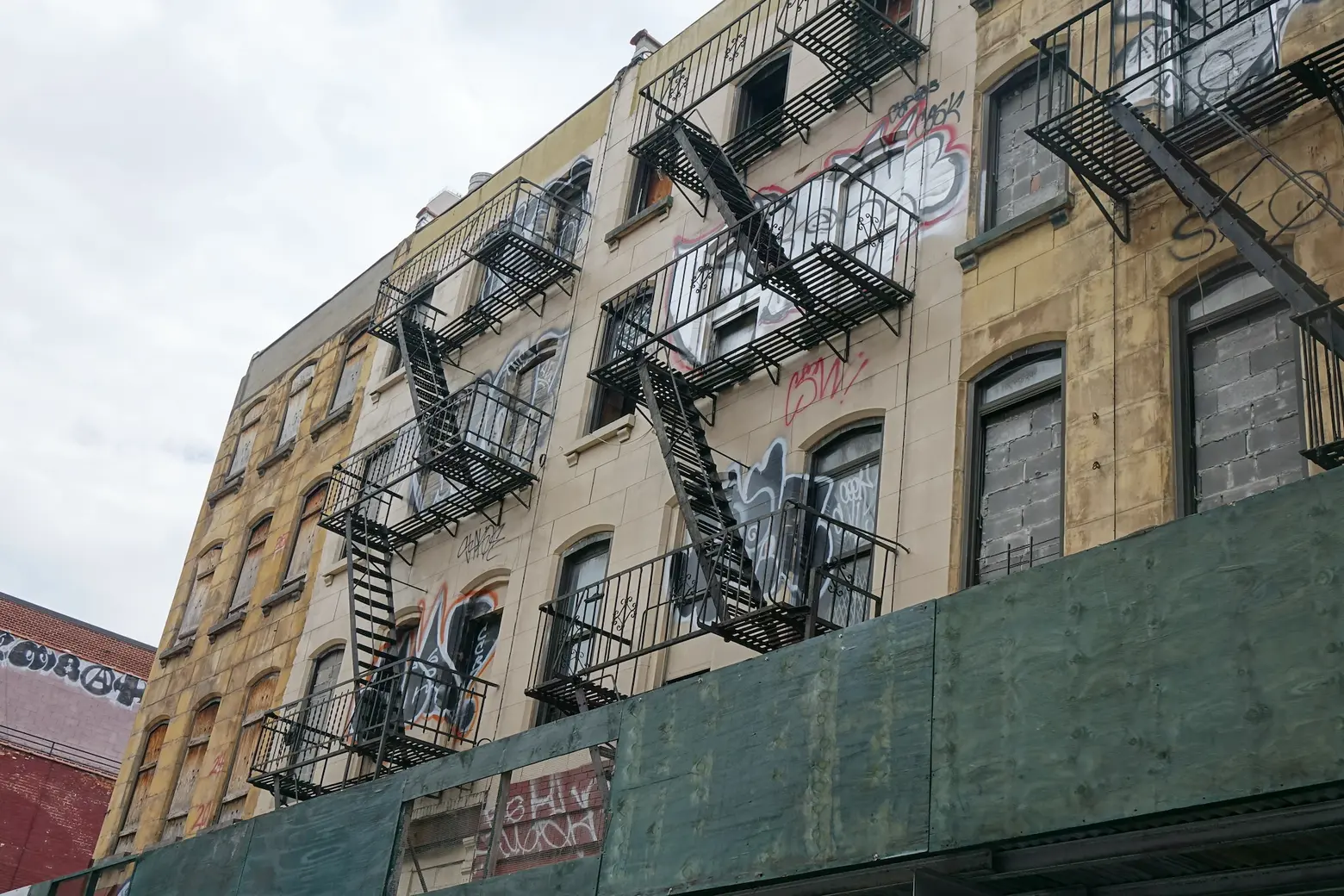 A new affordable homeownership project, decades in the making, is underway at 201-207 7th Avenue in Chelsea. The city's Department of Housing Preservation and Development, Council Member Erik Bottcher, and Asian Americans for Equality (AAFE) on Tuesday joined community leaders and residents in a groundbreaking celebration for a project that will turn a neglected corner site located in one of Manhattan's most expensive neighborhoods into co-ops for low and moderate-income households.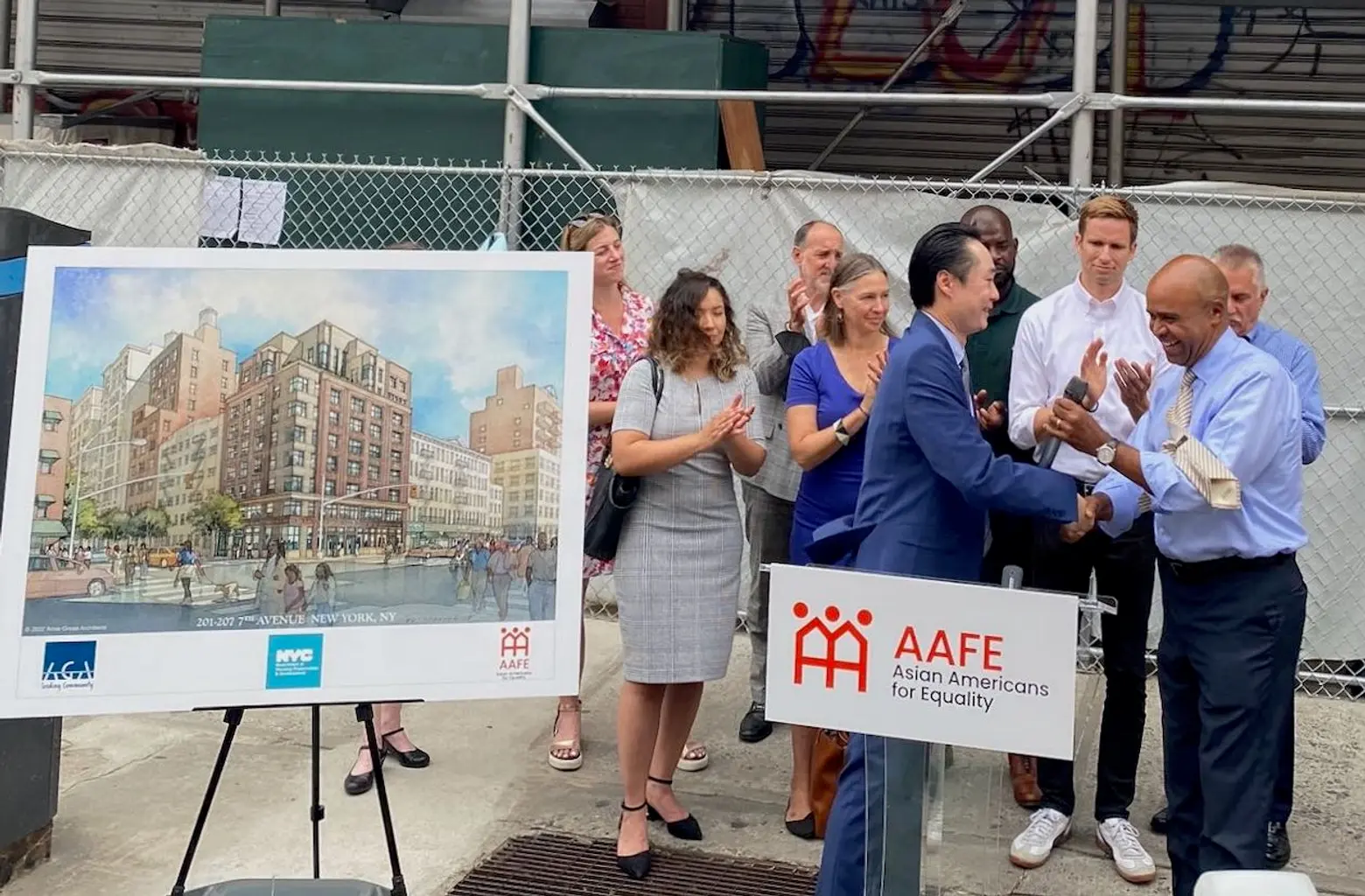 After decades of effort by housing organizations and community leaders, four distressed buildings at 201-207 7th Avenue (currently 14 rental apartments) will be demolished and replaced by one new nine-story building with 26 co-op apartments and ground-floor retail. The project will be financed through HPD's Affordable Neighborhood Cooperative Program (ANCP), which identifies qualified developers to redevelop distressed city-owned multifamily buildings as affordable housing.
The site's five current residents have been temporarily relocated. They will be able to purchase new homes for $2,500 or $250 depending on income qualification. The remaining 21 units will be made available through the city's Housing Connect lottery to households earning 130 percent of AMI.
"Manhattan rents just hit a record average of $5,000 per month. Now more than ever, we need affordable housing, so the new development at 201-207 7th Avenue is welcome news," State Sen. Brad Hoylman said in a statement.
The project will feature studio, one-, two- and three-bedroom units and a 3,500-square-foot ground floor retail space to be leased to commercial tenants. A terrace and recreational space will be created on the building's eighth floor for use by residents. There will also be a shared courtyard, a laundry room, a bike room, and an elevator. The building's construction will include sustainable features like energy-efficient mechanical systems, natural daylight in hallways, and efficient thermal insulation.
Amie Gross Architects will be working with contractors to retain elements from the current building, built circa 1920. Building materials will be based on the surrounding neighborhood's architectural styles.
Keyla Espinal, a community leader who grew up in the buildings said, "We are relieved and happy that this day is finally here! Our family is excited to come home as homeowners in our own community. It's a victory not only for the residents of the buildings but also the whole neighborhood, which will see this corner of Chelsea transformed into something we can all take pride in for many years to come."
Financing for the project, with a total cost of $25.7 million, includes a construction loan from Enterprise Community Partners in collaboration with the Low Income Investment Fund (LIIF) and subsidies through NYC HPD's Affordable Neighborhood Cooperative Program. Additional funding will come from a combination of sales proceeds from vacant units, funds from the Manhattan Borough President, and sponsor equity.
Asian Americans for Equality has a record of success in the Affordable Neighborhood Cooperative Program, including a project at 244 Elizabeth Street which created 19 affordable co-op apartments. The organization is working with three more buildings in the East Village.
Demolition is expected to start in August and last for three months. Construction of the new building is expected to begin in early 2023 and be completed in 24 months.
Images courtesy of HPD