21-story Union Square tech hub gets green light from City Council despite community concerns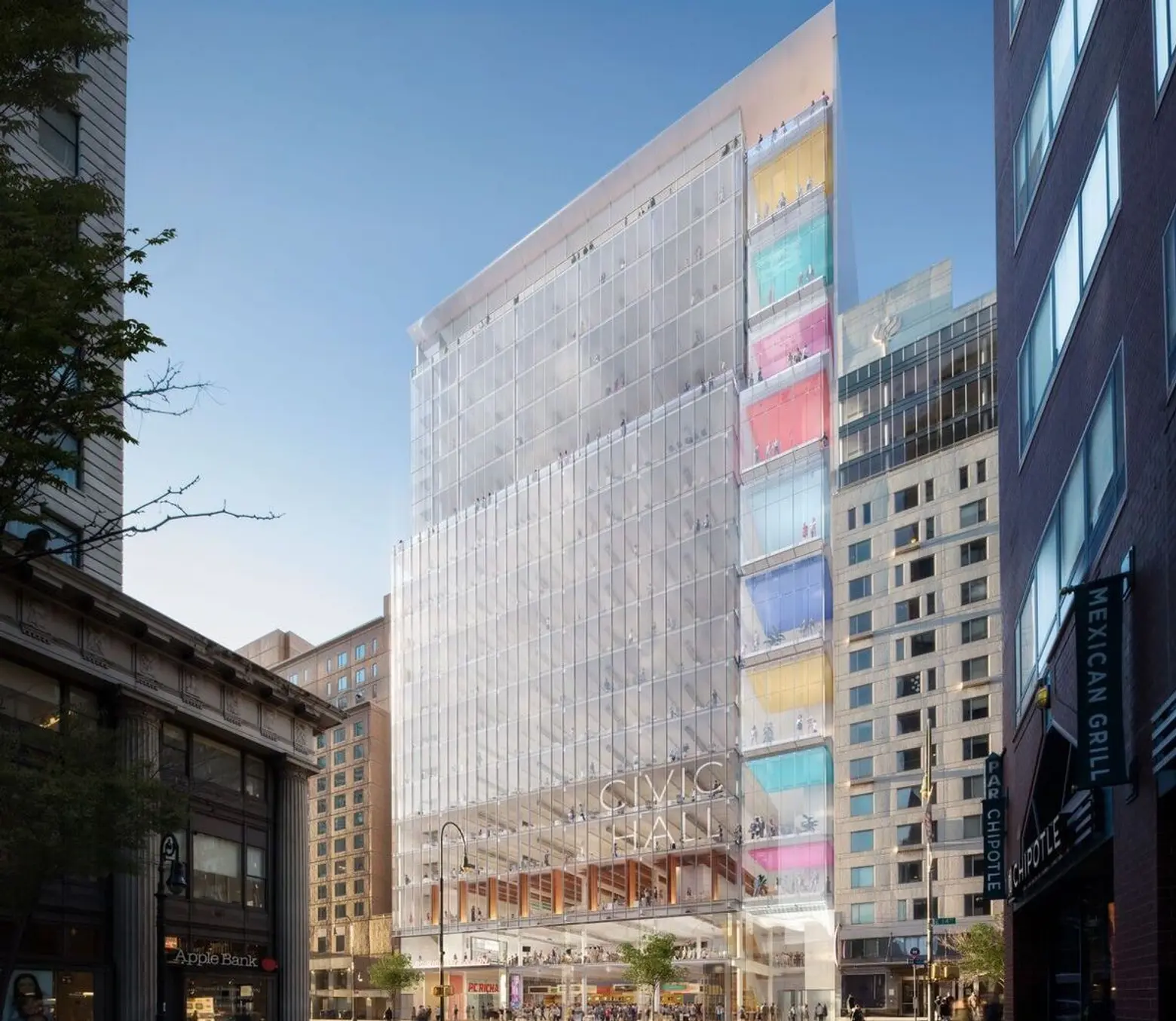 The New York City Council voted Wednesday to approve plans to build a new tech hub on city-owned land at 124 East 14th Street near Union Square. As Crain's reported, last Thursday the building received the go-ahead from the zoning subcommittee that was reviewing the development of the 21-story building that supporters expect will be a resource for the "tech-for-good" community and provide jobs for lower-income workers. The project is being developed jointly by the city's Economic Development Corp. and developer RAL Development Service; it is expected to open in 2020. The proposed tech center, which the mayor hopes will nurture budding entrepreneurs in the technology field and bring over 600 jobs to New Yorkers, is planned at the site of a P.C. Richard & Son store, in an area already filled with new developments with more on the way.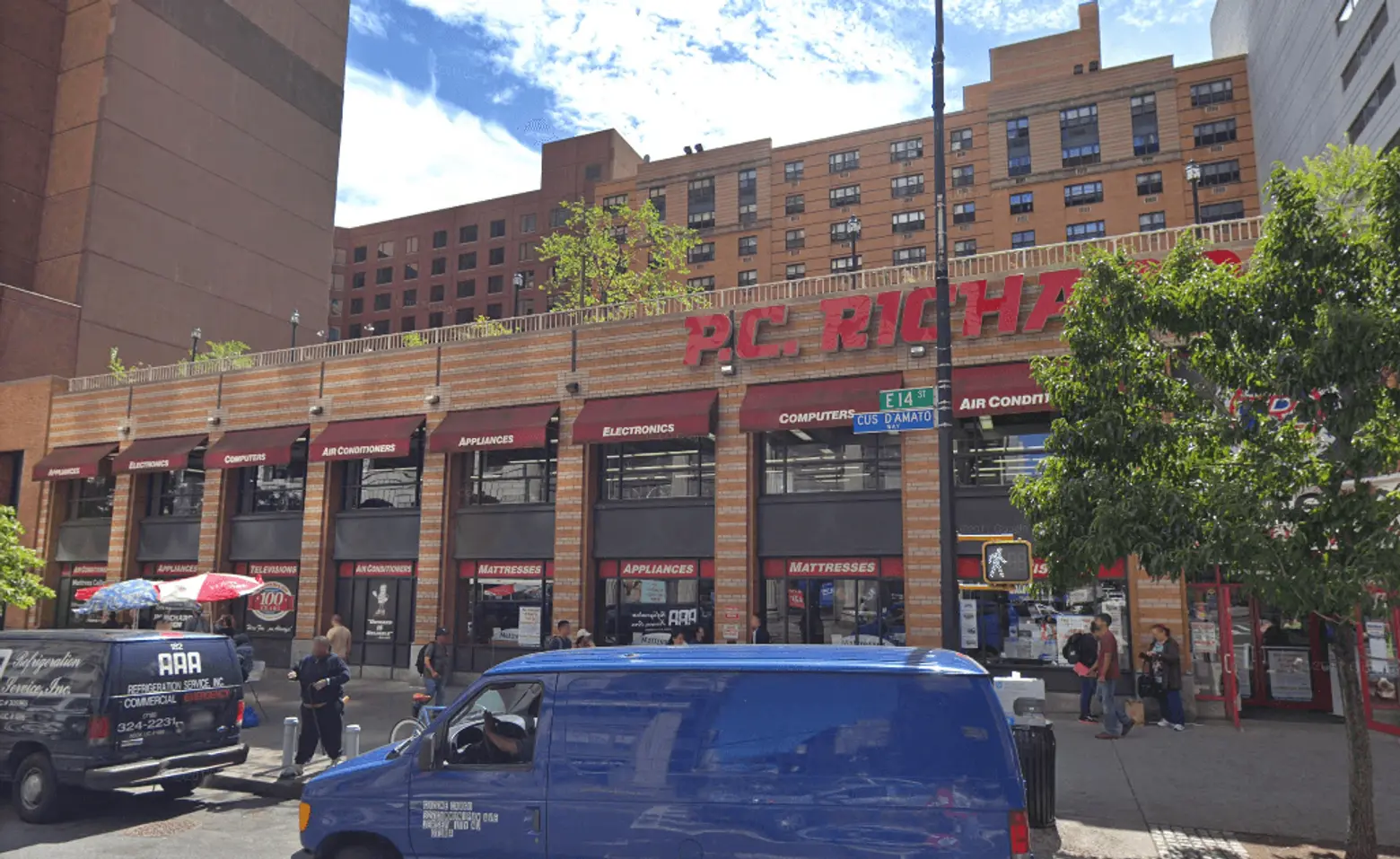 Image via Google Maps
As 6sqft previously reported, the project has met with controversy from community groups and preservationists concerned about Mayor Bill de Blasio's application for a rezoning in order to build the tech hub. The Cooper Square Committee and the Greenwich Village Society for Historic Preservation (GVSHP) along with other community groups are seeking assurance that rezoning would come with protections for the adjacent residential neighborhood. Preservationists fear the creation of a new "Silicon Alley" near Union Square will bring rent hikes and more condo and office towers.
"It's a shame that the Mayor is so invested in protecting his real estate donor friends that he would not consider real but reasonable zoning protections for the area that would have prevented this kind of unnecessary development, and encouraged residential development that includes affordable housing," Andrew Berman, executive director of GVSHP, said.
Berman added: "It will do a lot to accelerate the kind of development which will fundamentally change the character of our neighborhood, and accelerate the exodus of current residents and small businesses. But of course, as always, the Mayor's campaign donors got a very good deal out of this."
Area councilwoman Carlina Rivera was hoping to get a separate rezoning for the surrounding neighborhood in order to set height limits and cap commercial square footage where needed in exchange for her support for the project. The administration has not looked favorably on the idea of curtailing office space though Rivera's yea vote suggests a compromise is possible.
Please read my letter to my community about today's vote. The Tech Hub will build a bridge for our neighbors to great jobs & with local protections secured. We will continue working towards preservation & making our neighborhood stronger. https://t.co/rmIST9vZ3j pic.twitter.com/rZtyzMjXVE

— Carlina Rivera 利華娜 (@CarlinaRivera) August 8, 2018
The building is designed to use profits from the market-rate retail and office space that will occupy two-thirds of the building to subsidize projects run by the non-profit Civic Hall.
Half of this space will be used for co-working, meetings and events in support of the technology, business and philanthropic sectors, with the other half being used to run education and training programs run by organizations like Access Code, the Computer Science Foundation, FedCap, General Assembly and Per Scholas.
The programs will be aimed at helping students of all ages from low-income areas qualify for tech jobs. Five floors would host smaller flexible leases geared toward tech firms and startups with an additional seven floors offered as Class A office space.
Just last week, Microsoft provided a $100,000 grant for the planning and development of the Tech Training Center.
President of NYCEDC, James Patchett, called the vote "a win for New Yorkers and a win for our city's economy."
"Over the past year, we have proudly worked with community and industry advocates to develop a project that will change this industry's trajectory for the better, ensuring that tech in New York City is uniquely shaped and strengthened by our diversity," Patchett said in a statement.
[Via Crains]
RELATED: