10 things you didn't know were made in Brooklyn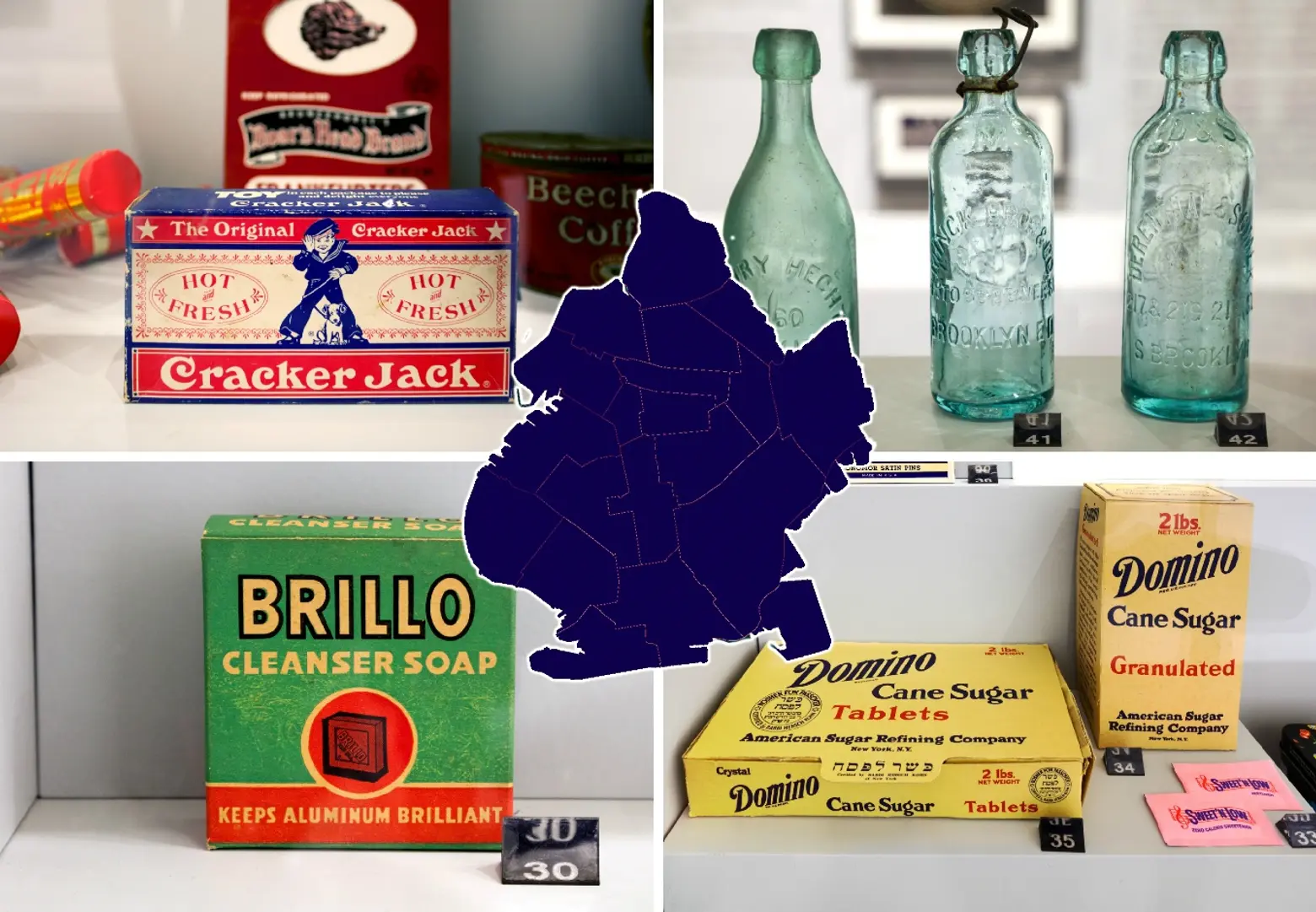 The new exhibition at the Brooklyn Historical Society, "The Business of Brooklyn," celebrates the 100th anniversary of the Brooklyn Chamber of Commerce and tells the fascinating story of the borough's 100 years of business, detailing its industrial past, large companies, as well as its preponderance of mom-and-pop shops. It also showcases many objects and artifacts, which have their origins in Brooklyn, demonstrating the significant "role that Brooklyn has played in American consumer culture." The exhibition is on view at the Brooklyn Historical Society's landmark building in Brooklyn Heights located at 128 Pierrepont Street until Winter 2019. From those iconic yellow pencils to Brillo pads to Cracker Jack, you may be surprised to see what has been made in Brooklyn.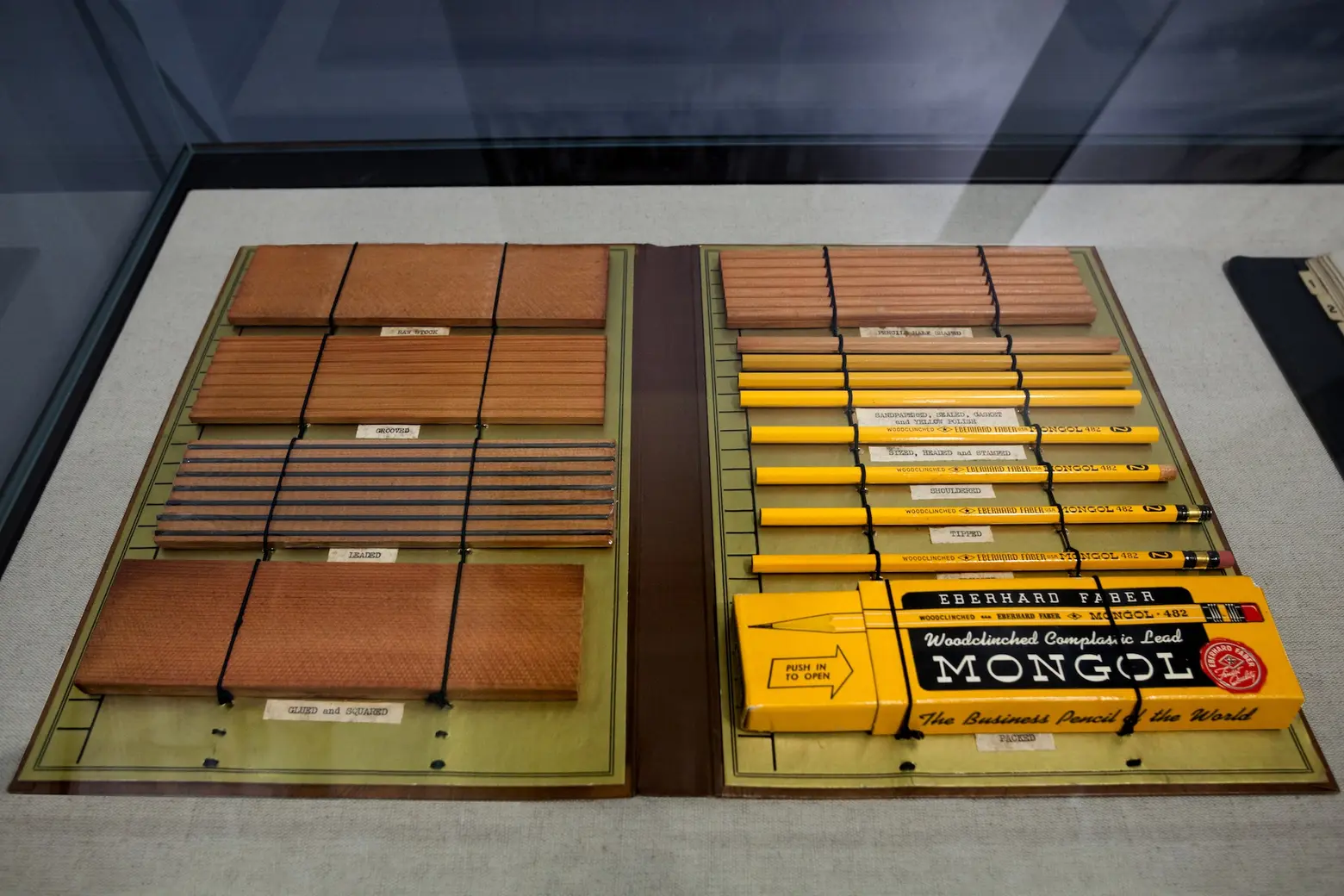 1. Eberhard Faber Pencils
One of the largest American pencil makers, Eberhard Faber, had a factory in Greenpoint, Brooklyn. John Eberhard Faber, an immigrant from Bavaria whose family had been making pencils for nearly a century, founded one of the first lead pencil factories in the United States in 1860. After a disastrous fire in his midtown Manhattan plant, he moved his company to Greenpoint in 1872 and expanded to include manufacturing colored pencils. The exhibition at BHS includes vintage Eberhard pencil sets, including the famous Mongol, a yellow pencil named for his favorite soup, pureé Mongol. In 1956, the company sold its Brooklyn factory and buildings, with its distinctive pencil-shaped adornments, and it now houses studios for illustrators and designers.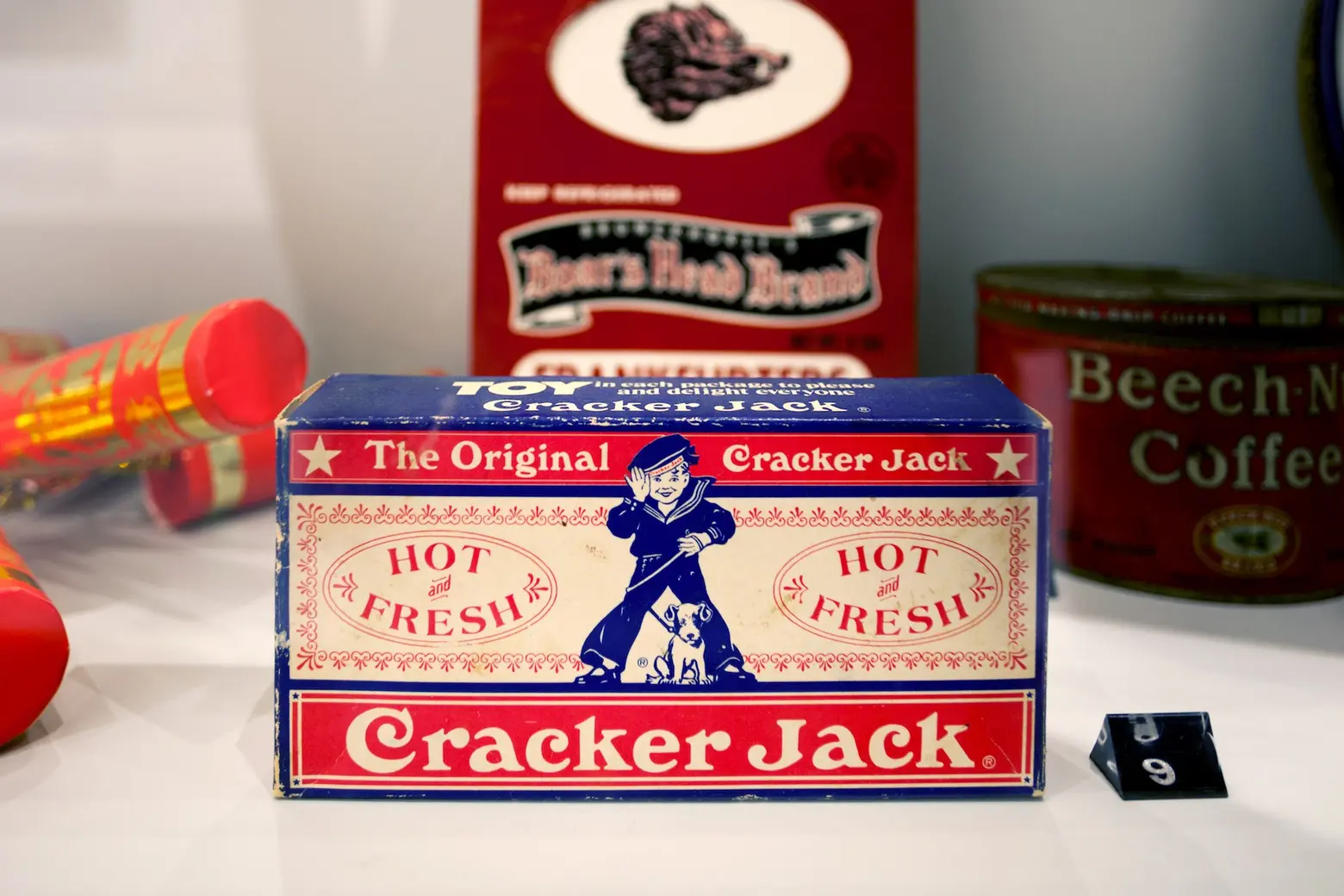 2. Cracker Jack 
The iconic American confection consisting of molasses-coated popcorn and peanuts, which was immortalized in the song "Take Me Out to the Ball Game" was made in Brooklyn. Although the product originated in Chicago and was trademarked in 1896, Rueckheim Brothers & Eckstein founded a plant at Bush Terminal in Brooklyn in 1914 to serve its East Coast and overseas customers. Cracker Jack's mascots Sailor Jack and his dog Bingo first appeared in 1916 and were registered as a trademark in 1919. Bingo was based on a stray dog adopted by Henry Eckstein, who insisted that the dog be displayed on the packaging. The Cracker Jack package seen at the exhibit is from 1964.
3. Locally Brewed Beer
Brooklyn was once home to 45 breweries, including 11 within a 12-block radius in Williamsburg, Brooklyn. On display at this exhibit is a collection of vintage beer bottles, including (as seen in photo) an 1860 beer bottle from Henry Hecht, a Minck Bros. & Co. beer bottle, and a Derenthal & Schalk beer bottle from 1890. Also on display is a "Save Jobs Drink Local Beer" bumper sticker which references three local beer brands, Schaefer, Rheingold, and Knickerbocker. By 1976, none of the breweries were still in business in Brooklyn as national brands took over the industry. Thankfully, craft beers have been making a comeback and Brooklyn currently has 20 brewing companies.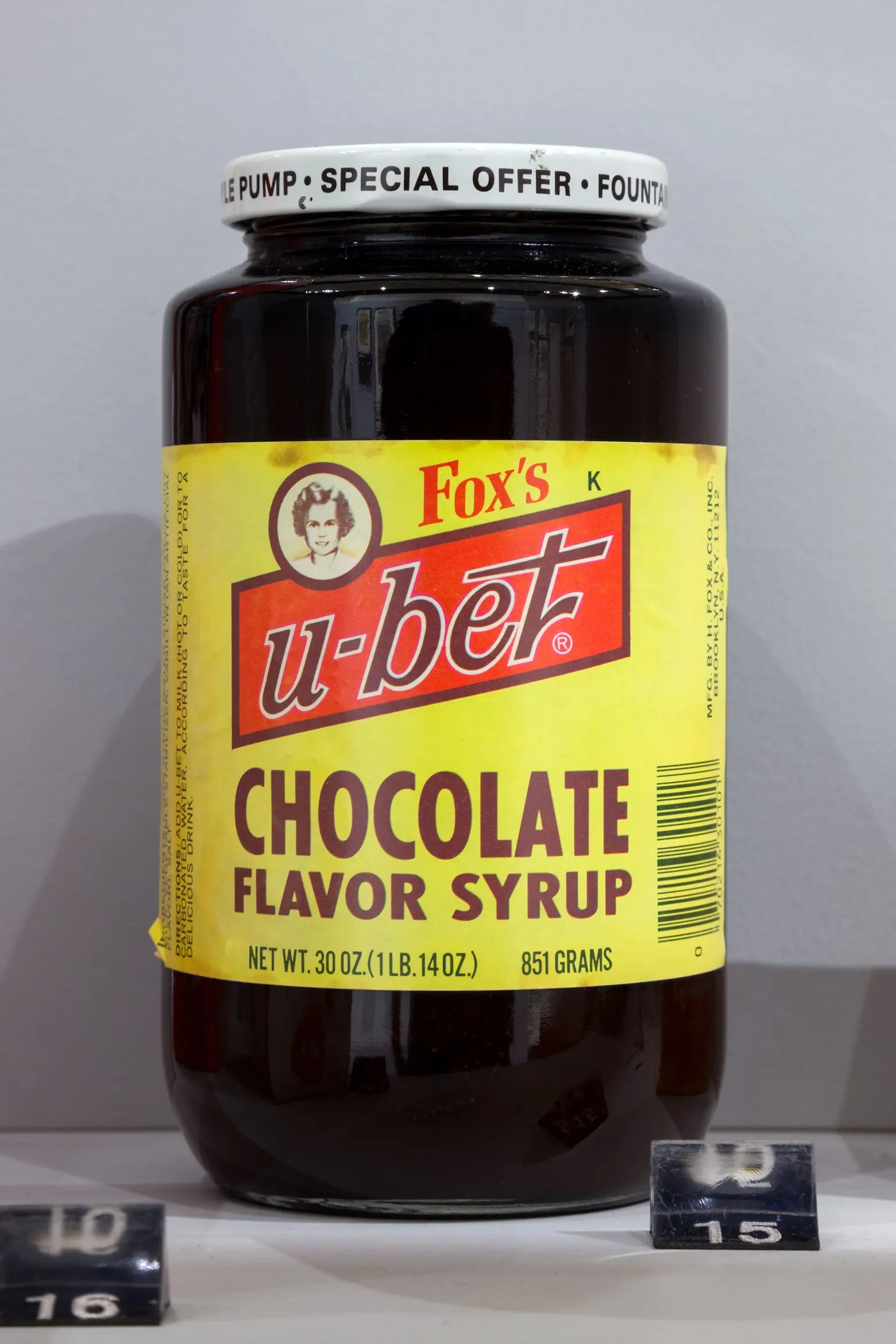 4. U-Bet Chocolate Syrup
The Brooklyn-based company, H. Fox & Co., has manufactured its signature syrup since 1895. Fox's flavored syrup is an essential ingredient in the classic New York soda-counter beverage, the egg cream. Contrary to its name, the egg cream does not contain eggs or cream but is a mixture of very cold milk, seltzer water, and flavored syrup. The jar that the Brooklyn Historical Society has on display is from 1987.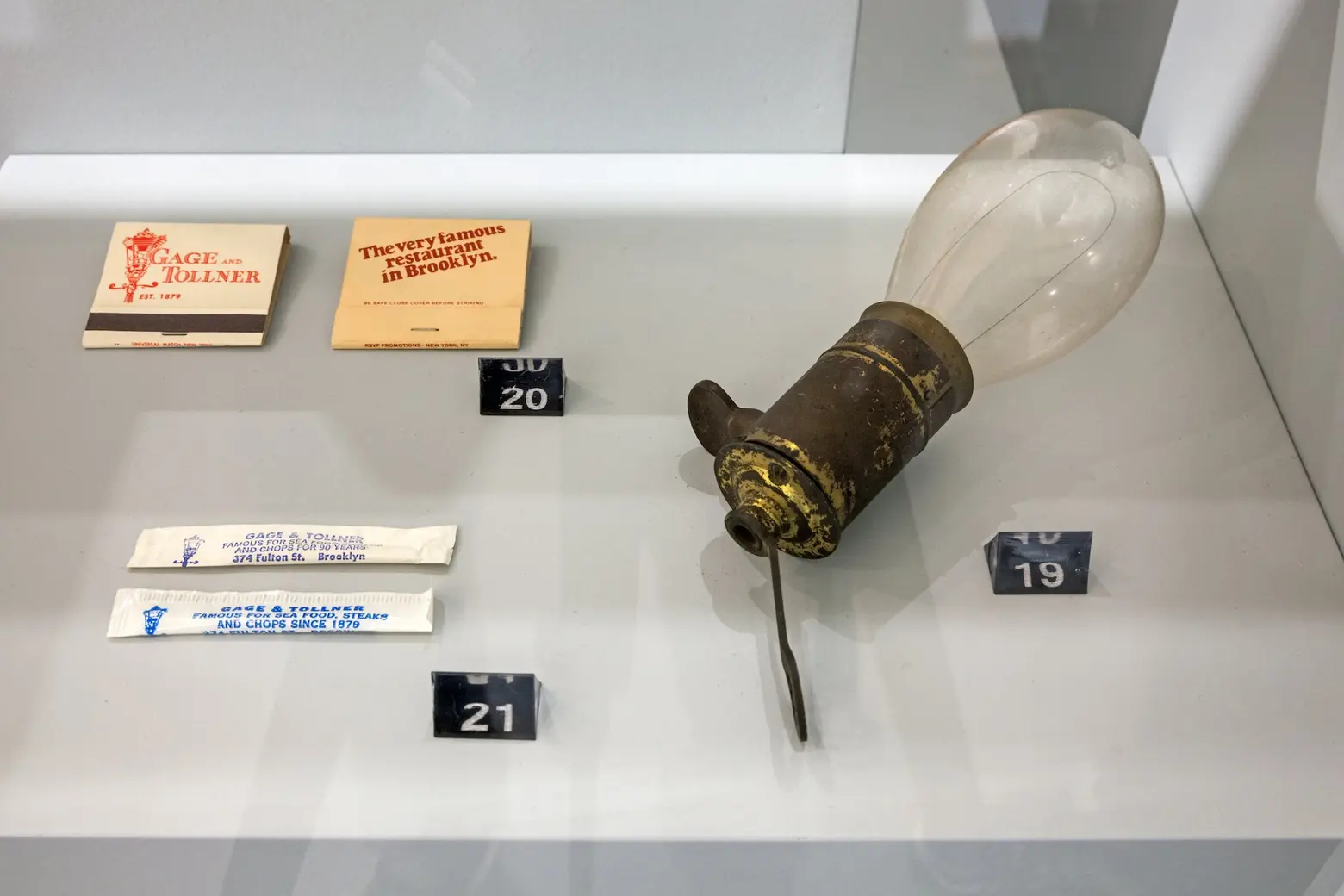 5. Gage & Tollner Restaurant
Charles Gage and Eugene Tollner founded their famous restaurant in 1879 and moved into an opulent new address on 372 Fulton Street in Downtown Brooklyn in 1889 when electric lighting was still quite new and not very reliable. They hedged their bets and installed 36 fixtures that could be powered by both electricity and gas, so that they could stay open during a blackout. The 1919 incandescent lightbulb, restaurant matchbooks and wrapped toothpicks on display at this exhibit are from the Edward and Gertrude Dewy collection of Gage & Tollner records. The restaurant with its romantic Victorian interior remained open until 1995 and was reputedly one of the city's most popular spots for marriage proposals.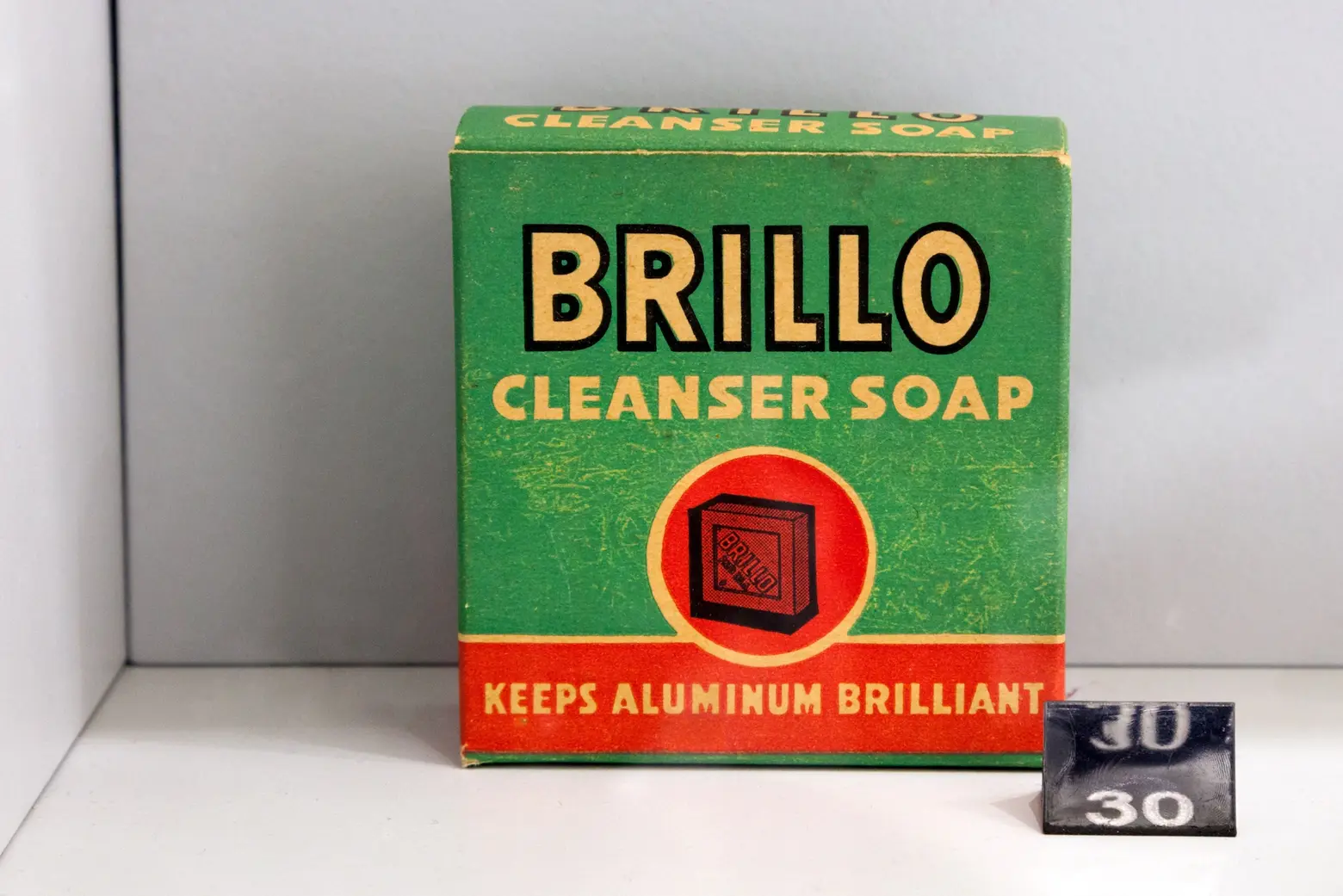 6. Brillo Cleanser Soap
The Brillo Manufacturing Company was founded and headquartered in Dumbo in 1917 by a cookware salesman and his brother-in-law, a jeweler. Together, they developed a cleaning product made from soap, jeweler's rouge (a powder used to buff precious metals), and steel wool imported from Germany. After teaming up with an attorney, they patented their product as Brillo, a variant of the Latin word for "bright."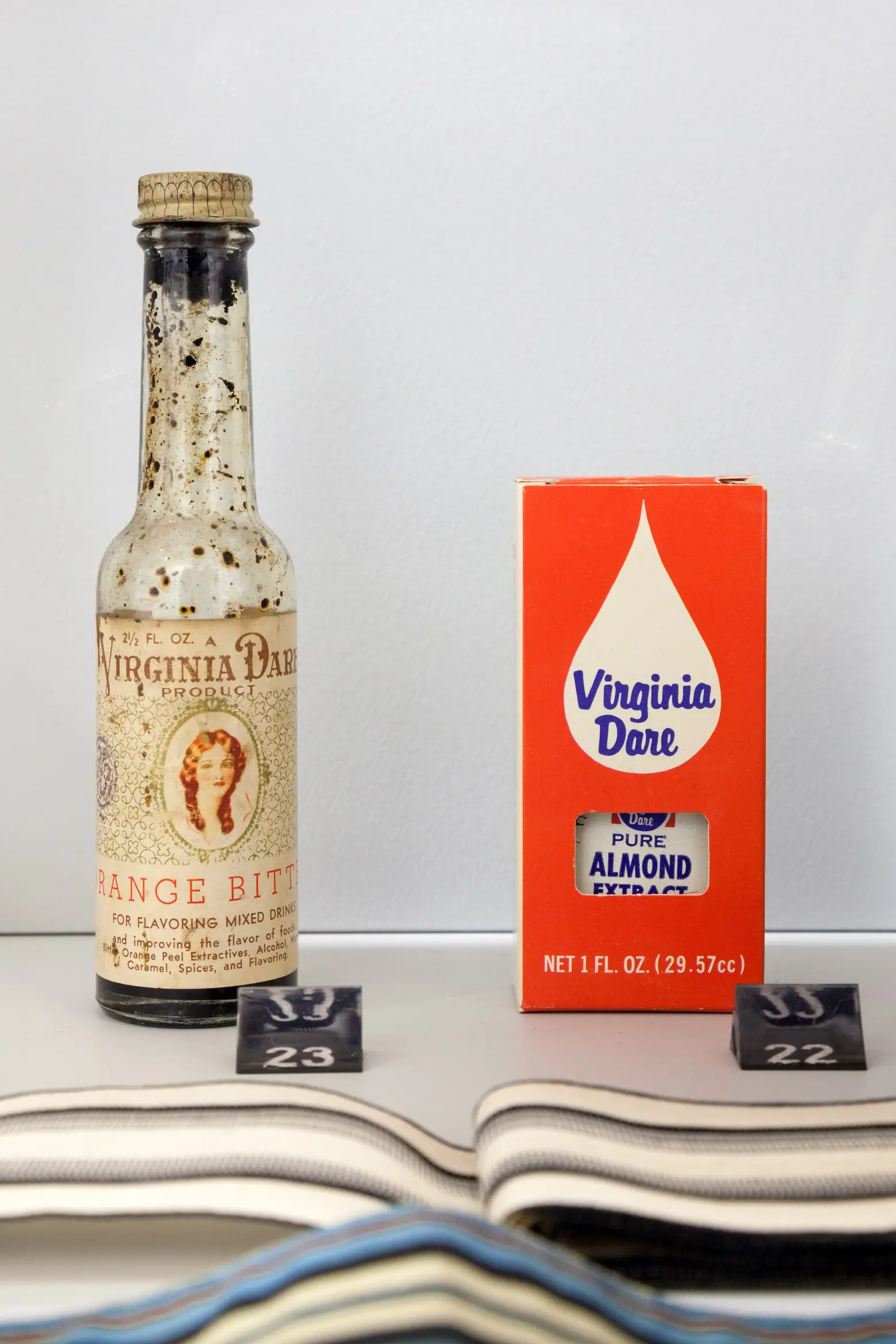 7. Virginia Dare Extracts
The Virginia Dare Extract Company in Brooklyn has manufactured and supplied flavors and premium extracts for food, beverage, nutritional products, dairy, bakery, sweet goods, confectionery, wine, and other industries in Brooklyn since the 1920s. Virginia Dare is the name of the first English child born in the territory of Virginia in 1587 and the Virginia Dare Extract Company sells its products with the image of her as a fresh-faced girl who symbolizes "wholesomeness and purity." On display is a Virginia Dare Extract Co. bottle circa 1945 and an almond extract package from 1987.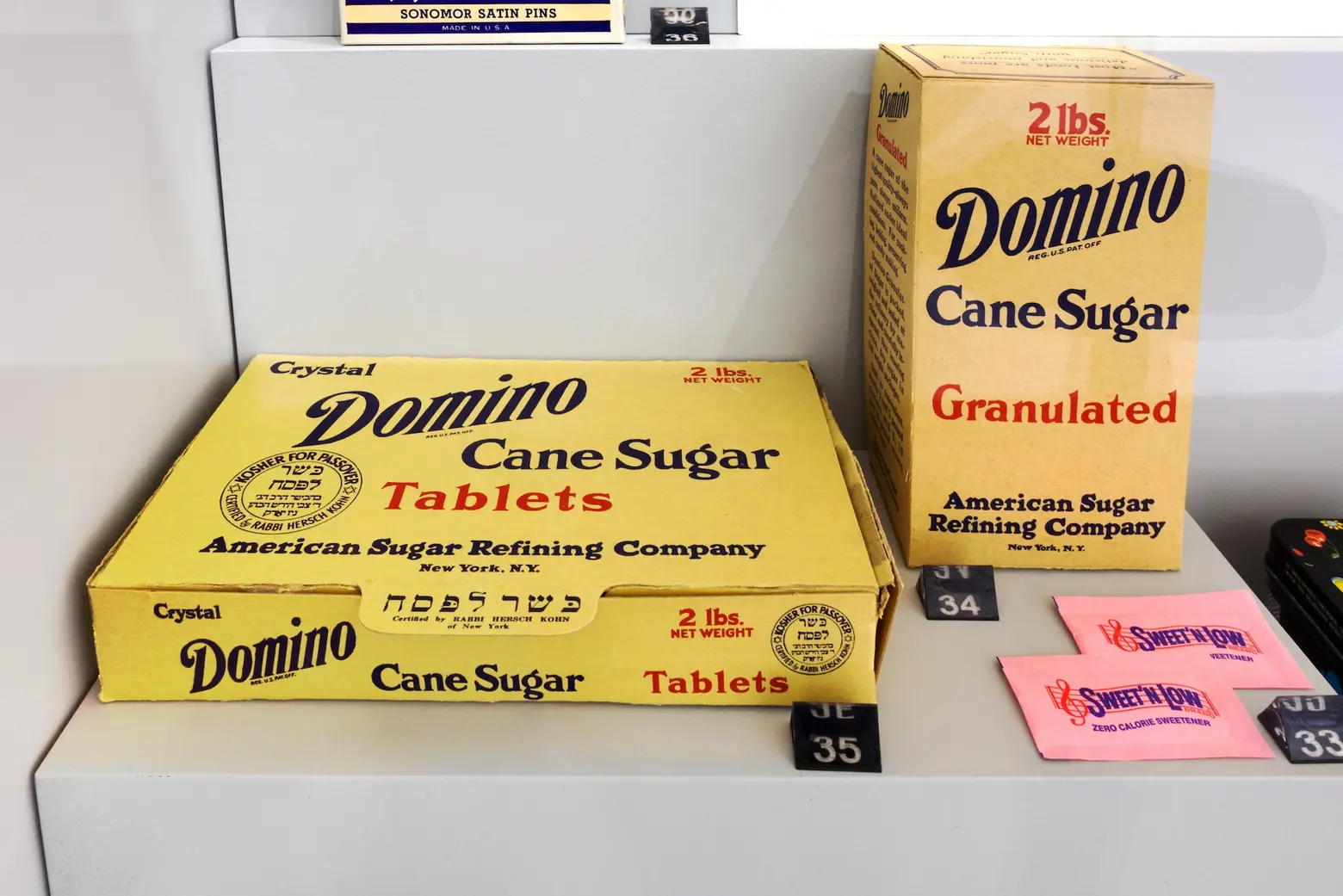 8. Domino Sugar
The American Sugar Refining Co., which later became known as Domino Sugar, operated its Williamsburg waterfront plant from 1857 to 2004. By 1870, Domino Sugar refined more than half of the sugar consumed annually in the United States. The refinery is currently being developed into an office-and-residential complex by Two Trees Management. On display at BHS are vintage Domino Sugar boxes.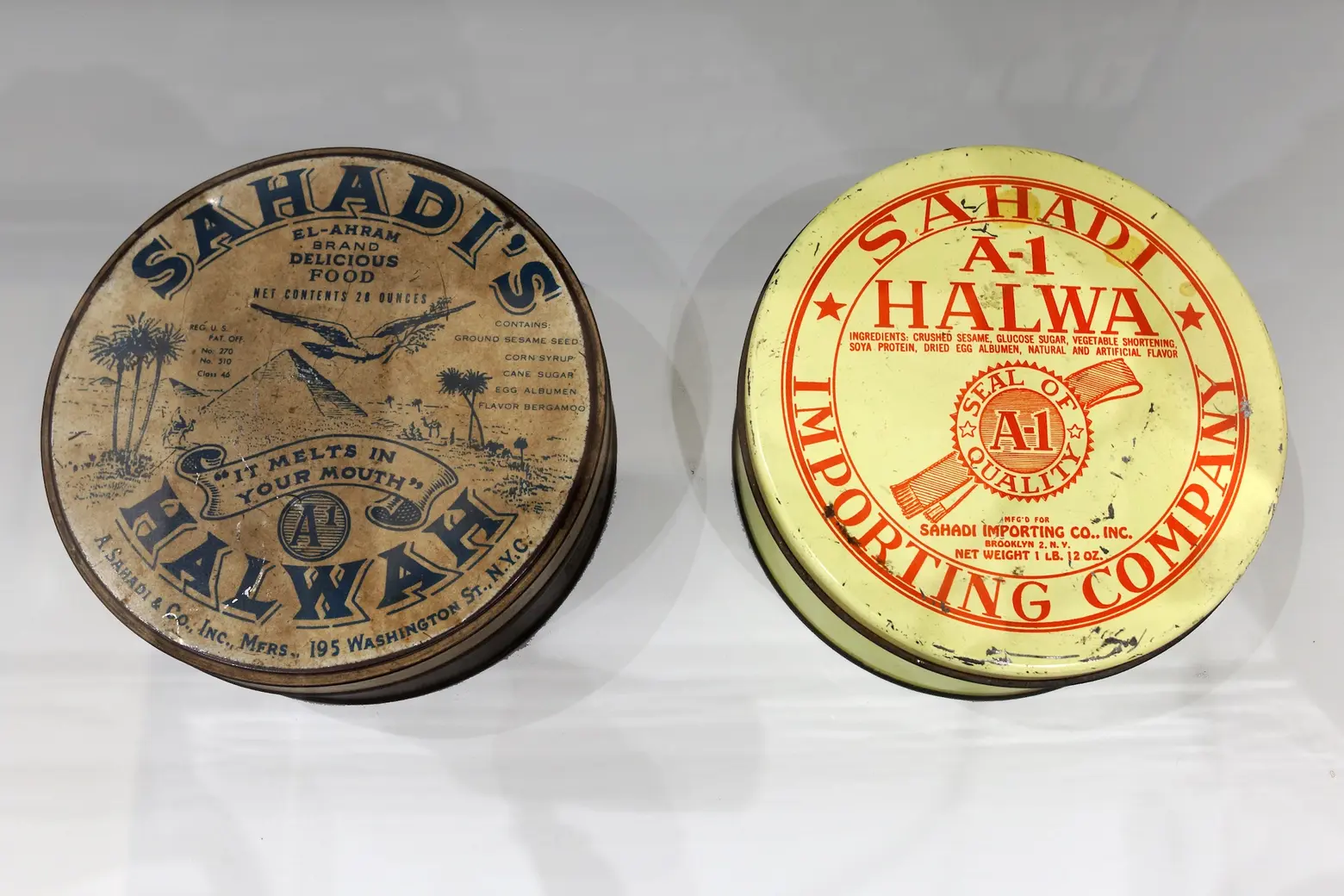 9. Sahadi's Importing Co. Halva
Sahadi's is a Middle Eastern grocery store on Atlantic Avenue, which opened in 1948, and produces its own line of halvah, a 3,000-year old Middle Eastern confection traditionally made from sesame seeds and sugar. In the Middle East it is always eaten as a dessert alone, but it is very versatile, with an excellent shelf life as it is gluten and dairy free and has recently gained popularity for its use as an ingredient in ice cream, cookies or as a pastry and cake filling. The exhibition features two antique Sahadi Importing Company halvah tins.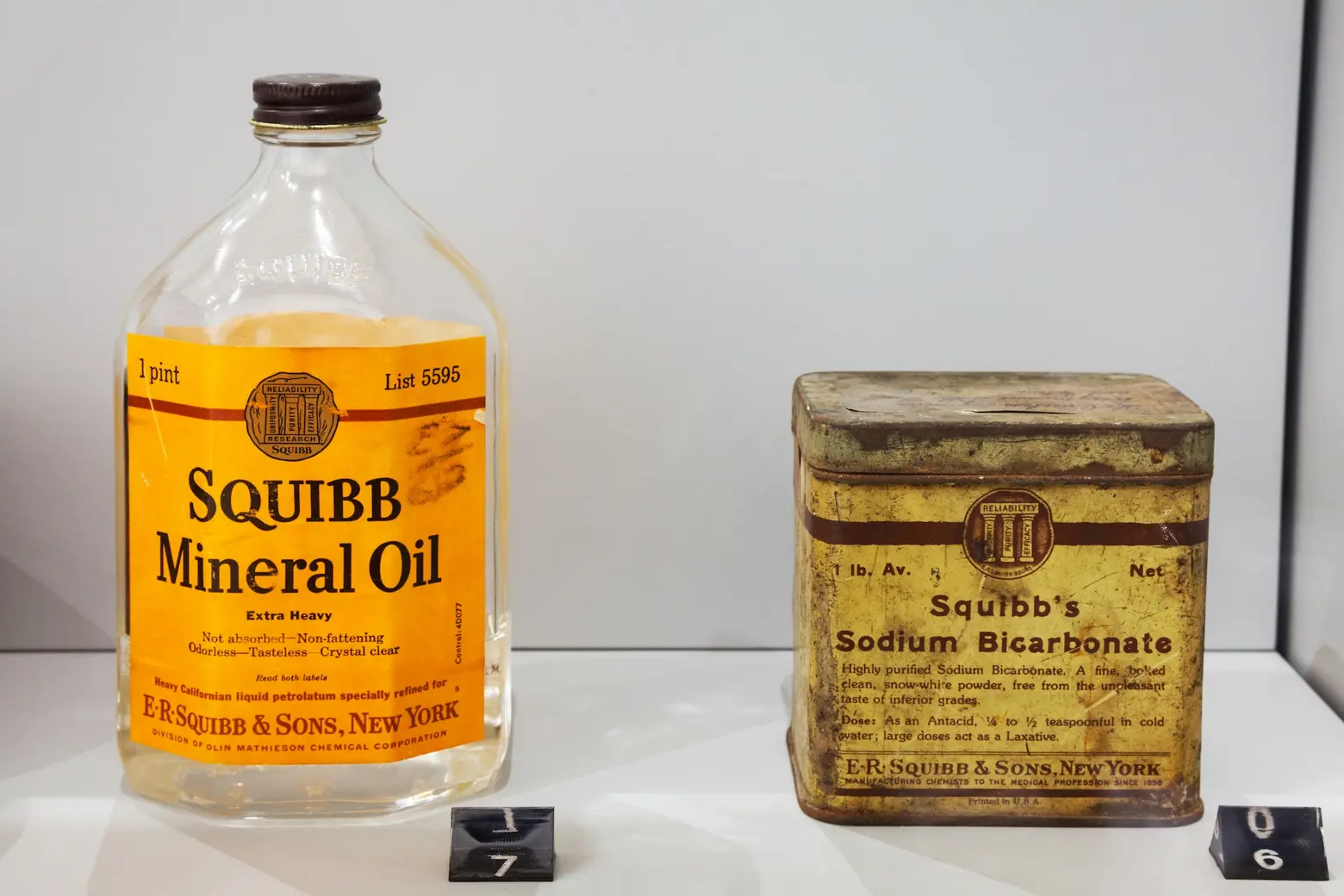 10. E.R. Squibb & Sons Pharmaceuticals
The pharmaceutical company, E.R. Squibb & Sons, was founded in Brooklyn in 1858 by Dr. Edward Robinson Squibb. Dr Squibb, a U.S. Navy doctor who according to the company's history, "was so unimpressed by the quality of medicines available on ships that he threw the unfit drugs overboard" insisted on higher quality controls than those required by the American Medical Association. The original Squibb factory building in Brooklyn ceased operations in 1956 and in 1969 it was purchased by the Watch Tower Bible and Tract Society, a nonprofit corporation founded by Jehovah's Witnesses. A vintage E.R. Squibb & Sons mineral oil bottle and sodium bicarbonate tin are exhibited.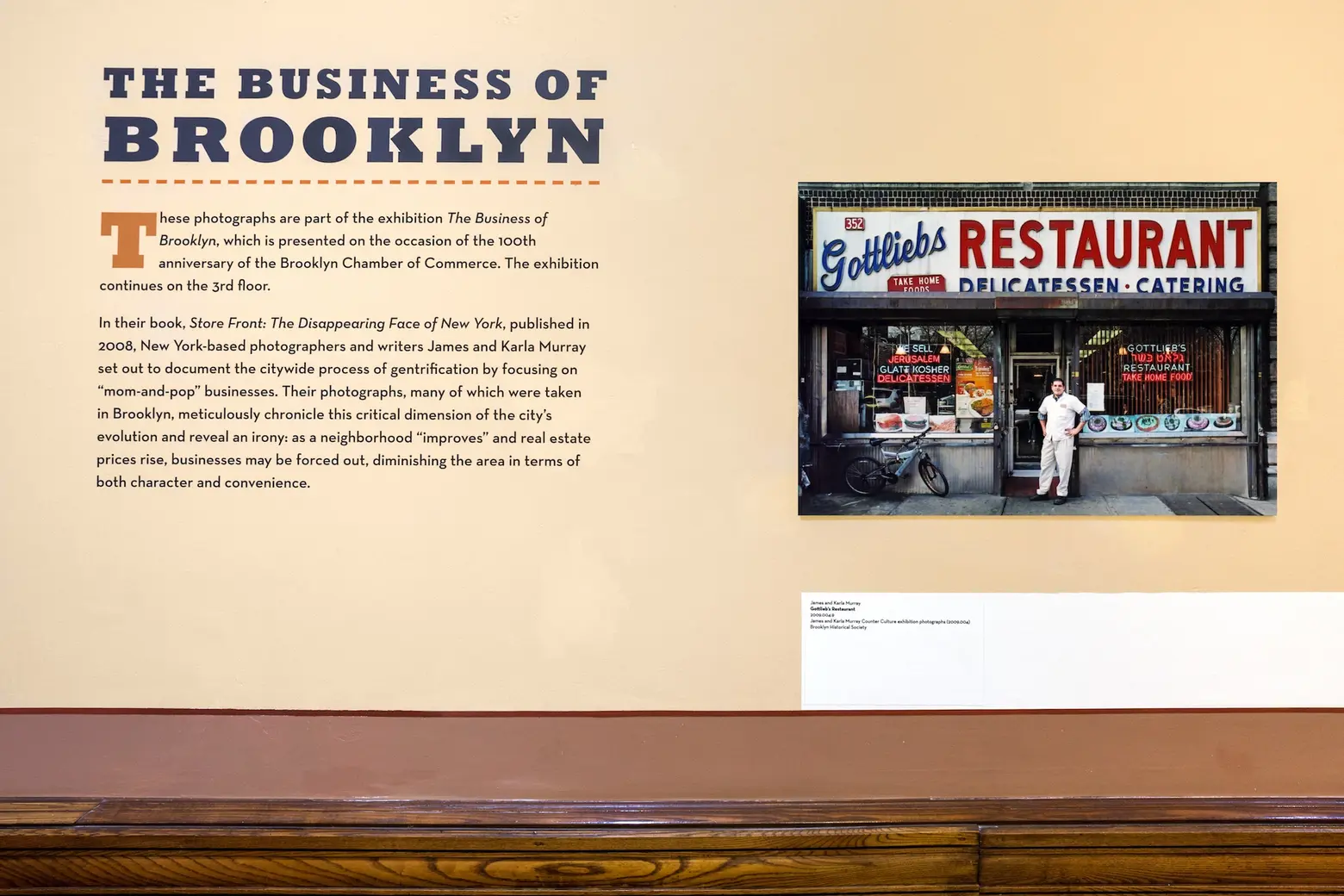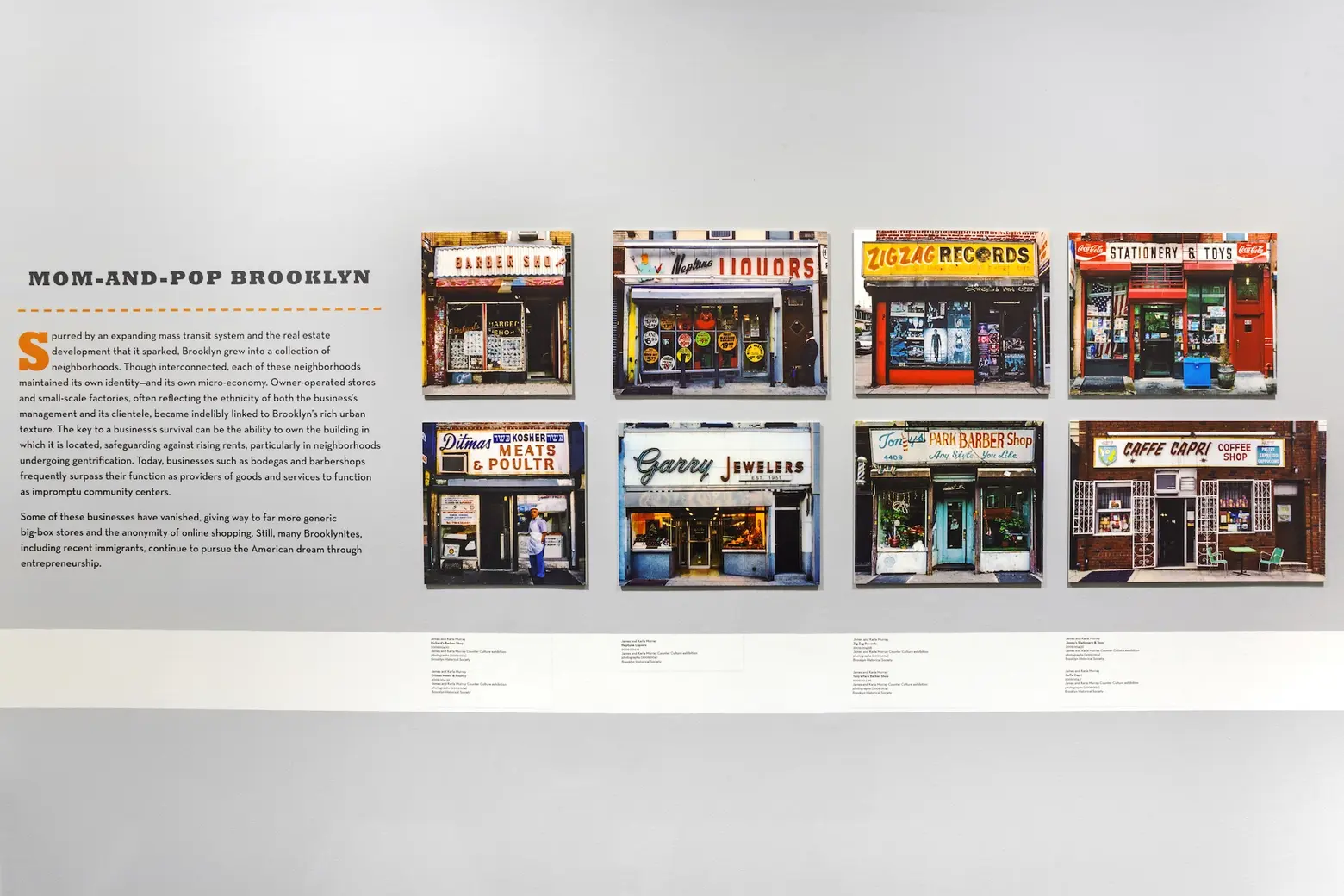 + Mom-and-Pop Brooklyn
Many traditional "mom and pop" neighborhood businesses, including ones that have prevailed for a century or more, are rapidly disappearing in the face of economic pressures, cookie-cutter franchises, and rapidly changing demographics. This process is happening with extraordinary speed in Brooklyn, and the once unique appearance and character of the neighborhood's colorful streets are suffering—as is the community that the businesses once brought together. Many shops are lifelines for their communities, vital to the residents who depend on them for a multitude of needs.
When these small independent businesses close, the whole look and feel of the neighborhood changes, often losing its individuality and charm. These neighborhood storefronts have the city's history etched in their facades. Of the 15 mom-and-pop storefront photos from our book, Store Front: The Disappearing Face of New York, selected for the exhibition on view in both the Giuseppe Fransioli Gallery on the first floor and the Gina Ingoglia Weiner Gallery on the third floor, nine of them have closed.
+++

James and Karla Murray are husband-and-wife New York-based photographers and authors. Their critically acclaimed books include Store Front: The Disappearing Face of New York, New York Nights, Store Front II- A History Preserved and Broken Windows-Graffiti NYC. The authors' landmark 2008 book, Store Front, was cited in Bookforum's Dec/Jan 2015 issue as one of the "Exemplary art books from the past two decades" and heralded as "One of the periods most successful New York books." New York Nights was the winner of the prestigious New York Society Library's 2012 New York City Book Award. James and Karla Murray's work has been exhibited widely in major institutions and galleries, including solo exhibitions at the Brooklyn Historical Society, Clic Gallery in New York City, and Fotogalerie Im Blauen Haus in Munich, Germany, and group shows at the New-York Historical Society and the Museum of Neon Art in Glendale, CA. Their photographs are included in the permanent collections of major institutions, including the Smithsonian Center for Folklife and Cultural Heritage, the New York Public Library, and NYU Langone Medical Center. James and Karla were awarded the 2015 Regina Kellerman Award by the Greenwich Village Society for Historic Preservation (GVSHP) in recognition of their significant contribution to the quality of life in Greenwich Village, the East Village, and NoHo. James and Karla live in the East Village of Manhattan with their dog Hudson.
All photos taken by James and Karla Murray exclusively for 6sqft. Photos are not to be reproduced without written permission from 6sqft.