10 places to volunteer in New York City this winter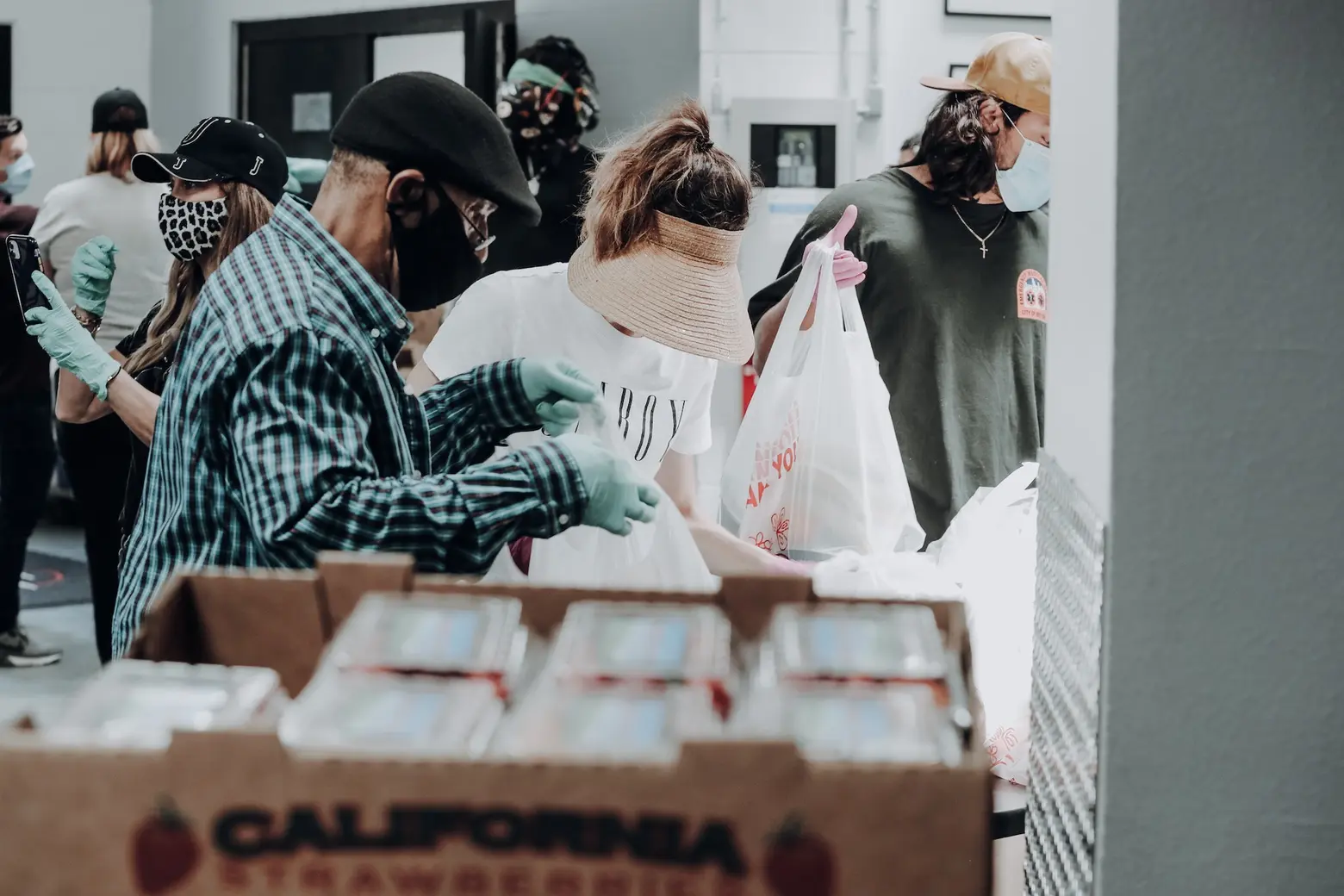 As the pandemic rages on, New Yorkers have maintained their resilience. However, many who were already struggling have had an even rougher time, with thousands of New Yorkers facing hunger, homelessness, and unemployment. As the federal holiday celebrating Dr. Martin Luther King, Jr., approaches, consider taking action and assisting the less fortunate in your community. Ahead, find a number of New York City organizations seeking volunteers this winter. Note, many of the organizations listed have put safety protocols in place to prevent the spread of the virus, including masks and social distancing.
MLK Serve-A-Thon for Hunger Free America
From January 15-17, Hunger Free America is holding its annual MLK Serve-A-Thon in honor of Martin Luther King Jr.'s legacy of service. Different volunteer opportunities include helping in food banks, phone banking, and more. Those interested in volunteering can sign up for a variety of different service events, both in-person and virtual. Covid safety measures are in place including the use of masks, gloves, and temperature checks. If you cannot make any of the events, you can make a monetary donation as well.
NY Common Pantry
Over the course of the pandemic, NY Common Pantry has distributed over 13.5 million meals to nearly 800,000 New Yorkers, working to reduce food insecurity. The group offers a wide variety of food programs, providing healthy meals and food pantry packages to those in need. Besides offering food, they also provide case management services and resources for homeless pantry visitors. Those who are interested in volunteering to work at one of NY Common Pantry's pantries can do so here. Donations can be made towards supporting NY Common Pantry and feeding hungry New Yorkers here.
St. John's Bread and Life
St. John's Bread and Life has been serving New York City since 1982, providing food programs, case management services, and a community resource center for New Yorkers in need. While the community center is closed due to the pandemic, their food programs are still up and running, providing thousands of meals to New Yorkers through their mobile soup kitchen, digital choice food pantry, and grab-and-go meals. You can sign up for volunteer opportunities individually or as a group here. Those interested in making a donation can do so here.
Masbia Soup Kitchen and Food Pantry
In 2014, Masbia was featured in People Magazine as a "restaurant without a cash register." Since the beginning of the pandemic, Masbia has seen a 500 percent increase in demand, feeding approximately 1,500 families every day across their three locations in Brooklyn and Queens. Volunteering opportunities may include helping to prepare food, taking inventory of pantries, and packing pantry bags. Those interested in making a bigger impact can host their own food drive on behalf of Masbia. Those interested in signing up to volunteer can do so here. Masbia accepts different types of donations, including food, equipment, and funds.
Helping Hands for the Disabled of NYC
Helping Hands for the Disabled of NYC was formed in 1982 after the group noticed a lack of recreational opportunities that were accessible by disabled New Yorkers. Since then, they've been organizing trips once a month and have been working with volunteers to help disabled people who require assistance with daily tasks. There are a variety of volunteer opportunities, including food delivery, assisting those with disabilities over the phone, and clerical work like assisting with emails, advertising, and mailings. Those interested in volunteering can fill out an application here. Donations can be made here.
Project N95
Project N95 has been working diligently since the beginning of the pandemic to provide personal protective equipment and Covid tests to communities in need. Since May 2020, Project N95 has delivered close to 12.5 million units of PPE and tests. If you are interested in furthering Project N95's mission of providing PPE for all who need it, you can fill out a volunteer form here. Donations can also be made towards the delivery of more PPE and tests.
Rescuing Leftover Cuisine
One in seven Americans faces food insecurity, while thousands of meals are thrown away every single day. In fact, 40 percent of food is thrown away in the United States every year. Rescuing Leftover Cuisine works to prevent food waste by picking up fresh, leftover food from local restaurants and delivering it to homeless shelters. Since the organization's formation in 2013, they have rescued nearly six million pounds of leftover food. To help prevent food waste in New York City, you can register to participate in food rescue events. Rescuing Leftover Cuisine accepts both food and monetary donations.
GrowNYC
GrowNYC, New York City's largest environmental organization, is on a mission to create a healthy environment for the city's future generations to live in. For five decades they've played an important role in shaping the environmental policy of New York City, bringing in three million New Yorkers a year to lend a helping hand.
Volunteers are needed to assist with the organization's food access and agriculture programs, including their greenmarkets, farmstands, and fresh food boxes. GrowNYC also hosts zero waste programs, where New Yorkers can bring food to compost or clothes which will be donated to second-hand markets or shredded for use as insulation. There are clothing dropoff sites in Brooklyn, Queens, and Manhattan. As a nonprofit organization, GrowNYC depends on donations to continue its work.
UA3
Established at the beginning of the pandemic, UA3 is a non-profit organization that has been fighting food and PPE insecurity across the five boroughs. Since the beginning of the pandemic, UA3 has seen a 2,750 percent increase in pantry visitors, highlighting the impact of the pandemic on New Yorkers. Through their Community First Pantry on the Lower East Side, UA3 has provided over $10 million worth of food, six million masks, and 400,000 bottles of hand sanitizer to people in need.
Volunteer opportunities include helping run UA3's food pantry operation, which can range anywhere from clerical duties like data entry to distributing food to pantry visitors. Those interested in volunteering can sign up here. Those who are not able to volunteer but want to support UA3 can make a donation.
Dear New York for Food Bank for New York City
While Dear New York is not currently accepting on-site volunteer assistance due to the pandemic, they are still offering those interested in lending a helping hand the opportunity to write notes that will be used in their pantry bags. This is an activity that can be completed from home and by participants of any age.
Those interested in brightening someone's day with a note can find more information here. Food Bank for New York City accepts donations, with a $1 donation providing 5 meals to New Yorkers facing food insecurity.