Trump's Soho hotel experiences business boom after rebranding without the president's name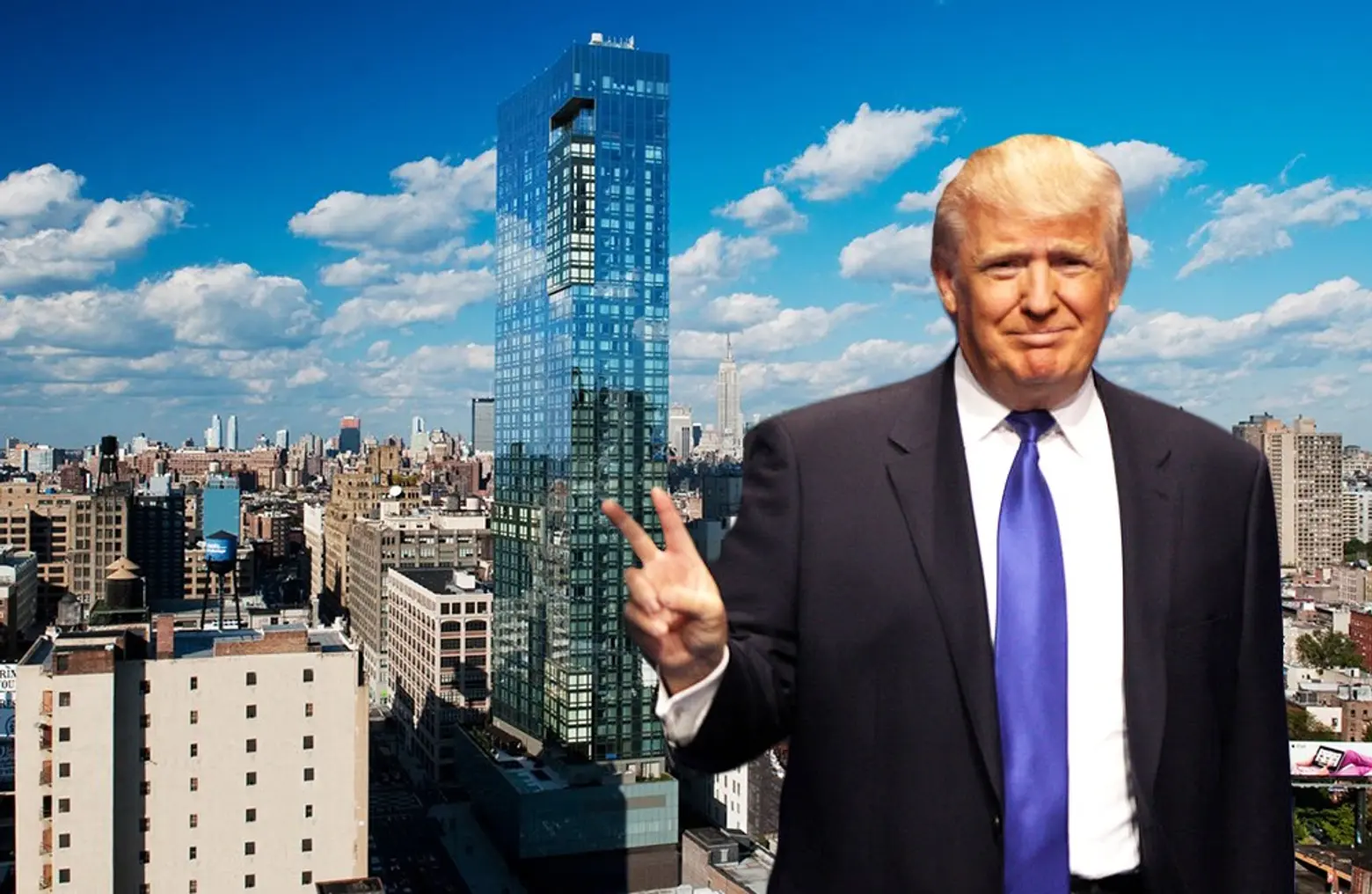 After a prolonged economic slump and a not-so-subtle rebranding, Soho's Dominick Hotel—formerly known as the Trump Soho—has experienced a formidable increase in revenue, as Bloomberg reports. The revenue per available room rose more than 20 percent from last year. The hotel's average nightly rate increased by $51 (a 20 percent increase compared to just 2 percent among the hotel's competitors) and had 7,000 more bookings in 2018 than in 2017.
As 6sqft previously reported, the Trump Soho condominium and hotel at 246 Spring Street officially became the Dominick Hotel and Spa in 2017 after an 11-year economic slump, local protests, and multiple lawsuits. The Trump Organization made a deal with the building's owner, CIM Group, to step away from the hotel amid a decline in room prices. In the middle of the night on December 20, 2017, hotel workers removed the Trump Soho lettering from the facade of the glitzy 46-story hotel, erasing President Trump's association with the building. Patrons woke up the next morning in the newly rebranded Dominick Hotel.
Aside from the name, not much has changed inside the Dominick, where the lobby still boasts Trump's signature travertine-and-gold aesthetic. Offering panoramic city views, a great location, and condo-like rooms that average 629 square feet, the hotel itself was never a problem. "If you're looking for something spacious downtown where you can feel comfortable for a full week, it's the perfect hotel," said Jack Ezon, founder and managing partner of high-end travel company Embark. "Seven out of eight times people would say, 'I'm not staying at a Trump Hotel' when I suggested it."
Considering the demographics that flock downtown, "having a Trump hotel in SoHo just feels like an oxymoron at this point," said Donna Olshan of Olshan Realty. "It's just business, and if anyone can understand that, it would have to be Donald Trump."
The "Trump effect" has impacted real estate as well as the hotel business. Last week, the condominium board at 120 Riverside Boulevard voted to remove the "Trump Place" sign from their building's facade. The vote followed a decision last October to remove the Trump Place sign from the nearby condo at 200 Riverside Boulevard. Since Trump was elected president, five New York City buildings have opted to remove their Trump stamp.
Despite the improvements, CIM Group is considering selling the hotel. The Los Angeles-based real estate investor is in talks with advisors and has started courting potential buyers, as Bloomberg reported earlier this week.
[Via Bloomberg]
RELATED: