The history behind 42nd Street's lost Airlines Terminal Building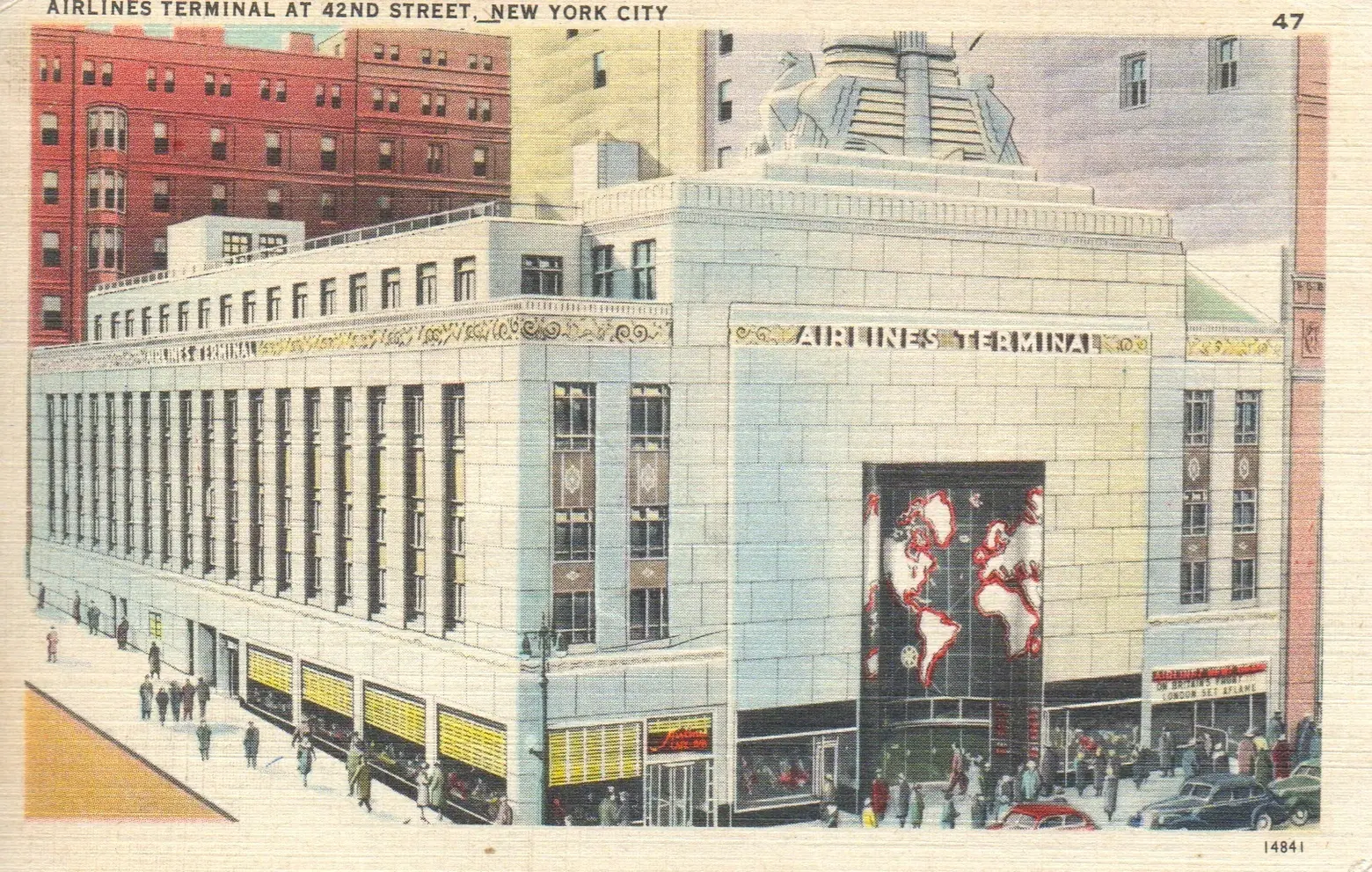 For more than 30 years, the Art Deco-style Airlines Terminal Building served millions of travelers as a spot where flight tickets servicing New York could be purchased and where passengers could board shuttle buses to take them to the various airports. The building, located on the southwest corner of Park Avenue and 42nd Street, sat on the former site of the Hotel Belmont, which was built in 1906 and later demolished in 1930. Construction of the Airlines Terminal began in 1939 to create the chic, futuristic design, which included a steel frame and a crown flanked by two eagles.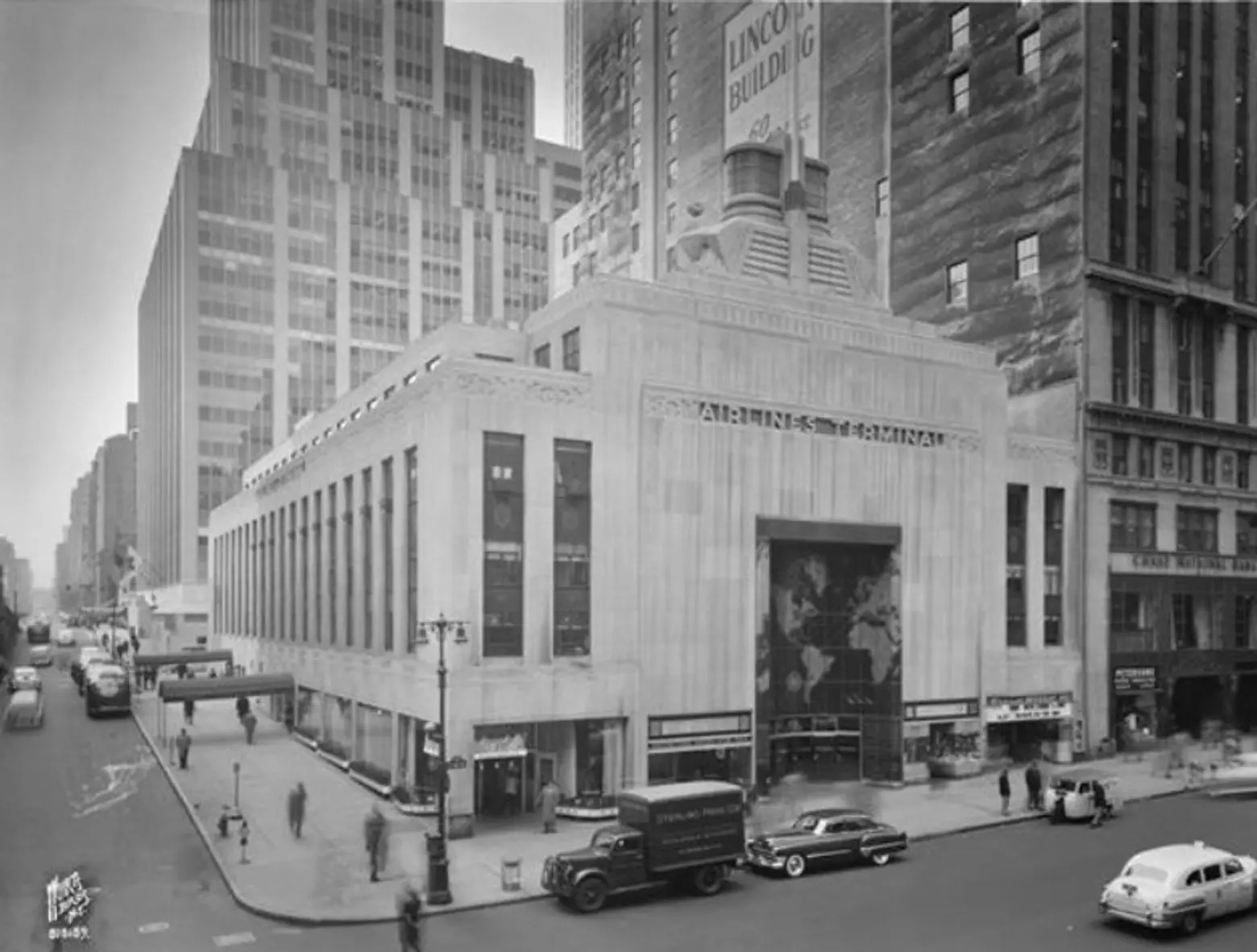 Architect John Peterkin's designs for the Airlines Terminal first became public in September of 1939, which at the time were described as modern classical. For five major airlines, American, Eastern TWA, United and PanAm, this building provided ticket booths, reservations, and baggage handling. The designs included a restaurant, stores on the ground floor, and a 600-seat newsreel theater.
While Mayor Fiorello La Guardia laid the Airlines Terminal cornerstone on Apri 22, 1940, the developer's decision to enlarge the building delayed its opening. It finally opened on January 26, 1941, with a tour and inspection from the Mayor. Standing opposite the Beaux-Arts architectural design of Grand Central, the Airlines Terminal had a symmetrical facade with little decoration. Above the main entrance, there was a polychromatic stainless steel mural of a map of the planet, symbolizing the gateway to the building and to the world.
An article from the New York Times from 1941 described the interiors as being equipped with "modern mechanisms" that gave it an "Arabian Nights Atmosphere." With walls of gold and a dome ceiling painted sky-blue, the building was quite elegant. It also featured giant figures of a "symbolic man and bird in flight" made of aluminum on the upper wall ends.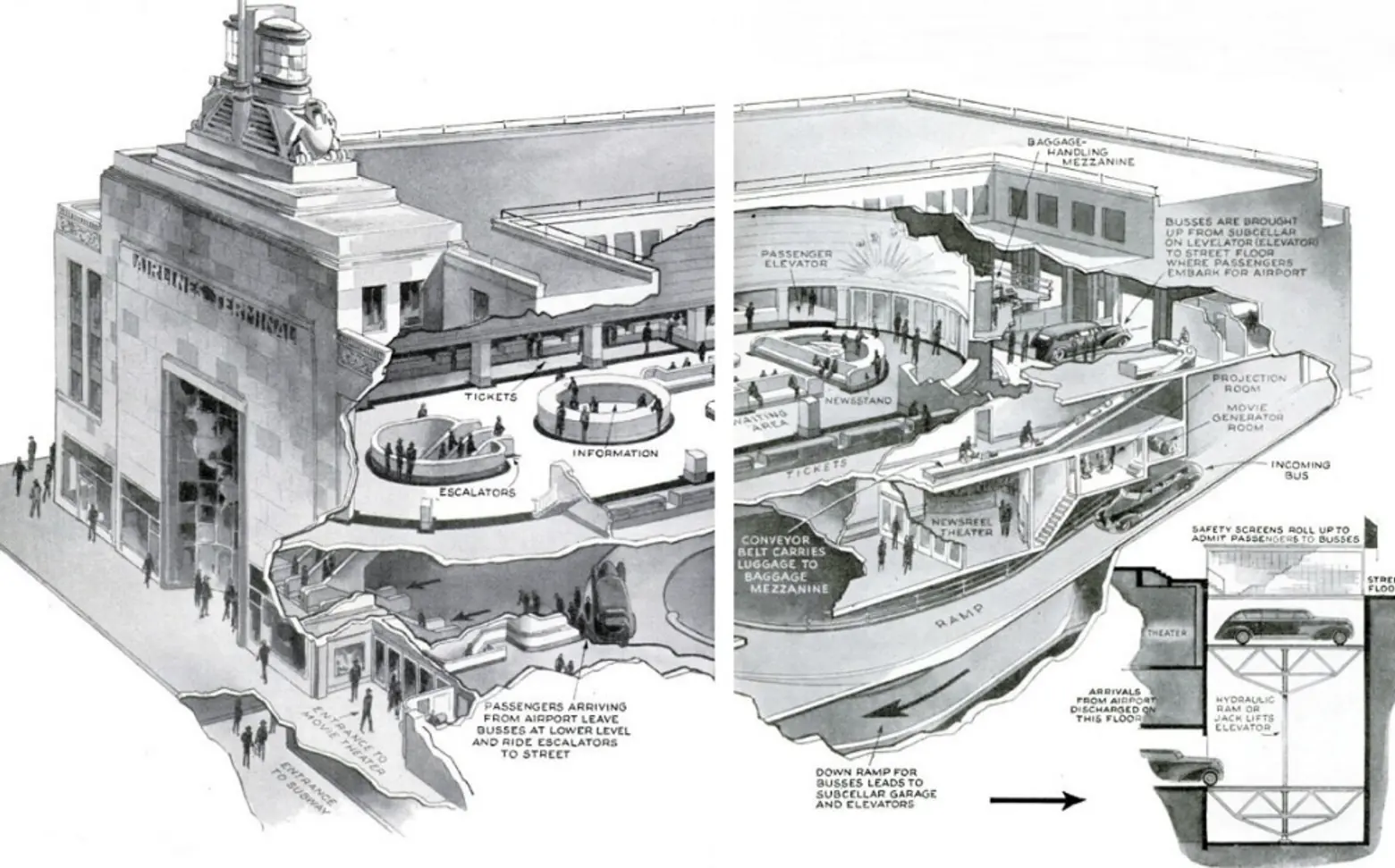 Shortly after the Airlines Terminal Building opened, service to Newark Airport began. By the end of 1946, the terminal served between 11,000 and 12,000 travelers per day. And to make things more crowded, in 1948, the New York International Airport in Queens opened. The increase in passengers caused heavy congestion for the buses that drove to the terminals, so in July 1951, the Airlines Terminal opened a new location on First Avenue between 37th and 38th Streets, directly across from the Queens-Midtown Tunnel. Following the opening of the new terminal, the 42nd Street spot became a reservation service only.
Beginning in the 1970's, the Airlines Building's value started to decline. It closed in August of 1978 and was later demolished, making way for today's Philip Morris Building. However, the Art Deco eagles that were perched atop the terminal's building were preserved and can be found in Richmond, Virgina.
RELATED: