Where to order takeout Thanksgiving meals this year in NYC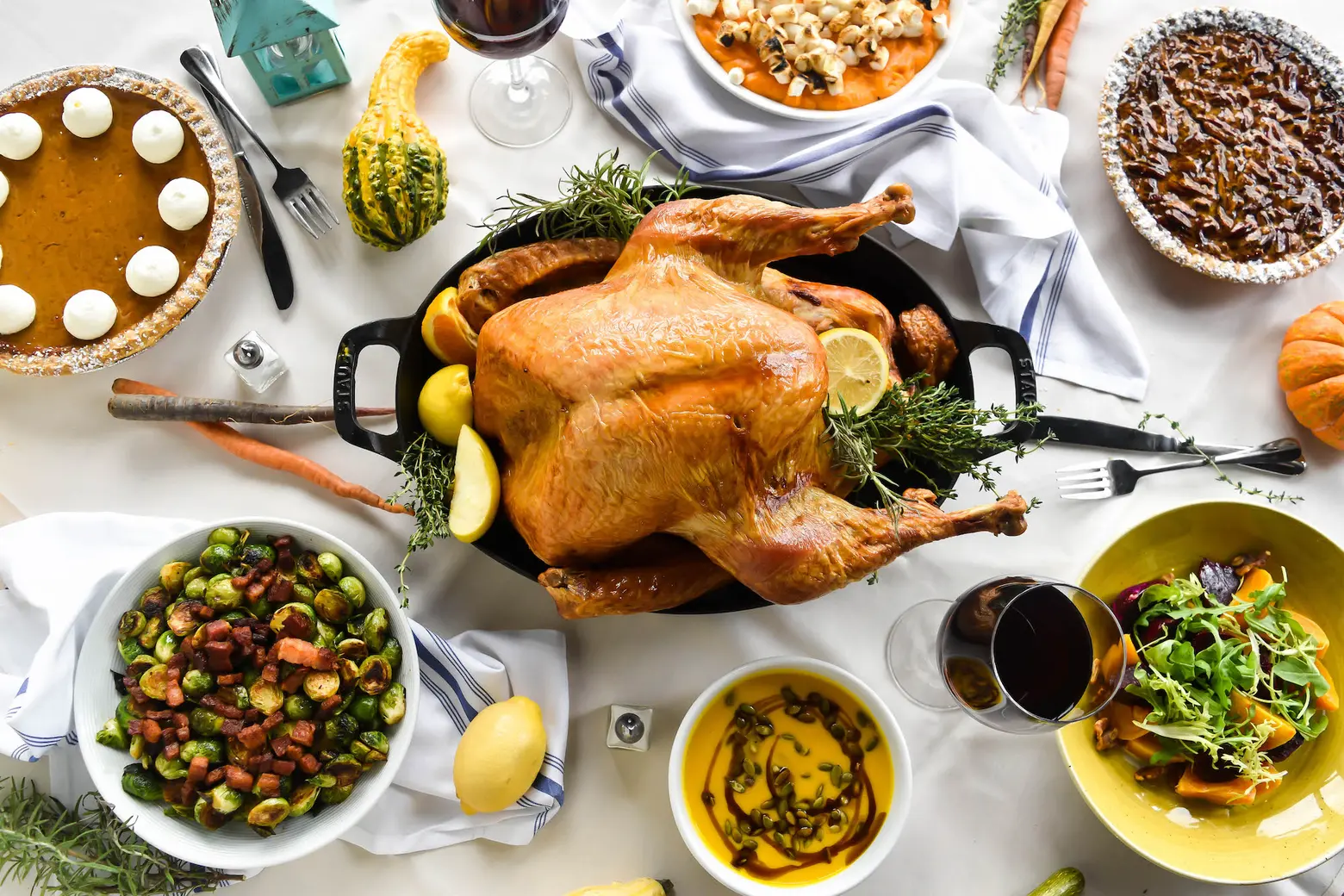 Photo courtesy of Estuary
Let's face it–this year's Thanksgiving is not going to be what we're used to. Many of us won't be able to travel to be with our families or don't feel comfortable dining in a restaurant. But if cooking's not your thing (or you're just too damn exhausted from 2020), there are plenty of local restaurants offering to-go holiday meals. From classic turkey dinners at Bubby's and The Smith to an affordable, family-friendly option from Sarabeth's to something a little more avant-garde like Cote's Korean prime rib meal or Aquavit's Nordic-inspired menu, we've rounded up the best takeout Turkey Day options in NYC.
CLASSIC MEALS
Dickson's Farmstand Meats
This Chelsea Market butcher shop has adapted its menu to account for the smaller celebrations a lot of us will be having. You can buy a fresh turkey, a fully-cooked smoked turkey (dry-brined for 24 hours with a special rub and smoked over apple and cherry woods), a fully-cooked rotisserie turkey, turkey crowns (bone-in breasts for small groups), confit turkey legs, and Hudson Valley moulard ducks. There are also tons of side dishes and pies from Sarabeth's.
Bubby's Tribeca
Thanksgiving this year is extra special for this beloved classic, as it's also their 30th anniversary (Bubby's first opened as a pie-pop-up day on Thanksgiving Day in 1990!). Their ready-to-eat, take-out packages are available for local pick up on Thanksgiving Day and cost $100 for 2 people; $200 for 4 people; and $300 for 6 people. You'll get starters like flaky buttermilk biscuits, mains like a roasted Pallman Farms turkey with giblet gravy and glazed ham, and sides like cornbread sausage stuffing and a green bean casserole. And let's not forget about their famous pies, which are also available for national shipping. Choose from apple whiskey crumble, pumpkin, organic pecan maple, and sour cherry. Pre-orders must be in by November 19th; there will also be a ready-to-eat meal for local pick up on Thanksgiving day.
Friend of Farmer
This popular Gramercy brunch spot has a lovely, homestyle takeout menu for Thanksgiving. For $62/person, you'll get butternut squash soup or creamy corn chowder served with cornbread and apple butter; a country pie appetizer; a choice of oven-roasted turkey, honey-glazed ham, or salmon; corn bread stuffing, cranberries, creamy mashed potatoes, and maple sweet potatoes; traditional succotash; and a granny smith apple deep-dish pie.
La Rotisserie
The Flatiron French bistro formerly known as Le Coq Rico started out in Paris with a commitment to responsibly raised, heritage breed poultry, so you can bet that bird you order on Thanksgiving will be top-notch. For $345, you'll get a poached and roasted heritage turkey (from a fourth-generation farmer of Kansas' Good Shephard Poultry Ranch, which, according to their site, "maintains the oldest continuously bred flock of heritage turkeys in America") stuffed with a dressing made of homemade bread, eggs, fresh herbs, roasted onions, and chestnuts, which can serve 6-8 people. It comes with sauerkraut, sweet potato purée, homemade honey butter cornbread, and gravy. Additional sides are available for purchase, as are desserts (apple and blueberry crumble, pumpkin pie, and pecan pie with butterscotch caramel) and a selection of wines. Orders will be accepted until Friday, November 20 at noon.
The Smith
We consider The Smith a reliable place for a better-than-average meal that won't break the bank and has a little something for everyone. Their "heat-and-eat" Thanksgiving meal is no exception. Available for delivery in New York, New Jersey, and Connecticut, or for pickup at any of their four NYC restaurants, the meals run $120 for two, $240 for four, and $480 for eight. Depending on the feast you choose, the meals include a toasted sesame hummus snack, two starters–butternut squash soup and Honeycrisp apple/goat cheese salad, turkey prepared three ways (breast, legs/wings, and a turkey pot pie), and all the fixings like smashed potatoes, roasted Brussels sprouts, delicata squash, apple brioche stuffing, cranberry orange jam, and sourdough dinner rolls, as well as apple pie and sticky toffee pudding for dessert. There are also tons of a la carte options and hors d'oeuvre samplers.
Extra Virgin
This West Village gem has been serving up creative Italian, French, and Mediterranean food for 16 years, and for Thanksgiving, they're going traditional American. Their Thanksgiving Day pickup meal is $50/person for 2, 4, or 6 people and includes a lovely fall-themed salad, roast turkey breast and braised dark meat, gravy, vanilla whipped sweet potatoes, truffle baby Yukon's, cranberry relish, roasted Brussels sprouts, and a cranberry pecan pie. There are also a la carte side options for $13 like a truffle mac n cheese tart (yum!!) and cauliflower with toasted garlic and parmesan. Orders must be placed online by Tuesday, November 24.
BKLYN Larder
This Prospect Heights cheese and provisions shop is offering Thanksgiving catering this year, with all a la carte options. You can opt for a 10-12 pound brined and roasted turkey for $150 (serves 8-10) or a turkey roll, brined, rolled, and stuffed with their signature house-made pork stuffing, for either $45 (serves 2-4) or $90 (serves 6-8). Stuffing, gravy, and cranberry sauce are available, as are a selection of sides that range from $20-$30; they include Brussels sprouts, honey nut squash, farro and mushrooms, corn/leek and swiss chard pudding, and mashed potatoes. If you want to spice things up, you can also order cheese and charcuterie boards. Mini and whole pumpkin or pecan chocolate pies round out the options.
Estuary
In Brooklyn Heights, Estuary has a few different to-go options for the holiday, which include a whole turkey, cranberry sauce, turkey gravy, mushroom stuffing, creamy mashed potato, roasted baby Brussels sprouts with bacon, and one selection of a 9-inch pie (apple crumb, pecan, or pumpkin). The 8-10 person option is $340 and the 4-6 is $270. You can also order just a turkey with the main fixings for $150, a pie trio for $85, or a wine and bubbles kit ($180 for three bottles, $330 for six bottles).
Marlow & Daughters
This whole animal butcher in Williamsburg doesn't have a ton of offerings, but you KNOW the turkey is going to be exceptional. As they explain on their site, "All of our birds are freshly slaughtered the Sunday before Thanksgiving and available for pick up starting on the Tuesday before Thanksgiving." There are three different turkey options–organic ($130), pastured ($85), and heritage ($185)–as well as traditional a la carte sides. Consider ordering early, though, as Marlow & Daughters says they typically start selling out of turkeys two weeks before Thanksgiving.
Hearth
East Village wine bar Hearth has two takeout options. The $75/person full feast includes an autumn squash soup, roasted turkey breast and braised leg/thigh, gravy, traditional bread stuffing, mashed potatoes, roasted greenmarket vegetables with honey and thyme, and a choice of pumpkin pie or apple crisp. For $55/person, you can order the bird and trimmings option. And, of course, you can't order a Thanksgiving meal from a wine bar without the wine. There are suggested bottles or a $130 combo of cider, dry riesling, pinot noir, and fortified cider.
Jones Wood Foundry
On the Upper East Side, this British taproom is going all American this Thanksgiving. Their traditional takeout option is $240 and serves four people. The three-course meal includes a butternut squash ravioli appetizer, turkey with all the trimmings, and pumpkin pie. It also includes a 64-ounce growler of virgin mulled apple and pomegranate cider. Orders must be placed by November 19.
Charlie Bird and Pasquale Jones
Delicious Hospitality Group has created one Thanksgiving to-go package. It's $300, feeds four people, and is available for pickup or delivery on November 25. It comes with smashed potatoes, roasted delicata squash, braised lacinato kale, romaine hearts escarole, cranberry and horseradish sauce, a turkey bolognese lasagna course, and turkey breast roulade. For an additional $250, you can add a double-rack, 50-day dry-aged ribeye. Other a la carte options include four-person cocktails for $50 (there are four options), a $100 Thanksgiving wine three-pack, a $75 charcuterie board, and three pie options for $48 each.
Mike's Deli
This Bronx Little Italy mainstay, located in the historic Arthur Avenue Retail Market, is offering patrons a whole turkey with all the fixings for 6-8 people available at $169. They're also offering pre-sliced boneless turkey breast with a variety of sides including baked yams with roasted marshmallows, stuffing with sausage and soppressata, sautéed string beans topped with toasted almonds, sliced cranberry, and homemade turkey gravy, which serves 4-6 people and is available at $109.
Union Square Events
The hospitality group that Union Square Cafe is a part of is offering classic Thanksgiving dinners delivered to your home. Choose your size of turkey, 12+ sides, pies, and other desserts and add-on options.
ilili
This long-time Lebanese staple in Nomad is one of those restaurants that perfectly toes the line between upscale and comfortable, and for Thanksgiving, they're bringing that into your home with their to-go meal (available for pick-up only). The $375 catering package serves eight and includes a whole broken-down turkey, stuffing "grand-mère," gravy, cranberry sauce, roasted sweet potatoes, mashed potatoes, brussels sprouts, and pecan pie.
Rainbow Room
This iconic NYC institution is offering a delivery (free for orders over $150) or pick-up Thanksgiving this year. The meal for six is $325 and includes a 14-17 pound turkey, choice of soup, choice of dessert, and eight sides. There are also a la carte options. Orders must be received by 5pm on November 23.
Oceana
Acclaimed seafood restaurant Oceana is foregoing the fish for a classic takeout Thanksgiving meal. The package–which is $475 for 8-10 people or $275 for 4-6 people–includes turkey two ways (roasted turkey breast and braised turkey roulade), gravy, potato puree, sausage stuffing, Brussels sprouts, sweet potatoes, rutabaga, cranberry sauce, house-made honey-glazed rolls, one pecan pie, and one pumpkin pie. Pre-orders must be placed by November 16.
Amali
For all intents and purposes, this Midtown Mediterranean restaurant is offering up a classic Thanksgiving meal to-go for $85/person. However, you can expect a few fun twists like a Spanish Branzino option for the main course, and Brussel sprouts with honey, hot pepper, and mint.
Brooklyn Chop House
For $295 (for 6-8 people) FiDi steak house is offering a 13-14lb Peking turkey with cranberry plum sauce and all the holiday trimmings–garlic mashed potatoes, string beans, salads, homemade assorted cheesecakes, and coffees. The turkey is also available to-go minus the trimmings for $195. Contact the restaurant for ordering information.
Nuhma
Long Island City-based catering company Nuhma is delivering its Thanksgiving meals throughout the city, and those orders placed before November 5th will get free delivery. There are four turkey options, as well as all the traditional sides and four pie and two tart choices.
AFFORDABLE OPTIONS
Sarabeth's
Known for its reasonable brunches, classic spot Sarabeth's is also offering an inexpensive Thanksgiving pick-up at its Upper West Side, Central Park South, and Tribeca locations. A complete dinner–free-range turkey with gravy, leek and sausage stuffing, brown butter whipped potatoes, roasted root vegetables, cranberry compote, bread service, and a choice of pumpkin pie or apple cranberry crumble–is just $40 per person. For $18, you can order "just the sides." Orders must be placed before 5pm on November 24.
Pig Beach
This Gowanus BBQ spot isn't serving up ribs for Thanksgiving, but their to-go menu still sounds pretty delicious, and at $250 for a 10-12 person meal, it sounds even better. The feast includes a smoked whole turkey or a brown sugar and maple-glazed spiral ham, along with gravy and cranberry sauce, a choice of two sides, and a choice of dessert (apple pie, pumpkin pie, or red velvet cupcakes). A la carte options are also available. Orders must be placed by Monday, November 23.
Blue Smoke
Southern barbecue spot Blue Smoke is going Traditional for Thanksgiving, though their turkey breast is house-smoked. The four-person package also comes with gravy, cranberry sauce, biscuit dressing, mashed sweet potatoes, and green bean casserole. At $120, the package is only $30/person. It doesn't come with dessert, however. Pies–apple crumb, bourbon pecan, or sweet potato–can be added on for an additional $28 each.
MichaelAngelo's 
This Italian restaurant on Arthur Avenue is offering a three-course meal for $40 per person that comes with squash soup, brick oven-baked turkey with stuffing, mashed or sweet potatoes, cornbread, green beans, cranberry sauce, and pumpkin pie or cheesecake. If you place your takeout order by Thursday, November 24, you'll save 10 percent.
Carnegie Diner & Cafe
This old-school Midtown diner might be offering the best deal in town, but you'll need to have at least 10 people in your group to take advantage. If so, their Thanksgiving meal to go is just $22/person (plus a $20 delivery fee). On Thanksgiving day, the first 50 first responders who stop by the diner will receive a complimentary Thanksgiving meal to stay or to go.
SPLURGE-WORTHY MEALS
Daniel Boulud Kitchen
We won't insult you by explaining the pedigree of Daniel Boulud, so you can imagine that this special Thanksgiving feast à la Daniel won't be cheap. For $900 serving 4-6 people and $1,800 serving 8-10 people, the feast includes a free-range organic turkey that's been brined and pre-roasted, seasonal side dishes, classic desserts, housemade bread, and artisanal cheeses. Delivery is only within a two-mile radius and comes with a $75 fee (pick up is also available). His more casual Upper West Side outpost, Épicerie Boulud, is also offering a complete Thanksgiving Dinner that serves 6-8 people for $395. At this location, you can also pick up pies a la carte, which includes the new DB's Super that is a combination of pumpkin, apple, and pecan pies!
Eleven Madison Park
At the height of the pandemic, world-famous, three Michelin-starred Eleven Madison Park turned into a commissary kitchen for nonprofit Rethink to provide meals for those in need during the outbreak. They've now pivoted to a takeout model called EMP At Home, where their $275 meal kits feature the restaurant's famous roasted chicken stuffed with brioche, foie gras, and black truffle. For Thanksgiving, those in Manhattan, Brooklyn, Westchester, Connecticut, New Jersey, Manhasset, and the Hamptons can pick up EMP's classic Thanksgiving dinner for $475 (4-6 people) or $875 (8-10 people). It includes a free-range organic turkey (that you'll have to cook), sage gravy, parker house rolls, brioche stuffing, cranberry and orange chutney, leek fondue, herb-roasted carrots, haricot vert, green salad, apple-cranberry pie, and pecan pie. For an extra cost, you can opt to add caviar or truffles, as well as wines and cocktails.
The Polo Bar
Ralph Lauren's posh Midtown restaurant has family-style takeout meals for $595 (up to 6 guests) or $995 (up to 12 guests). You'll get a roasted free-range turkey, gravy, maple-sherry-glazed Brussels sprouts, mashed potatoes, cranberry sauce, chestnut stuffing, popovers with maple butter, and pumpkin cheesecake or bourbon pecan pie. There are appetizer add-ons like a $125 shrimp cocktail for six or extra desserts like a $120 coconut cake. For $695, you can opt for a six-bottle wine pairing, or there are six cocktail options.
A TWIST ON THE TRADITIONAL

Union Square Cafe
Pumpkin lasagna? Yes, please! Chef Lena Ciardullo's ready-to-bake dish features layers of ricotta, provolone, Grana Padano, pecorino, roasted pumpkin puree, Tuscan kale, house-made pasta, and bechamel baked in a pumpkin shell and topped with preserved lemon, pepitas, crispy sage, and balsamic vinegar. It serves 6 and costs $125. They also offer a special three-pack of holiday wines for $85. Orders can be picked up between November 19 and 29.
Tino's Delicatessen
While we're talking about pasta, this deli that's been on Arthur Avenue in the Bronx for 50+ years is offering two takeout dinner options for Thanksgiving. The $349.95 10-person meal includes a large tray of sliced turkey, large baked ziti, sausage stuffing, corn, garden salad, sweet mashed potatoes, mashed potatoes, gravy, cranberry sauce, a dozen dinner rolls, and pumpkin pie. The $499.95 15-20-person meal includes larger portions as well as an antipasto tray and a choice between stuffed shells or rigatoni Bolognese. Orders must be placed by November 20th.
Hill Country Barbecue
Bring some Texas-style into your holiday meal. The Texas Turkey Box–which is $165 and serves 2-4 guests–comes with a turkey breast with pan gravy, cranberry sauce, longhorn cheddar mac n' cheese, collard greens with smoked bacon, Texas Toast stuffing, skillet cornbread with ancho honey butter, and pumpkin pie. The Thanksgiving Feast is $275 and serves 8-10 guests. With this option, you'll get a pit-smoked whole turkey and a few additional sides and pie. You can also order turkey, a smoked brisket, sides, and pies a la carte.
Dos Caminos
Thanksgiving with a Mexican twist is on order at Dos Caminos. Their family to-go pack serves 4-6 and costs $199 (additional pack sizes are available upon request). It comes with mole spice-rubbed roasted turkey breast, poblano cornbread and chorizo stuffing, piloncillo plantains and sweet potatoes, a Mexican market chopped salad, butternut squash soup, chips and three housemade salsas, esquites, canela and orange zest cranberry sauce, borracho beans, churros and cajeta, and pumpkin tres leches cake.
L'Amico
If you're looking for something traditional with an Italian twist, look no further than L'Amico. Their turkey comes with cranberry-orange mostarda, oreganata gravy, and pork sausage and chestnut stuffing. Other dishes include spaghetti squash with gorgonzola and pine nuts, butternut squash soup with fontina agnolotti and sage, and pumpkin pie with a hazelnut crunch and amaretto whipped cream. For $48/person, you'll get the turkey and three sides. Soup/salad and dessert are a la carte. The order deadline is November 12.
Cote
If turkey doesn't do it for you, consider Michelin-Starred Korean barbecue restaurant Cote for a red meat-fueled feast. Known for its $165 wagyu beef tasting, the Flatiron hotspot is offering two take-home holiday feasts. Unfortunately, the prime rib meal for six was sold out at the time of publication, but there are still slots left for the $185, six-person holiday Galbi Jjim, succulent USDA Prime short rib from Niman Ranch. According to Cote, the "king of kings" of top-quality beef is "cooked overnight with shiitake mushrooms, daikon, carrots, gingko nuts, and chestnuts until it is fall-off-the-bone tender."
Aquavit
High-end Nordic restaurant Aquavit is taking a Scandinavian approach to their takeout Thanksgiving meal. The $175 kit comes with fennel and caraway spiced turkey breast, smoked turkey leg, sweet potato puree, creamed cabbage, green bean and tarragon salad, kale and orange salad with pecan, lingonberries, Danish rye and butter, and apple crumble pie with vanilla custard.
Le Prive
Francophiles will love this French restaurant's Thanksgiving meal. Their $65 takeout menu includes brasserie classics such as French onion soup, escargot, and short rib bourguignon in addition to holiday mainstays like turkey with giblet gravy, crispy sweet potatoes, and more. For more info and to place your takeout order, call (212) 837-2795.
La Goulue
The reincarnation of this fabled "high-society" Upper East Side restaurant is offering the same French-themed Thanksgiving menu for dining in and taking out. The three-course meal is $82/person and $41 for children under the age of 12. First course selections include Butternut Squash Soup, Ravioli de Homard, Le Tartare de Thon Japonais and Salade Folle. Main course selections feature Roasted Organic Turkey, Steak Au Poivre, and Pavé de Saumon. Desserts include Pecan Mascarpone Napoleon, Pumpkin Tart and Profiterolles Croquantes. For guests looking for carry-out, orders must be placed by Friday, November 20th by calling (212) 988-8169.
Casa Del Toro
For another Mexican-inspired Thanksgiving meal, Casa Del Toro's menu has chili-rubbed turkey tlayuda, chorizo y arroz "stuffing," and an apple chimichanga with Mexican chocolate crema. For more info and to place your takeout order, call (212) 586-0811.
The Musket Room
For its Thanksgiving menu, The Musket Room has applied its same globally-inspired take. It's $85/person and includes butternut squash soup with cardamom and coconut; chicories, pear and Rogue River blue cheese; a roasted rack of wild boar or a roasted guinea hen; foie gras and prune bread stuffing or chestnut sage bread stuffing; Brussels sprouts with Pancetta; pommes puree; roasted poultry gravy or black truffle gravy; huckleberry sauce; and a choice of pie. Everything on the menu is also available a la carte.
Baar Baar
This modern Indian restaurant in the East Village doesn't have a holiday menu per se, but they do have a special dish for the holiday that could be the perfect way to blend an Indian meal with a traditional Thanksgiving meal. They're offering a special housemade kulcha (Indian flatbread) that's cooked in the tandoor and stuffed and topped with turkey, cranberry, truffle, and manchego cheese. The turkey is cooked with mint, cilantro, and a mixture of masalas.
RELATED: