St. Patrick's Cathedral to get $7.2M from sale of air rights under Midtown East rezoning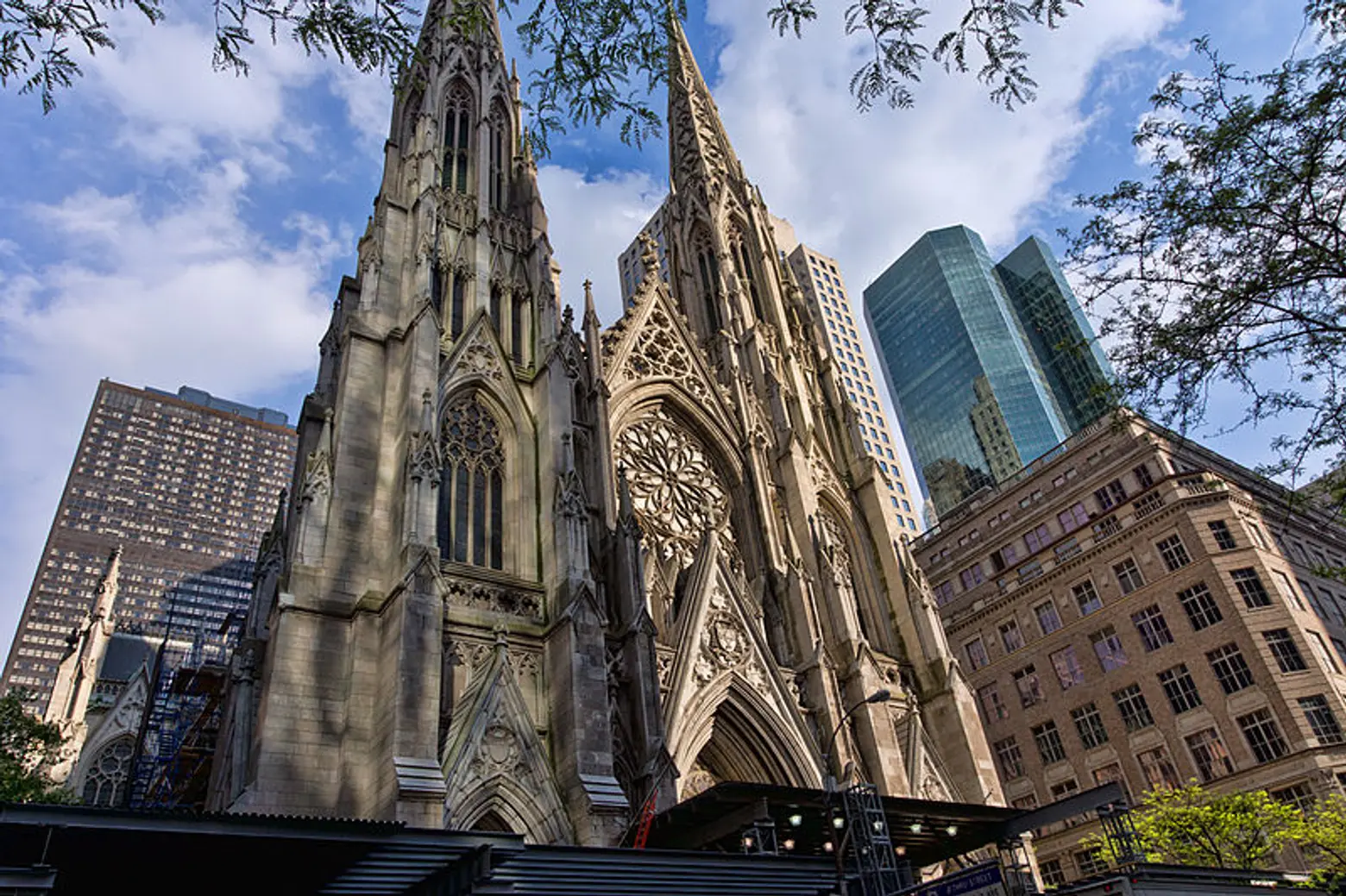 Editor's Note: The owners of 405 Park Avenue are set to buy the development rights from St. Patrick's Cathedral, the Real Deal reports. MRP Realty and Deutsche Bank Asset Management will add four floors and 205,000 square feet of office space to their existing building.
JPMorgan Chase and Mayor Bill de Blasio announced last week plans for the first project under the city's Midtown East rezoning: a 70-story tower to replace its old offices at the same Park Avenue site. And with the Archdiocese of New York this week reaching a tentative deal to sell 30,000 square feet of development rights from St. Patrick's Cathedral, the second project under the new rezoning could quickly follow. According to Crain's, if the sale happens the Archdiocese could pick up at least $7.2 million in air rights.
Approved last year, the rezoning affects the 78 blocks running from East 39th Street to East 57th Street and from Third Avenue to Madison Avenue. Under the new zoning laws, landmarks are permitted to sell and transfer unused development rights anywhere in the 78-block area. If a landmark chooses to sell its air rights, it must pay the city a minimum of $61.49 per square foot, with the proceeds going to public space improvements in East Midtown.
At $61.49 per square foot, the Archdiocese could make a total of $9 million. However, a fifth of the sale goes to pay for upgrades to public spaces in the area, leaving the church with $7.2 million. St. Patrick's has a total of 1 million square feet of development rights, which are worth roughly $300 million.
Archdiocese representatives on Tuesday presented a permanent maintenance plan to Manhattan's Community Board 5, a requirement before any deal can be approved. The plan requires the church maintain upkeep or risk legal action and/or fines. Because the board approved it, the organization will next present the plan to the city's Landmarks Preservation Commission.
In addition to St. Patrick's, there are two other religious landmarks which could sell development rights: St. Bartholomew's Episcopal Church and Central Synagogue. The mid-century office tower Lever House at 390 Park Avenue also has the option.
[Via Crain's]
RELATED: