Public art and cultural events planned for elevated terraces at revamped Grand Hyatt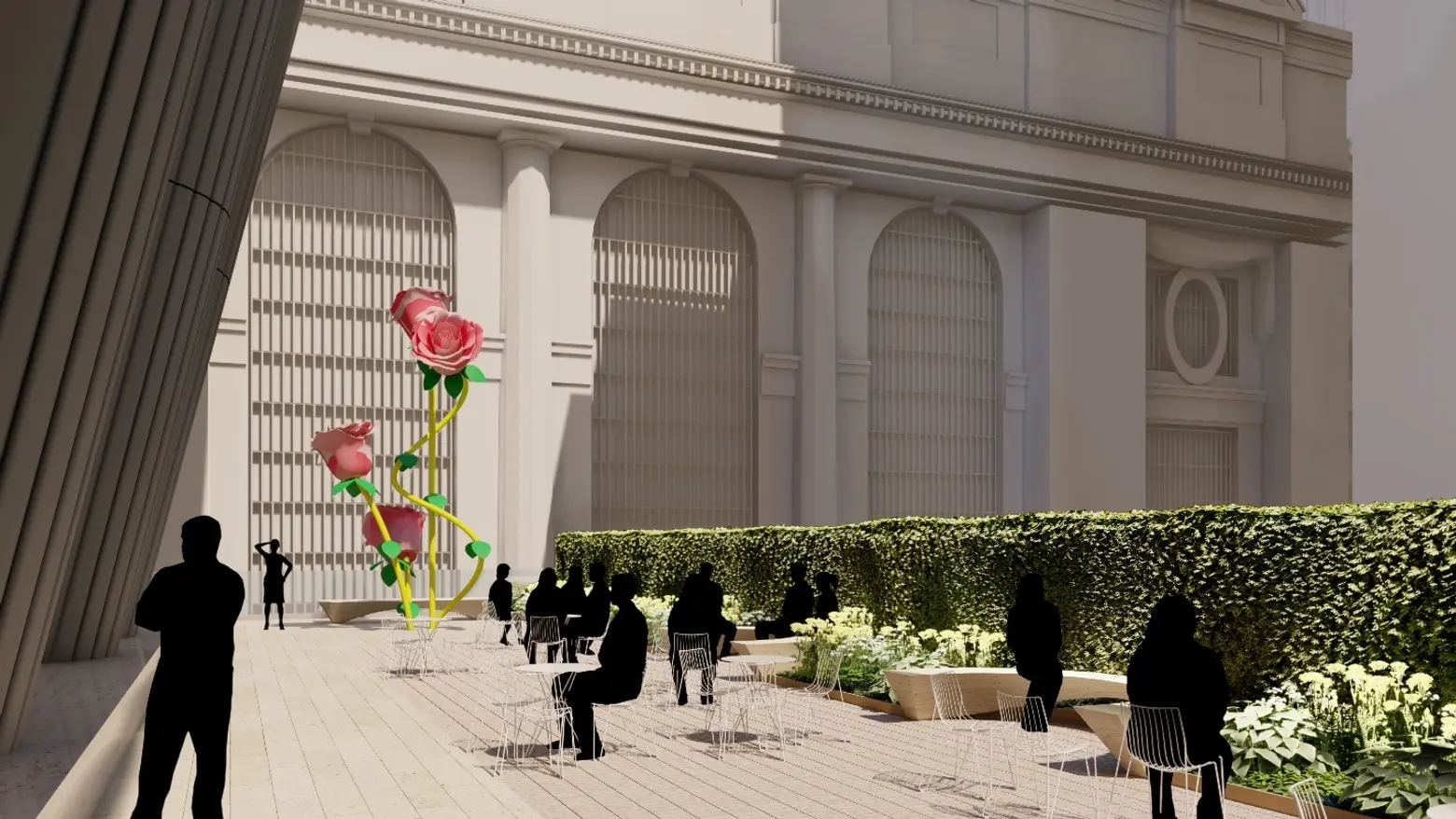 Arts programming on 175 Park Avenue's Graybar Terrace. Image credit: James Corner Field Operations. The artwork shown for illustrative purposes is "The Roses" by Will Ryman
The developers behind the huge tower that will replace the existing Grand Hyatt New York announced last week plans to open up its elevated terraces to the public for events. The Public Art Fund and Lord Cultural Resources will develop a cultural program that will bring art installations, community events, and other programs to 175 Park Avenue, the 83-story mixed-use building proposed by TF Cornerstone and RXR Realty.

42nd Street looking west. Copyright Miysis SPRL / Courtesy of Skidmore, Owings & Merrill
In 2019, the developers teamed up to raze the existing 30-story Grand Hyatt and replace it with a new tower designed by Skidmore Owings & Merrill. The proposal, which was approved in February by the Landmarks Preservation Commission and entered the uniform land use review procedure last month, calls for a nearly 3 million-square-foot building that includes a majority of office space, a Hyatt hotel with up to 500 rooms, and 10,000 square feet of retail on the cellar and ground floors.
New renderings released last month show off the proposed elevated outdoor space designed by architecture firm James Corner Field Operations (JCFO). Two grand staircases on 42nd Street and multiple ADA-accessible elevators will take people up to three, interconnected public terraces that wrap around the building's eastern, northern, and western sides that measure roughly 25,000 square feet.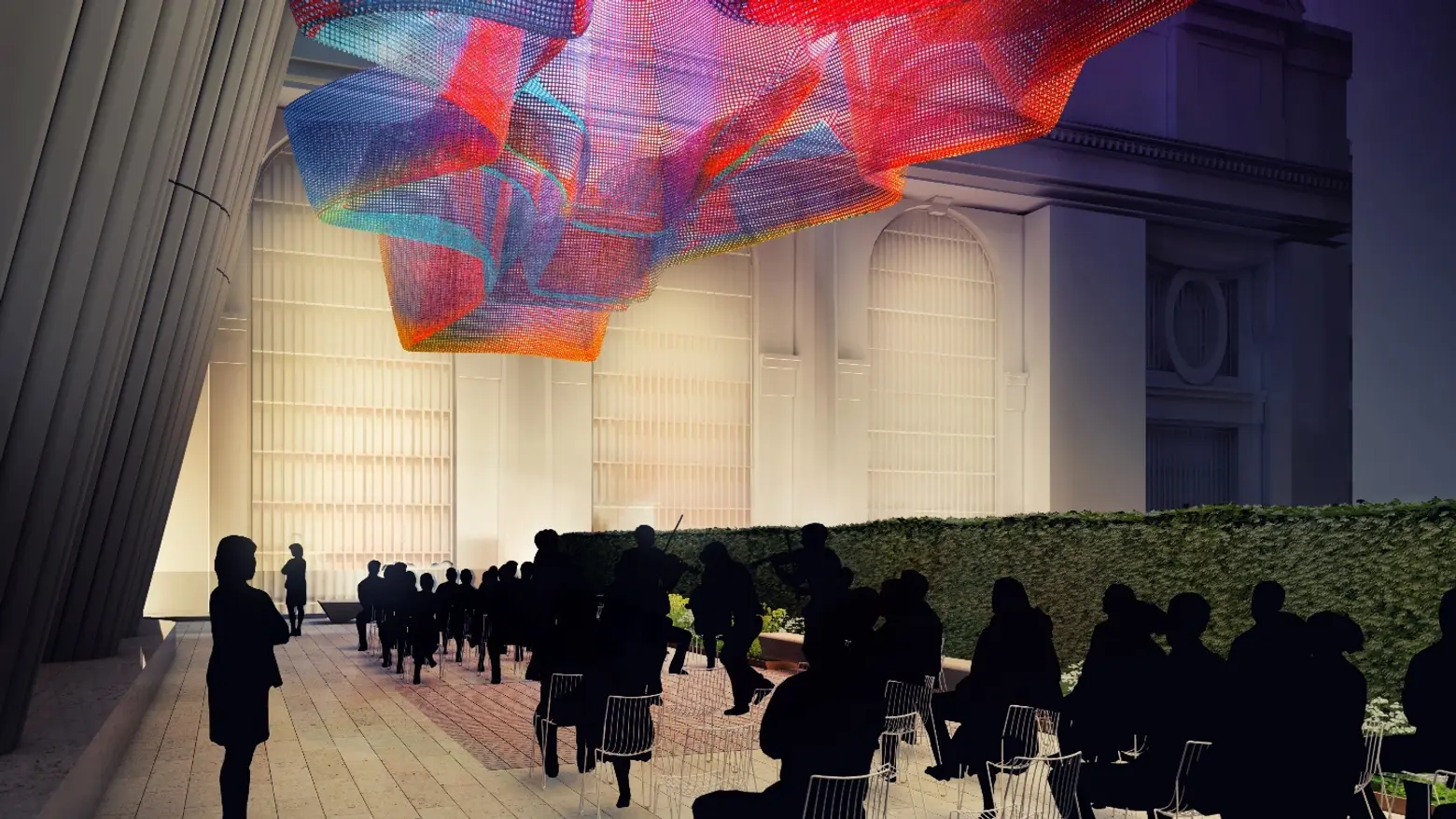 Cultural programming on 175 Park Avenue's Graybar Terrace. Image credit: James Corner Field Operations. The artwork shown for illustrative purposes is "1.78 Madrid" by Janet Echelman.
According to the developers, JCFO will come up with a design that will "accommodate a wide range of programming and activities, including flexible spaces that can support art and cultural events," as a press release describes. Other programs could be developed at sites across from the new development and the surrounding Midtown East neighborhood.
"175 Park Avenue will be a new, 21st Century building that delivers world-class public spaces and transit improvements to the heart of Manhattan," Jon McMillan, Director of Planning and SVP, TF Cornerstone, said. "We couldn't be more excited to have Public Art Fund and Lord Cultural Resources on board to ensure we make the most of this opportunity to bring something new and exciting to the neighborhood."
In the coming months, both the Public Art Fund, which helped bring site-specific art installations to public places like the Moynihan Train Hall and LaGuardia Airport's Terminal B, and Lord Cultural Resources, which will help 175 Park Avenue partner with local cultural institutions, will meet with the local community and stakeholders to help shape the cultural programming.
Nicholas Baume, director and chief curator at the Public Art Fund, said the organization will commission artwork that is "impactful and accessible," while providing opportunities to new and local artists.
"The most significant public spaces of New York City are defined by more than location and utility; they express who we are through a dialogue with great art and culture," Baume said. "The public art program for 175 Park Avenue represents a powerful opportunity for some of the most exciting artists in the world to create new, site-specific works of art for this transformational public site."
If approved, 175 Park Avenue would sit on the other side of Grand Central from One Vanderbilt, a 1,401-foot office tower that opened this past September. Another expected nearby project is JPMorgan Chase's new 1,400-foot-tall headquarters at the site of its current offices at 270 Park Avenue. A 6sqft previously noted, the project entered the city's ULURP process, which will then be followed by, if it gets approved, a lengthy demolition and construction of the new building.
RELATED: