Portside is Lower Manhattan's latest waterfront retreat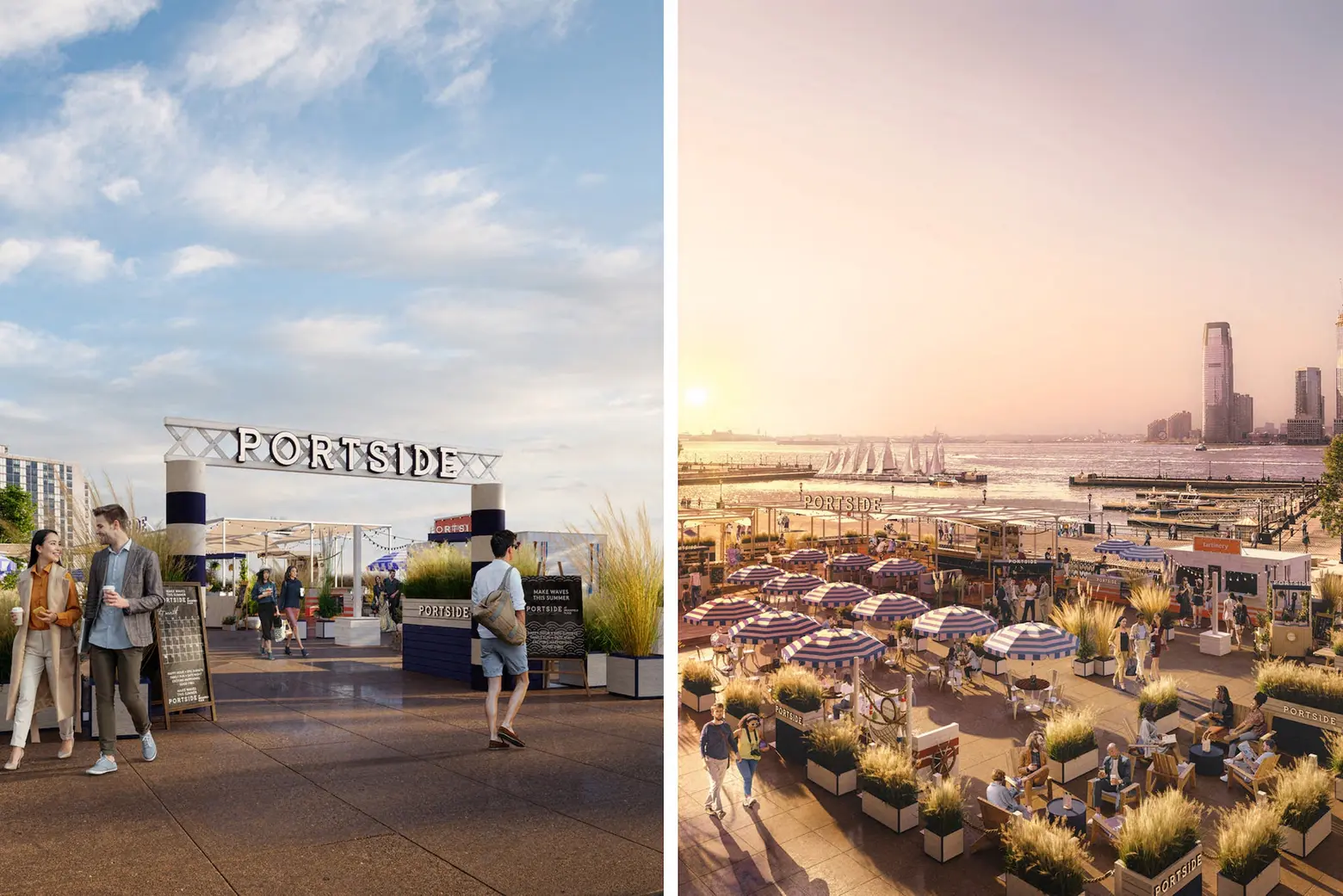 Renderings courtesy of Brookfield Place
Brookfield Properties last week announced the grand opening of their new nautical-inspired pop-up, Portside. Located at Brookfield Place's Upper Plaza in the Financial District, the space is free, open to the public, and offers guests breathtaking views of the New York Harbor. The space will also host weekly programming and events, as well as offer cocktails and food provided by Tartinery. Portside will be open daily from 9 a.m. to 9 p.m. through September.
"Portside at Brookfield Place celebrates summer in New York and reminds all of us to take advantage of our incredible, waterfront city," Callie Haines, Head of Northeast Region, U.S. Office Division, Brookfield Properties, said.
"Every week at Portside you'll find something new, from the Beach Read Book Club to Coastal Craft Making and more. We look forward to welcoming friends, families and coworkers to this outdoor oasis right here in Lower Manhattan."
Brookfield's new seasonal pop-up offers guests a tranquil getaway along the city's waterfront and a space to connect with others. The space has extensive outdoor seating and is well-equipped to accommodate groups of any size on a first-come-first-serve basis. Portside's summer programming includes:
Beach Read Book Club

Visit the Portside Boat Bar Library for free copies of the most talked-about beach reads of the summer

Oyster Shucking 101

Sip on champagne while professional shuckers from Red Oyster USA teach you the step-by-step process of shucking, tasting, and pairing oysters

Coastal Craft Making

"Shell-ebrate" good times at Portside and transform sandy treasures into coastal-inspired works of art

Maritime Monogramming

Everyone needs a monogrammed beach tote – stop by to create your own

Knot-ical Knot Tying

Impress your sailor friends this summer with Portside's knot-tying workshop

Toddler Yacht Rock

Calling all families looking for an outdoor dance party – get ready to move and groove
Last June, Brookfield opened The Bungalow, a "relaxing urban oasis" inspired by the beaches found in Montauk. The harbor-side space offered live music and DJs, weekly events and art programming, specialty cocktails, and food.
RELATED: