A public art installation in Lower Manhattan reimagines Earth using plastic waste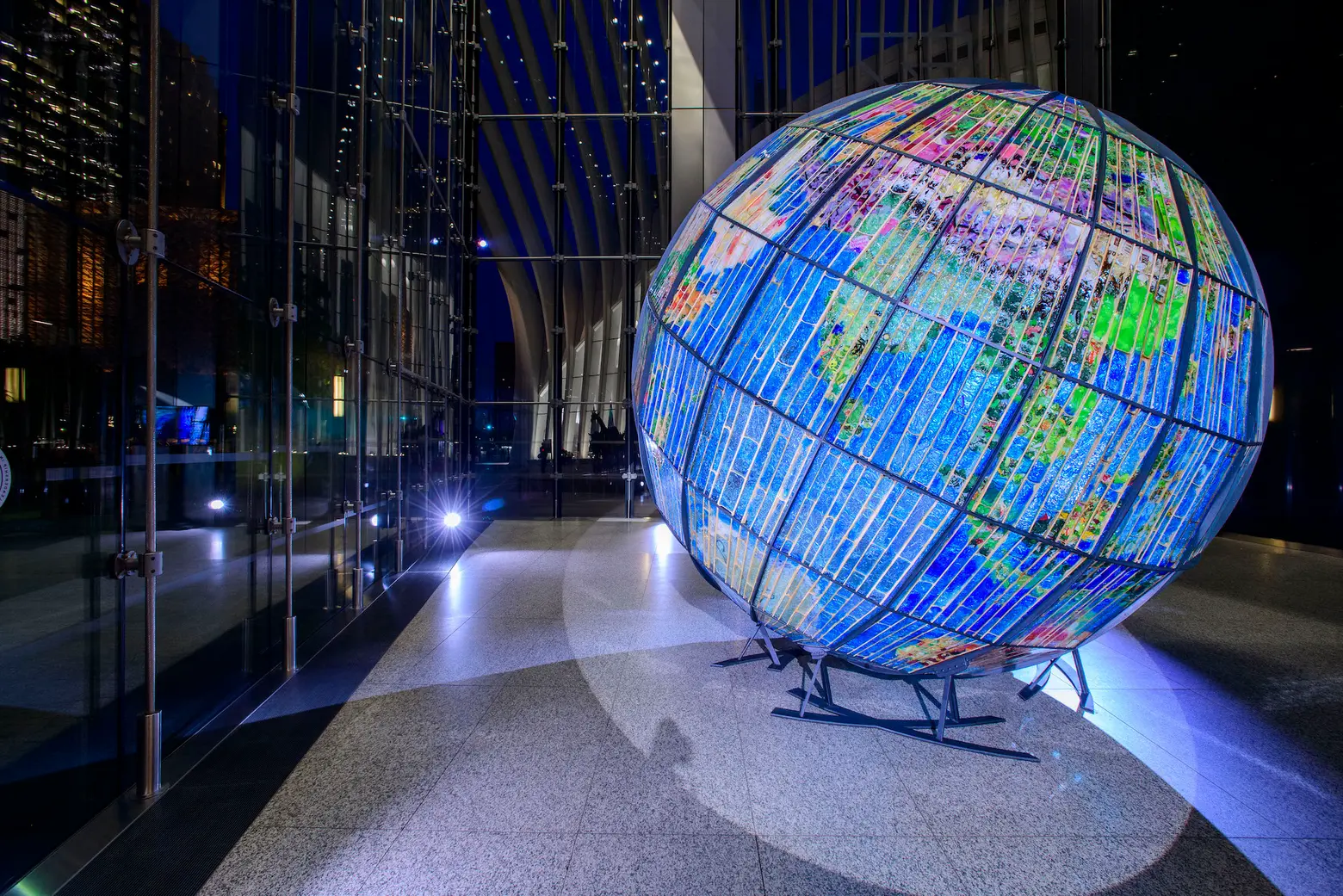 Photos courtesy of Eugene Gologursky/Getty Images for B.N. Barkat Holdings and Studio
A timely new public art installation in Lower Manhattan depicts the devastating impact of pollution on Earth. Created by Israeli artist Beverly Barkat, "Earth Poetica" uses a mixture of plastic materials collected from the world's oceans, waterways, and forests to create a globe that appears beautiful on the outside but is in fact just trash on the inside. Located in the lobby of 3 World Trade Center, the 13-foot-tall sculpture is made up of 180 colorful panels and highlights areas of the world suffering from increasing plastic pollution.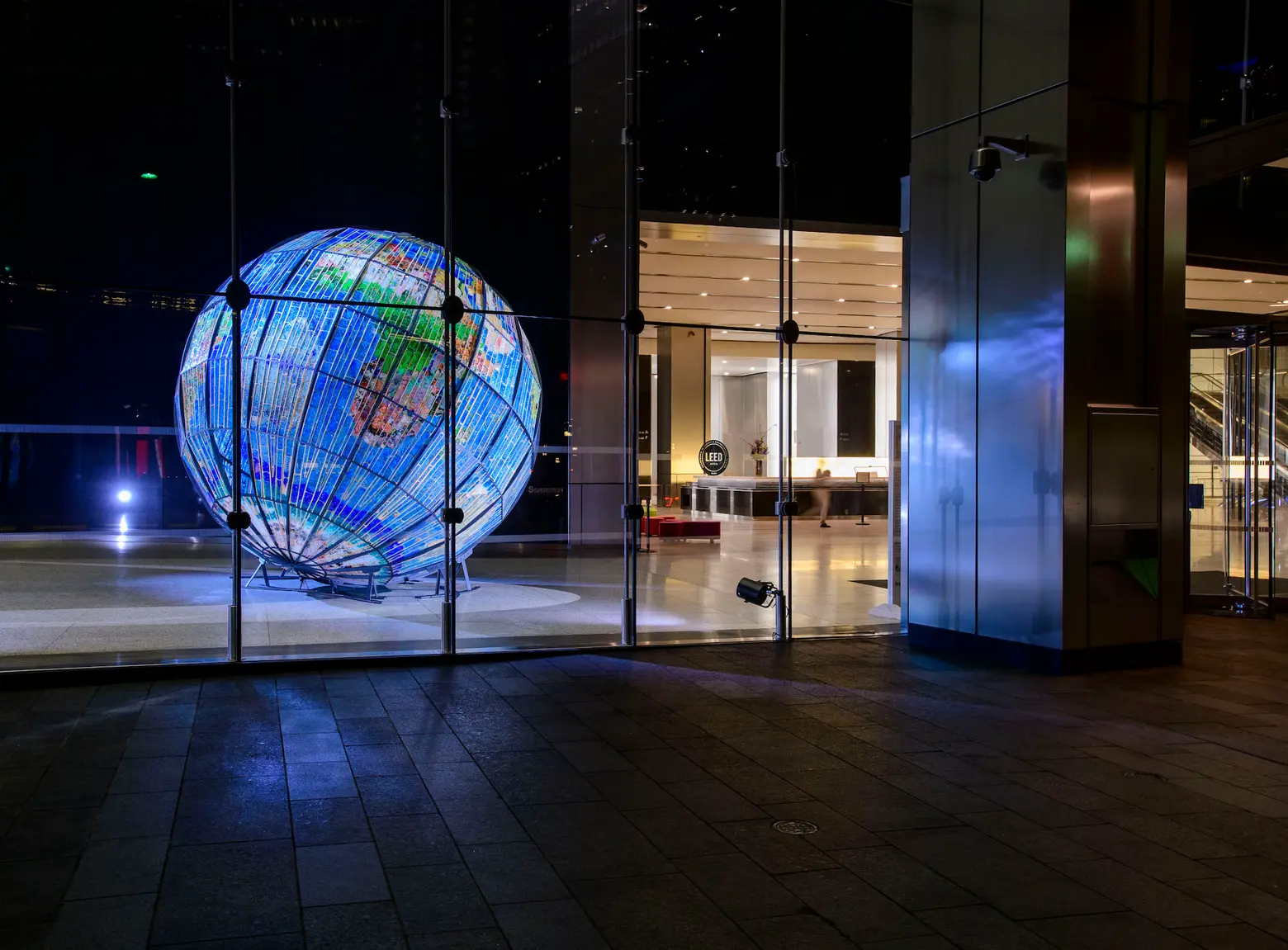 Barkat found her inspiration for "Earth Poetica" after watching a documentary on plastic pollution. Disturbed by the images of children picking through garbage on a shoreline, she took it upon herself to lend a hand and help gather waste. With help from like-minded individuals across the globe, including in the US, UK, South Africa, Taiwan, Japan, and Australia, Barkat's studio was soon filled with tons of plastic waste.
The artist carefully sifted through and organized each item, including bottles, bags, fishing nets, and lids, and arranged them by color, shape, strength, and transparency. Using a soy resin, Barkat developed a method that morphed these pieces of plastic into a material reminiscent of stained glass with colors that represented the landscapes of Earth's oceans, mountains, deserts, and forests.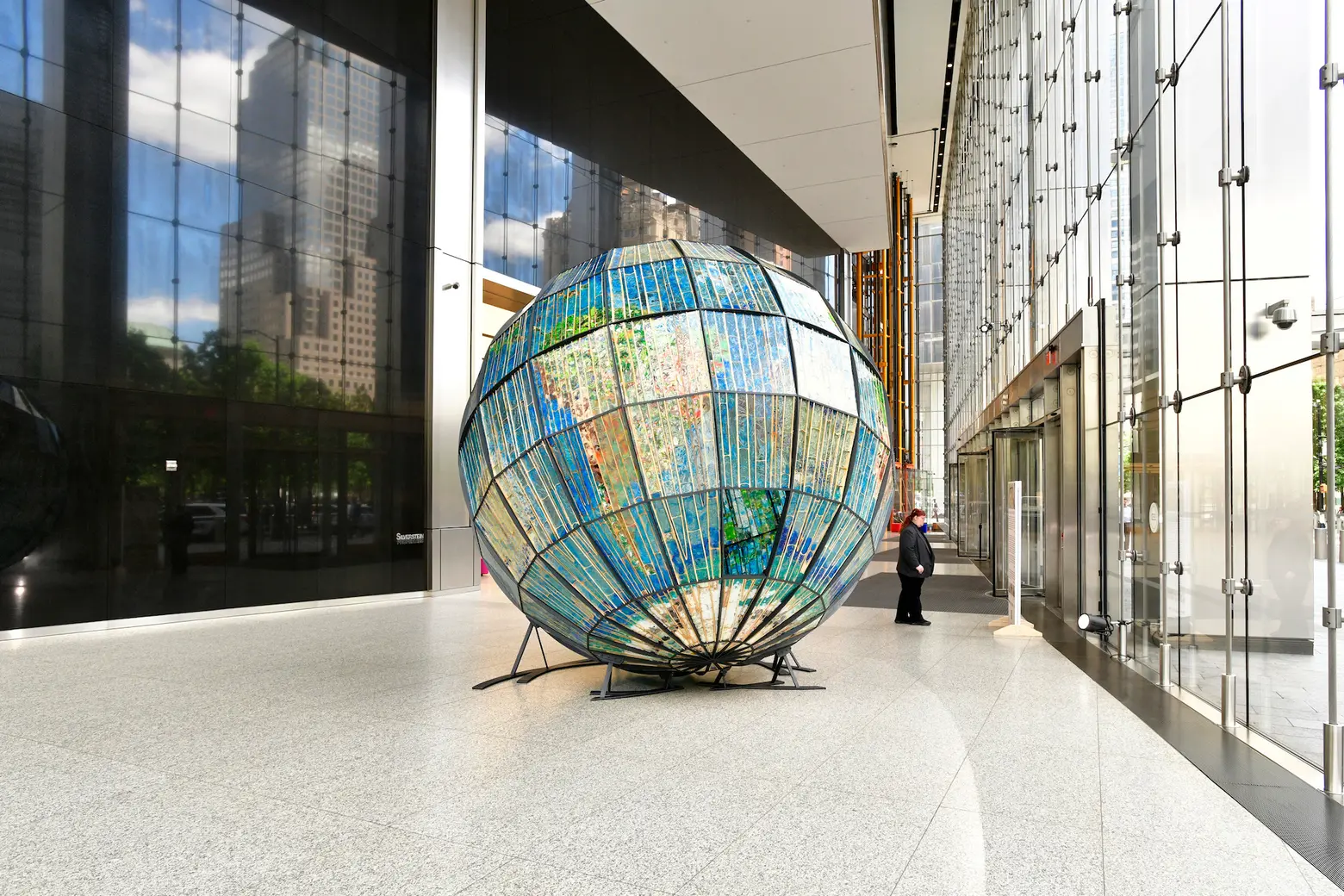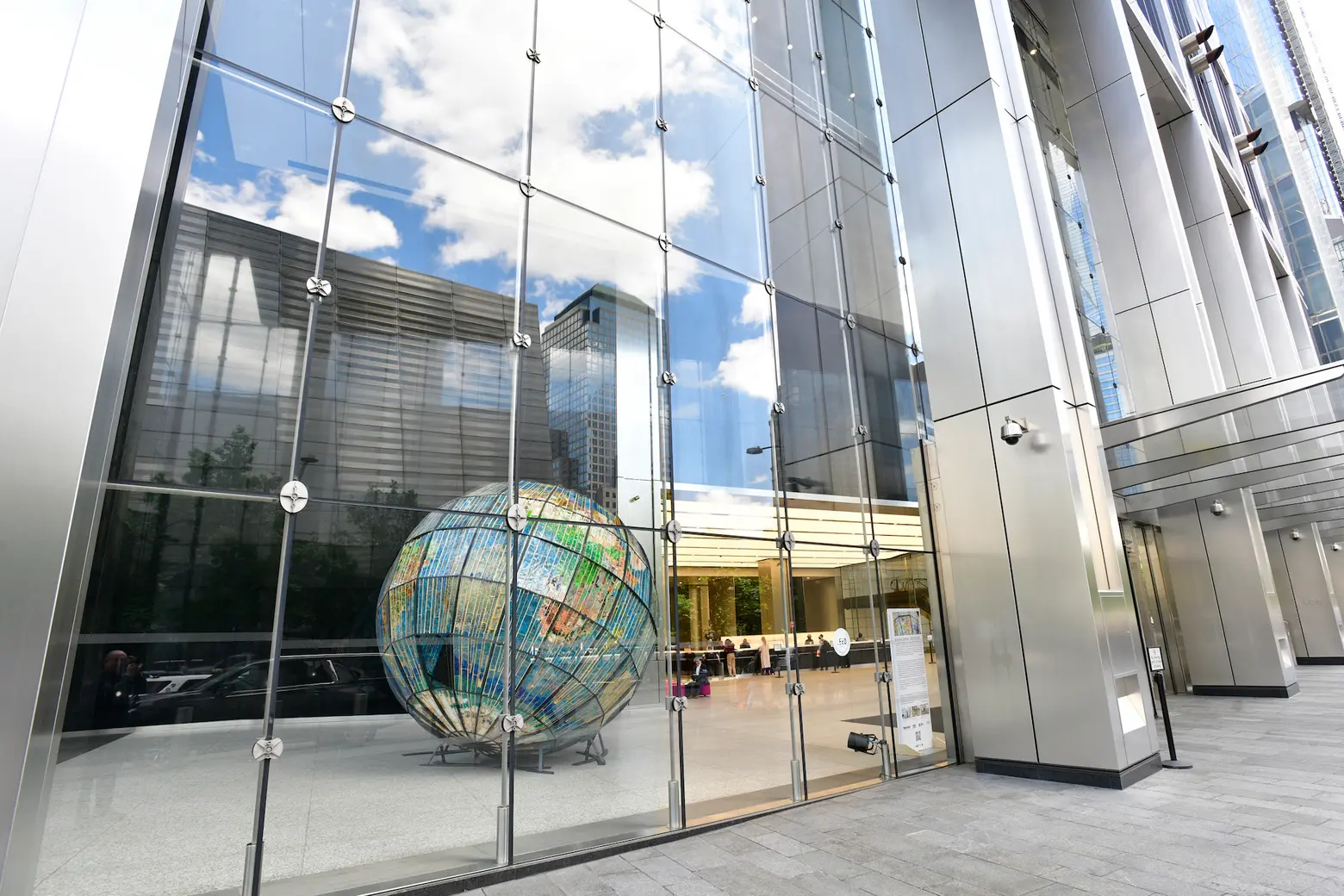 The final sculpture, made up of 180 panels, measures roughly 13 feet in diameter and uses a steel structure that mimics the lines of latitude and longitude, a system of measurement created by humans, and bamboo scaffolding that represents patterns found throughout nature. A small entranceway allows viewers to look into the interior of the sphere and discover that what they may have thought was stained glass is actually just trash.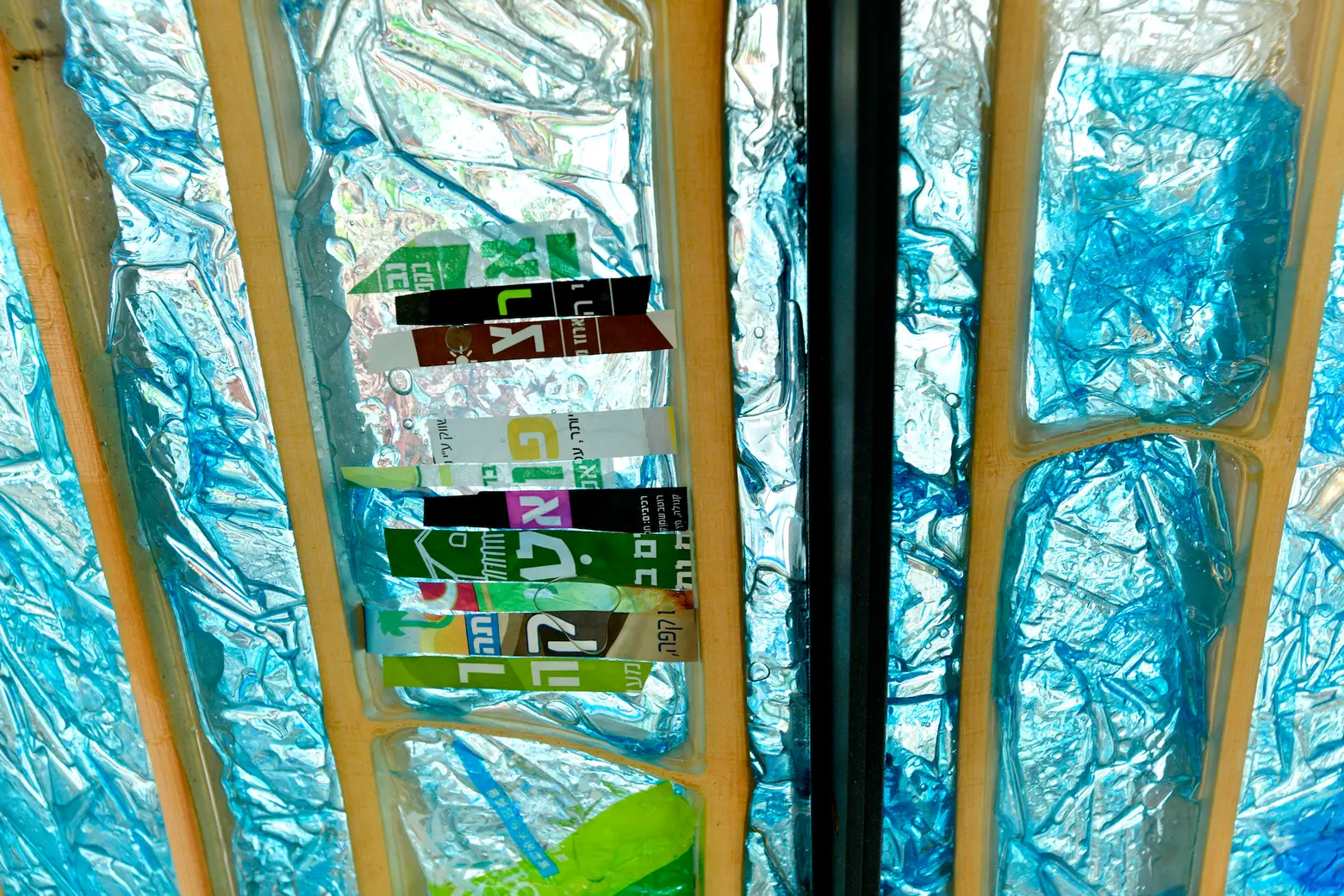 "'Earth Poetica' is an aesthetic action entangled between the artist's inner horizon and the world," Dr. Raffaella Frascarelli, Curator and Director of the Nomas Foundation, who provided consultation for Barkat's project, said.
"The language of this creation echoes with material and spiritual challenges, raising questions about the radical engagement of the public sphere and a new prospect of post-human citizenship. Above all, this living sculpture shows us the planet as a common good of life."
"Earth Poetica" joins Lower Manhattan's vibrant public art scene and is presented in collaboration with the United Nations Environment Programme. The artwork debuted on Monday, coinciding with the 50th anniversary of the United Nations World Environment Day.
RELATED:
Photos courtesy of Eugene Gologursky/Getty Images for B.N. Barkat Holdings and Studio