Renderings released for massive Sunnyside Yard project that will bring 12,000 affordable apartments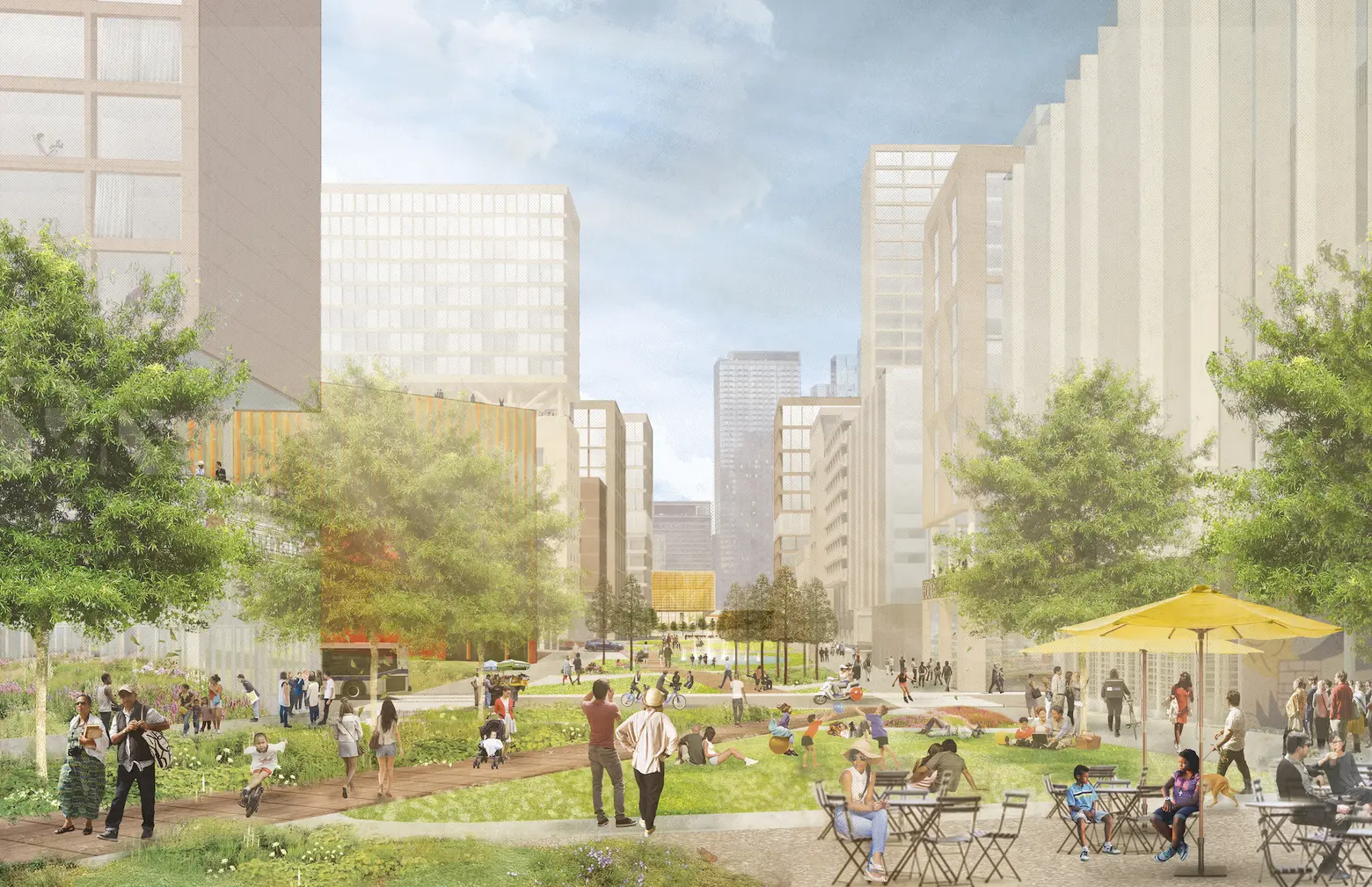 According to the master plan for the 180-acre Sunnyside Yard development in Queens, the former storage and maintenance hub for Amtrak's Northeast Corridor, New Jersey Transit, and Long Island Rail Road will include 12,000 affordable apartments, making it the largest affordable housing development to be built in NYC since the middle-income Co-op City in the Bronx was completed in 1973 (h/t Wall Street Journal). The plan by the New York City Economic Development Corp. (EDC) outlines a $14.4 billion deck over the train yard on which the complex would be built. Half the housing in the development would be rental apartments for low-income families earning less than 50 percent of the area median income, with the other half set aside for affordable homeownership programs through Mitchell-Lama. The Practice for Architecture and Urbanism (PAU) was identified to lead the planning process, and they have just released renderings and maps of the massive development.



Renderings by PAU
The $14.4 billion estimate covers building costs for the deck, as well as utility structures, streetscape, and infrastructure to keep the trains in operation below. Currently, about 780 trains from Amtrak's Northeast Corridor and the LIRR's Main Line run through the Yard every day, and that number will only increase once East Side Access and Penn Access are completed by the MTA.
Exact costs and funding are still to be determined, though analysts have said that an "enormous amount" of public investment would be required, according to WSJ. The project will take decades to complete and will be developed in phases. The EDC co-wrote the master plan–a non-binding document that provides guidelines for a flexible, long-term development process–with Amtrak, which controls a large part of the existing rail yard.


A section of Sunnyside Yard showing the decking, rendering by PAU
The plan faces a steep financial challenge involved in building over rail yards. Funding could come in the form of federal, state, and city tools such as tax-exempt bonds and affordable housing subsidies as well as reduced property taxes. Paying for the affordable housing, which is expected to add up to even more apartments than Manhattan's Stuyvesant Town-Peter Cooper Village, is yet another challenge. Jonathan F.P. Rose, president of Jonathan RoseCompanies, a real estate firm specializing in affordable housing development, told the Journal that low-interest rates might help move the project forward, as might experimentation with modular construction.
Minority- and women-owned firms and community-oriented nonprofits will receive priority in the process of selecting developers. The master plan outlines the creation of a nonprofit to steer the planning process that will be comprised of the city, Amtrak and MTA officials, community members, and elected officials.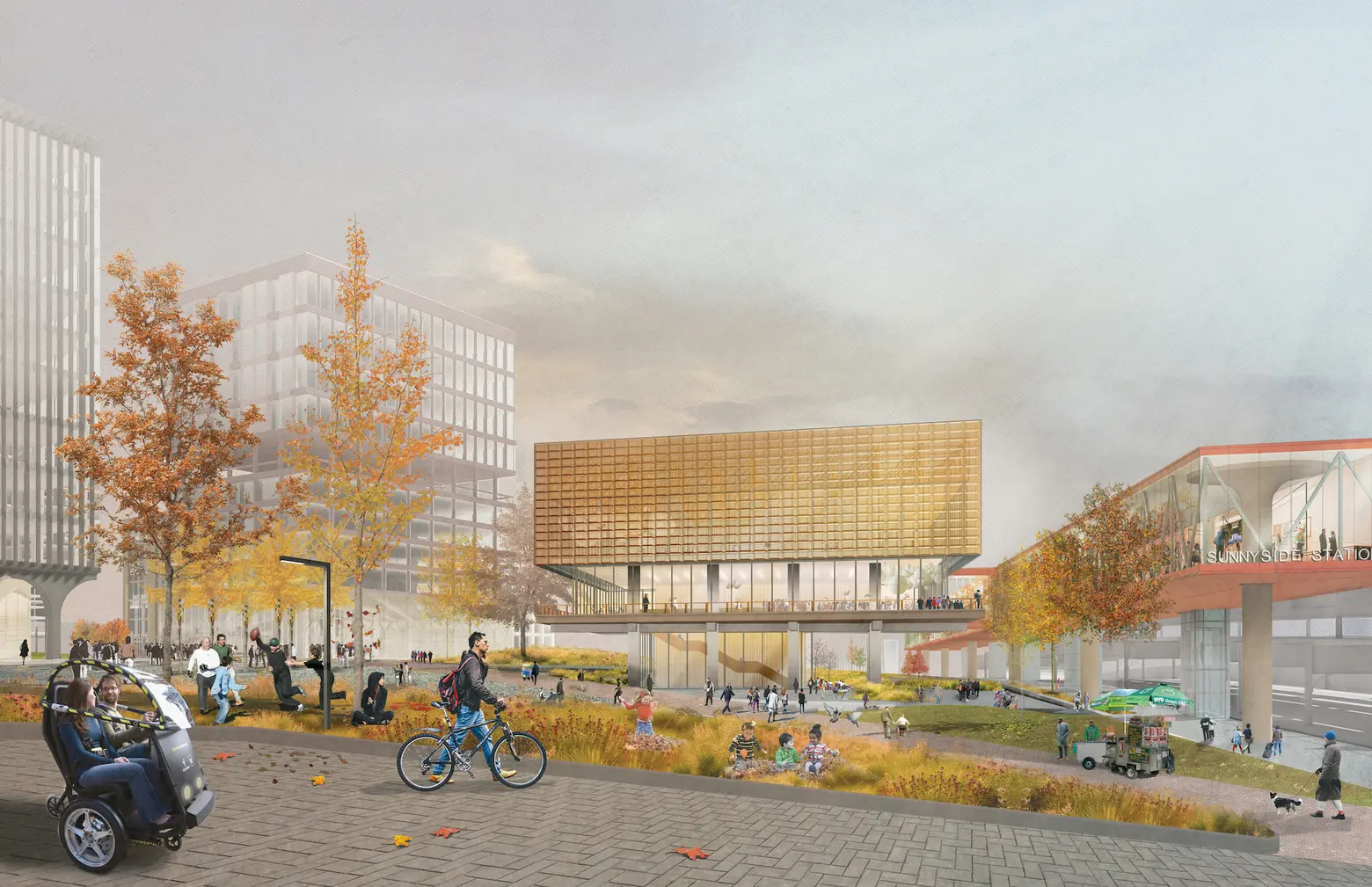 Rendering by PAU
6sqft reported on the development's master plan in 2018, when the EDC announced plans to form a steering committee made up of local leaders and planning experts to organize meetings and workshops to gain feedback from local residents. More recently, according to QNS, the steering committee lost two members: Rep. Alexandria Ocasio-Cortez and Justice for All Coalition Chair Sylvia White left the committee amid protests from Queens residents and leaders who are now calling for the city to use the funds allocated to the project for the community's more pressing needs. Ocasio-Cortez wrote in her January 24 resignation letter, "Despite the many outreach meetings that you have cited, I have yet to see sufficient inclusion of the feedback from those meetings in the current plan. This feedback, both from community members and from my office, includes but is not limited to community land trusts, truly affordable housing, and public and green infrastructure of the scale necessary to meet our 21st-century housing and environmental justice challenges."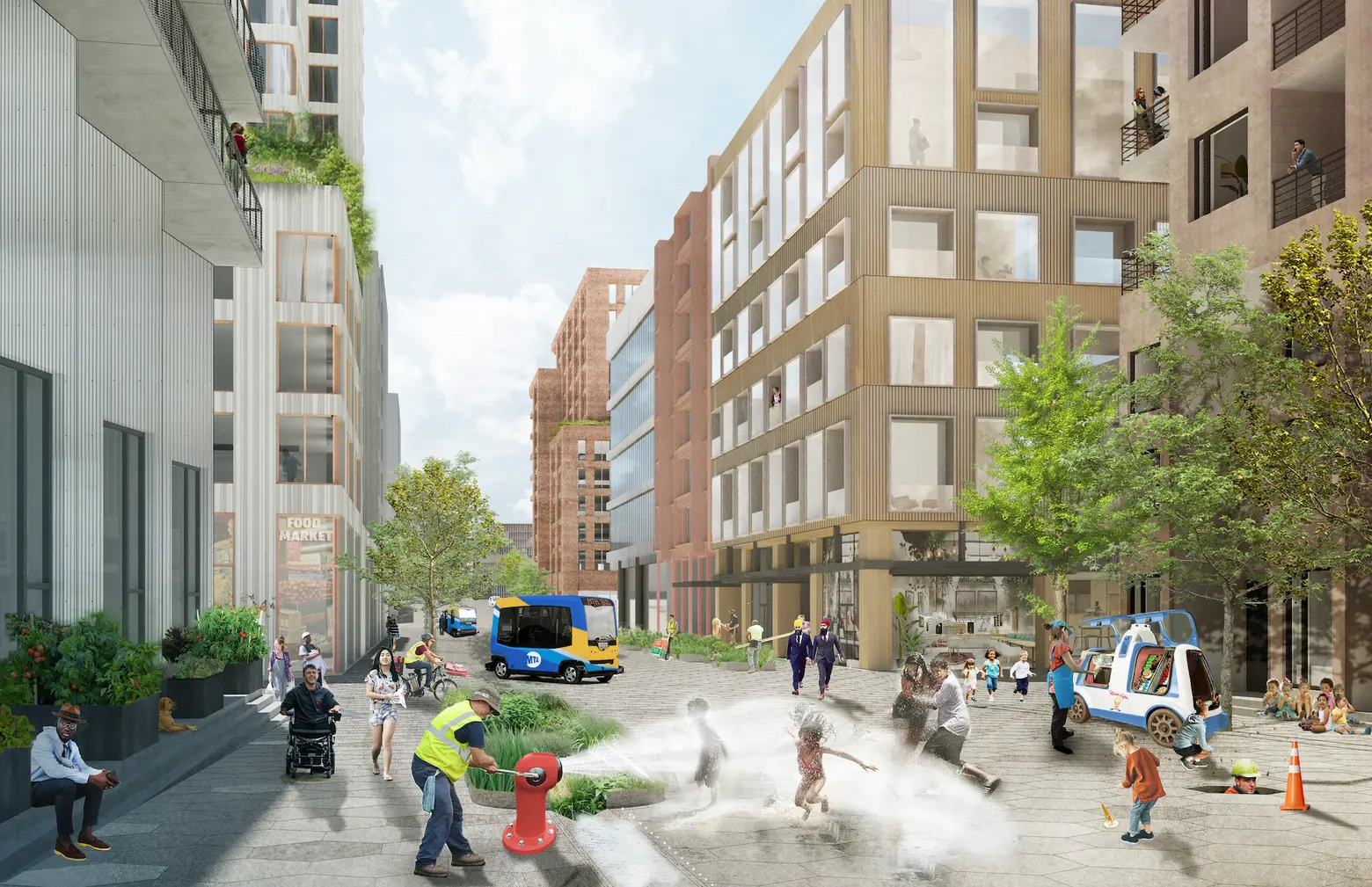 Rendering by PAU
According to the Master Plan and an EDC press release, the key components of the plan are:
12,000 new affordable homes. Of these, at least half will be set aside for households earning below 50 percent of Area Median Income (currently $48,050/year for a family of three) and half of those for families earning below 30 percent of the AMI ($28,830/year). The remaining 6,000 will create affordable homeownership opportunities through the Mitchell-Lama Housing Program; the target will be an average of 100 percent AMI ($96,100/year).
Sunnyside Station, a new regional rail hub that connects western Queens to the greater NYC area and Northeast Corridor.
60 acres of new public space, including a good deal of space dedicated to sports.
10-12 new schools, libraries, 30+ child and healthcare facilities, and other "social infrastructure."
An infrastructure-focused plan that includes weather-related design, drainage, open space, and transportation.
Planning for a Bus Rapid Transit (BRT) line to connect Queens with Midtown Manhattan, as well as a potential new subway line for Queens.
Five million square feet of new office, retail, industrial, and institutional space that is expected to generate 6-7,000 new jobs. (30,000+ construction jobs will also be created.)
Sunnyside station is the first priority of the plan.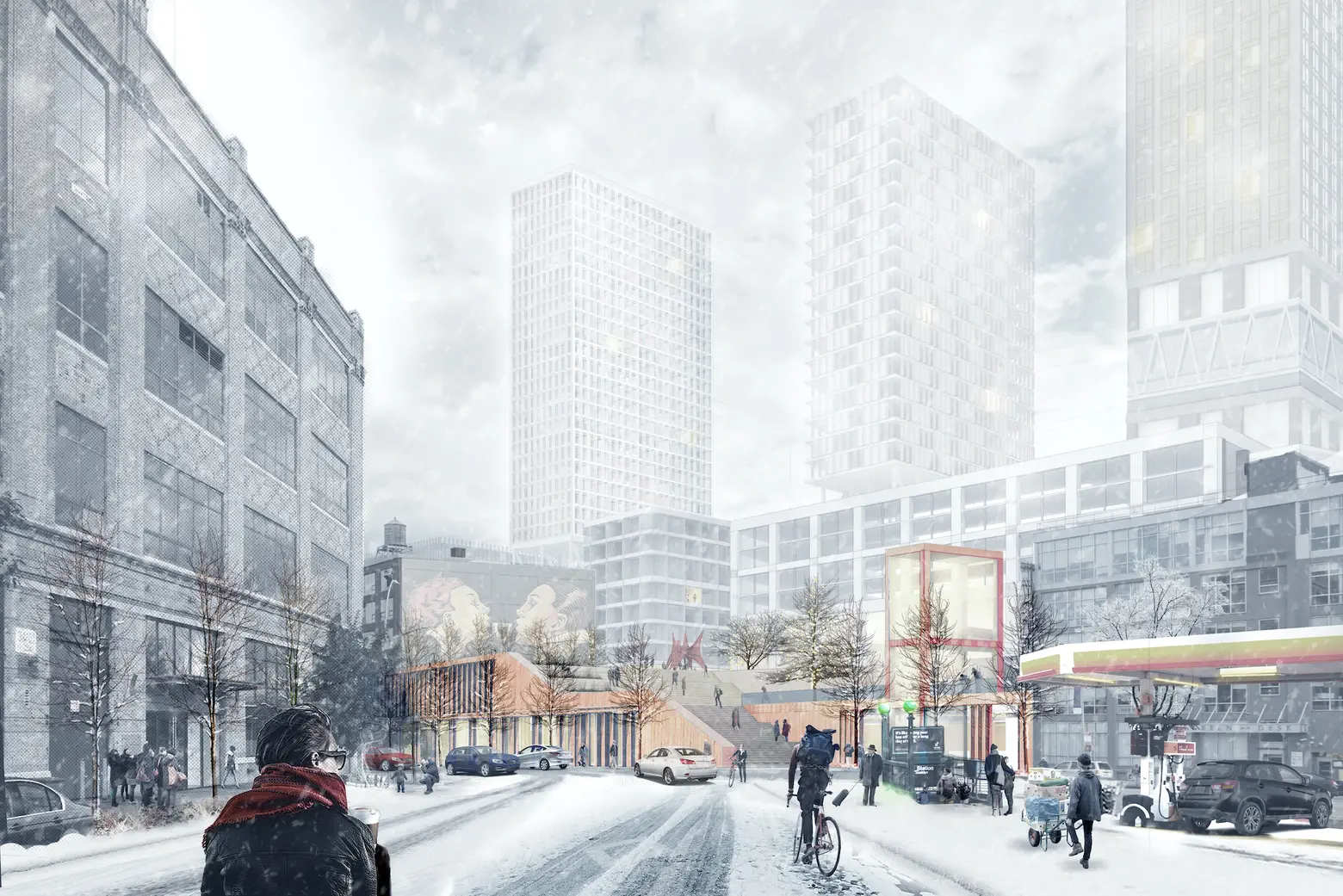 Rendering by PAU
"Sunnyside Yard presents a once-in-a-lifetime opportunity to plan for improved public transit, more housing, open space, and jobs to support a stronger, more equitable New York City," said New York City Economic Development Corporation President and CEO James Patchett. "The Sunnyside Yard Master Plan is an example of how responsible long-term planning benefits New Yorkers today and future generations of New Yorkers tomorrow. I want to thank Amtrak and all of the community members, technical experts, elected officials, and public agencies that worked tirelessly to create a plan that will shape the city and region's future for generations to come."
You can find more information about the Sunnyside Yard Master Plan here >>
RELATED: 
All renderings by the Practice for Architecture and Urbanism (PAU)