To ease Penn Station woes, a new plan calls for a transit hub in Sunnyside, Queens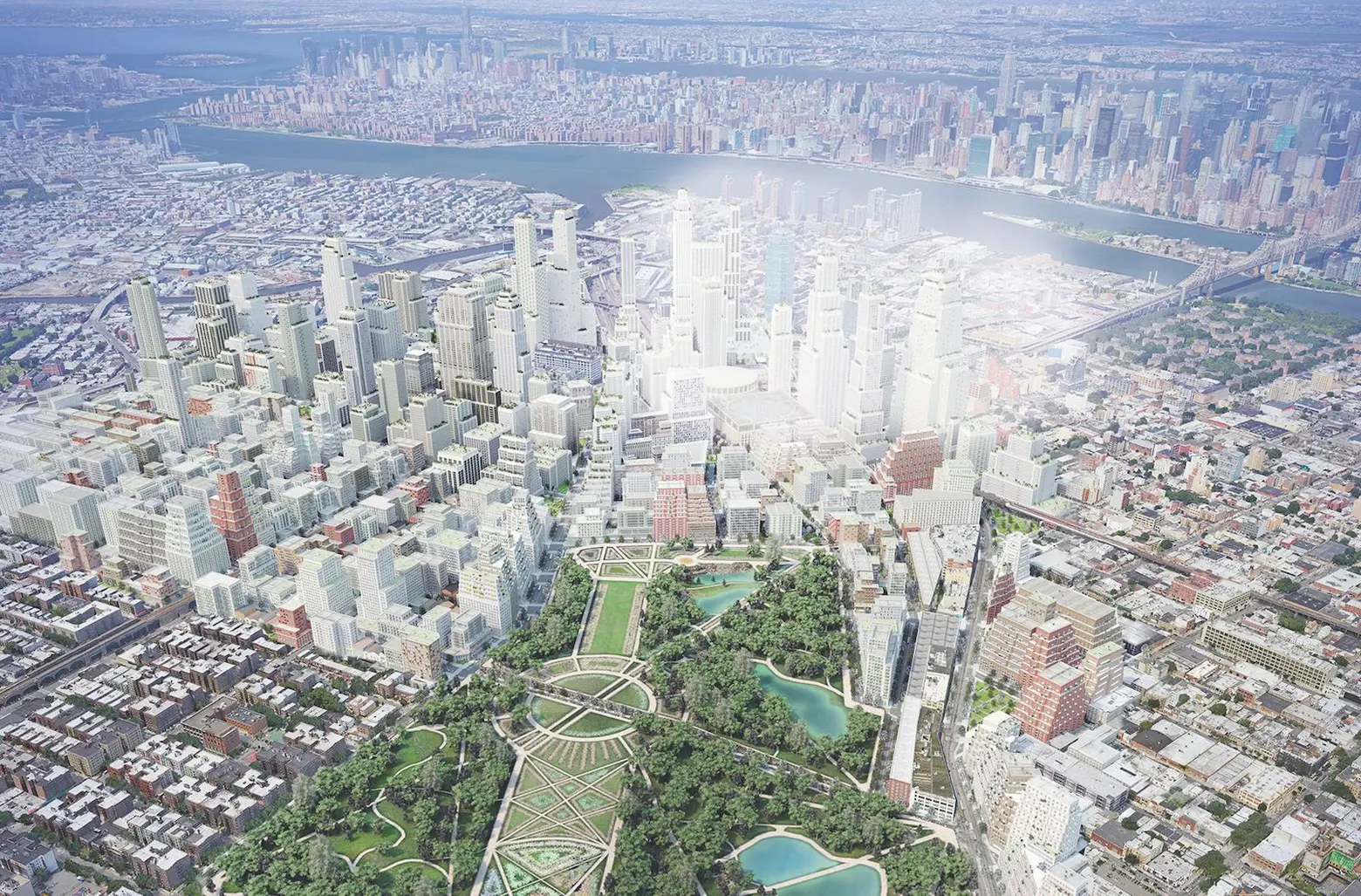 With its constant delays and malfunctions, Penn Station is becoming a worse and worse nightmare for countless commuters and visitors. Last year, Governor Cuomo revealed a plan to redevelop the train hub, one of the busiest in the country, by building a new train hall with restaurants and shops, but while the artful renovation will make Penn Station more attractive, it will do little to address the passenger congestion problem, according to think tank, ReThink Studio (h/t Crain's). In response, the group came up with an idea called ReThinkNYC that would create a new transit hub in Sunnyside, Queens, to connect commuter lines with the subway system. Instead of making Penn Station the final stop for NJ Transit and LIRR commuters, trains would pass through instead of stopping and turning around.

The ReThinkNYC plan hopes to expand the city's "car-optional" region beyond Manhattan by rearranging transportation systems into a single functioning network that serves passengers in the greater NYC area. This would allow riders to transfer easily between commuter rail, subway, bus or light rail systems, as detailed by the group's website. The plan calls for moving rail yards in Sunnyside to the Bronx, which the think tank says would cost way less than Mayor de Blasio's plan to build a deck over Sunnyside Yards.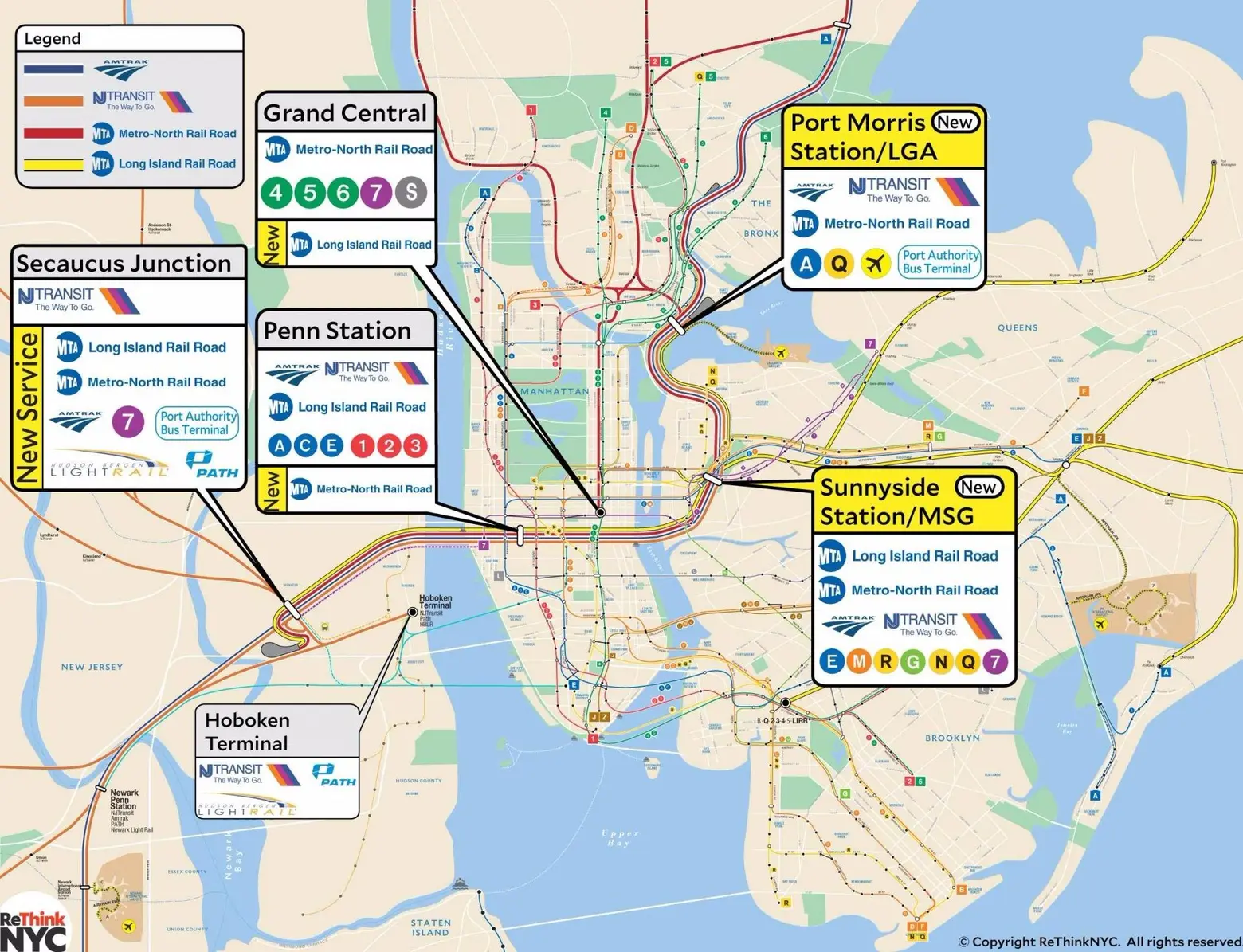 ReThinkNYC's Trunk Line proposal for unified transit service via ReThink Studio

One part of ReThink's plan is a "Trunk Line" that would create "overlapping intermodal connectivity" between Secaucus, NJ and Port Morris in the Bronx, which could unify the major four land masses that make up the NYC Metro Area. This plan hopes to connect the region's 26 commuter rail lines, including Metro-North's Harlem and Hudson Lines, as well as Hudson Lines and NJ Transit's Bergen County Lines. Secaucus, Penn Station, Sunnyside and Port Morris would then become the major transit hubs with better accessibility to local and regional transportation.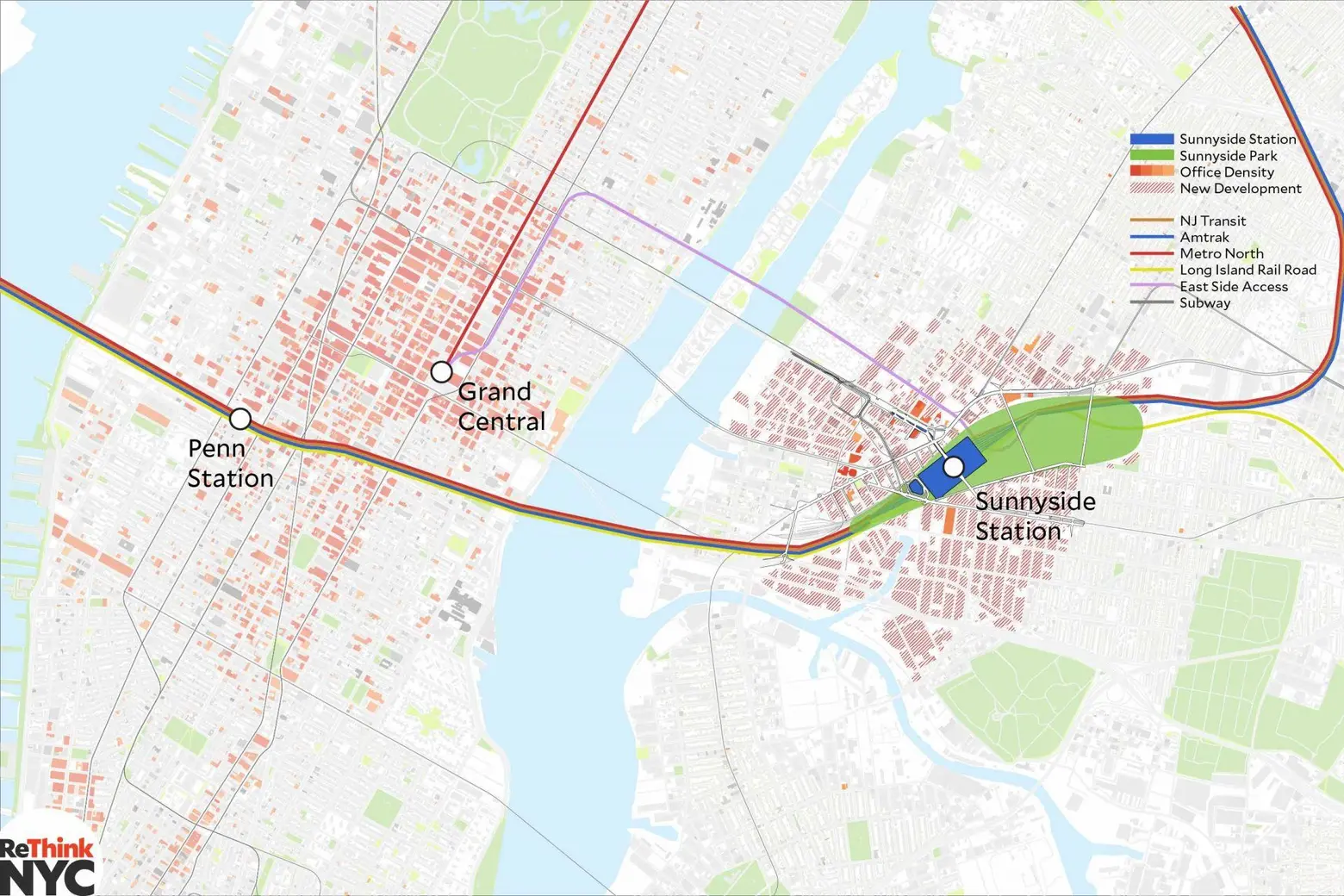 According to ReThink Studio, through expanded transportation, western Queens can become an extension of Midtown

As part of their proposal, ReThink Studio hopes to create the next Midtown East in Queens by creating a new office district in Sunnyside that would be directly connected to the Trunk Line. According to the group, the plan would provide millions of square feet of new office space that would be connected to the entire regional rail network, seven different subway lines, and the new light rail/bus network for Brooklyn and Queens.
Currently, Amtrak, NJ Transit and the LIRR pass through Sunnyside but do not stop there. According to ReThink Studio, adding the station stop, along with the Bronx and NJ stops, could be done in concurrence with the Gateway tunnel project, without raising its $25 billion total cost.
[Via Crain's]
RELATED: