Deal reached between Hudson Yards developer and unions ends bitter labor fight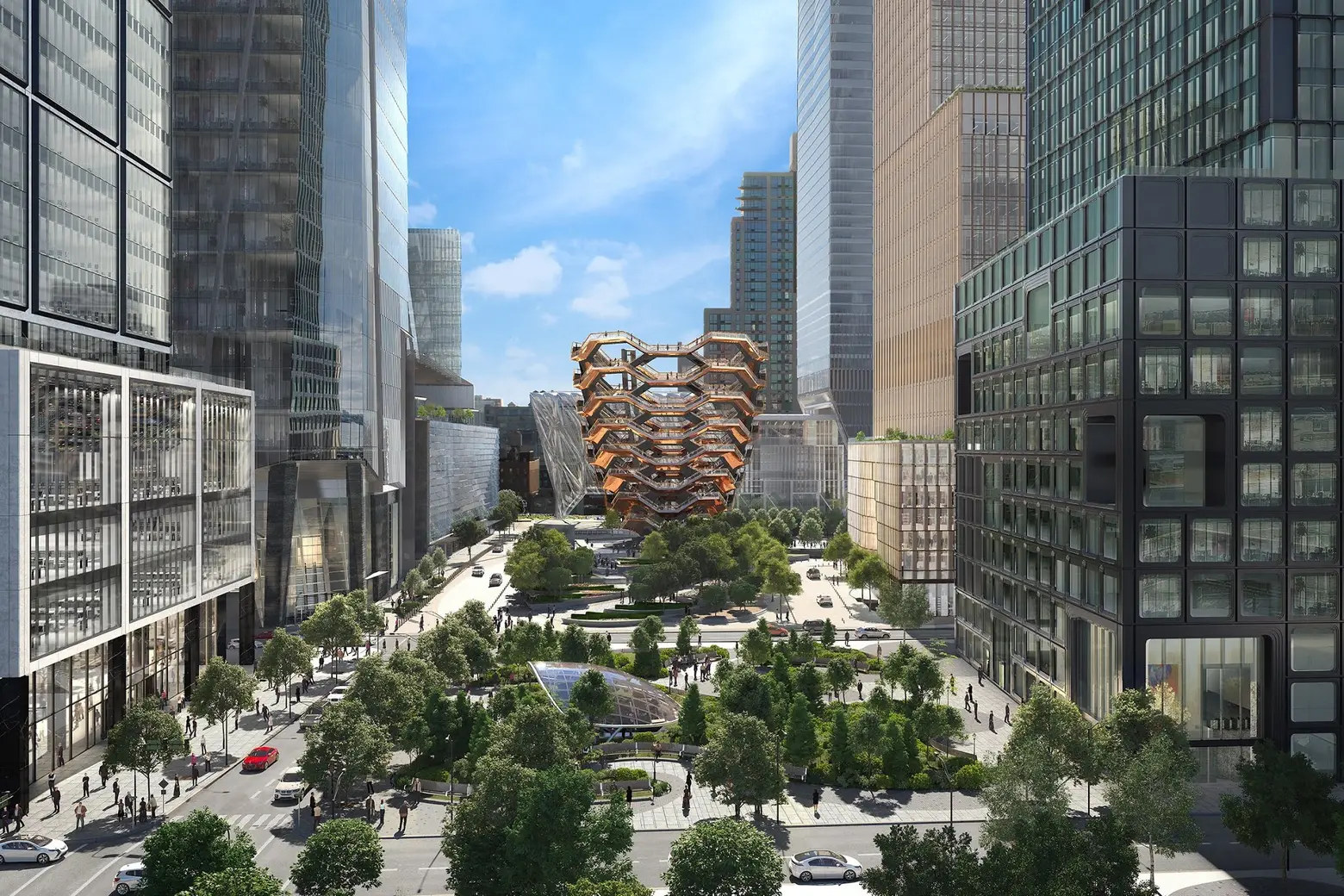 Rendering courtesy of Related/Oxford.
The announcement Wednesday of a newly-forged framework between developer Related Companies and the Building and Construction Trades Council of Greater New York (BCTC) marks the end–at least for now–of a menacing feud between the developer of the $20 billion Hudson Yards megaproject and the umbrella union group representing 100,000 union construction workers. The two organizations have headed back to the bargaining table after a year-long boycott of the project by the labor group which threatened progress on its final phase. The accord, unanimously ratified at a BCTC executive board meeting, represents a new model of collaboration between the development community and skilled workforce.
According to Crain's, the new framework appears to grant the developer leeway on the freedom to hire cheaper non-union workers for lower-skilled jobs like site clean-up. The unions have asked to have the exclusive right to build what is known as the nation's largest private construction project.
Related used union construction workers exclusively to build the first section of Hudson Yards, but the partnership between the trade organization and the developer broke down when Related planned to use some nonunion workers for the second phase. Related filed a civil lawsuit accusing the building trades of misconduct.
The dispute that ensued is known to be one of the most bitter in New York City real estate. BCTC President Gary LaBarbera rallied the hardest-to-replace workers, who were instructed not break ranks during a campaign called #CountMeIn. Large protests targeted Related executives personally including one that blocked Park Avenue in front of National Football League headquarters to protest Related chairman and Miami Dolphins owner Stephen Ross' involvement in an NFL social justice committee; workers held cardboard cutouts of Ross with bearing the words "racism", "sexism" and "union-buster."
Washington based anti-union group Center for Union Facts launched a campaign called "Ask Gary Why," pinning the city's rising transportation costs on its labor unions. A website called "Ask Steve Why" then went after Related for hiring nonunion workers to build nearby towers like 55 Hudson Yards.
As part of the new framework, Related agreed to withdraw its lawsuits; the trade organizations agreed to end the protests. According to a press release, the collaboration comes from a shared commitment to ten principles, which will be advanced through agreements with the trades:
safety;
training;
professional culture;
drug and alcohol-free workplace;
diversity;
productivity/efficiency;
pre-apprenticeship programs;
labor-management/industry collaboration;
economic competitiveness of each trade; and
accountability of each trade.
LaBarbera said in a statement: "This new agreement is the start of a renewed partnership to move the industry forward with joint commitments to modernization and competitive models. We welcome the opportunity to build more transformative projects and will work with Related and each member union to facilitate modern efficiencies, good wages and benefits, safe working conditions and an opportunity for individual and collective advancement."
The first phase of Hudson Yards is set to officially open March 15. In addition to a grand opening celebration, the Public Square and Gardens and the neighborhood's centerpiece, Thomas Heatherwick's sculpture formerly known as "Vessel," are set to open on that date; more importantly, The Shops and Restaurants at Hudson Yards will be officially open.
RELATED: