My 4000sqft: Tour the 113-year-old Ditmas Park home of an architectural preservationist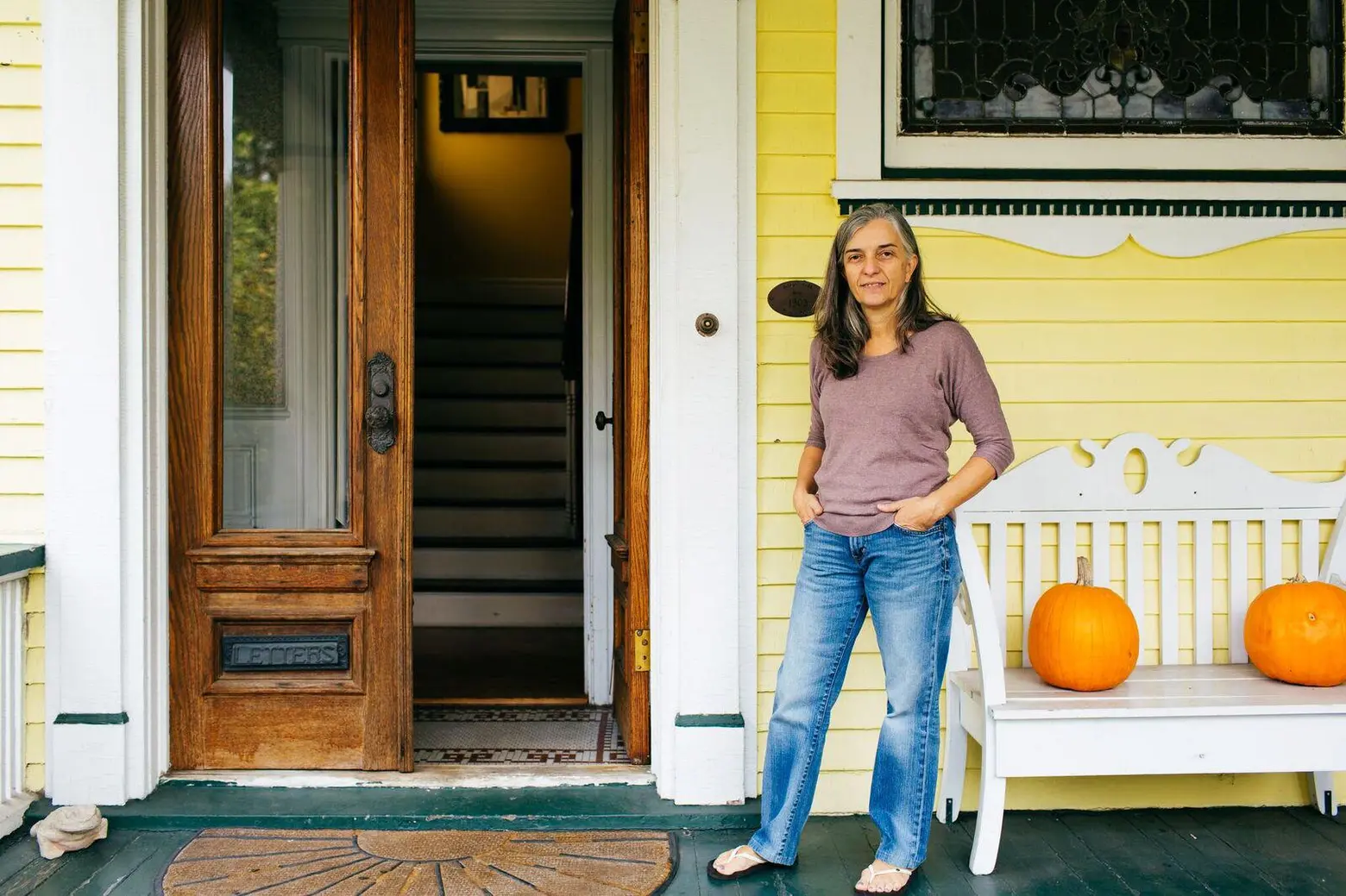 Our ongoing series "My sqft" checks out the homes of 6sqft's friends and fellow New Yorkers across all the boroughs. Our latest interior adventure brings us to the landmarked Ditmas Park home of architectural preservationist Norma Barbacci. Want to see your home featured here? Get in touch!
Michelle Williams' move to Ditmas Park may have put the neighborhood on the real estate map, but for those in the know, the area's history is far more profound than any of its celebrity residents. More than a century ago, Ditmas Park was not much more than farmland, but with the arrival of the subway also came interest from developers. One notable developer who descended upon the area was Dean Alvord. In 1899, Alvord initiated a new housing project that he envisioned as a "park in the city" for the rich. What followed was the construction of a range of large and stately suburban-style houses, built in an assortment of styles, from Tudors to Victorians. The development was a great success, and even drew in Manhattan's upper crust (among them Guggenheims and the Gillettes). However, as New York declined in the 70s and 80s, so did Ditmas Park. But fast-forward a few decades you'll come to seen an area that is experiencing a revival. Though it admittedly remains quite sleepy when compared to other burgeoning Brooklyn neighborhoods, Ditmas Park's suburban vibes make it the ideal destination for city-loving families—particularly when its architecturally grand proportions are taken into account.
In this My sqft feature, we check out one urban family's lovely home, a landmarked wood construction owned by preservation architect Norma Barbacci and her husband, architectural conservator Glenn Boornazian. The pair purchased the house in 2004 and raised two children within its historic walls. Ahead Norma takes us through the space—which maintains most of its 1903 character—and introduces us to the Ditmas Park of 2016.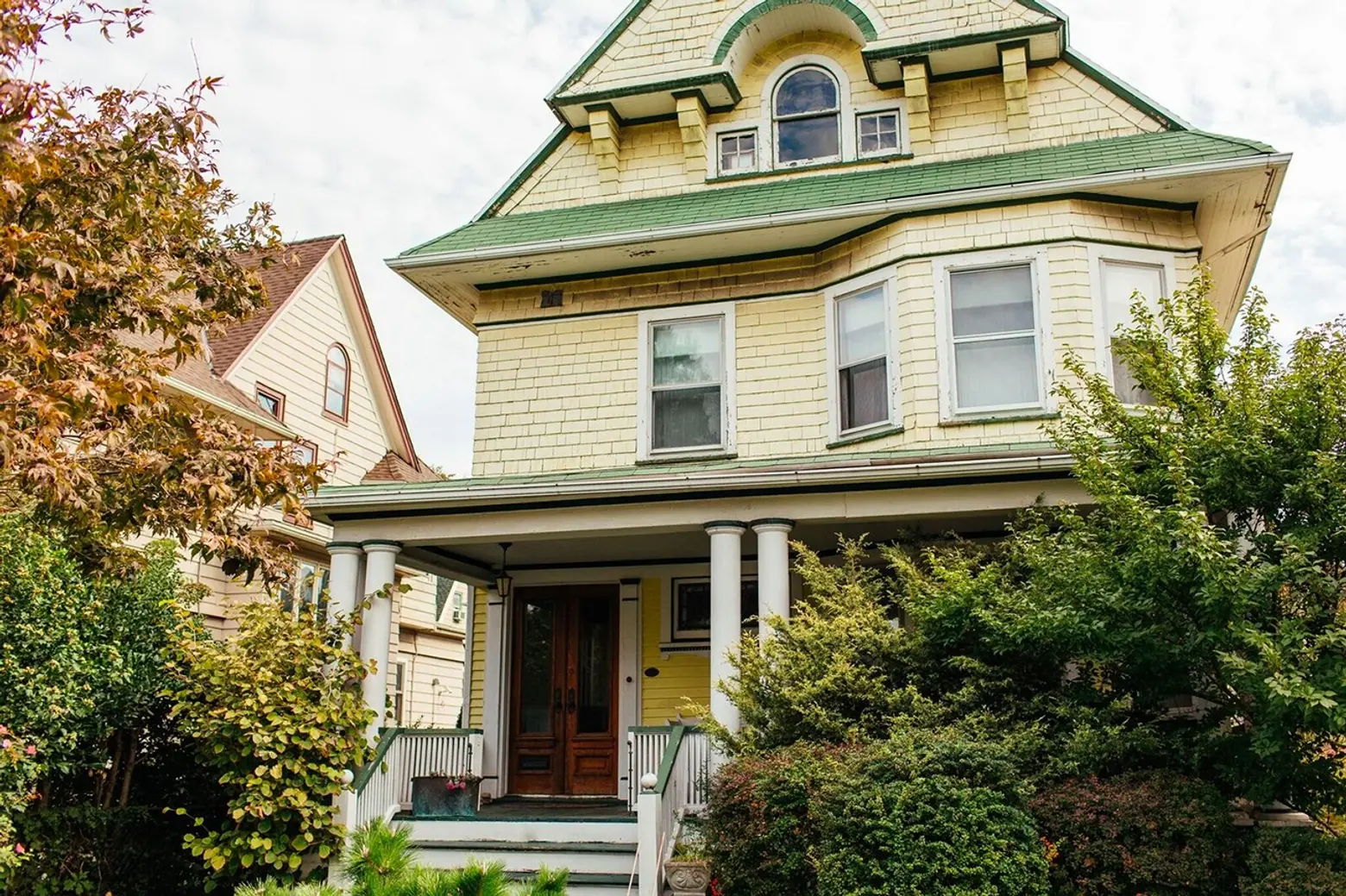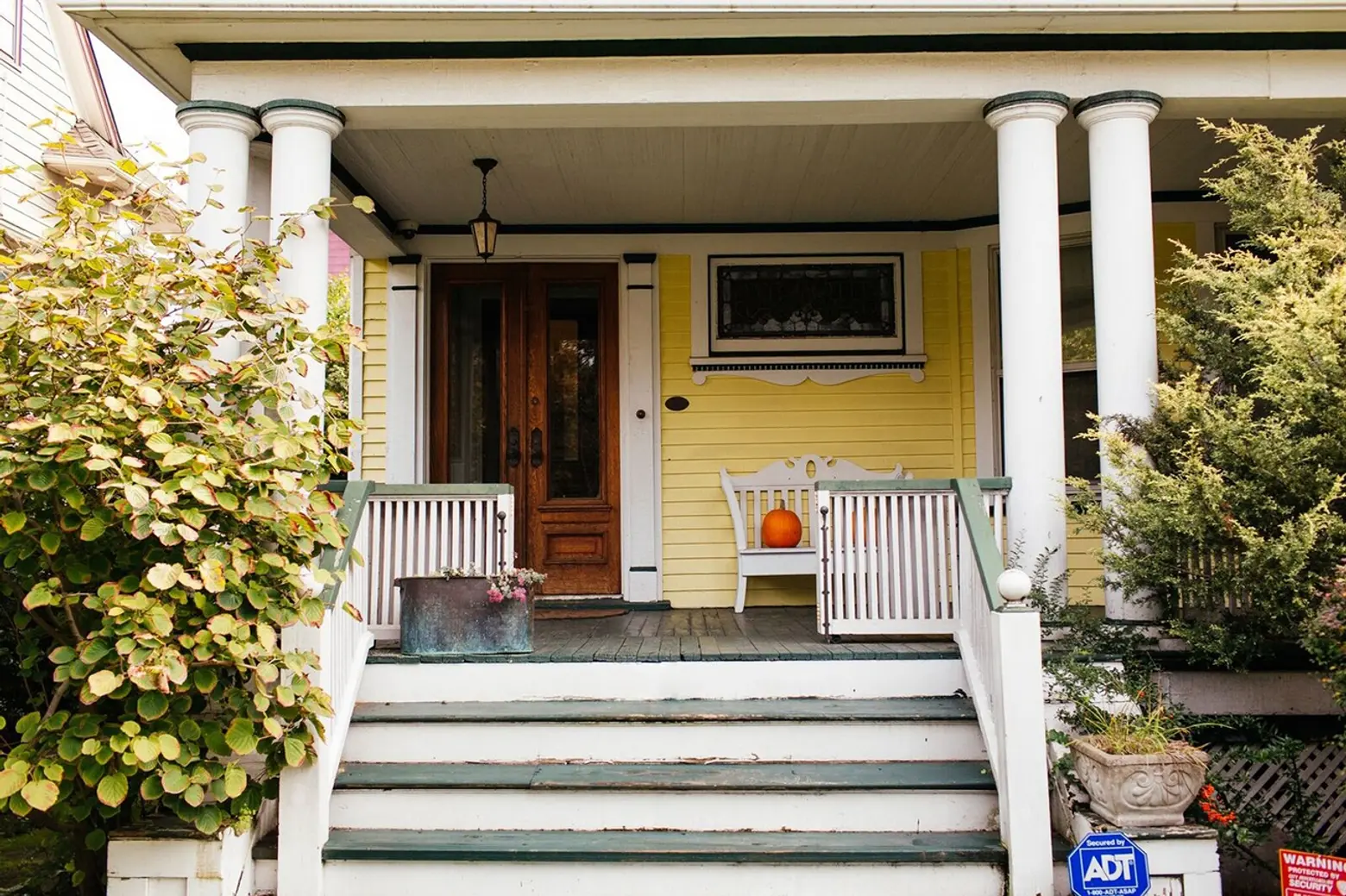 You've lived in Ditmas Park since 2004, long before the area started to become trendy. How did you find this house?
We were looking to buy in Park Slope but we were looking for a three-plus bedroom with outdoor area and the prices were out of our reach. But then a realtor showed us a few houses in Ditmas Park and we fell in love with ours. My husband couldn't get over the fact it had windows all around. I couldn't get over the fact we had a subway stop a block away and a two-car garage.
How has the neighborhood changed since you first moved in? And was there an even bigger change when it was revealed actress Michelle Williams was moving to the neighborhood?
I had no idea Michelle Williams moved there—and to be honest I don't even know who she is. The neighborhood has changed since we moved in 2004, but mainly the commercial streets, Cortelyou and Newkirk. More and better restaurants opened there and the shopping improved. Also, many houses were restored, including one that was abandoned for a long time—that's just a few houses down from ours on East 16th. It looks great now. I noticed that several new families with young kids have moved to the neighborhood, and a lot of them have come from Park Slope, like us.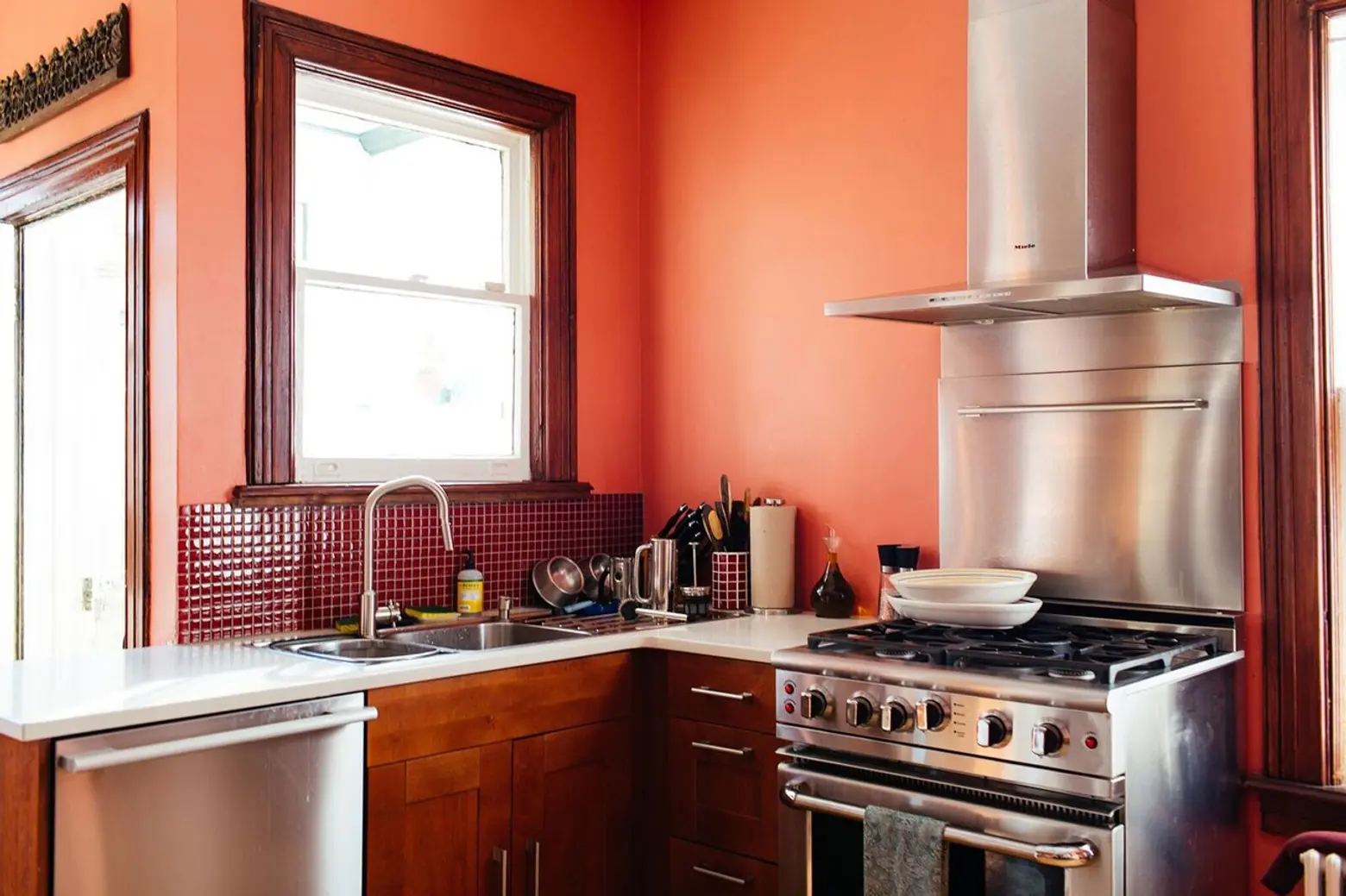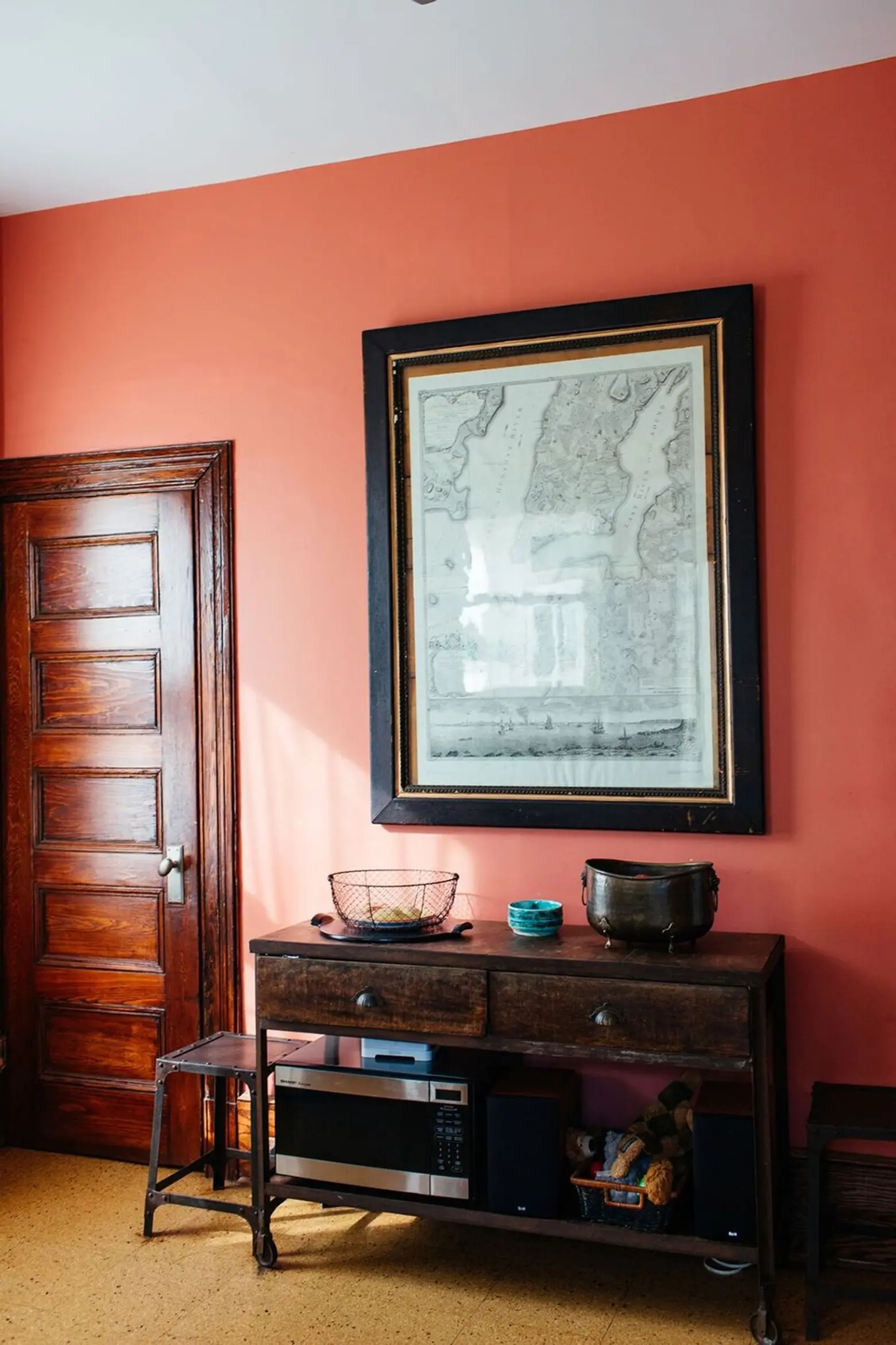 Ditmas Park has a suburban feel, but what's the community like? How does it compare to Park Slope?
The Ditmas Park community we encountered in 2004 had families that had been there for many years—like our neighbors across the street who were around 60 years or so before they moved away to be near their family—and it's still very much this way. The community is integrated, and if we include the surrounding neighborhoods just outside the historic district, there are many ethnic groups represented. We also have a well organized neighborhood association. We have a list-serve, a private security service, and many activities organized by the neighborhood association such as yard sales and block parties. The area is popular with movie and TV production companies and the owners who rent their houses for filming usually ask for a donation to the neighborhood association from the companies. This fund has been used to supplement the security service [they pay an annual fee], planting trees, and other neighborhood activities.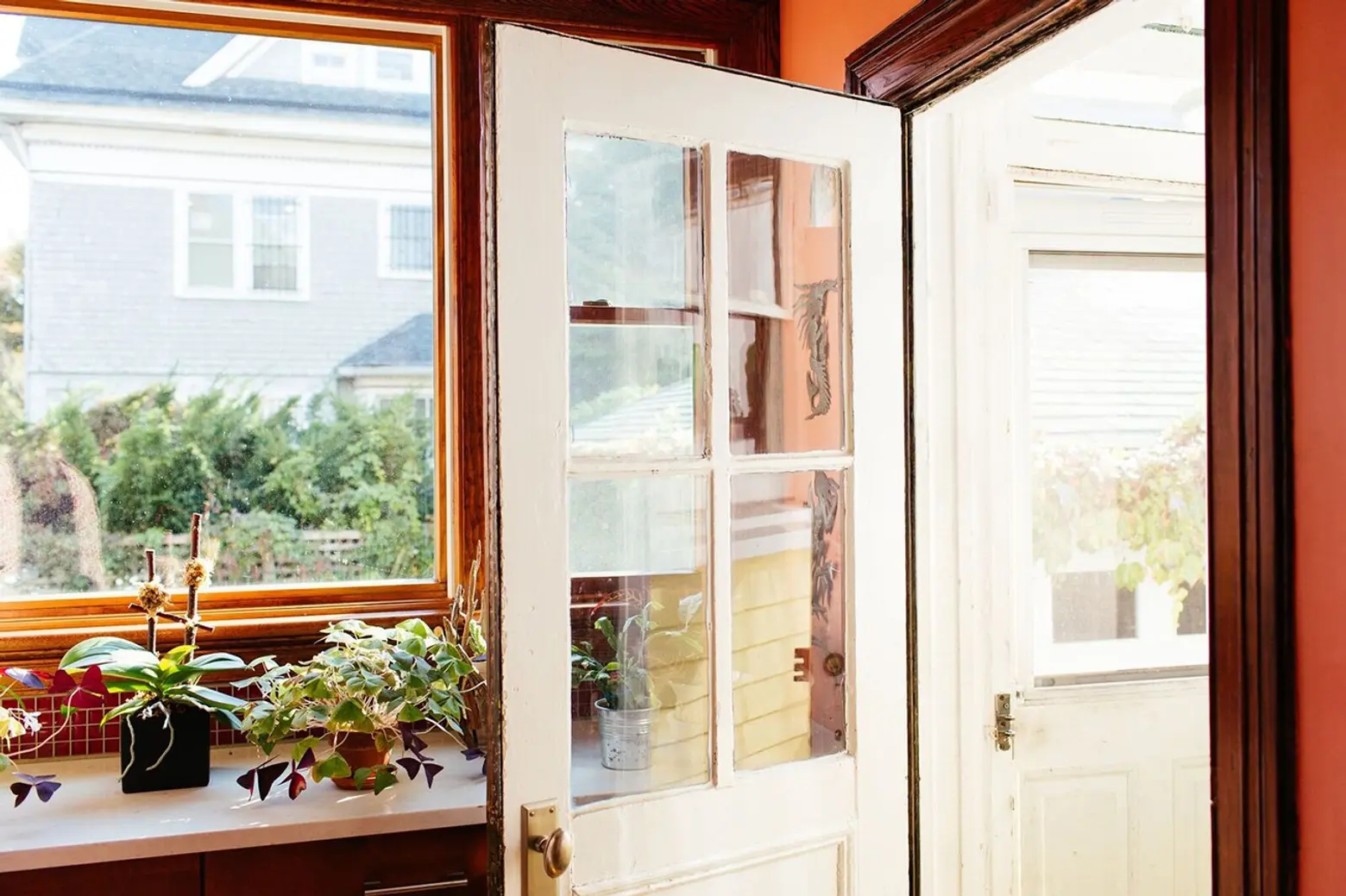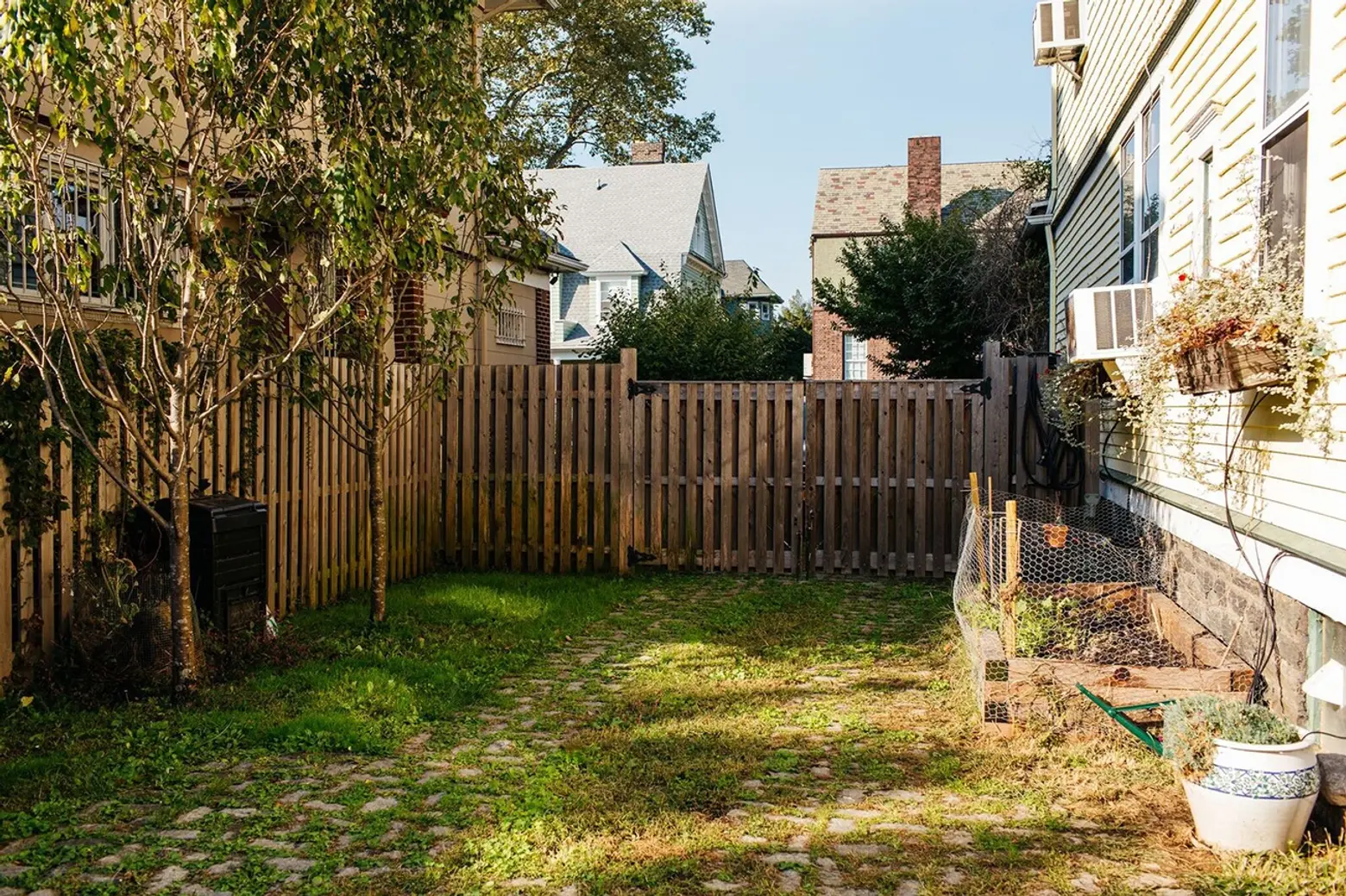 What's the best and worst thing about owning a house that is over a century old and landmarked?
My husband and I are both preservationists so we love historic buildings. I like their character, great craftsmanship, solid and beautiful materials and details. They were obviously built before central A/C and internet, but those services can be retrofitted pretty well within a historic structure. We've been lucky with our house in the sense we didn't buy a money pit. We made some changes in the kitchen and bathrooms but the rest was kept pretty much the same, and we didn't have to do expensive repairs. It was pretty livable when we got it.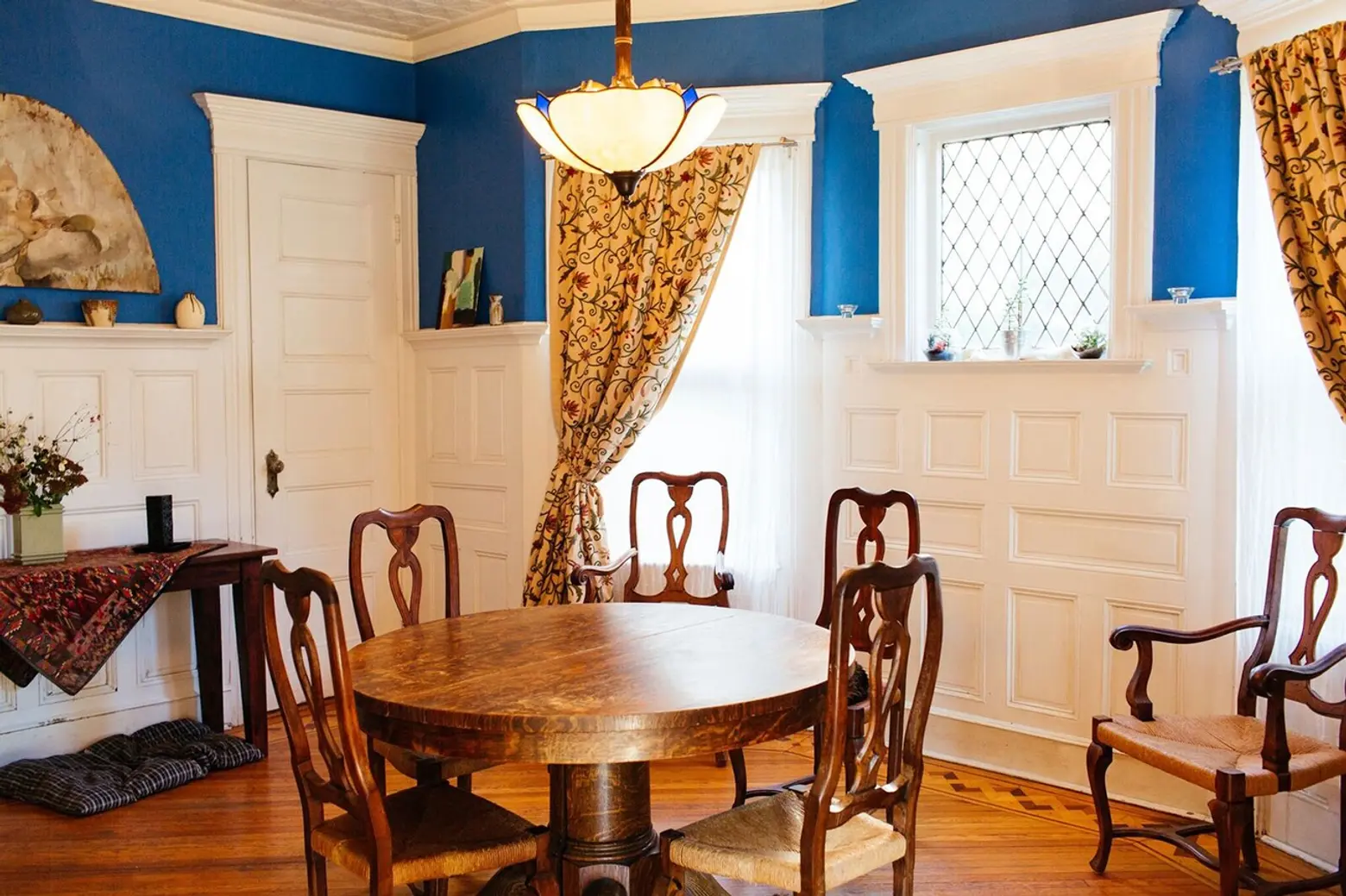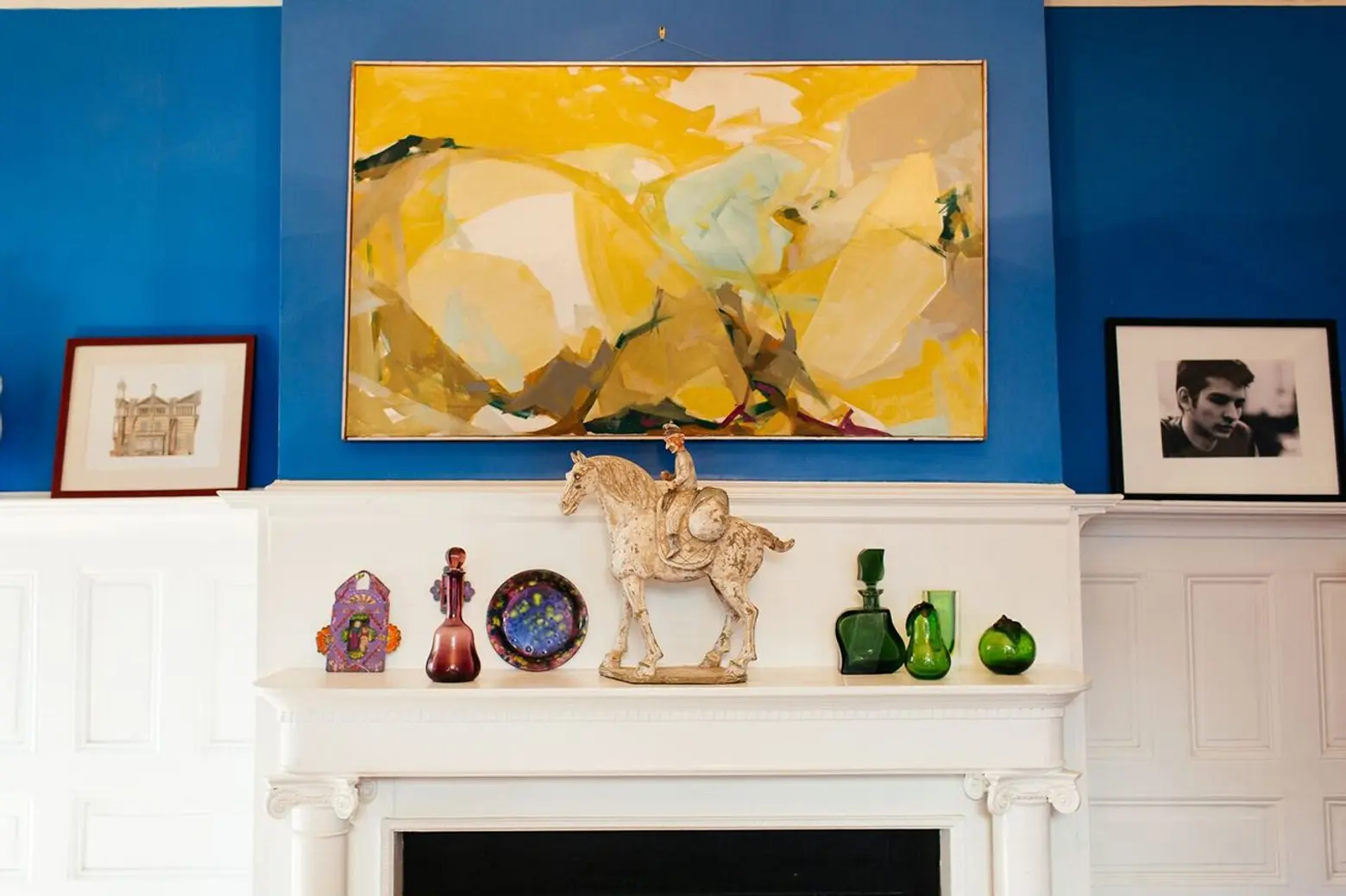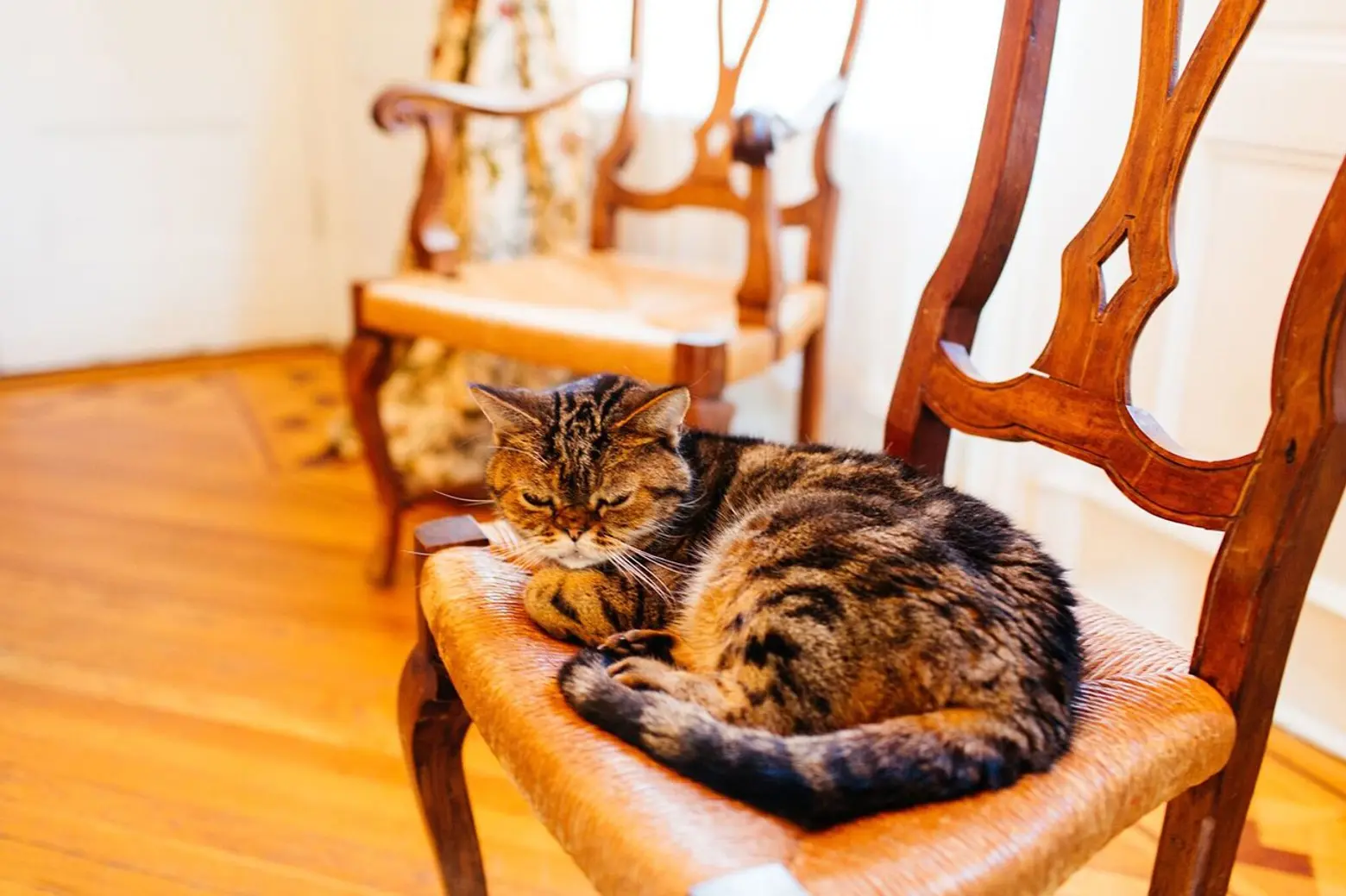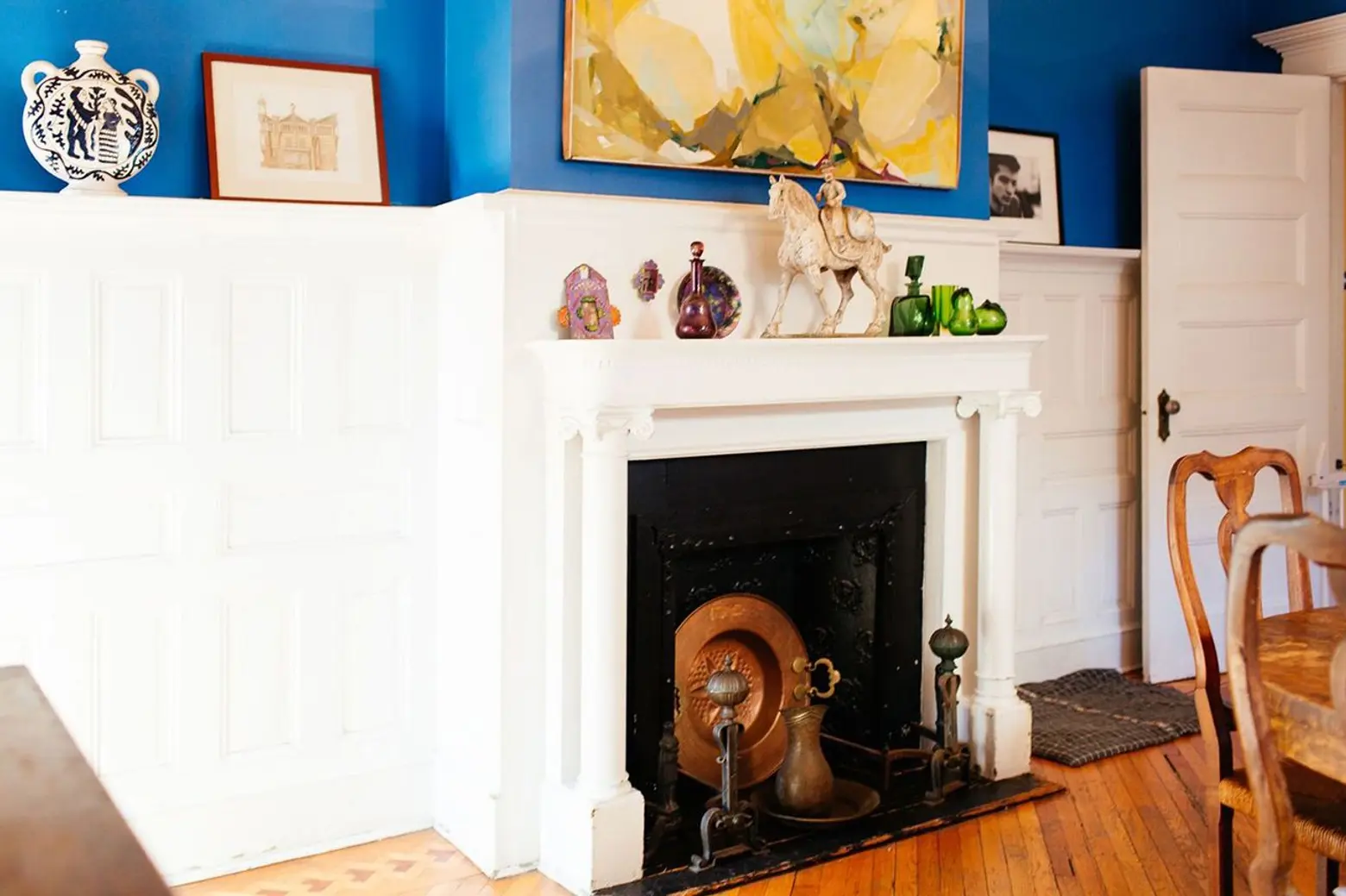 Only the living room and dining room were painted in new colors. The artwork above the mantel was done by Glen's father, and the horse statue came from China
Living in a historic district has its pros and cons, but mostly pros. The cons include the fact that any changes to the exterior of the houses must be approved by the Landmarks Preservation Commission [LPC]. The good part of this is that the changes are controlled and the neighborhood integrity and authenticity are maintained, and the economic value as well. The bad part is that you may need an architect or preservationist to help prepare the LPC presentation for a substantial modification. However, most simple changes don't require a public hearing and they get approved at the staff level by the LPC.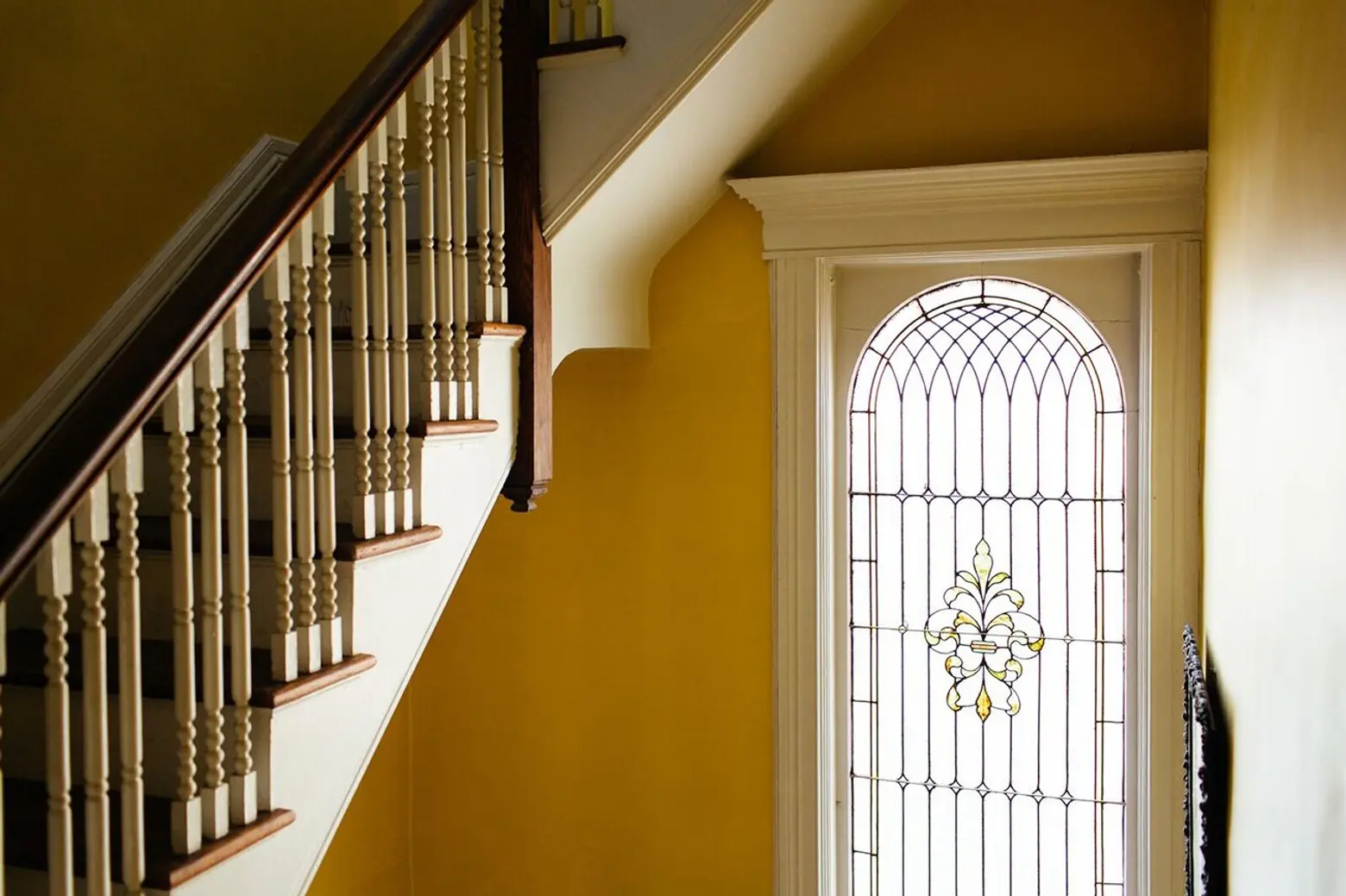 The chest in the foyer was designed and built by her son who is currently studying to be an architect
What are your favorite features of the home?
The entrance stair, stained glass windows, and especially the garden. We really invested in the green space, and we had the help of an architect/landscaper friend who did a great job selecting plants that stay green throughout the year so we always have something to look at outside. He planted species that attract birds and bees, and we replaced the concrete driveway and deck with stone blocks to increase the porosity of the paving. It was our small contribution to the environment. We are hoping to some day install solar panels or tiles on our roof. Ultimately the LPC would have to approve their installation since they will be visible from the street, but the neighborhood association has had a preliminary meeting with someone at the LPC to explore this idea.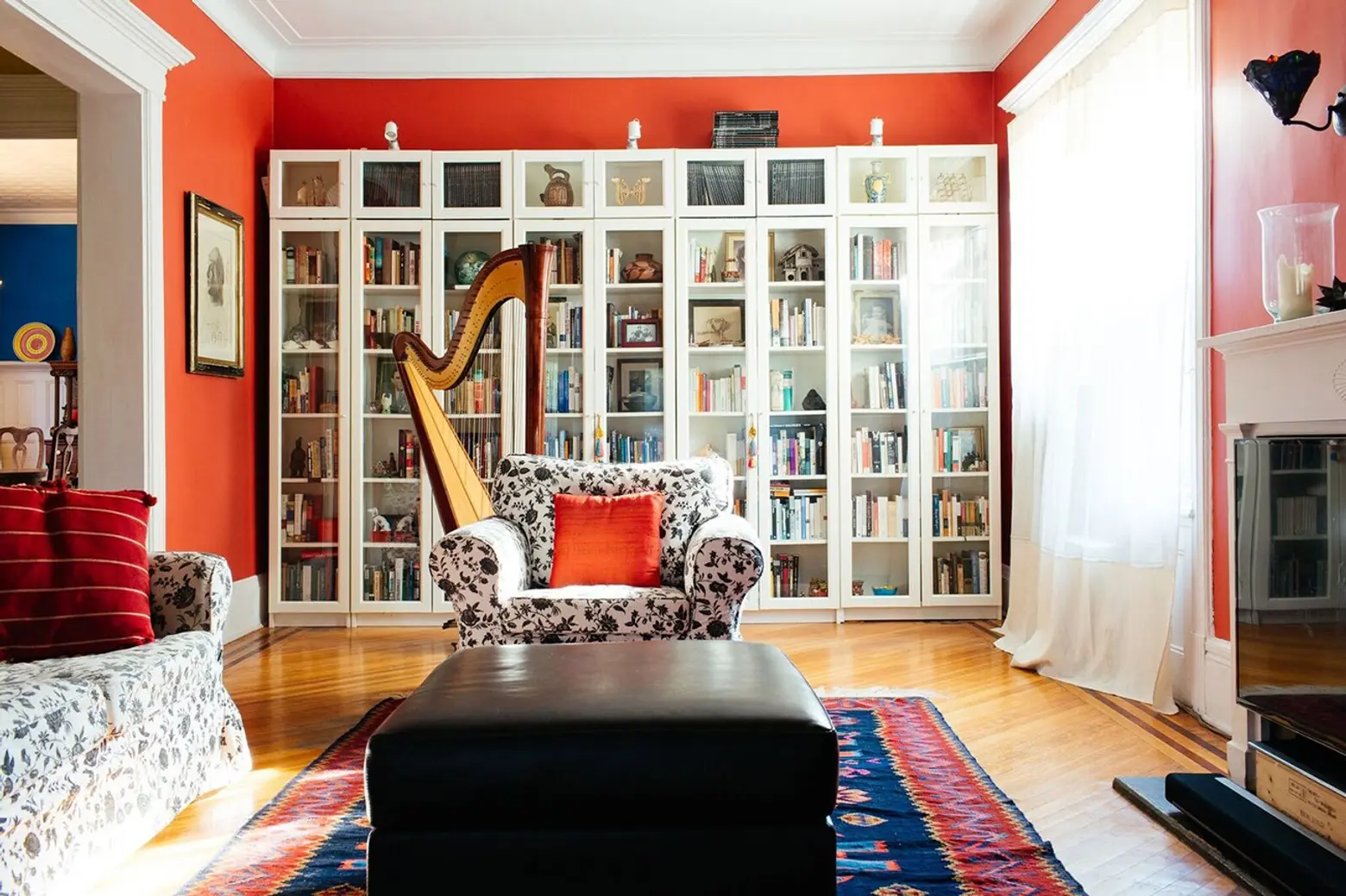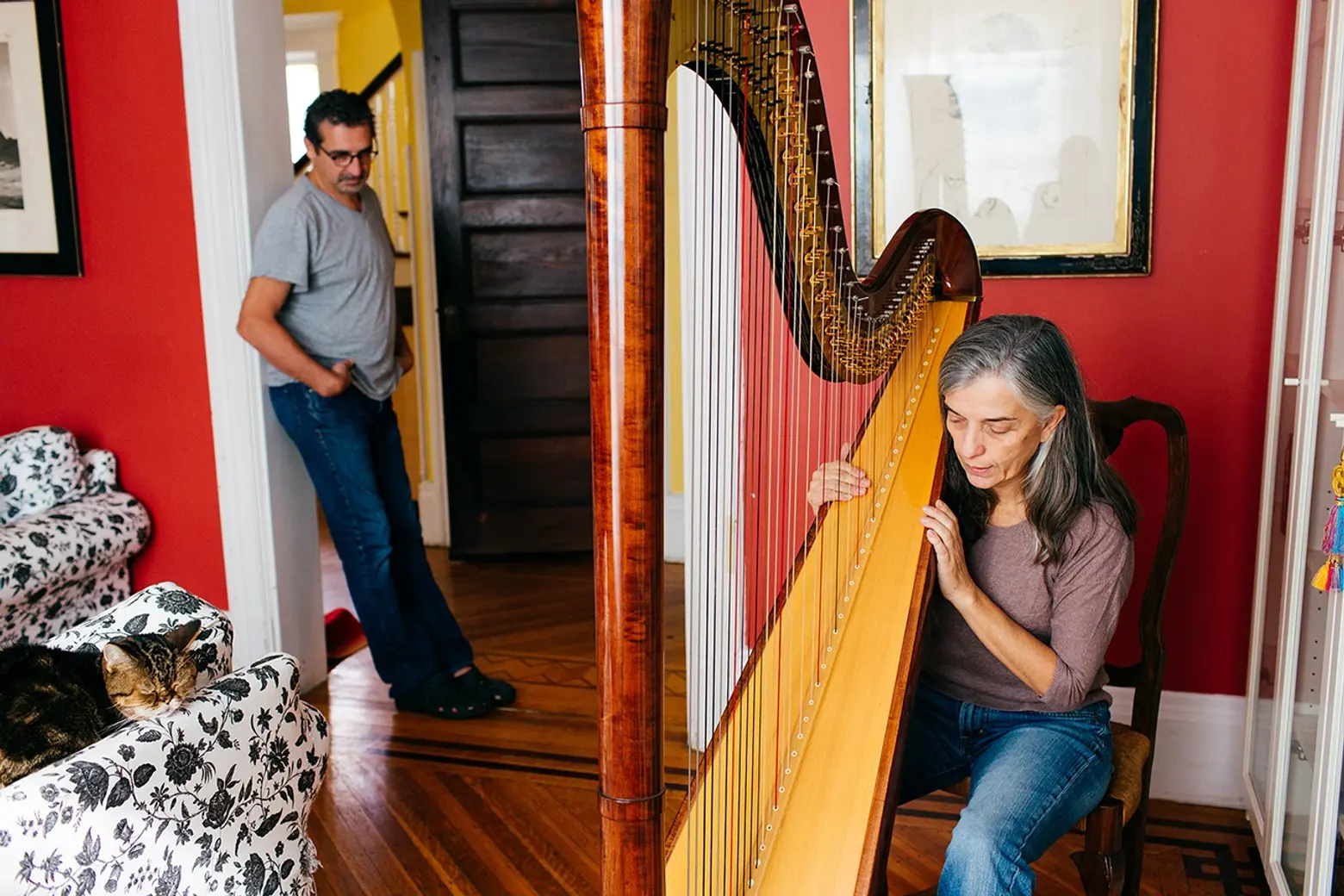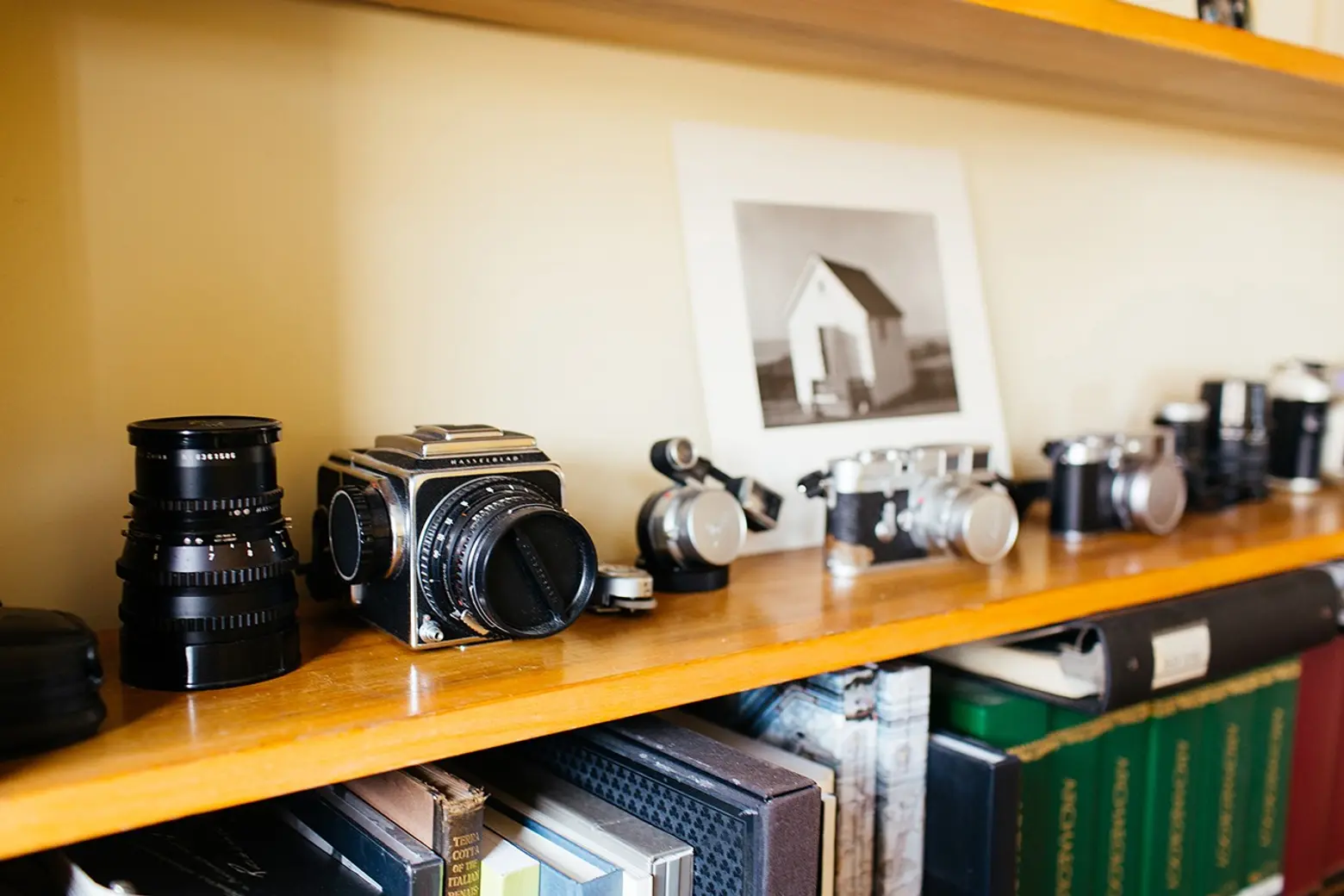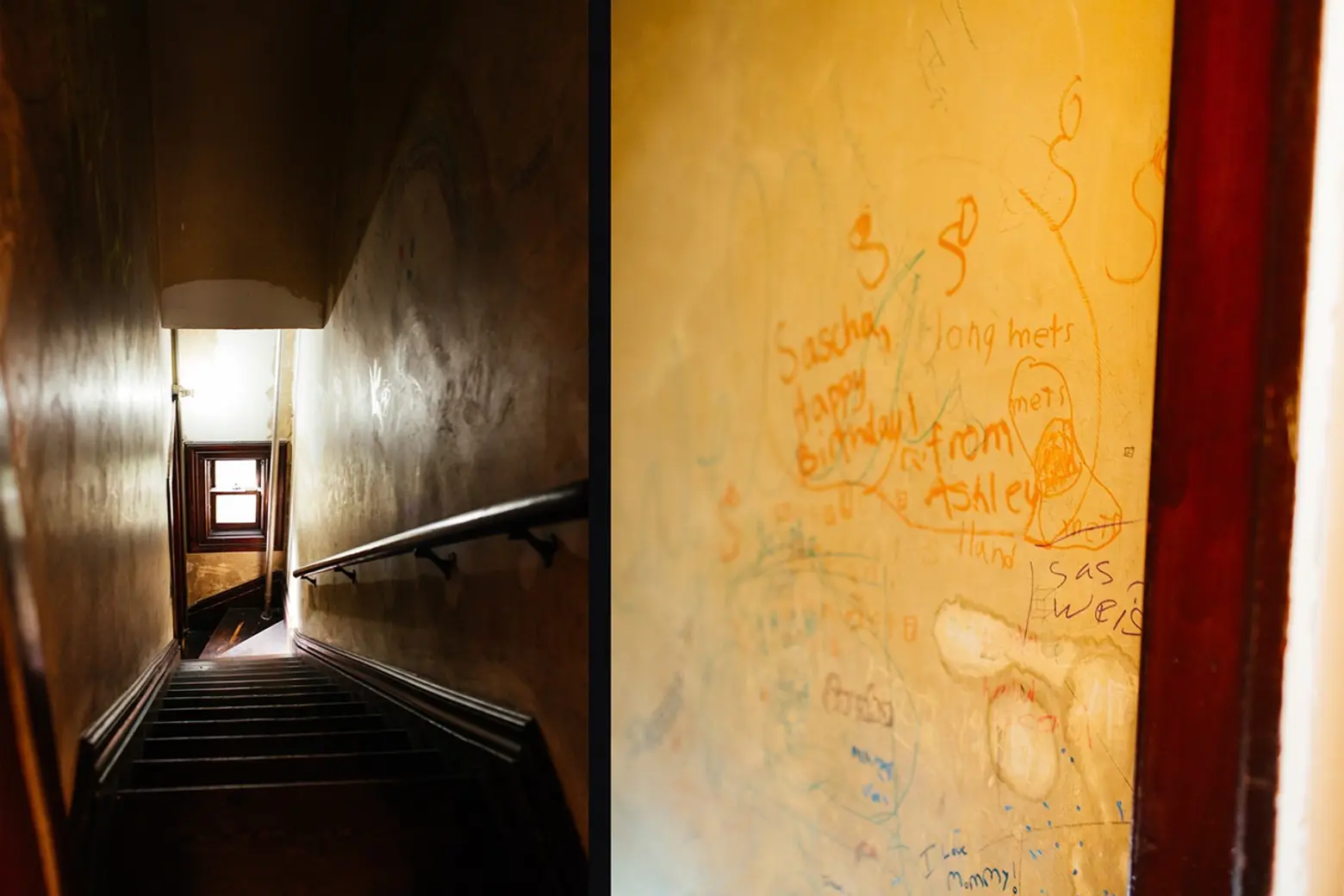 Norma has played the harp since she was a child. Her husband is also a photographer and the have a darkroom in their basement. One of the side stairwells has a bit of graffiti, a lot of which was left behind by previous residents
What are some of your favorite personal pieces?
I guess my harp, and a mahogany chest my mother had built in Peru for her sewing room. It sits on the second floor landing. She designed it to hold her crochet and knitting needles, and patterns. I always loved it, and was glad I got it when she passed away. We have some of my father-in-law's paintings, my daughter's ceramics, my husband's photographs, and my son's drawings and furniture—those are pretty special.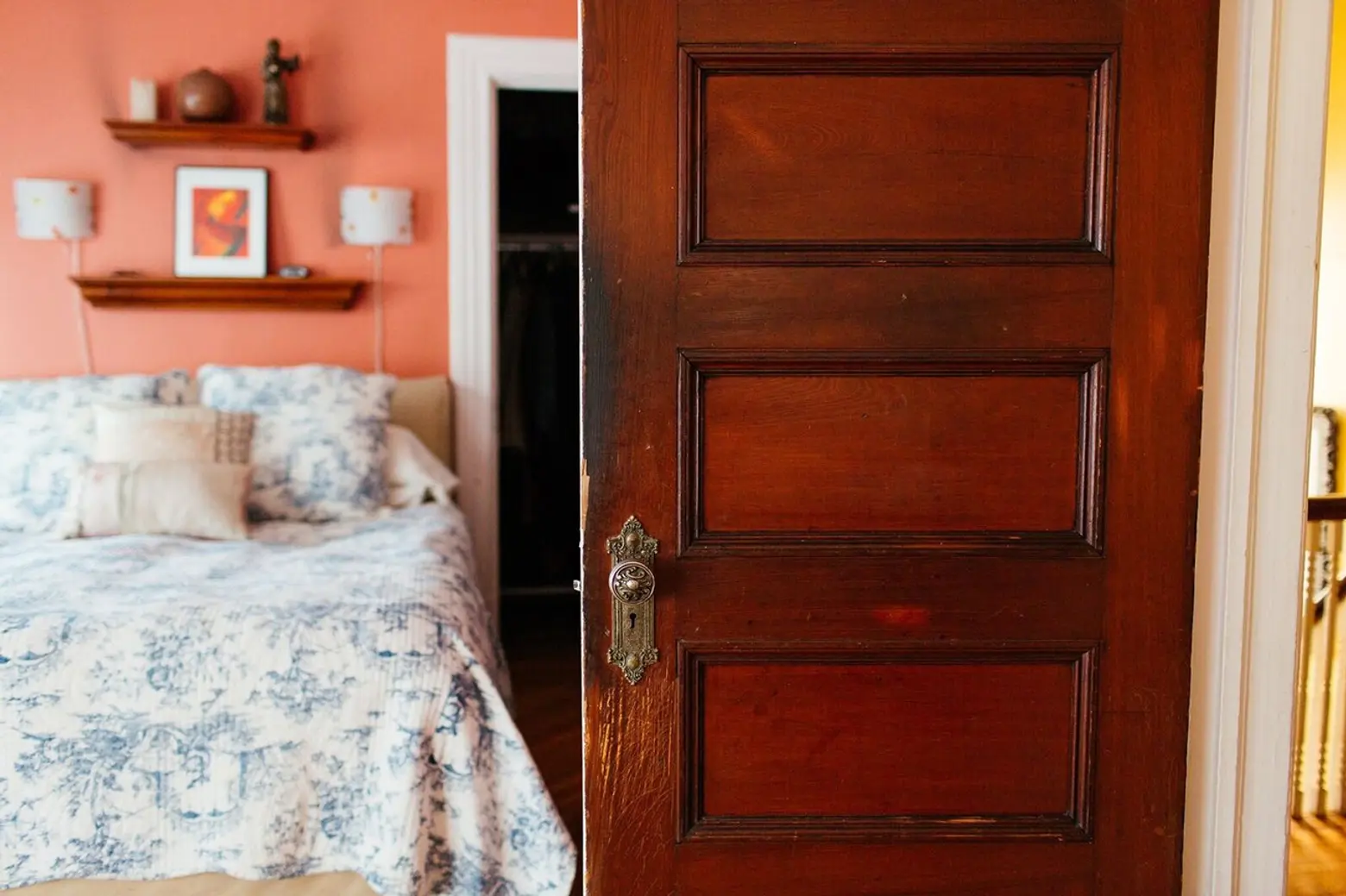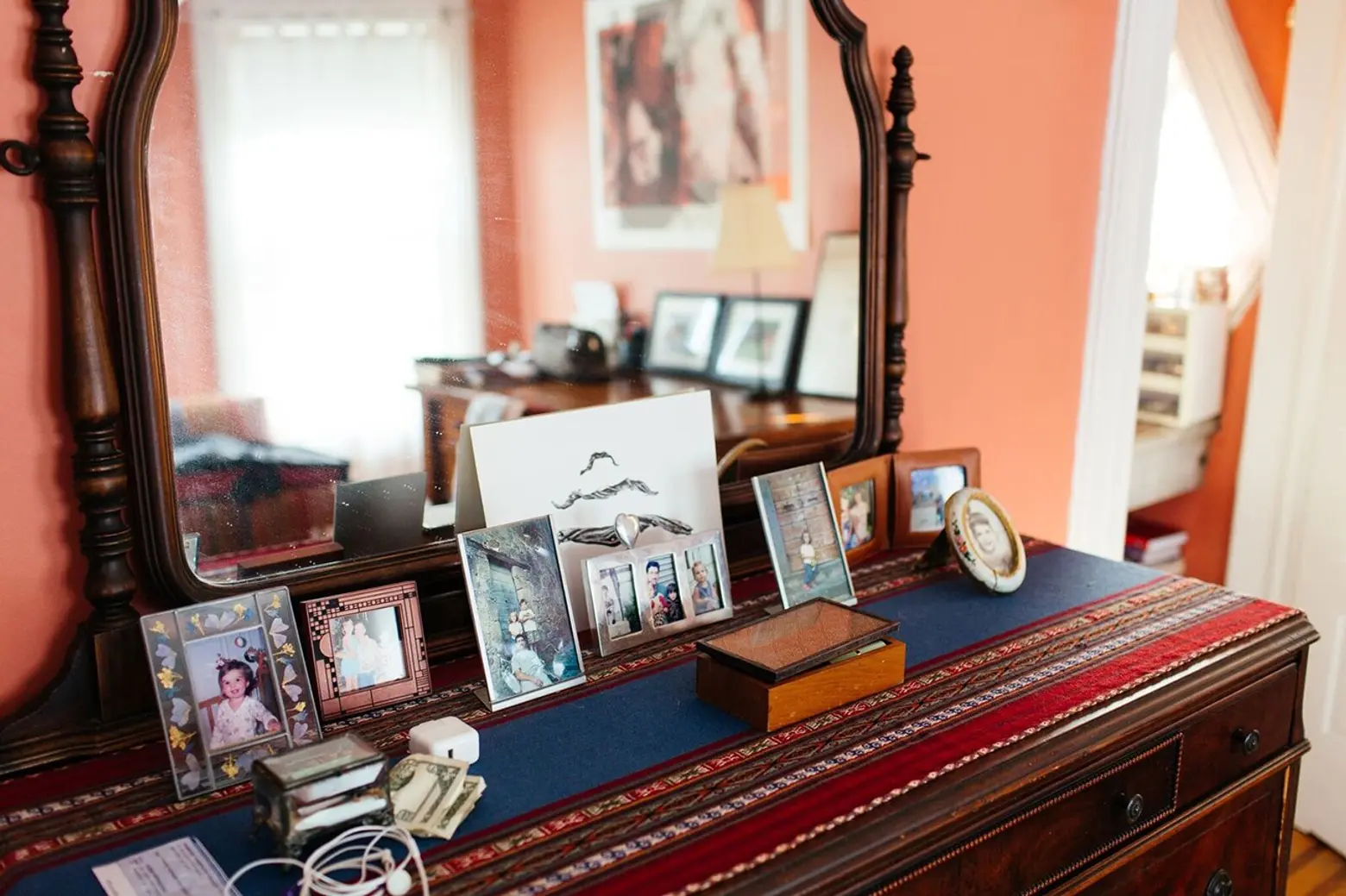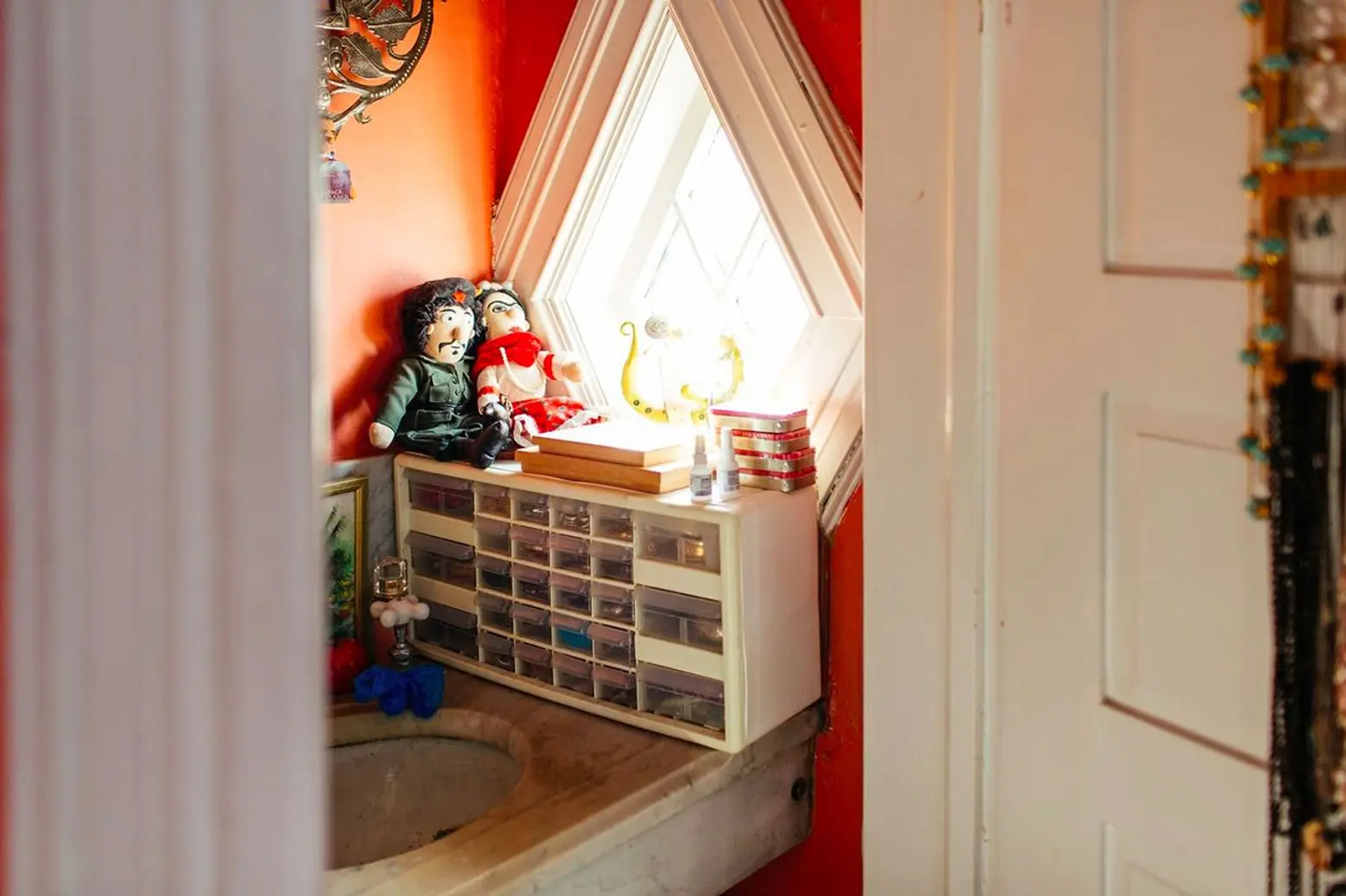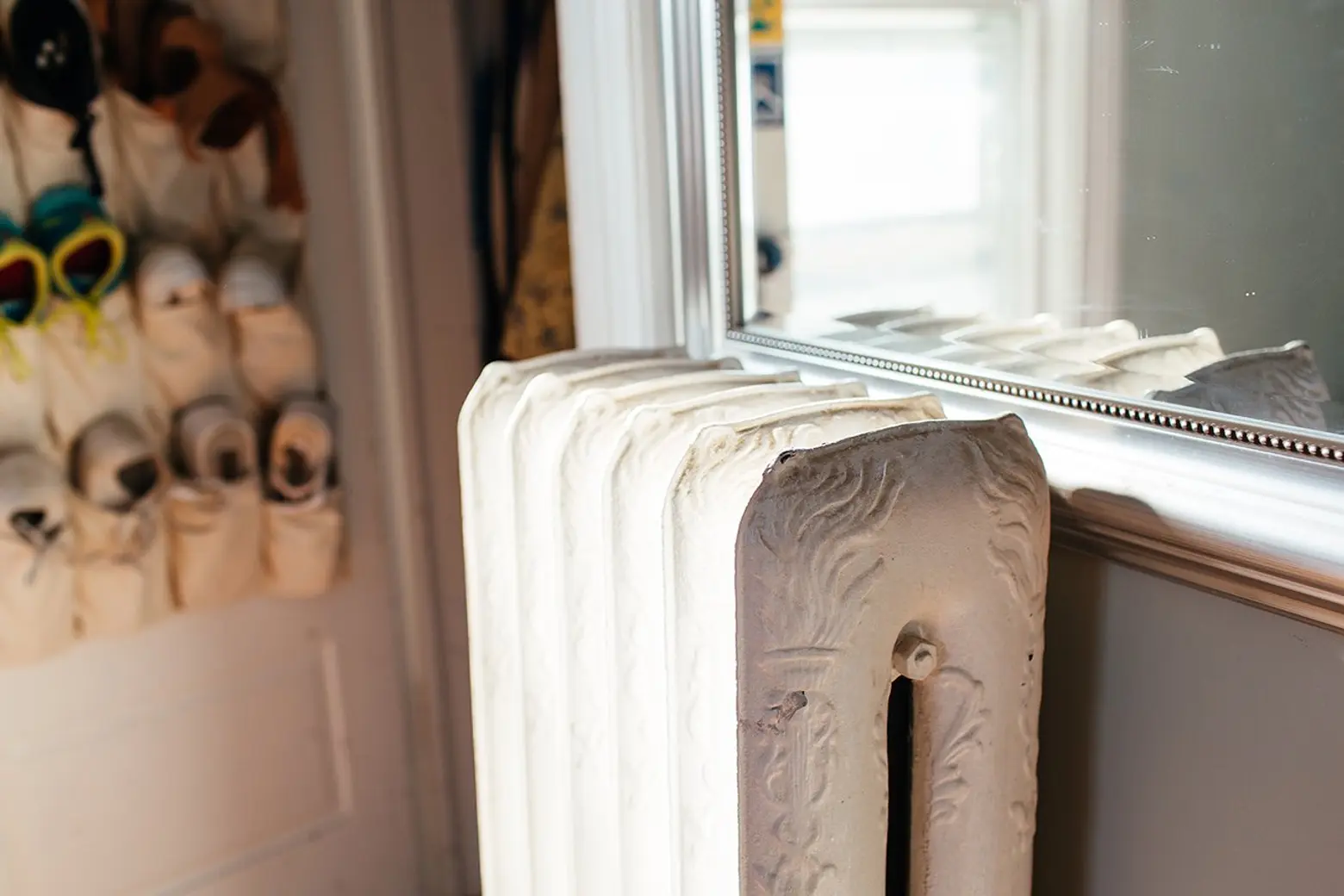 The home is filled with original details, ranging from the wood floors to the radiators to even "wet closets" in many of the bedrooms
Being more than a century old, are there any strange stories tied to the home's past? Ghost stories or other oddities?
Not that I know of. I don't believe in such things so I'll be kind of boring here. However, as I mentioned, the previous owners were known for their Halloween parties and they had elaborate equipment like stuffed ghosts and movable spiders with lights that they left for us. We have increased their arsenal with a couple of skeletons and other items we use for our own Halloween parties.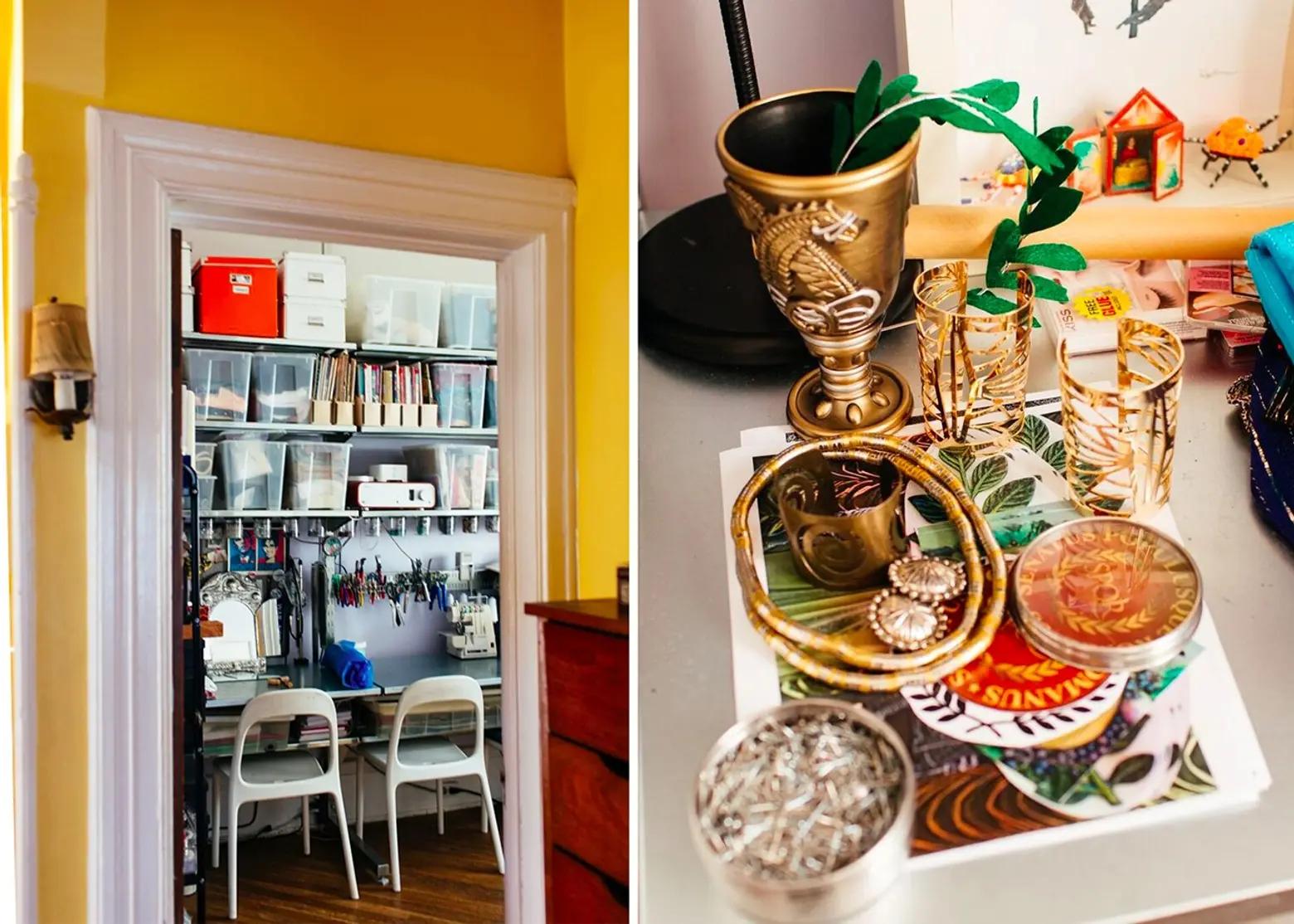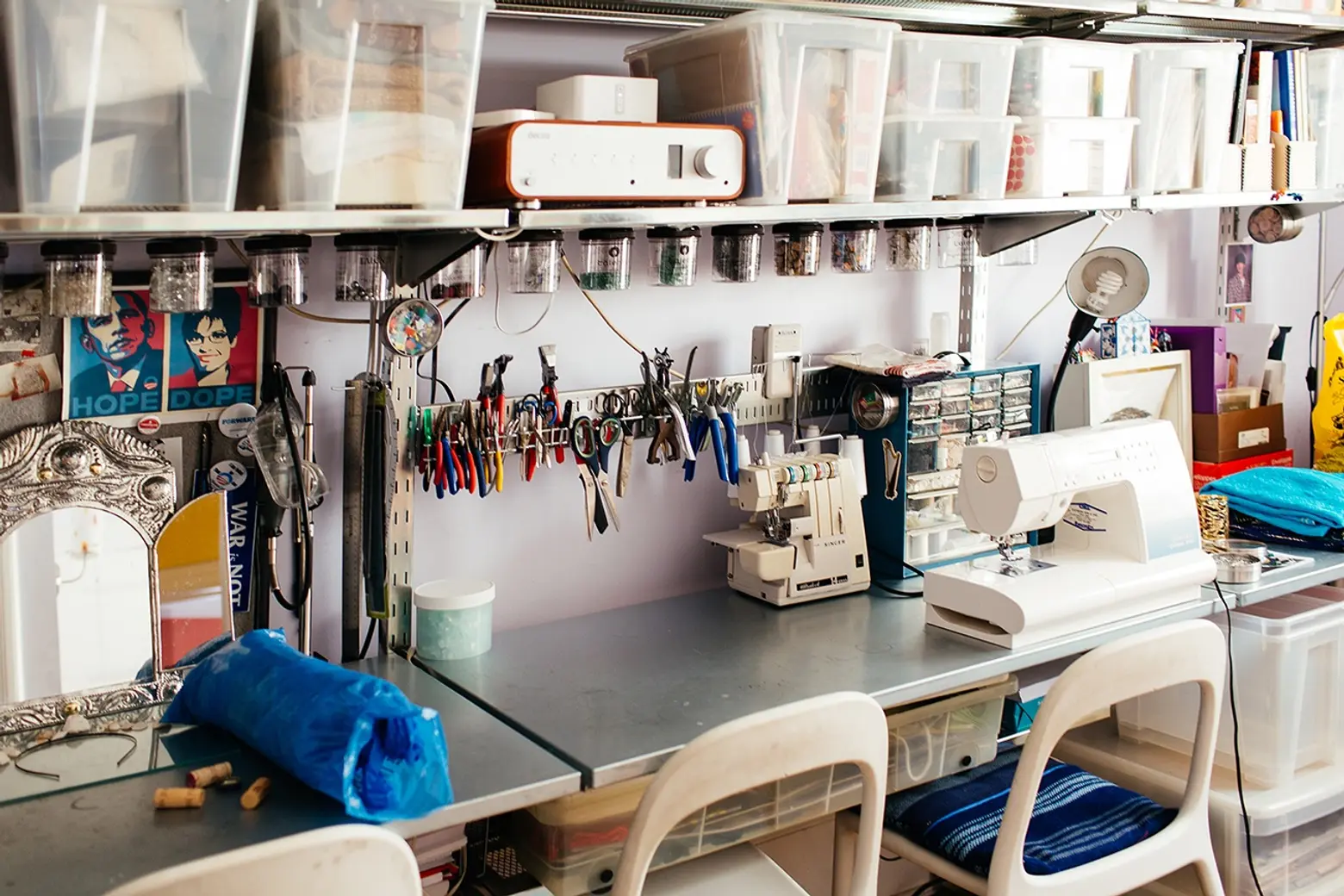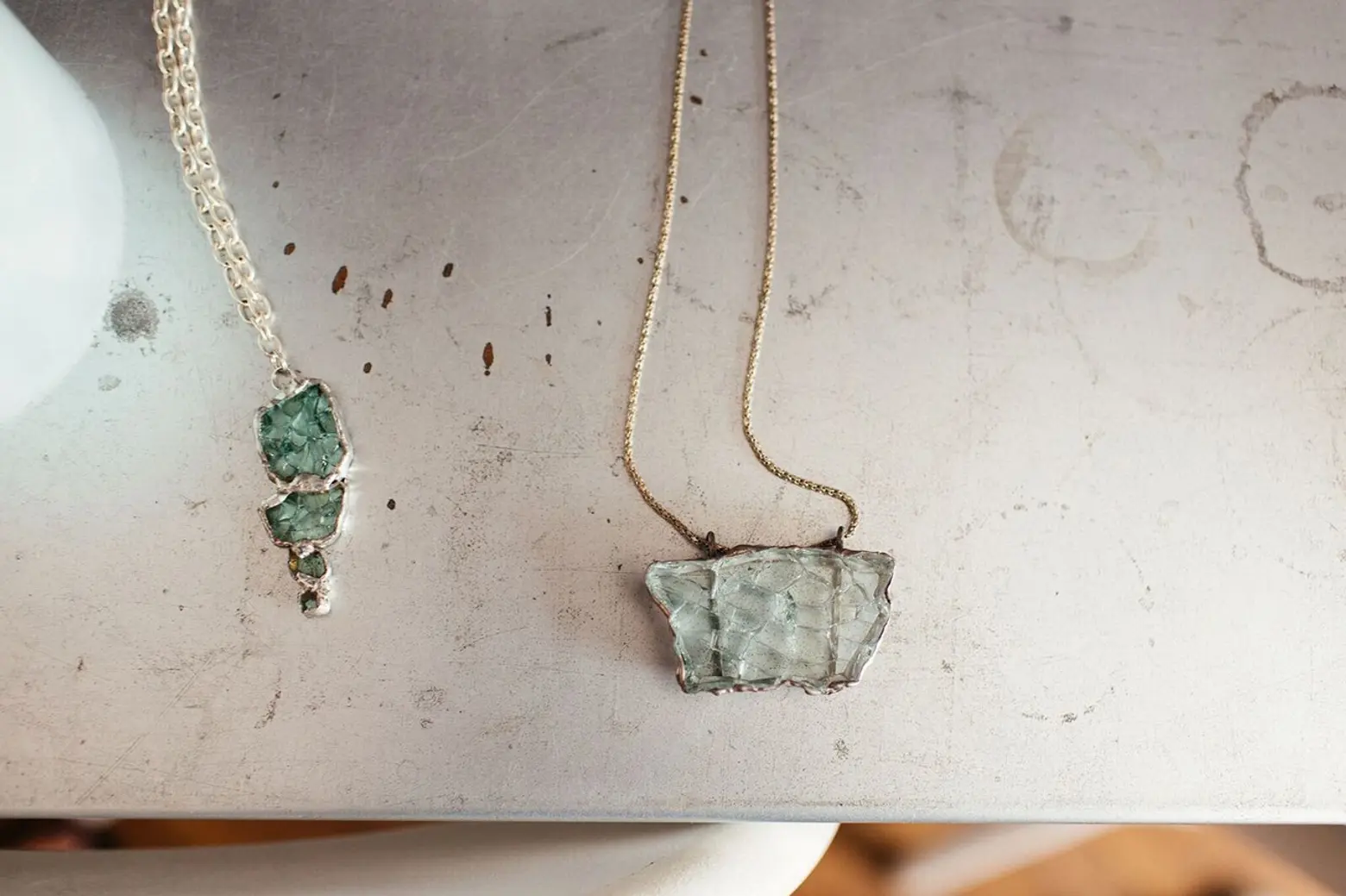 In her spare time Norma makes jewelry with recycled and found objects. The necklaces featured above use broken car glass.
For those who know nothing about Ditmas Park, what do you recommend they check out first?
Walk around the neighborhood and try some of the restaurants like Castelo Plan, Manchego, and a Tibetan place near the subway on Cortelyou Road. There are a few nice cafes there as well.
SEE MORE PHOTOS IN OUR GALLERY BELOW
▽ ▽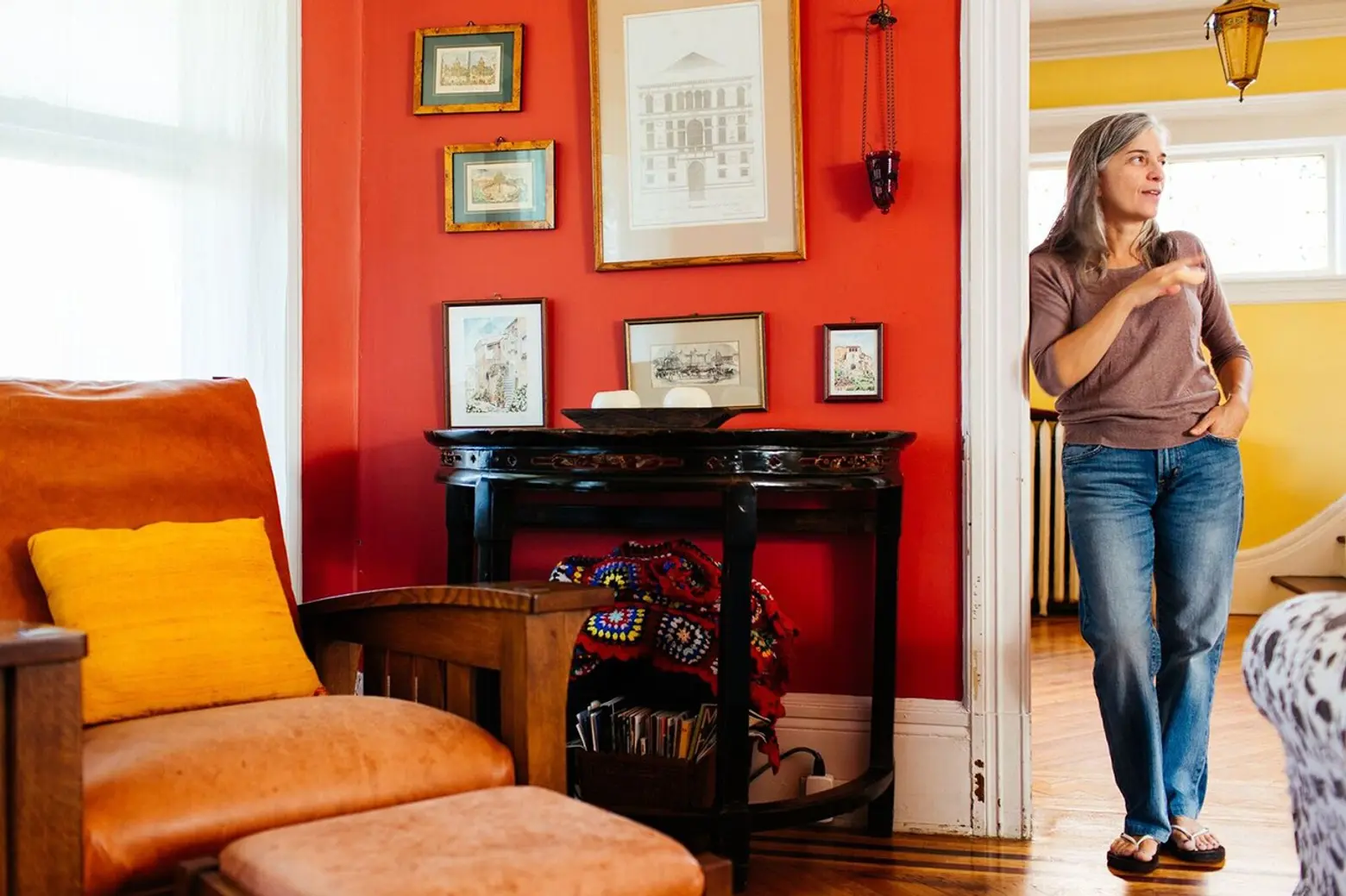 RELATED: