Meet Theodate Pope Riddle, New York's first licensed female architect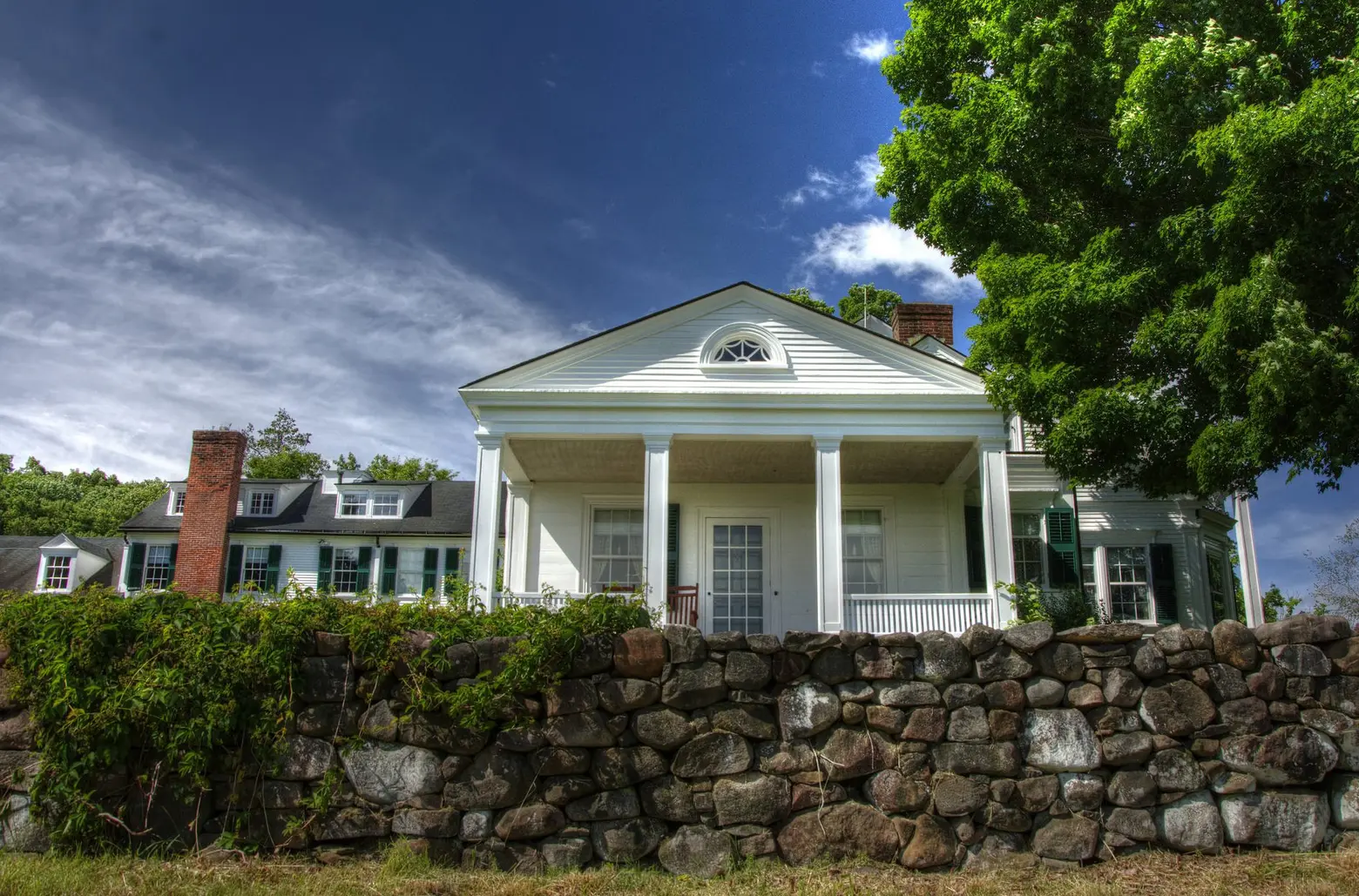 Original Plans for Hill-Stead, from McKim, Mead and White papers 1901, designed by Theodate Pope Riddle, via Hill Stead
Theodate Pope Riddle not only made history as New York's first licensed female architect but also lived it as a passenger aboard the Lusitania, the British ocean liner torpedoed off the coast of Ireland in 1915. The sinking of the Lusitania helped draw the United States into World War One, but neither German torpedoes nor the social strictures of her time could sink Theodate's indomitable, independent spirit. She would go on to collaborate with McKim, Mead & White on a Colonial Revival masterpiece in Connecticut, as well as reconstruct Theodore Roosevelt's birthplace on East 20th Street.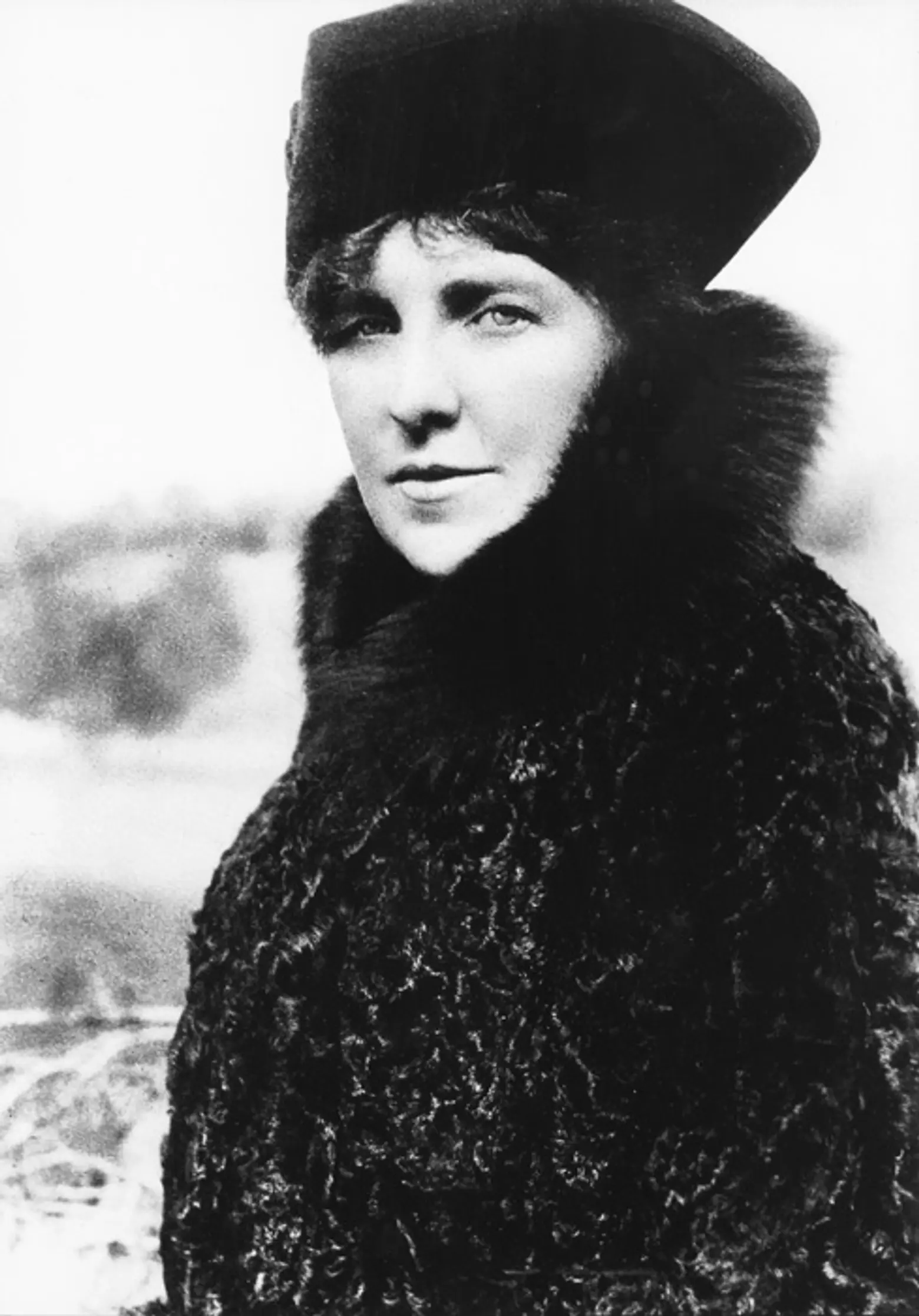 Theodate Pope Riddle, via Hill-Stead 
Of the Lusitania, she wrote rivetingly, "The torpedo was on its way to us at that moment, for we went a short distance farther toward the stern, turning the corner by the smoking room, when the ship was struck on the starboard side. The sound was like that of an arrow entering the canvas and straw of a target, magnified a thousand times and I imagined I heard a dull explosion follow. The water and timbers flew past the deck…The ship steadied herself a few seconds and then listed heavily to starboard, throwing us against the wall…"
Lucky for us, Theodate's keen eye for detail captured not only one of the 20th century's most volatile disasters, but also conceived some of its most classically balanced buildings. Less than a year after that terrible voyage, she was licensed as an Architect in New York In 1918, she became a member of the American Institute of Architects, and in 1919, she received a personal commission from the Roosevelt family to reconstruct Theodore Roosevelt's birthplace at 28 East 20th Street, a project that stands out as the nation's first Victorian period restoration.
Theodore Roosevelt's Birthplace Restoration, 28 East 20th St, via The National Park Service 
Theodate Pope Riddle was born in 1867 to a lonely and lavish life as the only daughter of a Cleveland iron magnate, Her father was an avid art collector who amassed a stunning Impressionist collection with the help of family friend Marie Cassatt. Henry James, Edith Wharton and Theodore Roosevelt also dropped in, but Theodate was isolated from her parents' social world, and spent her solitary days drawing.
By the time she was 10 years old, she had developed a fascination with architecture, and created a portfolio of her own sketches, mapping out elevations and floor plans. Her early isolation informed the rest of her life. She explained, "I feel that the solitariness of my childhood days developed in me an independence of thought which has made it possible for me to make independent judgments."
That independence moved her to take charge of her identity. Christened Effie Brooks Pope, she adopted her grandmother's name, Theodate, in 1886. Following her graduation from Miss Porter's School, a finishing school in Farmington, Connecticut, she reacted with "sullen rage and boredom" to Cleveland's social whirl. She dreamed of a life in the country, and rejected the world of debutants to return to Farmington and focus on architecture.


Theodate's parents believed that she would lose interest in country life after three months. "How wrong they were!" she wrote. Via Hill Stead 
In Farmington, she purchased 42 acres of land and two cottages, which she redesigned and restored. One became her home; the other she turned into tearoom and shop, using the proceeds to support a visiting nurse in the community, and sewing classes at the Farmington community center, which she also restored.
That civic spirit flowered in New York, where she also maintained an apartment, worked with Lillian Wald at the Henry Street Settlement, volunteered for the New York Psychiatric Institute, joined the Socialist Party, and became a passionate advocate for Women's Suffrage.
Then came New Jersey. In 1897, she studied architecture informally at Princeton. Because, women were not permitted to enroll as students at the University, she worked under private tutors in the Architecture Department, and audited courses.


The Hill-Stead Museum, via Hill-Stead 
The following year, she began work on her first commission, Hill-Stead, the family estate she planned to build on her acreage. The home was inspired by George Washington's Mount Vernon, and is now a National Historic Landmark and museum.
In 1901, Theodate hired the celebrated architects McKim, Mead and White to turn her plans for Hill-Stead into a reality. She wrote to the firm, "it is my plan…I expect to decide all the details…it will be a Pope house, instead of a McKim, Mead and White."


Original Plans for Hill-Stead, from McKim, Mead and White papers 1901, designed by Theodate Pope Riddle, via Hill Stead
Theodate's work with McKim, Mead and White afforded her an informal apprenticeship in architecture, and the firm reduced its fee for the project, acknowledging that she had designed it. After a visit, Theodore Roosevelt declared that Hill Stead was "the ideal of what an American country home should be."
Theodate's later commissions gained similarly high praise. For example, Cass Gilbert called her 1909 design for the Westover School in Middlebury, Connecticut, completed 1912, "beautifully designed and beautifully planned. It is in fact the best girl's school that I know in the country. The details are refined and scholarly, and the proportions of the architecture are exceedingly well sustained throughout."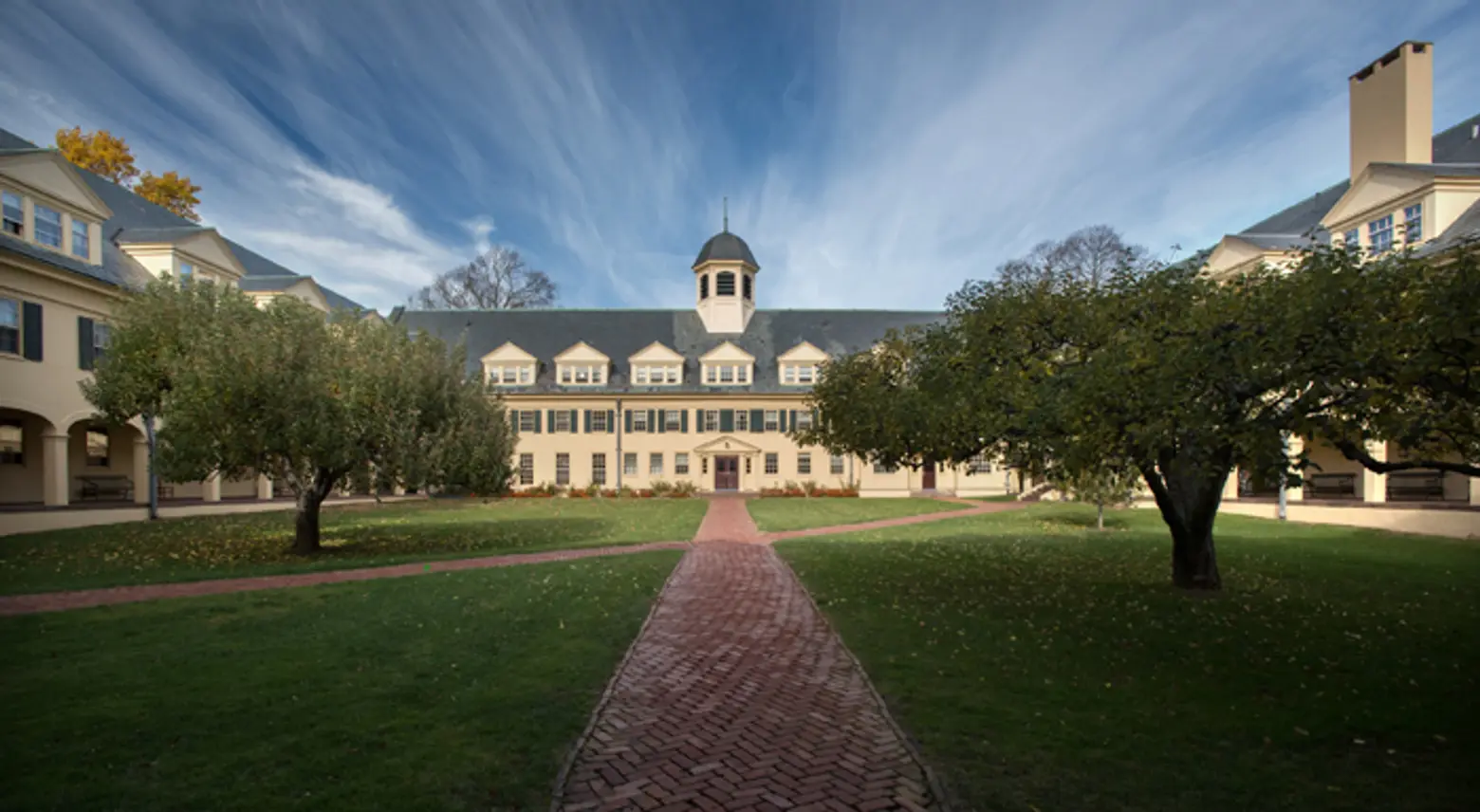 The Westover School via The Westover School 
In 1916, her beautiful work was formally recognized when she became a licensed architect in New York. The same year, she married John Wallace Riddle, a diplomat and linguist. The couple traveled around the world, and raised two foster sons, while Theodate maintained architectural offices in both New York and Connecticut. From those offices, she undertook her most lauded commissions: Teddy Roosevelt's Birthplace, and Avon Old Farms School.
Roosevelt's boyhood home, at 28 East 20th Street, was originally built in 1848. TR was born there in 1858, and lived there until the family moved up to 57th street in 1872. The building was demolished in 1916, and Theodate used its twin building next door at number 26, to complete a meticulous reconstruction of the original Gothic Revival brownstone. The project was completed in 1923, and bequeathed to the National Parks Service in 1963.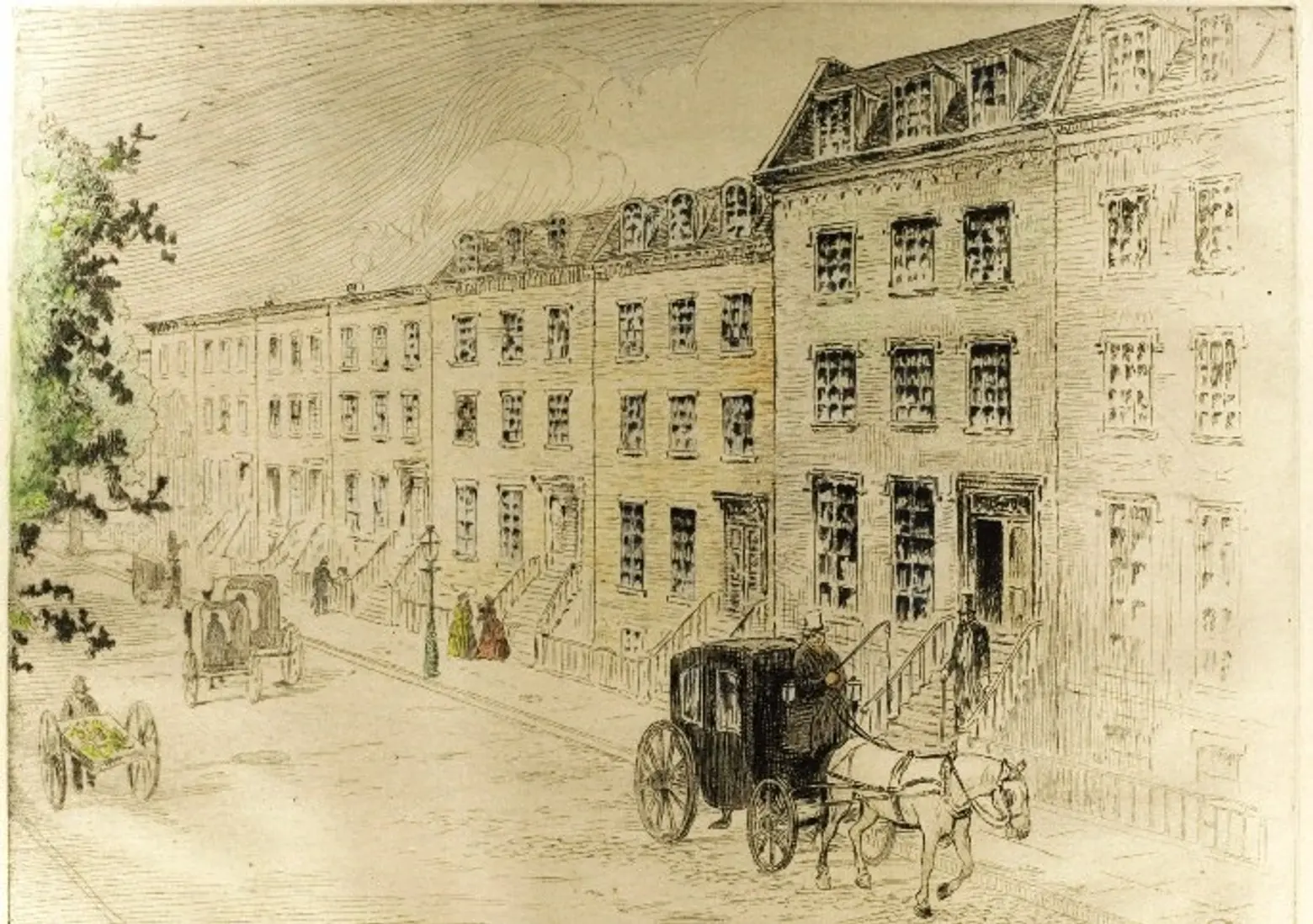 1920 Rendering of the Roosevelt Home as it looked in the mid-1900s, via The National Park Service 
Today, the Roosevelt home is one of 6 National Park Service Historic Sites in Manhattan, and just one of Theodate Pope Riddle's projects to be designated a National Historic Landmark. When she died in 1946, Theodate designated her Hill-Stead Home as a museum, maintained "for the benefit and enjoyment of the public." Her legacy lives at both these homes, which she so ably brought to life.
RELATED: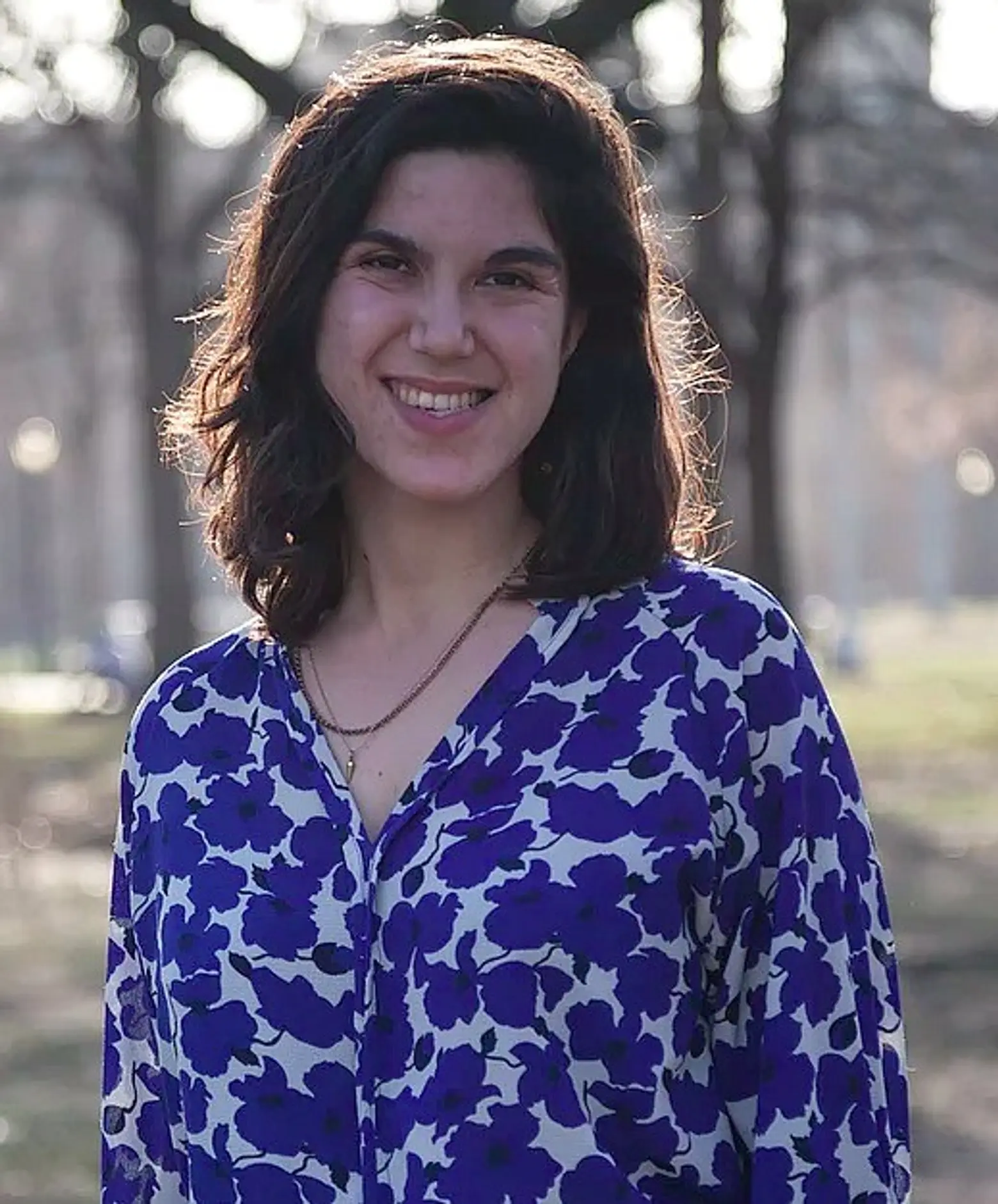 Lucie Levine is the founder of Archive on Parade, a local tour and event company that aims to take New York's fascinating history out of the archives and into the streets. She's a Native New Yorker, and licensed New York City tour guide, with a passion for the city's social, political and cultural history. She has collaborated with local partners including the New York Public Library, The 92nd Street Y, The Brooklyn Brainery, The Society for the Advancement of Social Studies and Nerd Nite to offer exciting tours, lectures and community events all over town. Follow her on Twitter and Instagram.