Lottery opens for 44 affordable apartments at former factory complex in Bed-Stuy, from $1,041/month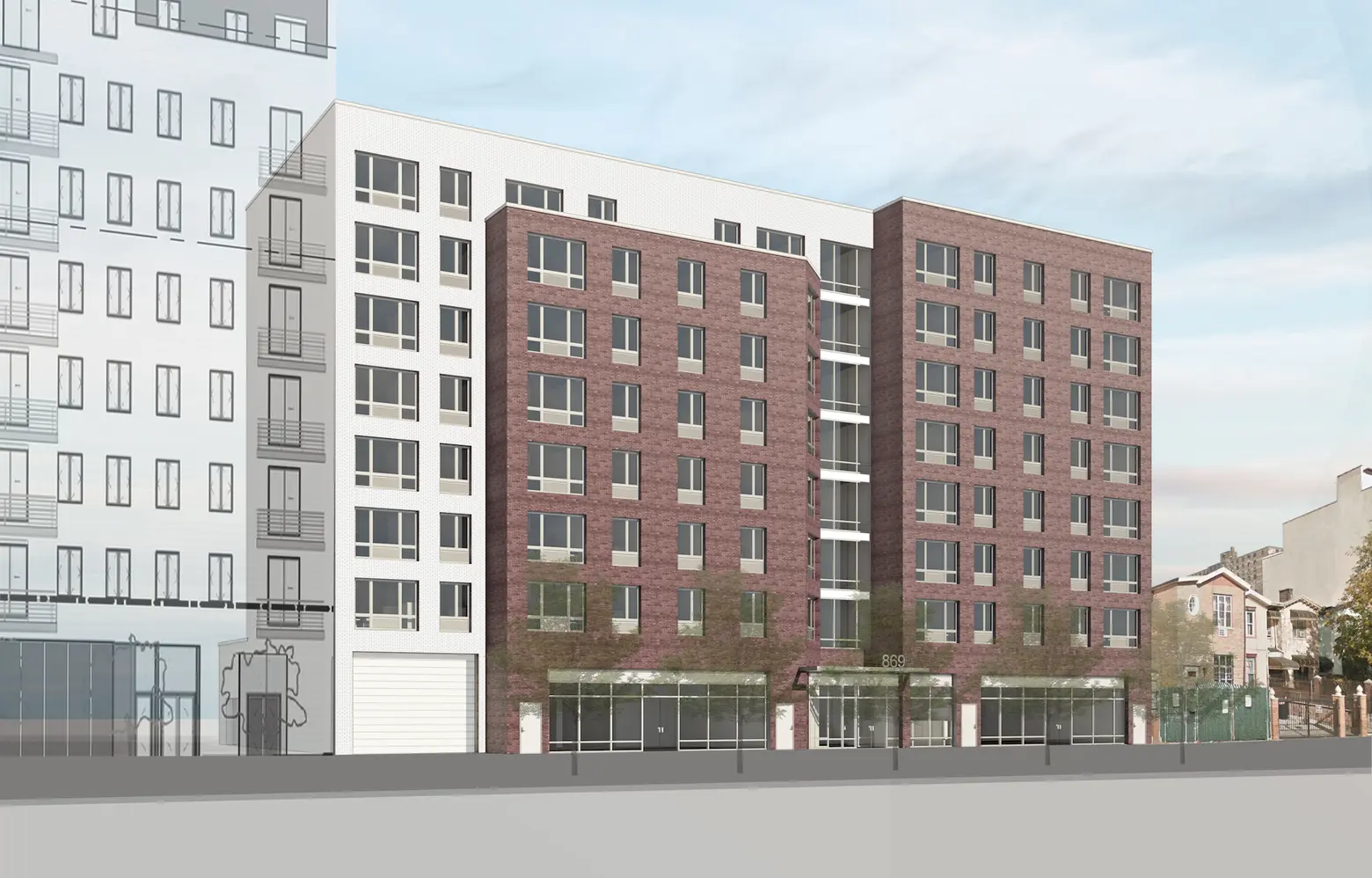 Rendering courtesy of NYC Department of Housing Preservation & Development
A housing lottery launched last week for 44 affordable apartments at a new Bed-Stuy building. Located at 869 Myrtle Avenue, the building is a part of a massive mixed-use project on the site of the former Cascade Linen Supply Company. Qualifying New Yorkers earning 60 percent of the area median income can apply for the apartments, which range from $1,041/studios to $1,553/month three-bedroom apartments.
Developed by Signature Acquisitions, Empire State Management, and Nachman Leibowitz, the Cascade complex includes seven buildings, described as a "courtyard style mega block of cascading residences" by Samuel Wieder Architects. The U-shape development stretches along Stockton Street, Myrtle Avenue, and Marcy Avenue.
According to the Real Deal, three condo buildings are completed and fully sold, with two buildings under construction. The two remaining condo buildings are also complete.
In addition to condos and rentals, the complex will also include over 67,000 square feet of community and retail space. At 869 Myrtle, residents will have access to a rooftop terrace, bike storage, and a shared laundry room.
Nearest transit options include the G train at Myrtle-Willoughby Avenue and the J and M trains at Flushing Avenue.
Qualifying New Yorkers can apply for the affordable units until July 29, 2021. Complete details on how to apply are available here. Fifty percent of units are set aside for residents of Brooklyn Community Board 3. Questions regarding this offer must be referred to NYC's Housing Connect department by dialing 311.
If you don't qualify for the housing lotteries mentioned, visit CityRealty.com's no-fee rentals page for other apartment deals in the city.
RELATED: