INTERVIEW: George Schieferdecker Talks to Us About One Vandam and BKSK's Future Projects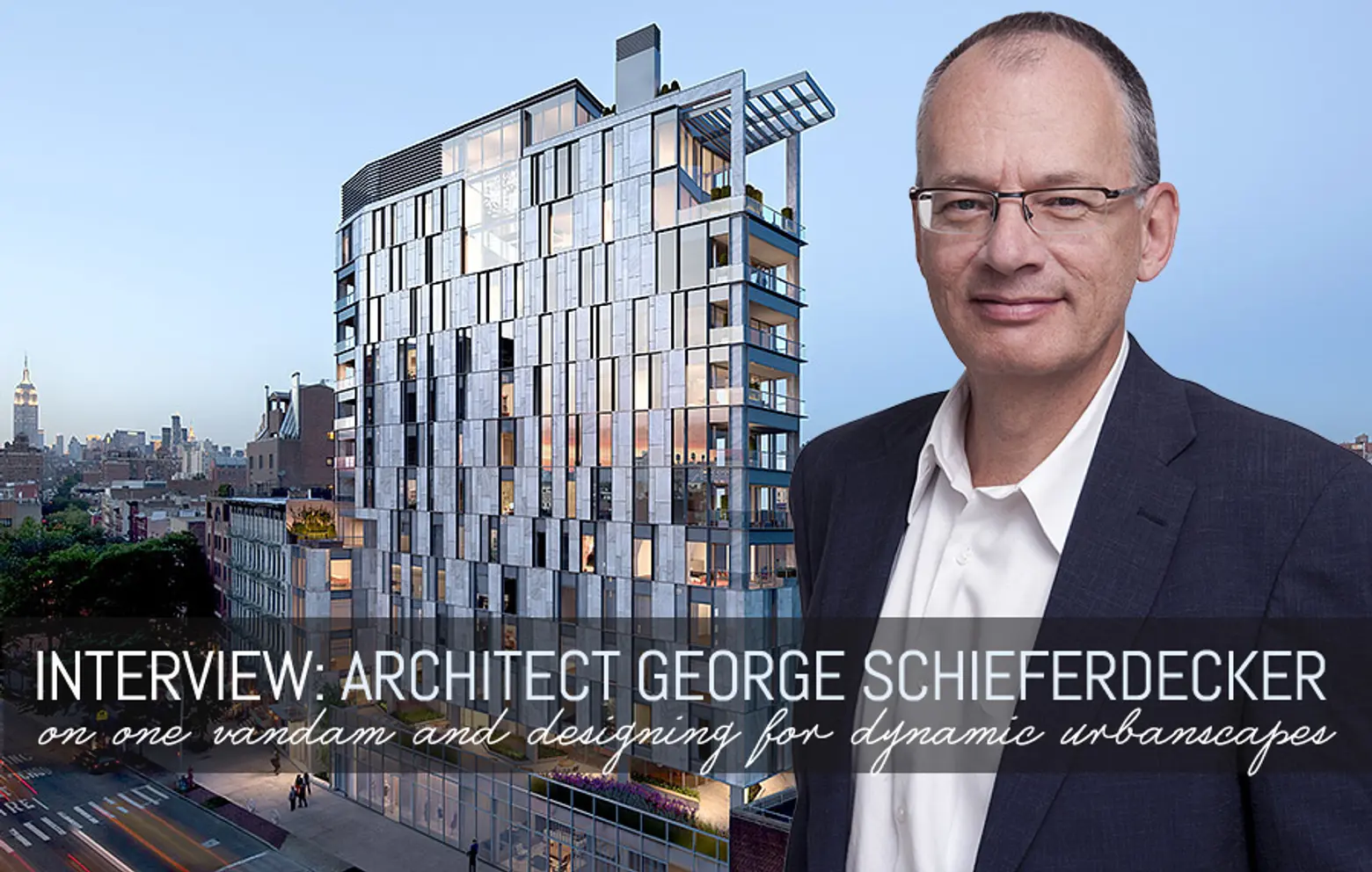 When it comes designing for contextual relevance (and Landmarks love), BKSK is a firm favored by many developers. BKSK was founded back in 1985 when three Columbia architecture students decided they wanted to apply the progressive design principles they were seeing in their studies to the New York City landscape. Fast forward to nearly three decades later, and this trio has blossomed into a full-fledged, six-partner practice with a penchant for residential designs. One of BKSK's current condo projects, One Vandam, is now on the rise and is getting plenty of attention for its slab on base design and syncopated glass and limestone facade. Though the design is much more modern than their previous works, One Vandam does pay homage to its dynamic locale. We recently caught up with one of BKSK's partners, George Schieferdecker, to find out what inspired One Vandam's design, to hear a bit about how New York has changed since BKSK first started its practice in the 80s, and to get the scoop on what's up next for the studio.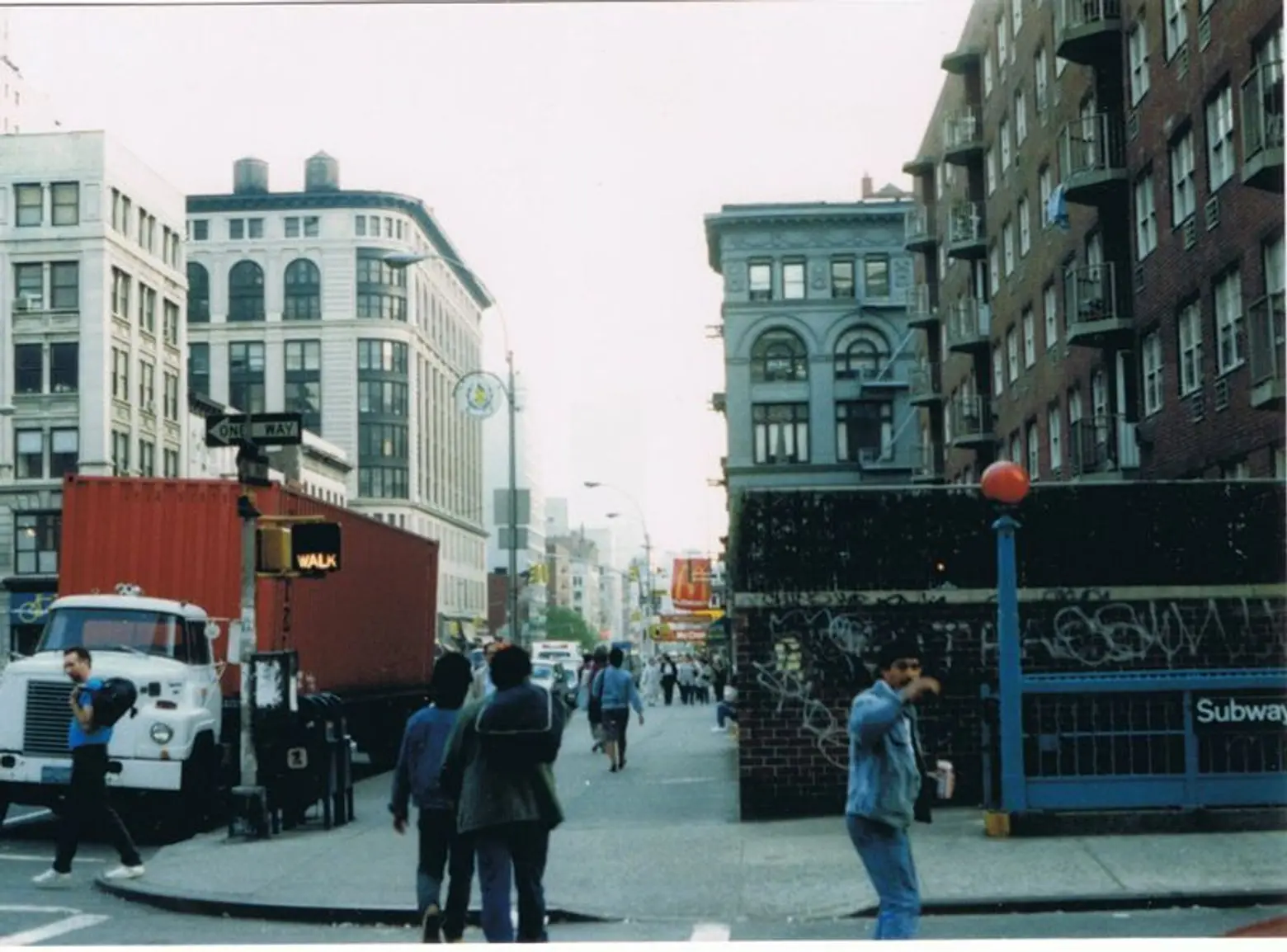 New York City in the late 1980s
You went to grad school in NYC in the 80s, when it was a much different city. How do you feel about Manhattan's evolution since the time you lived here and the architecture that has been produced as a result?
When we were in school—"we" being myself and two of my partners at BKSK, Harry Kendall and Stephen Byrns, at Columbia University's School of Architecture—it seemed as if New York was missing out on some of the most progressive architecture that was germinating in the wider world. It also lacked the energy it has now for public spaces. As students, we loved studying the interaction of buildings, public space, and landscape in European cities, very little of which was in evidence in New York at the time. That is no longer the case.
Where did you find inspiration for the One Vandam? And what would you say is the relationship with its historic surroundings?
Much of our inspiration comes from the commanding presence of historic SoHo loft buildings—the scale of their facades and the way they allow so much light into the interiors. Also, we like to dig deep into the confluence of a building's program (unit design in this case) and the peculiarities of the site to develop architectural solutions. This site's unique mid-block location at the southern tip of Father Fagan Park and the opportunities that emerged out of the zoning lot merger with God's Love We Deliver made this project much more intriguing.
The building is situated in what seems to be the edge of a few neighborhoods — which neighborhood played the most into your creative process while designing?
You are right. This is a site at the edge of a number of neighborhoods. As I said before, the architecture of SoHo is so compelling and the neighborhood merges here with the taller and somewhat ragged scale of Sixth Avenue.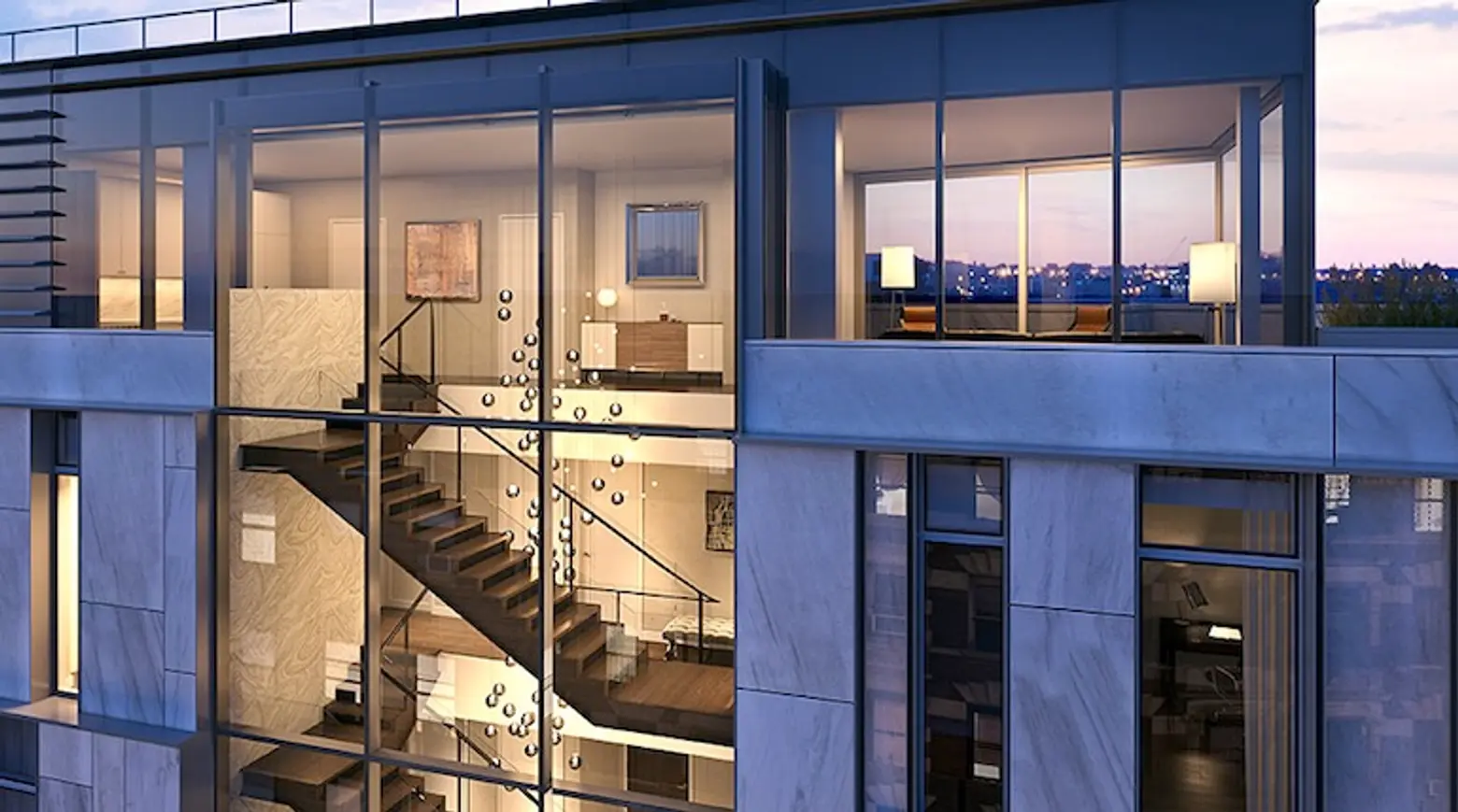 A view into one of One Vandam's penthouses
How much of an intellectual and artistic challenge was it to create One Vandam? Or was it more of a technical challenge?
A really good building involves all of those, you can't separate them, and most importantly a client willing to listen to ambitious ideas. We were very lucky to have that.
How challenging was it to deal with the regulatory and political constraints of this development in your opinion?
The site's regulatory constraints are all spelled out, nevertheless there remains a lot of flexibility within the rules. We tend to define what we want in a building somewhat separately from zoning and then try to figure out how to get there within the rules. If you know where you want to go, the resulting back and forth between regulation and ideal creates limitations that are in fact opportunities.
Expanding a little on that subject: how much of a collaborative effort was to create One Vandam?
I have wonderful and very talented people to work with. Nothing gets done at this scale without that kind of collaboration. The collaborative ethos extends to a wider group than just the architect—the developer, brokers, engineers, owner's reps and contractors. It's wonderful when everyone agrees that something unique is being produced and the whole team is invested in the results.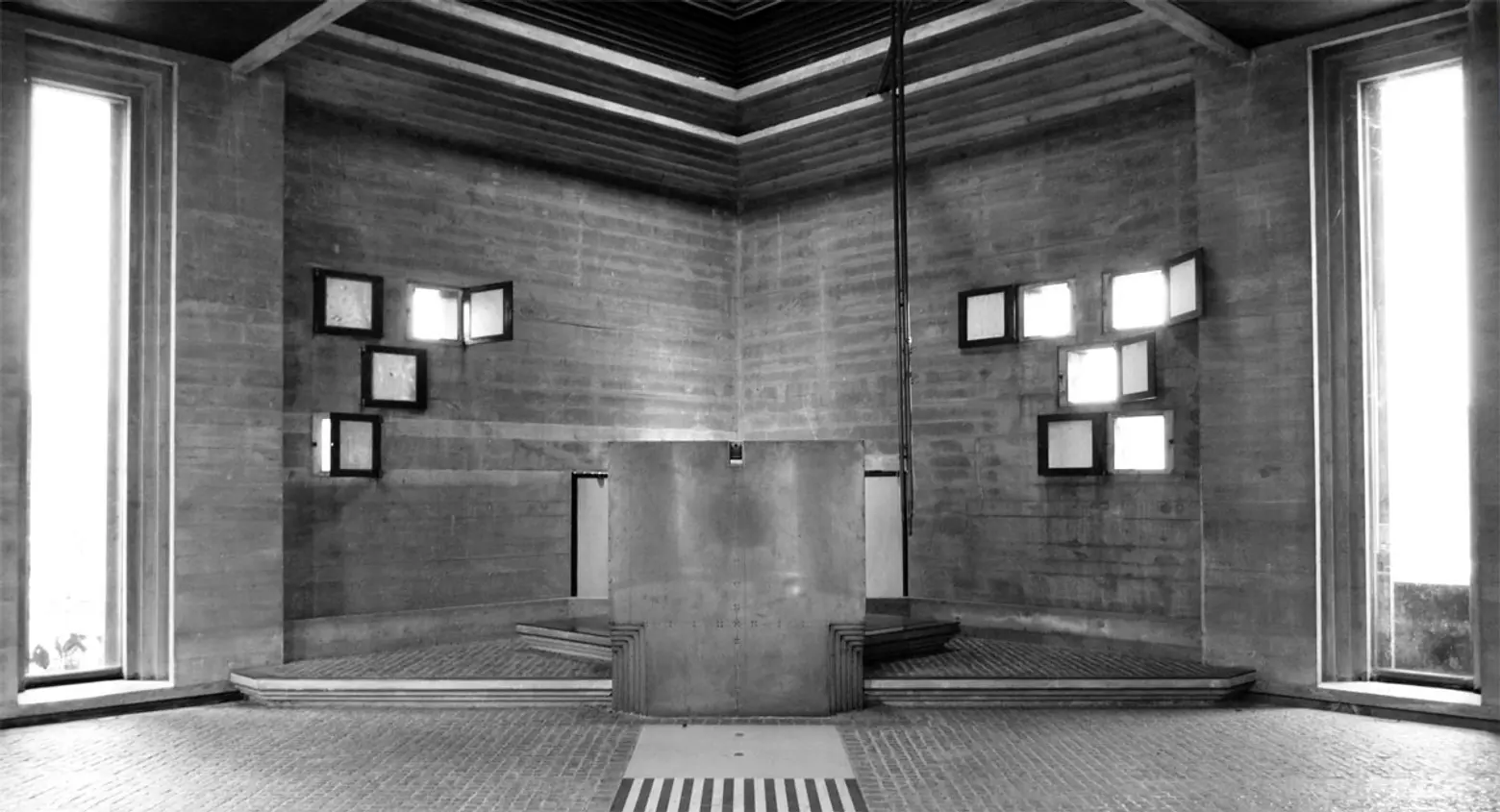 Tomba Brion by Carlo Scarpa
Who is your favorite architect? Which of your contemporaries do you most admire?
I enjoy studying the work of other architects for a variety of reasons. I love the work of Carlo Scarpa, but I cannot come close to emulating his level of materiality. I appreciate the thought process of Robert Venturi's "Complexity and Contradiction" manifesto, and the open, technologically progressive work of Renzo Piano's firm.
What are your favorite buildings and why?
That's a very tough question to answer. Buildings capture my attention for many different reasons. Buildings that come immediately to mind are Carlo Scarpa's Castelvecchio Museum in Verona and the work of Marcel Breuer on the campus of St John's University in Minnesota. Scarpa's Castelvecchio because I "discovered" it on my own when I was young and it was a revelation at a time when the architecture press was dominated by Post Modernism. I made a special pilgrimage to see it and I recall having one nagging question in my mind afterwards about a particular tiled cube at the entry that looked ungainly to me. The next day in a nearby city I saw the exact same ungainly cube in a cathedral from centuries earlier and I understood where he got his inspiration. Breuer in Minnesota is simply a marvelous example of an assemblage of buildings by one architect that are so unique, strong and innovative. The architecture still resonates, and since it's my wife's alma mater, we go back periodically to visit.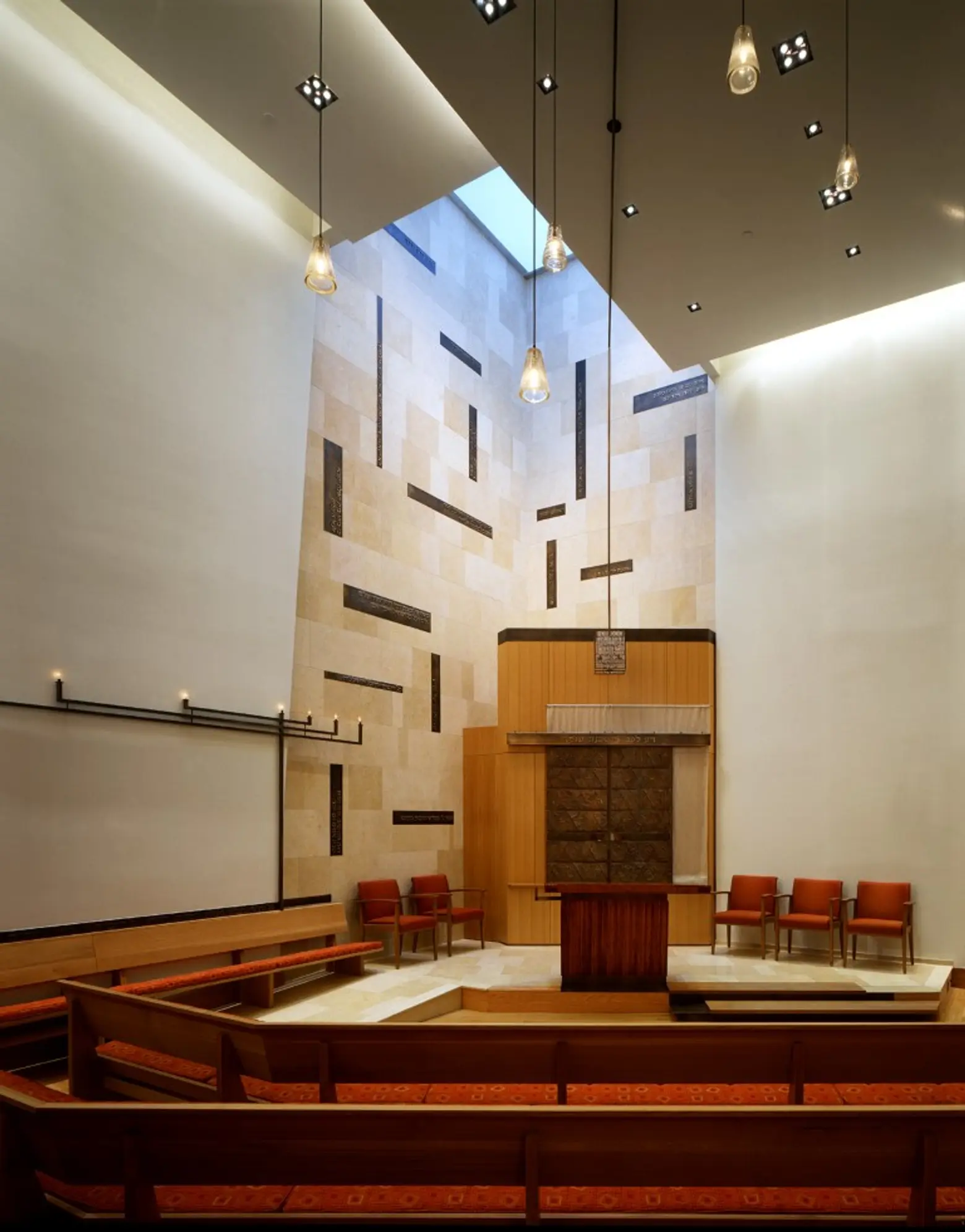 East End Temple at 245 E. 17th St, NYCImage © Jonathan Wallen
Which project has meant the most to you personally and why?
We have a saying here that "we love all our children equally." But, one of my favorites was a small synagogue space that was the product of a very close collaboration with the congregation and turned out beautifully. We designed the space down to the smallest detail. We handmade the model used for the casting of the Ark doors in our back room, which was then obliterated in the casting process so that it could never be replicated. The congregation wrote prayers that were put into the fire of the casting. An inscription, written in the hand of one of the congregants, on the handles reads, "In these doors are cast the prayers and wishes of Congregation El Emet," which is physically and metaphorically true. To be able to design so completely is a joy.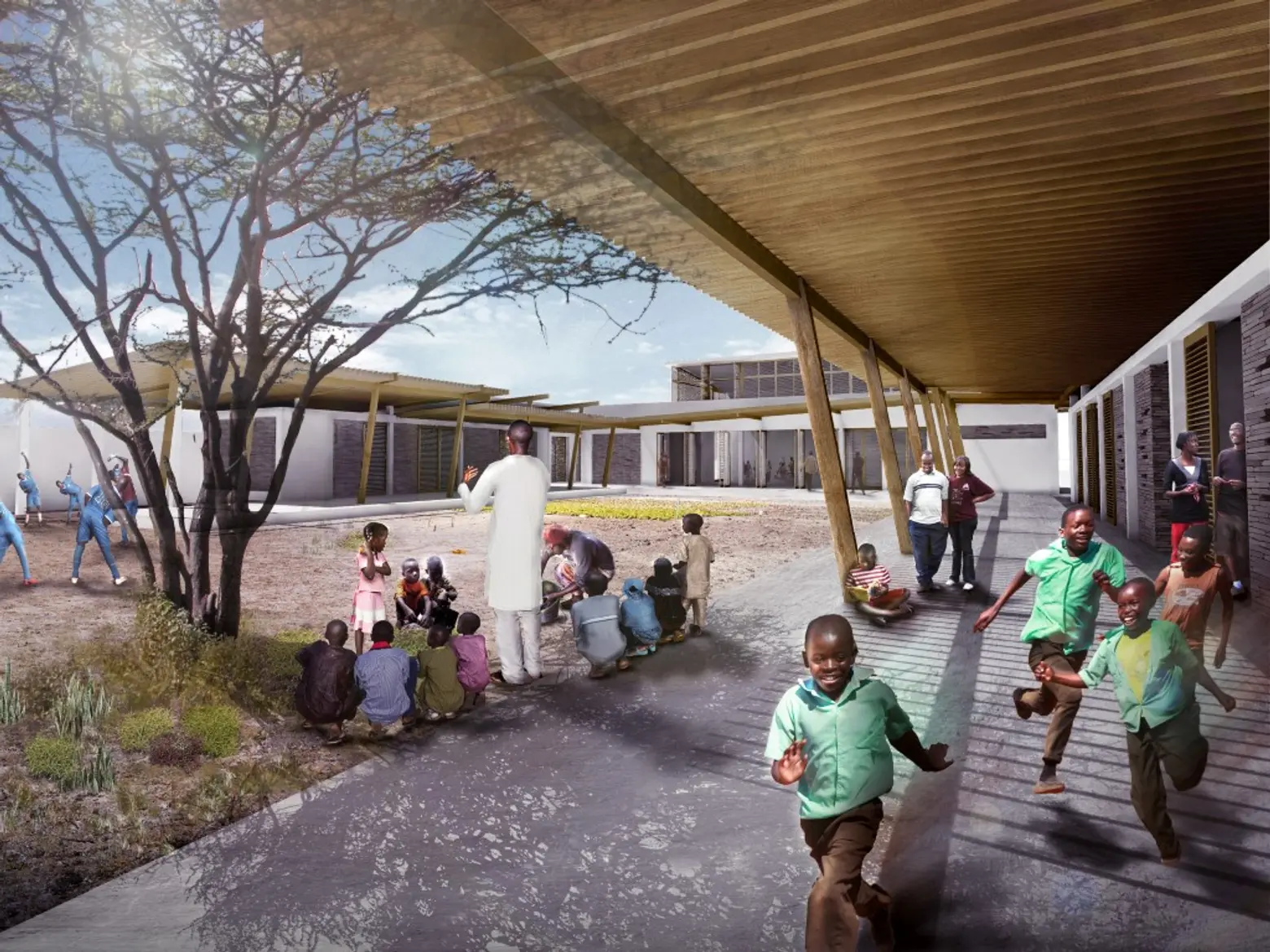 Lambaye Learning Center in Senegal. Rendering by BKSK
What are you working on now? Any future projects in NYC?
BKSK is working on many exciting projects at the moment and I take great delight in seeing the level of ambition in the work of my fellow partners. Most of our projects are here in New York. However, there's a very special one that I'm currently involved with in Africa—a new community learning center for a remote village in Senegal. It's coming to fruition thanks to the joint, cross-Atlantic efforts of village leaders, local craftsmen and builders, an inspired (and inspiring) high school chemistry professor in Mamaroneck, NY with an energetic group of his current and former students, and our team here at BKSK. It's so far been an extraordinarily fun and insightful experience for me. There are other on-the-boards projects in the office that I'm very enthusiastic about, but I can't divulge the details of just yet. You'll have to wait and see.
***
More of BKSK's work can be seen here.