Google will buy St. John's Terminal building in Hudson Square for $2.1B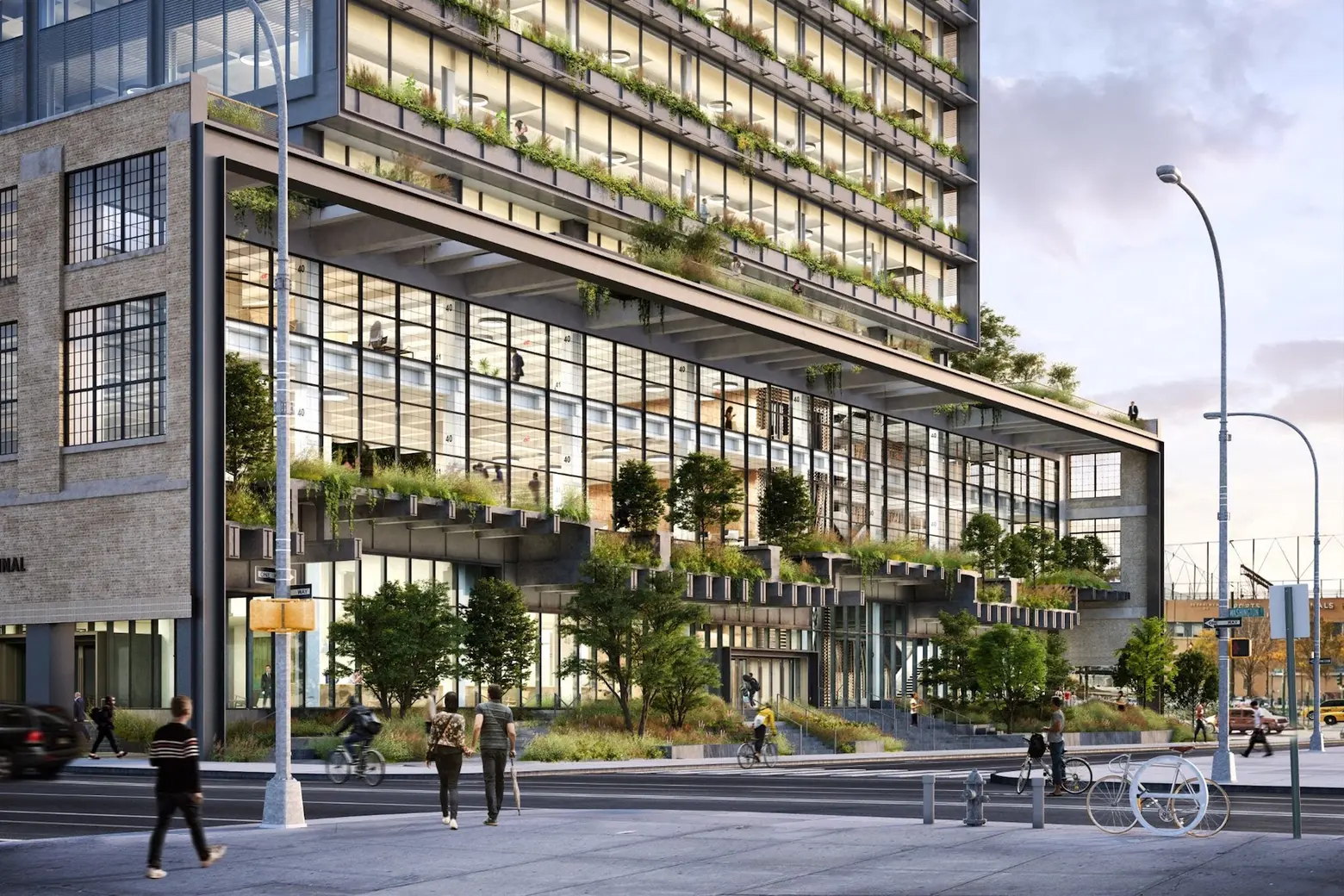 Renderings courtesy of COOKFOX Architects
Google will buy the Manhattan office building it currently leases for $2.1 billion next year. The tech giant announced on Tuesday plans to purchase St. John's Terminal at 550 Washington Street in Hudson Square during the first quarter of 2022. Google already leases the former freight terminal, which is currently undergoing a major renovation and addition as part of the company's new 1.7 million-square-foot campus in the neighborhood. As the Wall Street Journal first reported, the deal marks the priciest sale of a single office building in the United States since the start of the pandemic, as well as one of the most expensive ever recorded.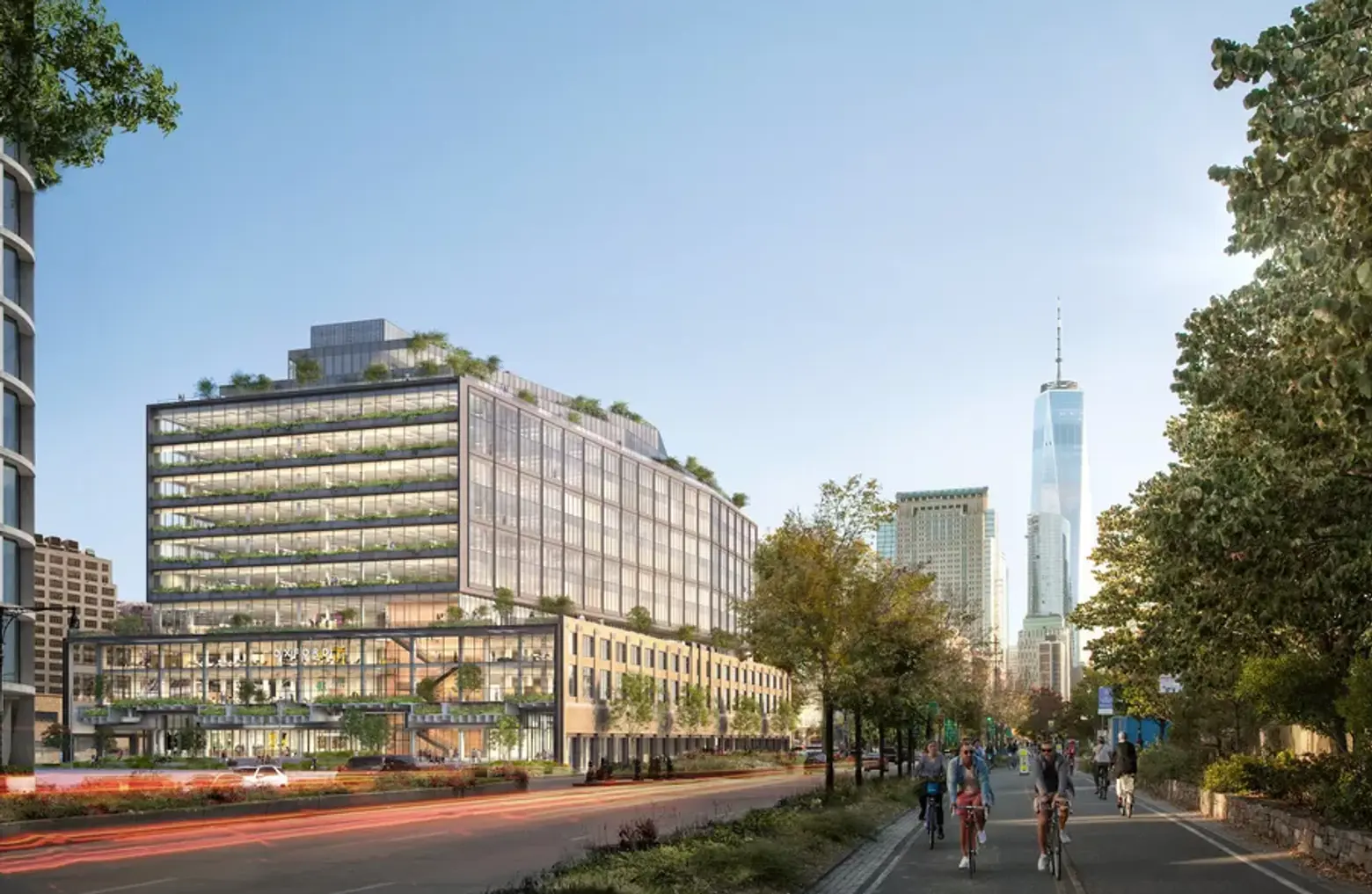 "This announcement from Google is yet another proof point that New York's economy is recovering and rebuilding," Gov. Kathy Hochul said. "We are creating jobs, investing in emerging industries, lifting up New Yorkers, and together, we are writing our comeback story."
Canadian developer Oxford Properties bought St. John's Terminal in 2017 for $700 million and soon after selected COOKFOX Architects to convert the building, constructed in 1934, into a 12-story office complex.
In 2018, Google announced it would invest $1 billion in a new Hudson Square campus, leasing properties at 315 Hudson Street, 345 Hudson Street, and 550 Washington Street as the campus anchor. The work at the Hudson Street buildings is complete and Google expects the St. John's Terminal site to open by the middle of 2023.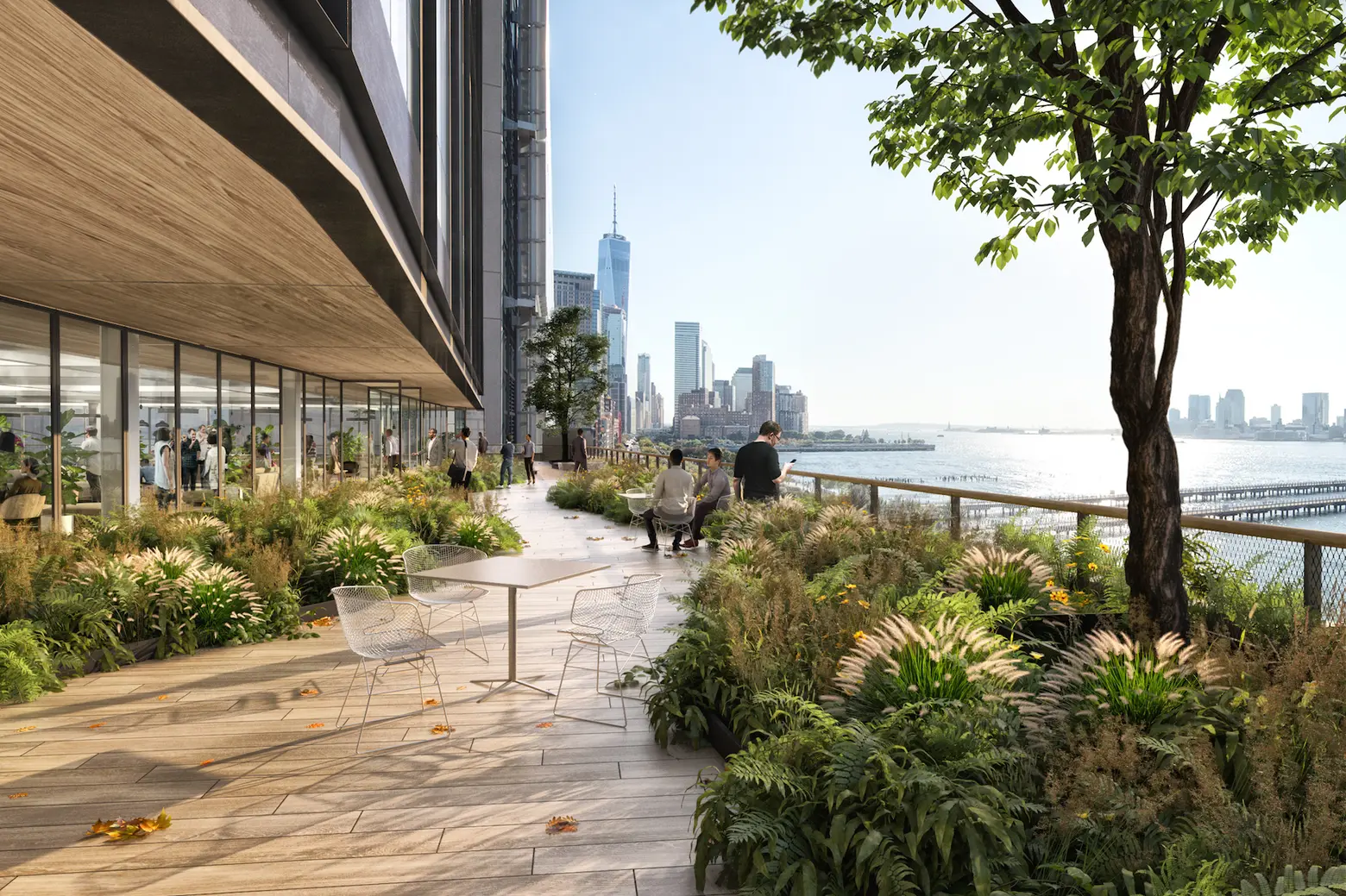 Located just two blocks from Hudson River Park's Pier 40, the former freight terminal is being redeveloped as an eco-friendly, sustainable office building, with floor-to-ceiling windows, outdoor planted roofs and terraces, and a connection to the waterfront. The building will also offset 100 percent of its carbon.
As 6sqft previously reported, construction work at 550 Washington involved demolishing the overpass covering West Houston Street to reveal the original railroad tracks and adding nine stories on top of the structure's three existing floors, tripling the terminal's height from 80 to 232 feet. The building could house more than 8,500 Google employees, according to the company.
In recent years, Google has greatly expanded its New York City footprint, snatching up a 325,000-square-foot building in Chelsea for $600 million in 2019. The company's headquarters are located at 111 Eighth Avenue, it owns the apartment buildings across the street, and bought the Chelsea Market building last year for $2.5 billion, one of the biggest single sales in the city.
Google also will be the anchor tenant at Pier 57, the mixed-use development coming to the Hudson River. The company will occupy about 320,000 square feet at the site, which will include a public food hall, galleries, educational space run by the Hudson River Park Trust, and the "city's largest public rooftop space," according to Google.
Pier 57 is expected to be completed sometime next year. The company plans to grow its New York City workforce to more than 14,000 employees in the coming years.
"New York's energy, creativity and world-class talent are what keep us rooted here and why we're deepening our commitment with plans to purchase St. John's Terminal," Ruth Porat, Alphabet and Google CFO, said. "We look forward to continuing to grow along with this remarkable, diverse city."
Once known as the city's, printing district, Hudson Square is currently transforming into a tech, media, and business district, thanks to the 2013 rezoning of the neighborhood. Disney also is opening a new headquarters at 137 Varick Street, also known as 4 Hudson Square.
Trinity Church Wall Street, which had owned 40 percent of the neighborhood as part of a 1705 gift from Queen Anne, and Norges Bank Investment Management with Hines is developing a 16-story office building at 555 Greenwich Street, a COOKFOX-designed tower expected to be one of the city's most efficient buildings.
RELATED: