Disney will move from the UWS to Hudson Square in $650M deal with Trinity Church
Photo via Wikimedia
The Walt Disney Company announced Monday it will move its operations from the Upper West Side to Lower Manhattan, where the media giant is planning to build modern production space and offices. Disney purchased the rights to develop Trinity Church's property at 4 Hudson Square for $650 million under a 99-year agreement. The site covers a full city block, bordered by Hudson, Varick, Van Dam and Spring Streets.
"This move represents an historic step forward toward our long-term vision for our New York operations," Robert Iger, CEO of Disney, said in a statement. "The Hudson Square district is rapidly becoming a dynamic, innovative hub for media, technology and other creative businesses."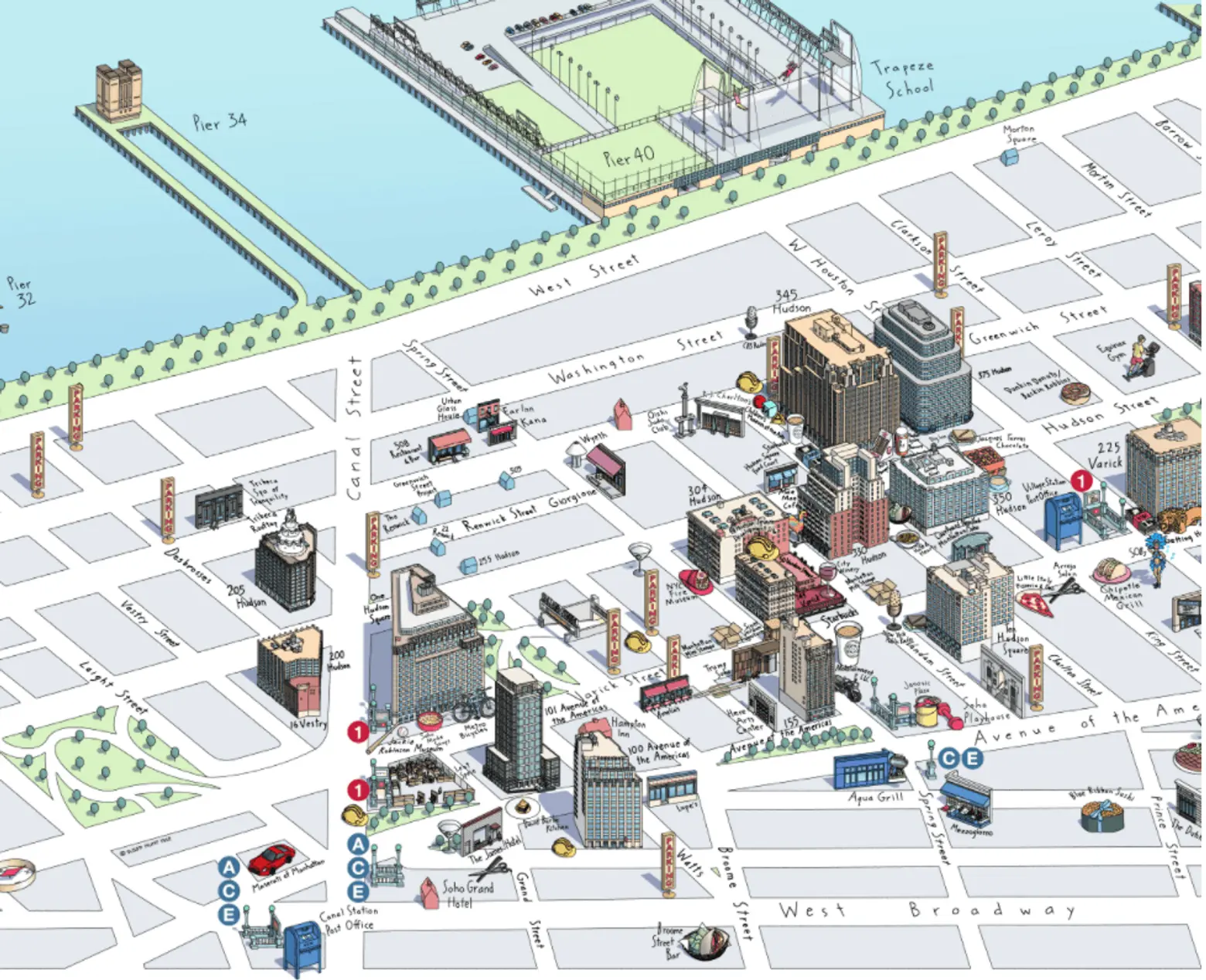 Hudson Square map via Trinity Wall Street
Disney plans to build a one-million-square-foot tech campus to house ABC headquarters and WABC News. The space will also contain offices, production space and studios for "The View" and "Live With Kelly and Ryan." On Tuesday the company plans to close on a deal to sell its Upper West Side complex on Columbus Avenue and 66th and 67th Streets and along West End Avenue for $1.155 billion to Silverstein Properties.
Once known as the Printing District, the neighborhood of Hudson Square is now experiencing a boom of luxury condominiums, as well as a growing field of tech and media companies, following a 2013 rezoning of the 18-block area.
The rezoning greatly benefited Trinity Church as it owned nearly 40 percent of Hudson Square (Queene Anne granted the church 215 acres of land in 1705). Overall, the rezoning framework allowed for more than 3,300 units of new residential space, 140,000 square feet of retail space, 140,000 square feet of office space and 75,000 square feet for community facilities.
Currently, the site of 4 Hudson Square has four buildings, including 304 Hudson Street and 137 Varick Street, with office and retail tenants in both. Disney has not selected an architect for the project as of yet, but according to the New York Times, the company is working with development and management company Hines.
The president of the Lincoln Square Business Improvement District, Monica Blum, thanked Disney for its years on the UWS and welcomed Silverstein Properties.
"We look forward to welcoming Larry Silverstein and many new residents to this thriving and growing residential community, home to the City's finest cultural amenities, and diverse retail and dining opportunities," Blum told 6sqft in an email. "Our organization continues to welcome change to our neighborhood, which is what makes New York City the greatest City in the world."
Disney purchased the building of the Hudson Square business City Winery, a live entertainment and culinary space whose flagship has been located on Varick Street for over a decade, forcing them to relocate.
"It is inevitable in a city like New York that 2-story buildings will eventually yield to taller ones. It is unfortunate to see historically significant 120-year-old brick and beam gems get swapped for 50-story generic glass towers," Michael Dorf, founder of City Winery said.
"The character of the neighborhood has changed with the addition of the Trump Tower. It is my hope that the design of this new Disney building – and the millions of square feet Google is adding to their office – will be a positive addition to the dynamism of our vibrant community."
RELATED: