Glass vs. Stone: An Epic Architecture Battle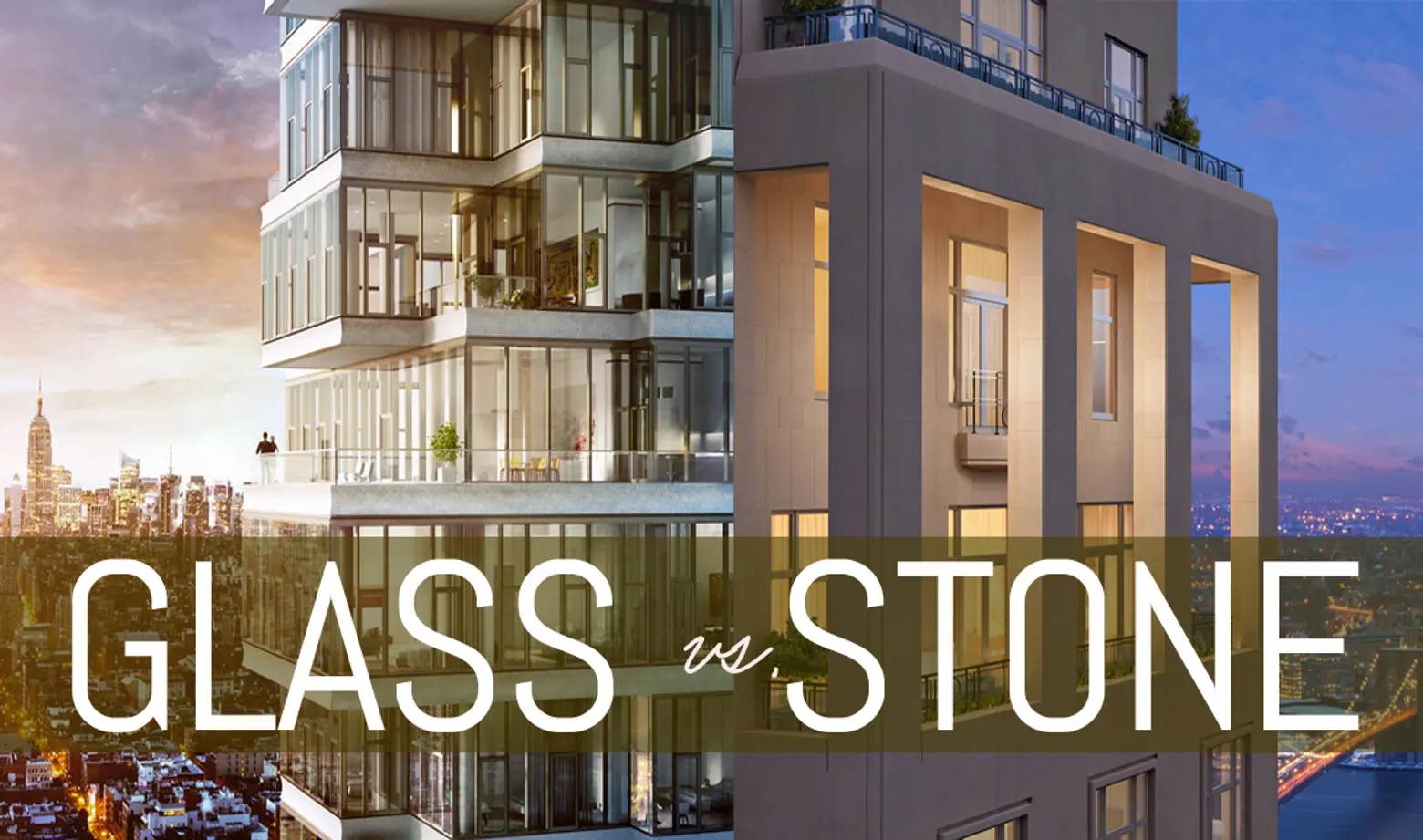 Decisions, decisions…sometimes there's just far too many in New York City. Thai or Chinese takeout? Subway or bus? Central Park or the High Line? The list goes on. And one of the most grueling decisions we make as New Yorkers is where to live. From choosing a borough and neighborhood to deciding on a price point, it's quite the undertaking. But what about the most elementary component of the building in which we decide to live–it's material. To be more exact, glass or stone.
Glass tower dwellers are often drawn to the floor-to-ceiling windows, panoramic views, and clean lines, whereas buyers of apartments in stone buildings prefer a more traditional feel, with pre-war-style layouts that provide great separation of spaces. And some of the city's most prominent architects have become synonymous with one style or the other. Think Richard Meier for glass and Robert A.M. Stern for stone. CityRealty decided to take a closer look at this epic battle and see how pairs of glass and stone developments fared across the city.
Time Warner Center vs. 15 Central Park West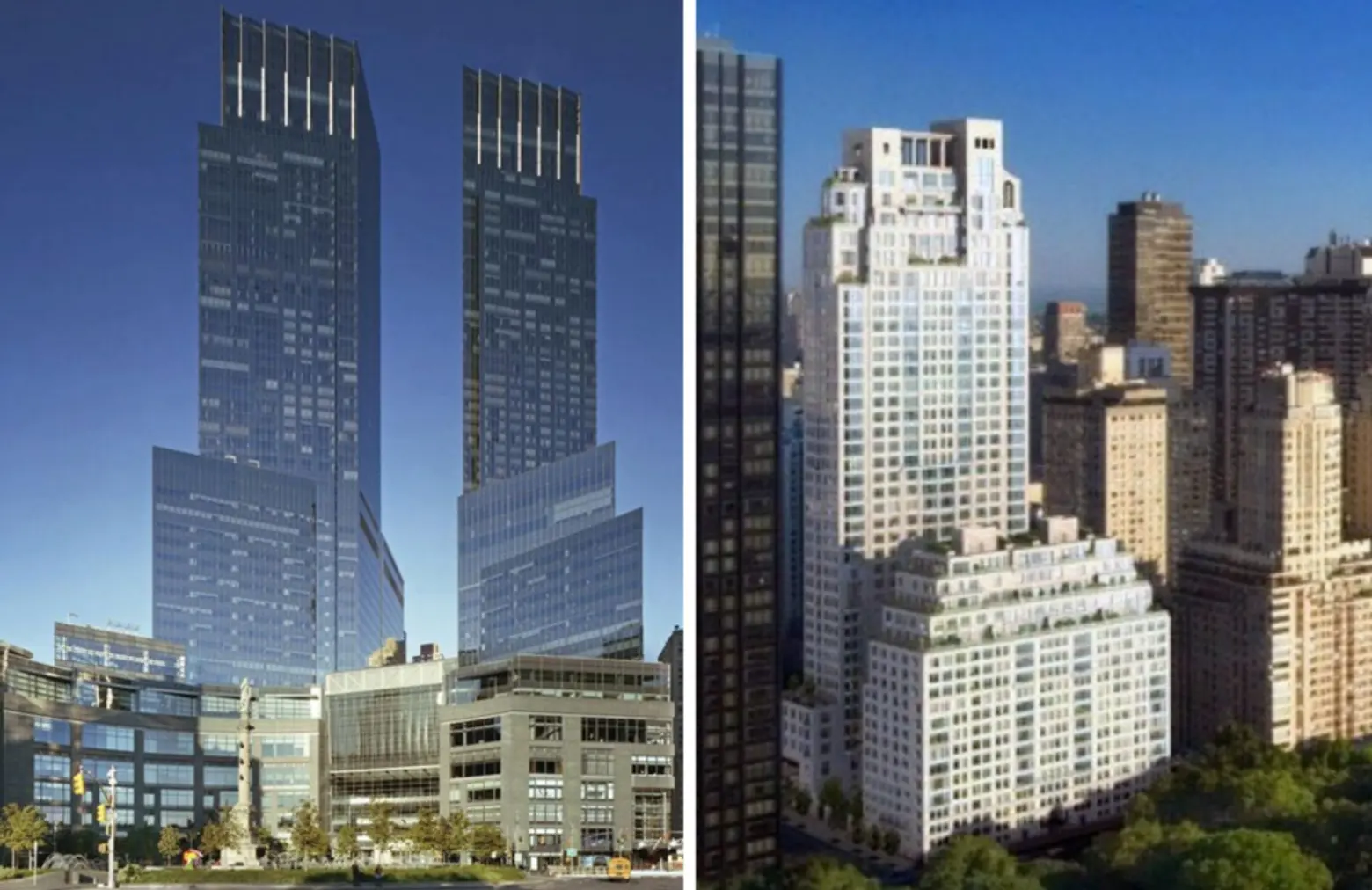 Time Warner Center (L) and 15 Central Park West (R)
These buildings are two of the most successful along the southern section of Central Park West. The double-towered Time Warner Center, designed by David Childs of Skidmore, Owings and Merrill with a reflective glass facade, opened in 2003. 15 Central Park West, designed by Robert A.M. Stern as two limestone towers, was erected in 2007 and fits seamlessly with the surrounding pre-war landmarks. It's noted for exceptional views, high ceilings, and classic details.

The average price per square foot at the Time Warner Center has more than tripled over its 11-year lifetime – from $1,716 in 2003, to $5,407 in 2014. But from a sales perspective, 15 Central Park West has crushed its competitor almost every year. "The Limestone Jesus" reached its peak in 2012, with an average price per square foot of $7,884, more than $3,000 higher than Time Warner Center's 2012 average of $4,203. That was the same year the 15 CPW penthouse sold for a record-breaking $88 million.
Winner: Stone!
The Brompton vs. The Lucida
These two might be the most similar of the pairings–they were both built in 2009, are a block apart, and are roughly the same size and height. The Brompton, a Gothic brick-and-stone building at 205 East 85th Street, was designed by Robert A.M. Stern. It's known for its exceptional layouts and interiors, including oversized windows, 6-foot soaking tubs, entry foyers, and walk-in closets. The Lucida, an all-glass building, was designed by Cook + Fox and is the Upper East Side's first LEED-certified green building. It's noted for its floor-to-ceiling windows and open, bright interiors.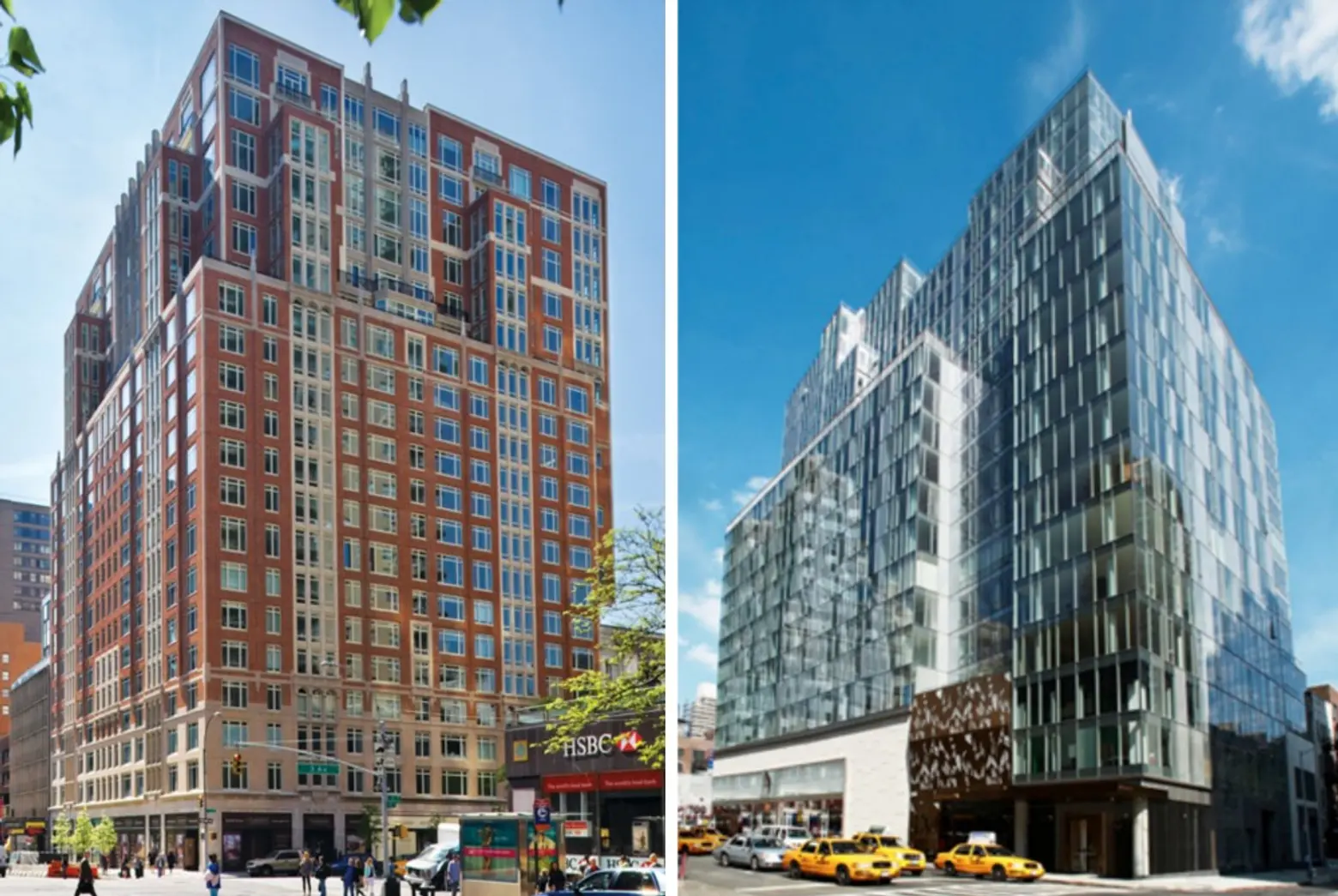 The Brompton (L) and the Lucida (R)
Since opening, the Lucida has consistently outsold the Brompton. Last year, the buildings saw the greatest price differences, with the Brompton averaging $1,615 a square foot, as compared to the Lucida's average of $2,235.
Winner: Glass!
One Madison vs. 10 Madison Square West
One Madison is a 60-story, all-glass sliver tower with unobstructed, floor-to-ceiling views of the Empire State Building and the MetLife Clock Tower. Designed by Cetra/Ruddy, it floundered briefly during the financial crisis, but has come back with a vengeance thanks to its striking, contemporary layouts. Nearby at 10 Madison Square West, the 16-story southern half of the former Toy Center is being converted to luxury condos with a six-story modern addition to house the "Tower Residences." The brick-and-limestone building was designed in 1915 by William Van Alen, famous for his design of the Chrysler Building. It has classic interior elements, large windows, and a private courtyard garden.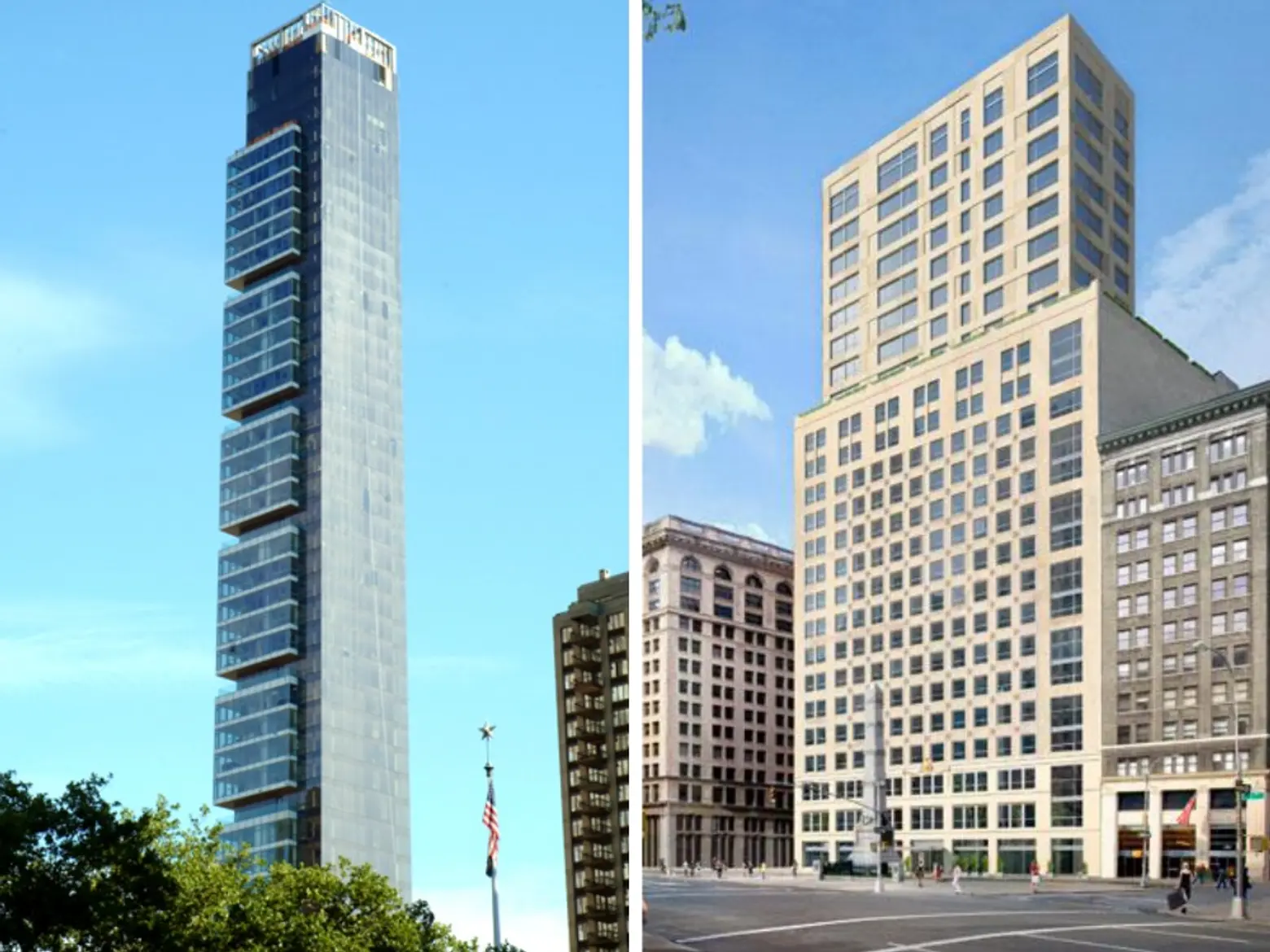 One Madison (L) and 10 Madison Square West (R)
Since apartments haven't yet closed at 10 Madison Square West, CityRealty compared sales data on the two buildings' penthouse units. In February, Rupert Murdoch purchased the 6,850-square-foot, triplex penthouse at One Madison for $43.01 million, or $6,279 a square foot. The 6,708-square-foot, five-bedroom penthouse at 10 Madison Square West sold in July for $36.5 million, or $5,441 a square foot.
Winner: Glass!
56 Leonard vs. 30 Park Place
Both of these hot new developments are currently taking shape in Tribeca. Robert A.M. Stern is once again showcasing his limestone handiwork at 30 Park Place, an 82-story tower that will house the Four Seasons Hotel on its lower floors and 157 luxury condominiums on its upper floors. Stern designed the building to evoke the same style as nearby landmarks the Woolworth Building, One Wall Street, and 20 Exchange Place. 56 Leonard is rising just eight blocks north. The 57-story, deconstructed glass tower is courtesy of Pritzker Prize-winner Herzog & de Meuron. Each of its cantilevered floors is rotated from the floors directly above and below. Units will have 12-to-14-foot ceilings and glass doors opening to a private balcony.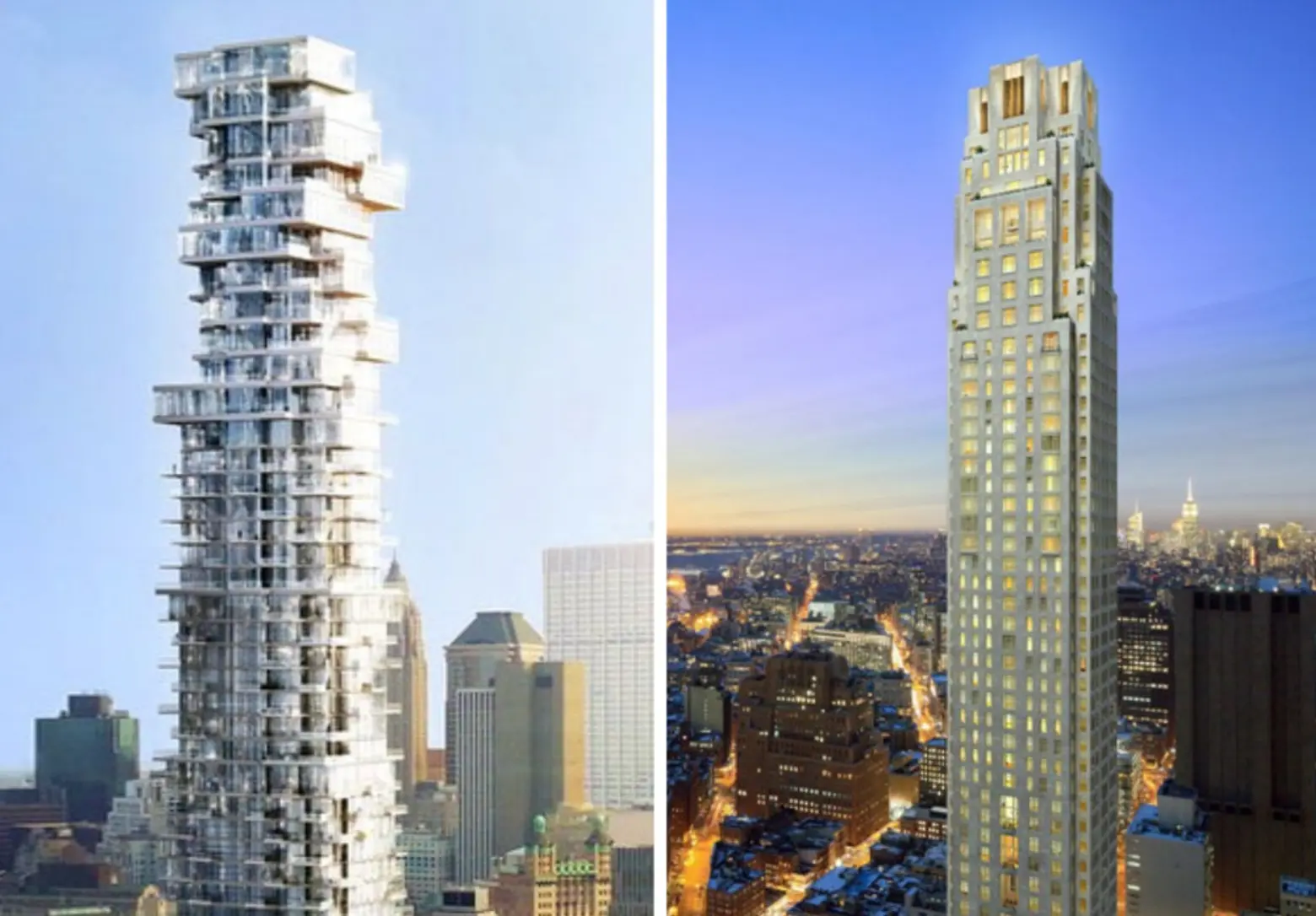 56 Leonard (L) and 30 Park Place (R)
56 Leonard Street has an average sale prices of $3,336 per square foot, which is higher than 30 Park Place's $3,092 average.
Winner: Glass!
Well, it looks like glass pinned stone into a corner. What are your thoughts on this epic battle? Let us know in the comments below.
[Via CityRealty]
Photos courtesy of CityRealty