From oysters to falafel: The complete history of street vending in NYC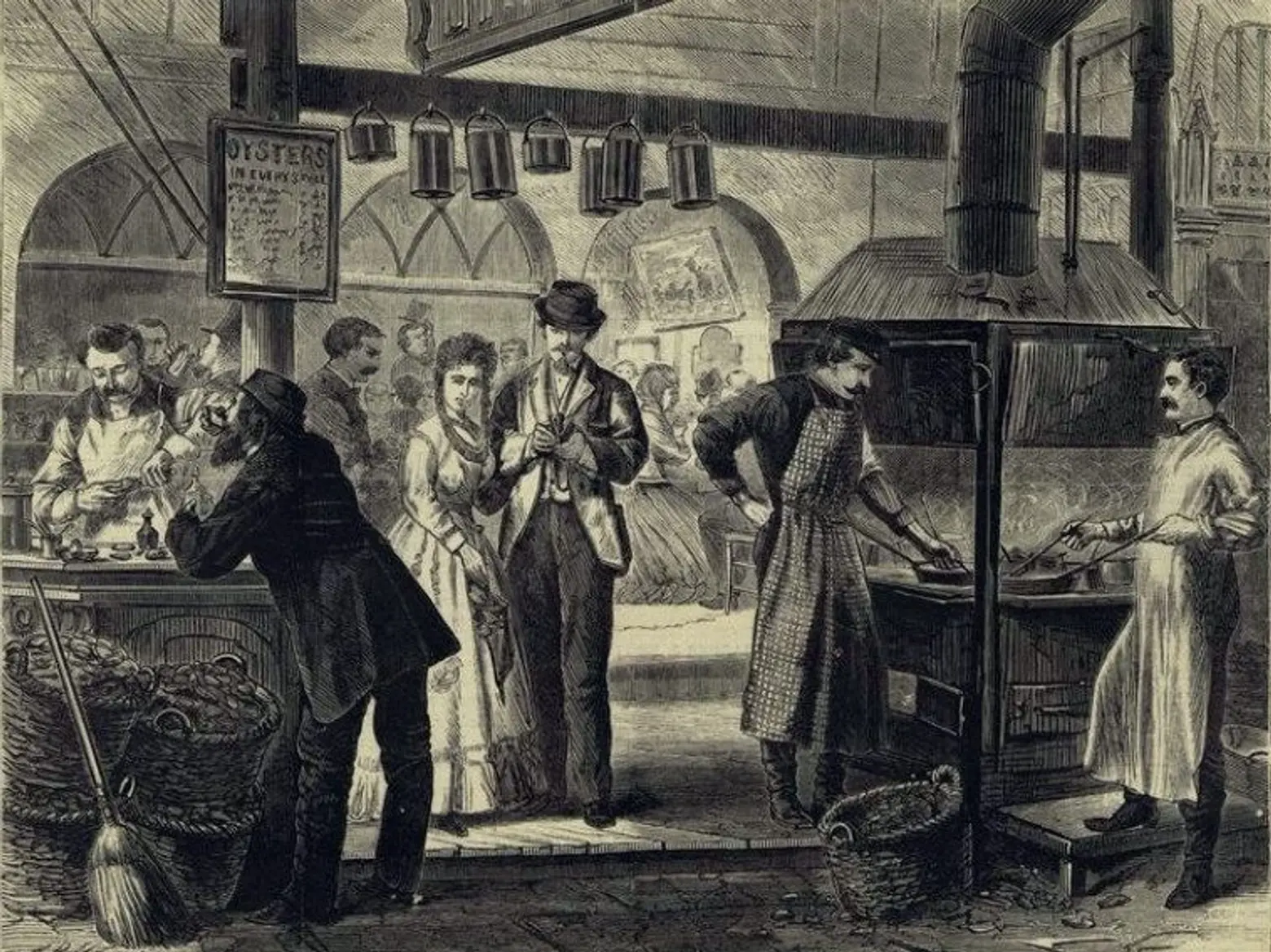 To fully experience New York City, you have to eat. And then eat some more. So inextricably linked with its food, the city's social and cultural history requires an exploration of its endless cuisines. And while street food is not unique to New York, the city provides some of the most diverse dining options in the world, with over 10,000 people make a living by street vending. But this tradition dates all the way back to the 1600s when European settlers enjoyed eating shellfish on the streets. Food vendors took on a more formal incarnation in the early 1800s on the Lower East Side and have changed with every new immigrant group that's landed here since. From oysters and knishes to hot dogs and Halal, the city's street vendors reflect its constant evolution and also what brings New Yorkers together.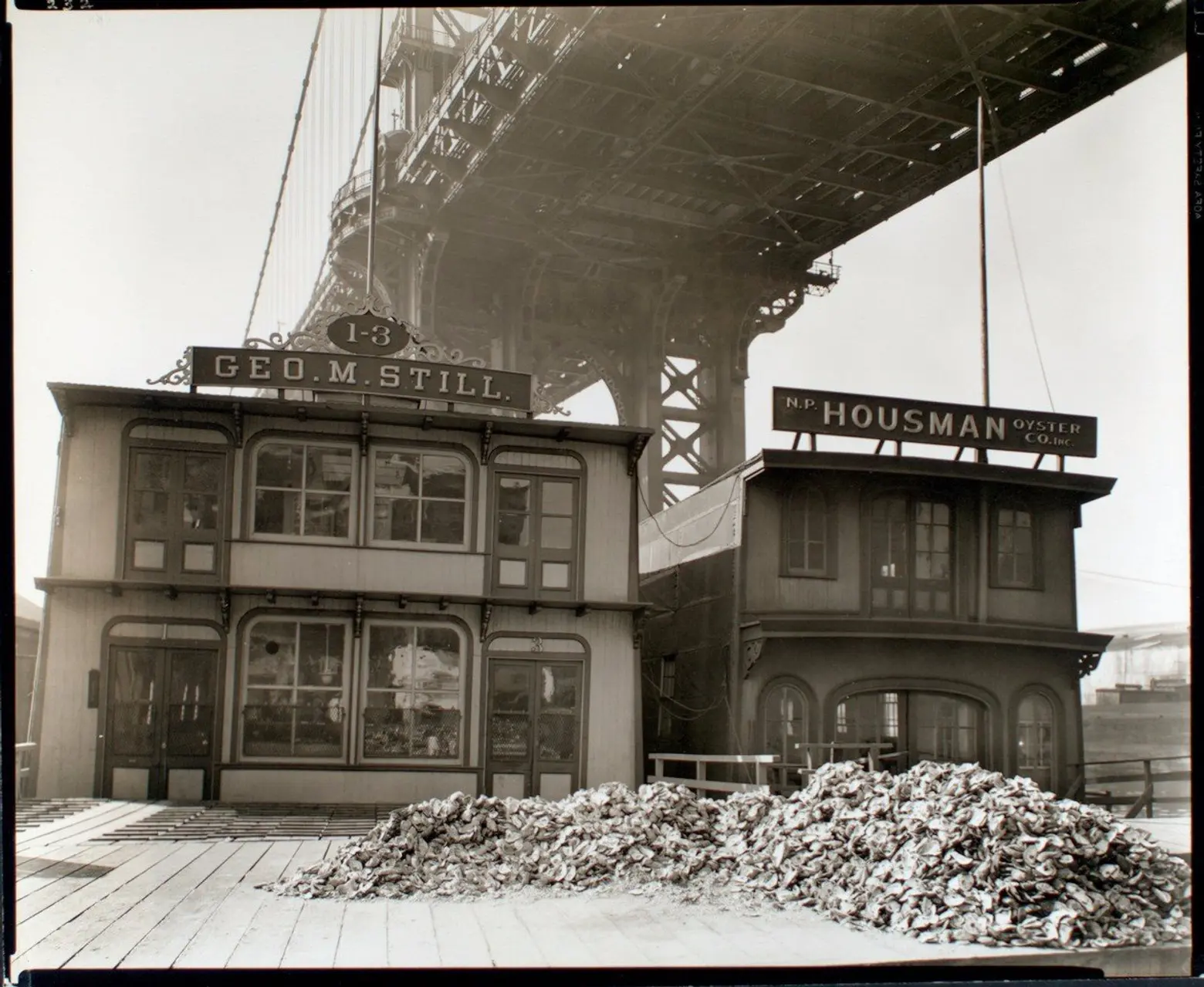 Oyster Houses, South Street and Pike Slip, Manhattan (1937), photo via NYPL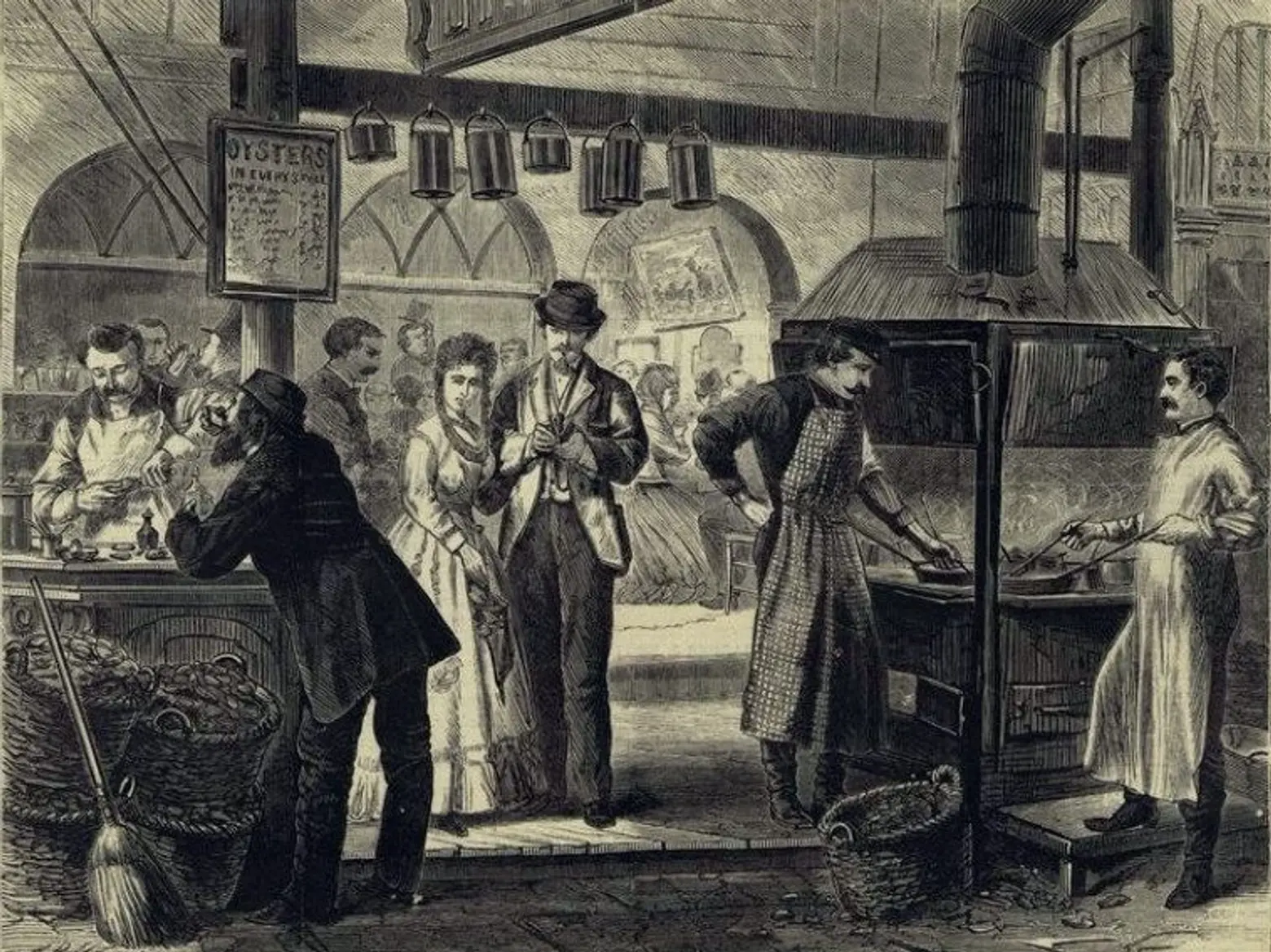 Oyster Stands In Fulton Market (1870), photo via NYPL
The city's oyster obsession

Surprisingly, neither hot dogs nor pretzels were the first food to be sold on the streets of NYC. The earliest known street foods were actually oysters and clams, which were inexpensive and easy to find. When Henry Hudson first arrived in 1609, he discovered one of the world's most impressive harbors. Below the many incredible whales and countless fish sat over 220,000 acres of oyster beds on the harbor floor, totaling almost half of the world's entire oyster population. As Untapped Cities discovered, Europeans visiting the area were first introduced to the idea of eating oysters by the local Lenape tribe. They would open the shells by wrapping the entire oyster in seaweed and throwing them into a fire.
In what is now the Gowanus Canal, oysters used to grow as big as the size of dinner plates. Oyster carts were found on the city's streets and vendors even set up shop on boats tied up along the canals. The oysters then became too popular and in 1820, the oyster beds around Staten Island were depleted. Despite this, oyster-enthusiasts kept harvesting them. In the early 1900s, over one billion oysters were being pulled each year.
One of the most notable figures of New York City's oyster phenomenon was Thomas Downing, a pioneer in the business. A former slave, he settled in NYC with his family and opened an oyster house on Broad Street in 1825; it soon became one of the most famous restaurants in the city. Downing sold raw oysters, fried oysters, stews and even a poached turkey stuffed with oysters. Not only was he known for his good food, he became a well-respected activist in the abolitionist movement.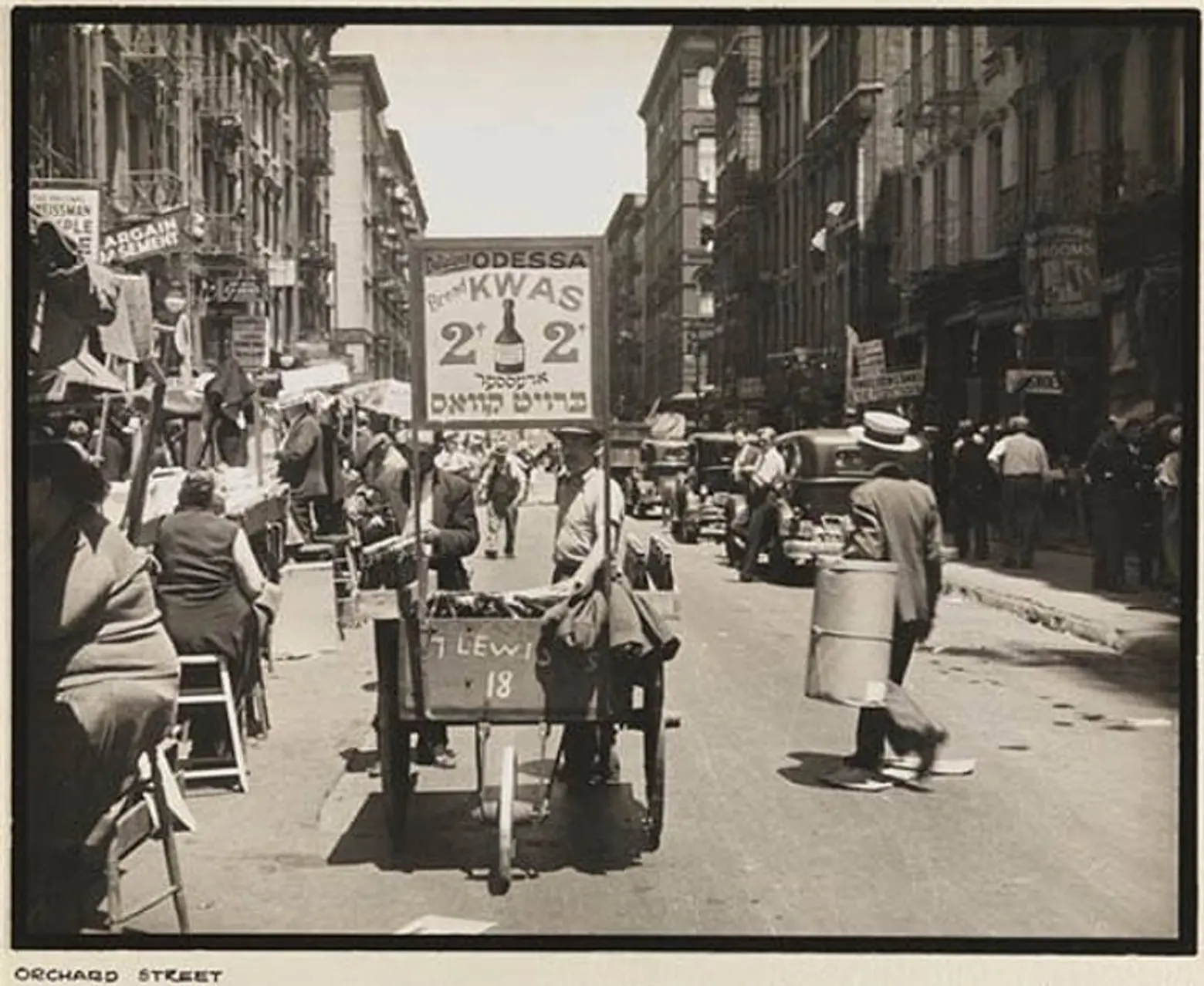 A vendor selling Jewsih goods on Orchard Street, image courtesy of MNCY
Popularity of pushcarts

Since even the poorest of citizens ate oysters in New York, they were served to customers in the streets. While pushcarts, essentially a cart on wheels, have been a part of the city's streets for centuries, at the end of the Civil War a lot of immigrant communities started moving to the city, especially settling in the Lower East Side. In the 1840s, with an influx of Irish and German immigrants, tenement apartments started popping up all over the LES. Then, between 1880 and 1925, 2.5 million mostly-impoverished Ashkenazi Jews immigrated to New York. To make ends meet, many Jewish immigrants independently operated pushcarts. According to a 1927 Department of Public Markets report, the first pushcarts were set up on Hester Street in 1866. By 1900, 2,500 open-air vendors actively sold their goods (think Knishes and Kosher dill pickles). As these unregulated mini markets grew, so did their corruption and uncleanliness.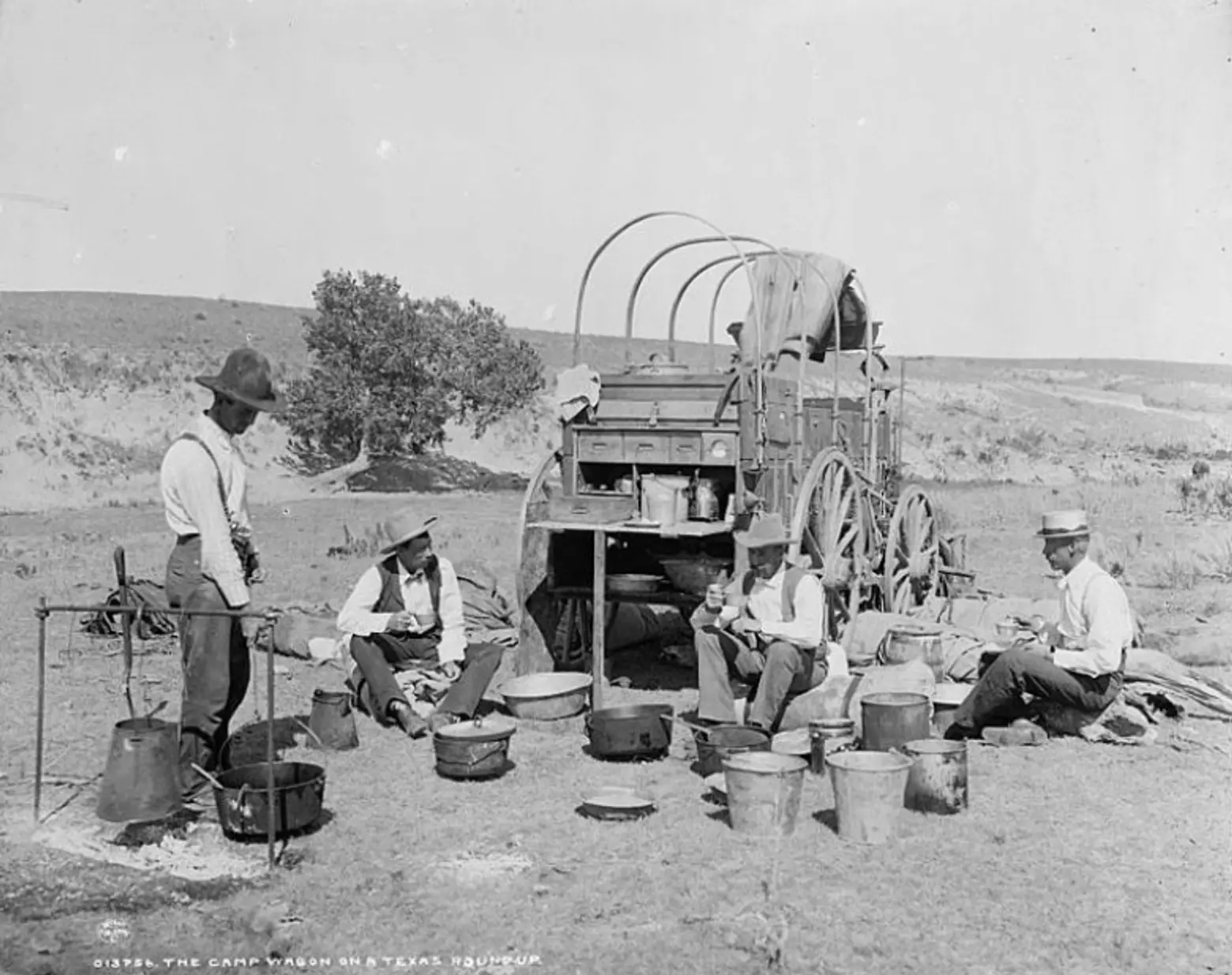 A chuck wagon from 1900, photo via Wikipedia
Cowboys as food pioneers

Some say the food truck's direct lineage can be linked to the Texas chuck wagon, which was used for storage and perishable food items, like beans, salted meats, and coffee. Other say it can be traced back to 1872 when a vendor named Walter Scott cut windows into a wagon parked outside a newspaper office in Providence, Rhode Island. He sold sandwiches and coffee to journalists working late. Known as "lunch wagons," the popularity of these on-the-go dining spots soon spread to other cities.
Near the end of the 19th century, New York City witnessed a boom of food wagons called "Owls." These were food wagons that sold hot food and drinks to workers after restaurants closed shop, from 7:30pm to 4:30am. The first lunch wagon to hit the city came in 1893 from the Church Temperance Society. After great success, the Women's Auxiliary of the Church Temperance Society opened more around the city, serving tea, coffee, milk, and sandwiches for five cents each. In 1894, the group was so successful, they supplied 67,000 meals and made $1,100 that year. By 1930, food wagons were replaced by motorized versions.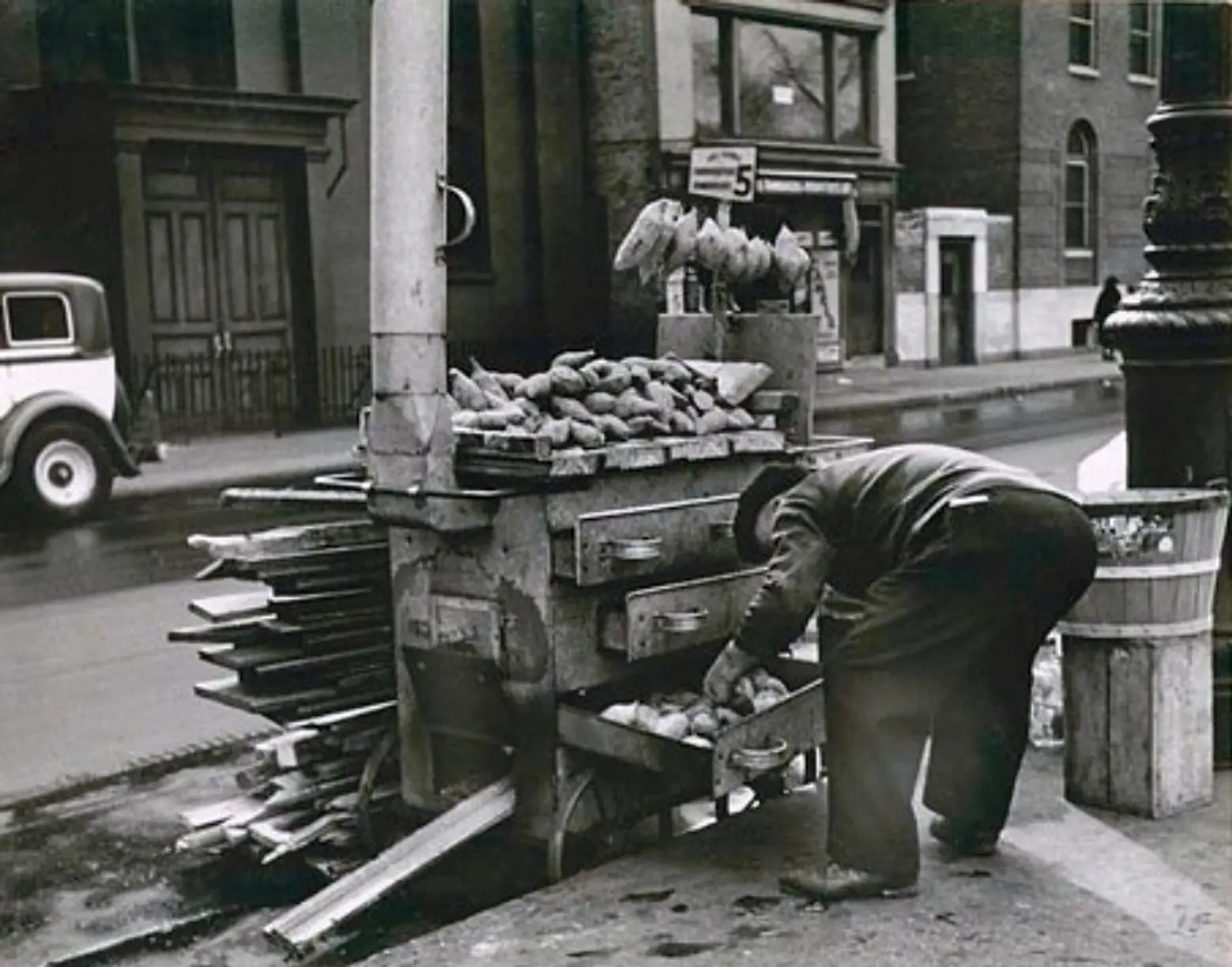 A man selling potatoes during the Great Depression  via Ephemeral NY
Apple sellers of the Great Depression

During the Great Depression, street carts became popular out of necessity. So many New Yorkers were unemployed that many resorted to selling cheap goods like apples or potatoes. In the fall of 1930, Joseph Sicker, chairman of the International Apple Shippers' Association, had an idea to put people to work by selling apples for a nickel on the street. Now an iconic image of the Depression in the city, apple sellers made up about an estimated 4,000 to 6,000 of those who were unemployed. Overcrowding led to police intervention, sales were banned in many spots, and apple cores covered the streets. As the cheap apple supply ran out by 1931, vendors lost profits and the program stopped working.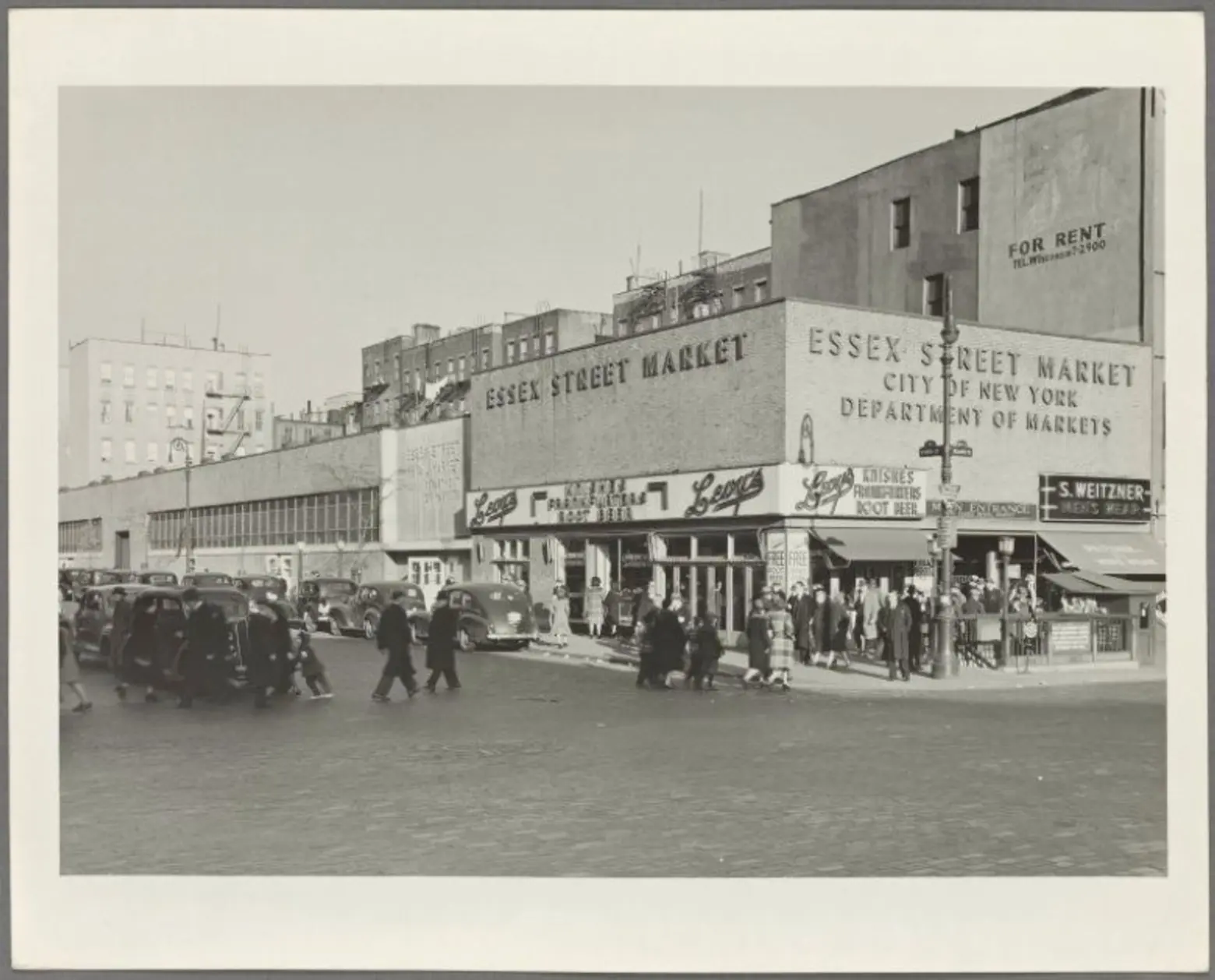 Essex Street – Delancey Street, Essex Street Market via NYPL
Mayor LaGuardia's market

After too many complaints about the unsanitary and unsafe conditions of pushcarts, city officials started pushing back against these food carts. By the 1930s, Mayor Fiorello LaGuardia made it a mission to eradicate "pushcart evil" and called it a "blemish on the face of the city." New laws regulating street food and vendors began under LaGuardia, beginning with the prohibition of goods being sold on the street.
Using federal funds, LaGuardia opened the Essex Street Market in 1940 as a place for street vendors to do business in a more orderly fashion. The market opened with 475 stalls across four buildings. The Lower East Side market was first shaped by the community's Jewish and Italian immigrants, who both made and purchased the fresh fare. During the 1950s, the market evolved when the demographics shifted and Puerto Ricans began settling in the area. By the '70s, New Yorkers started using other brick-and-mortar and convenience stores instead of the market's vendors, and by the mid '80s, only 59 vendors were left. To preserve the historic market, the New York City Economic Development Corporation (NYEDC) assumed control and completed a $1.5 million renovation in 1995. Next year, the Essex Street Market will relocate to mega-development Essex Crossing as part of their 150,000- square-foot Market Line food hall, but it will continue to operate as a public market with affordable and specialty foods.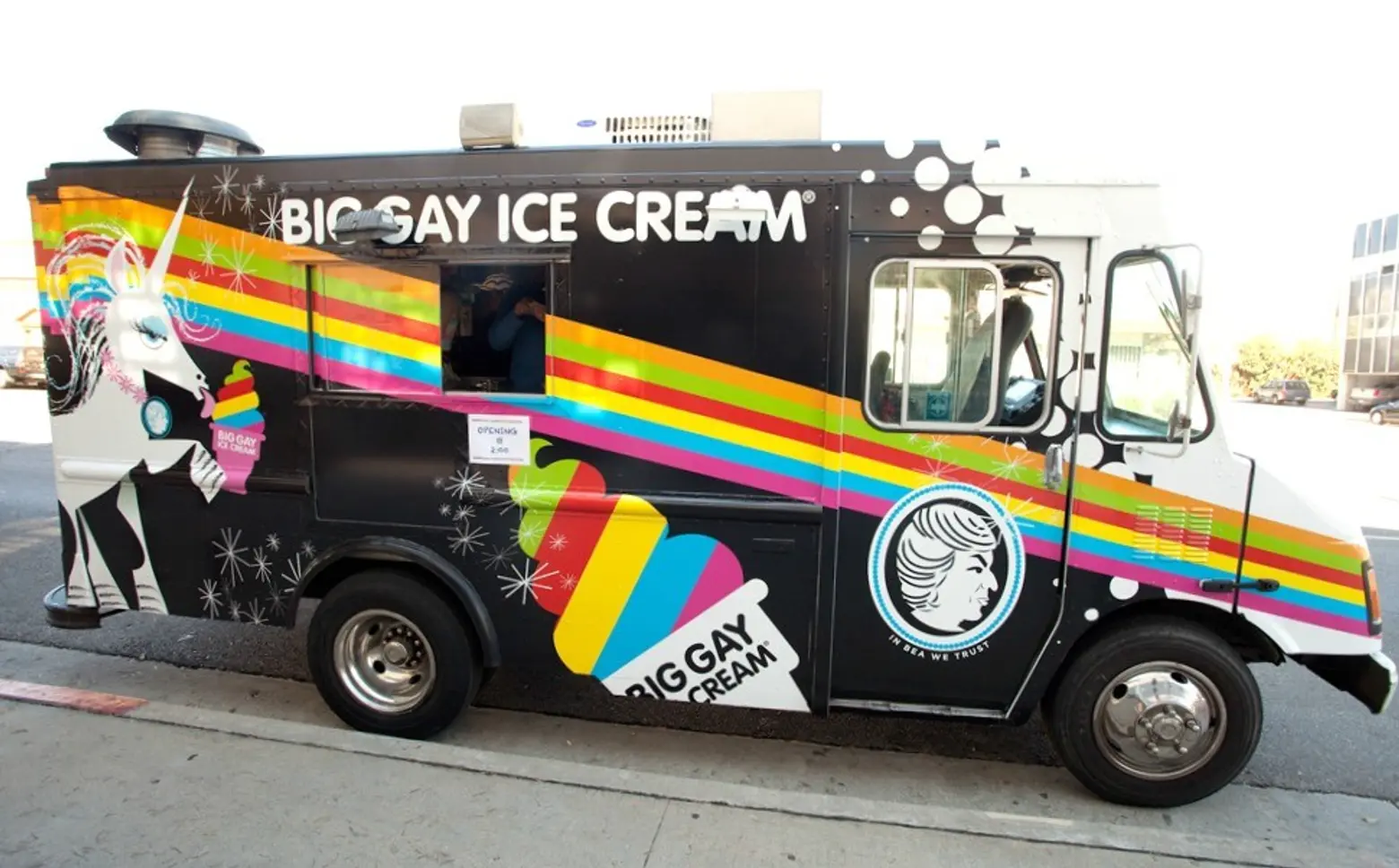 Lined up for lunch hour via the Halal Guys
The food truck frenzy

While New York City's history of mobile food vending dates back centuries, the city of Los Angeles really deserves credit for developing food trucks as we know them today. Raul Martinez was the first in the nation to convert an old ice cream truck into a taco truck. He would park it outside an East Los Angeles bar in 1974. However, when Roy Choi's Kogi BBQ hit LA streets in 2008, the food truck craze, along with Americans' love for Korean-Mexican fusion, intensified and spread across the country. While the food was uniquely delicious, Korean BBQ and Mexican taco, social media really propelled the food truck movement. Using Twitter, Choi would update customers on his truck's changing location.
In no time, the food truck frenzy reached New York City, serving millions of hungry and on-the-go customers. Although simple food like hot dogs, pretzels, and roasted nuts remained, the new wave of street vending brought more sophisticated, while still reasonably priced, meals. Notable favorites that began in NYC include the Big Gay Ice Cream Truck and the Halal Guys, both of which have franchised and opened brick and mortar stores in other cities.
The Halal Guys founders, Mohammed Abouelenein, Abdelbaset Elsayed and Ahmed Elsaka, first started their business in 1990 as a way to provide Muslim cab drivers halal food. It now reaches consumers all over the world, with over 200 new restaurants in development.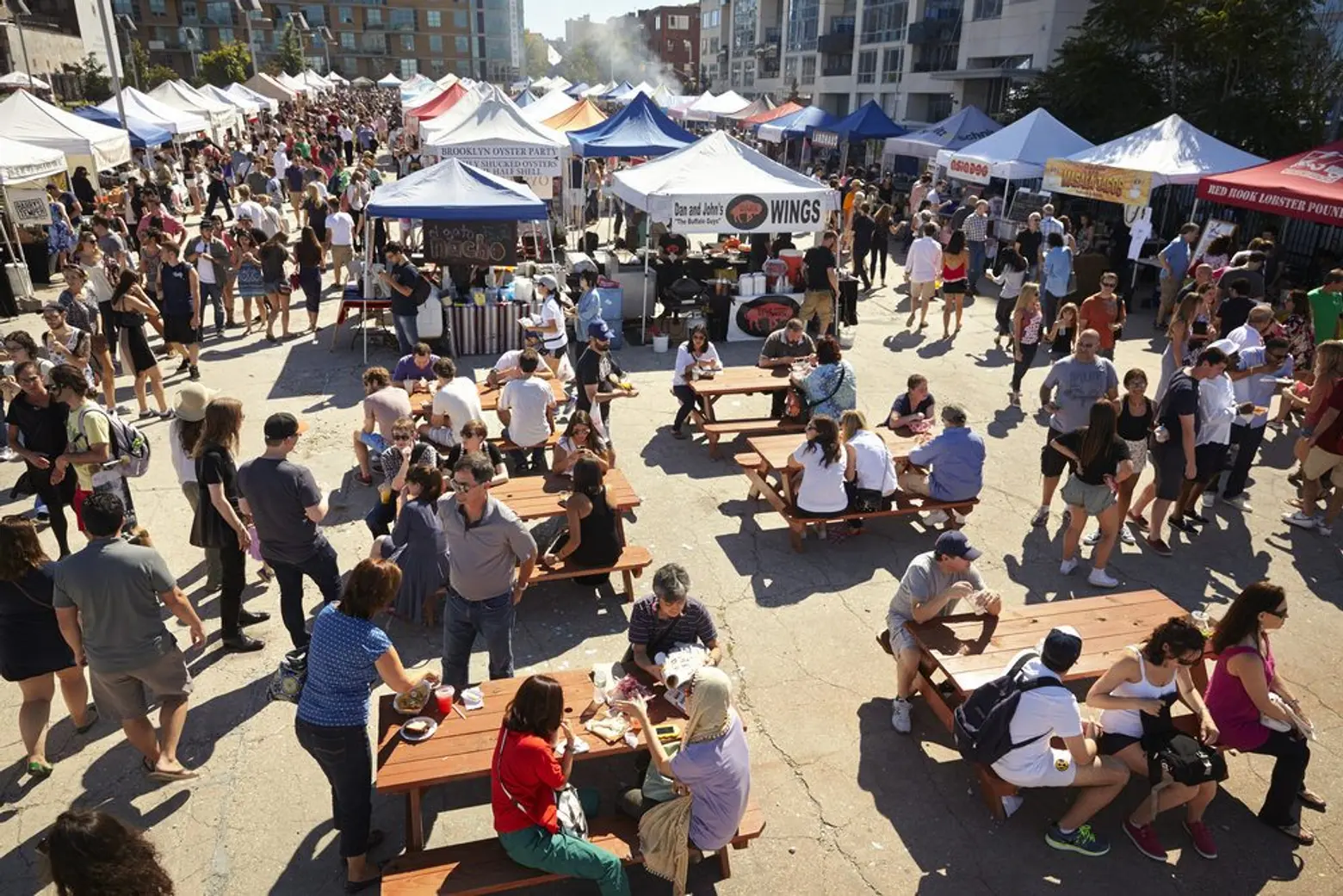 Local vendors serve 20,000-30,000 people every weekend, photo via Smorgasburg
Back to Markets

Not that the food truck phase has fizzled out completely, but New Yorkers have latched on to the city's new obsession with food halls and indoor markets. With the start of Brooklyn's Smorgasburg in 2011, the largest weekly outdoor food market in the country, street vending was taken to a whole new level. Eric Demby and Jonathan Butler are the duo behind Smorgasburg, as well as the Brooklyn Flea and the food and beer hall Berg'n. Each weekend, about 100 local vendors serve 20,000-30,000 people, Saturdays on the Williamsburg waterfront and Sundays in Prospect Park.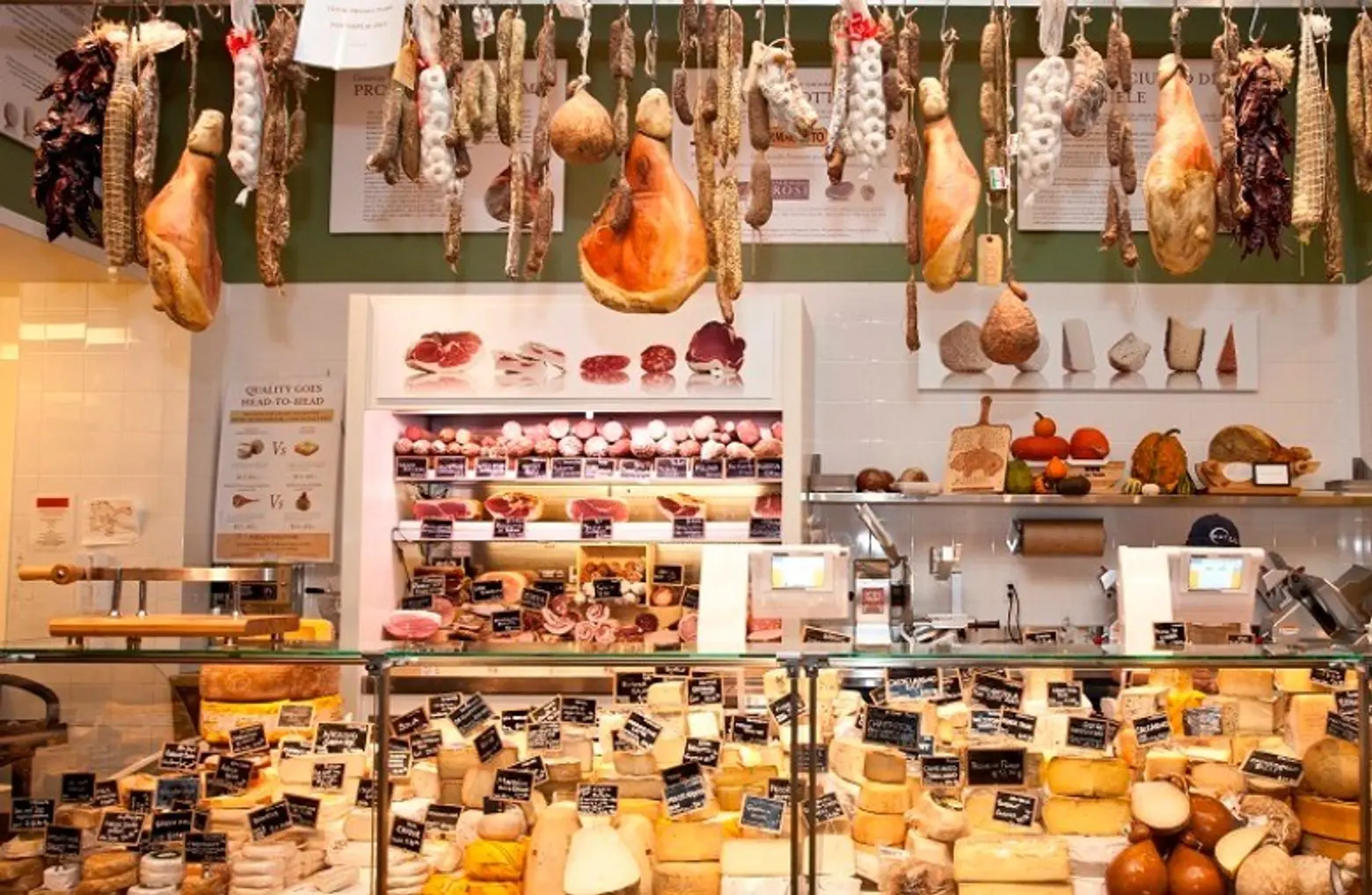 Fresh produce found at Eataly, photo via Eataly
What's next? Food halls

In the last few years, new food halls have quickly spread across most boroughs. Instead of going to one restaurant and having limited dining choices, New Yorkers now want options. In Hell's Kitchen, there's Gotham West, where you can enjoy sushi burritos from Uma Temakeria or an iced coffee from Blue Bottle. Eataly, with locations in the Financial District and Flatiron, stands out because, in addition to its great restaurant vendors, you can get your grocery shopping done with the fresh produce, cheese, meat and baked goods offered. Plus, Brooklyn's Dekalb Market just opened and according to their website, they are bringing "a new era in Brooklyn's history as a culinary center." The Dekalb Market includes foodie favorites like Hard Times Sundaes, Andrew's Classic Bklyn Bagels, and iconic pastrami purveyor Katz's Deli.
And food halls aren't just opening in affluent, hipster nabes. They're coming to communities that currently lack diverse food choices, like in the South Bronx and Washington Heights.  Plans are in motion for Bruckner Market, an affordable food hall and beer garden that will span 16,000 square feet, in the South Bronx. Plus, construction has begun on Majora Carter's plan to bring a food hall to Hunts Point at the spot of the former railway station. And construction is underway for the North End Food Hall, a Washington Heights locally-sourced market set to be the largest food and beer hall in upper Manhattan.
While street vending, markets and food halls have provided a cheap way for New Yorkers to access diverse dining options, some experts think mid-level restaurants may disappear in New York soon. Due to rent hikes and increased food cost, iconic NYC restaurants have been struggling to cope. Eater New York reported that David Chang, chef and founder of Momofuku, warned crowds at the New York Times' Cities of Tomorrow Conference: "You're gonna see the mom and pop restaurant in New York City not vanish completely, but it's gonna be way more difficult."
RELATED: