Could an East River pontoon bridge be a viable L train alternative?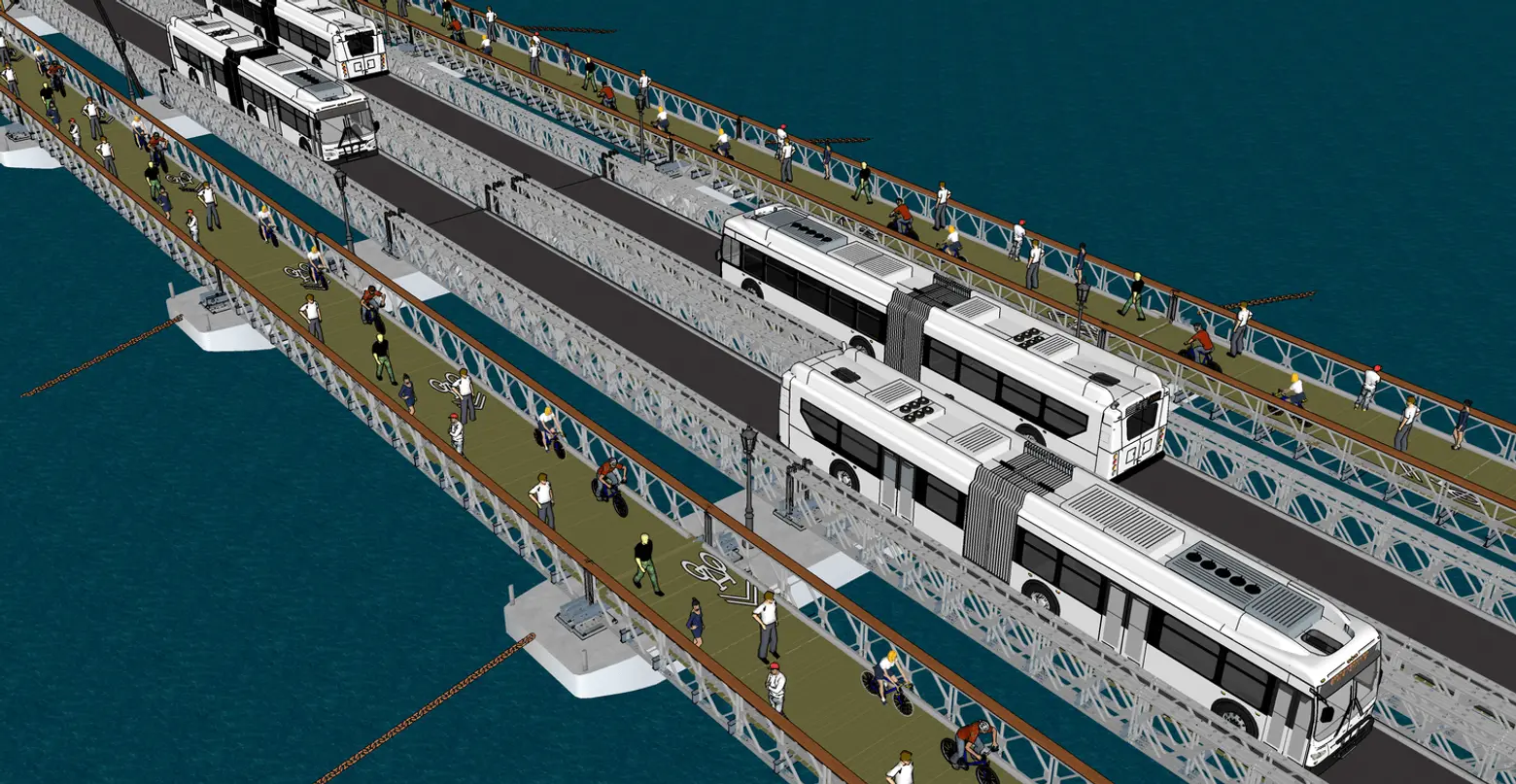 Real estate investor, sailing champion and former Calvin Klein underwear model Parker Shinn has entered the impending void of the dreaded L train shutdown scheduled for April of 2019 with a new alternative. The concept, which joins a growing list that includes a gondola, an inflatable tunnel, car-free bus lanes, bike lanes and a lot of MTA re-routing, is called L-ternative Bridge, and consists of a temporary pontoon bridge between Brooklyn and Manhattan that would be capable of supporting two lanes of bus traffic and two walking/bike paths.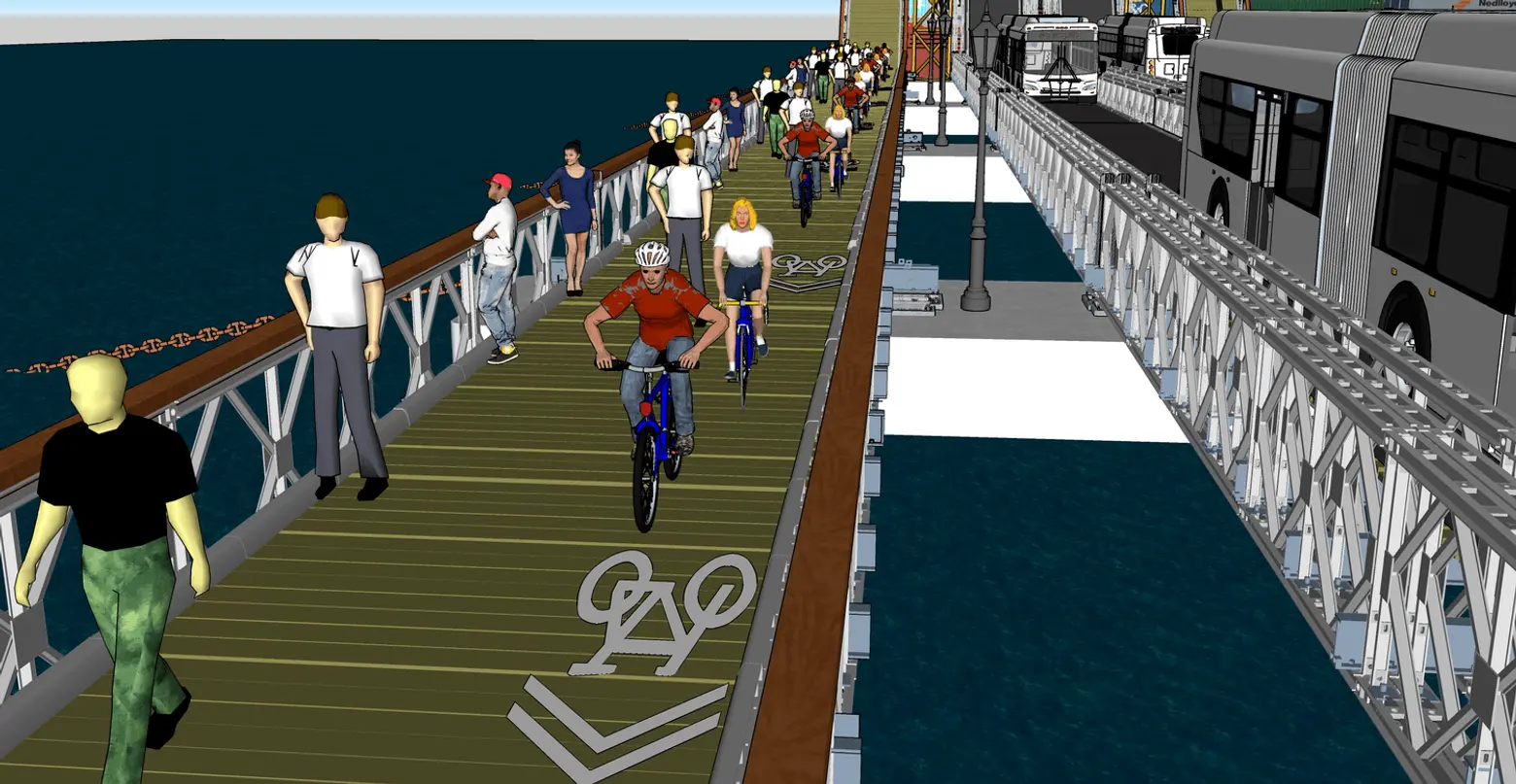 According to the L-ternative Bridge website, pontoon bridges have been used for over 1,000 years and represent a fast and affordable method of building a bridge spanning a large body of water.
In the video above, the Chinese military assembles a pontoon bridge in under 30 minutes.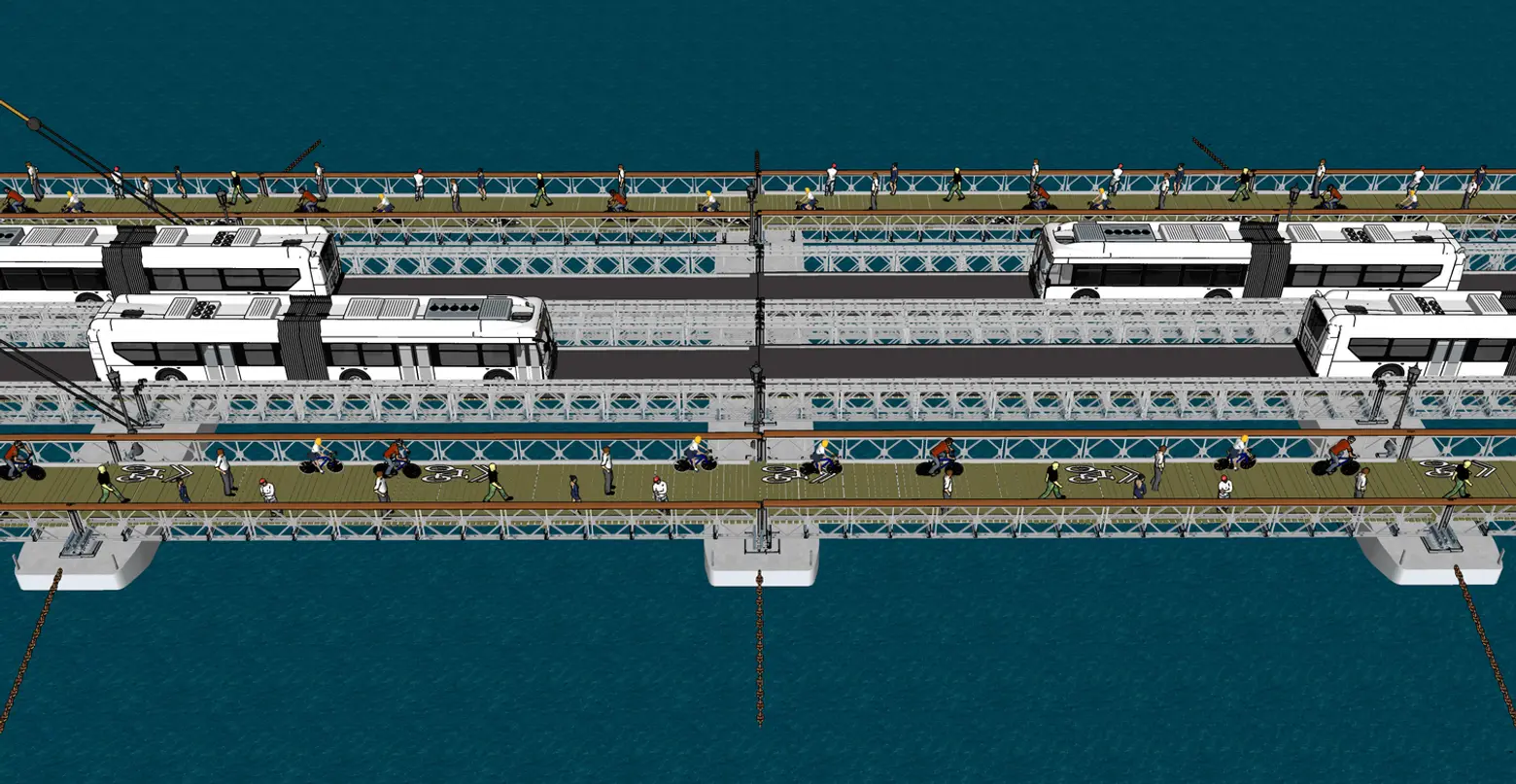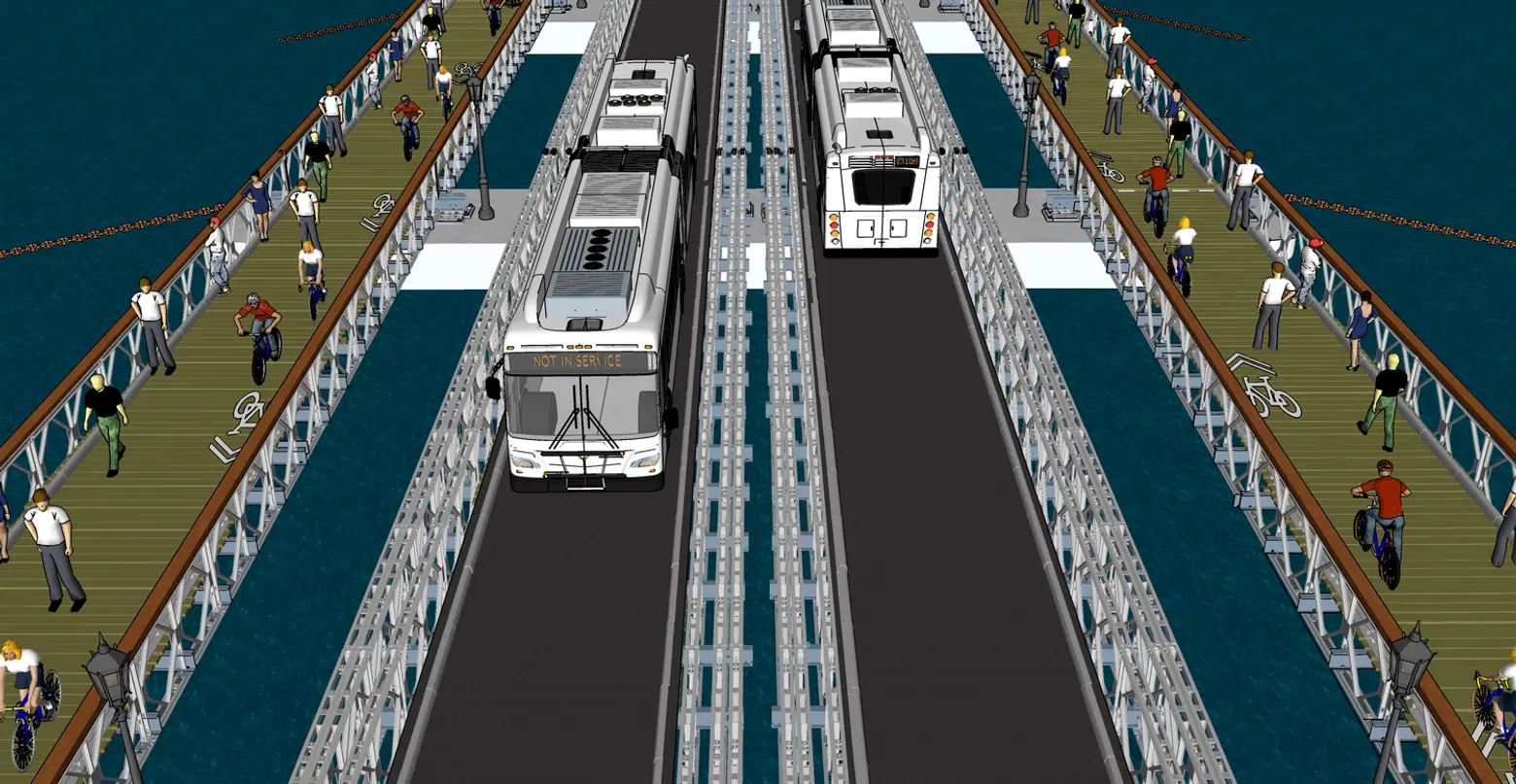 More pontoon bridge facts:
At 30 mph it will take approximately 1 minute and 30 seconds to go from the Bedford Avenue station to the Manhattan shores.
In order to move people as quickly as possible from the subway to buses, a partially enclosed bus terminal could be constructed on 7th Street between Bedford and Driggs Avenues.
Buses and pedestrians would cross FDR Drive via a temporary overpass similar to the one currently in place for pedestrians on 10th Street.
The pontoons will be 90-foot long deck barges. It will take 30 of them to span the 2,600 feet across the East River.
The bridge would be anchored in place using 3,500-pound Delta anchors which are well-suited to mud riverbottoms like the one in the East River.
To avoid interrupting shipping paths up and down the river, Shinn envisions a 240-foot wide drawbridge for larger ship traffic and a permanently elevated section for ferries and smaller boats, with more research to come.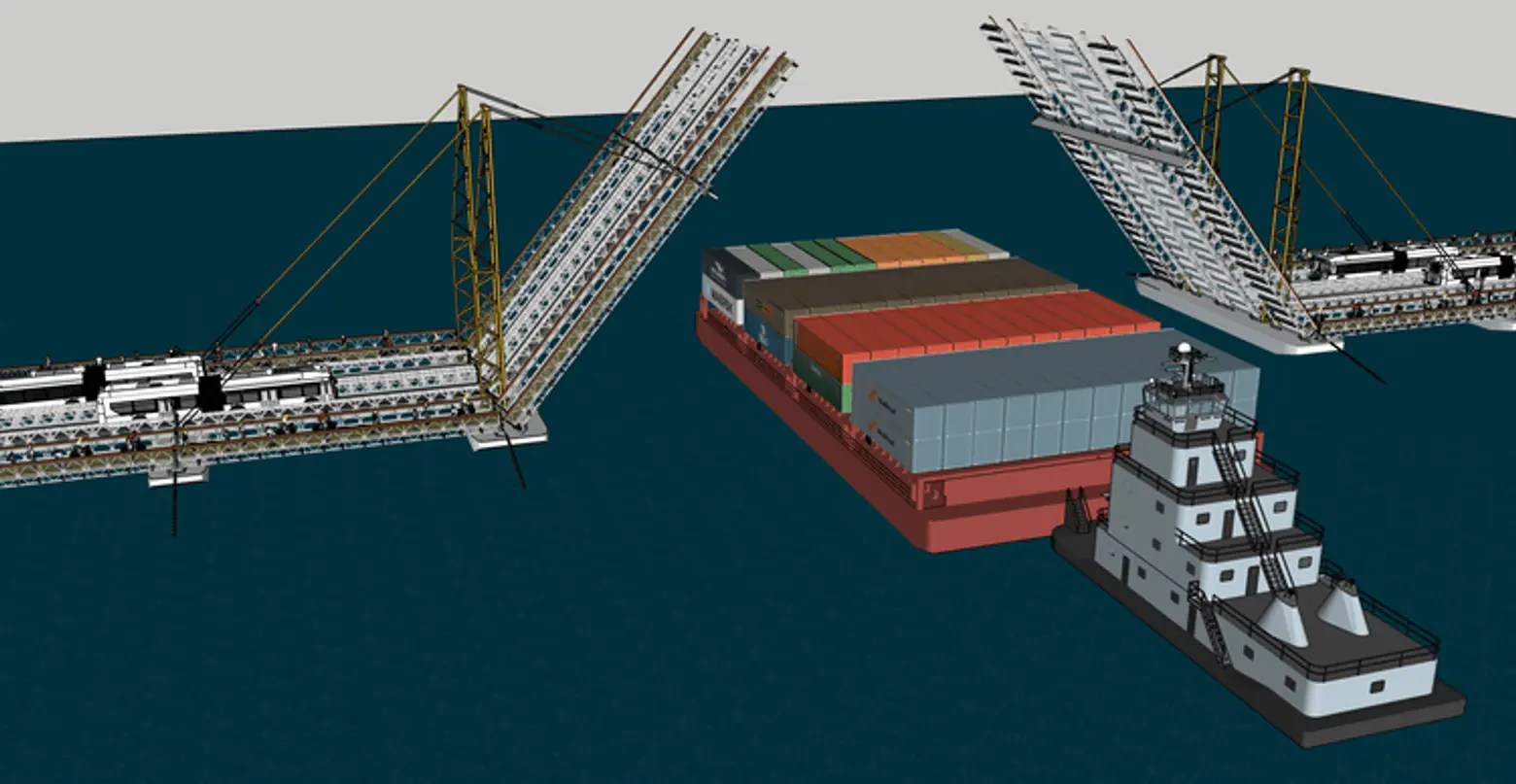 Regarding the bill for building the bridge, Shinn points to a similar bridge almost twice as long that was built by a consortium of European companies for $38M in 2008; he acknowledges that construction costs have gone up considerably since that time, and explains that he's currently gathering cost estimates from contractors and will publish them upon receipt. He is also aware of the many risks and challenges, legal, regulatory and otherwise, involved in the admittedly interesting undertaking.
According to Shinn, construction would only take 6 to 8 months and the costs could be completely covered by a $1 toll. The bridge has launched a Kickstarter campaign to rustle up community support and offer the city a detailed plan. Ideally the MTA would either use the plan and contractor recommendations provided to build the L-ternative bridge, or establish a public-private partnership with a developer to build it.
Find out more about L-ternative Bridge here.
RELATED: