Construction to start on Daniel Libeskind's affordable senior housing building in Bed-Stuy
Rendering of The Atrium at Sumner. © 2019 New York City Housing Authority
Architect Daniel Libeskind, perhaps best known for the Jewish Museum in Berlin and the World Trade Center master plan, is one step closer to completing his first building in New York City. The New York City Housing Authority (NYCHA) announced that they have secured financing for an all-affordable senior housing building in Brooklyn's Bed-Stuy designed by the starchitect. The 190-unit Atrium at Sumner will be built on NYCHA's Sumner Houses campus, with construction set to begin later this month on the $132 million project. The 11-story building will meet Passive House standards and feature a community garden, a year-round indoor garden, and a central atrium.
Studio Libeskind's partnership with NYCHA was first announced in March of 2018. The Polish-American architect has called New York home for years, but this will be his first ground-up building in the city. In addition to completing the World Trade Center master plan, he designed a new Swarovski Crystal star for the Rockefeller Center Christmas tree in 2018.
The Atrium at Sumner will replace a lawn and patch of trees facing Marcus Garvey Boulevard at the 22-acre Sumner Houses. The development spans 22 blocks, contains 13 mid-rise buildings, and is home to roughly 2,400 public housing residents. The building was conceived through the city's NextGen Neighborhoods program, which develops half affordable and half market-rate units on sites of underused NYCHA land, in turn generating revenue to be reinvested back into the agency, as well as the city's "Seniors First" program, which builds senior housing on NYCHA-owned land. It's being developed by Urban Builders Collaborative, LLC., RiseBoro Community Partnership, Inc., and Selfhelp Realty Group – The Melamid Institute for Affordable Housing.
As 6sqft previously noted, Libeskind's design for an angular white facade is in line with "the firm's signature un-orthogonal style." Because of its Passive House design, it will consume 60 to 70 percent less energy than the average NYC apartment building. Amenities include a community garden for residents, a central atrium, a year-round indoor garden, outdoor seating adjacent to the building's entrances, an exercise room, and classrooms, conference rooms, and a large multi-purpose room that will provide educational and art classes to meet the needs of seniors. In addition, a new playground, walking paths, lighting, and seating are planned for the open space next to the building. The developers are also partnering with other service providers to offer comprehensive medical and social services for qualified elderly residents.
The 190 apartments are divided among 130 studios, 59 one-bedrooms, and one two-bedroom superintendent apartment. Of these, 57 units are set aside for homeless seniors with the remaining 132 units available to households earning at or below 50 percent of Area Median Income. NYCHA residents will be given preference for 33 of the apartments.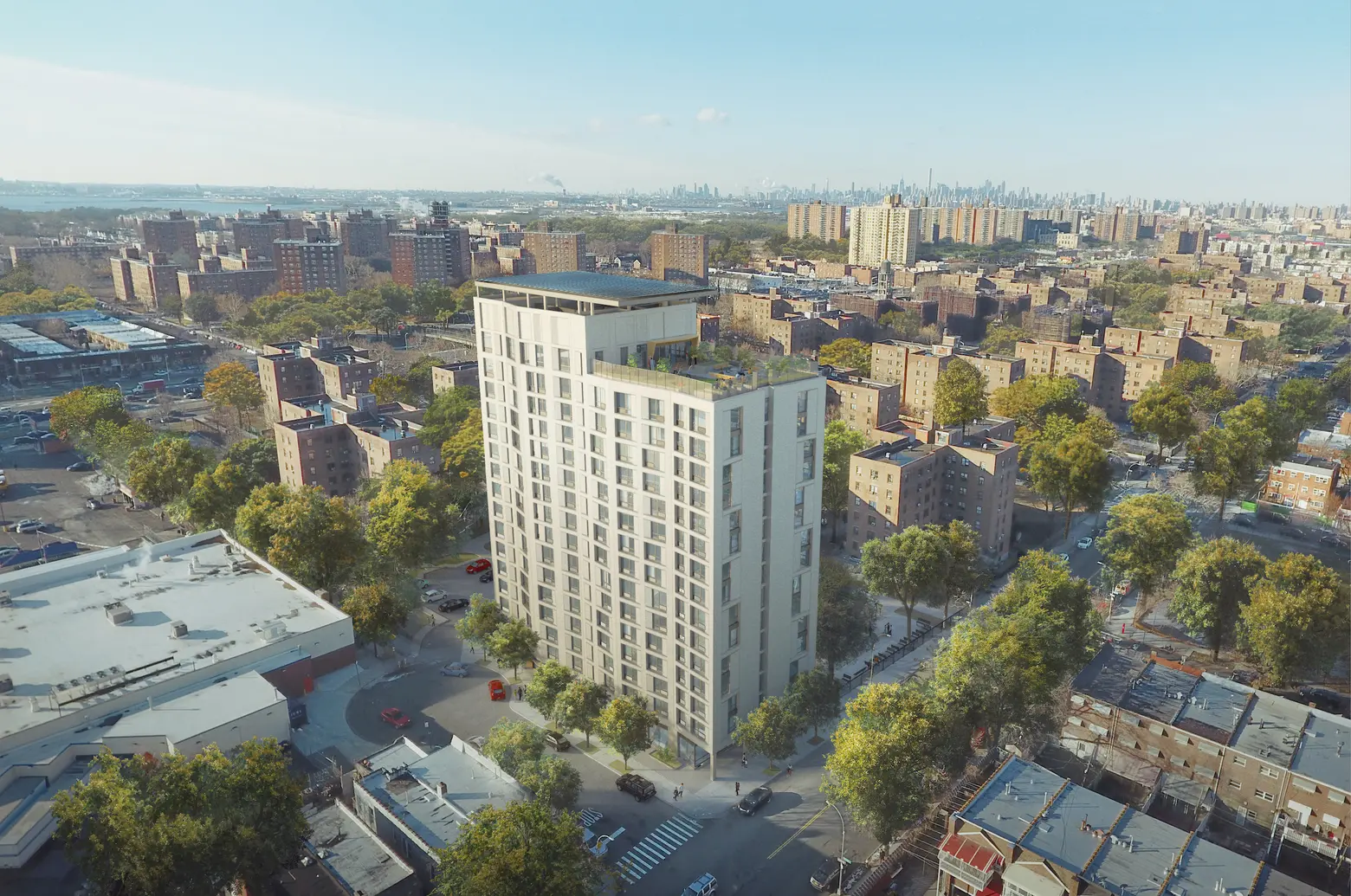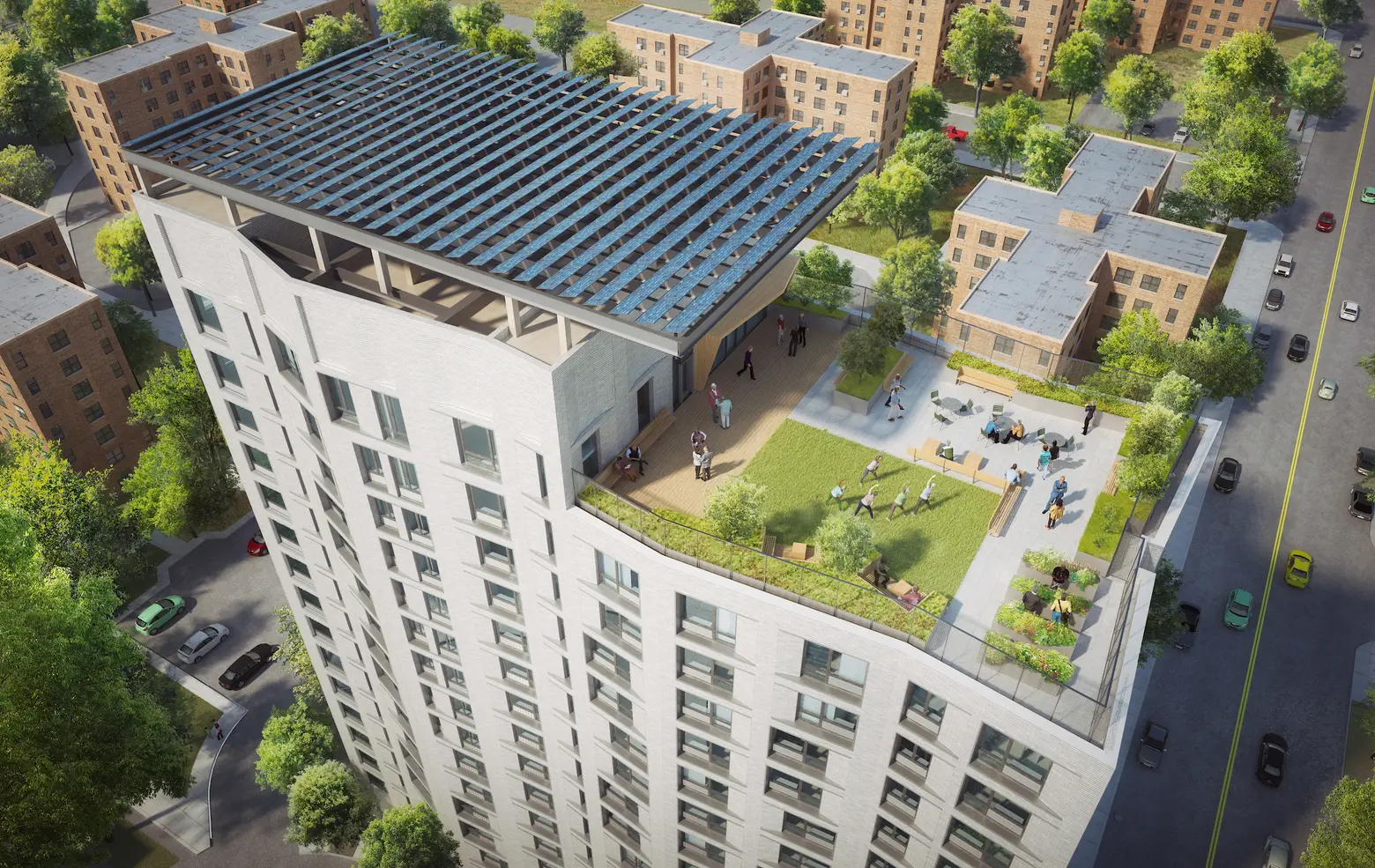 Renderings of Casa Celina. © 2019 New York City Housing Authority
In total, NYCHA, along with the NYC Department of Housing Preservation and Development (HPD) and the NYC Housing Development Corporation (HDC), secured $245 million in financing for the Libeskind building and another affordable senior housing building in the Bronx's Soundview neighborhood. This 204-unit building, named Casa Celina after Justice Sonia Sotomayor's mother, was designed by Magnusson Architecture and Planning and will rise on NYCHA's Sotomayor Houses campus.
RELATED: