City will spend $250M+ connecting and greening 32 miles of Manhattan waterfront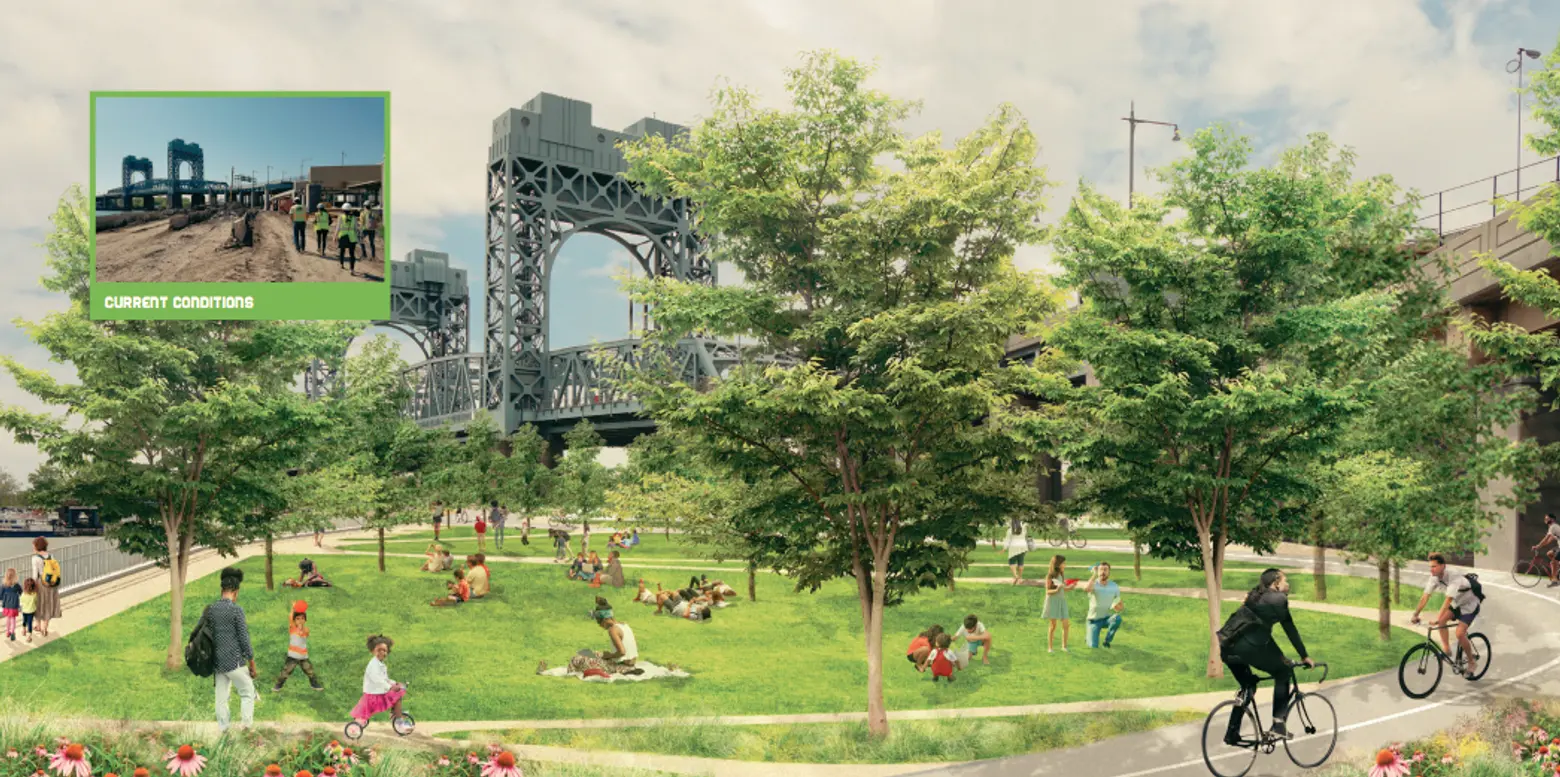 Concept rendering of Harlem River Greenway Link view toward RFK Bridge.
The NYCEDC, the NYC Parks department and NYC DOT announced today the results of a study on how to close the 32-mile loop of the Manhattan Waterfront Greenway along with plans to invest over $250 million to get the project started in Inwood, Harlem, East Harlem and Midtown. The Manhattan Waterfront Greenway announcement outlines a strategy for connecting open waterfront spaces that total over 1,000 acres that will add about 15 acres of quality open space and integrate the Greenway into surrounding neighborhoods.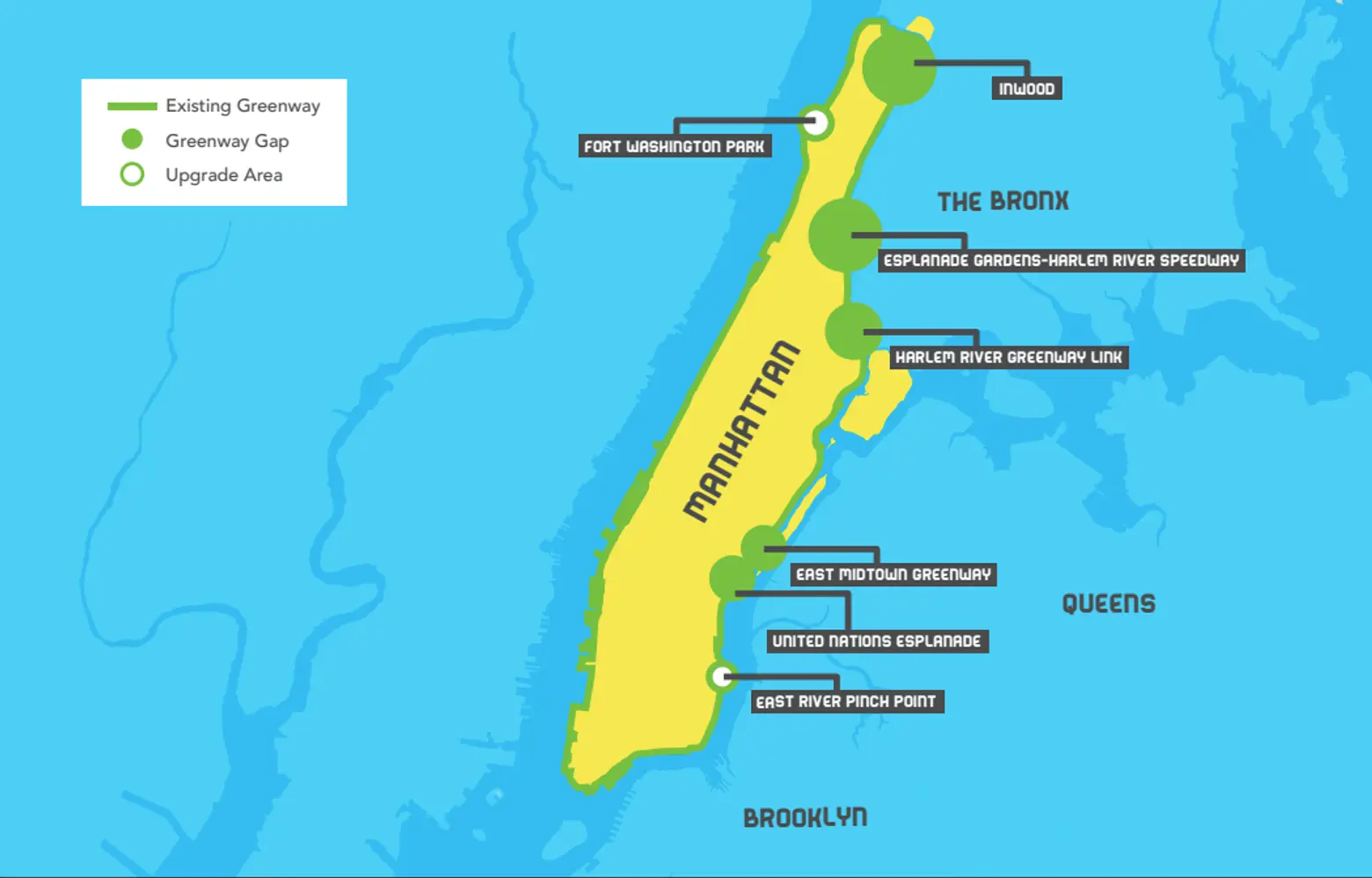 Connecting the open spaces will make bike lanes safer, provide more access to the water and strengthen resilience in the face of rising sea levels and storm surges. Mayor Bill De Blasio said in a statement, "The full potential of the Manhattan Waterfront Greenway has yet to be realized. We're committed to closing the gaps along the Greenway, which will strengthen neighborhoods and ensure that all New Yorkers have access to our iconic waterfront."
The vision for closing the loop is based on four principles:
Maximize the location along the waterfront
Enhance safety for pedestrians and bicyclists
Improve access from upland areas
Account for sea level rise
Five sites are true gaps and two are existing paths in need of significant upgrades, and each location has its own particular requirements and difficulties. An idea of what the completed Greenway might look like and recommendations for all seven sites include: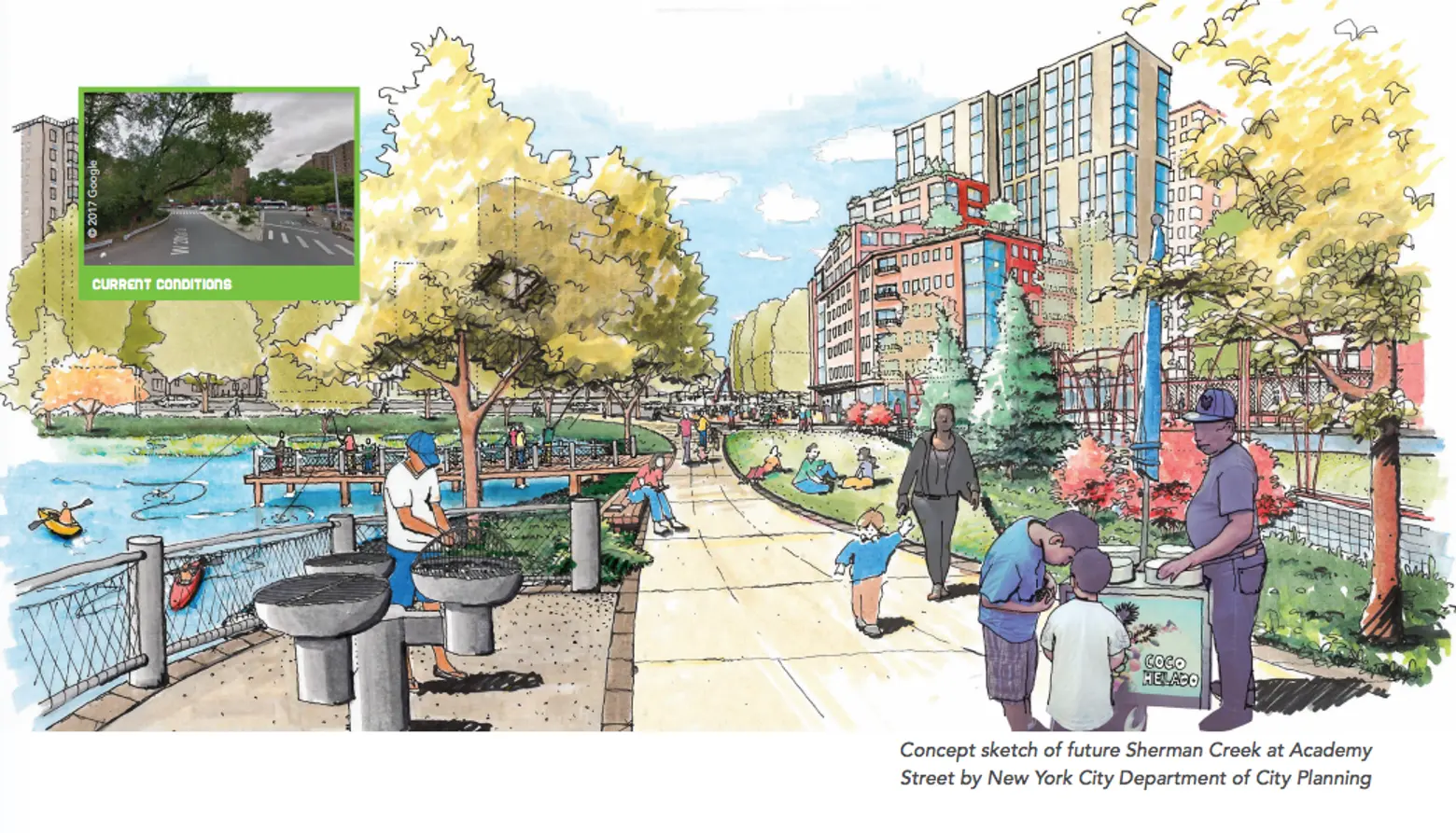 Inwood (Sherman Creek to Inwood Hill Park)
The City is currently investing $41 million to build out a new waterfront esplanade at Academy Street along the Sherman Creek; this will create about two acres of new waterfront space and connect the Harlem River Greenway to the south. At the northern tip of the Sherman Creek area $9 million will go toward restoring the North Cove. Conceptual design will begin in 2019 and construction will commence in 2021.
Harlem River Greenway Link (East 125th Street to East 132nd Street)
$101 million has been allocated for construction on the Harlem River Greenway Link which will mean seven acres of new open space with separate paths for pedestrians and cyclists, lawns, native plantings, integrated art, and places for pedestrians to enjoy waterfront views. The completion of this gap and East Midtown Greenway will connect five miles of continuous waterfront greenway from East 53rd Street to 145th Street. Construction is expected to begin in 2021.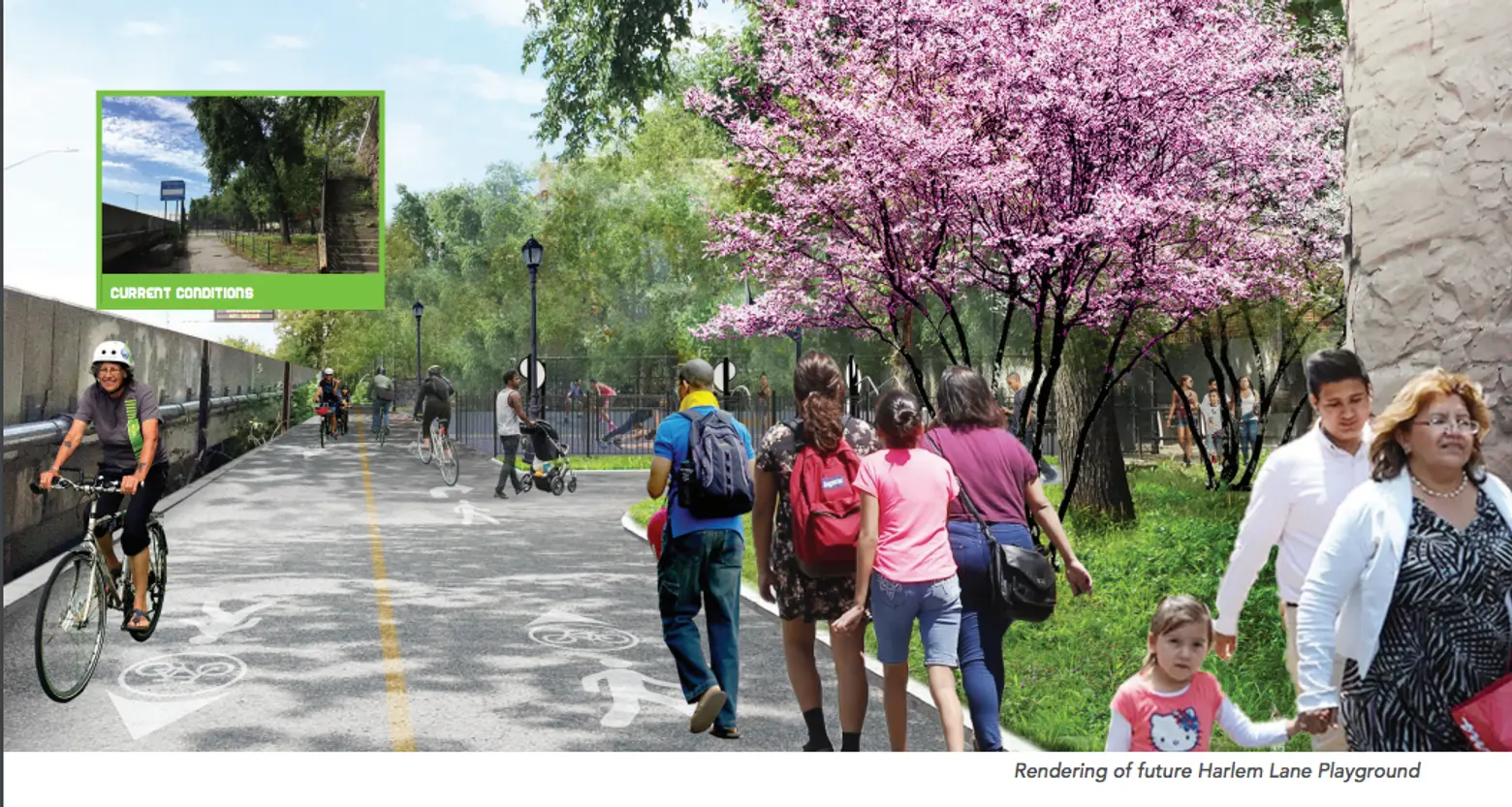 Esplanade Gardens – Harlem River Speedway (East 145th Street–East 163rd Street)
Integrating the Greenway in this area is an opportunity to enhance the overall parks and open space network. The first opportunity to integrate the Greenway with existing open spaces is through the reconstruction of Harlem Lane Playground–including the reconstruction of the sports courts, community gathering spaces, plantings, paths, benches, and adult fitness equipment–with over $5 million from NYC Park's Community Parks Initiative. The project is expected to be completed in 20221.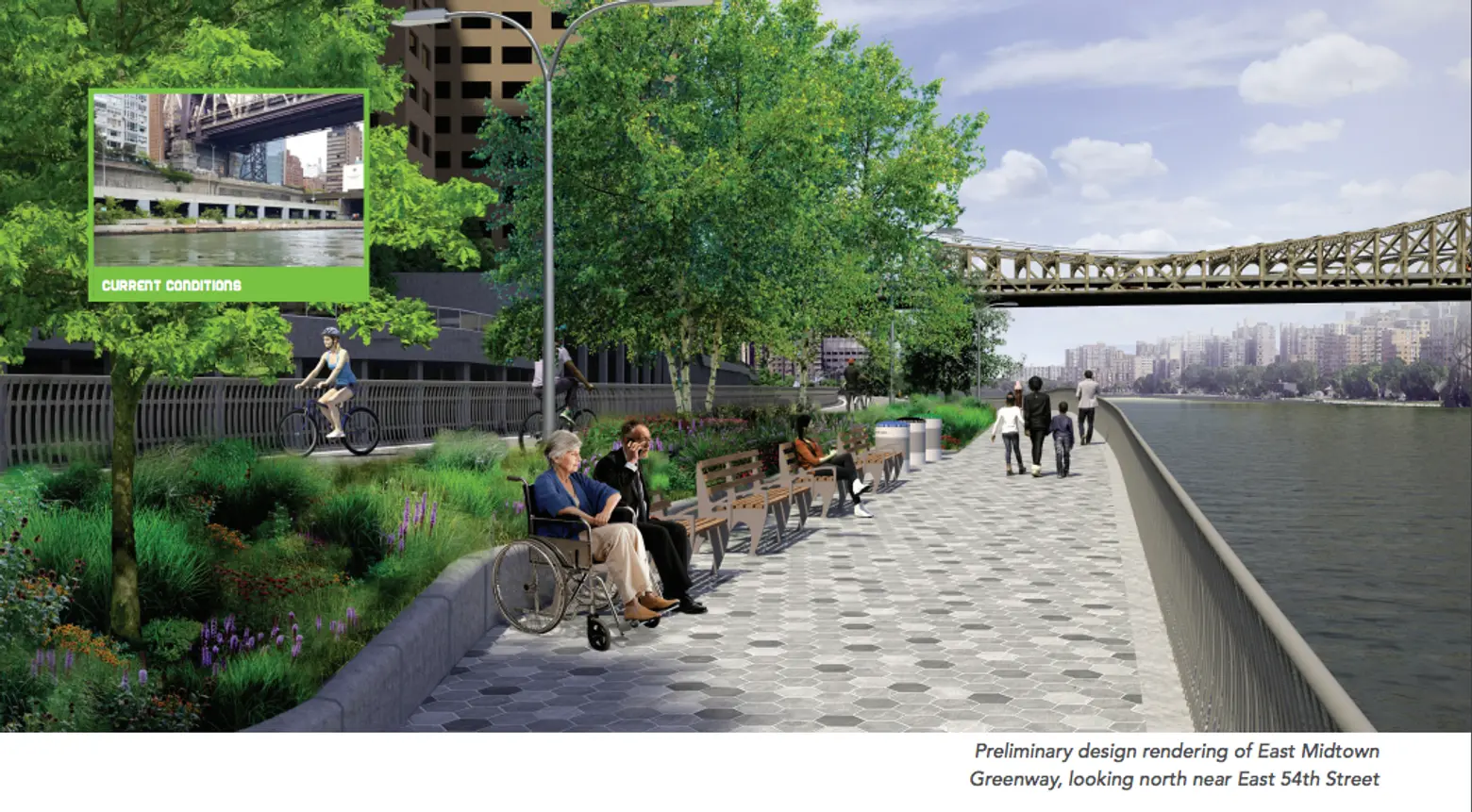 East Midtown Greenway (EMG) (East 53rd Street – East 61st Street)
With a $100 million budget, the East Midtown Greenway will connect pedestrians to the Andrew Haswell Green Park to the north at East 61st Street and will provide a transportation connection to the south, where the Greenway ends. Construction is anticipated to begin in 2019.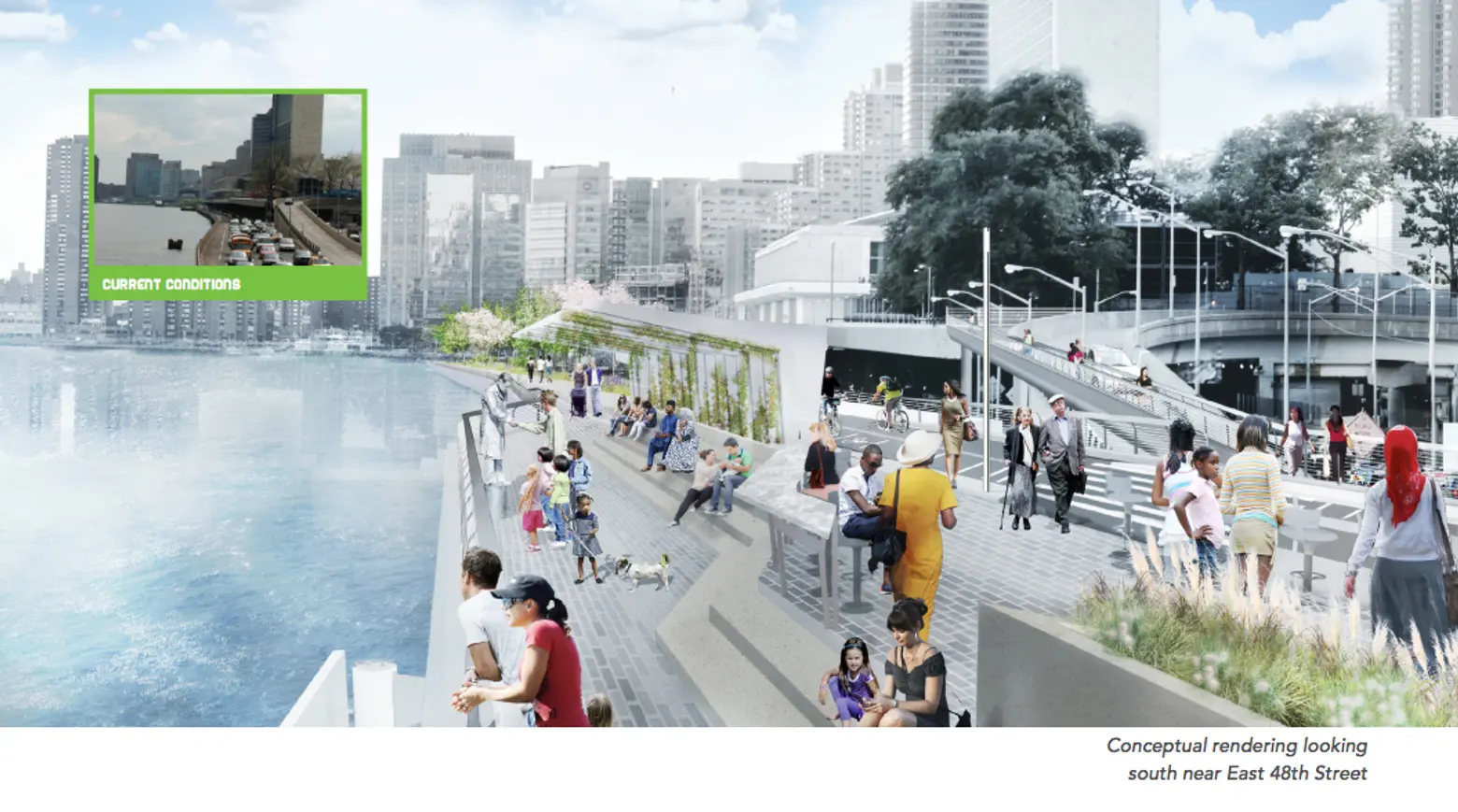 United Nations (UN) Esplanade (East 41st Street–East 53rd Street)
The UN Esplanade will extend the East Midtown Greenway at East 53rd Street and connect to Waterside
Pier located at East 41st Street including a northern connection to the East Midtown Greenway and a southern link through the recently opened Waterside Pier.
Upgrade Areas:
East River Pinch Point (East 13th Street – East 15th Street)
Improvements to this upgrade area include using a bridge-like structure that would connect East River
Park to the south to Captain Patrick J. Brown Walk to the north.
Fort Washington Park (West 181st Street – West 186th Street)
To improve safety for cyclists and pedestrians, a waterfront alignment that connects Fort Washington Park to the open space near the footing of George Washington Bridge would create a direct waterfront connection with expansive views of the Hudson River and New Jersey palisades.
You can read the entire report here.
RELATED: