Art and real estate: The new relationship that's selling big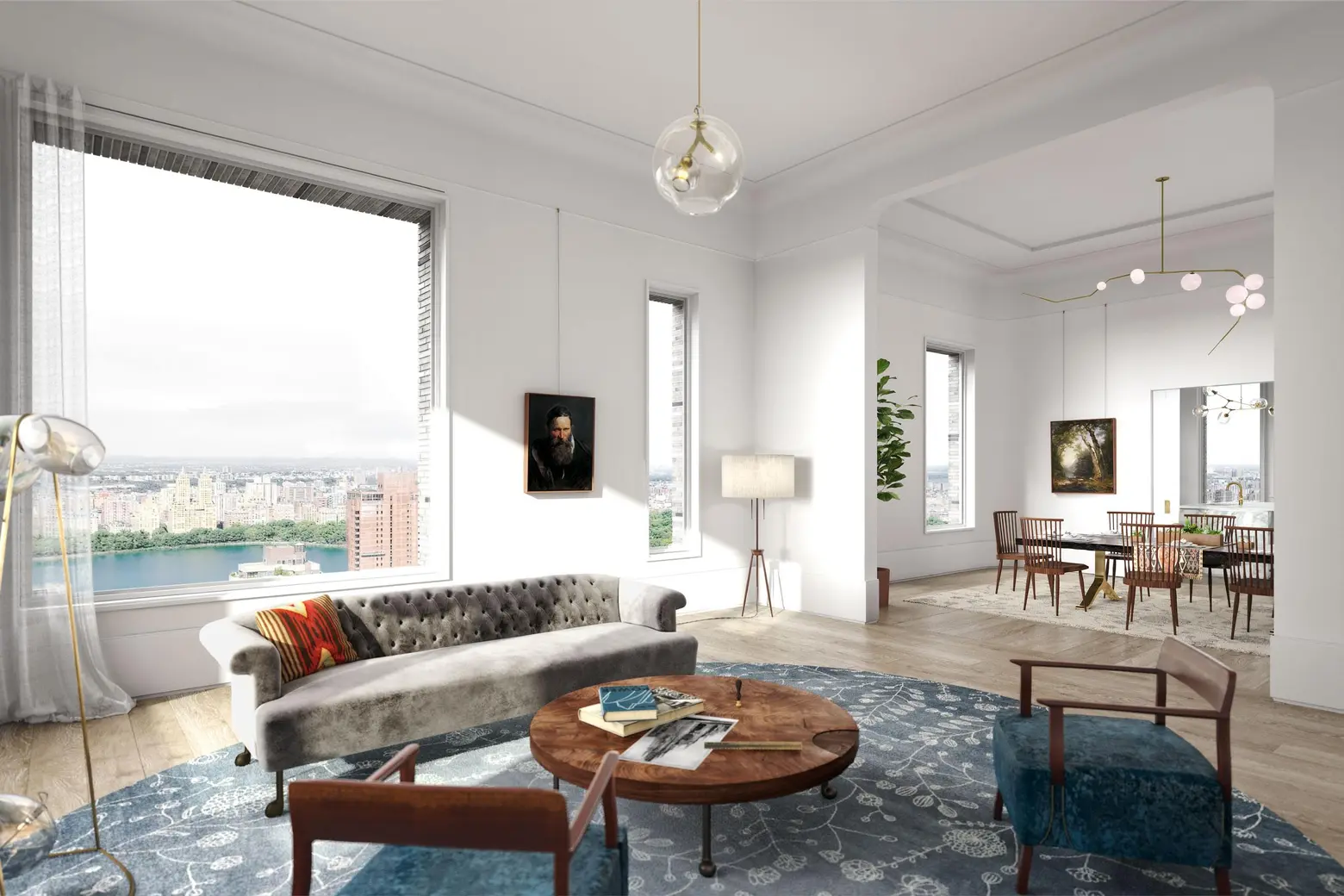 The architect Morris Adjmi looks to trends in art, more than in architecture, to inspire his work. "Art is more stimulating to me than the latest trends in architecture. Art is visceral and topical, it is much more immediate and it allows you to get into the zeitgeist of the time. In art, we see what is happening now, in architecture it takes a few years to show up." More and more architects, developers, designers, and brokers believe in the powerful relationship between art and real estate. So much so, it is now understood that art sells real estate and real estate sells art.
James Cavello, owner of Westwood Gallery, curated an art exhibit at 212 Fifth Avenue's $73.8 million "Crown" penthouse with a multimillion-dollar collection of art, with works by Warhol, Rauschenberg, Cy Twombly, Robert Indiana, Charles Hinman, and Douglas Kirkland. On the relationship between art and real estate, Cavello says, "We share the same similar high net worth clients so developers and brokers look to individuals like me and my company to propose alternatives to staging the areas with furniture and drapes and, instead, work with the light and space and utilize the art as staging."
The Sotheby's team behind 212 Fifth added that having Westwood Gallery stage art in the three-story, 10,000-square-foot unit, "Helped generate powerful awareness for Westwood Gallery with a level of visibility that is often unattainable for a stand-alone gallery." Clearly, art and real estate have a very symbiotic relationship.
Art and Real Estate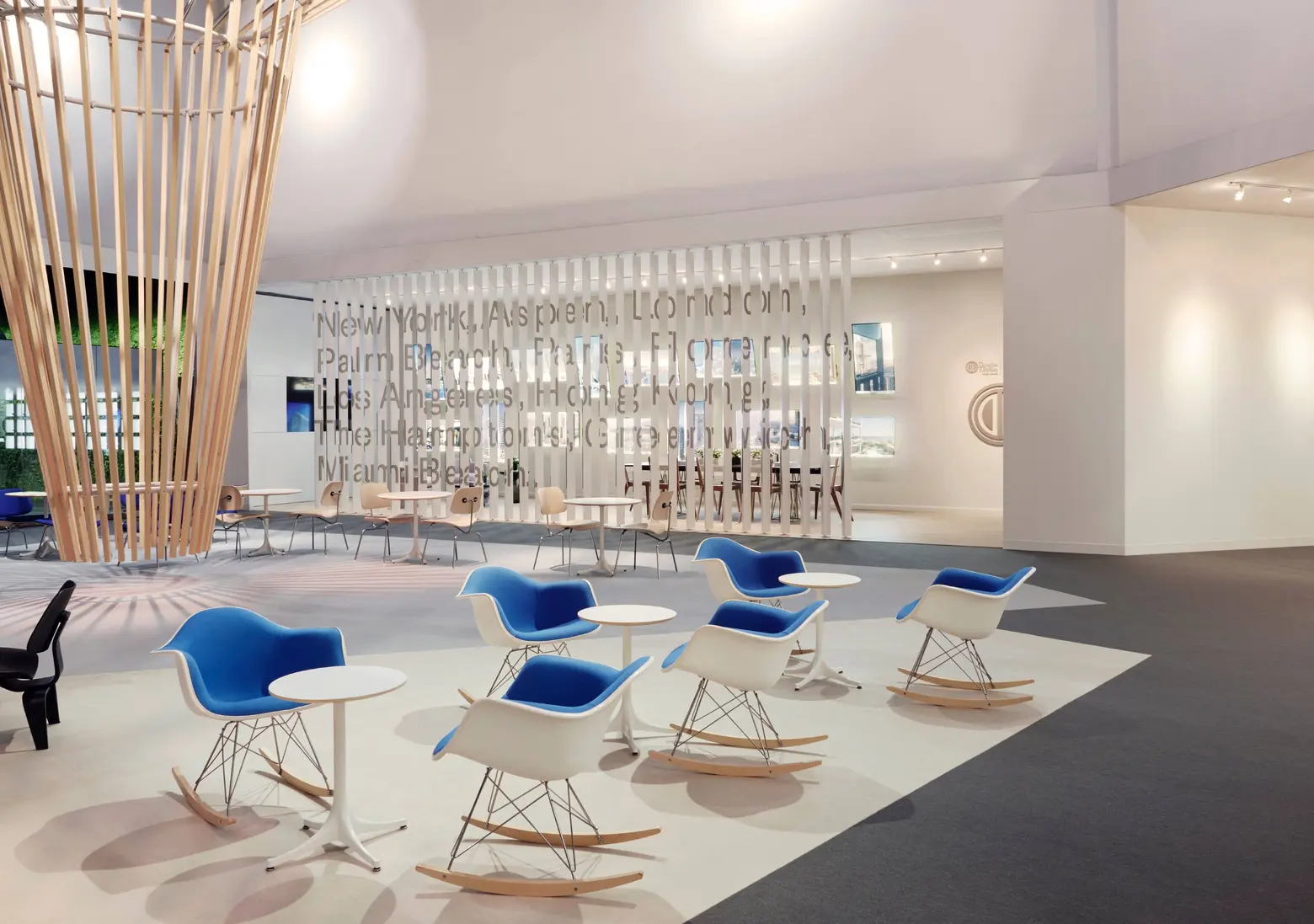 Douglas Elliman's "Collectors Lounge" at Art Basel 2016, via Situ Fabrication
Douglas Elliman has sponsored "the Collectors Lounge," a VIP area at Art Basel, for the last five years (as well as other sponsorships of the Frieze Art Fair and Parrish Art Museum). Scott Durkin, President and COO of Douglas Elliman who coordinates the lounge describes it as, "a separate living room of properties, decorated with high-end furniture and multimedia presentations on the walls that feature all of the Douglas Elliman properties in all of our markets, like LA, NY, the Hamptons, Miami, and Palm Beach. In addition, Knight Frank, our international partner, features their European properties as well."
Durkin explains, "The lounge begins the conversations at an early stage. Art collectors are very worried about their collections and where they'll display it. They don't just want to put it away in storage. Often, they buy the art and then worry about where to display it. They want to showcase it but sometimes it necessitates a larger home. Real estate and art really go hand-in-hand. If you collect art, you have to have a property to display it in."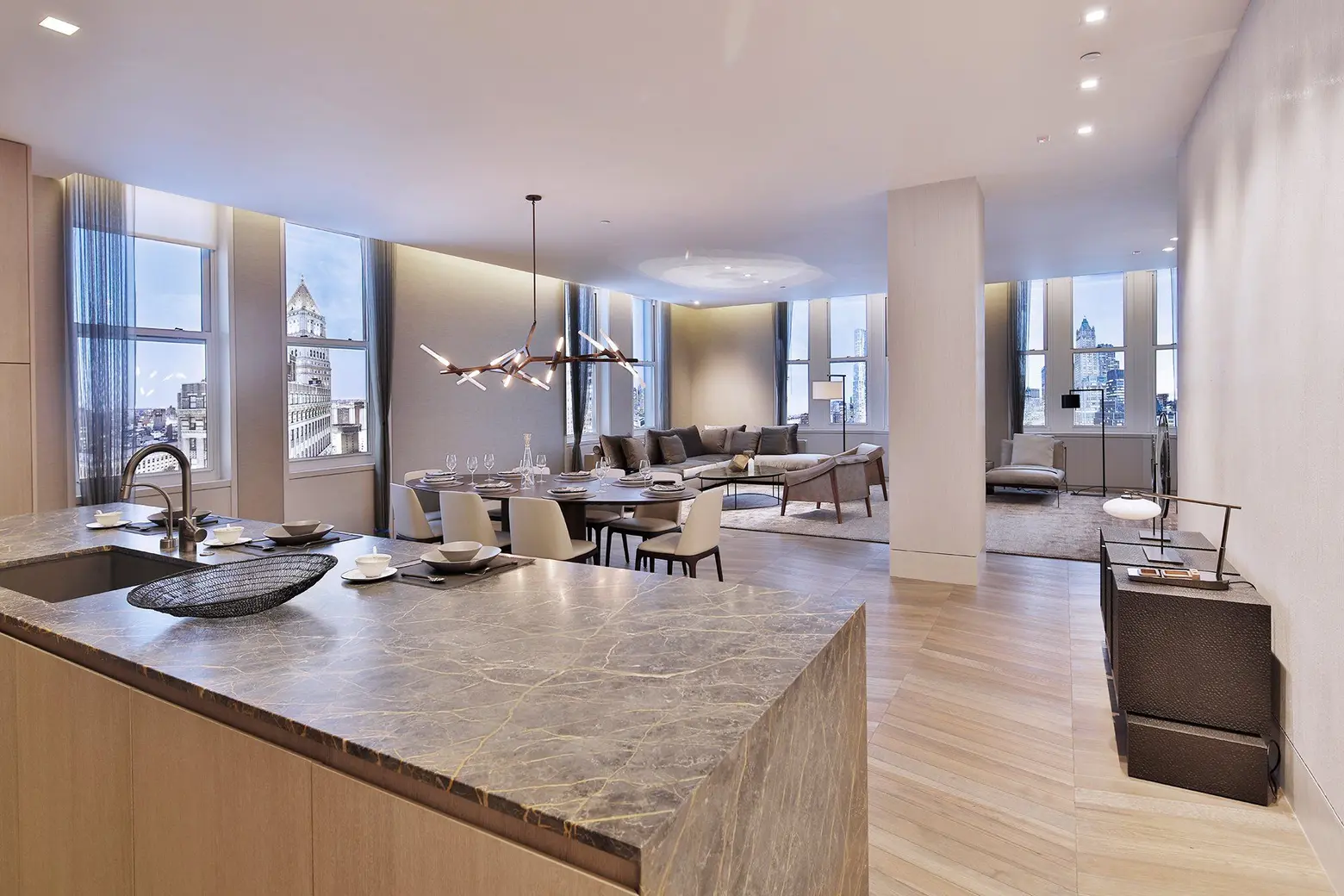 49 Chambers Street
To further the connection, the article points to an Elliman-sponsored "art-meets-real-estate" event at 49 Chambers Street where art dealer Guy Regal organized a party with the intention that, " the event would attract interested house hunters who were also hungry for a black-and-white picture of a naked Gianni Versace."
Karen Mansour, Douglas Elliman's Executive Vice President of Development and Marketing, says of  49 Chambers (for which they are the exclusive sales and marketing agent), "From the beginning, when we're first planning a building with an architect, we look at unit mix, unit size and the floorplan layout which includes a furniture plan and along with that is the art wall. Art is always on our minds when we're planning a new development for high net worth individuals. There is a natural co-existence and affinity between the two that we are aware of and take account of."
Mansour goes on to describe the relationship between art and real estate, "pairing furniture with art is just the same as pairing food with wine. It attracts people who are looking at real estate and enhances what we do. Art makes a unit come to life and it represents how people live."
Art and Architecture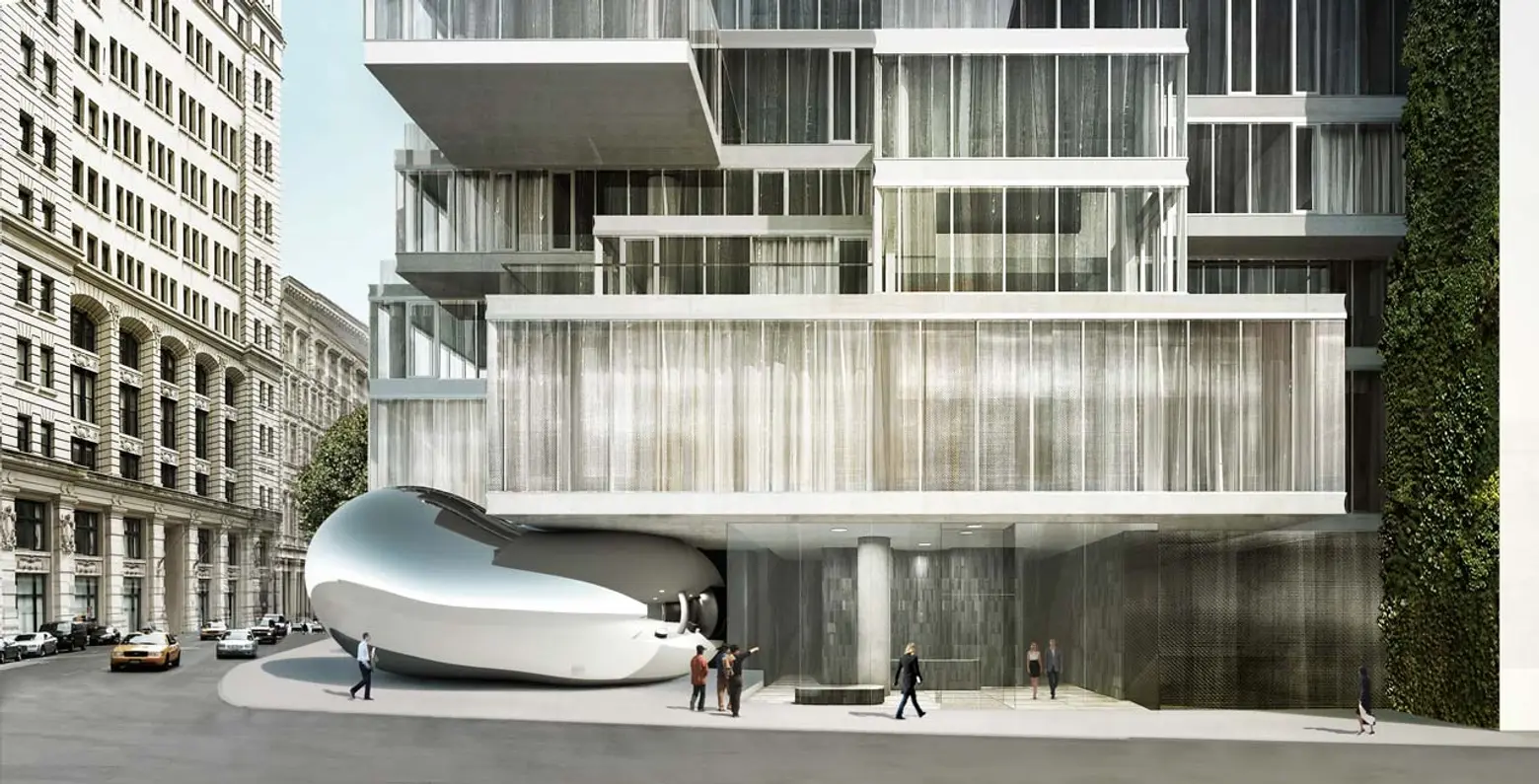 A rendering of 56 Leonard and its Anish Kapoor sculpture
DDG has wrapped construction sites in art and hired graffiti artists to decorate scaffolding on a site. Herzog & de Meuron's 56 Leonard was designed with an Anish Kapoor sculpture looking as though it was squashed under the weight of the building.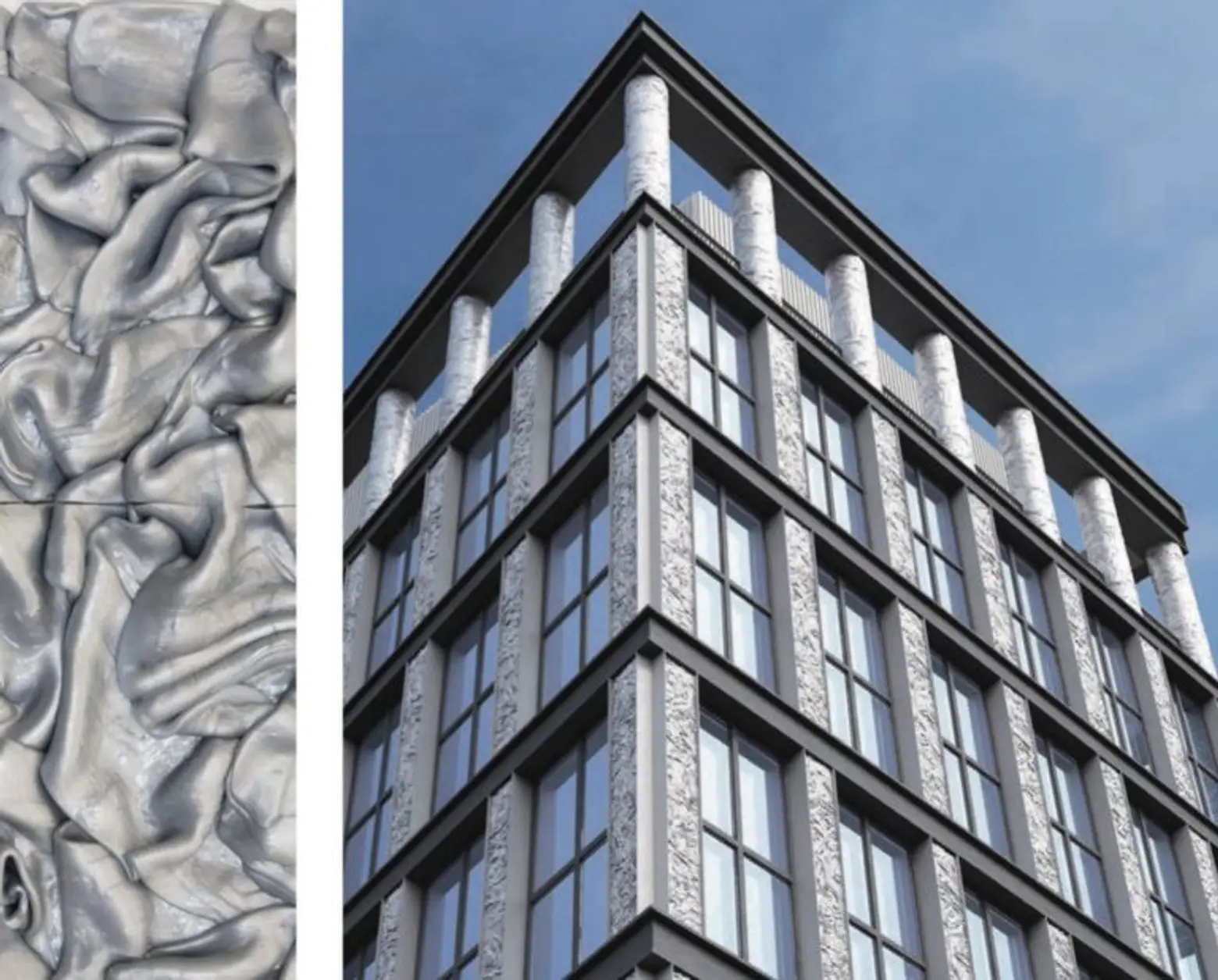 Detail of 419 Broadway's facade, from Morris Adjmi's September 2017 presentation to the LPC
Morris Adjmi is taking the architect/artist relationship a step further by integrating the work of silicone artist Matthias van Arkel in the early planning stages of the 419 Broadway project. "Mattias is going to design the pilasters for that building as an art piece. His decorative patterns will be cast in zinc used on the building's facade."
Private Art Galleries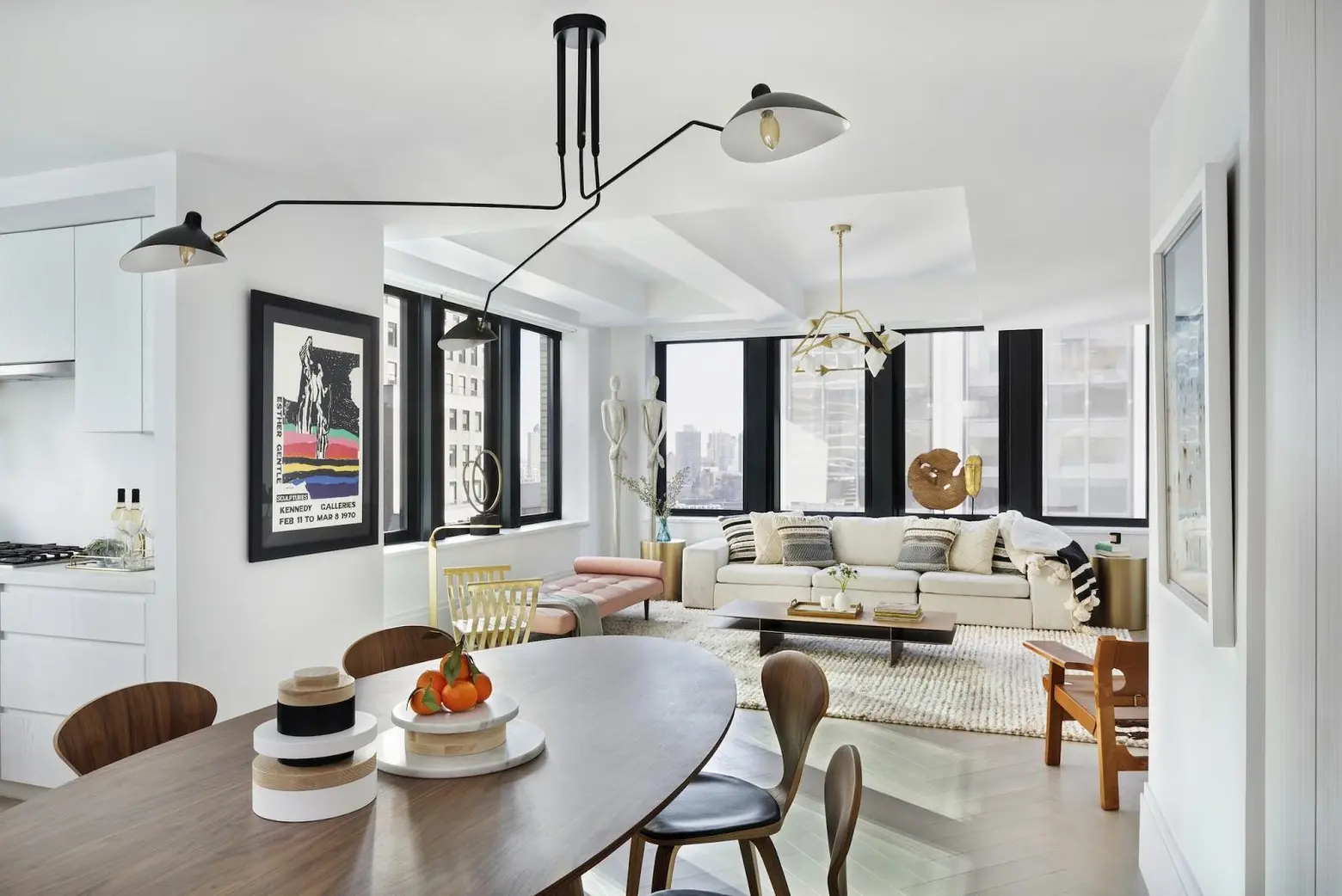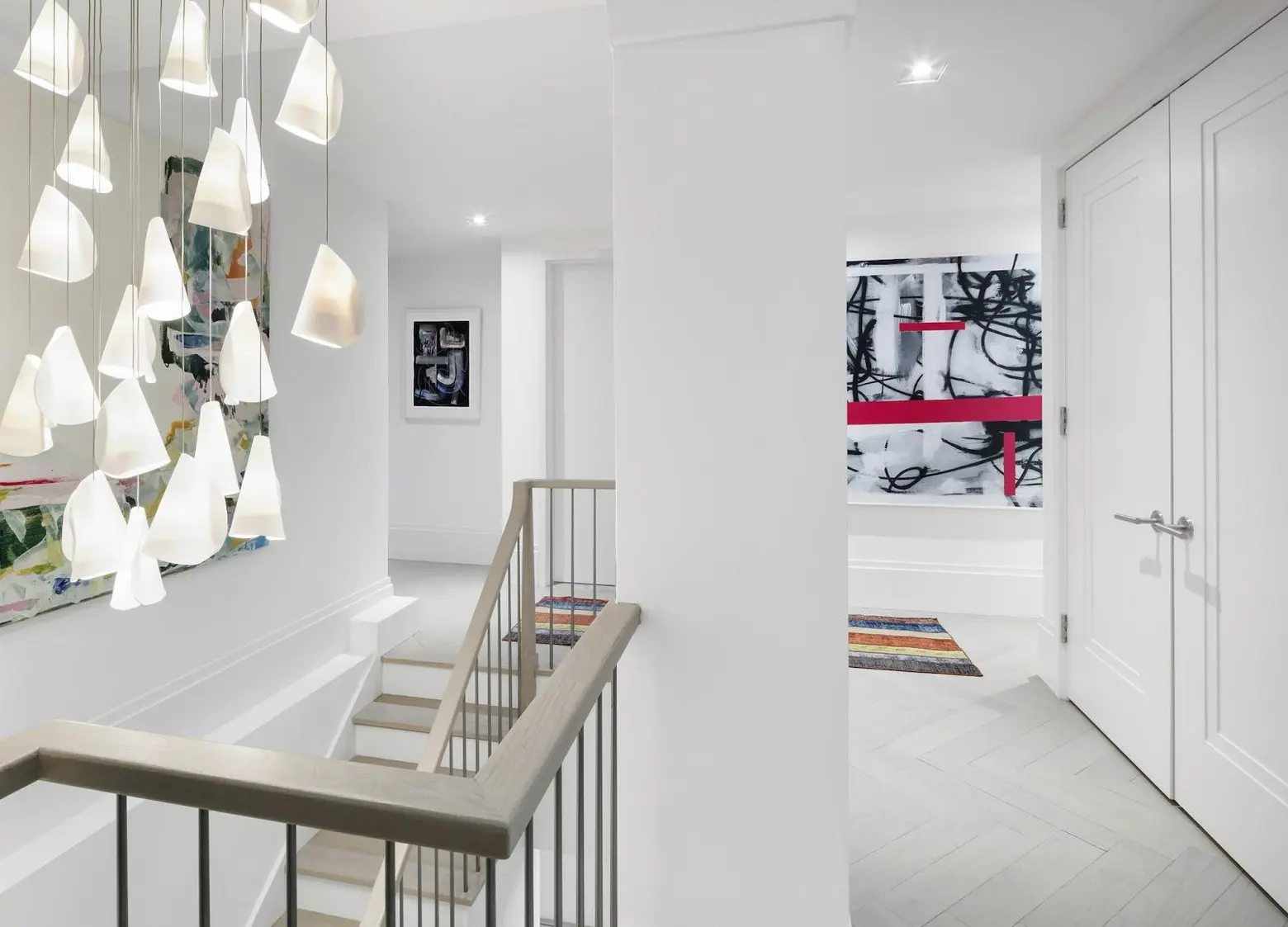 101 Wall Street's model apartment
Interior designer, Chloe Pollack- Robbins of Curious Yellow Interior Design says, "When you come into an empty space, it's very hard to envision what it can be. Art can really show a space, its size, height, and potential, to buyers. Art makes the space feel more substantial."
Pollack-Robbins and her partner Anna Cappelen designed the model apartment for 101 Wall Street. They believe that "When you add art to forgotten corners and certain nooks, it makes that space a part of the room. It is no longer hidden. We often put art at the end of the hallway or in a nook that isn't being used so that it makes it part of the space and feels more complete."
Kipton Cronkite, who has made his profession on the relationship between art and real estate as an art advisor and art stager, says, "People who have art collections and are already established collectors want large spaces and fewer windows. If a collector has a lot of photography, they don't want a lot of bright white light. But if a buyer is just starting to build their collection, then, as a broker, we look for a space first and build the collection around that space (its light, size, etc.) and their lifestyle."
The massive Sotheby's team behind 212 Fifth Avenue (which includes Nikki Field, Mara Flash Blum, Kevin B. Brown, E. Helen Marcos, and Silvia Wong) added, "There is extraordinary wall space in each and every unit. The developer's, Madison Equities, design focus kept in mind that buyers at this price point, often are buying walls for their private art collection."
Aby Rosen and Compass just revealed 15 gorgeous art gallery-like, downtown-style lofts in Midtown East, at One Hundred East 53rd Street. To showcase these unique Midtown lofts, Rosen and Compass created an art gallery in of one of the two-bedroom, 4607-square-foot lofts and filled with art on loan from Mr. Rosen's personal collection along with items on loan from the Lever House Collection (also owned by Rosen).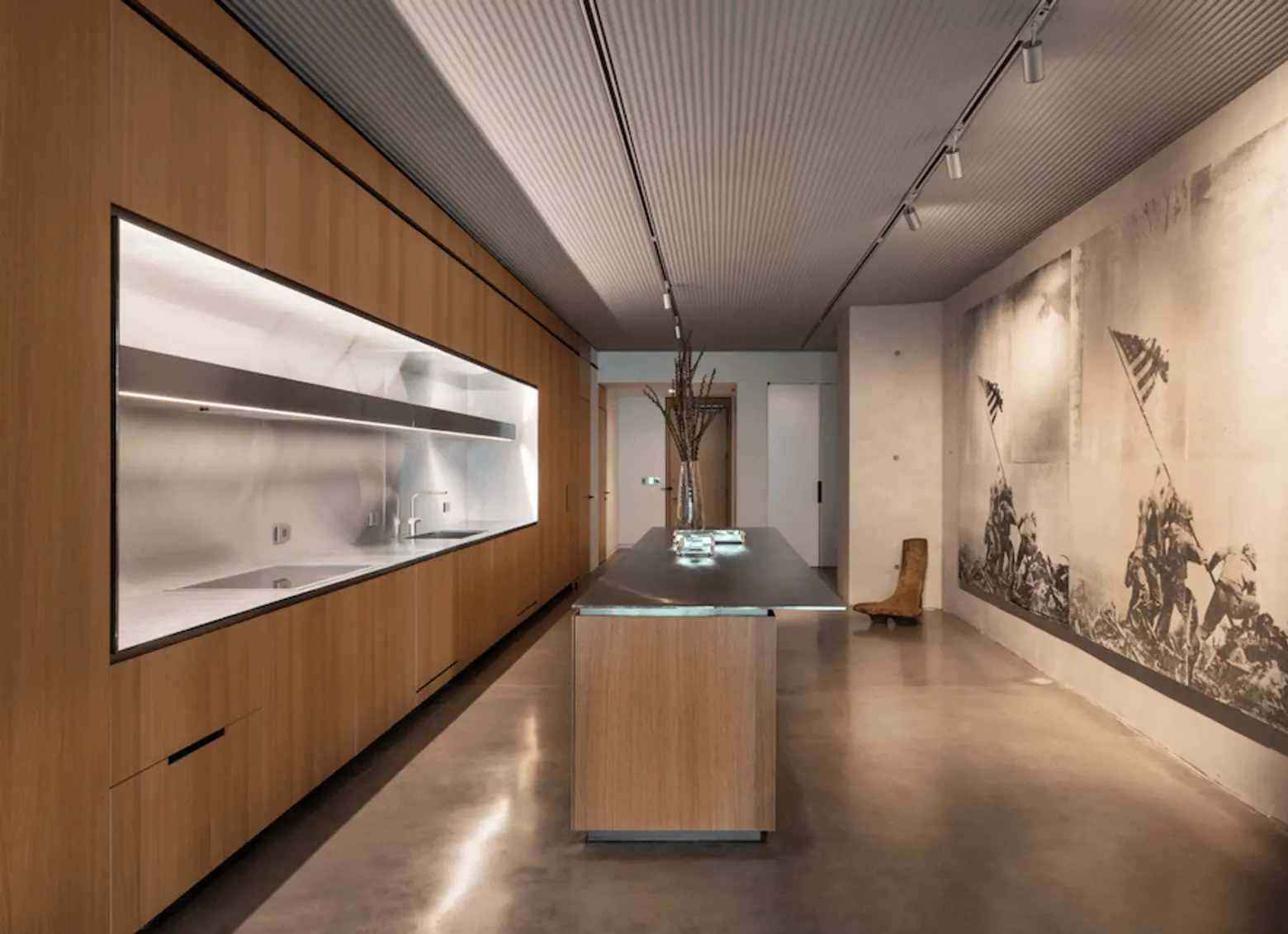 Located in the 9-story base of the Norman Foster-designed building and completely unique from the rest of the tower, the one- and two-bedroom loft residences are carved out of concrete by the same artisans who work with Tadao Ando. In elegant Chelsea gallery fashion, there are three elements of concrete that come together in the units: diamond polished concrete floors, smooth concrete columns, and unique ribbed concrete ceilings. These concrete features blend elegantly with the wire brushed oak cabinetry, brass finishes and 13' single piece stainless steel islands in the kitchen. Amazingly, the seemingly harsh elements of concrete and steel combine in a soft simplicity that perfectly highlights the art.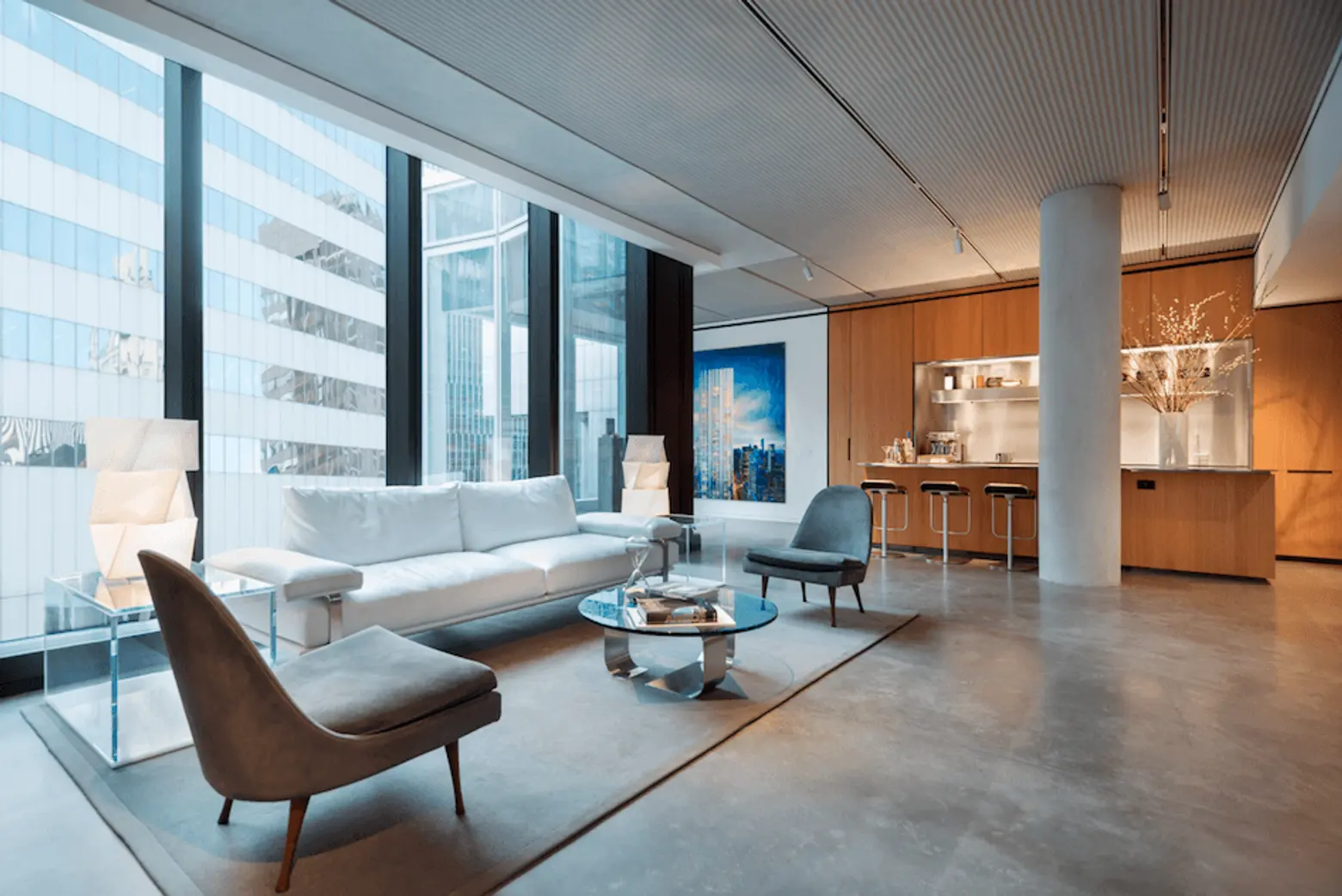 James Cox, the Compass broker representing 100 E. 53rd says, "For us, the art is absolutely helping us sell the real estate. When they can see how huge these enormous art pieces are, they can see how their art can look in the space as well. Rosen's private collection is really meaningful and helpful for sales. A lot of philanthropists come to see these units, they are big art collectors and throw big parties. They are blown away by these lofts and see the potential."
There is also art on display in the lobby and sales office of 100 E. 53rd. "Aby's art collection has been a theme from the beginning and now the building has come to life. We are in center of a new zone of art and culture in midtown with the high-end restaurants and a lot of public art (like the Seagram building, the Lever house, the art collection on Park Avenue, etc.). 100 E. 53rd is continuing to build on that vibe."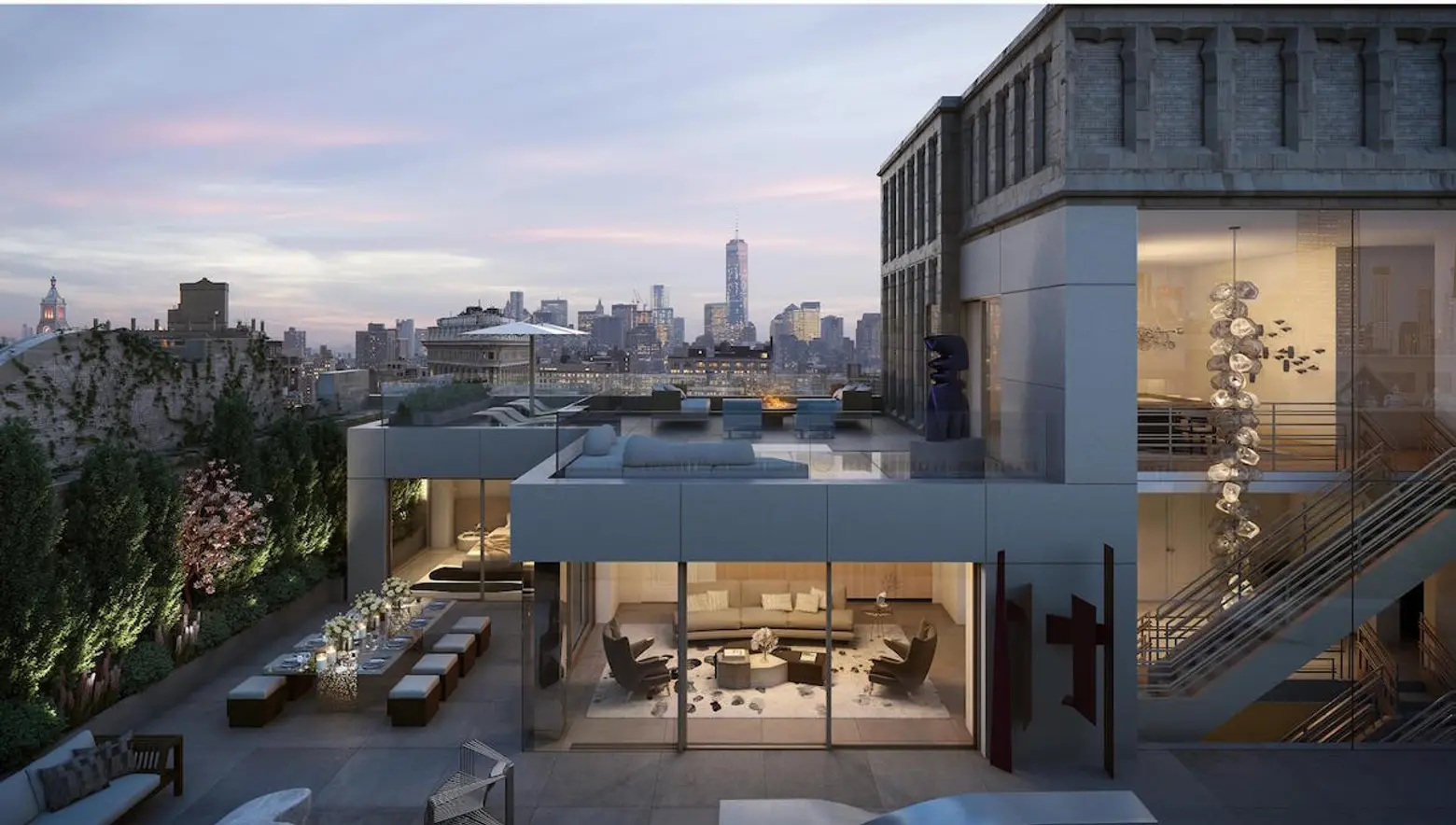 The aforementioned 212 Fifth Avenue triplex penthouse is another demonstration of the power of art and real estate to sell each other. The art in the over 10,000-square-foot penthouse successfully focuses the eye into the space and creates a vision for what can be, which is a true testament to the power of the art because the 360 views throughout the unit are quite alluring.
The Sotheby's sales team commented, "Brokers and high-net-worth individuals who attended the event were unanimously impressed by what they saw. Our event boasted a surprise and delight aspect—we had several cocktails stations scattered around the space. This encouraged visitors to wander throughout the tri-level Penthouse and discover the unparalleled residence features while touring the impressive artwork installation. Our special guests included artists, renown collectors and Westwood Gallery clients. It was a perfect combination of the elite art and real estate world."
The added, "This is the first time we have collaborated with a designated gallery and assisted with the curation. It will not be our last!"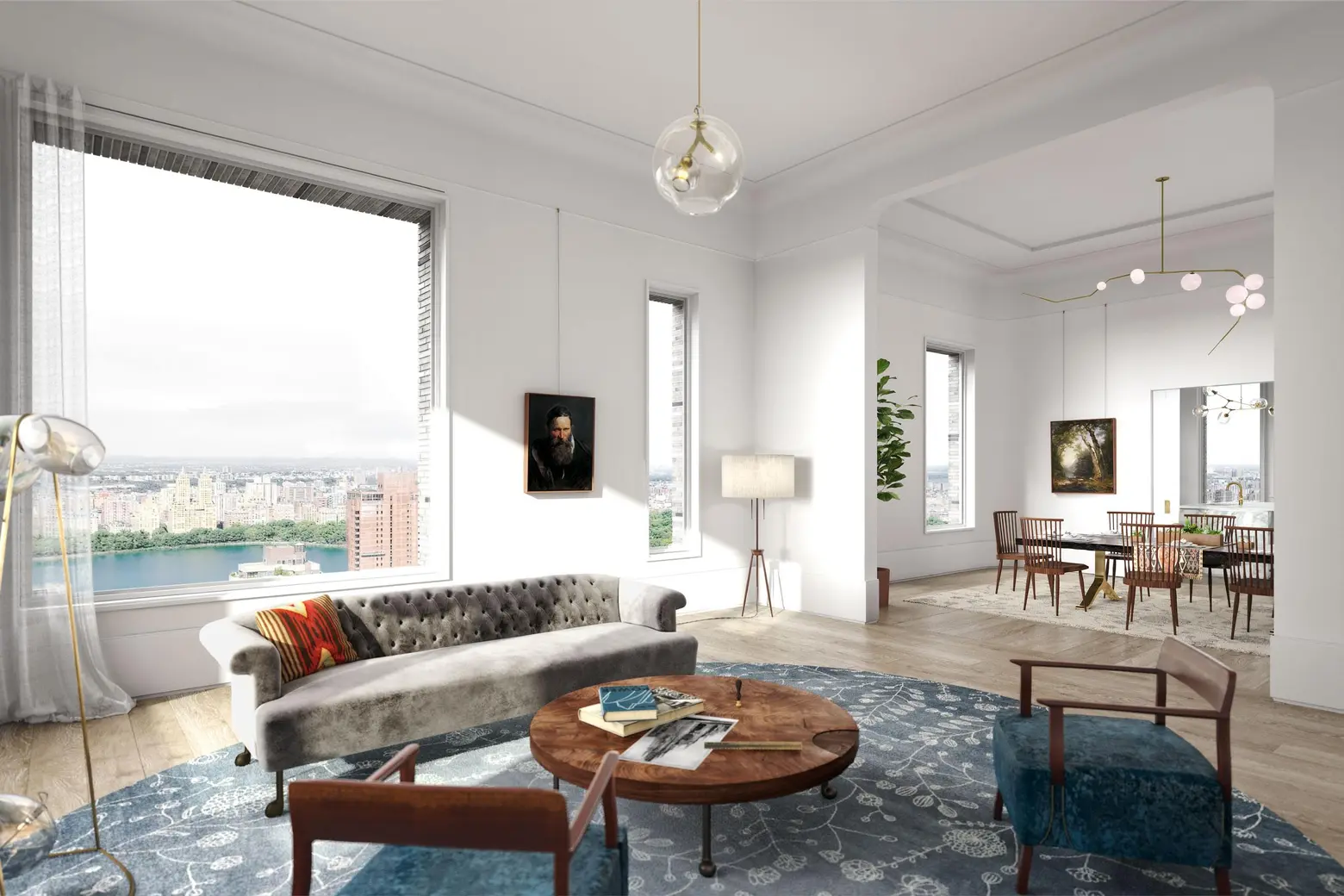 Developer DDG has a very strong history of blending architecture and art and has formed many unique partnerships with artists over the years. DDG has also found that many buyers at their developments value and collect art, and so they've incorporated these sentiments into the very design of their homes. 180 East 88th Street's luxury condominium homes features a special picture rail system similar to what is used in the Metropolitan Museum of Art. The rail system makes the installation and display of large paintings and photographs a breeze. Windows are also intentionally spaced far enough apart so that there are large spaces of white walls between them, acting as discreet places to hang art. Through all of these attributes, the homes themselves really appeal to art-loving buyers.
There are many shared interests and appreciations in art and real estate. To combine forces seems to benefit everyone involved.
The Sotheby's team concluded, "Sotheby's International Realty has always been focused on a new wave of experiential marketing. As a sales team, we work closely with our in-house New Development Advisor's Division to hone in on strategic ways to not only attract the uber-rich, but also those who influence them. Our plan was to host many co-branded events with wealth advisors and the art world. In the uber-prime residential category, these connections are the key gateway to our target buyers."
Collectors have discerning tastes and the gallery-like luxury residences available to them in Manhattan are providing the perfect backdrop.
RELATED: