Your guide to Carnegie Hill, the essence of history and culture on the Upper East Side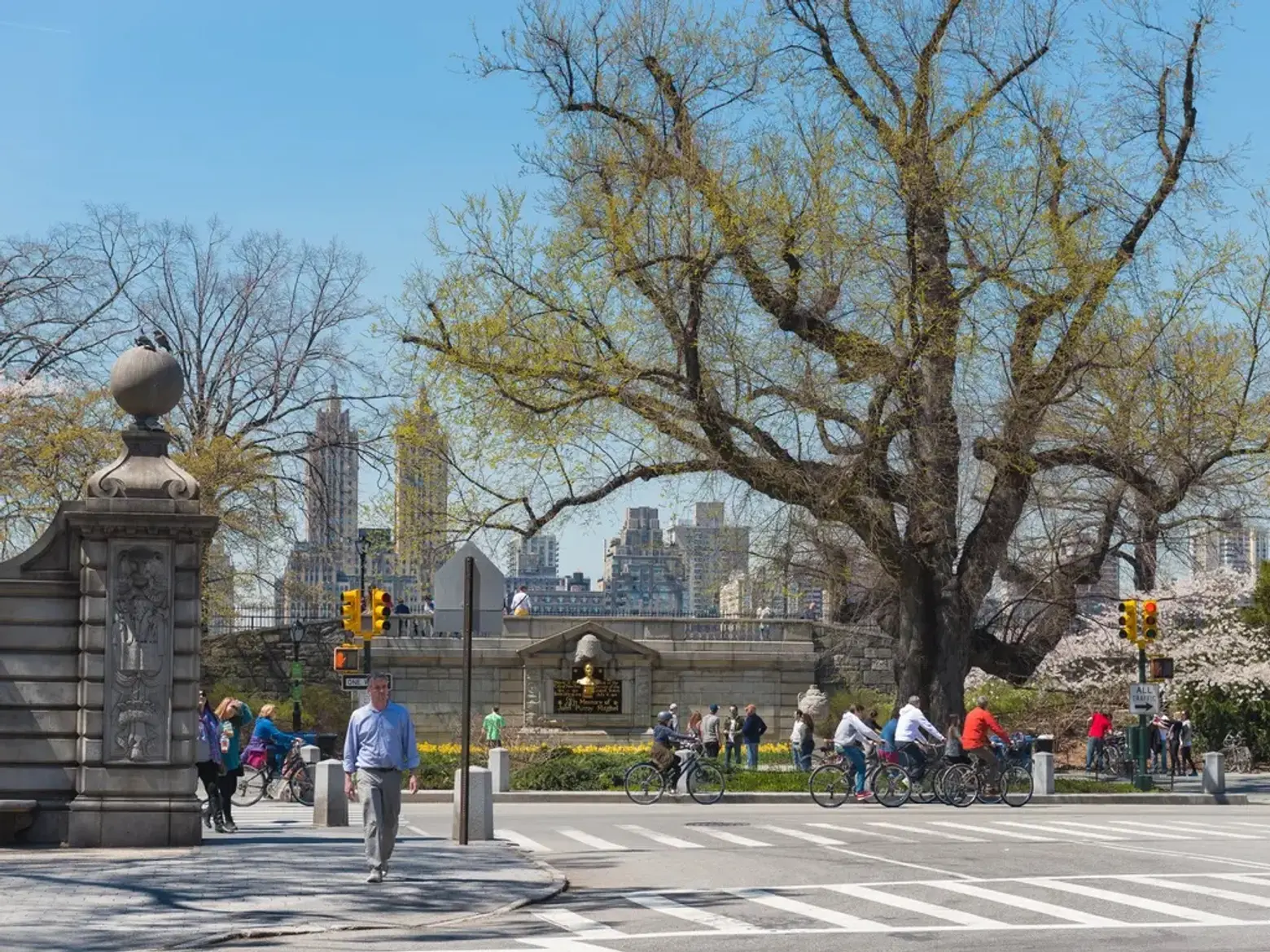 Bounded by 86th and 96th streets, Third Avenue, and Central Park's east side, the enclave of Carnegie Hill, well within the refined embrace of Manhattan's Upper East Side, is a neighborhood that transcends trends. A significant portion comprises the Carnegie Hill Historic District with its 19th-century townhouses of brick and brownstone and ornate mansions, converted hotels, and large apartment buildings from the early 20th century. Culturally rich on par with any neighborhood in the world, with a convenience that's hard to beat anywhere in the city, this elegant residential New York City neighborhood appears untouched by time. But within its borders are some of the Upper East Side's most exciting recent residential conversions and new developments.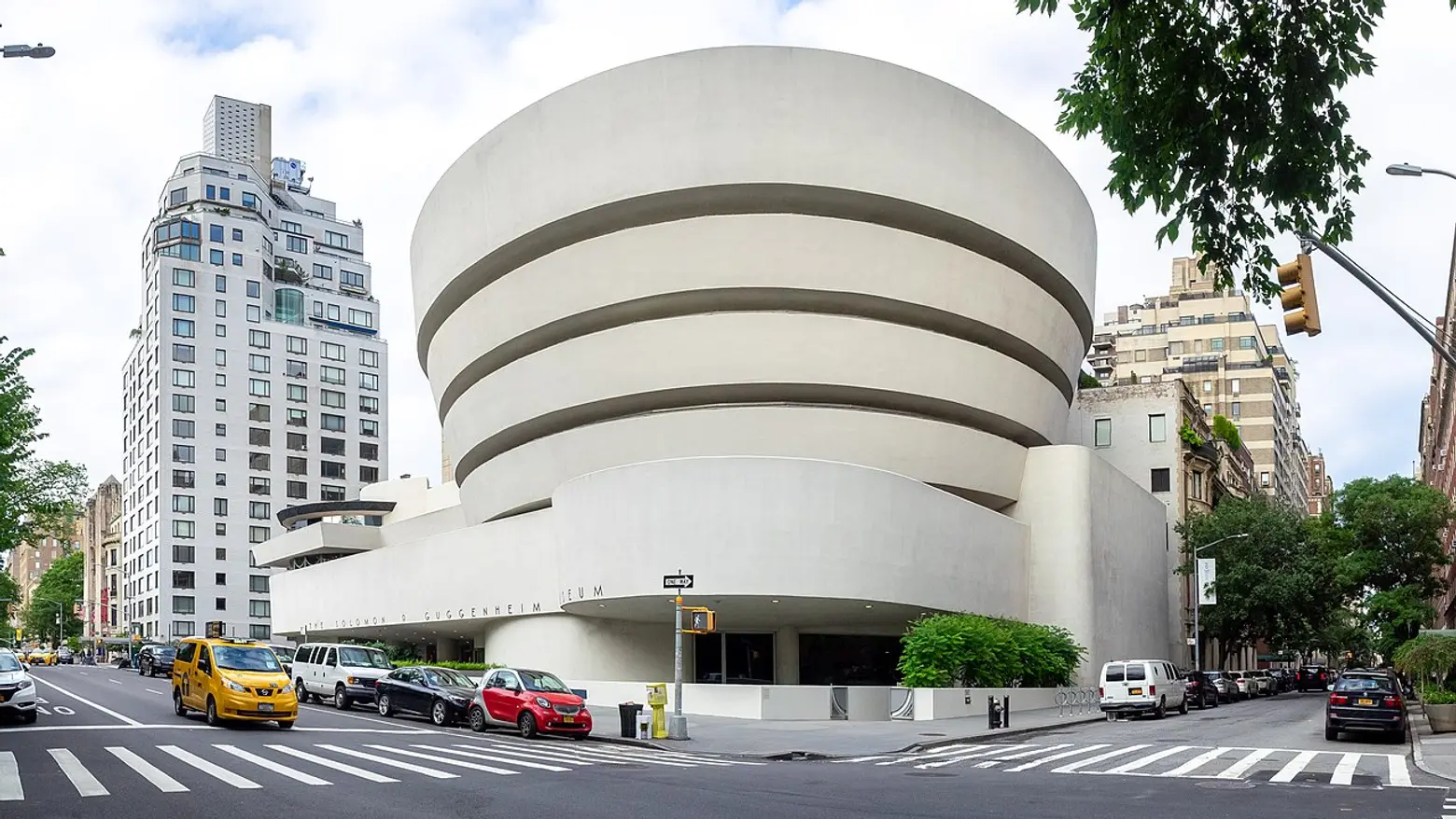 Photo: Wikimedia Commons 
The neighborhood's name dates from the early years of the 20th century. Industrialist Andrew Carnegie built himself a mansion on Fifth Avenue and 91st Street, in a modest residential area that was then referred to as "Prospect Hill." Wealthy New Yorkers followed Carnegie's influence, and mansions and luxury apartment buildings began to appear.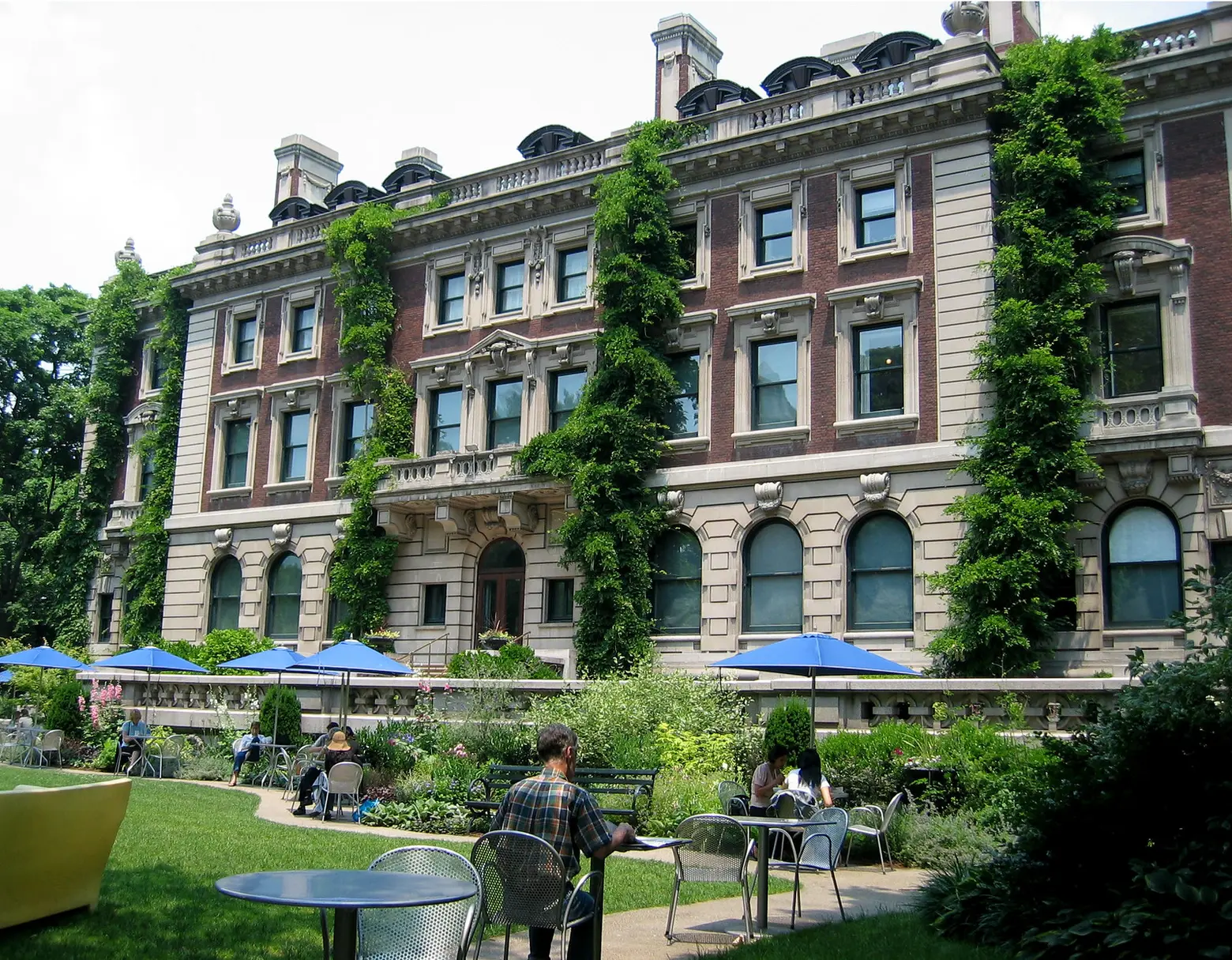 Photo credit: rocor via Flickr
Claiming a prominent spot on Fifth Avenue's Museum Mile is the Solomon R. Guggenheim Museum, an unmistakable modern landmark designed by Frank Lloyd Wright; the Cooper Hewitt Smithsonian Design Museum occupies the fabulously ornate Andrew Carnegie Mansion. Central Park runs along the neighborhood's west flank, with the Jacqueline Kennedy Onassis Reservoir and the Loeb Boathouse just inside its borders. Only steps away you'll find the iconic 92nd Street Y, New York, which is synonymous with New York City culture and sets lofty global standards for intellectual enrichment and entertainment.
Photo credit: Eden, Janine and Jim via flickr
Homes in this coveted residential neighborhood vary from subtly ornate 19th-century townhouses to stately apartment buildings and former Gilded Age hotels. Interspersed are more recently constructed and converted residences that complement the neighborhood's historic streetscapes as a result of stringent guidelines from the city's Landmark Preservation Commission.
The neighborhood's convenience is hard to beat anywhere in the city. Famous food and catering institution Zabar's has several outposts here, and a full menu of popular large and small chain stores like Whole Foods Market, Target, and Brooks Brothers can be found just beyond the neighborhood's periphery, so residents needn't forsake convenience for the luxury of quiet residential streets. Just to the south is the world-class Madison Avenue shopping district. Public transportation is an easy option, with the newly-extended Second Avenue subway line adding a stop at 86th Street. Below, you'll find some of the highlights of living in this quintessential Upper East Side neighborhood.
Things to see and do in Carnegie Hill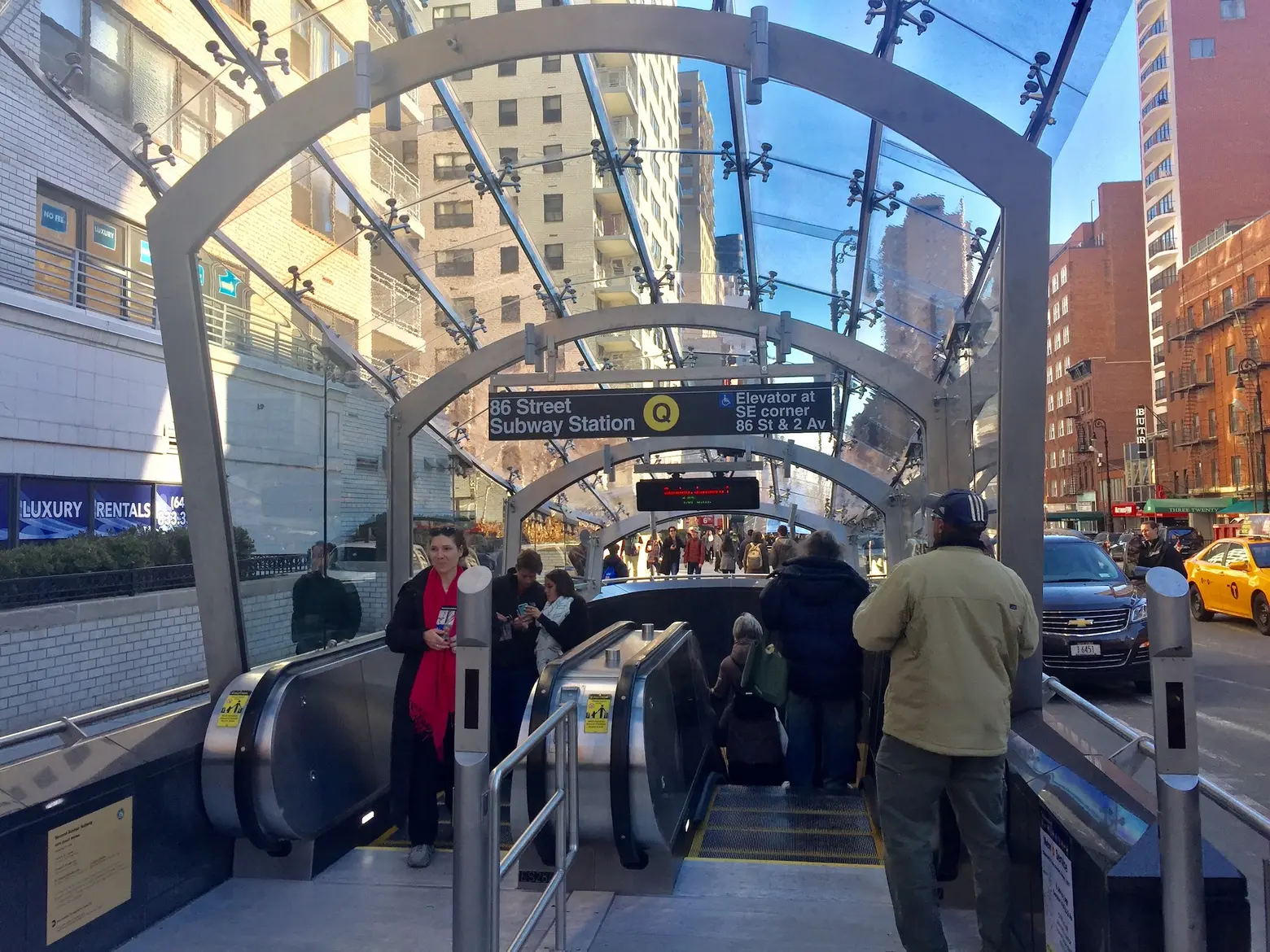 Photo credit: Wikimedia Commons
Where to eat and drink
Sfoglia
This rustic Italian staple is one of many local favorites, catering to a New York-Nantucket circuit (there's a location on the Massachusetts island as well) and providing a welcoming atmosphere for date nights or any occasion requiring good vibes without a reverent hush.
Bluestone Lane Coffee
The Upper East Side location of this cafe mini-chain is housed in an ornate building within the historic Church of the Heavenly Rest. just opposite the East 90th Street entrance to Central Park, with interiors that have been featured in Architectural Digest. Sit outside in warm weather, enjoy a notable brunch, and take in the ever-changing tableau of Central Park.
Pascalou
Don't sleep on this local French favorite. It's a great Sunday brunch option near the entrance to the Cooper-Hewitt museum.
Paola's Osteria
This cozy Italian restaurant and gathering place featuring traditional food and a great selection of wine is the epitome of a local go-to spot.
Milano Market
Offering an extraordinary selection of homemade and international grocery staples like fresh pasta and sauces, fine olive oils, cheeses and deli meats–including prosciutto from Parma, Italy–this neighborhood market is happy to send you home with a treat, or cater your next event.
Bonjour Crepes and Wine
Since opening in 2013, Bonjour has been getting raves for its European cuisine, and gracious hospitality, featuring a comfort food menu with favorites like crepes, waffles, pancakes, French toast and more in a cafe atmosphere.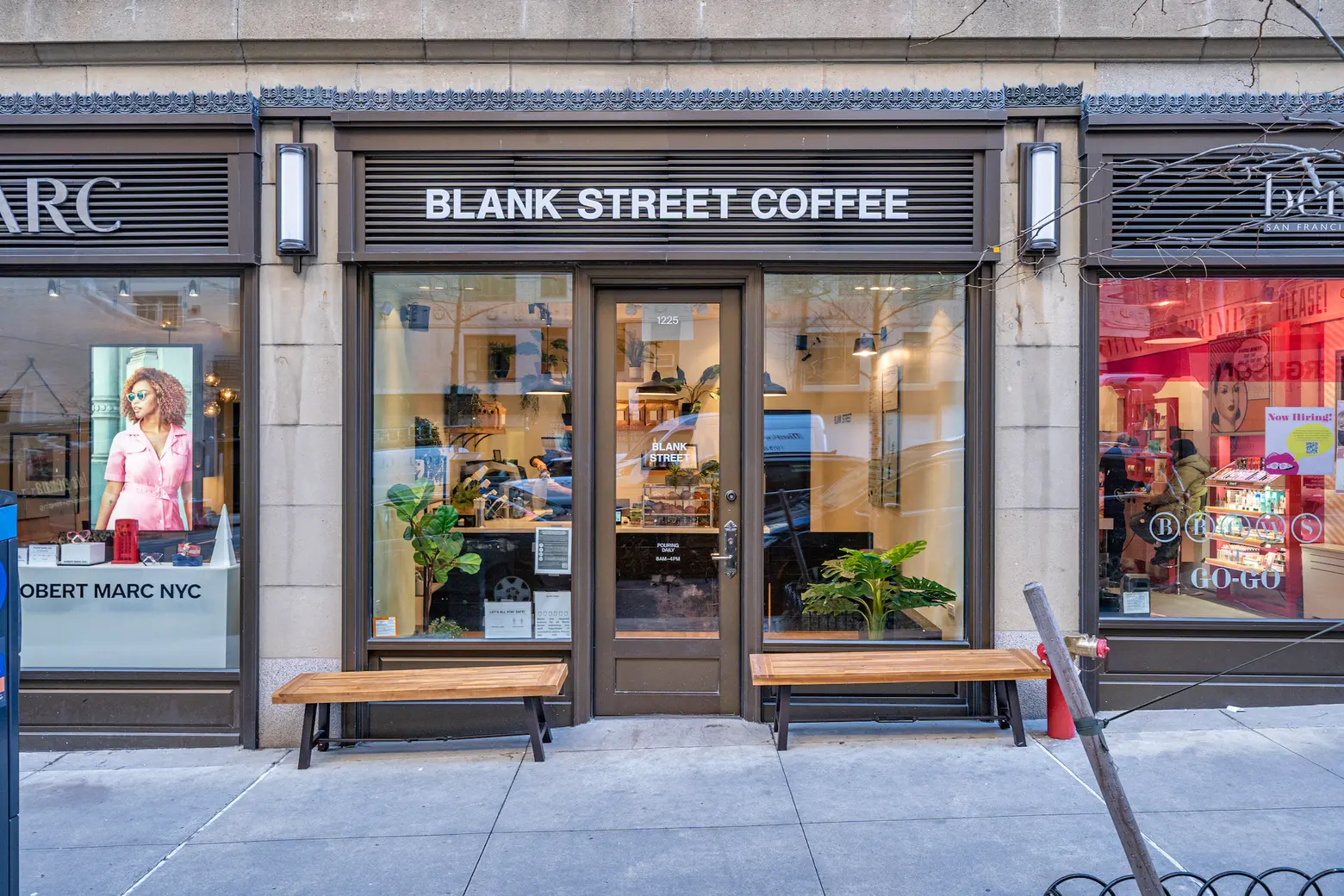 Photo: Blank Street Coffee
Blank Street Coffee
This small-format coffee shop has a big presence in Manhattan and Brooklyn, but who can argue with good coffee? Look for collaboration on baked goods and food-truck faves like King David Tacos.
Noglu Cafe
This bakery/cafe's name is a clever take on "no gluten." Opened by Frédérique Jules in 2015. this Upper East Side establishment has satisfied gluten-free cravings with style.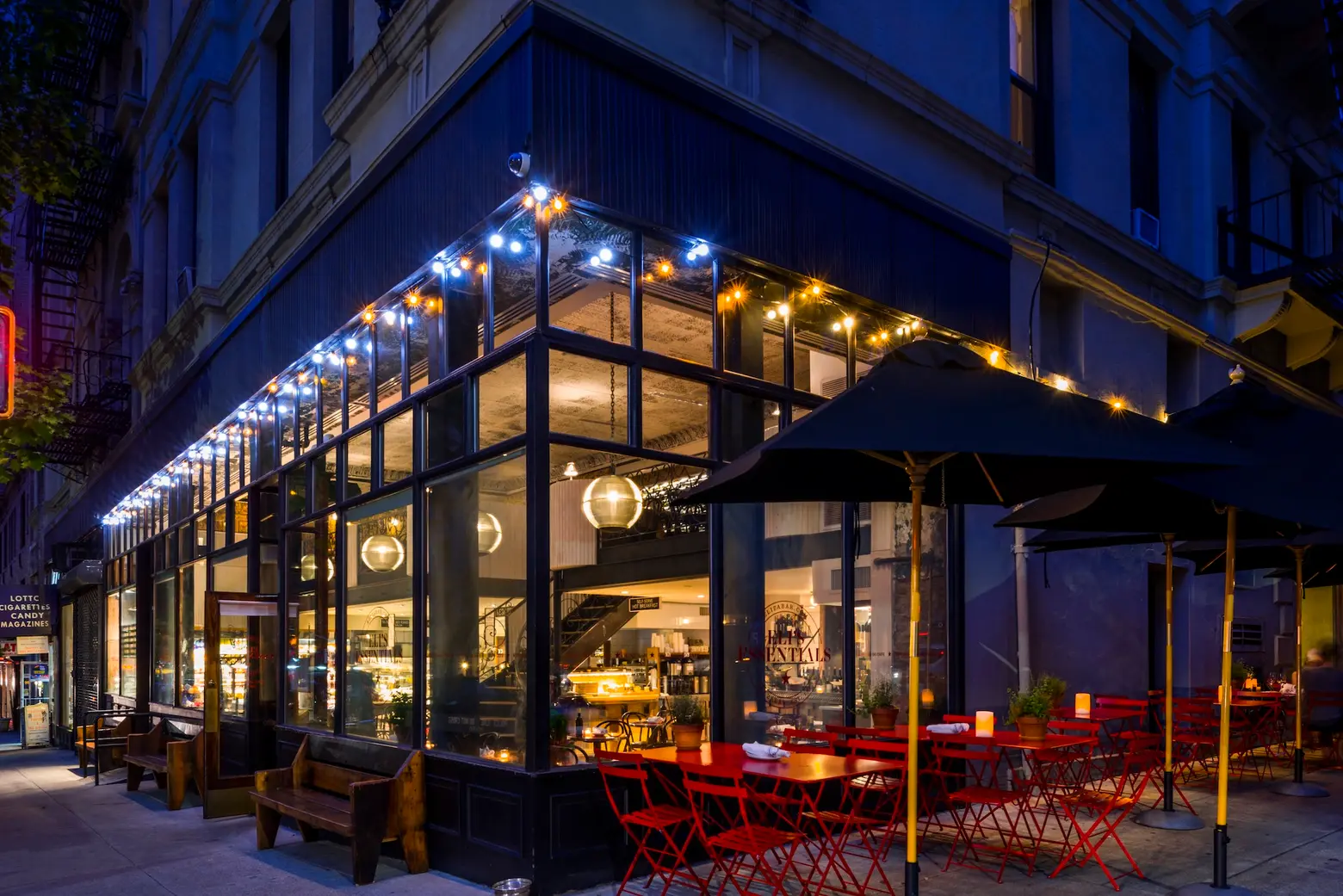 Photo: Quentin Bacon
Eli's Bar 91
This bustling corner establishment has the Eli Zabar stamp of approval. You'll find an "approachable" wine list and a rotating market-driven menu as well as outdoor dining.
Casa Birria
It might not be the first thing that comes to mind when you think about the Upper East Side, but this cash-only truck whips up some of Manhattan's best birria (beef tacos) and other favorites from a spot near the corner of East 86th Street and 3rd Avenue.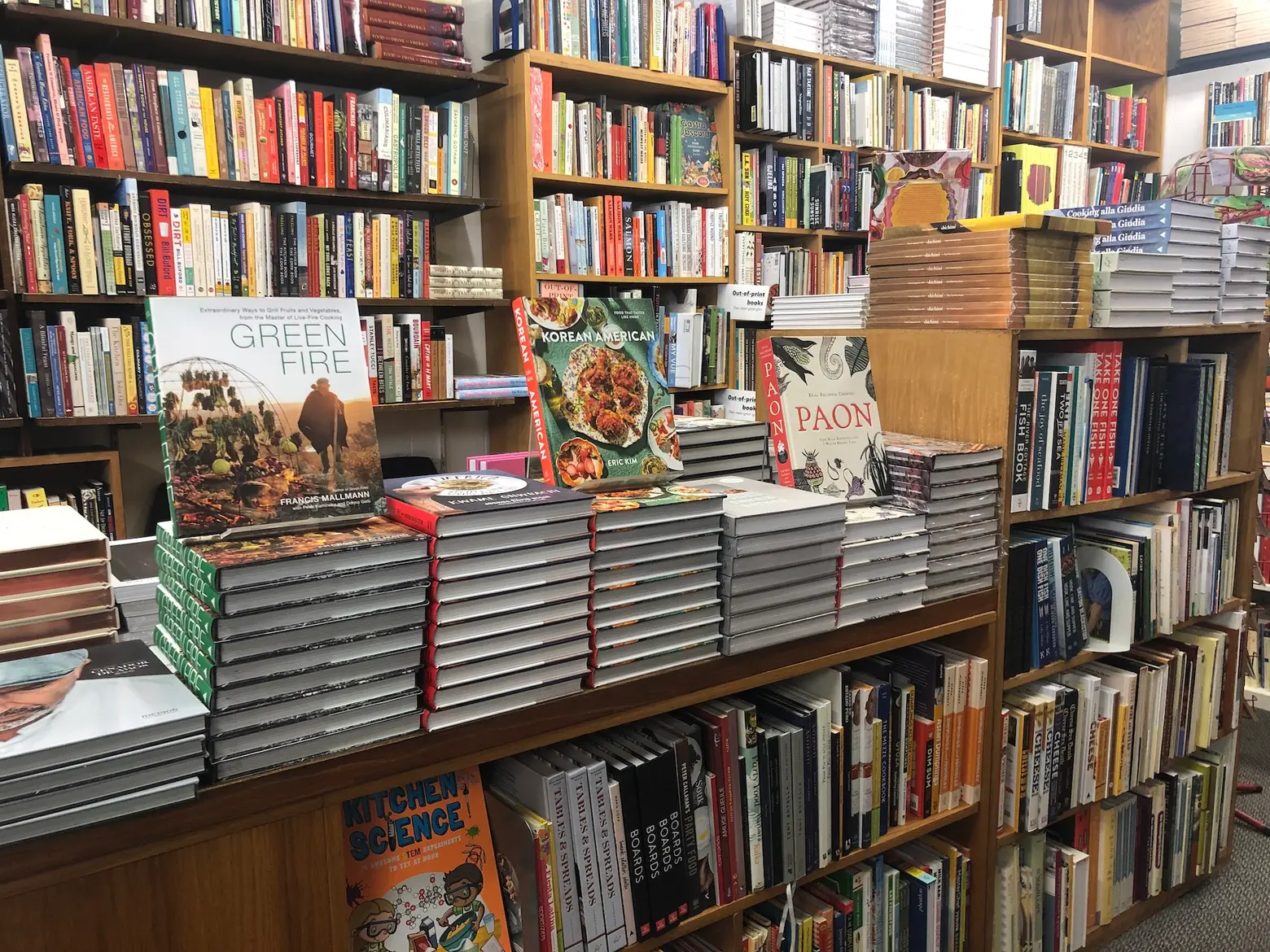 Photo courtesy Kitchen Arts and Letters Bookstore
Where to shop
Kitchen Arts and Letters Bookstore
This famous culinary bookstore features cookbooks, drink books, food history, memoirs, and more from all around the world.
Heirlooms Antiques
As buyers and sellers of antiques and art for over 25 years, this gallery specializes in 19th- and 20th-century art and antiques from China, Asia, Europe, and America.
Corner Bookstore
The Corner Bookstore became an instant hit with book-hungry Carnegie Hill when it first opened in 1978. The beloved bookshop still takes enormous pride in its carefully-curated stock.
Guggenheim Museum Shop
Just in case you need another reason to visit the Guggenheim, the museum offers not one, but two shops selling a wide range of items inspired by and dedicated to Peggy Guggenheim, her collection, and all things 20th-century art.
Blue Tree
This eclectic Upper East Side clothing and accessories shop is a rare find and a labor of love for its owner, Gen-X icon and actress Phoebe Cates Kline.

Photo credit: Eden, Janine and Jim via flickr
Events and culture
The Solomon R. Guggenheim Museum
The iconic Frank Lloyd Wright-designed building is instantly recognizable. The museum itself is synonymous with both innovative modern architecture and world-class excellence in modern art.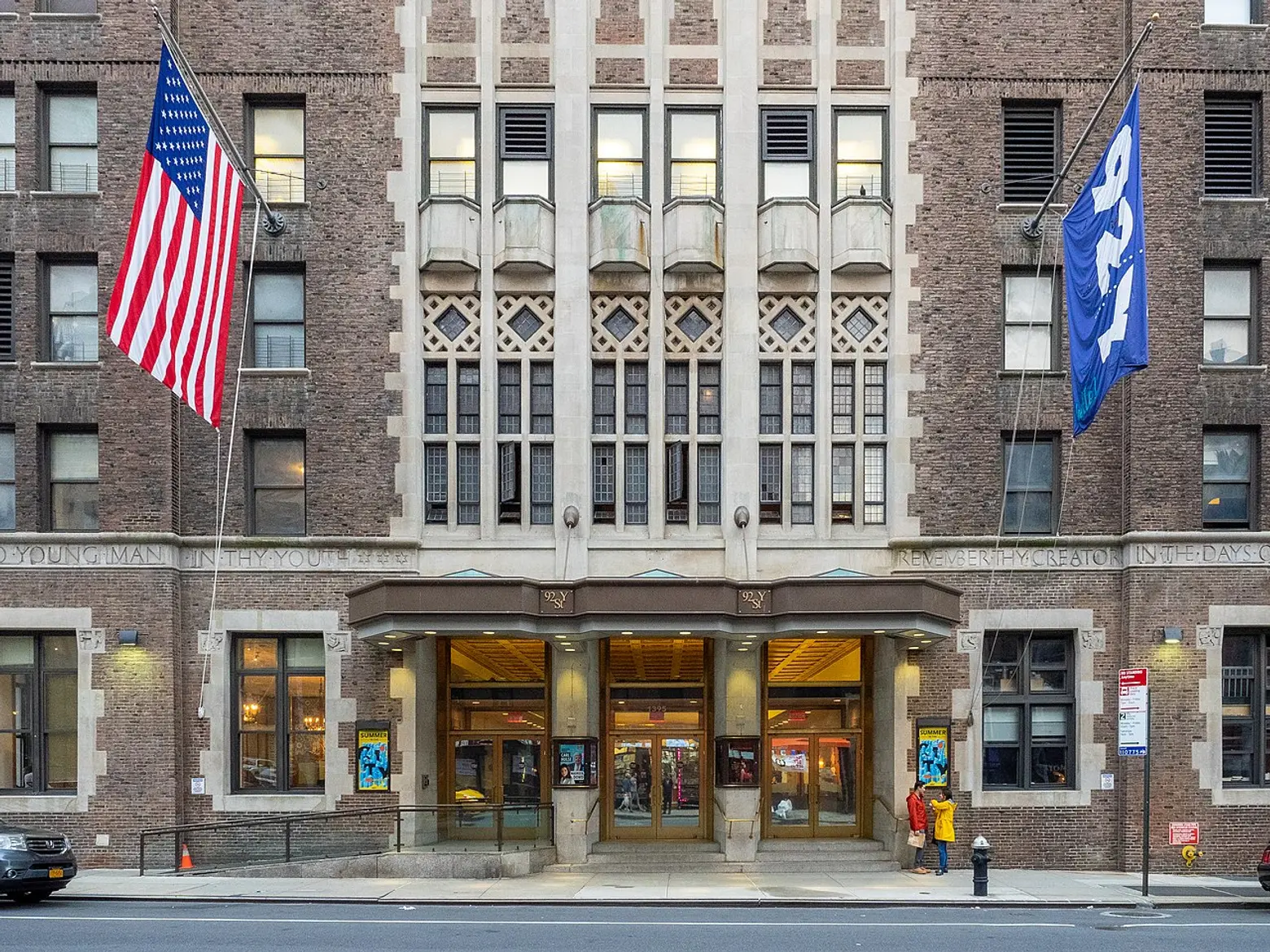 Photo credit: Wikimedia commons
92nd Street Y
This cultural and community center has become one of the most revered arts and cultural centers in the city, and that's no small feat. A 21st-century name change to simply 92Y, along with a $200 million redevelopment, has merely cemented its reputation as an icon in the Upper East Side.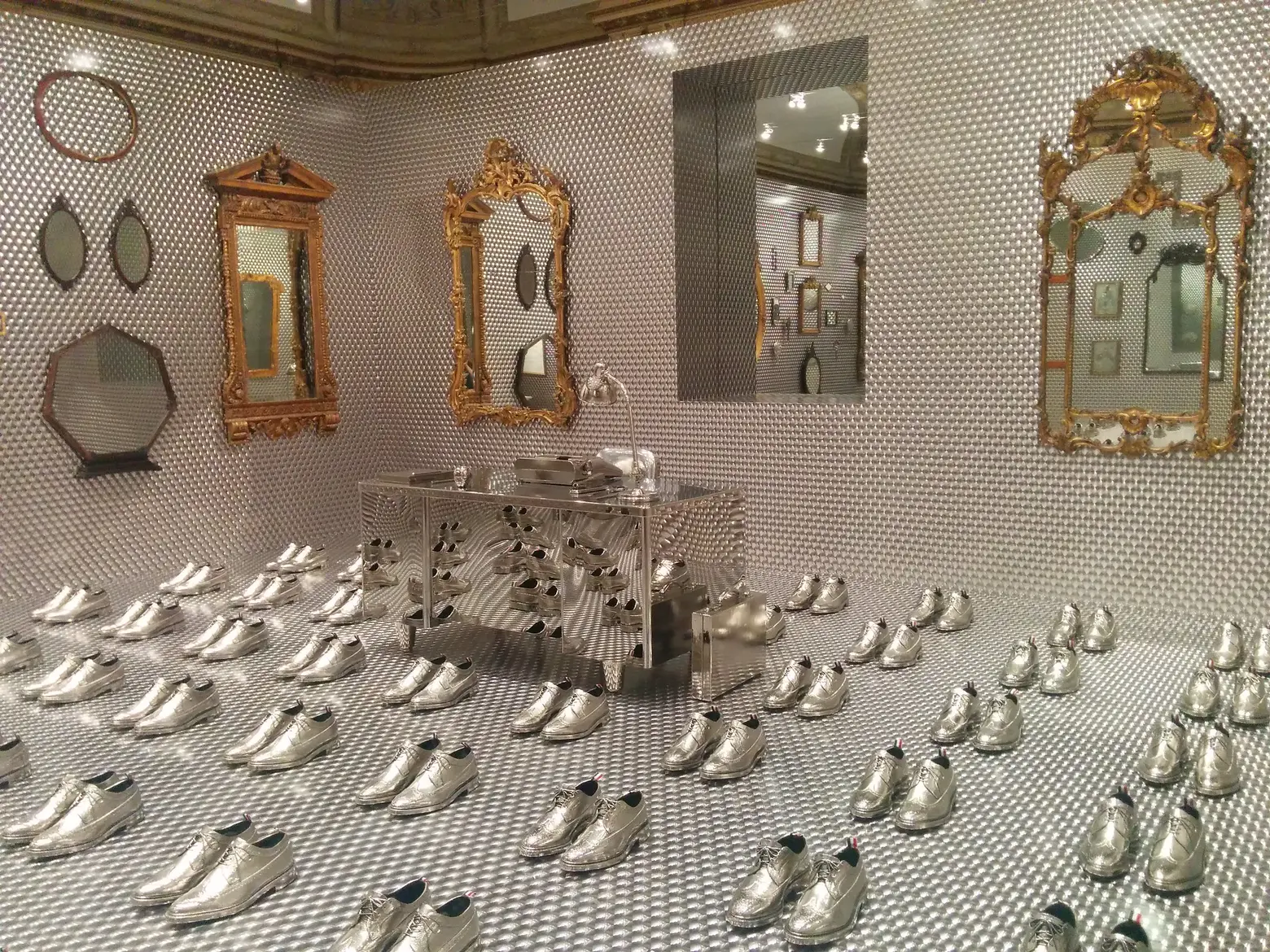 Photo credit: Jon Roberts via flickr
Cooper Hewitt Smithsonian Design Museum
Located in the ornate Andrew Carnegie Mansion, Cooper Hewitt is the country's only museum devoted exclusively to historical and contemporary design, offering one of the most diverse and comprehensive design collections in existence.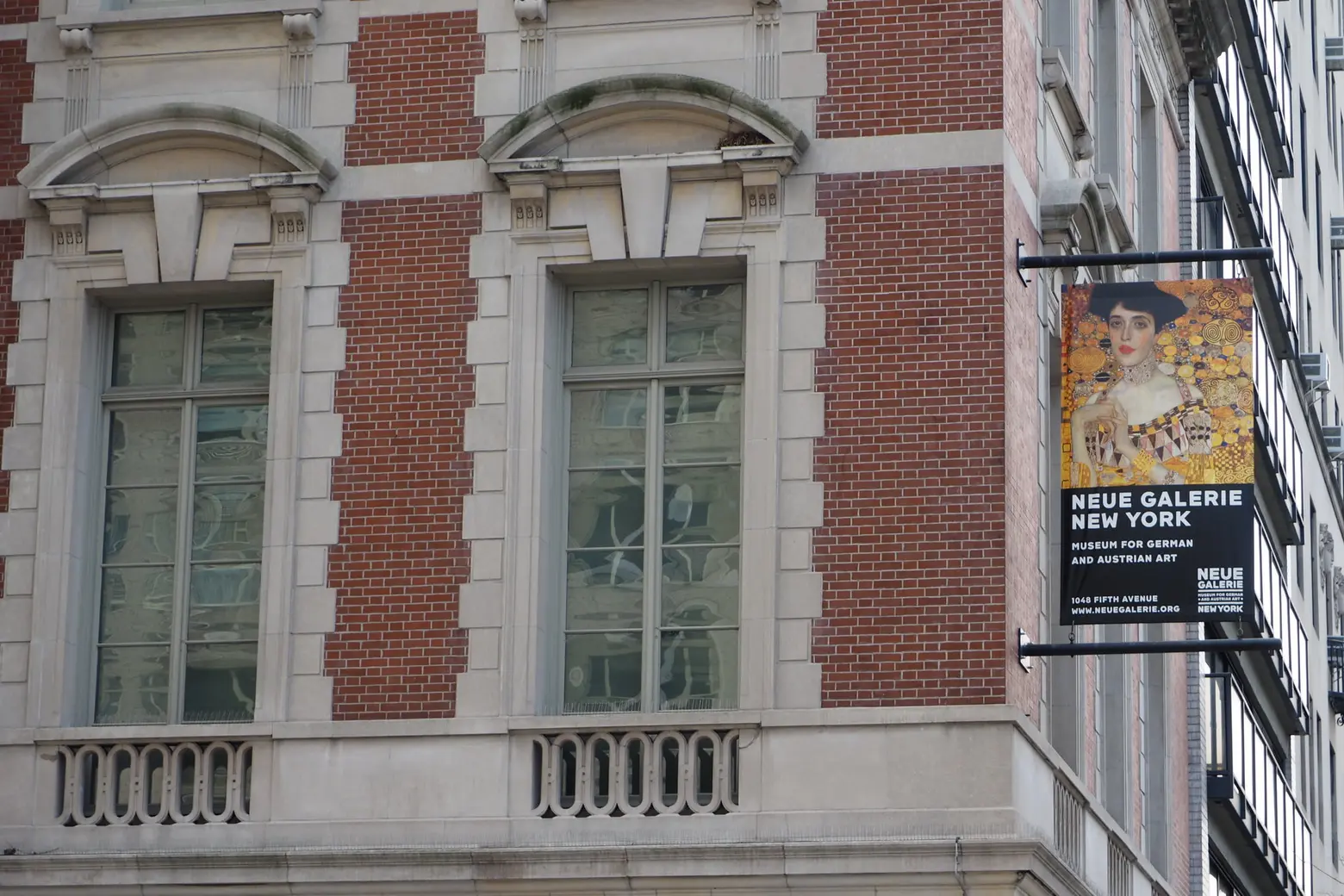 Photo credit: Johannes Ortner via flickr
Neue Galerie New York
Since opening in November 2001, this museum has earned praise from visitors, critics, and colleagues for its superb collection of Austrian and German art and design, book store and design shop, and cafe.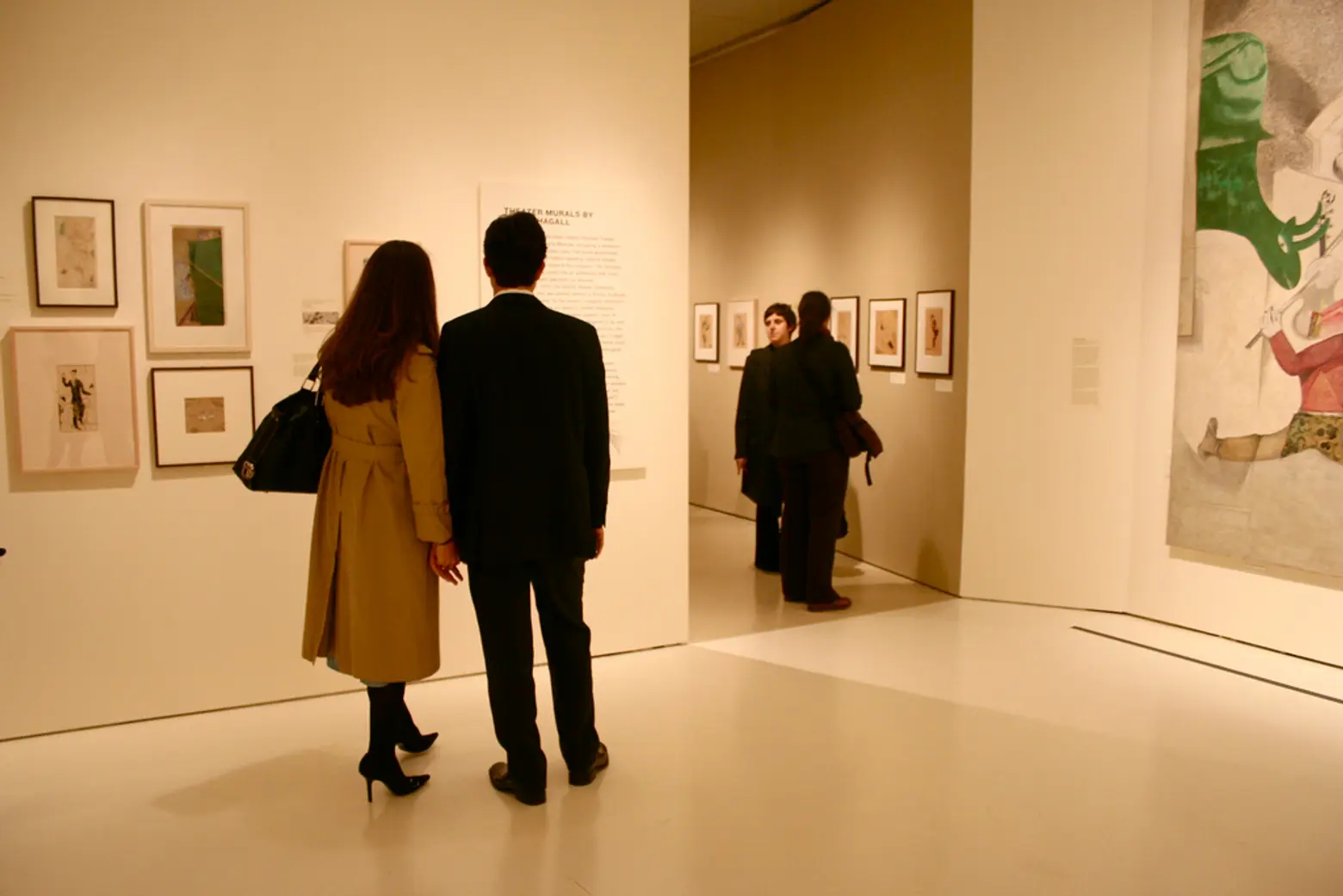 Photo credit: Wikimedia Commons
The Jewish Museum
As the first institution of its kind in the U.S. and one of the oldest Jewish museums in the world, this Museum Mile art institution is committed to illuminating the complexity and vibrancy of Jewish culture for a global audience through distinctive exhibitions and programs that provoke dialogue and promote understanding.
Photo credit: Wikimedia cc
Parks and public places to gather
Central Park
Needing no introduction, Frederick Law Olmsted's magnum opus is a refuge for millions. For Carnegie Hill residents, it's simply an 843-acre backyard.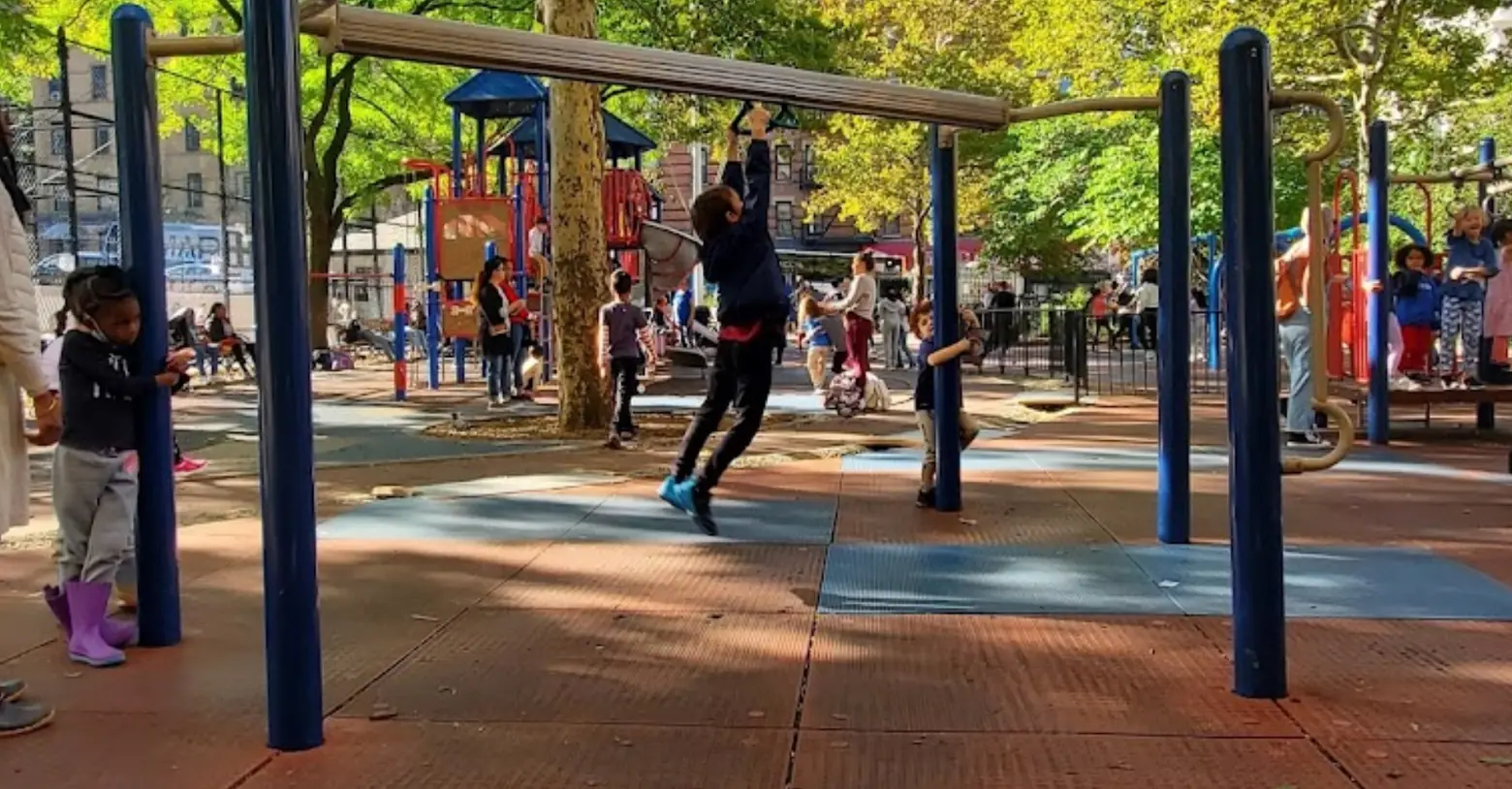 Seabury Playground: Map data © 2022 Google
Samuel Seabury Playground
Named in honor of Judge Samuel Seabury, this urban playground's facilities include two basketball courts, a baseball field, a comfort station, climbing structures, swings, slides, and sitting areas equipped with benches and game tables.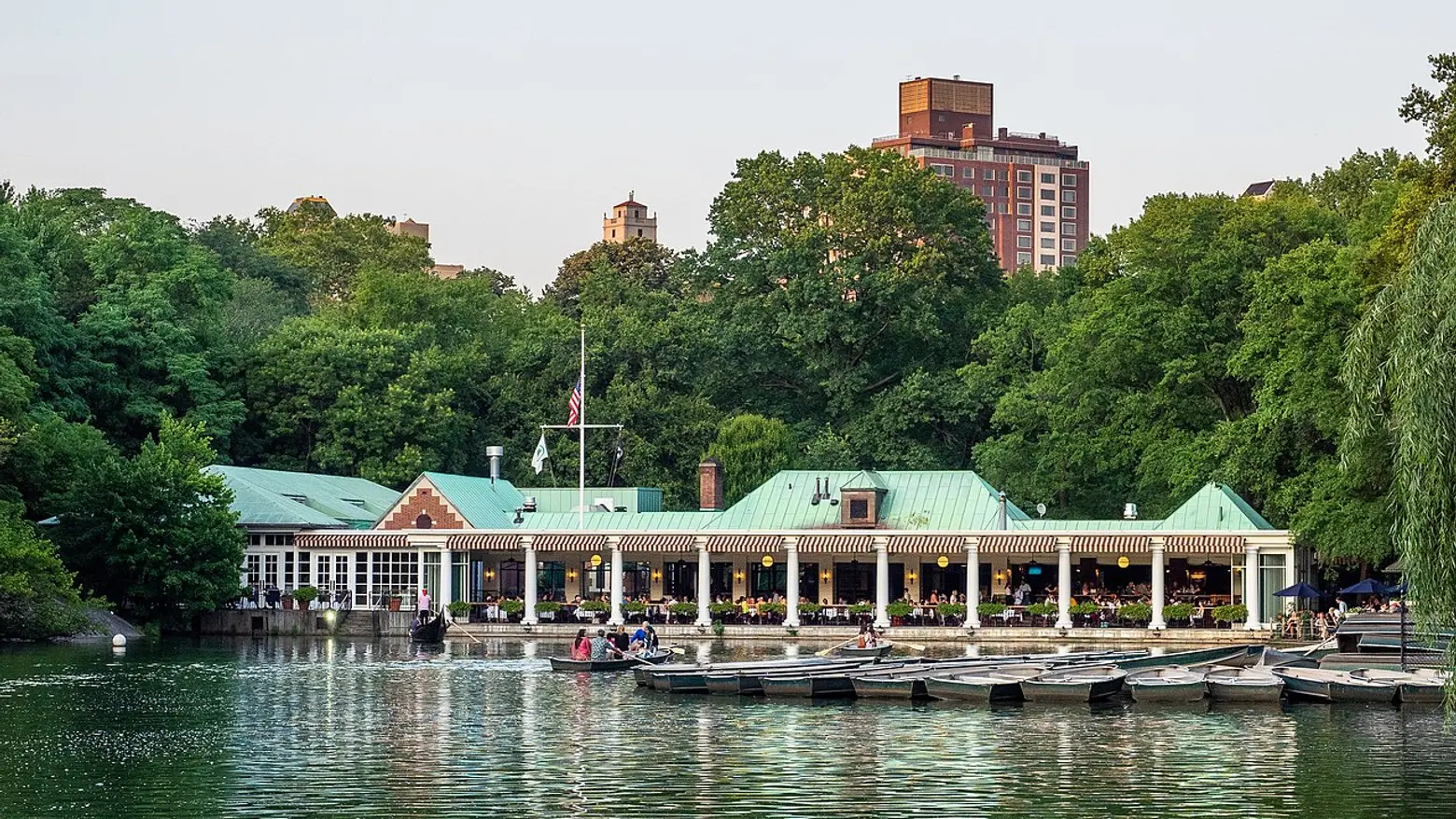 Photo credit: Wikimedia Commons
Notable neighborhood highlights
The Jacqueline Kennedy Onassis Reservoir
Just inside the Carnegie Hill-adjacent section of the park, the Jacqueline Kennedy Onassis Reservoir covers 106 acres, holds over 1,000,000,000 gallons of water, and has long been a favorite scenic running route for celebrities (including Bill Clinton, Barack Obama, Madonna, and its namesake) and other New Yorkers.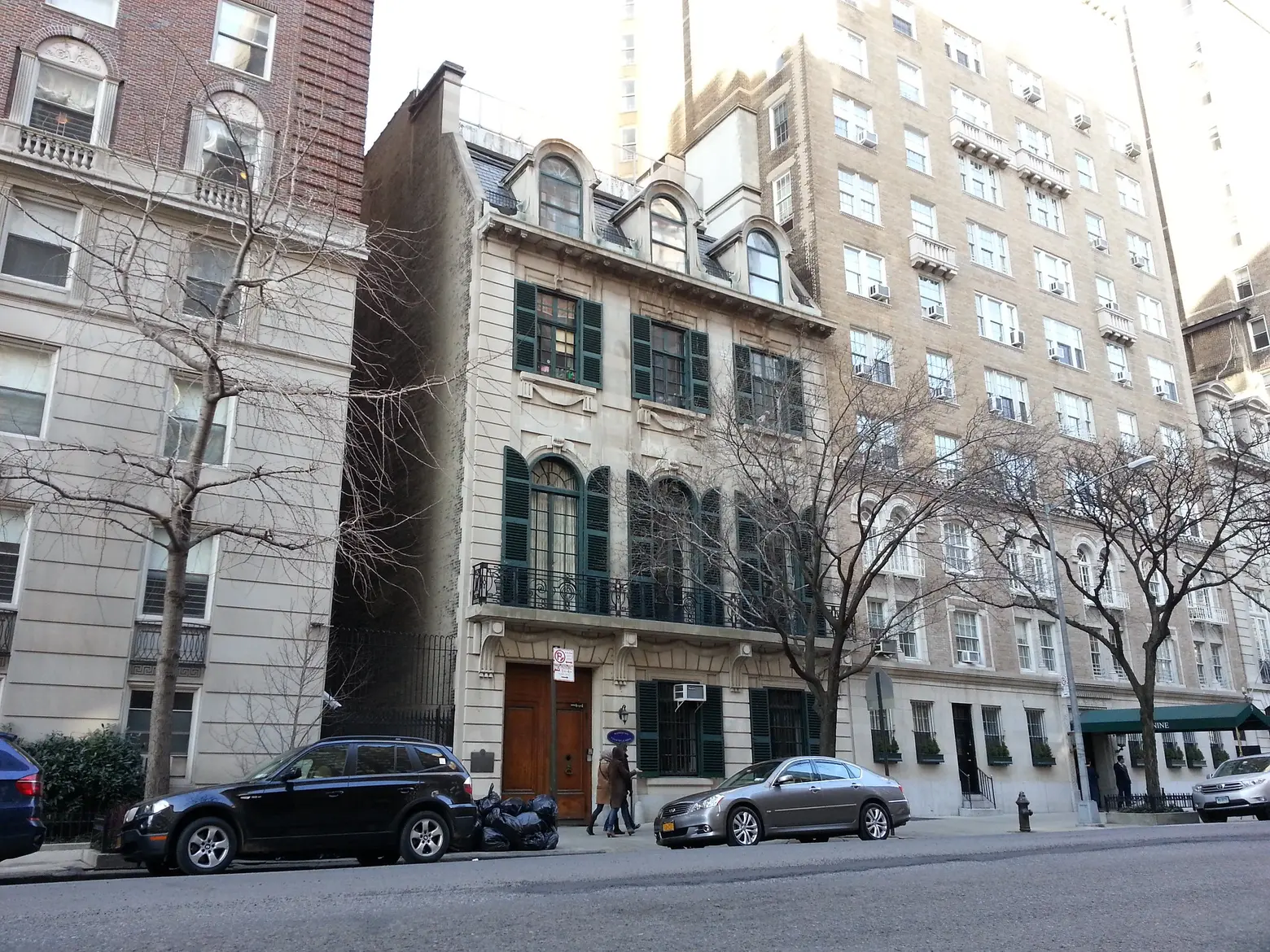 Ogden Codman, Jr. House; Photo credit: Matt Green via flickr
Carnegie Hill Historic District
The Carnegie Hill Historic District, which runs from East 86th Street to East 98th Street, from Fifth to Lexington Avenues, is comprised of about 400 buildings. Designated in 1974 and expanded in 1993, its historic gems range from rows of brick and brownstone townhouses and grand mansions from the late 1800s to hotels and apartment buildings from the early 20th century.
Photo credit: Adam Fagen via flickr
Museum Mile
Always topping the must-visit list for visitors from around the world, New York City's museums are unrivaled. The most prominent among them line the strip of Fifth Avenue along Central Park on the Upper East Side, including The Guggenheim, The Metropolitan Museum of Art, The Cooper Hewitt Smithsonian Museum of Design, The Jewish Museum, The Museum for African Art, and more.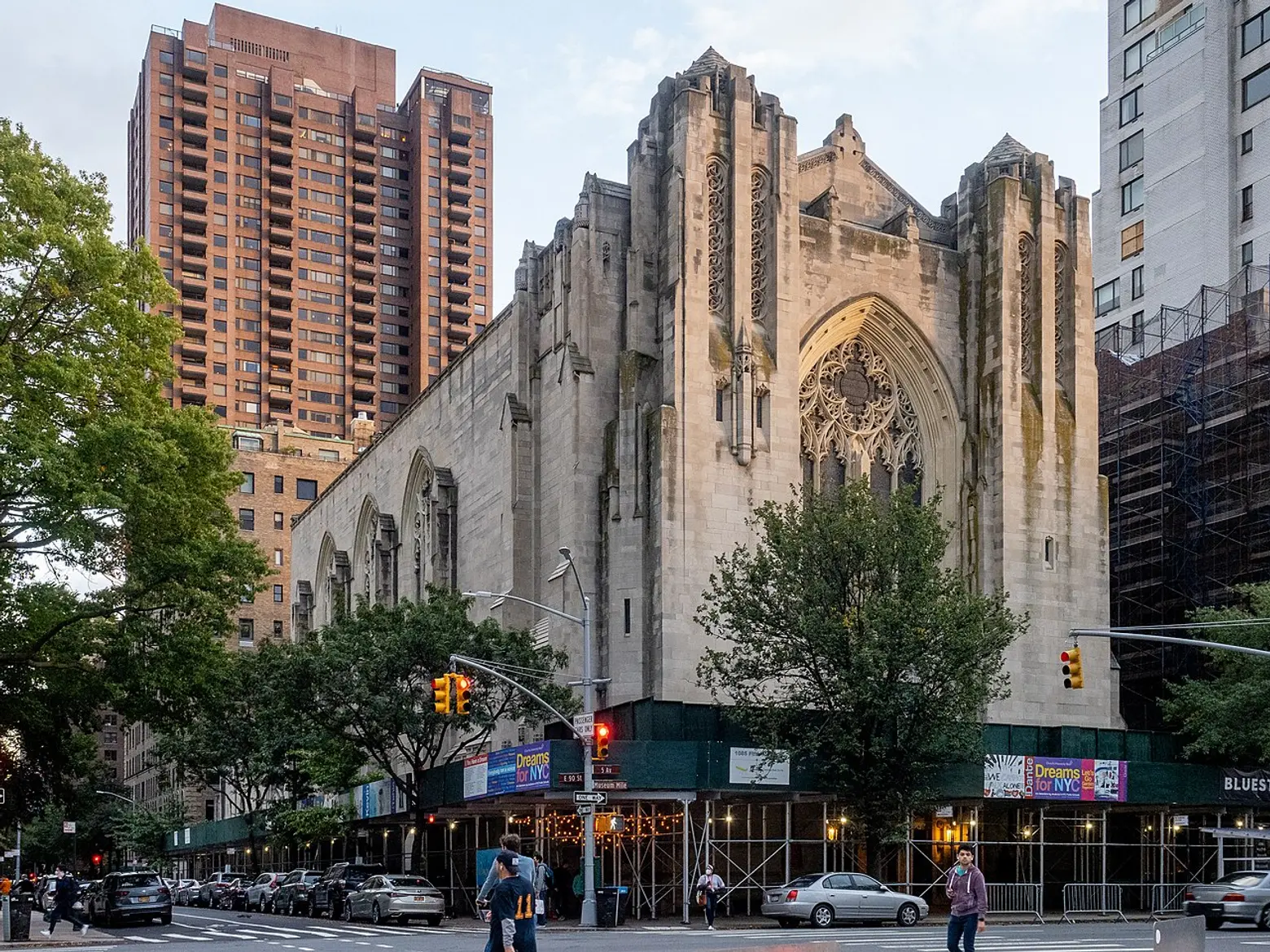 Photo credit: Wikimedia cc
Church of the Heavenly Rest
The architectural icon that houses the Episcopal Heavenly Rest sees about 15,000 annual visitors, with doors open to the public every day. The limestone-clad church is Gothic-inspired with modern influences, with pointed arches that reference the energy of skyscraper Manhattan.
Where to live
With its elegant residential streets lined with townhouses and iconic Gilded Age mansions, this park-adjacent section of the Upper East Side is the embodiment of uptown Manhattan living. A growing collection of 21st-century additions complement their historic surroundings, offering views, amenities, convenience, and the timeless cachet of a Carnegie Hill address.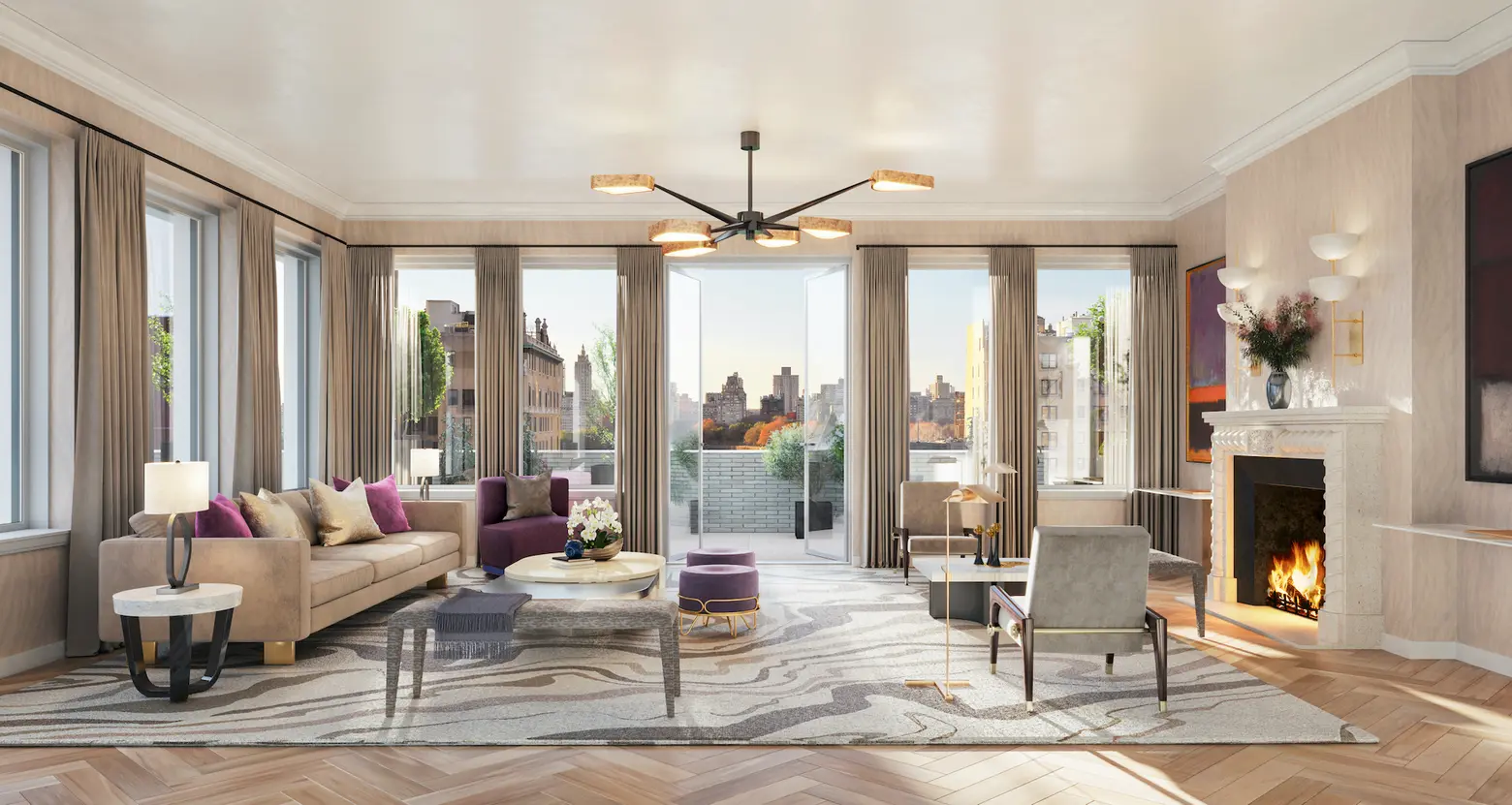 Images courtesy of VMI Studios
The Wales, 1295 Madison Avenue
The landmarked former Hotel Wales began life as the nine-story Hotel Chastaignery in 1900. In 2018,  developer Adellco purchased the hotel for about $56 million and later filed plans to convert the hotel into a luxury condominium residence. The Wales launched sales last year for its 21 two- to four-bedroom residences; current availabilities start at $3.635 million for a two-bedroom and go up to $23 million for a five-bedroom penthouse.
The building's round-the-clock attended lobby is a suitably elegant entry point, with coffered ceilings and antique mirrored walls. Building amenities include a fitness center with Peloton and Hydrow equipment, a pet spa with a grooming station, bicycle storage, and private storage.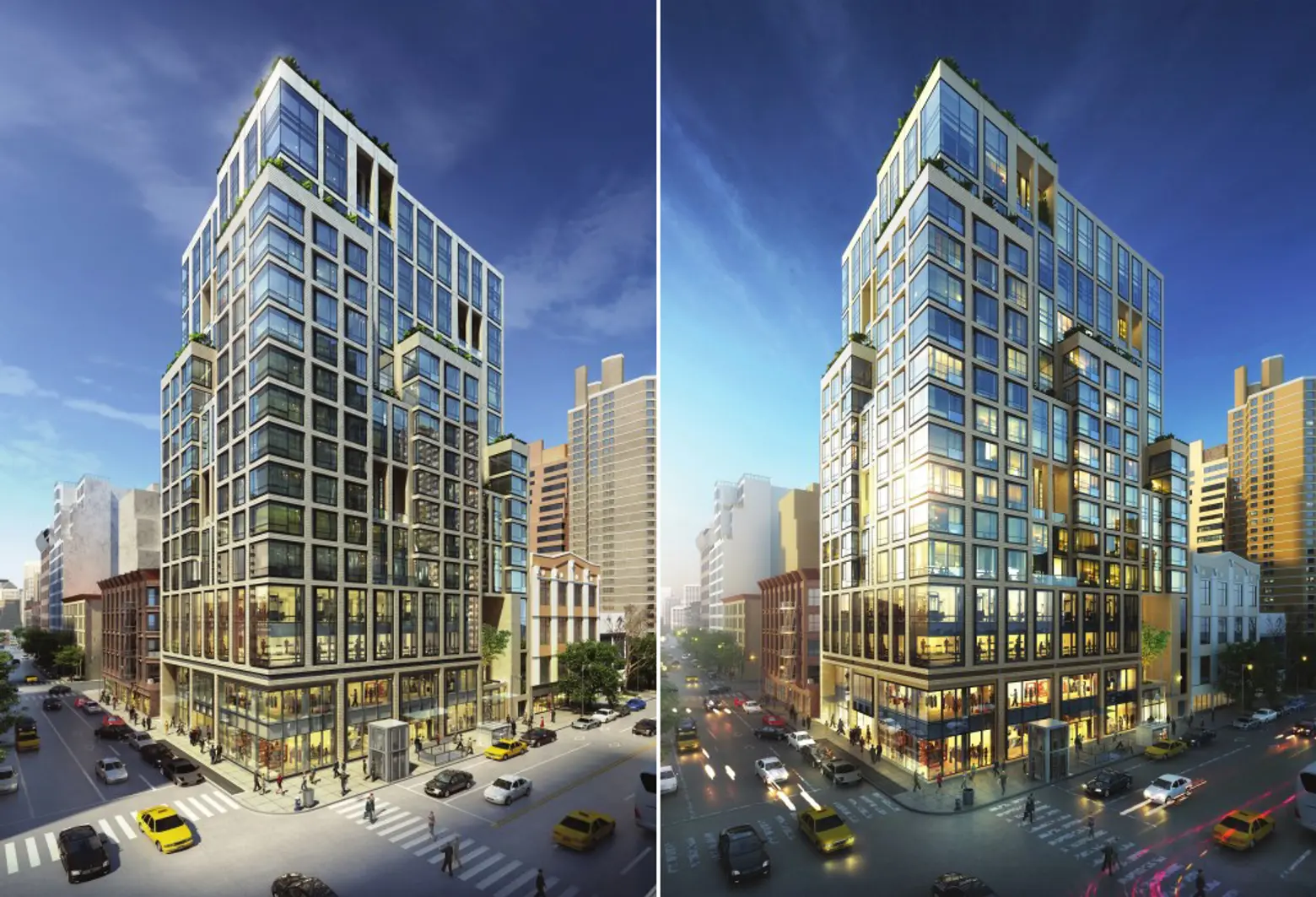 Rendering courtesy of HOK Architects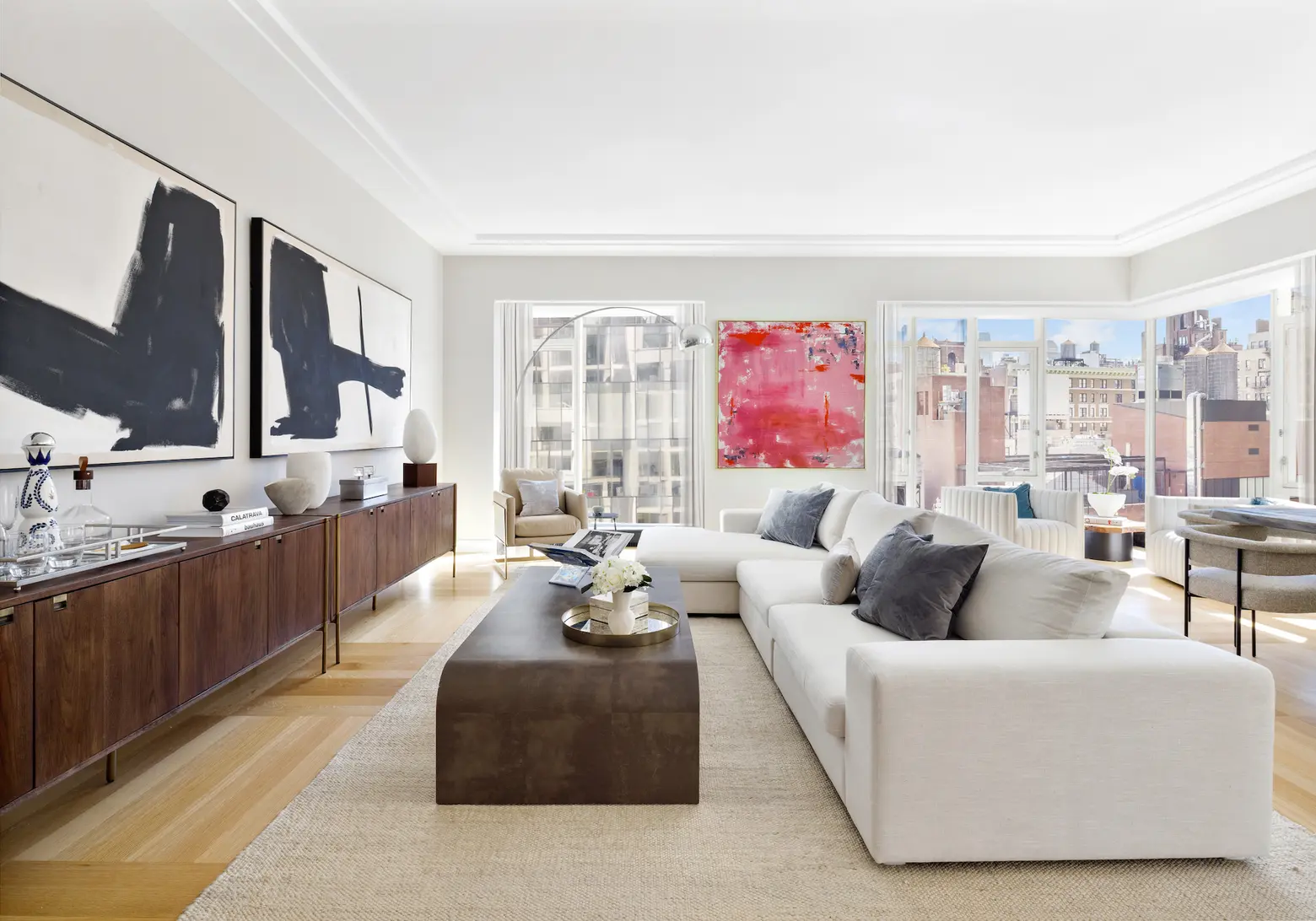 Photo: Zeckendorf Marketing
1289 Lexington Avenue
1289 Lexington Avenue is a refined collection of 61 two- to five-bedroom homes that offer expansive living in the heart of Carnegie Hill. Elegant interiors designed by Architectural Digest 100 designer Lee Mindel of SheltonMindel and include open layouts, high ceilings, oversized canted bay windows, and custom oak parquet floors. Kitchens feature Calacatta marble islands and custom walnut cabinetry, Gaggenau appliances including wine storage, speed microwaves and ovens, and gas cooktops with vented hoods. Primary bedroom suites have large walk-in closets and marble-clad baths.
Residential amenities at 1289 Lexington Avenue were designed to address the modern buyer's lifestyle. These include a windowed fitness center curated by The Wright Fit, a children's playroom created by Silver Hill Atelier, a conference room with remote meeting capabilities, private tutoring/study pods, a multi-media music room, a lounge with catering kitchen, and a rooftop terrace with fireside seating, grill, and outdoor shower. Bike storage is free, and private storage bins are available for purchase.
The developers of 1289 Lexington Avenue worked with the MTA to build a wider staircase and elevator kiosk to the 86th Street 4/5/6 subway stop directly below the building. Additional transportation options include the 86th Street Q train, the 90th Street ferry, and multiple bus lines. Closer to home, it is well situated near Central Park, Carl Schurz Park, Museum Mile, popular Upper East Side restaurants and shops, and gourmet supermarkets.
Available units range from $2.5 million for a two-bedroom to $9.25 million for five bedrooms.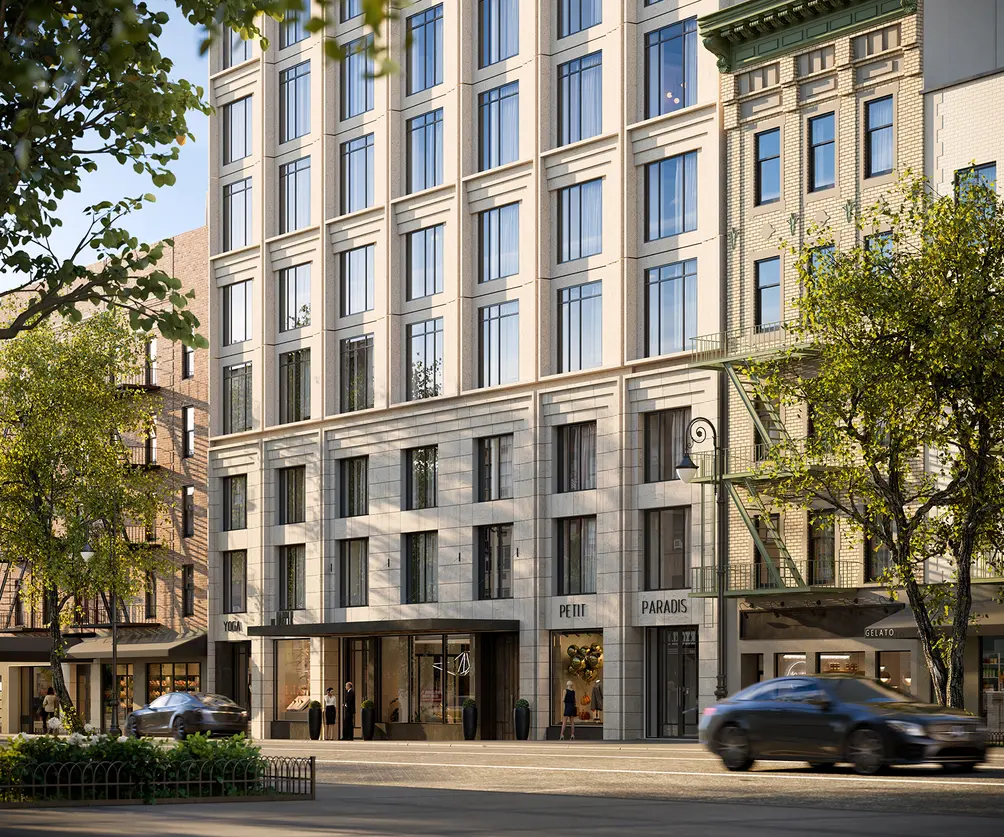 Renderings courtesy of Binyan Studios
The Harper, 310 East 86th Street
Having remade a stretch of the Upper West Side with contemporary yet contextual buildings noted architecture firm ODA Architecture turns its attention to the Upper East Side with The Harper, a new 21-story condominium with an anticipated sales launch in early 2023. The limestone facade and materials draw from the surrounding context, but The Harper is distinguished by oversized windows, a distinctive cantilever, and multiple setbacks.
Several units will have private terraces, and all units will feature gracious layouts and oversized windows. Amenities will include a 24-hour attended lobby, the services of a live-in superintendent, a fully equipped fitness center, a children's art room, a children's playroom, a game lounge, and a music center. Private storage will be available for purchase. The building's 63 two- through four-bedroom units are expected to start at $2.1 million.

Image credit: March Made for DDG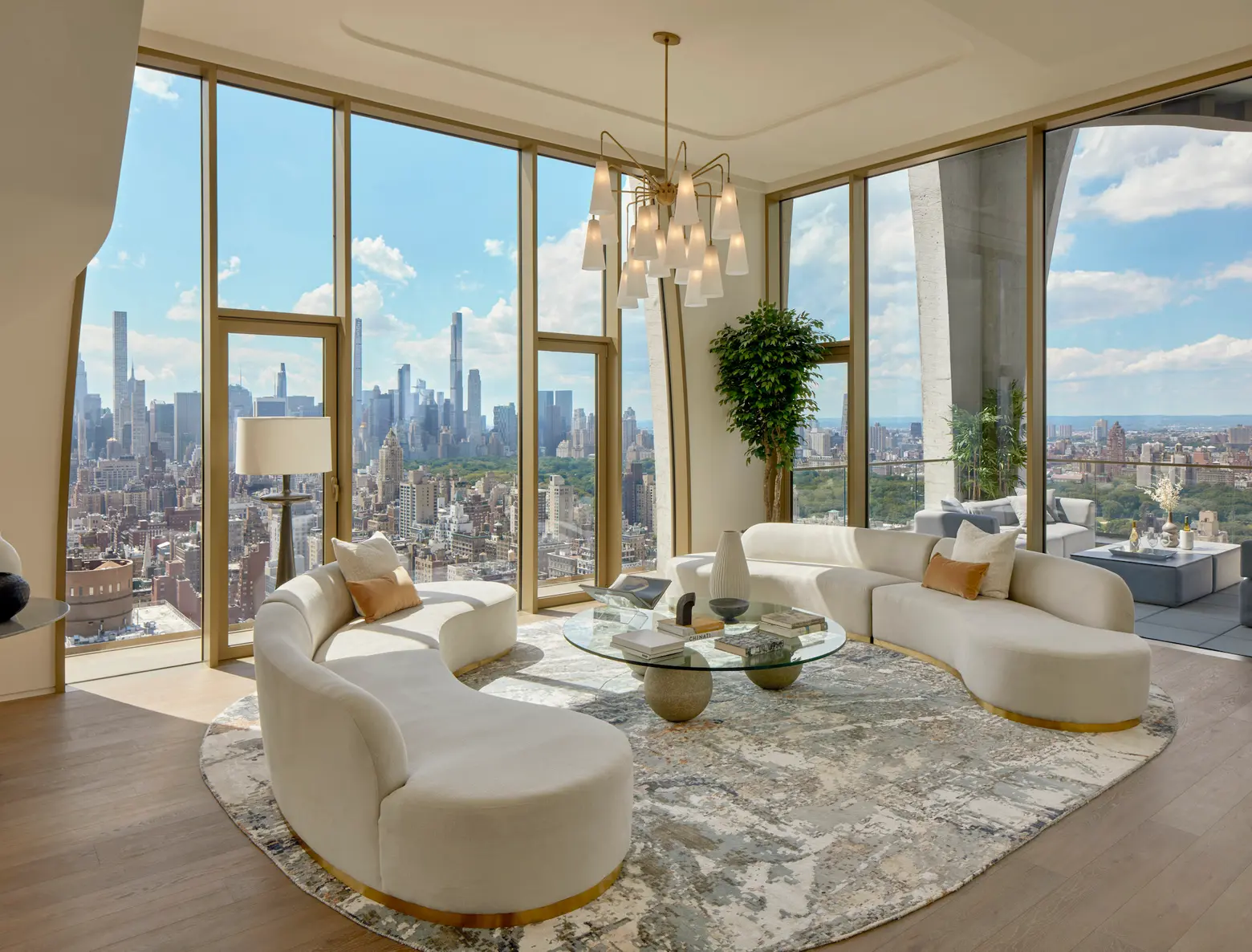 Photo of the $33 million penthouse by Sean Hemmerle
180 East 88th Street
Designed by Joe McMillan's DDG, 180 East 88th Street rises 50 stories and boasts a unique facade of laid textured Kolumba brick and concrete arches at its base, middle, and crown. The condo contains 46 luxury residences and amenities. The triplex penthouse measures more than 5,500 square feet and is topped by an expansive rooftop terrace with views of Central Park from the highest elevation on the Upper East Side.
The building's luxurious amenities are spread across six floors beginning on the second floor. Residents will have access to a full-time doorman and concierge, a fitness studio, a double-height basketball court and soccer pitch, a resident lounge with a catering kitchen, a children's playroom, and a wine room.
Current availabilities at the tower start at $1,475,000 for a studio and climb to $33 million for the aforementioned penthouse.
RELATED: