Jeff Bezos now owns $96M worth of apartments in Flatiron condo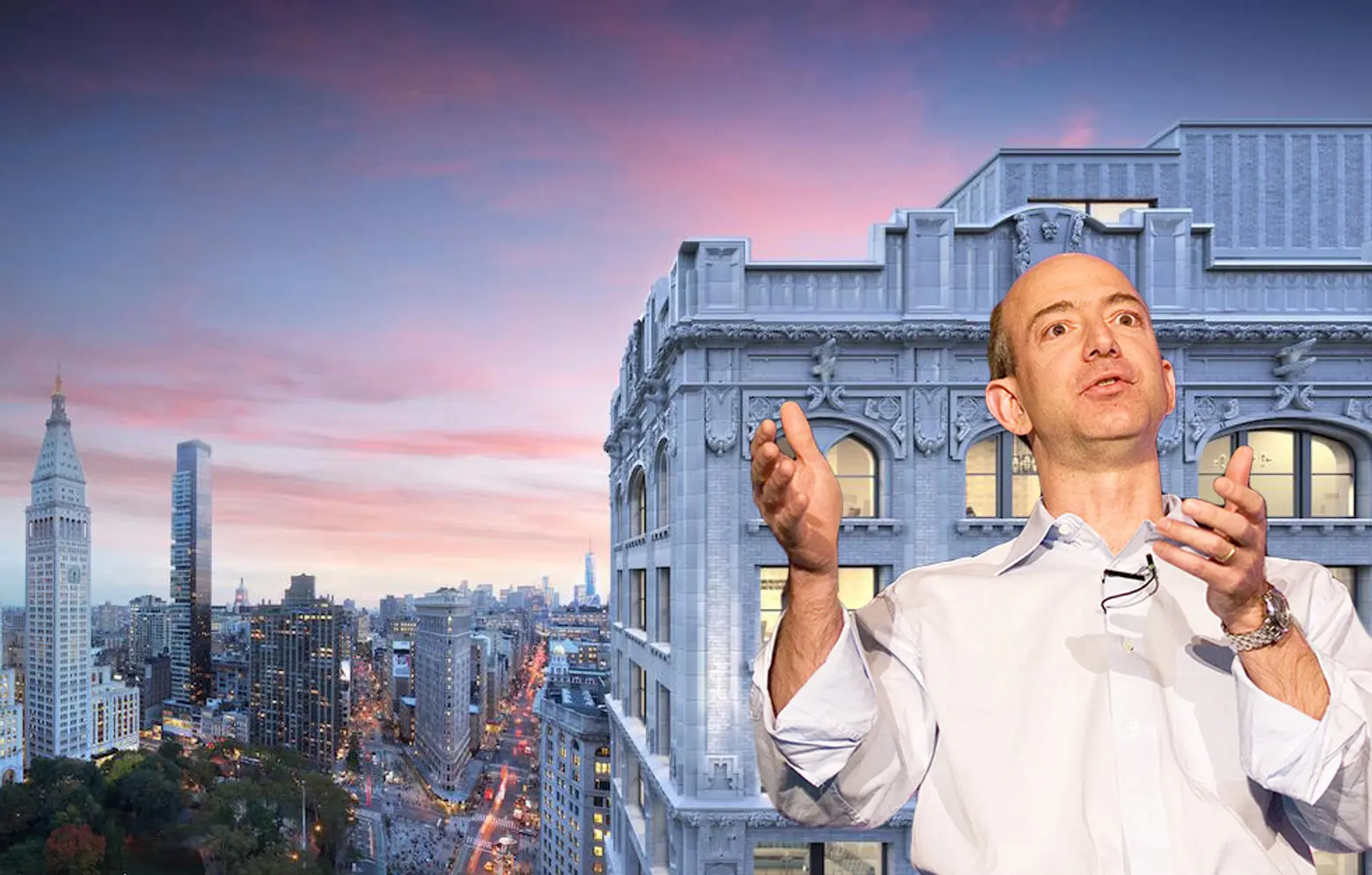 Amazon behemoth and richest person in the world Jeff Bezos has been making headlines in recent weeks for his $100 million donation to U.S. food banks. He's also become $24 billion richer since the coronavirus crisis sent Amazon's stocks surging. And it looks like he's taking a very small percentage of that fortune and expanding his real estate investment in NYC. The Post reports that Bezos just dropped $16 million on an apartment in the Flatiron condo 212 Fifth Avenue. Last June, he bought three units in the building totaling $80 million, making it the largest deal to ever close in New York south of 42nd Street. Now he can create a mega-mansion in the sky.
As the Post tells us, "building permits were filed on Bezos's behalf in the fall of 2019 to combine" the first three units, but the work never started. These units included the three-story penthouse on floors 22nd, 23rd, and 24th floors that boasts a seven-room master suite, massive skylight, a 5,000-square-foot terrace on the second floor, room for a pool, and a smaller roof terrace with views of the Empire State Building and World Trade Center. The other two apartments are on the floor just below, and the newest unit is adjacent on the 20th floor. The penthouse alone is 10,000 square feet, and with the other three units, Bezos is able to create a residence that totals more than 23,000 square feet.
According to CityRealty, the latest three-bedroom purchase was last listed for $11,250,000, meaning Bezos paid 43.3 percent more.
The condominium is located on Fifth Avenue and 26th Street, not too far from Amazon's forthcoming new space in Hudson Yards and the former Lord & Taylor building that they recently bought from WeWork. It was built in 1913 as an office building and began its condo conversion in 2014. The neo-Gothic terra cotta exteriors were all preserved, and Bezos' penthouse sits just behind the stunning crown of the building. Amenities include a fitness center with a yoga studio and private treatment room, golf simulator, screening room, boardroom, game room, children's playroom, lounge, catering kitchen, and cold storage for fresh food deliveries.
RELATED: