LPC approves 14-story complex behind East New York's landmarked Empire State Dairy building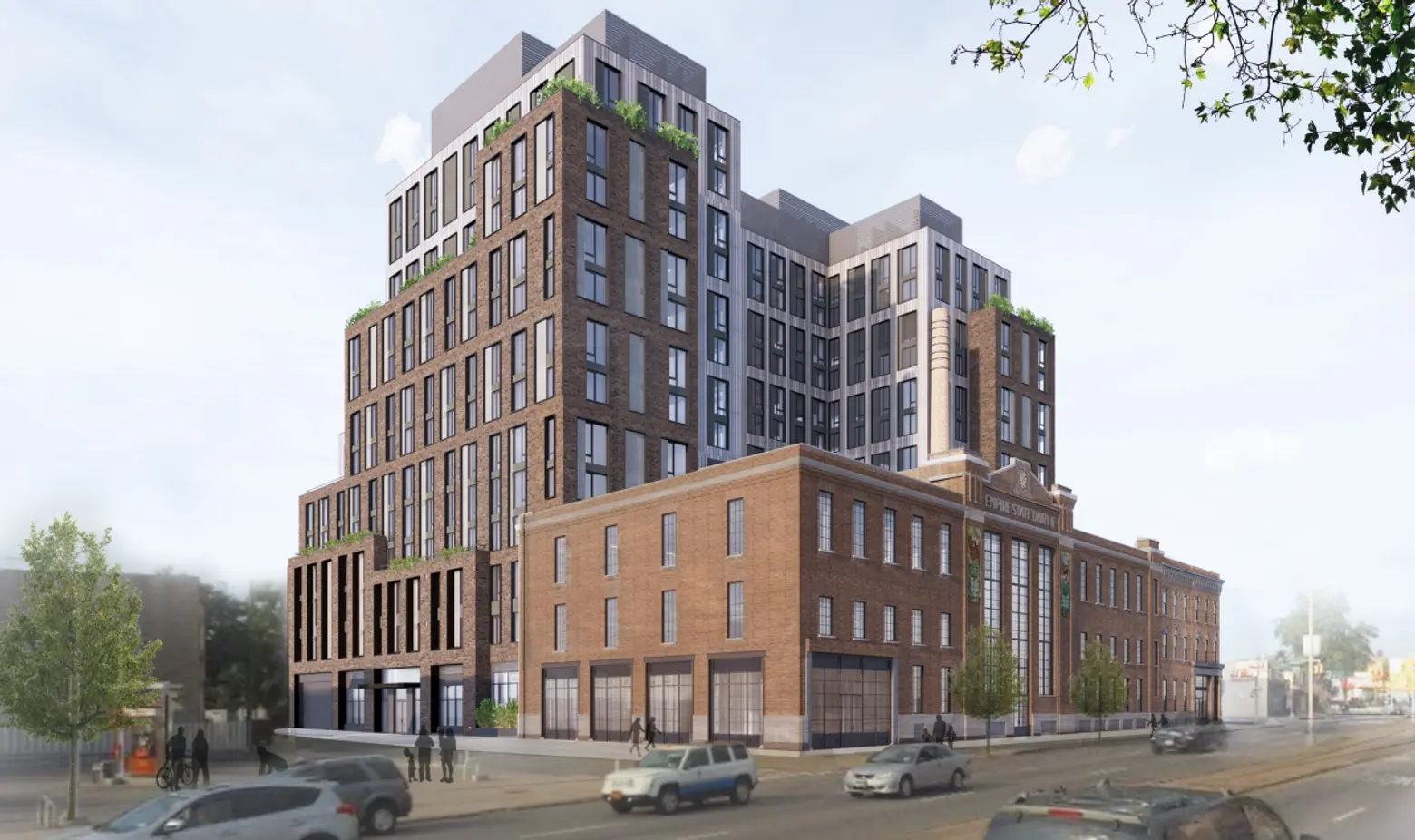 Revised rendering from August by Dattner Architects via LPC
Update 8/14/19: The Landmarks Preservation Commission on Tuesday approved Dattner Architects' plan to construct a 14-story building behind the Empire State Dairy. According to Brownstoner, the architects removed the cantilever element from the project's previous design and plan to preserve the chimney, instead of demolishing it. The new tower will replace two existing, but not landmarked, buildings, and include over 330 affordable apartments.
An affordable housing developer on Tuesday presented plans to the Landmarks Preservation Commission for a new building that would cantilever over the Empire State Dairy building in East New York. HP Brooklyn Dairy Housing Development Fund Company, part of the nonprofit Housing Partnership Development Corporation, wants to construct a 14-story tower on top of the early 20th-century factory, located at 2840 Atlantic Avenue. Landmarked in 2017, the factory is notable for its architectural style and decorative tile murals. Dattner Architects created the designs for the proposed complex shown in the new renderings. The new construction would be a major change for the property, which was purchased by the developer for $16.75 million last year.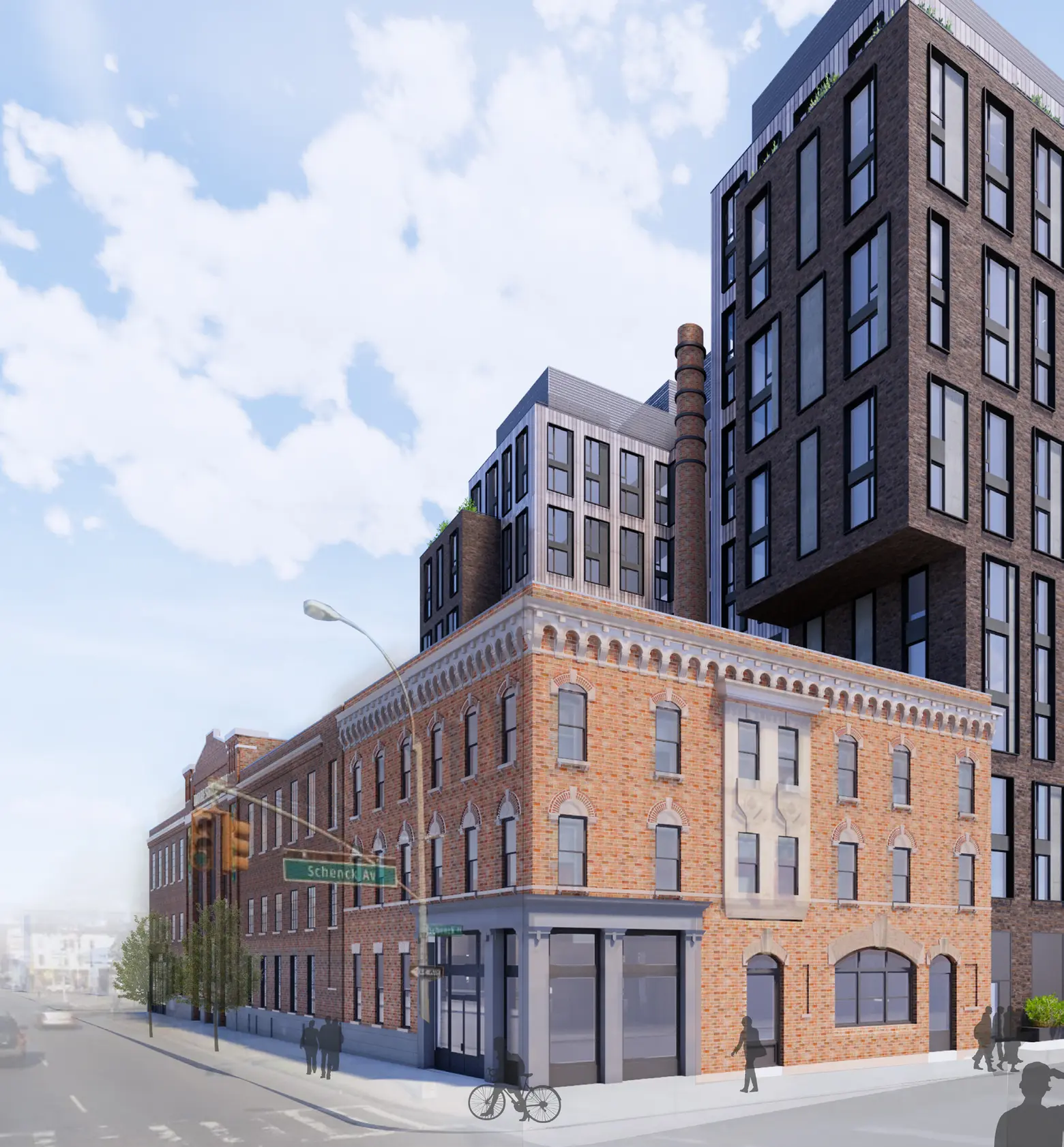 A rendering from the original presentation in April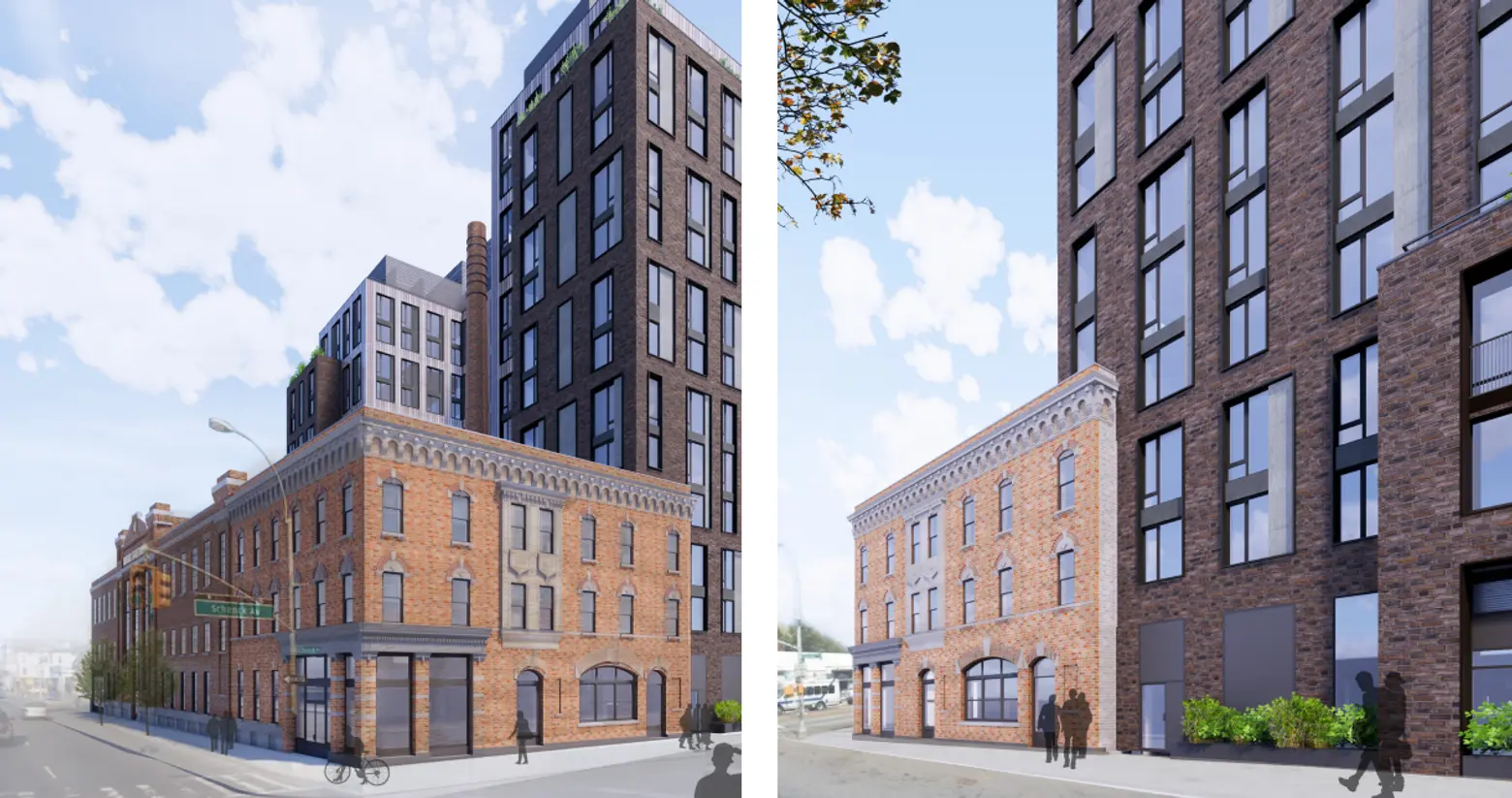 Revised rendering from April by Dattner Architects via LPC
Mayor Bill de Blasio's rezoning of the area means that 274,000 square feet of residential and retail space may be a possibility for the site. No information is currently available on how many apartments the residential portion of the complex will contain or whether units will be affordable.
The new building would replace two non-landmarked existing buildings and a parking lot also on the site. Renderings show a squared u-shaped masonry structure with tall, thin modern windows, balconies and patches of greenery. The landmarked factory's "sculptural chimney" is shown in the renderings but according to the LPC presentation is "currently under assessment."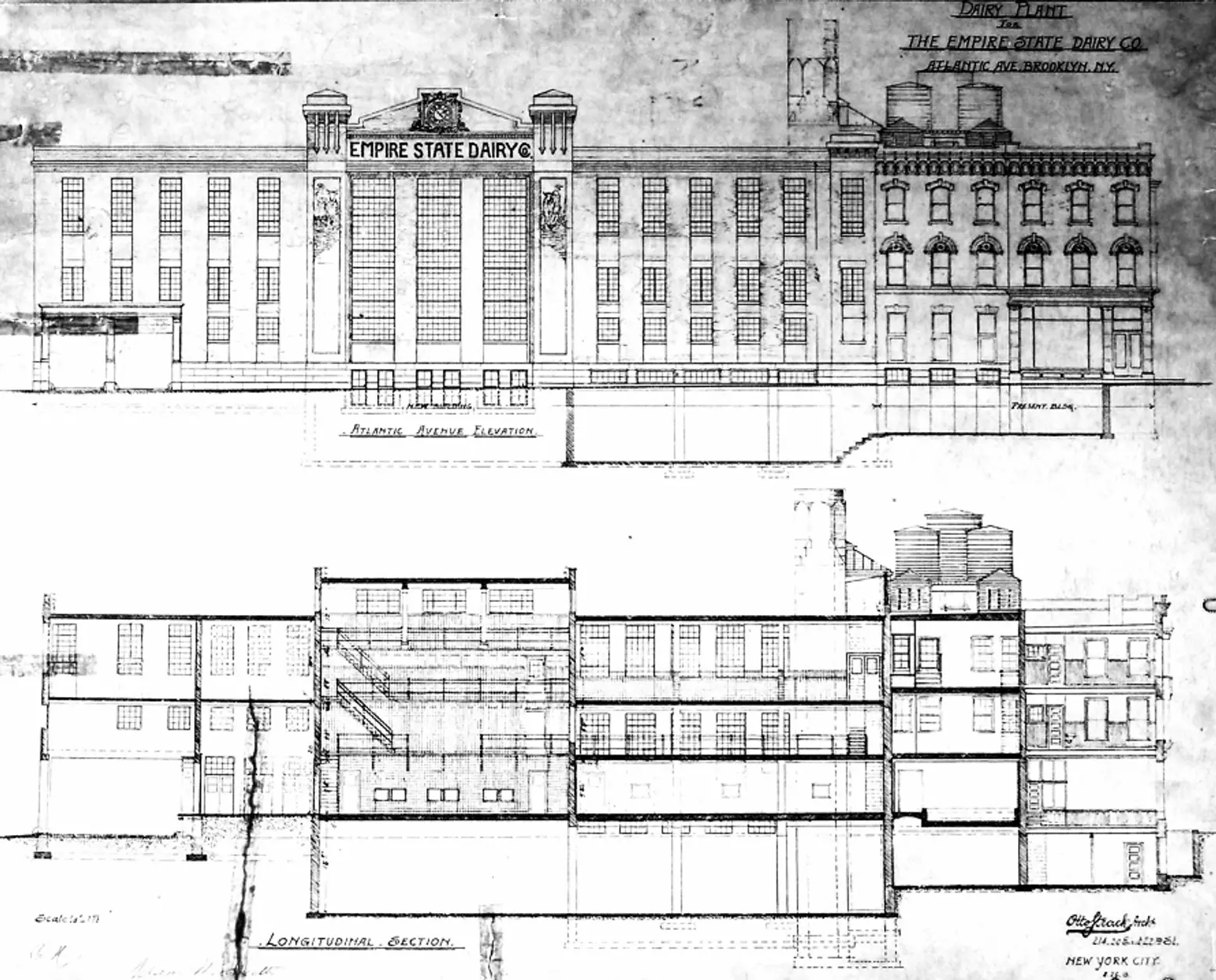 Building Drawings, 1913, via NY Landmarks Preservation Commission.

Historic Terracotta Tile at Atlantic Aveneu Entrace – Detail, via NY Landmarks Preservation Commission.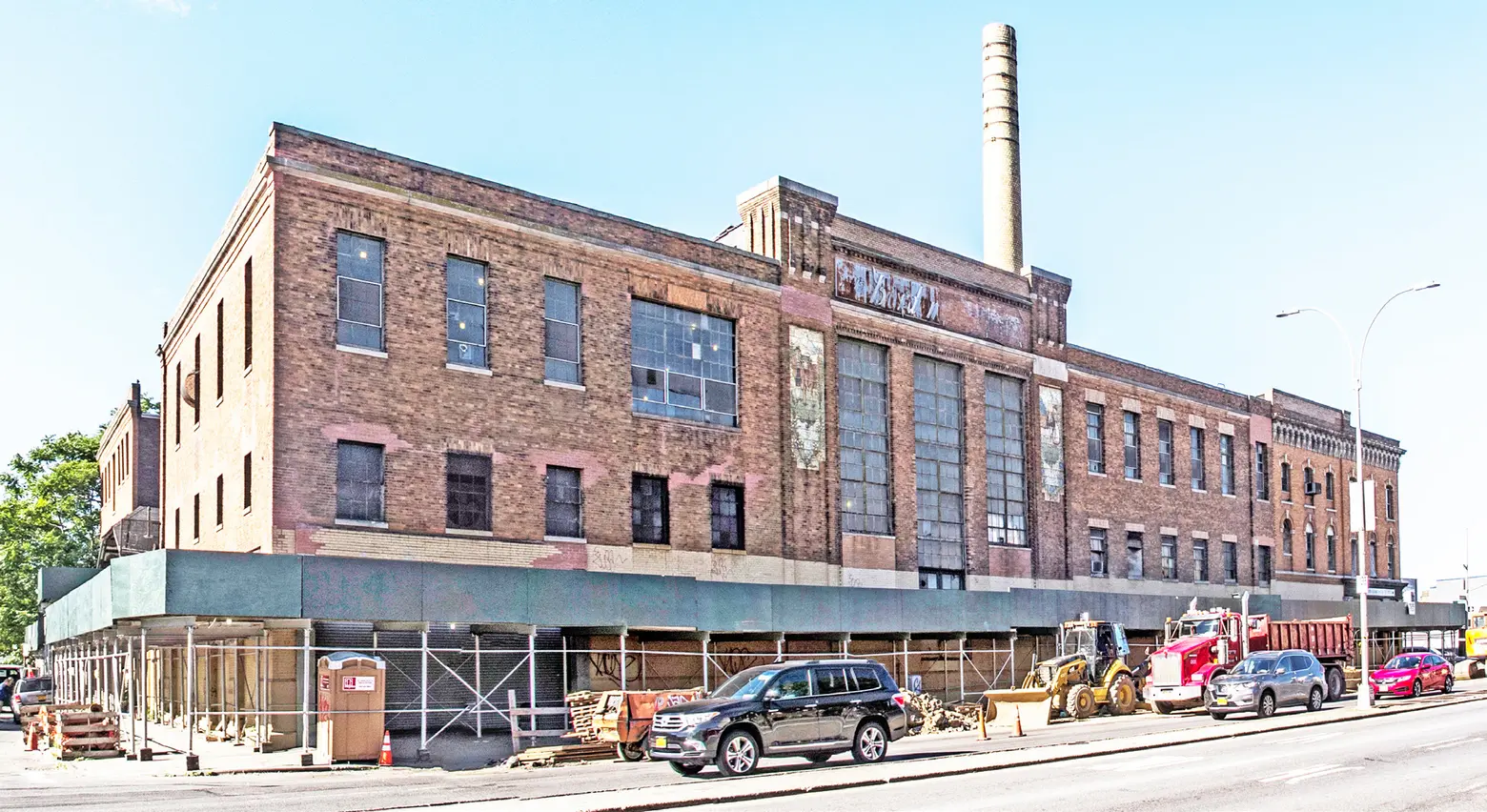 Current photo via NY Landmarks Preservation Commission.
The group of buildings, completed in 1915, was designed by architects Theobald Engelhardt and Otto Strack. The LPC has called the building's architectural style "Abstracted Classicist with Secession detail." The aforementioned tile murals show pastoral scenes.
Dattner Architects is known for their work in affordable housing, including a mixed-use development on the St. Barnabas Hospital campus in the Belmont section of the Bronx, Chestnut Commons, an all-affordable East New York complex, and an affordable Passive House at 425 Grand Concourse in the Bronx. The firm is also working on a proposed mixed-use development with 1,165 affordable units, also in East New York, known as "Atlantic Chestnut."
The LPC did not vote following the presentation, so a revised version of the project will come before them at a later date.
RELATED: