You can board a pre-World War II vessel at the South Street Seaport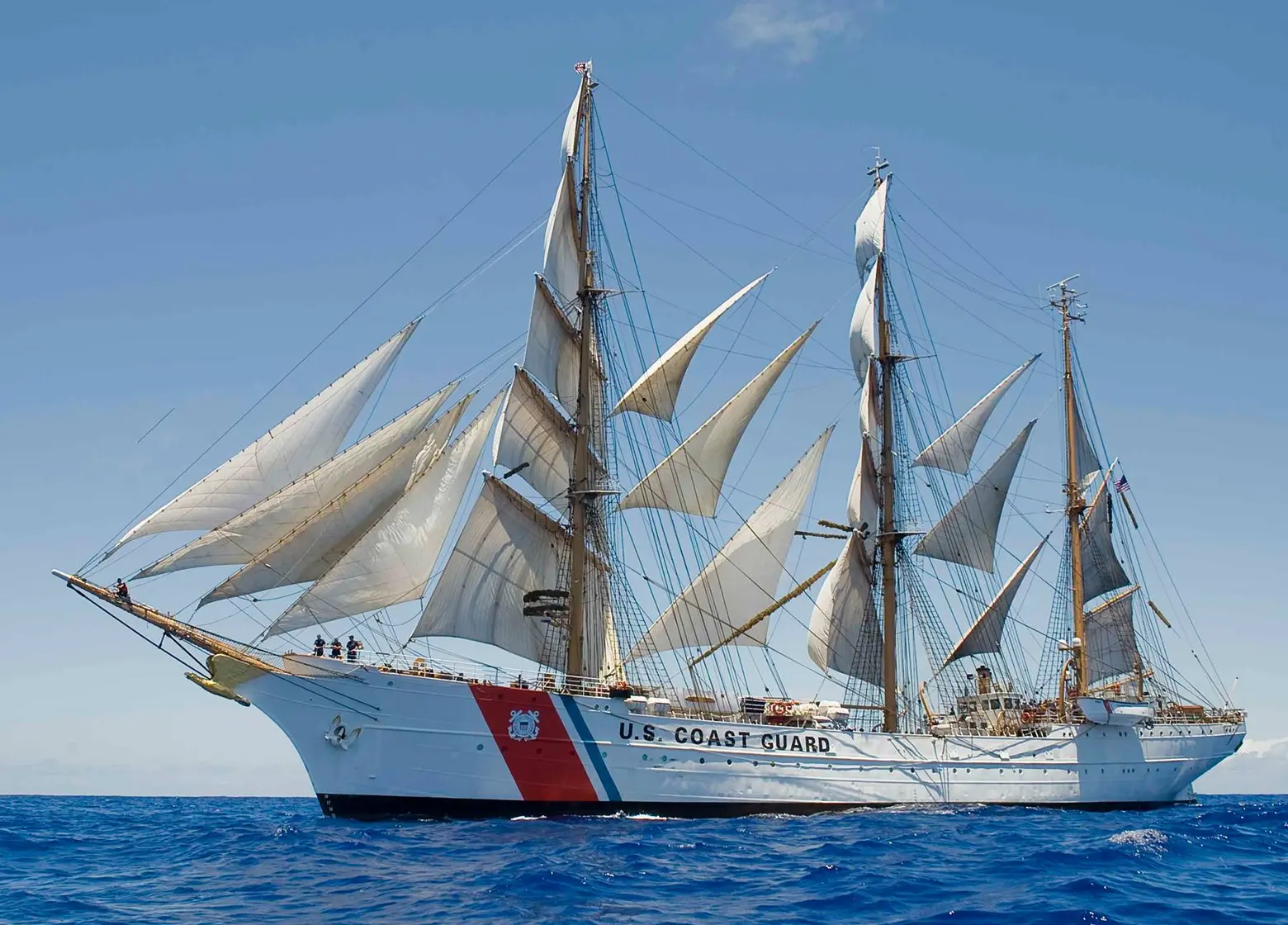 Photo courtesy of the United States Coast Guard Academy on Wikimedia
New Yorkers are invited to board a pre-World War II United States Coast Guard ship as it docks at the South Street Seaport this weekend. Known as the Eagle, the vessel is America's largest tall ship and the only active square-rigger currently in the country's service. The Coast Guard is inviting New Yorkers to board the Eagle, which will be docked at the Heineken Riverdeck at Pier 17 from Saturday, July 29 through Monday, July 31.
Eagle was constructed at the Blohm+Voss Shipyard in Hamburg, Germany in 1936. The 295-foot ship was commissioned as Horst Wessel and served as one of three sail-training ships operated by the German navy before World War II. At the end of the war, the ship was taken by the United States as war reparation and re-commissioned by the U.S. Coast Guard as Eagle. The ship's homeport has been New London, Connecticut since then.
While the Eagle's primary mission for the Coast Guard is to train cadets and officer candidates, it also serves a public relations role. Eagle frequently welcomes the public to visit ports around the country and even has appeared at foreign ports, serving as a "floating goodwill ambassador for U.S. diplomatic relations," according to the Coast Guard's website. The vessel has hosted Presidents John F. Kennedy, Richard Nixon, and Harry Truman.
The public is invited to step onto the historic vessel at these times:
Saturday, July 29: 3 p.m. – 7 p.m.
Sunday, July 30: 11 a.m. – 7 p.m.
Monday, July 31: 12 p.m. – 7 p.m.
No registration is required. Just stop by Pier 17 during the open hours.
Also happening at the Seaport this weekend is Beach Fest, with oversized sandboxes for lounging, food trucks, live performances, and DJ sets between Piers 16 and 17 on July 28 and July 28.
RELATED: