Where to go out for Thanksgiving dinner in NYC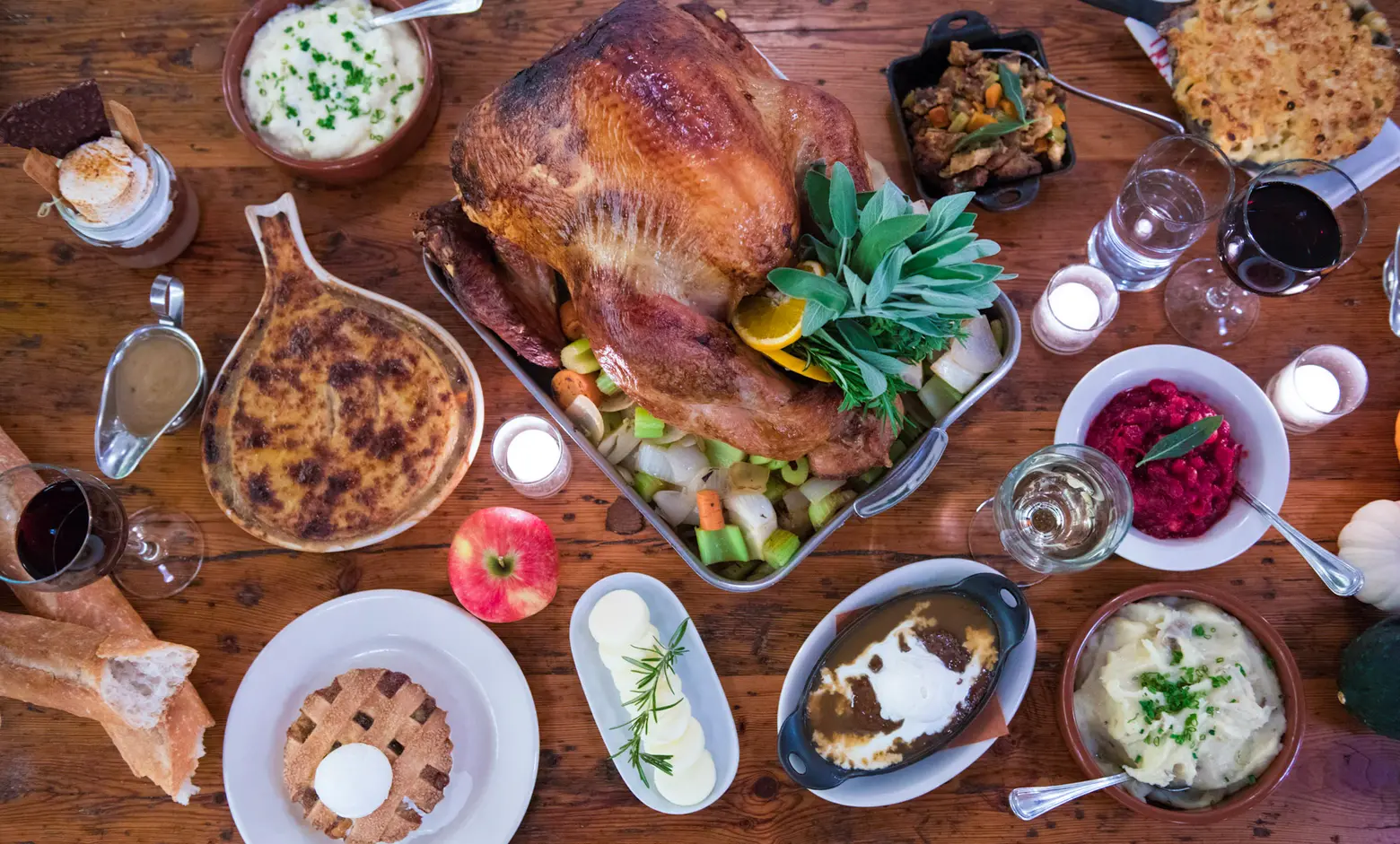 Photo by Dana Balding, courtesy of The Smith
The city that never sleeps also doesn't take a rest for the holidays. Though we tend to assume most businesses are closed on Thanksgiving, in New York City, there are plenty of restaurants keeping their doors open and their ovens full of turkeys. Ahead, we've rounded up 40+ places where you can enjoy a holiday meal if you don't plan on spending the day in the kitchen. From New York classics like Tavern on the Green and the ridiculously cozy Freemans to splurge-worthy picks like Gramercy Tavern and Union Square Cafe to affordable options like Veselka and The Smith to something with a little twist on the traditional like Ginny's Supper Club's jazz buffet and pizza spot Emily's Turbo Turkey Sandwich.
New York Classics

Believe it or not, the story of beloved Tribeca mainstay Bubby's all began on Thanksgiving day in 1990 when Chef Silver was selling his homemade pies from a small location on the corner of Hudson and North Moore Streets. This spot became Bubby's Tribeca, which just reopened earlier this month after a renovation. "Known for its simple, seasonal and made-from-scratch fare," according to a press release, Bubby's Tribeca and High Line locations will be serving a $75 ($50 for kids under 10) traditional, family-style Thanksgiving meal. Not only do the turkeys come from a local upstate farm, but a portion of the proceeds will be donated to the New York City Rescue Mission. And if you can't make it to Bubby's, join them on Black Friday for the "infamous" leftover sandwich.
Located in the Ace Hotel, April Bloomfield's Nomad gastropub can be a bit heavy, but the four-course prix fixe has lighter fare than the traditional English menu items, including an herbed Caesar salad, curried parsnip soup, and a classic turkey meal. It's $95, with the wine pairing running an extra $55.
Does it get any more quintessential New York than this? Earn ultimate 'cred with your guests by taking them to Tavern on the Green's $125 Thanksgiving dinner and enjoying those Central Park views. The four-course pre-fixe also comes with two sides for the table. In addition to the traditional Turkey dinner, choices include roasted wild mushroom and beluga lentil soup, salt-cured Hudson Valley foie gras, roasted chateaubriand, and a pecan butterscotch tart.
This Lower East Side gem is arguably the coziest, most charming spot for dinner on a cold winter night. Located at the end of Freemans Alley off Rivington Street (complete with twinkly lights), the restaurant considers itself a "rugged clandestine colonial American Tavern" serving up rustic American fare. For thanksgiving, their $98 menu comes with a choice of first course, second course, and entree, as well as two sides and two desserts. The options are classic Freemans: hot artichoke dip, candied pumpkin soup, a locally sourced Turkey dinner, and chai-spiced pumpkin pie with maple cream, to name a few.
If you can't imagine not pairing your turkey with a glass of exceptional wine, Hearth may be for you. This cozy and reputable East Village spot has a $98 prix fixe (it's half price for kids under 12) with an optional $38/person wine pairing. The menu is deliciously traditional, the perfect pallet for your vino.
Located in the Gramercy Park Hotel, Maialino (from Danny Meyer's Union Square Hospitality Group) is known as one of the best Italian and pasta restaurants in the city. For Thanksgiving, their four-course prix fixe is $115 (or $65 for children under 10), which is not bad considering a pasta off the a la carte menu is typically around $30.
Andrew Carmellini's seasonal Tribeca restaurant highlights his relationships with "local farmers, anglers, vintners, ranchers, and foragers," which is no exception on Thanksgiving. The $95 three-course dinner ($50 for kids 12 and under) comes with a choice of appetizer (a chicory salad, celery root soup, or baked oysters to name a few), a family-style main course (including turkey, brussels sprouts, sweet potato gratin, roasted carrots, and braised swiss chard), and a choice of dessert. There's also a $45 optional wine pairing and a $55 white truffle supplement.
Another Carmellini gem, Noho's Lafayette has come to be considered one of the city's most popular contemporary French restaurants. The three-course prix fixe costs $120 ($60 for children 12 and under), but there are far more options here than most other restaurants. Choose from appetizers like French onion soup or prime beer tartare, entrees like honeynut squash agnolotti or Long Island duck, and pies like maple-pumpkin, apple crumb, and chocolate-pecan. The pies, plus a collection of fall-themed eclairs, are also available to-go at the bakery.
At Flatiron French bistro Le Coq Rico, the focus is on the bird. With a commitment to sustainably farmed poultry, this Paris offshoot serves everything from chicken to squab, and, as you might've guessed, they're all about the turkey this Thanksgiving. The star of their $95 three-course menu is the roasted, stuffed turkey from Frank Reese's Good Shephard Poultry Ranch in Kansas, which, according to their site, "maintains the oldest continuously bred flock of heritage turkeys in America." Butternut squash soup, Parisian gnocchi, honey cornbread, pumpkin cheesecake, and pecan pie round out the menu. They're also offering these same turkeys with a choice of sides to-go. For $345, this option serves eight people.
Down a few stairs on Bond Street in Noho, the Smile is the perfect place to warm up on a chilly winter night. It's also the perfect place for a Thanksgiving dinner that feels like you're at your family's own table. For $75, plus an optional $38 wine pairing, there aren't a ton of options, but everything from the butternut squash soup to the apple-cider braised turkey makes us feel a little nostalgic.
If your family refuses to leave Midtown, L'Amico's Thanksgiving prix fixe could be your savior. It's $72 for three courses + homemade focaccia and sides; the wine pairing is an additional $36. The menu items have a bit of an Italian twist–crisply parmesan sformato and a king salmon with Sicilian cauliflower–but everything is traditional enough to satisfy a large group. The four desserts, however, are what really set this menu apart. The pecan pie comes with a bourbon-date gelato, and the pumpkin pie with amaretto whipped cream.
Bluebird London may be a relative newcomer to the Time Warner Center, but since it opened in 2003, the Columbus Circle development has become somewhat of a NYC institution in its own right, known for its classy dining options. Bluebird is no exception; with mid-century-style interiors by CetraRuddy and views overlooking Central Park, it's the perfect place to bring out-of-town guests for a Thanksgiving meal. The $95 prix fixe comes with a choice of appetizer, entree, and dessert, but you'll also get to sample three different sides (mashed sweet potatoes, mac n' cheese, and green beans).
Bluebird's sister restaurant in Hudson Yards is also offering a Thanksgiving prix fixe, this one also for $95 but with views of The Vessel and The Shed. There's a choice of items off the regular menu–burrata and aged Australian wagyu to name two–as well as holiday classics like a turkey entree and a selection of pies. They're also offering a traditional Thanksgiving meal takeaway option that, for $100, serves two people.
The South Street Seaport is one of the most historic parts of Manhattan, so what better place to enjoy a Thanksgiving meal? Malibu Farm has a reputation on the West Coast for its healthy menu, and owner Helene Henderson has brought her California cool cooking to the action-packed Pier 17 for her first NYC location. The holiday prix fixe is $65 for a three-course, family-style meal that includes carved turkey with all the fixings, spaghetti squash lasagna, creamed spinach, bread pudding, and more. And at $15, the 12-year-and-younger kids price is one of the better deals around town.
Great deals
Since 1954, Ukrainian diner Veselka has been a go-to spot for affordable comfort food in the East Village for everyone from NYU students to tourists to life-time New Yorkers. Their annual Thanksgiving dinner is back this year for $32, but keep in mind that it's walk-in only. The dinner includes a full spread including turkey, stuffing, mashed potatoes, brussels sprouts, pie, and more. There's also a special Thanksgiving pierogi filled with roast turkey and cornbread, served with gravy and cranberry sauce.
The Upper West Side's Oxbow Tavern is new within the past couple of years, but a corner location on Columbus Avenue and 71st Street is pretty classic. Alongside their regular a la carte menu, Oxbow will be offering a "traditional Thanksgiving dinner" for $32. It comes with turkey, mashed potatoes, brussels sprouts, stuffing, and roasted potatoes. Try to snag a spot by the window for optimal post-Parade people watching.
This lovely Italian restaurant in Nolita is one of those places that makes you want to stay and linger for a while, which is exactly what the owners wanted to create on Thanksgiving–"We really wanted a home away from home feeling… and for us that starts with our bellies," they say on their special holiday menu. For just $49, guests can enjoy three courses plus a glass of wine. There are four appetizers–a basket of six different breads and pumpkin/fennel party pies to name a couple–three entrees–twice-cooked turkey, wild mushroom dumplings, and a suckling pork belly–and a warm apple and cinnamon-spiked pudding for dessert. Believe it or not, all of this is to share, as are the three side dishes.
It's been 12 years since The Smith opened its first location in the East Village. Now one of the most dependable spots with a little something for everyone, they have four locations in NYC. Their Thanksgiving feast is $68 ($34 for kids under 12) for a three-course prix fixe that also comes with four included sides for the table. There's lots to choose from here, but the highlight of the menu is the all-natural heritage turkey section, which offers three ways to enjoy the bird–Osso Bucco, roasted, or a pot pie.
A restaurant inside a little pink rowhouse in Tribeca might just be the most charming thing ever, which makes Tiny's a perfect pick for a laid-back holiday meal. Here, a five-course prix fixe costs $70, and practically everything on the menu sounds like comfort food perfection (think homemade wholewheat and cranberry cornbread with pumpkin butter and turkey with apple-sage stuffing and lemon thyme gravy). The wine pairing is an additional $90, but the kids' menu is a very reasonable $25.
Splurges

Danny Meyer's Union Square Cafe is the kind of classic restaurant that still feels fresh (especially after a revamp in 2015). For Thanksgiving, a three-course prix fixe will go for $145 ($98/children under 10) with an additional pasta course for $25. Perhaps the best part will be pastry chef Daniel Alvarez's chocolate bourbon pecan pie and pumpkin pie.
It's been just over 10 years since Andrew Carmellini's Locanda Verde became a Tribeca staple, dishing out urban Italian food in a lively setting at the base of the Tribeca Hotel. Their Thanksgiving menu–a $135 ($65 for children 12 and under) three-course prix-fixe dinner with choice of appetizer, family-style main course, and choice of dessert–puts a subtle Italian touch on fall classics, from crema di patate with crispy leeks and black trumpet mushrooms to the zucca misti with winter squash and pomegranate. The turkey comes with a roasted breast and braised leg, served with fennel sausage, chestnut stuffing, traditional gravy, and cranberry conserva.
Another Carmellini neighborhood staple, this time in Soho, The Dutch anchors the corner of buzzy Sullivan and Prince Streets. Their $130/person Thanksgiving menu (it's $60 for children 10 and under) comes with a choice of nine appetizers (there's oysters, burrata, broccoli soup, and buffalo wings), a family-style main course (turkey + four sides), and a choice of dessert. You can also pre-order one of their Thanksgiving pies–black bottom pecan, pear and ginger crumble, or malted banana cream– to go.
New Yorkers lamented the closing of the iconic Four Seasons in 2016, but thankfully the landmarked space inside Midtown's Seagram Building remained when the folks behind the Major Food Group took over and opened two new spots–The Grill and The Pool. The former is the meat-centric half of the duo, while the latter dishes up contemporary seafood. Get your mid-century mod vibes on this Thanksgiving and dine inside the iconic interior for $195. "American classics with special Seagram touches" are on the menu and include pumpkin soup, smoked leg stuffing, turkey with a bourbon gravy flambee done tableside, and pecan pie. For an additional $79, you can add the spit-roasted prime rib.
$189 for a three-course meal isn't cheap, but Gramercy Tavern is one of those places that many New Yorkers just have to try once. Opened in 1994 by Danny Meyer in a historic building on the park, the Michelin-star restaurant will certainly impress your holiday company, as will the pumpkin meringue pie and chocolate hazelnut cream pie.
Tom Colicchio's Riverpark sits on top of a Murray Hill office tower, granting diners awesome views of Brooklyn and Queens. It also sits adjacent to Colicchio's rooftop farm on the roof of the Alexandria Center, so expect all your produce to be extra fresh. The three-course family-style Thanksgiving prix fixe is $145 (children 5-12 are $65) and ensures that your group will leave in a food coma. Aside from the turkey, all of the sides and appetizers are vegetarian.
You can't put a price on a view, and at Manhatta, Danny Meyer's FiDi French restaurant, you'll be able to enjoy your Thanksgiving meal while perched 800 feet up. The three-course meal is $145 per person, plus $88 extra if you opt for the wine pairing (which you'll probably want to do to toast to the panoramic views).
Thanksgiving at MoMA? Why not? With two Michelin stars and two stellar New York Times reviews, The Modern is definitely worth a splurge. The main dining room and the Kitchen Table (a small seating area centered around the kitchen) are offering a $198 four-course prix fixe, but the Bar Room has a three-course option for the more manageable price of $118. All the seating areas have an optional $98 wine pairing, and the Kitchen Table has a $198 premium wine pairing.
The stars and awards are endless for chef Daniel Boulud, so a Thanksgiving meal at his 21-year-old Upper East Side restaurant will certainly impress your guests. At $175 for three courses ($55 for children under 12) it isn't cheap, but there are a good number of French-inspired choices, from a foie gras terrine or a salmon gravlax to the free-range turkey or beef striploin.
Located on the corner of 57th and 6th Avenue, The Wayfarer has something that very few restaurants can offer–direct views of the Macy's Thanksgiving Day Parade. If you feel like getting your meal in early, they're offering a ticketed brunch starting at 7:30am. Standing room will set you back a hefty $300, but it does include a brunch cocktail open bar, complimentary family-style breakfast and brunch, and access to a private roped-off area outside on the parade route. Later in the day, they're offering a $68, three-course prix fixe.
A twist on the traditional
Marcus Samuelsson's beloved Harlem restaurant "serves comfort food that celebrates the roots of American cuisine and the neighborhood's diverse culinary traditions." Their ethos is no different on Thanksgiving when groups can dine à la carte or participate in the $55 family-style meal that includes delicious dishes like cornbread stuffing, smothered fried turkey, and collard greens.
The speakeasy downstairs from Red Harlem is also open on Thanksgiving, but here you'll get a live jazz show with your meal. For $60, the jazz buffet offers 11 dishes including Ginny's signature honey hot yard bird, sweet potato lasagna, and roasted heirloom carrots.
Michelin-Starred Korean barbecue restaurant Cote may be known for its $165 wagyu beef tasting, but the Flatiron hotspot is offering an $85 Thanksgiving feast that includes four premium steak cuts and Korean accompaniments such as galbi jjim, egg soufflé, japchae, and jiggae. There will also be a turkey surprise and homemade pies.
Until perusing Chola's Thanksgiving menu, we wouldn't have thought the traditional holiday flavors could blend with Indian cuisine, but now we're dying to try this mashup. Pumpkin bharta, goat biryani, and turkey butter pepper are just a few of the options that'll be on the Midtown East restaurant's buffet, which is just $19.95/person.
Family time have you stressing? A margarita will certainly help. Long-time favorite Dos Caminos is putting a Thanksgiving twist on its authentic Mexican dishes. Make your reservations now because all four Dos Caminos locations will have an all-day happy hour.
Upper East Side Peruvian restaurant Mission Ceviche is offering a three-course prix-fixe menu on Thanksgiving for $75 (a $45 kids menu is also available). Though there is a turkey entree on offer, it's the non-classic dishes that steal the show–a Maine lobster ceviche, a duck dish served with Peruvian rice and beans, and a traditional corn pie, to name a few.
Also on the Upper East Side, Latin American restaurant La Pulperia has a three-course prix fixe for $49 (it's also available a la carte) that features creative fusion dishes like roasted pumpkin empanadas and pomegranate coconut rice pudding.
Known for its fun atmosphere and tropical cocktails, Jamaican spot Miss Lily's is hosting a $38/person Thanksgiving feast at their West Houston outpost. According to their Facebook event, it'll be an "innovative mash-up of island flavors and holiday favorites including sweet potato puree, callaloo cornbread stuffing, and our famous Jerk Turkey."
This long-time Lebanese Mediterranean staple in Nomad is one of those restaurants that perfectly toes the line between upscale and comfortable. For Thanksgiving, they're offering a $77 ($37/child) four-course prix-fixe menu that includes favorites from the à-la-carte menu (think hummus and lamb makloubeh), Thanksgiving specials (slow-roasted heritage turkey and a pumpkin tart), and some fun mashups (sweet potato with pistachio halva and pecan karabij).
Yet another from Andrew Carmellini's NoHo Hospitality Group, Williamsburg's Leuca serves Southern Italian fare, and Thanksgiving will be no exception. Some of what you can expect on the $95 three-course prix fixe ($40 for kids 12 and under) are sheep's milk ricotta with hot honey and garlic, a Brooklyn salami of the day, and a pumpkin mezzaluna. Even the turkey entree has a twist, served with smoked acorn squash, vincotto, ricotta salata, and cranberry mostarda.
French bistro meets American classic is on order at Major Food Group's Dirty French on the Lower East Side. The three-course meal is $98 and boasts dishes such as a millefeuille starter that comes with trumpet mushrooms and butternut squash curry, foie gras pate with apricot mustard, a roasted turkey breast with braised leg blanquette, and dirty stuffing (which we're very intrigued by).
Emily West Village / Emmy Squared East Village 
Best known for their wood-fired pizzas and juicy Emmy Burger, the quaint West Village outpost of Emily will be open for Thanksgiving (the Cobble Hill location will not). Its sister restaurant, Detroit-style pizza restaurant Emmy Squared will also keep its East Village location open (not the Williamsburg outpost). Both spots will have their regular menu, in addition to specials like a Turbo Turkey Sandwich (turkey confit, shredded sprouts and apples, and cranberry aioli on a pretzel bun). They'll also have happy hour all day, with half-price beer, wine, and well drinks.
Appeal to the ultra-carnivorous in your family by booking a reservation at Striphouse's Midtown or Greenwich Village locations. The special Thanksgiving a la carte menu features natural turkey breast and confit turkey leg with all of the fixin's, a squash and black truffle risotto, and a slow-roasted prime rib.
If you happen to have some pescatarians in your bunch, this could very well be your perfect non-Turkey Day spot. Acclaimed seafood restaurant Oceana, helmed by chef Bill Telepan (a leader in the farm-to-table movement), is offering an $88, three-course prix fixe ($50 for children under 12) that includes everything from shrimp bisque and tuna tartare to seared halibut and Scottish salmon. Don't worry, there's also turkey with all the trimmings on the menu.
Another seafood-heavy option is Upper West Side classic Atlantic Grill. There's a $55 three-course prix fixe with a turkey meal, or guests can order Thanksgiving-fied a la carte picks like Maine lobster bisque with quince profiterole and whipped mascarpone or salmon with shrimp and pumpkin risotto, brussels sprouts, and apple-sage gremolata. Also available are the raw bar and sushi menus.
And for your even more adventurous fish-loving friends, there's Times Square sushi restaurant Blue Fin. There is a turkey dinner on the a la carte menu, as well as a $55 three-course prix fixe with the turkey entree, so your more traditional family members will still be satisfied. But there are plenty of sushi and raw bar options for a unique experience.