Where I Work: Ample Hills opens NYC's largest ice cream factory in Red Hook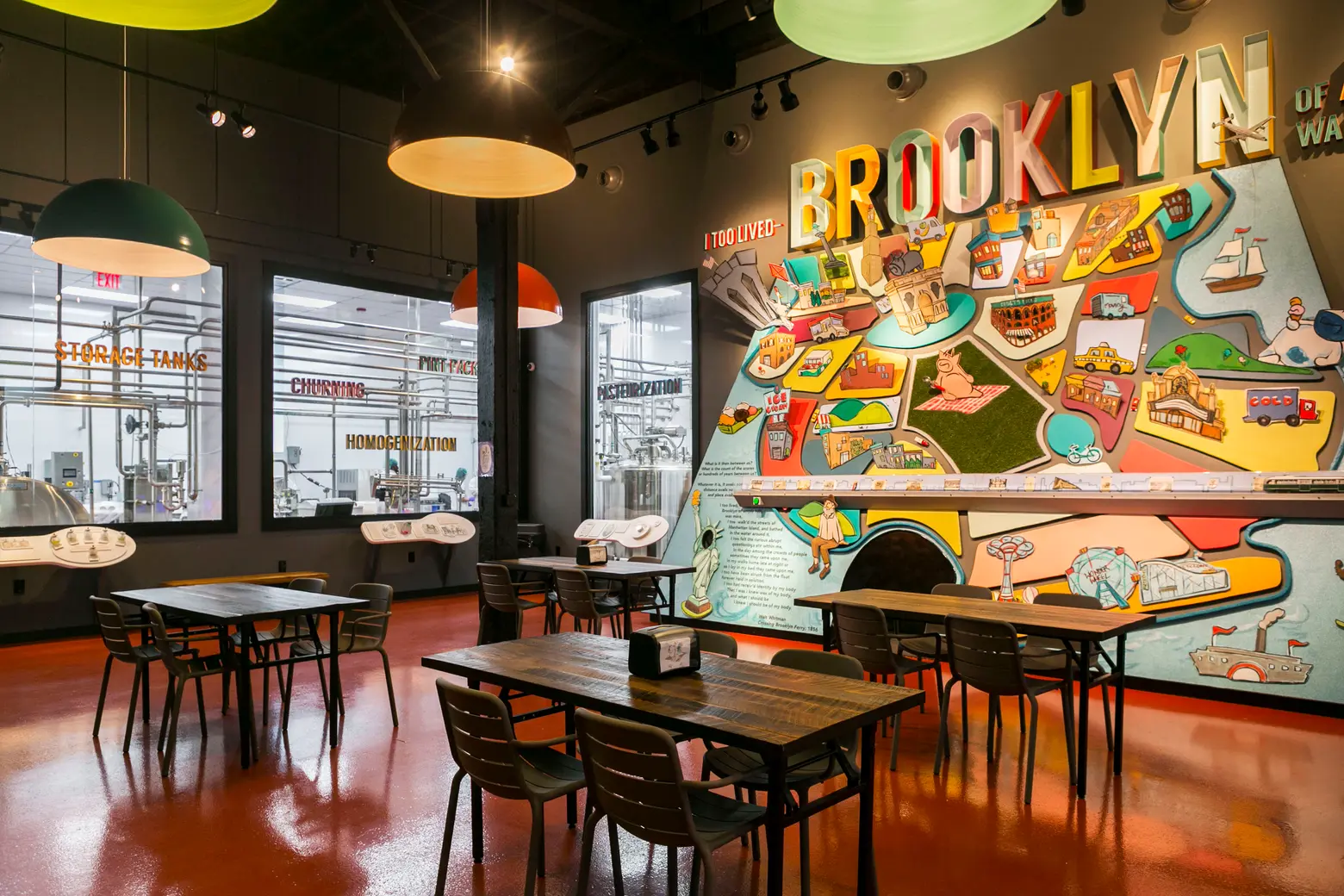 6sqft's series "Where I Work" takes us into the studios, offices, and businesses of New Yorkers. Want to see your business featured here? Get in touch!
This summer, Brooklyn ice cream phenomenon Ample Hills opened NYC's largest ice cream factory in Red Hook. Founders Jackie Cuscuna and Brian Smith wanted "to create a place where people from all over the world could come together, share a scoop and learn the magic behind making ice cream." From a single cart in Prospect Park eight years ago to the new 15,000-square-foot factory, museum, and shop that can produce 500,000 gallons of ice cream a day, Ample Hills certainly has delivered on this goal.
6sqft recently visited the factory and, of course, had a sampling of all the whimsical flavors (including the factory's signature flavor that is an homage to the Dutch settlers of Red Hook). We also took a tour of the space with Ample Hills' creative director Lauren Kaelin, who designed the space's interactive 22-foot-wide map of Brooklyn and educational exhibits. She took us behind-the-scenes in both the ice cream production side and the bakery (Ample Hills makes all its mix-ins by hand) and filled us in on some secrets of the sweet company.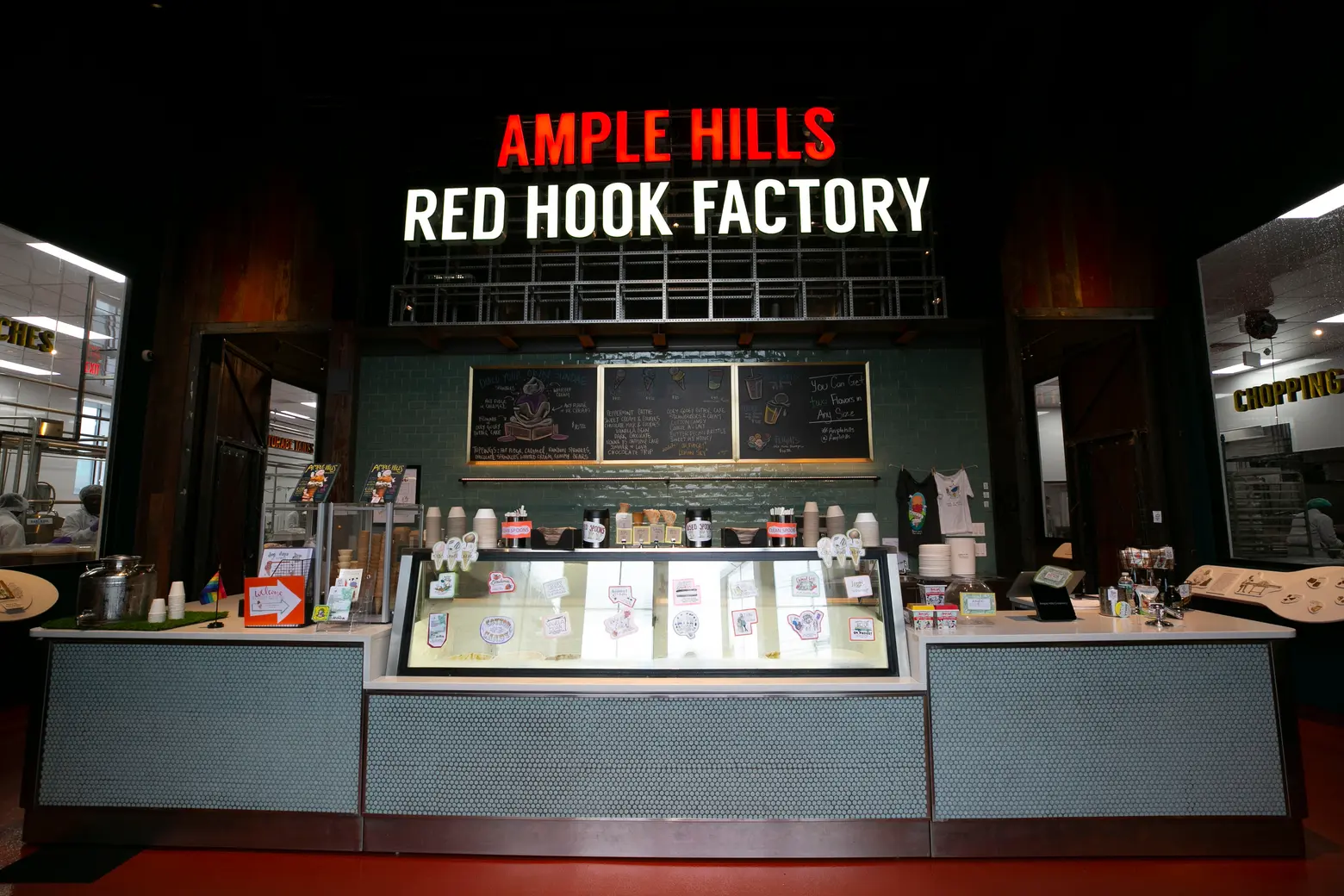 When 6sqft took a tour of Brian and Jackie's Boerum Hill home earlier this year, we remarked how the couple carried Ample Hills' "combination of playfulness and attention to detail" over to their personal space. And that certainly has manifested itself in an even bigger way in the Red Hook factory. With a quick look around, it feels like you've just walked into a child's ice cream fantasyland. But the genius is that, though the space delivers on its kid-friendly and whimsical vibes, it also has a strong educational component and intentionally keeps the ice cream making and baking in full view.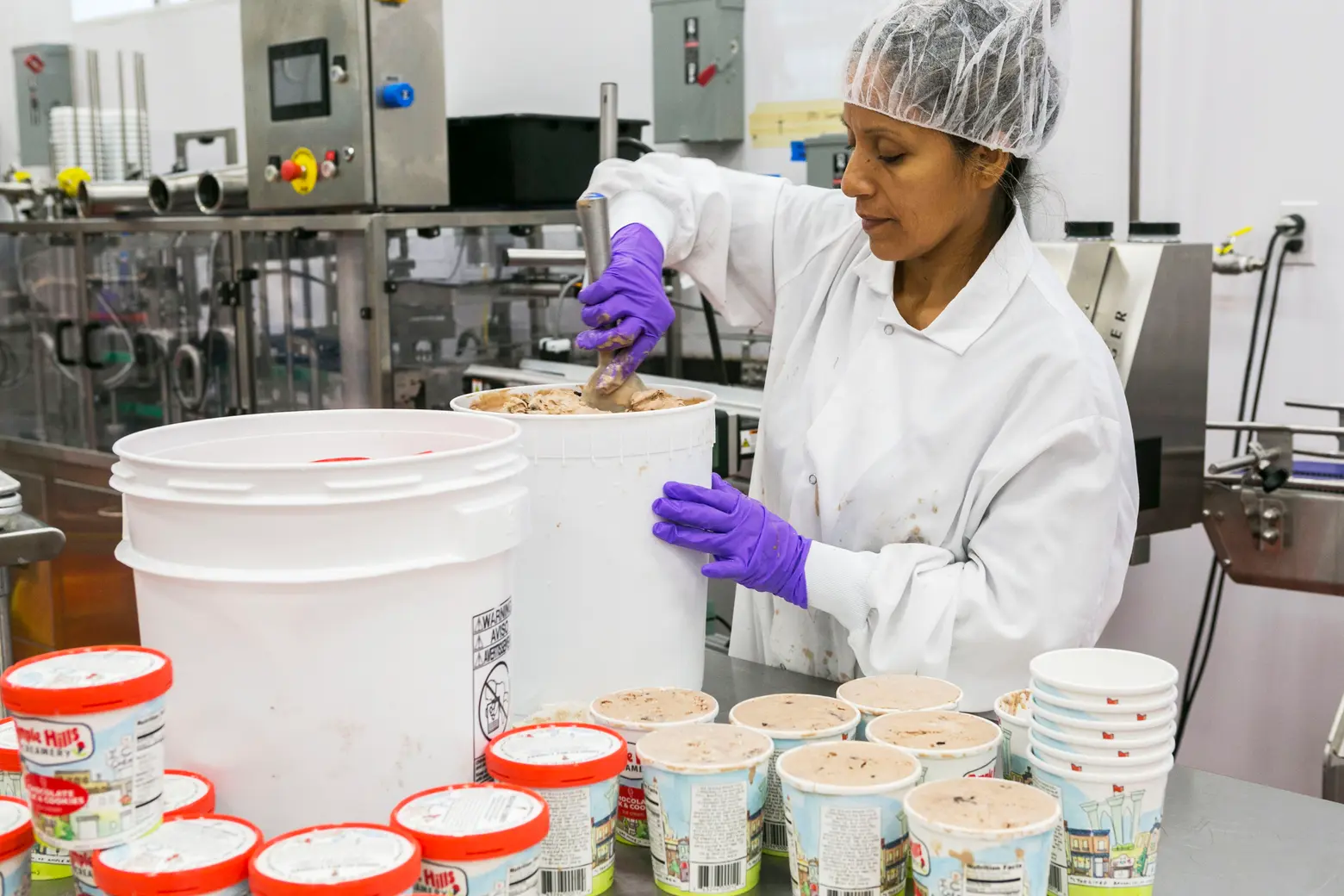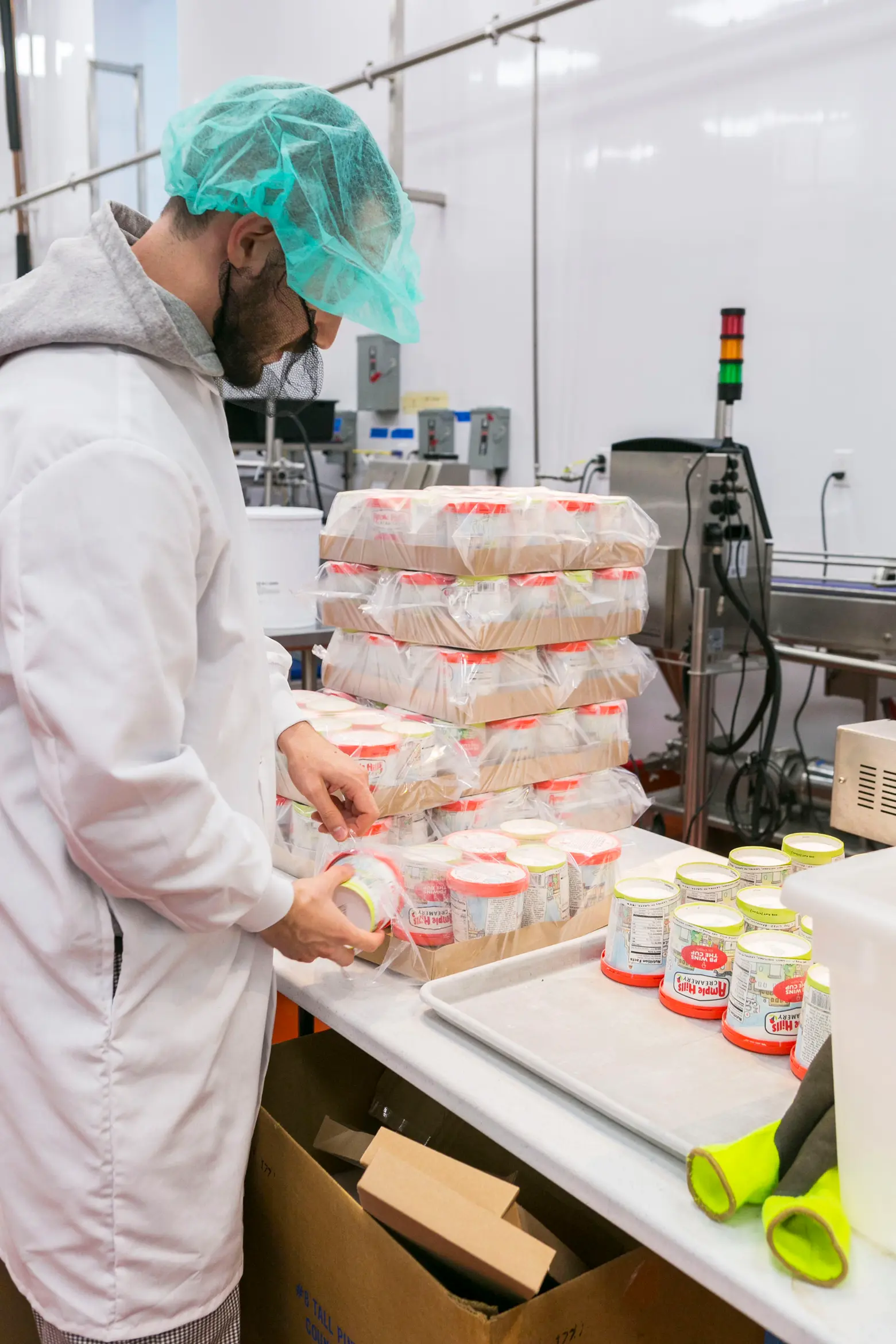 Though some pints are still filled by hand, the factory now has a machine that will run that process.
The new factory is 15 times the size as the Gowanus shop where production was previously housed and can produce 10 times as much ice cream. This is very important considering Ample Hills now has nine locations in NYC, as well as outposts in Jersey City, LA, and even Disney World.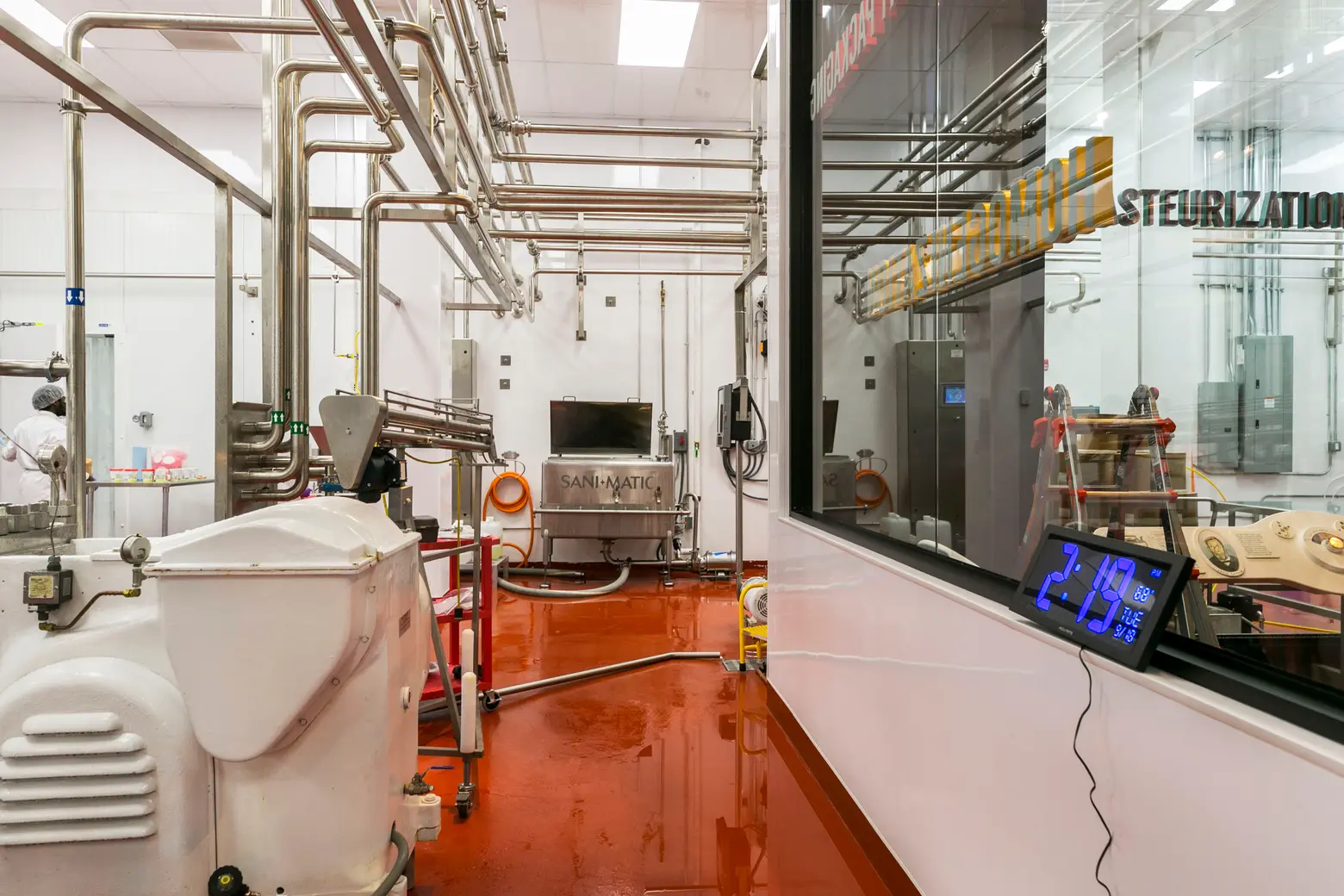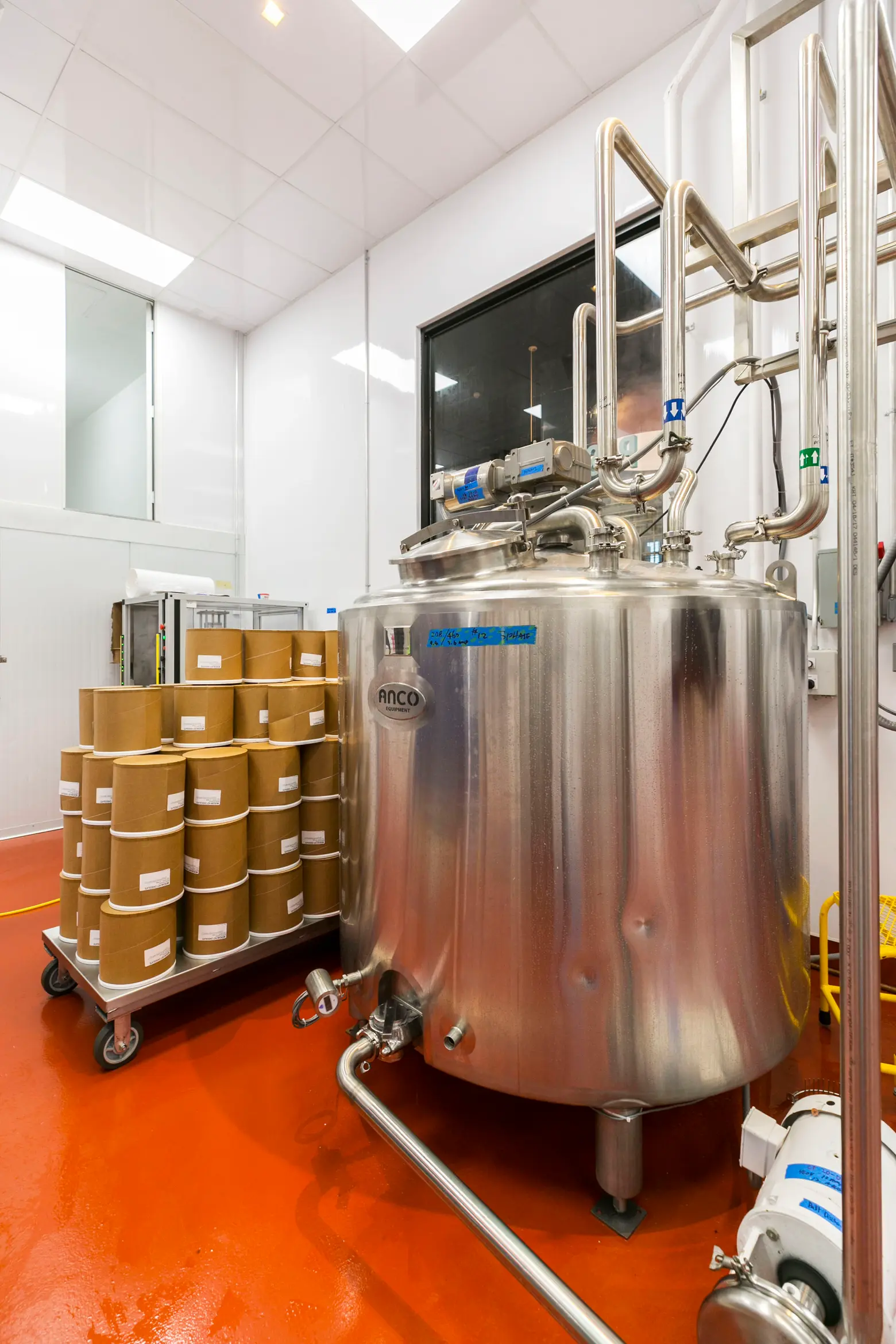 Ample Hills has been making everything in-house, on-premise, and in full view of the public since they opened their first shop on Vanderbilt Avenue in 2011. As Lauren recalls (she's been an "Amployee" since that time, first as a scooper and quickly working her way up to creative director), in the very early days, the pasteurization took place on a stovetop; it's now handled by a 500,000-gallon machine. Then, there were only about four employees; today, they are a company of over 200 at their busy times.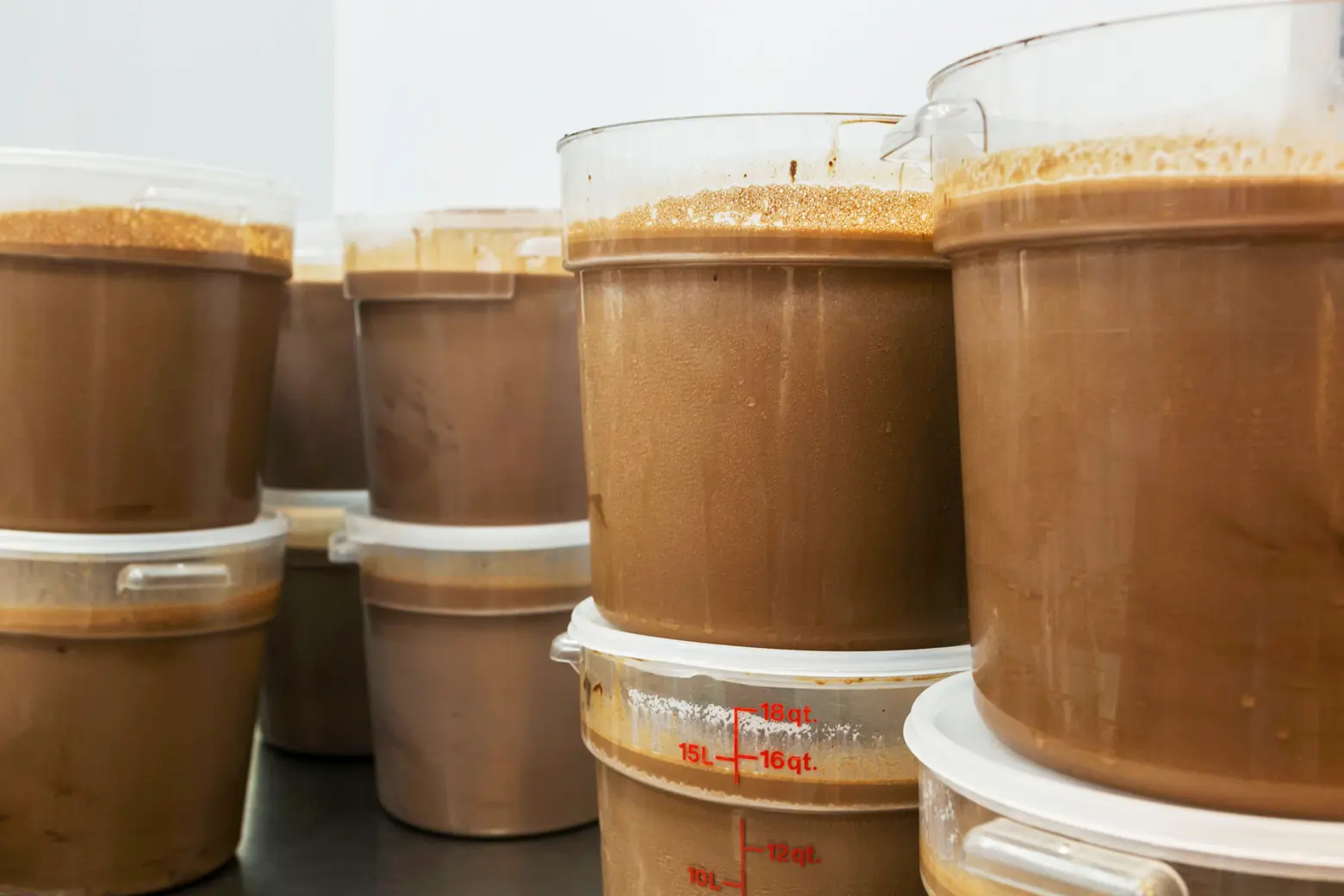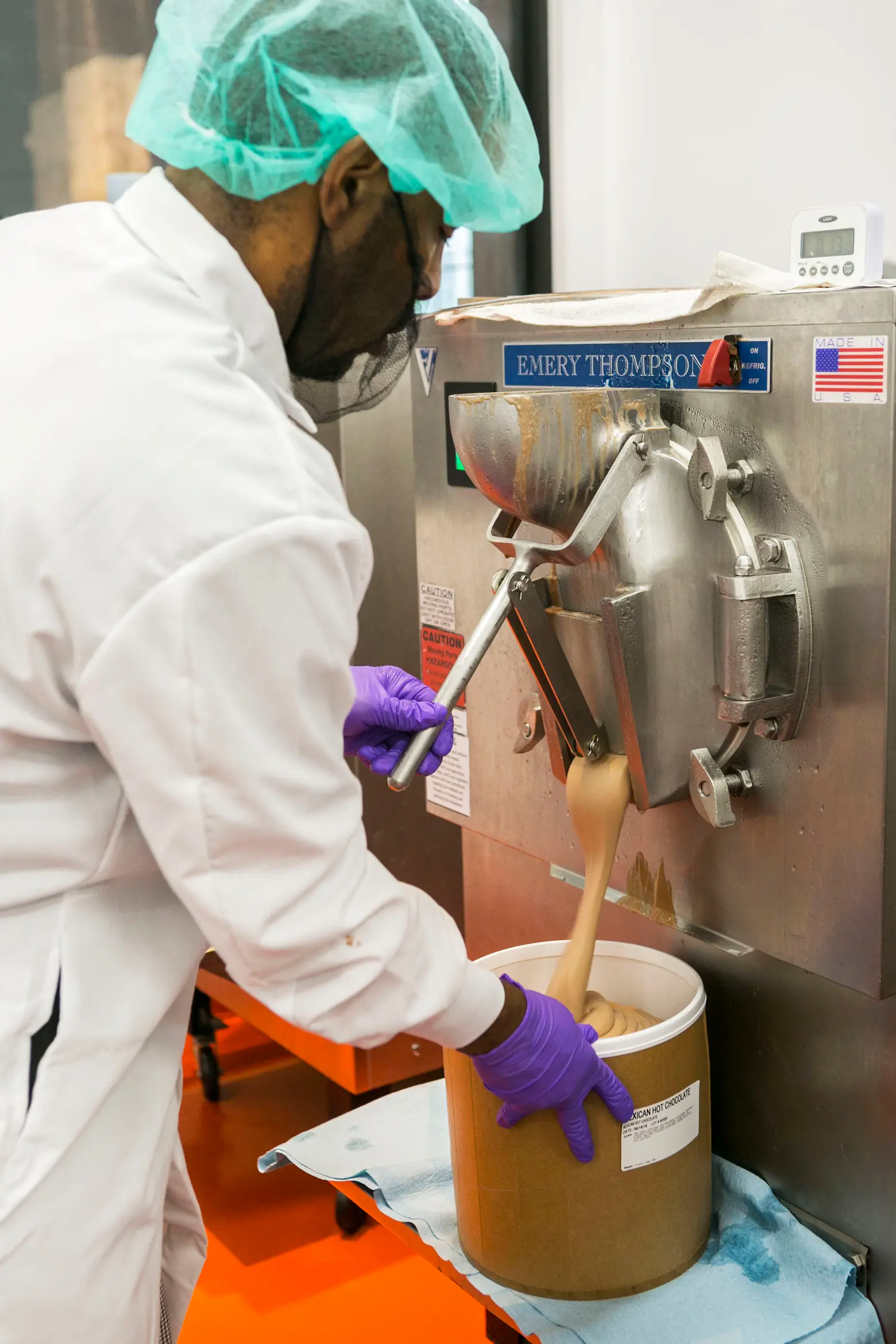 Visitors are able to view all the steps of the ice-cream making process, which Lauren explains as follows: First is pasteurization when the milk, cream, sugar, and eggs are heated together to a certain temperature to kill germs; the mix moves to the homogenizer where the fat globules are arranged to a smaller size so the mix becomes smoother and creamier; it then goes to storage tanks where the flavor develops overnight; next it goes into vats where the mix-ins are added; and finally it's churned into ice cream.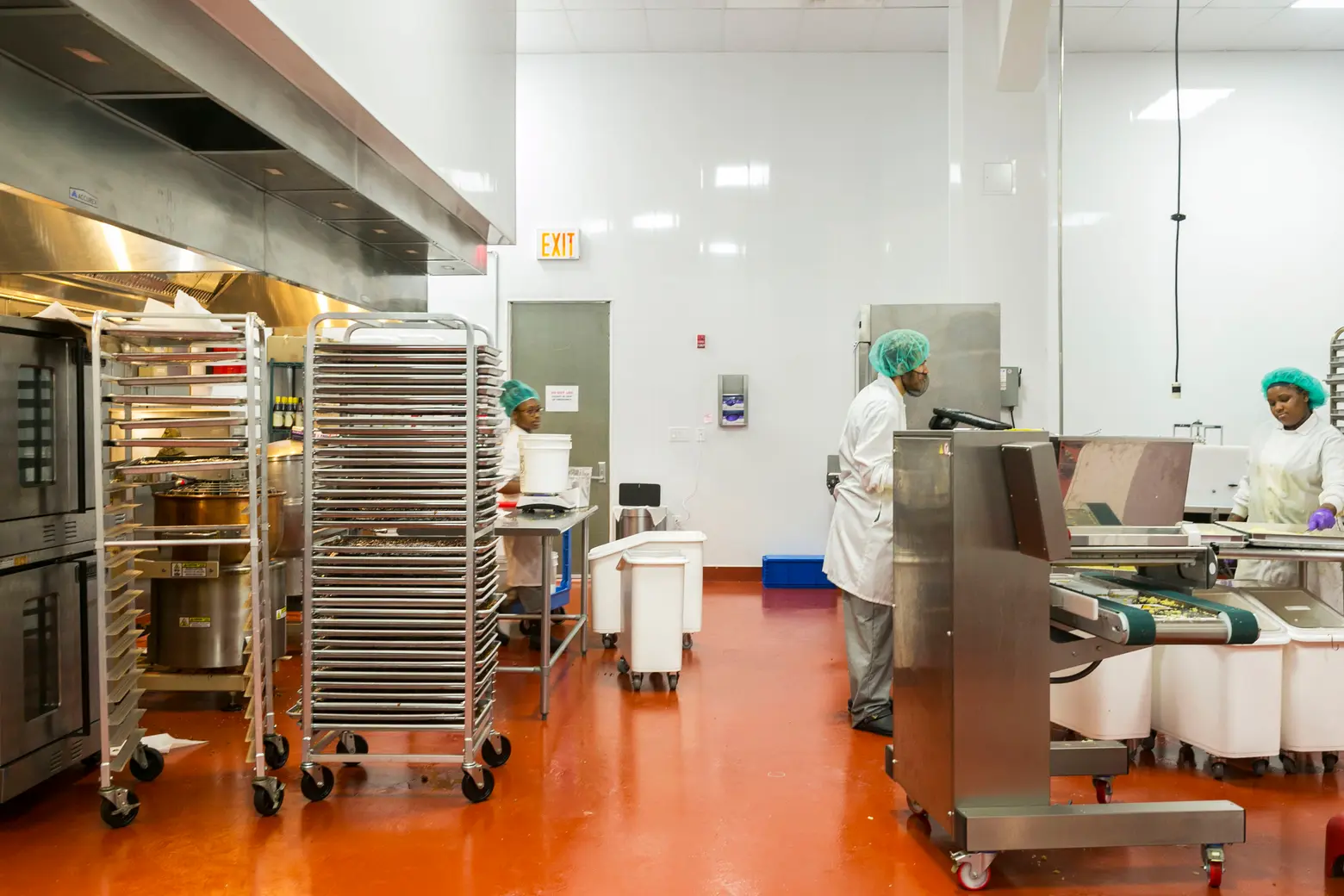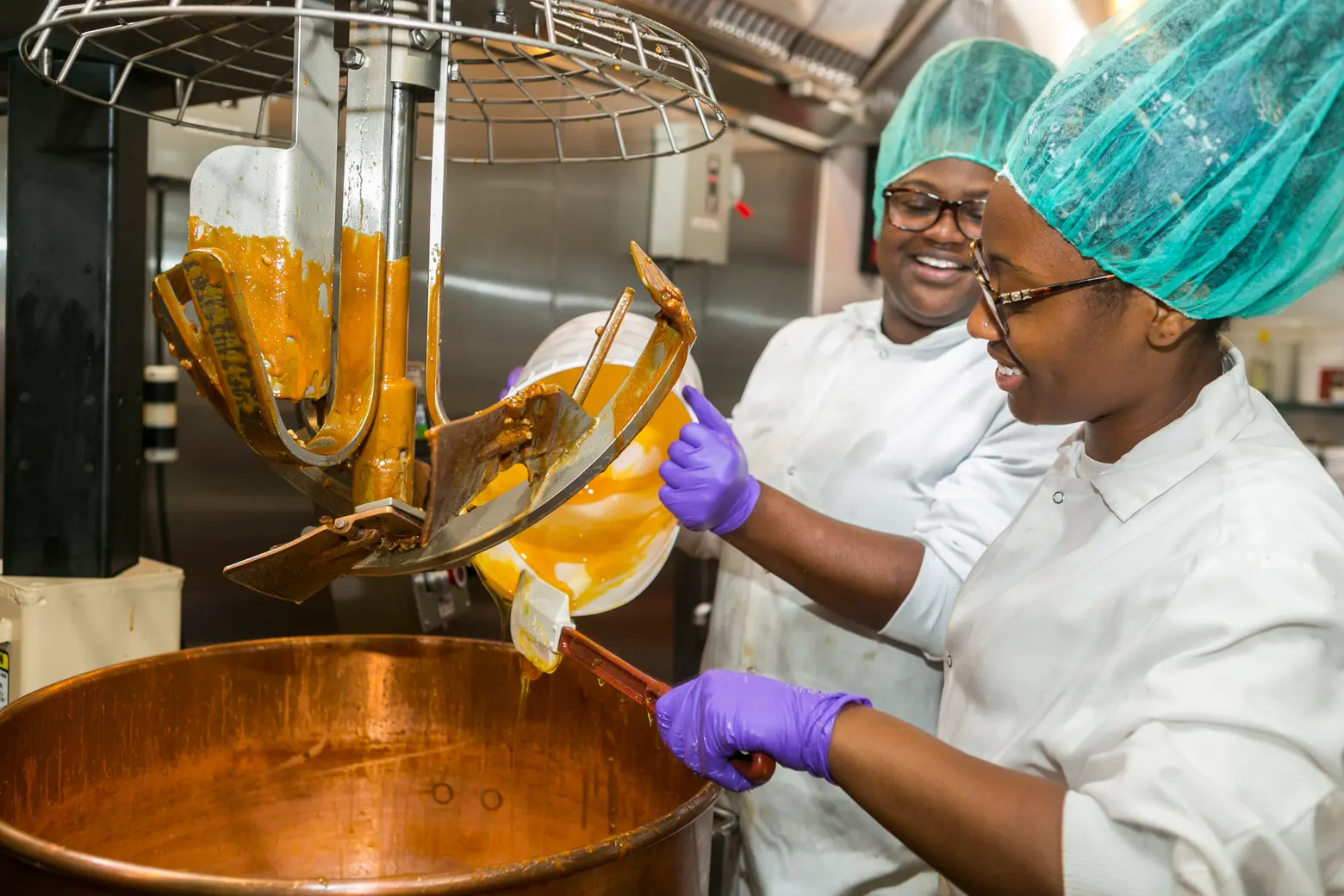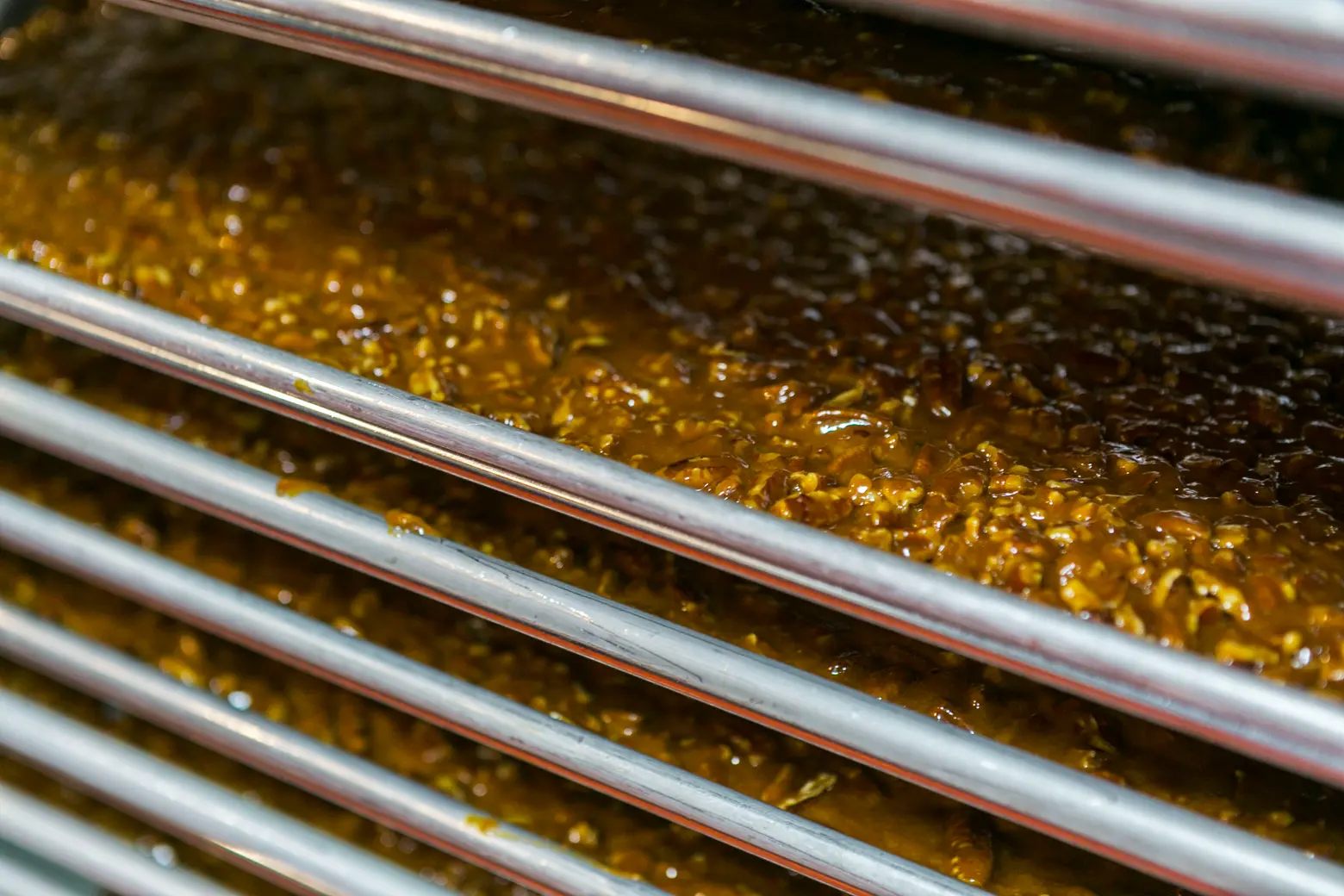 In the bakery, making pecan brittle for the Butter Pecan Brittle ice cream
The fact that Ample Hills bakes its own mix-ins is quite unusual for an ice cream company, something that Lauren feels has attributed to their success. "That customization and attention to detail is a big part of what makes our flavors so special. Snap, Mallow, Pop! for example, is an ice cream made with marshmallows melted into the base, and then we bake buttery Rice Krispies to hold up and stay crisp in the ice cream. This process and having control from start to finish allows us to endlessly customize flavors. In the factory, you can see the bakery is a huge part of our process–it's nearly half of our production facility. Jazmin runs our bakery and it's remarkable how much works goes into not only producing the cakes and brittles and Krispies but then getting them chopped into the perfect bite-sized pieces."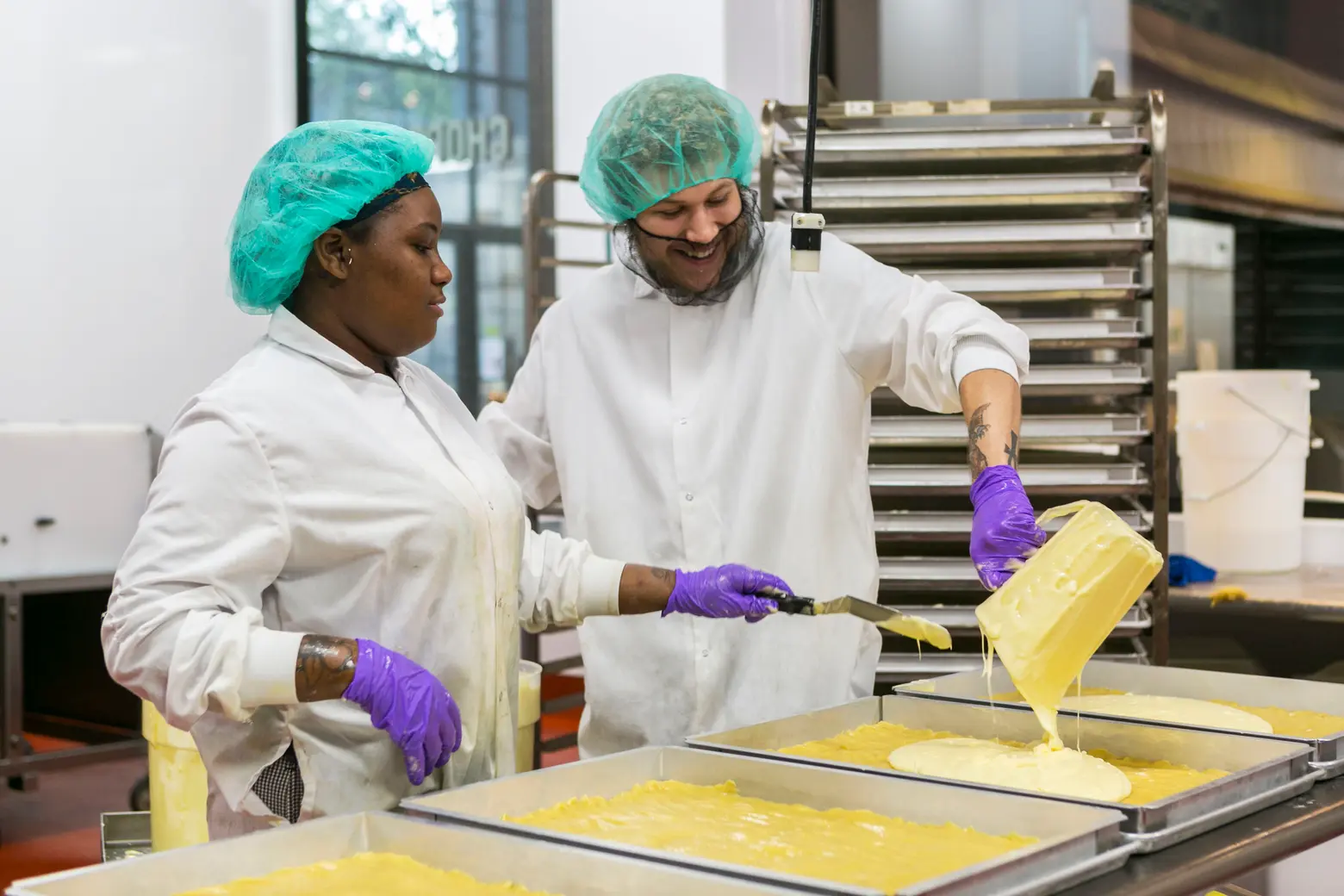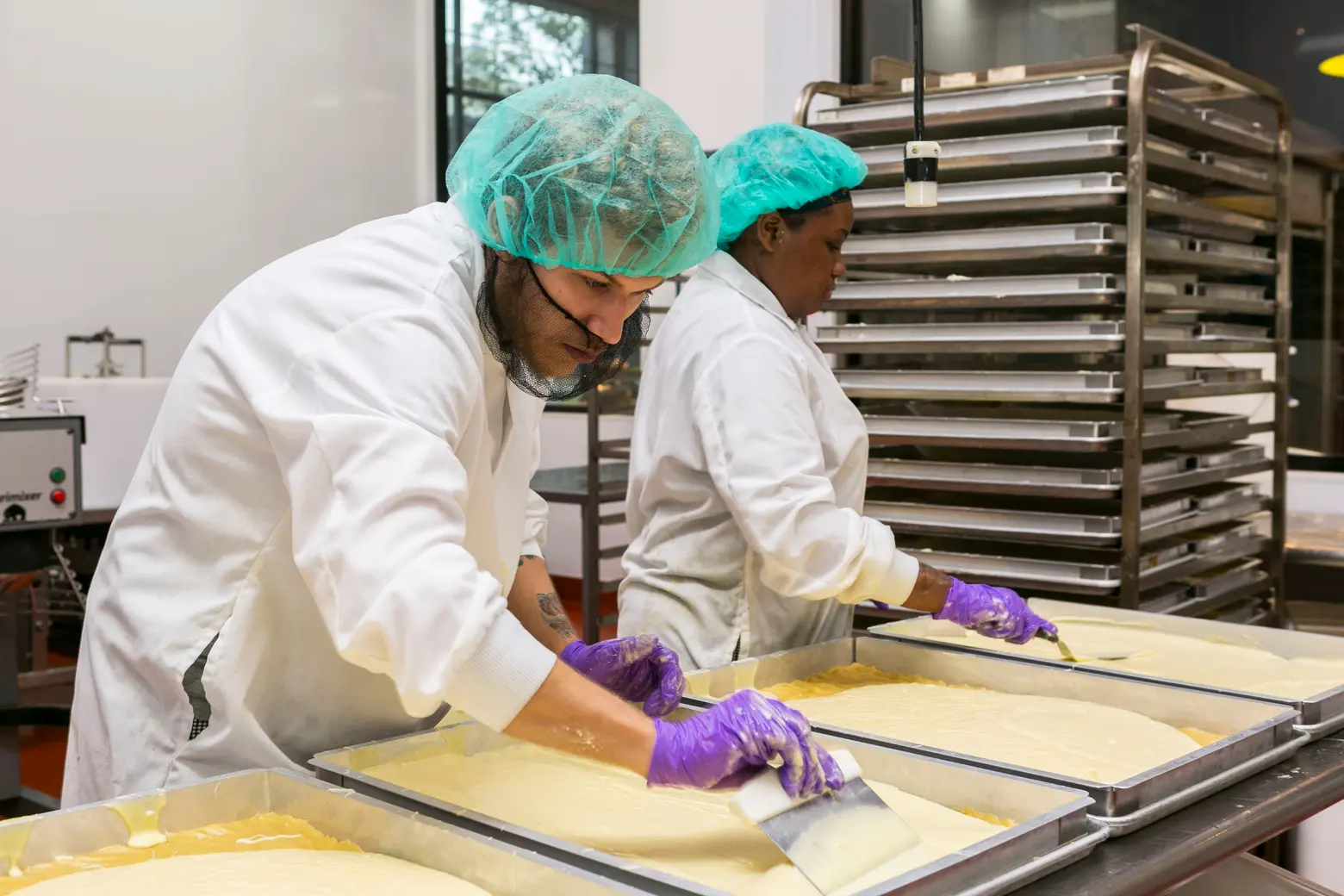 For large-batch mix-ins like the St. Louis-style ooey gooey butter cake being prepared above, the chopping used to be done all by hand. There's now a chopper machine that can do it in half the time.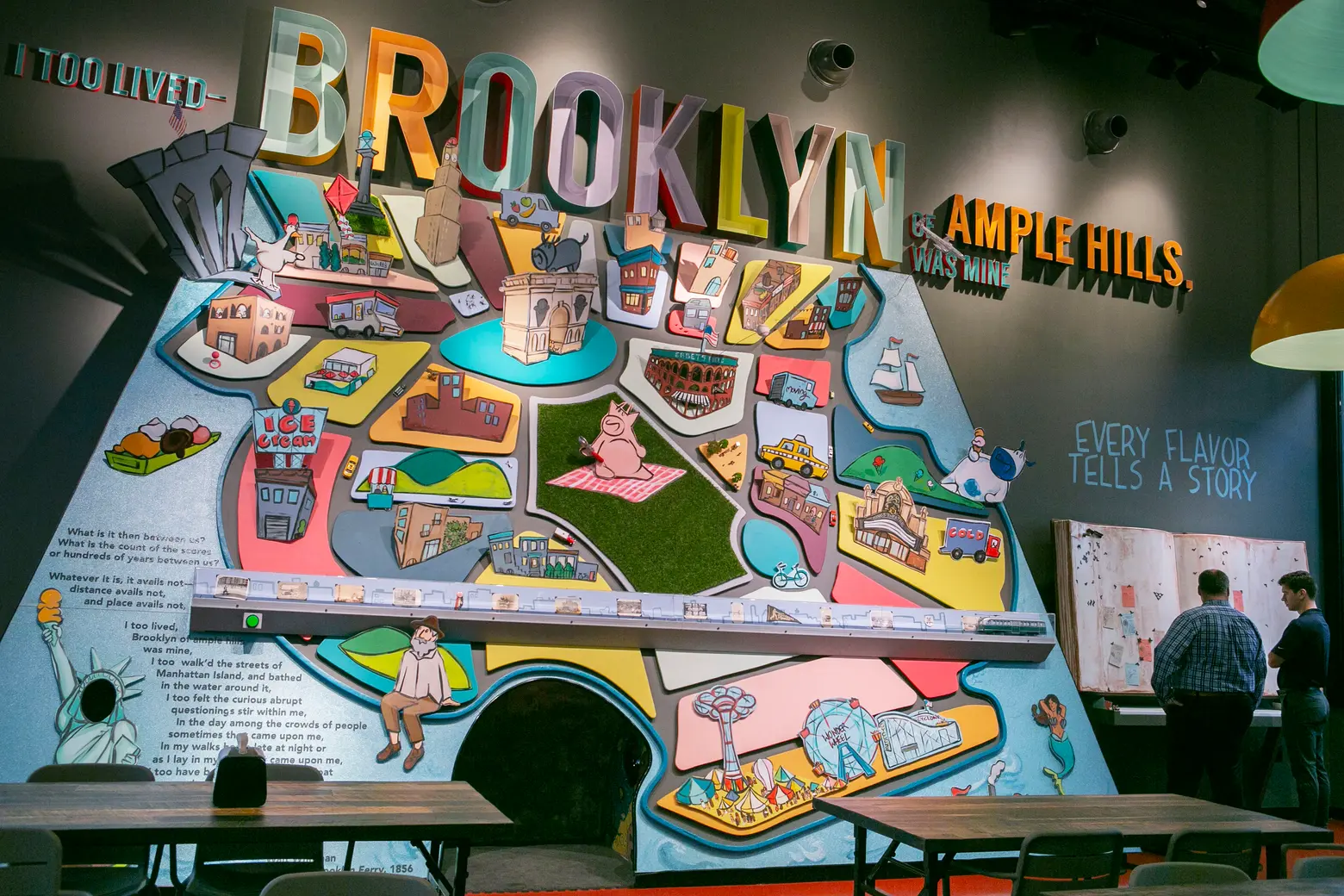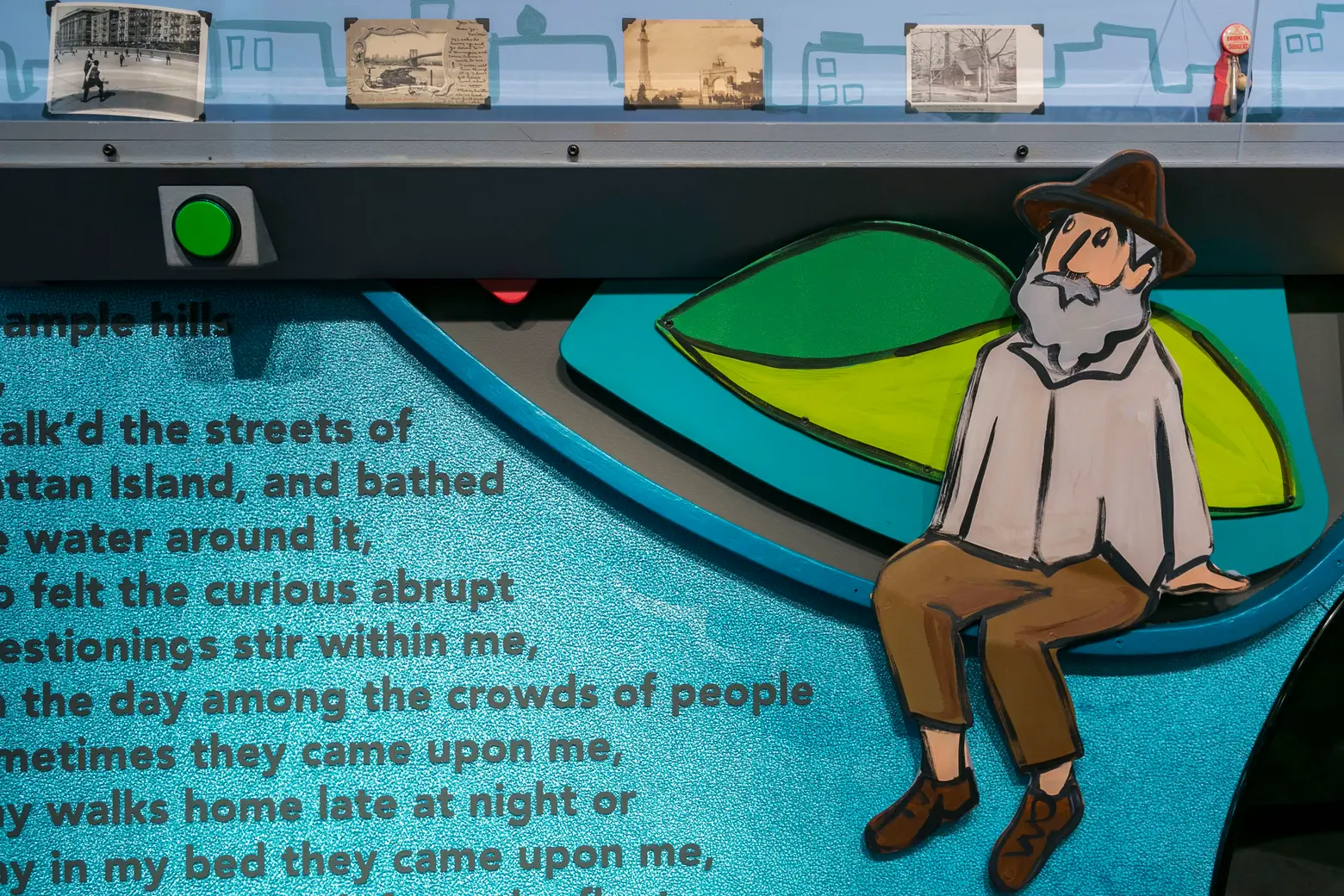 Top: The map took several weeks to install; Bottom: Walt Whitman, whose "Crossing Brooklyn Ferry" inspired the name Ample Hills, sits on the edge of the map
Interestingly, Lauren studied oil painting and art history with a concentration in museum studies, so for her, the factory has really allowed her to come full circle. For her massive, 15-feet-high, 22-foot-wide, 3-D Brooklyn map, she wanted to create a tribute to both present-day and historic Brooklyn, including landmarks such as Ebbets Field and Kentile Floors. There's a model trolley car that moves with the push of a button and a climb-through "Battery Tunnel" that's hiding a sunken treasure chest inside.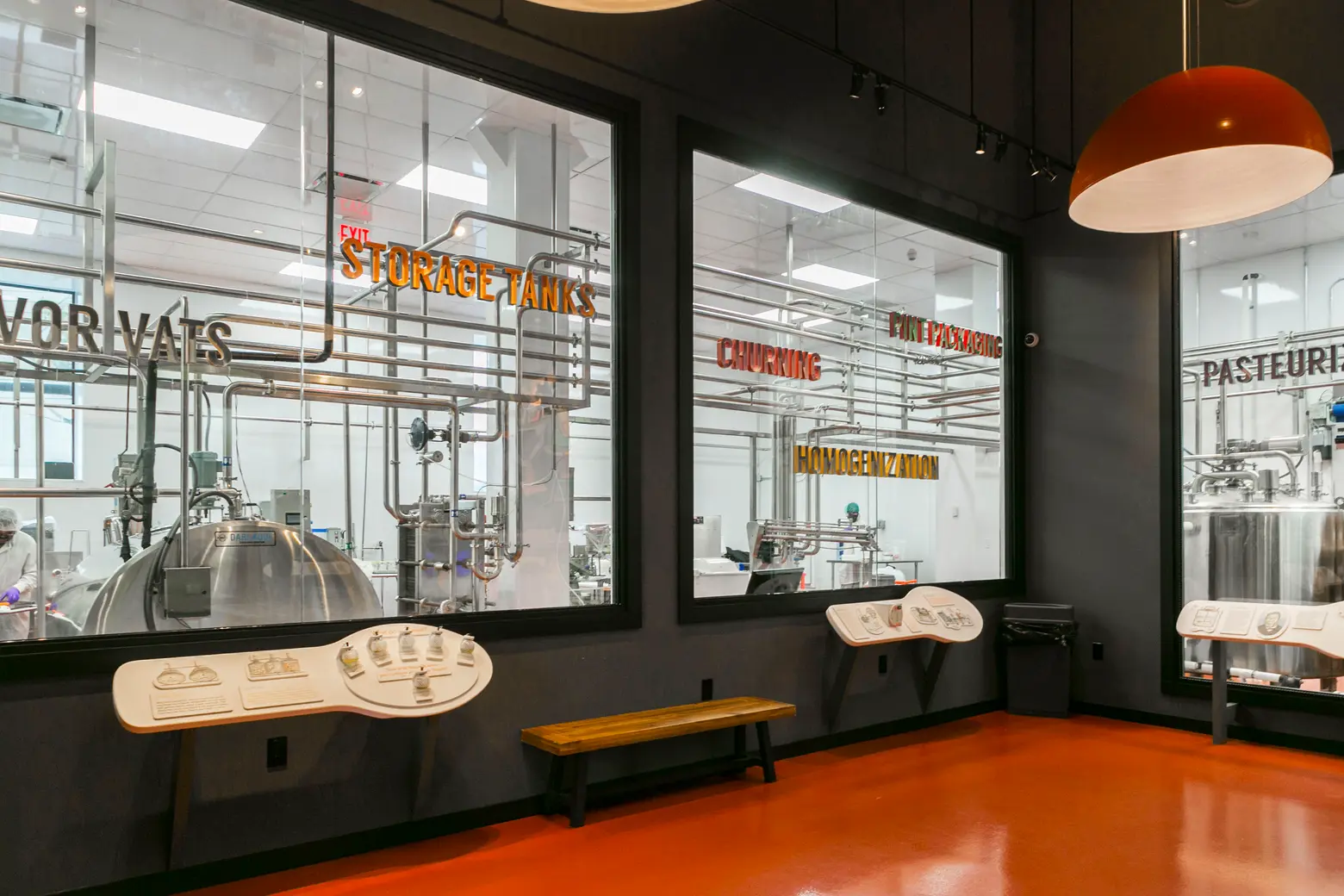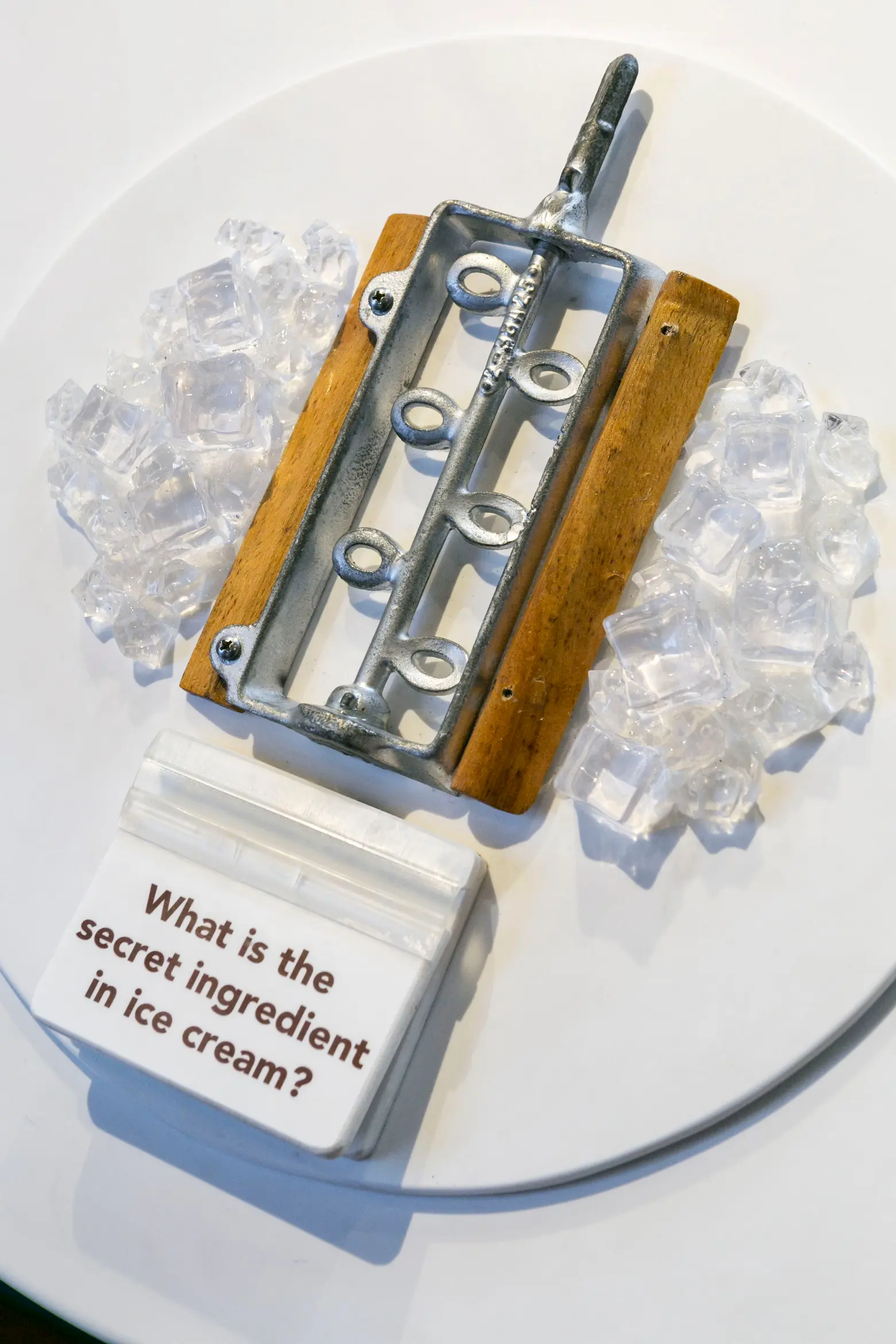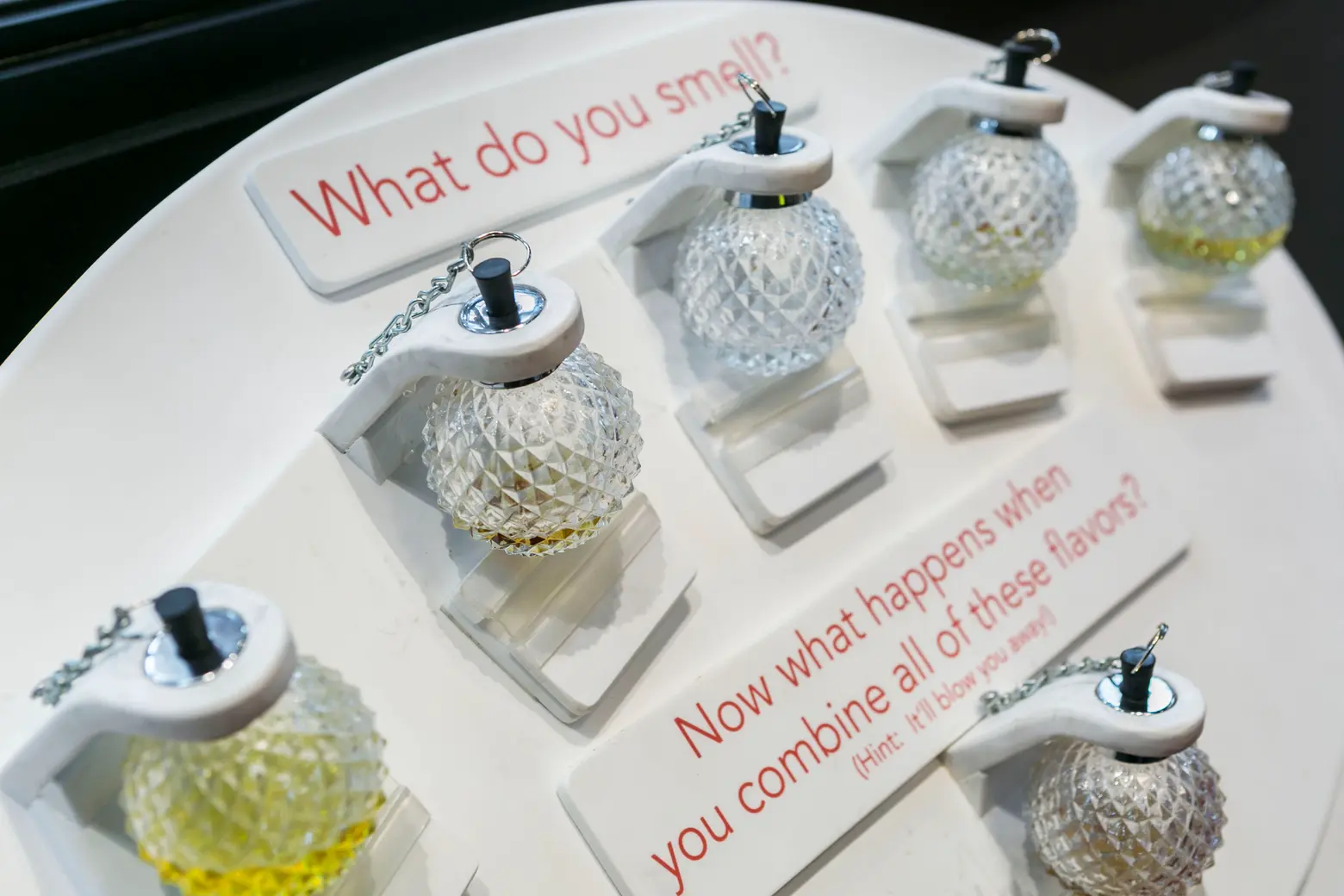 A flavor smell station on one of the spoons
The museum exhibits are displayed on five-foot-long spoons that outline the history and science behind ice cream making, explaining the processes taking place behind the glass.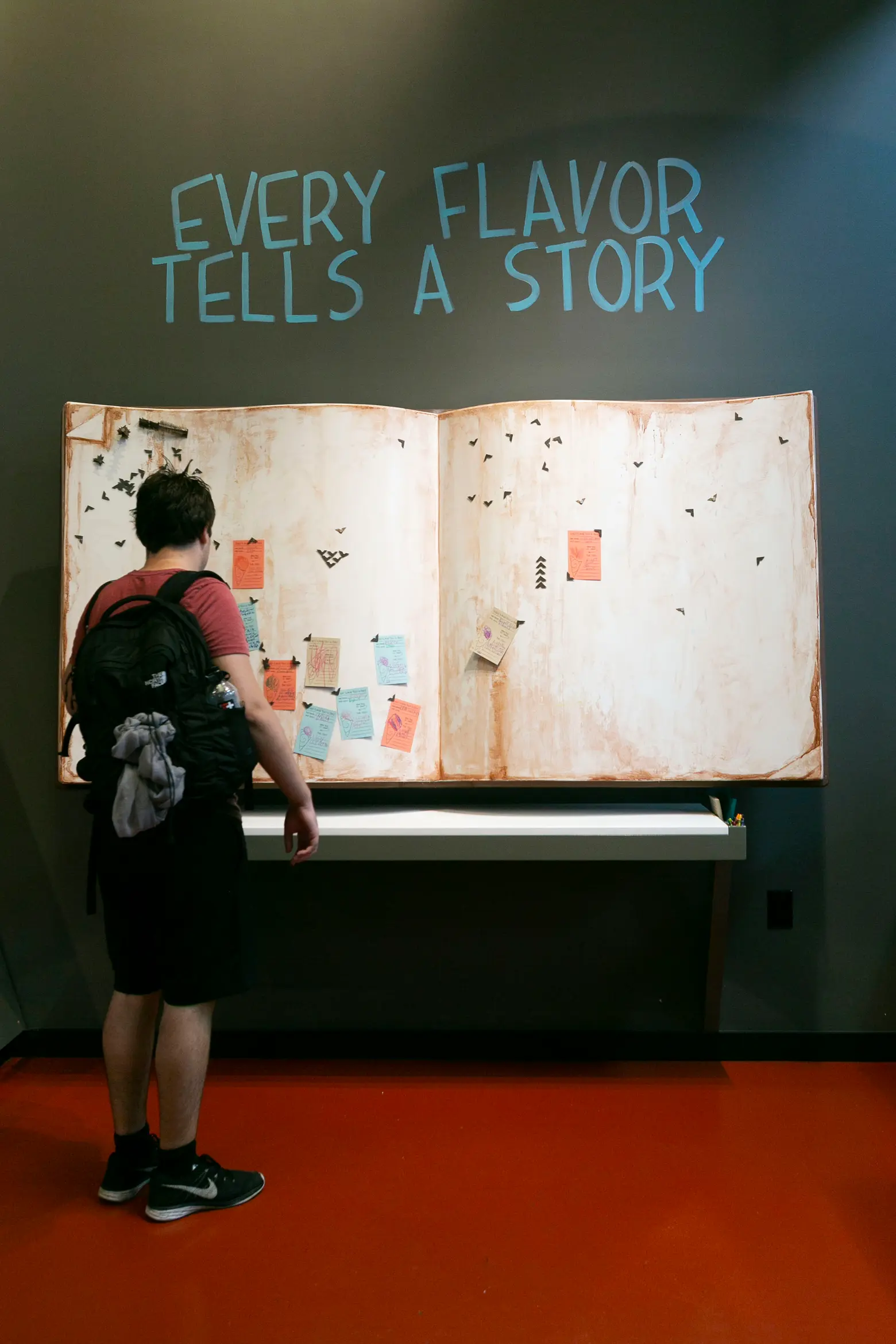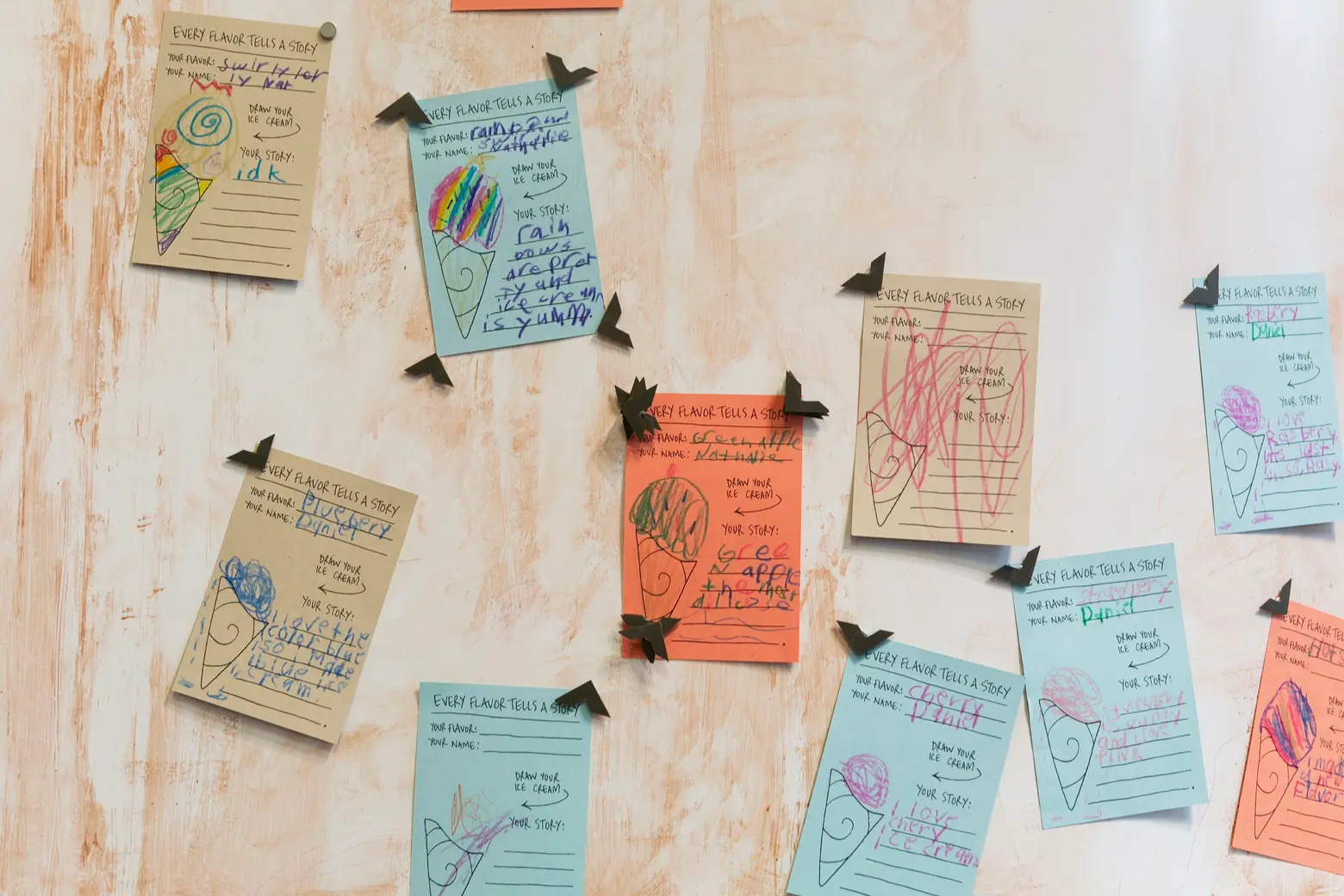 Ample Hills believes that "every flavor tells a story" and so they've built an eight-foot magnetic book where guests of all ages can share a story-flavor idea. Ample Hills will even churn out their favorite suggestions.
Along these lines, each of Ample Hills' shops has its own special flavor that tells a story about the neighborhood. The factory's is called The Hook, which tells the story of how the community was built over centuries, from its early days as home to the Revere Sugar Factory (it has a burnt sugar base), to its time hosting "salty dogs" or sailors (salty fudge bites), to Dutch settlers (stroopwafel chunks).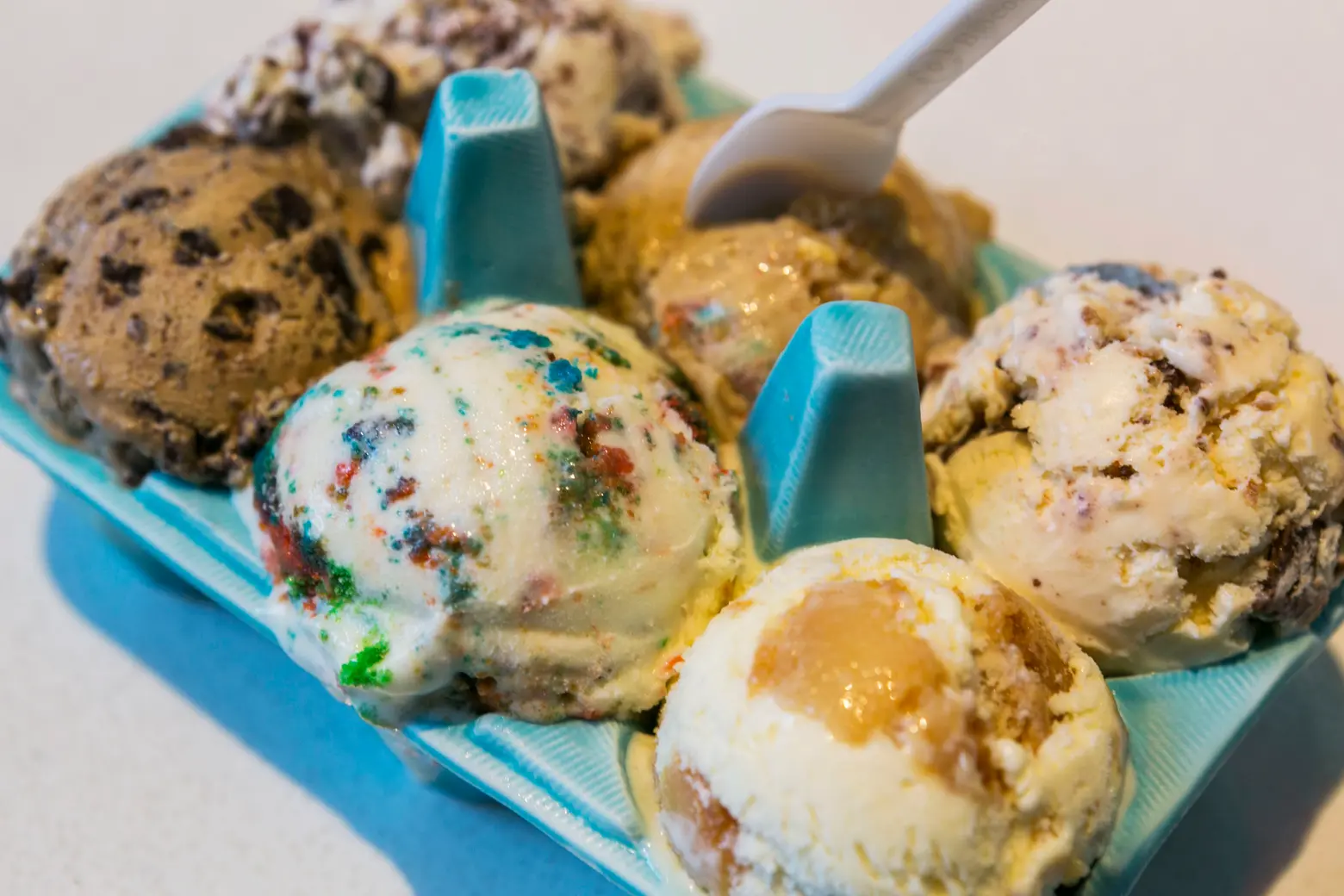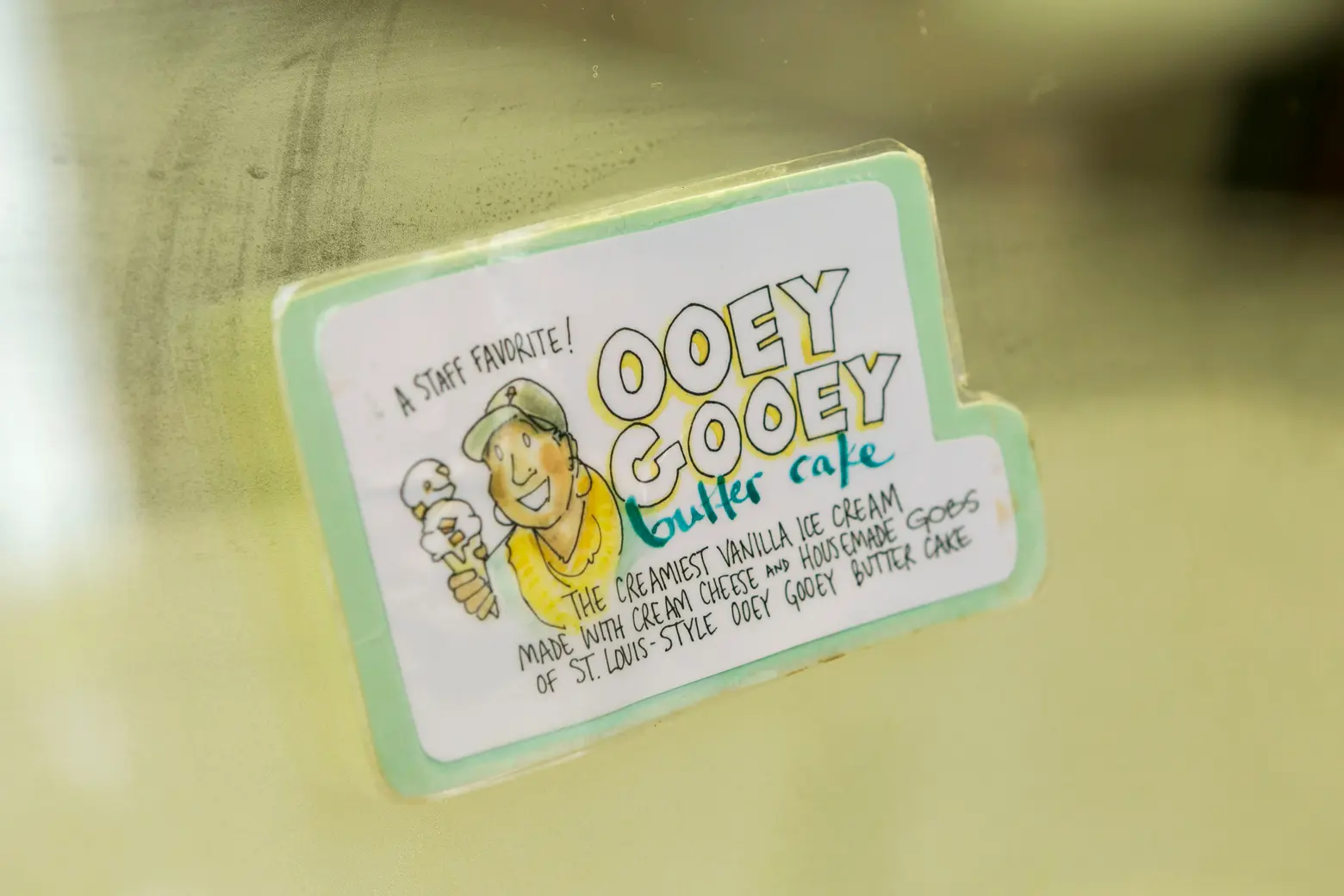 Now, we've saved the most important part for last. What is Ample Hills' most popular flavor? "By far and away our Ooey Gooey Butter Cake," says Lauren. "It's a cream cheese vanilla base with gobs of housemade St. Louis-style ooey gooey butter cake." But as for her personal favorite, she picks Pistachio Squared. "Brian hates pistachios so it was a real victory to finally get this flavor made. Most ice cream makers substitute a less expensive nut (like almonds) for the base of their pistachio ice creams, but we go all out–pistachio paste in the base and housemade pistachio brittle chopped into tiny morsels that melt in the ice cream. It's certainly one of our pricier ice creams to produce–but oh, I think it's worth it!"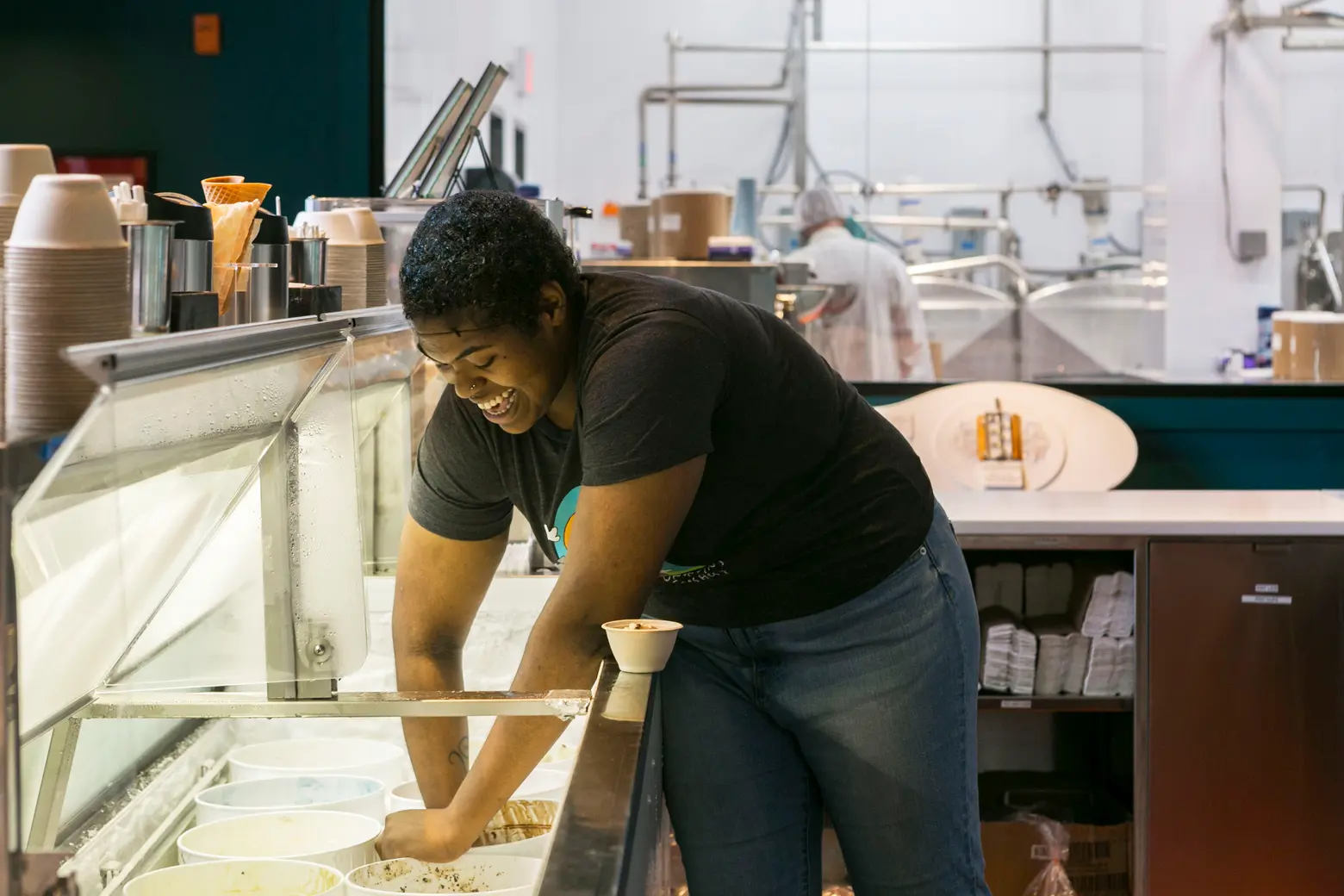 On their site, Jackie and Brian said of the new factory:
Walt Whitman's Crossing Brooklyn Ferry didn't just inspire our name. It's also inspired our values. This powerful poem explores the connection between people across time, and we think that connection isn't just important—it's essential! By referencing Whitman's work in our name, we hope to show that something as simple as ice cream can bring people together. Ice cream can be so much more than milk, cream, sugar and eggs.
Ample Hills' Red Hook Factory is located at 421 Van Brunt Street at Beard Street. It's open 
RELATED:
All photos taken by Kate Glicksberg exclusively for 6sqft. Photos are not to be reproduced without written permission from 6sqft.