New interactive map tells the story of women's suffrage in Greenwich Village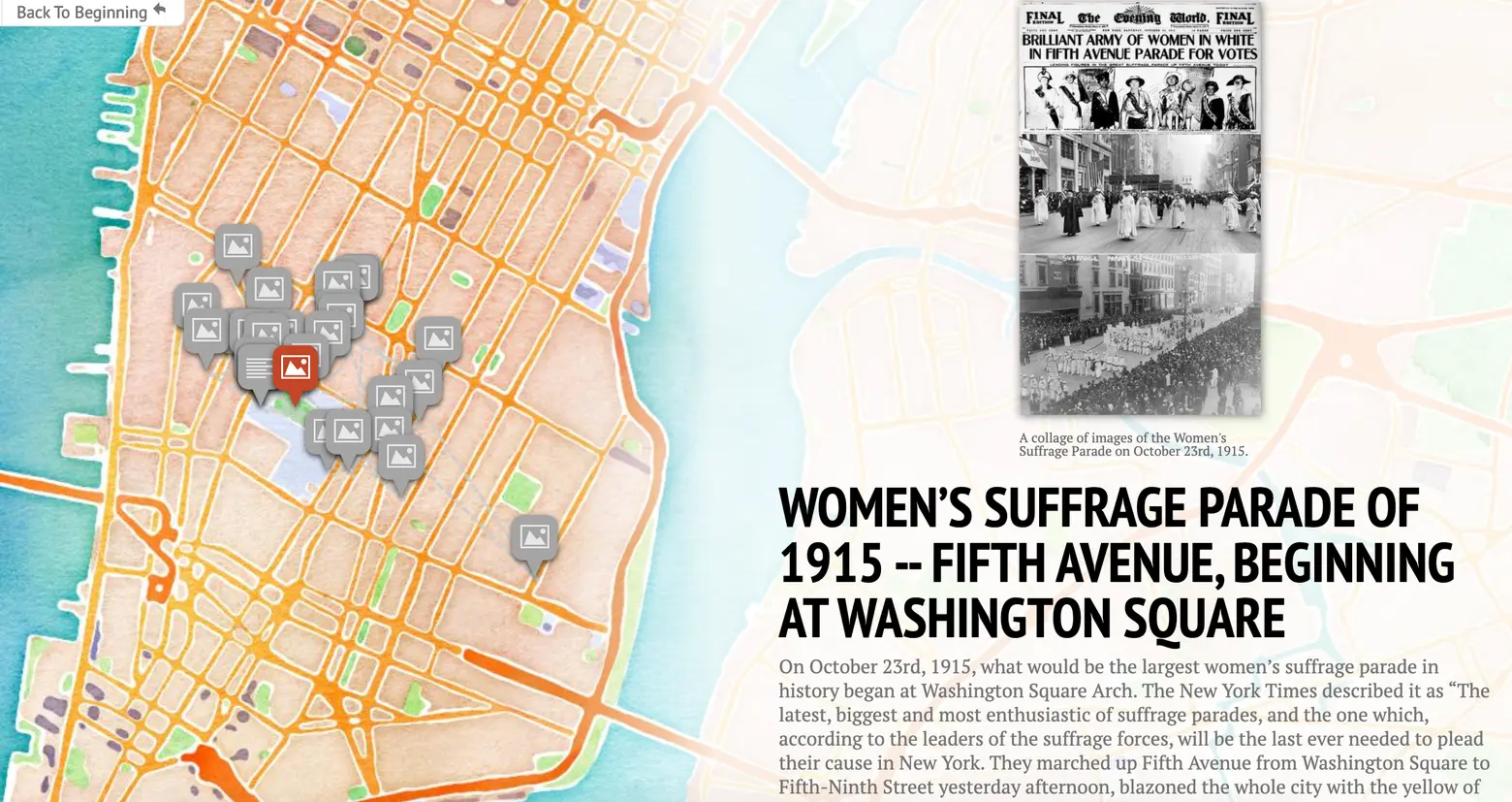 Screenshot of the 19th Amendment Centennial StoryMap, courtesy of Village Preservation
Next week, on August 18th, we celebrate the 100th anniversary of the 19th Amendment. Though the fight to give women the right to vote was a national effort, much of the movement had roots in New York City. And like most 20th-century advocacy efforts, a lot of that action was centered downtown. To mark this momentous occasion, Village Preservation has created an interactive 19th Amendment Centennial StoryMap that showcases the remarkable number of people and places in Greenwich Village, the East Village, and Noho that played a key role in the women's suffrage movement.
As the map reminds us, these downtown neighborhoods "were long centers of political ferment and progressive social change," from Emma Lazarus' work helping Jewish immigrants to Margaret Sanger's advocacy for birth control to the fight for gay rights that took hold before and after Stonewall.
When it comes to women's suffrage, some of the highlights in the Village are:
The 1915 Women's Suffrage Parade that began at Washington Square, the largest such parade in history
Cooper Union's Great Hall, which hosted the 1860 National Rights Convention, as well as the 1873 and 1894 Woman Suffrage Association meetings, bringing together Abby Hopper Gibbons, Elizabeth Cady Stanton, and Susan B. Anthony
Mother Zion AME Church at 215 West 10th Street, which was attended by 19th-century African American abolitionists and civil rights leaders Sojourner Truth, Harriet Tubman, and Frederick Douglas, all of whom were also proponents of women's suffrage
20 East 11th Street, the one-time home of Esther Lape and Elizabeth Read, life partners who founded the League of Women's Voters
Andrew Berman, executive director of Village Preservation, told 6sqft:
The passage of the 19th Amendment 100 years ago was one of the critical milestones on the path to equality and justice in America. We're incredibly proud of how much of that path was paved by residents of Greenwich Village, the East Village, and Noho, and how many of the critical moments on that journey took place here. It's amazing to see the incredibly rich array of figures — female and male, white, black and Asian, rich and poor, traditional and avant-garde, who contributed to this great leap forward, more than a century in the making. We are thrilled at how many of these sites connected to the women's suffrage movement are still standing in our neighborhoods, for many of which we continue to seek landmark protections.
Explore the full map HERE >>
Village Preservation also has two events this month to mark the occassion–historian Lucie Levine's virtual tour celebrating the women of Greenwich Village who fought for the vote greater women's equality and a panel discussion on the Women's House of Detention.
RELATED: