City approves design for Central Park's first statue of women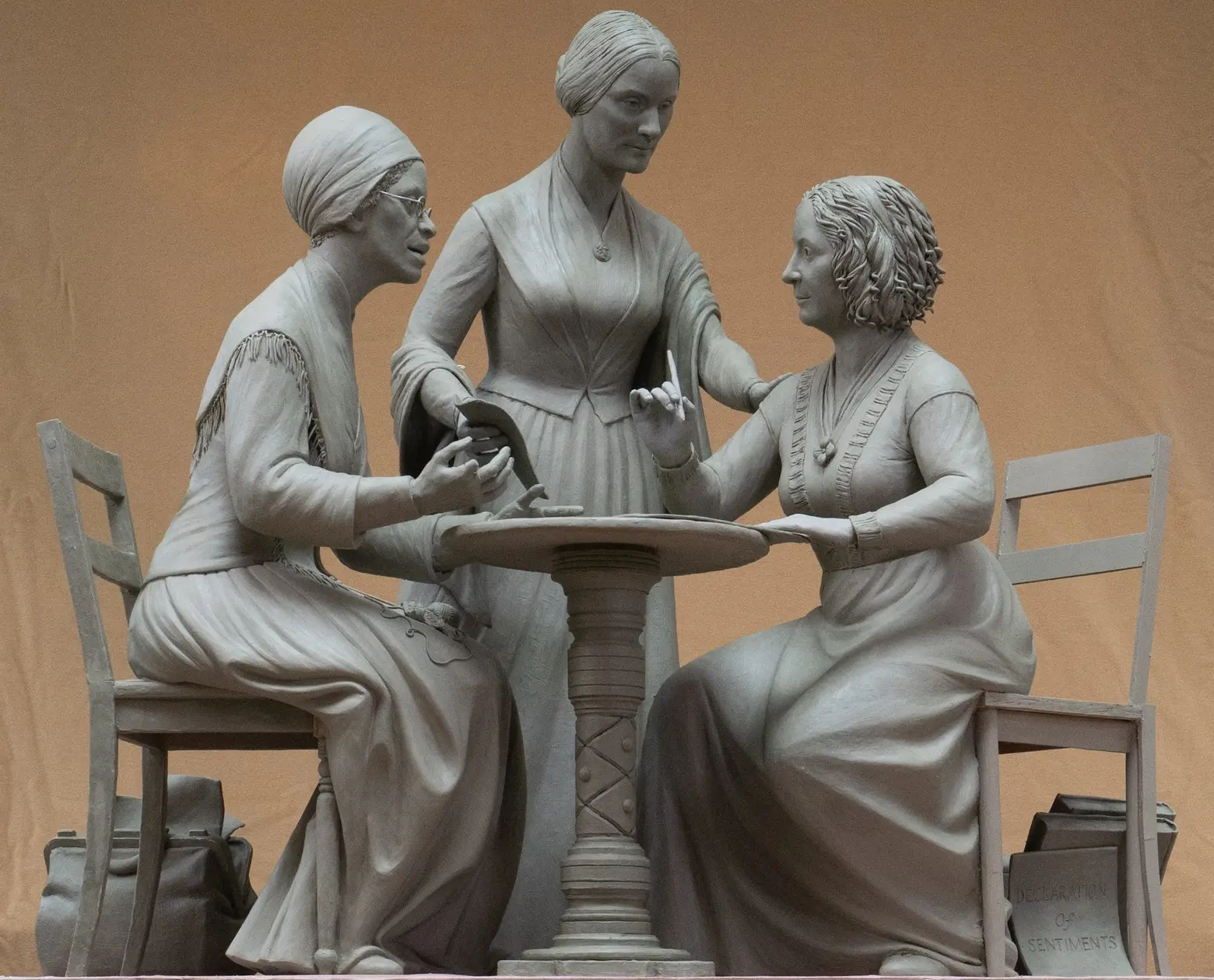 A 1/3 size clay model of the statue; Photo by Michael Bergmann
New York City's most famous park will get a new statue honoring women for the first time ever. The city's Public Design Commission on Monday approved a design for a new Central Park monument that depicts women's rights activists, Sojourner Truth, Susan B. Anthony, and Elizabeth Cady Stanton. Set to debut next summer on the 100th-anniversary of the 19th amendment's ratification, the statue's approval comes as the city looks to address the lack of women honored in public spaces. Currently, all 23 historical monuments in Central Park are of men.

Artist Meredith Bergmann working on the statue; Photob by Michael Bergmann
Sculpted by artist Meredith Bergmann, the "Women's Rights Pioneers Monument" includes the three women in bronze sitting and standing on a granite pedestal. It portrays Truth speaking, Anthony organizing, and Stanton writing, according to the artist.
When the original proposal was first unveiled last year, it featured only Stanton and Anthony. After critics called out the design for not recognizing the efforts of black women in the women's suffrage movement, Bergmann added Truth, an abolitionist who also fought for women's rights.
"Like the women I'm portraying, my work is meant to raise questions and to provoke thought," Bergmann said in a press release. "My hope is that all people, but especially young people, will be inspired by this image of women of different races, different religious backgrounds and different economic status working together to change the world."
The statue comes after a multi-year effort from the volunteer-run nonprofit Monumental Women. The group raised $1.5 million in private funding to pay for the statue. Pam Elam, the president of Monumental Women, said the statue is "finally breaking the bronze ceiling."
"This statue conveys the power of women working together to bring about revolutionary change in our society," Elam said in a press release. "It invites people to reflect not just on these women and their work for equality and justice, but on all the monumental women who came before us."
The Women's Rights Pioneers Monument will be unveiled on August 26, 2020, to celebrate the centennial anniversary of the 19th amendment. The statue will be located on Central Park's Literary Walk, joining statues of writers like Robert Burns, Sir Walter Scott, and Fitz-Greene Halleck.
Expect to see more statues of women pop up across New York in the near future. First lady Chirlane McCray's She Built NYC campaign announced earlier this year plans to build statues of pioneers like Shirley Chisholm, Billie Holiday, Elizabeth Jennings Graham, Dr. Helen Rodríguez Trías, and Katherine Walker.
And after the Italian-American and Catholic community criticized the She Built NYC campaign for not honoring Mother Frances Cabrini, despite garnering the most votes in a public nomination process, Gov. Andrew Cuomo announced that a new state commission will lead the development of a memorial for Cabrini.
RELATED: