Central Park's first statue of real women redesigned to include Sojourner Truth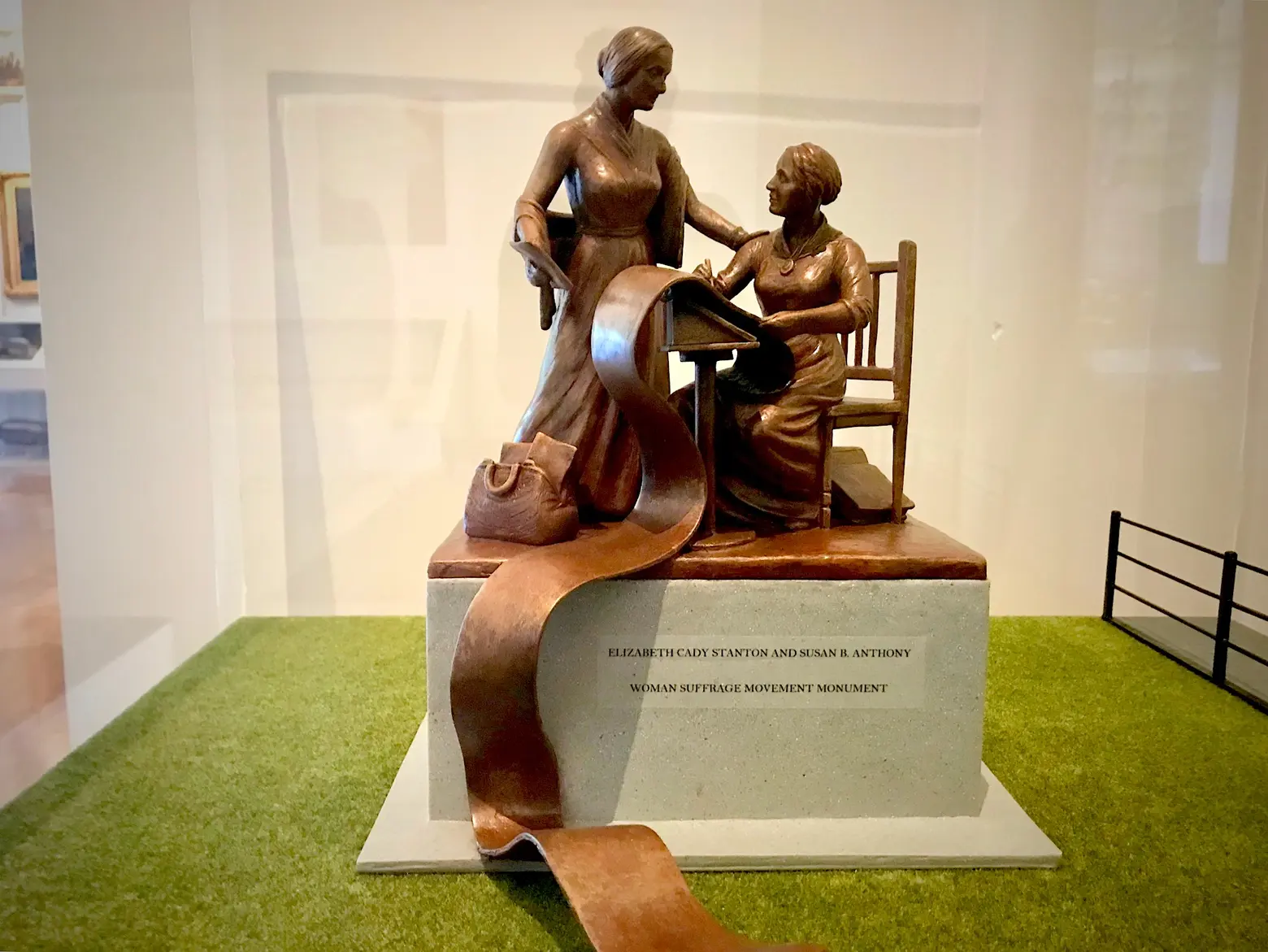 The original design. Photo by Tia Richards for 6sqft
Last year's unveiling of designs for the first statue in Central Park's 165-year history that depicts real historic women–a sculpture of Elizabeth Cady Stanton and Susan B. Anthony–was met with mixed reviews: Why didn't the statue, set to be dedicated in August of 2020, marking the 100th anniversary of nationwide women's suffrage, include any of the many African-American women who aided in the cause? Today it was announced that a redesigned statue honoring pioneering women's rights advocates will include Susan B. Anthony, Elizabeth Cady Stanton, and Sojourner Truth, an escaped slave and abolitionist who joined the fight for women's rights.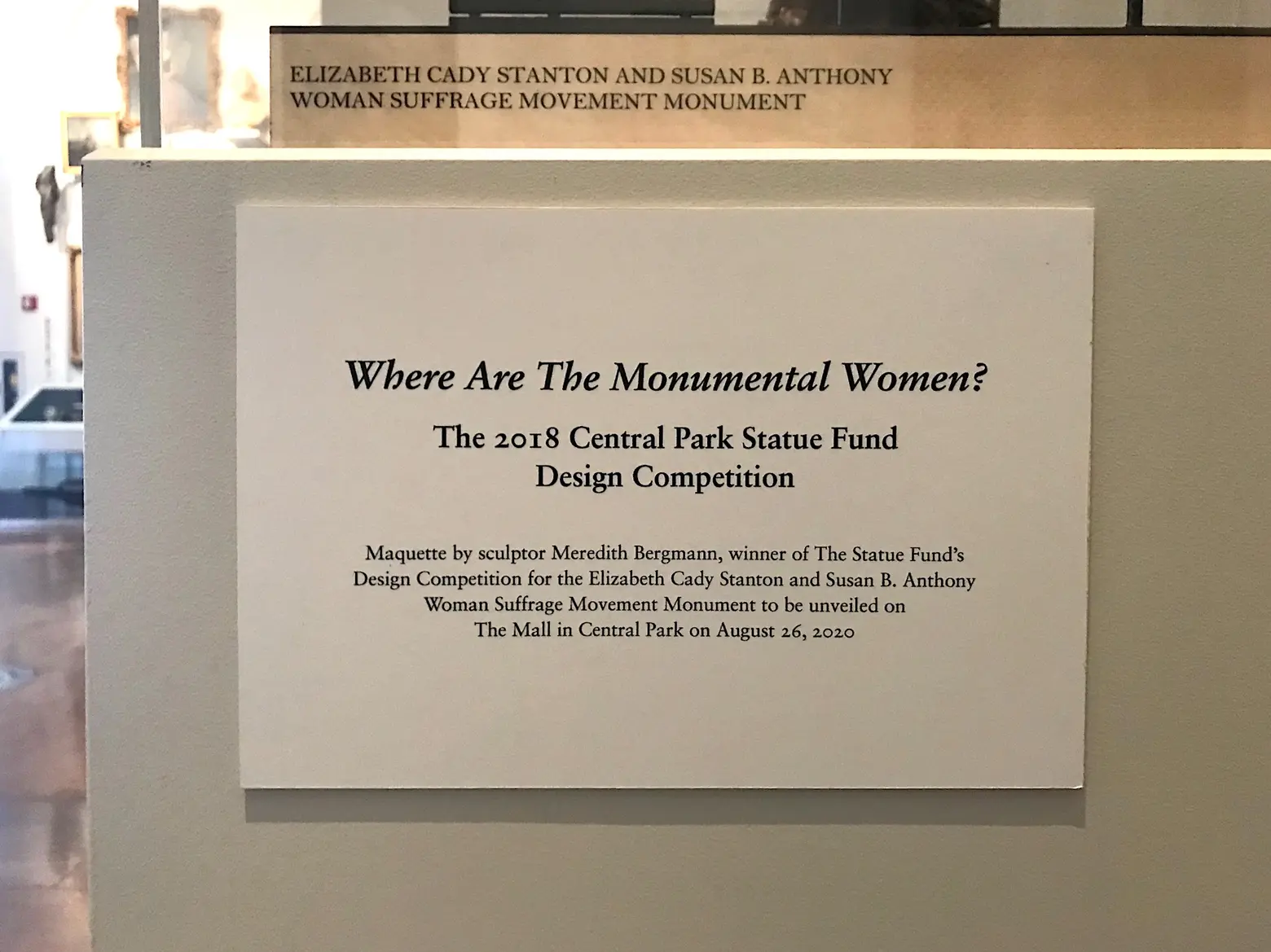 Photo by Tia Richards for 6sqft
As 6sqft previously reported, the statue was born from a partnership between the Elizabeth Cady Stanton and Susan B. Anthony Statue Fund and the park and designed by Meredith Bergmann, whose design was chosen from among 91 submissions in a competition. The design included text and a writing scroll that listed the arguments the two women and their fellow suffragists were fighting for. Of the 22 women named in the text, seven were African-American, including Sojourner Truth, Ida B. Wells and Mary Church Terrell–all icons of social activism.
Though the statue's original design included a list that contained a significant number of African-American women, Stanton and Anthony were white. Another controversial detail was that Anthony and Stanton co-edited a collection of writings titled "The History of Women's Suffrage," effectively giving them historic control of the story itself, and, some say, erasing the participation of black women in the movement. When the Public Design Commission approved the design, but required that the scroll bearing names and quotes of 22 diverse women's suffrage leaders be removed, organizations like the Monumental Women's Statue Fund knew it was time to head back to the drawing board.
The redesigned statue includes Susan B. Anthony, Elizabeth Cady Stanton and Sojourner Truth, all three monumental women's rights pioneers and New Yorkers. In the amended design, Bergmann shows Anthony, Stanton, and Truth working together in Stanton's home, where it is historically documented they spent time together.
Pam Elam, the Fund's president, said "Our goal has always been to honor the diverse women in history who fought for equality and justice and who dedicated their lives to the fight for Women's Rights. We want to tell their stories and help create a full and fair historical record of their vast and varied contributions. It is fitting that Anthony, Stanton, and Truth stand together in this statue as they often did in life.
Sojourner Truth was born into slavery in 1797. She escaped from slavery in 1827 and later joined the abolitionist movement, and went on to become one of its most powerful advocates. By the 1850s she had joined the fight for women's rights. At the 1851 Women's Rights Convention held in Akron, Ohio, Truth delivered the now-famous abolitionist and women's rights speech, "Ain't I a Woman?".
NYC Parks Commissioner Mitchell J. Silver, said in a statement, "Sojourner Truth used her voice to dismantle inequality and campaign for a just society. Her unwavering faith in the potential for change established her as a defender of liberty. Through the Statue Fund's adding her to their statue, Truth's legacy and powerful contribution to the women's rights movement will be forever commemorated in Central Park for all to see."
The Public Design Commission must review the amended design of the statue, which will be unveiled on The Mall in Central Park on August 26, 2020. Next year is also the 200th anniversary of Susan B. Anthony's birth.
RELATED: