United Nations Tower Has Floating Wrap-Around Gardens, Will Be New World's Skinniest Tower
Just last month, Perkins + Will announced a new 65-story, 700-foot, pencil-thin tower coming to 37th Street. But it wasn't the height or slender design that got our attention; it was the sky-high gardens, five clusters of shared amenity and park spaces located at specific intervals on the building. Now, this project will be joined by another urban garden wonder near the United Nations.
The Daily News reveals today renderings from ODA Architects of a super-skinny, 41-story, 600-foot skyscraper at 303 East 44th Street that will feature "six 16-foot-high gaps in the façade — each filled with a full-floor, canopied green space that will wrap around the core of the tower." These floating gardens will occupy the 2,600-square-foot floor plates, which are far smaller than the 4,800-square-foot floor plates at 111 West 57th Street, which has therefore lost its title of will-be world's skinniest tower.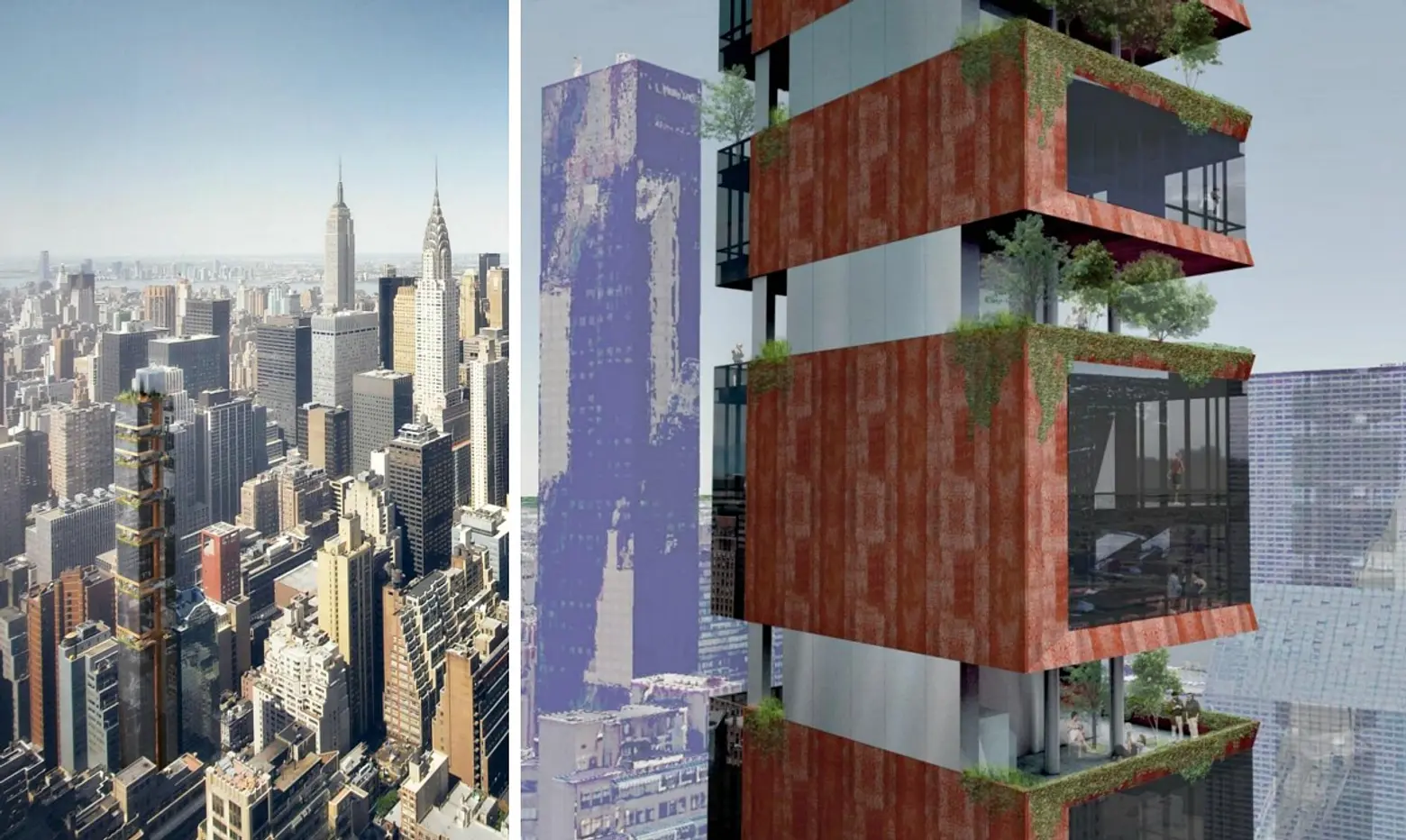 According to Eran Chen, principal at ODA, "To have an apartment at the top of the world is one thing, but to have a private garden at the top of the world is something we haven't seen… I asked myself, 'Can you live in a slender tower up 600 feet above the city and at the same time have access to a garden as big as one attached to a ground-floor home?' You would think it would be counterintuitive, but we are making it happen." To achieve this goal, there will be limited structural support around the edges of the gardens so as not to block the view, and they'll instead be supported by the core. The lower floors will have one- and two-bedroom units, and beginning on the 22nd floor there will be full-floor apartments.
Pending approvals from the city, Triangle Assets plans to begin construction in September, wrapping up the project in late 2017.
[Via NYDN]
All renderings via ODA
RELATED: