Trump Organization considers rebranding the Trump International Hotel and Tower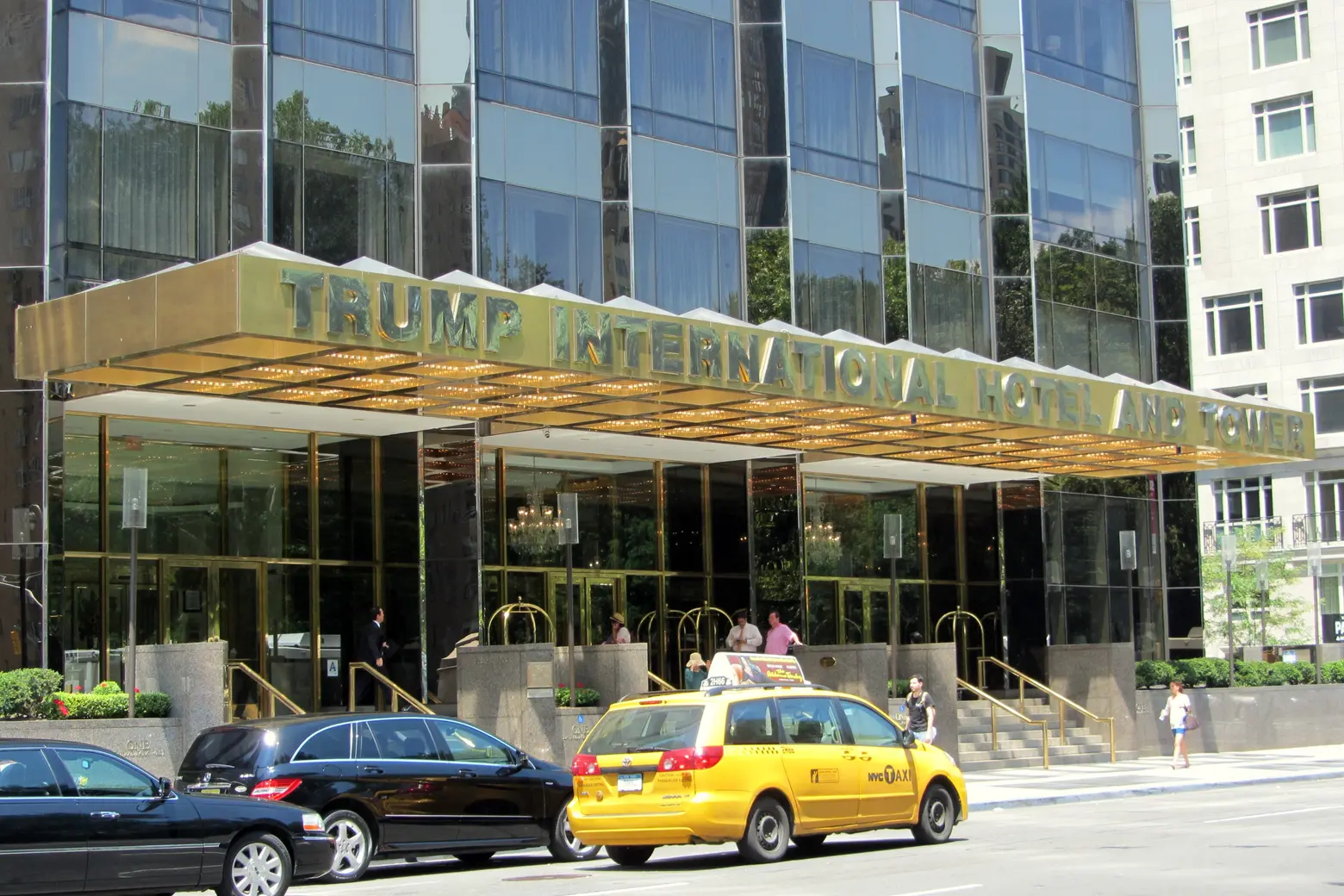 As part of a larger renovation of the Trump International Hotel and Tower in Columbus Circle, the Trump Organization is expected to reconsider its heavily-branded signage, the New York Times reports. The president's eldest son, Donald Trump Jr., has proposed a compromise to appease building owners who say Trump's polarizing presidency is depreciating the value of their investments without losing the Trump branding entirely.
The proposal aims to "draw a clear distinction" between the residential tower and the hotel by removing Trump's association with the private residences but keeping the name on signs for the hotel. As part of the plan, the flashy "Trump International Hotel and Tower" sign above the building's entrance would be removed, while the address—One Central Park West—would be highlighted and made far more prominent than it currently is. Further details about what would happen to other Trump signs on the property are unclear.
Even as many Trump buildings across the city are voting to remove the president's name from their properties, One Central Park West has been considered "untouchable," according to the Times, in part for its symbolic value to the family—it was the first hotel to bear their name.
The tides turned during a contentious June meeting between the condo board and several dozen owners who want to see the name removed. In a statement obtained by the Times, the current board president said they were "unequivocally not considering a change to the name of the building" while referencing plans for "an updated portico and modernized exterior signage." For the name change to take hold, the condo would need to elect a new board, and many are pushing for an election this fall. The current board is comprised of six residential owners, two hotel owners, and Donald Jr.
The Trump Organization released a statement that didn't address the June meeting but said it was "very proud of the building, our relationship with the board and the fact that we are rated, year after year, as one of the finest hotels anywhere in the world."
CityRealty's recent analysis of residential sales at the building shows the average price per square foot falling 29 percent between 2015 and 2018. There are currently 20 apartments for sale and more than half have had their prices chopped. "It remains a very desirable building for international buyers," Rebecca Mason, managing director of CityRealty, told the Times.
[Via New York Times]
RELATED: