The Shed reopens in Hudson Yards next month with live music and comedy shows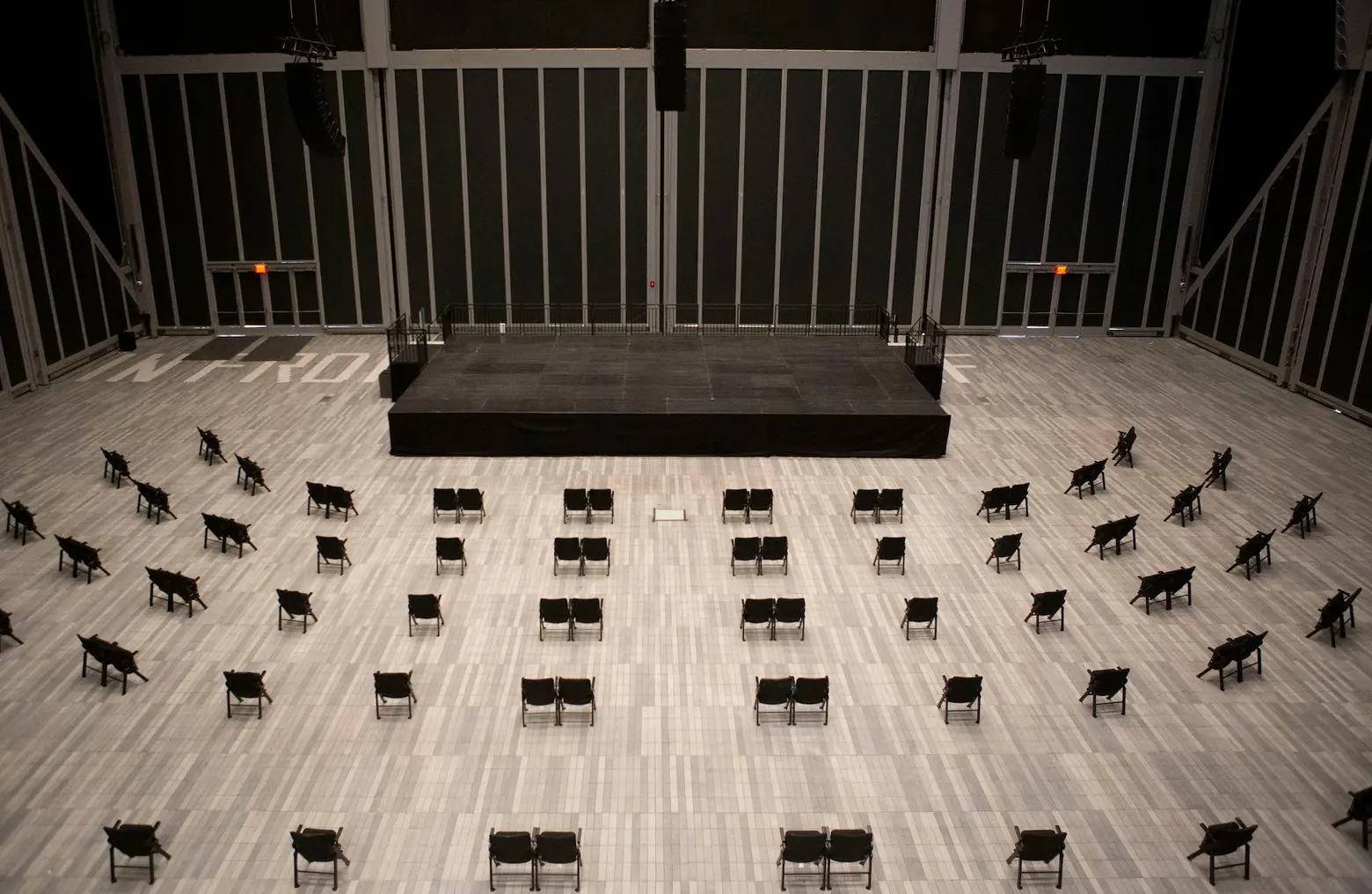 Caption: The Shed's McCourt configured for "An Audience With…" live performance series. Photo: Jasdeep Kang
As spring returns to New York City, so does its arts and culture scene. The Shed, the Hudson Yards performance center with a distinct moveable shell, announced this week it will reopen with a five-night indoor performance series kicking off on April 2. Following state guidelines, the capacity will be limited to 150 people and all attendees must present confirmation of a negative coronavirus test within 72 hours or vaccination completed at least two weeks before the event.
Running from April 2 to April 22, the series, called An Audience with… will feature performances by cellist Kelsey Lu, the New York Philharmonic, soprano Renée Fleming, and comedian Michelle Wolf. Tickets will go on sale next week, with Shed members given priority.
The events will take place in The McCourt, a nearly 18,000-square-foot space that is created when the movable shell deploys from the base of the building. It features 115-foot ceilings and a MERV ventilation system.
The attendance will be limited to 12 percent of the space's capacity with seats set up in pairs and distanced six feet apart. There will be contactless ticket scanning, timed entry and exit, with no coat check, intermission, concessions, or merchandise sales.
Upon arrival, attendees must present a photo ID and either a confirmation of a negative COVID-19 PCR test taken within 72 hours of the event, a negative rapid test taken within six hours, or confirmation of having completed the vaccination series at least 14 days prior to the event. Masks and temperature checks will be required.
"After an unprecedented yearlong shutdown of indoor performance in New York, The Shed looks to once again celebrate the irreplaceable communal experience of attending a live show," Alex Poots, artistic director and CEO of The Shed, said. "Through music and comedy, we hope An Audience with… will provide some much-needed beauty and joy for both artists and audiences and, along with our other spring/summer programs, will contribute to our city's recovery."
Following the series, The Shed plans to partner with Frieze New York to bring an art fair with over 60 galleries to the space in May, as well as collaborate on programs with the Tribeca Film Festival in June. Also in June, the Shed will launch its second edition of Open Call, showcasing the work of 27 emerging artists.
The Shed is one of the first arts institutions to announce a reopening plan following Gov. Andrew Cuomo's announcement last week that limited live events can resume starting April 2. An Audience with… is presented as part of NY PopsUp, a state program aimed at revitalizing New York's art and culture.
As part of the initiative, there will be 300 pop-up live outdoor events and performances over the span of 100 days, culminating with the opening of Little Island at Pier 55 and the 20th anniversary of the Tribeca Film Festival.
RELATED: