The official SantaCon 2018 map is here. Consider yourself warned.
Like most things requiring crowd control, SantaCon began life with the best of intentions; long ago (in the early '90s) in San Francisco, a group of merry pranksters called the Cacophony Society thought it might be a hoot to poke fun at both the proliferation of people in Santa suits and the proliferation of "cons," while participating in a (alcohol-free, by the way) performance-art-inspired flash mob. As such things do in modern cities, the once-subversive event snowballed, and to paraphrase the Eagles, call someplace paradise–and wake to find four frat dudes barfing outside your window. The drunken ho-ho-hordes are now too legit to quit, and you might as well know where they'll be on Saturday, December 8, 2018, which is the official date of this year's SantaCon. Whether your intent is to join in the fun, or to avoid being totally broadsided by a thousand drunk adults in Santa suits, use this map from the event's organizers.
The fun starts bright and early at 10 A.M. The official venue list and map can also be found here, with full entry (including "special" venues and performances) requiring a $12 donation earmarked for various charitable partners. The starting venue has yet to be announced, but you can find a venue near you here.
If you're planning to get a head start on the hedonistic ho-down, you should know there are rules. The Metro-North and LIRR have put a ban on booze from noon to noon on December 8th to 9th; NJ Transit will be forbidding not just alcohol but all drinks all day Saturday in an attempt to keep the sloshed Santa brigade at least somewhat contained going into and out of the city.
BAN OUTLAW QUARANTINE.

— Corey Johnson (@CoreyinNYC) December 3, 2018
Suggested guidelines from the official site include the usual caution that children, cops and beleaguered bar staff are off-limits for aggressive substance-fueled behavior. City Council Speaker Corey Johnson would go a bit further–and we're guessing he's not alone.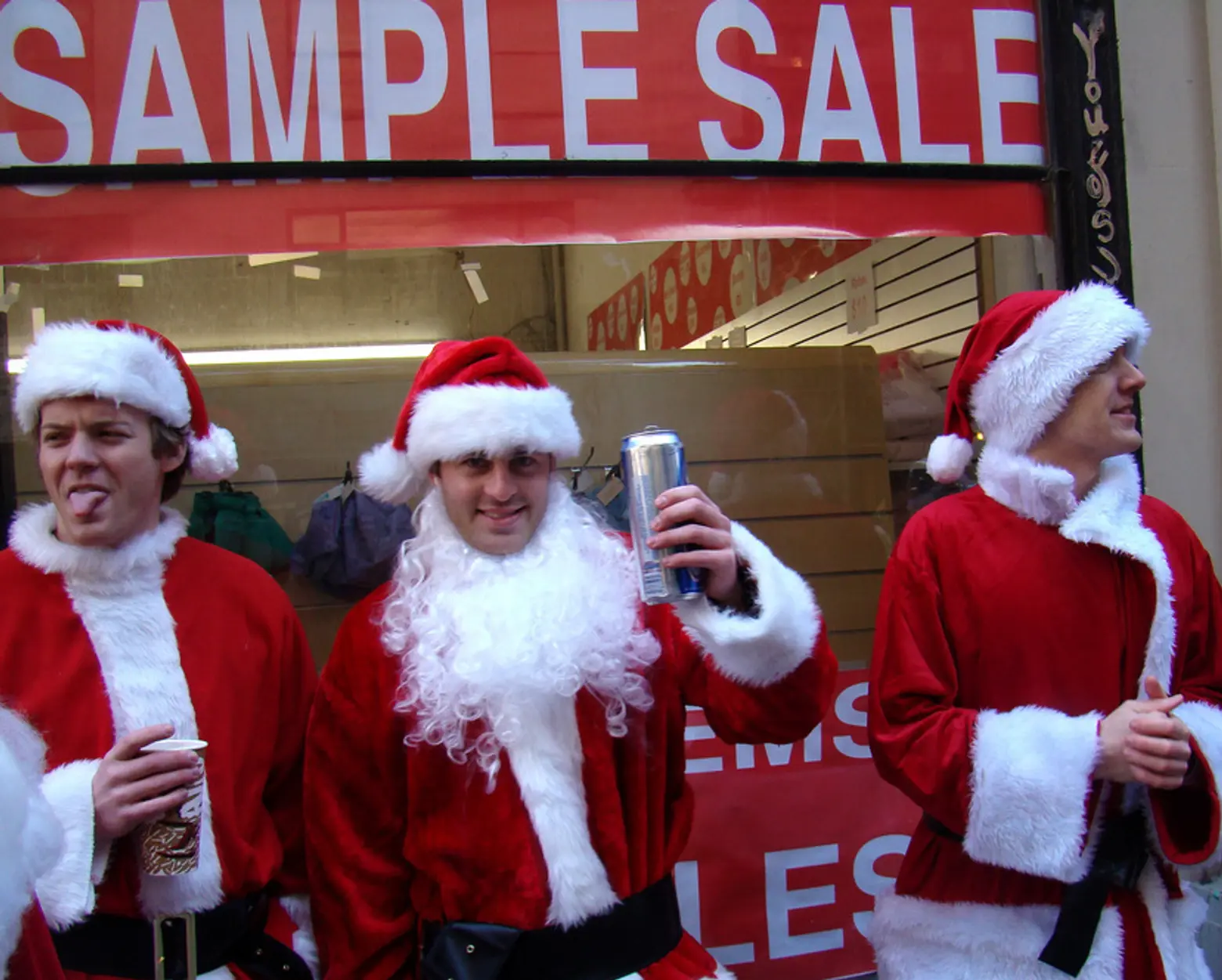 Image via Wikimedia cc.
RELATED: