13 places to volunteer in NYC this holiday season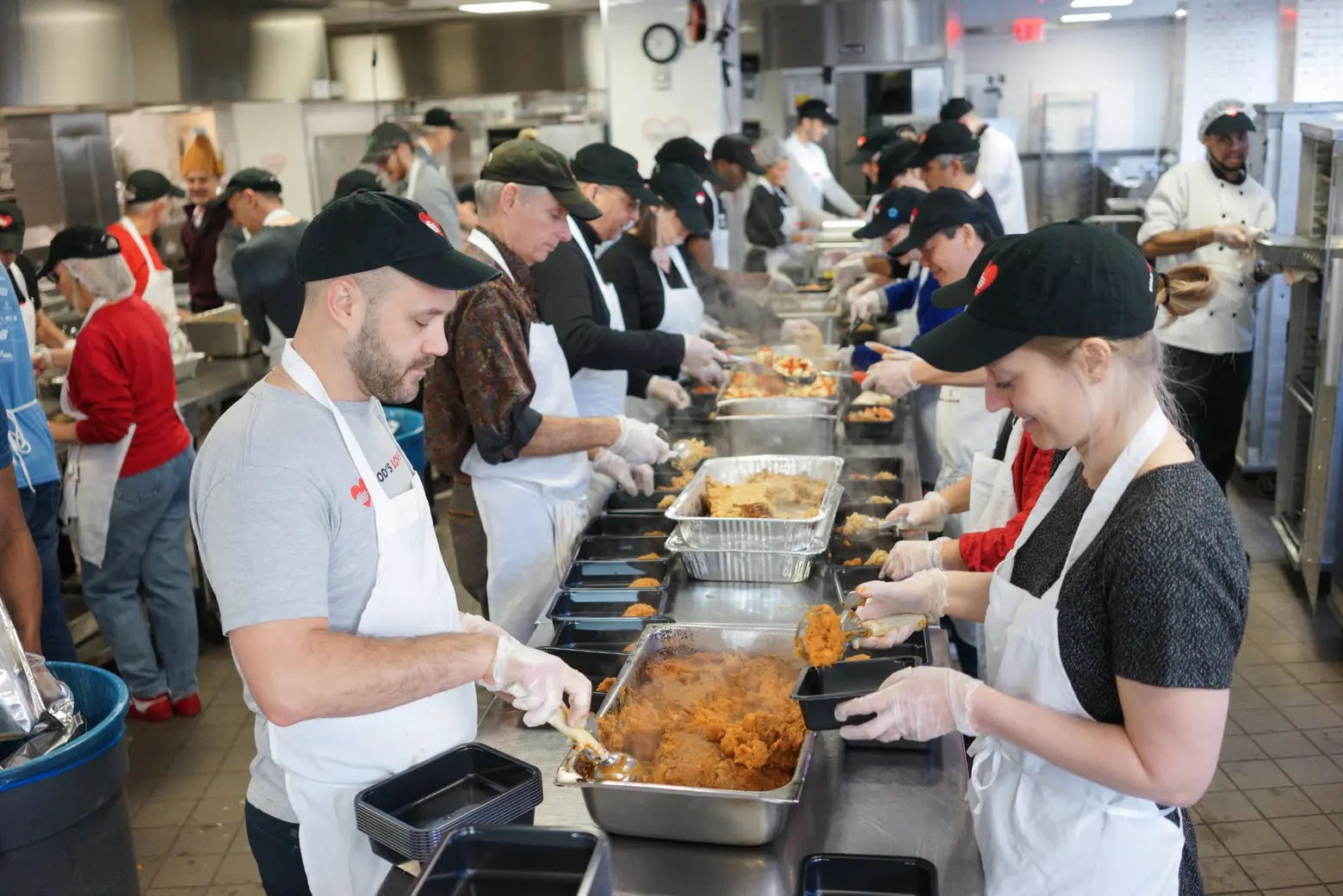 Photo by Rommel Demano for God's Love We Deliver
The winter holiday season is a time of overflowing bounty for so many. While giving thanks and exchanging gifts, it's a fine opportunity to share the wealth, good cheer–and extra time off–with fellow New Yorkers in need. There are hundreds of ways to volunteer from now through the New Year (and beyond), and we've rounded up 13 ways to help this year, from meal delivery to serving Thanksgiving dinner to preparing your own putlock dish.
1. God's Love We Deliver

Founded in 1985, God's Love We Deliver aims to improve the health and well-being of men, women, and children living with HIV/AIDS, cancer, and other serious illnesses by alleviating hunger and malnutrition. Their efforts include preparing and delivering nutritious meals and emergency meal kits to people who can't provide or prepare meals for themselves. Thanksgiving is an especially important day for meal delivery, with more than 1,000 volunteers expected to deliver 8,000 holiday feasts this season. This year, the group is looking specifically for volunteers with cars to help deliver meals on Thanksgiving Day. Check out all of their volunteer opportunities here.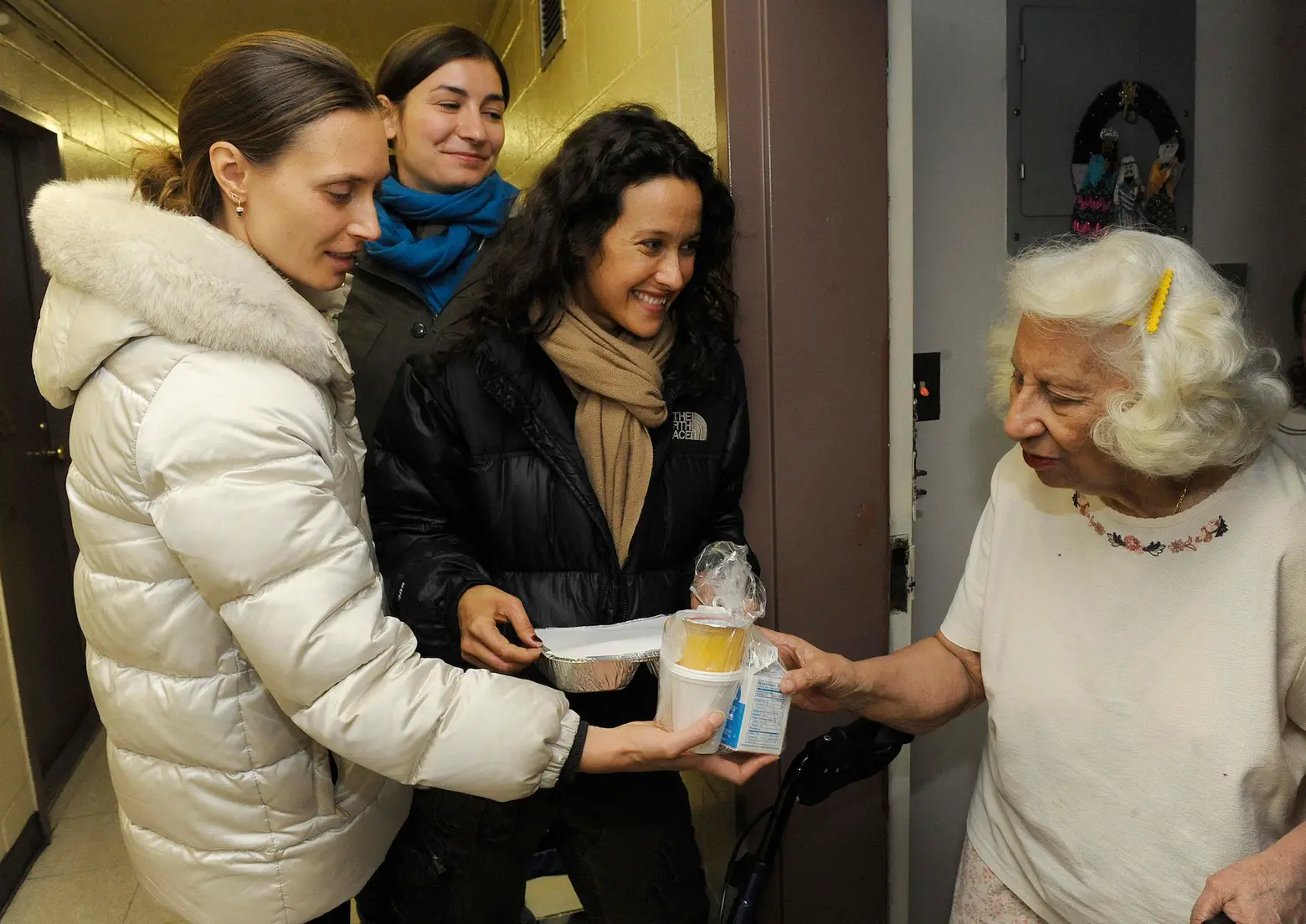 Citymeals-On-Wheels volunteers step up to the plate on Martin Luther King Day to serve the elderly in lower Manhattan. Serving 88-year-old Mercedes Ruiz are L To R: Ruza Madarevic, Maryann Lombardo and Natane Boudreau; Photo courtesy of Citymeals on Wheels
Citymeals on Wheels is committed to providing our homebound elderly neighbors with nourishing meals and vital companionship. In addition to delivering food, their holiday volunteer opportunities include sending cards as well as making cards and gifts for those in need.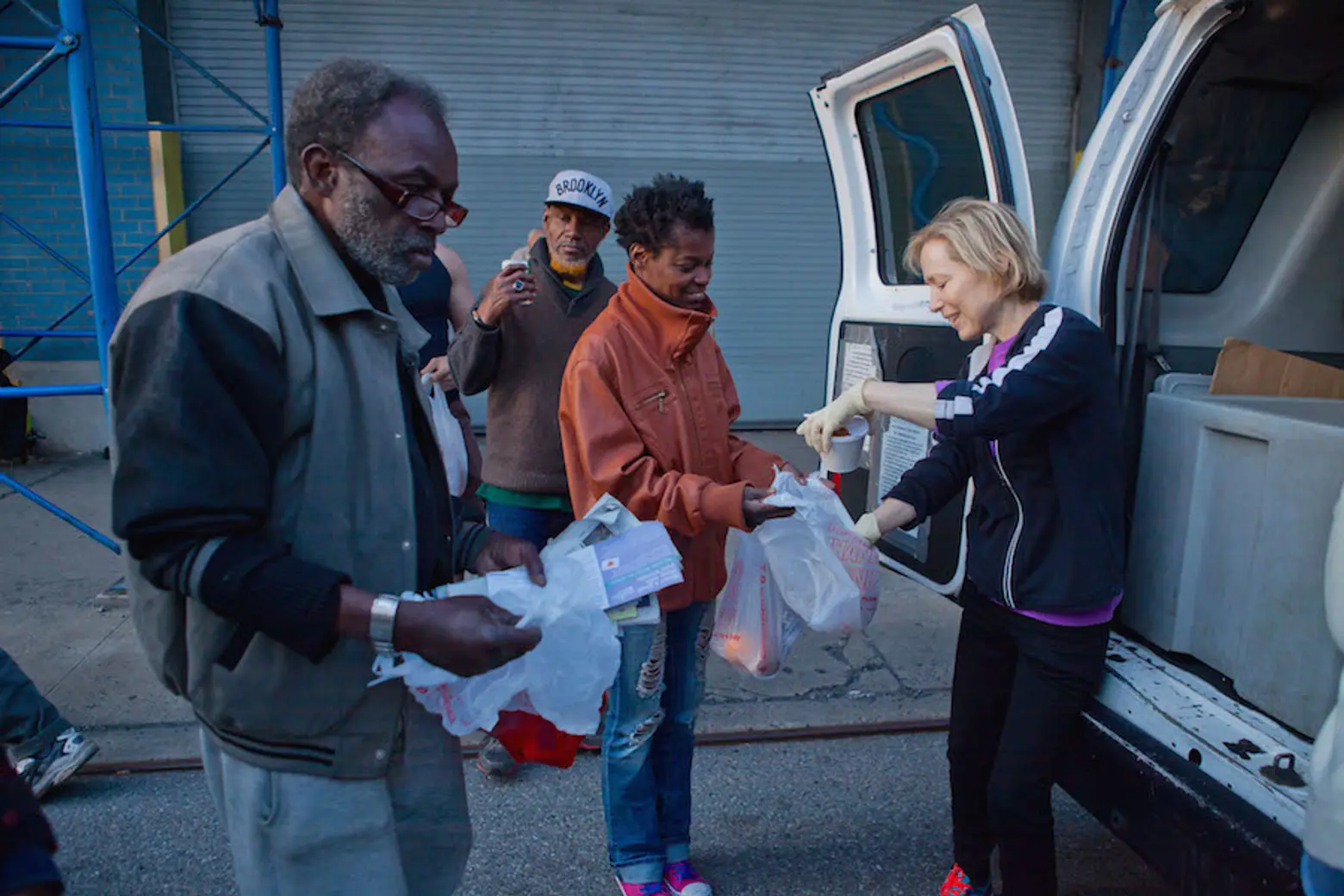 Photo courtesy of the Coalition for the Homeless
3. The Grand Central Food Program
Sponsored by the Coalition for the Homeless, The Grand Central Food Program was started in 1985 after a homeless woman died from starvation in Grand Central Terminal. Since then it has become the largest mobile soup kitchen in New York; unlike traditional soup kitchens, the organization brings food and resources directly to people in need, delivering healthy meals throughout the city. They encourage volunteers to commit beyond the holiday season.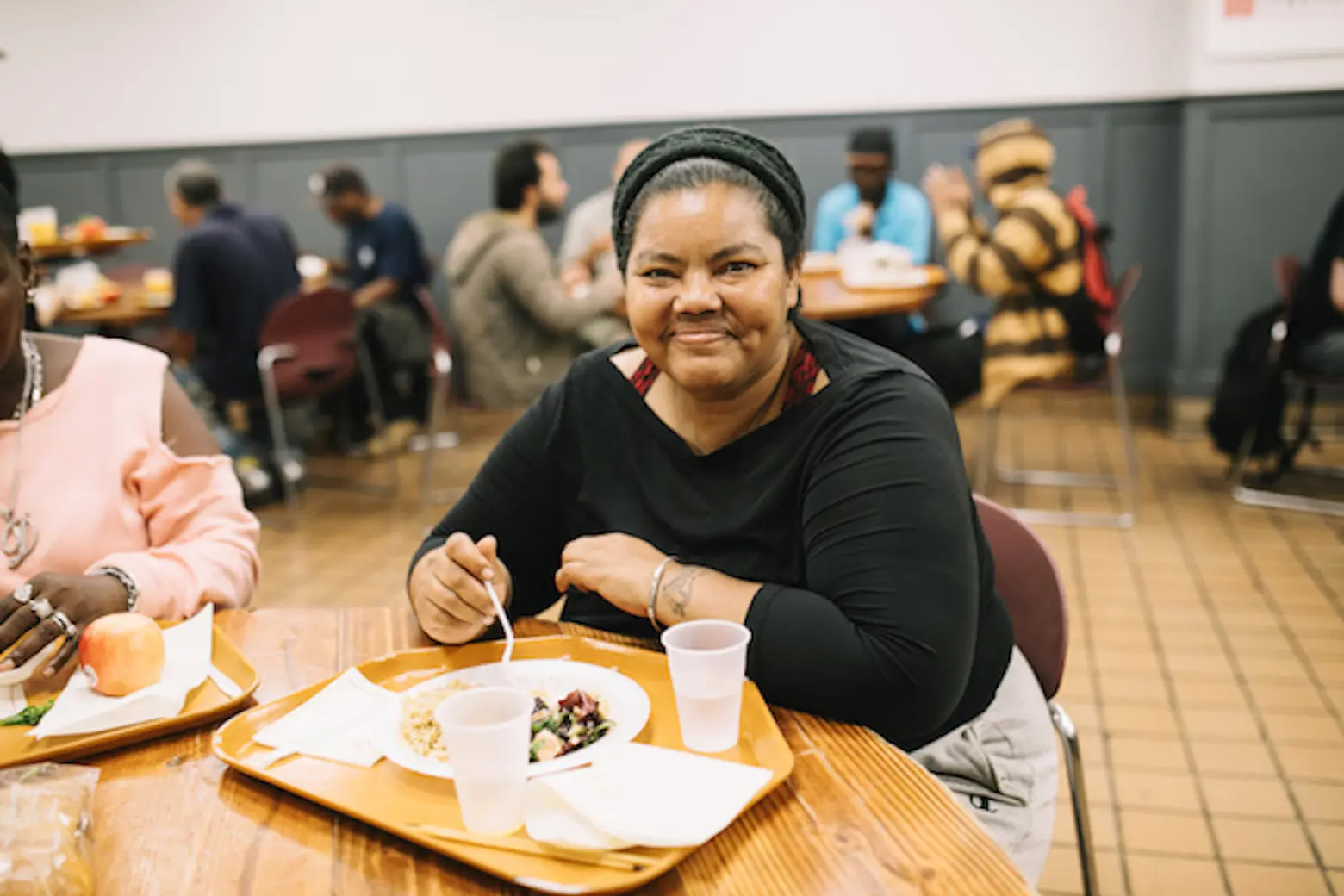 Photo courtesy of Keri Tan Photography
Since the 1870s, The Bowery Mission has served New Yorkers experiencing homelessness and hunger by providing meals, shelter, and medical care. On Thanksgiving Day, 500 volunteers will serve guests a turkey meal and distribute "blessing bags" with socks, a winter hat, gloves, and hygiene items, to 1,800 guests. Each year, the Mission provides more than 558,726 hot meals, 140, 658 nights of shelter, 100,334 articles of clothing, and 2,424 onsite medical and optometry exams. Learn more about volunteering this holiday season at The Bowery Mission here.
5. The Actors Theatre Workshop Holiday Program
The Actors Theatre Workshop has been providing New York City's homeless children with a special experience through their 12-week afterschool theatre and education program, Builders of the New World (BNW). A series of holiday celebrations kicks off their upcoming winter session. They are currently seeking volunteers for the two-day holiday celebration and creative classes for more than 100 children living in temporary housing facilities. This year the events take place on December 11th and 12th. There are several ways you can lend a hand including helping to decorate the theatre, cooking a holiday feast and mentoring children in attendance. Learn more about these opportunities here.
6. Food Bank for New York City
For over 30 years the Food Bank of NYC has been the city's major hunger-relief organization working tirelessly to end hunger in the five boroughs. Their mission is to end hunger by organizing food, information, and support for community survival, and there are many opportunities for you to lend a hand. They're seeking volunteers to help distribute Thanksgiving turkeys and do holiday meal prep and service in several locations over the next few months. Check out the complete calendar of events to find a time and location. You can also purchase their cool holiday cards (including e-cards) to contribute.
This volunteer-run organization collects potluck meals, toiletries, and blankets and delivers hot meals and care packages to the city's homeless on Thanksgiving Day. Volunteer needs include kitchen crew, conveyor belt crew, food boxers, vehicle coordinators, drivers, and cleanup. Volunteers are asked to bring a preheated potluck dish, toiletries or blankets to donate. Time slots are filled on a first come-first served basis. The event happens at the Church of the Intercession, 550 West 155th Street near Broadway on Thanksgiving Day. Those interested in volunteering this year must register ahead of time to attend at least a week or two before the event. Do so here.
8. The Holy Apostles Soup Kitchen
As New York's largest emergency food program, Holy Apostles Soup Kitchen serves a hearty and nutritious meal to 1,000 homeless and hungry New Yorkers every day, and they're always looking for volunteers. You can also partake in their 8th annual pre-Thanksgiving Fast-A-Thon on December 3, in which participants pledge to eat only one meal that day as a way to raise awareness about chronic hunger and raise money for weekday meals and the traditional Thanksgiving feast.

The Washington Heights Mobile Market. Photo by Lori Cannava, courtesy of City Harvest
City Harvest was founded in 1982 and was run entirely by volunteers who connected neighborhood restaurants to food programs serving people in need. City Harvest volunteers remain a crucial part of their operations, and there are many different ways individuals and groups can help. The organization needs help with everything from Mobile Markets to nutrition education courses, making this a great opportunity to start volunteering for the holiday season and beyond. Read more about City Harvest services and volunteer needs here.
St. Joe's Soup Kitchen is an independent organization run completely by volunteers; they serve 400-500 meals every Saturday to New York City's homeless community out of the basement of The Church of St. Joseph in Greenwich Village. The Soup Kitchen's all-volunteer staff prepares well-rounded, nutritional meals, which are served between 1:30 to 3:00 p.m. Doors are open to the public, no fees are charged for a meal, no requests for a donation are made and no questions are asked of those who walk through the doors. The organization has been operating for almost 40 years thanks to volunteers, local businesses, and the generosity of the local community. Volunteers are needed for both morning and afternoon shifts.
Bed-Stuy soup kitchen Neighbors Together is committed to ending hunger and poverty in the Brooklyn communities of Ocean Hill, Brownsville, and Bedford-Stuyvesant. Their Community Café provides free, nutritious meals to meet the critical and immediate need for food in an environment that is safe and welcoming, feeding an average of 400 people each day. Find out how to volunteer here.
12. Greenpoint Church Dinner and Food Pantry
On the Wednesday before Thanksgiving, Greenpoint Church will host a food pantry and a large community dinner at 136 Milton Street in Brooklyn. Both of these events run on volunteer power. Volunteers can cook, set up tables and chairs, serve dinner or clean up. Kids over five are welcome. These fine folks host a community dinner every Wednesday and run a food pantry each Thursday, so your efforts don't have to stop when 'tis no longer the season.

Photo courtesy of FeedingNYC
FeedingNYC connects with families in need throughout New York City. Each year, FeedingNYC hand delivers nearly 3,000 Thanksgiving dinners. Thanksgiving dinners are delivered to families who are in partnership with Women in Need, Jewish Federation, Catholic Charities and City Harvest. How you can help: Donate–sponsor a meal box or make a recurring gift and get 10 percent off at Manhattan Mini-Storage. Volunteer–to pack and deliver thousands of Thanksgiving meals to local families and shelters.
RELATED: